Searching for an easy dip recipe? This Slow Cooker Buffalo Chicken Dip comes together easily with just a few ingredients. You're going to love it!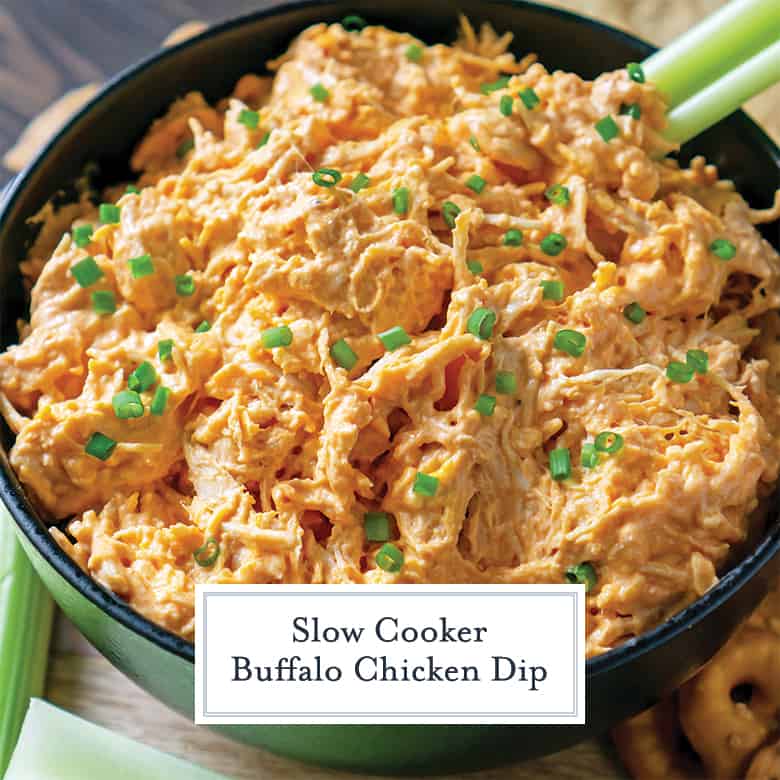 I've been making the same Buffalo Chicken Dip in the crock pot recipe for years but never actually put it down on paper. So I'm very excited to be sharing this with you!
Buffalo Chicken Dip Recipe
A Buffalo Chicken Dip recipe is the quintessential appetizer for any party or family gathering. But since we're not doing that at the moment, I suggest you make this dip for yourself to snack on all week!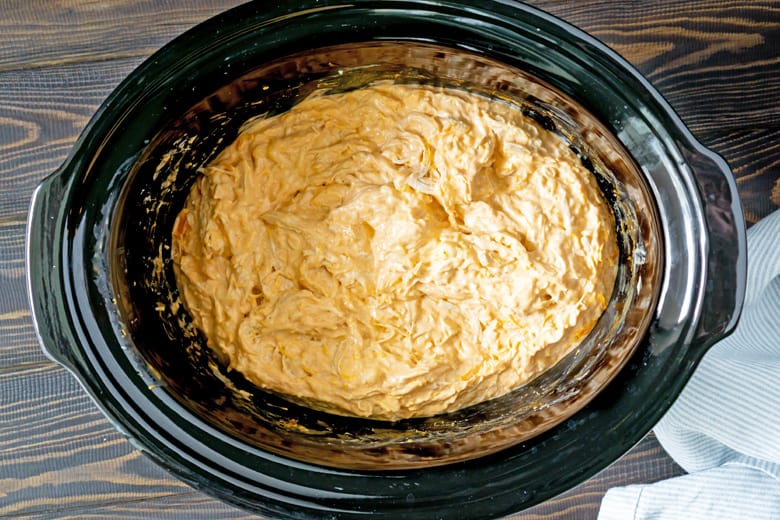 Party food really is the best, even without the party. It's also the best comfort food.
PRO TIP: Make this a low carb snack by serving with carrots, celery and radishes!
One day, we will all be able to gather again and you will be very happy to have perfected this Slow Cooker Buffalo Chicken Dip recipe during this time!
For now, I'll be enjoying my Buffalo Chicken Dip alongside a Beyond Meat Burger for dinner. Or maybe even sandwiched between the buns, because WHY NOT?!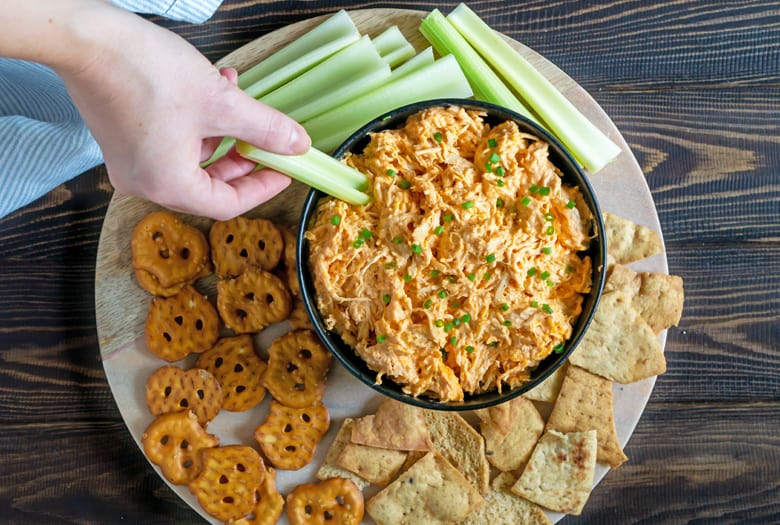 There's so many fun ways to eat Buffalo Chicken Dip aside from eating it in its standard form, dip. Here are a few ideas:
Buffalo Chicken Sandwich
Stuffed Peppers
Add the dip to a bed of fresh greens for a salad
Make a quinoa bowl out of it with roasted veggies
Buffalo Chicken Dip Ingredients
Some might call this a pantry staple recipe, because most of us will already have the majority of these on hand. The ingredients for are quite simple: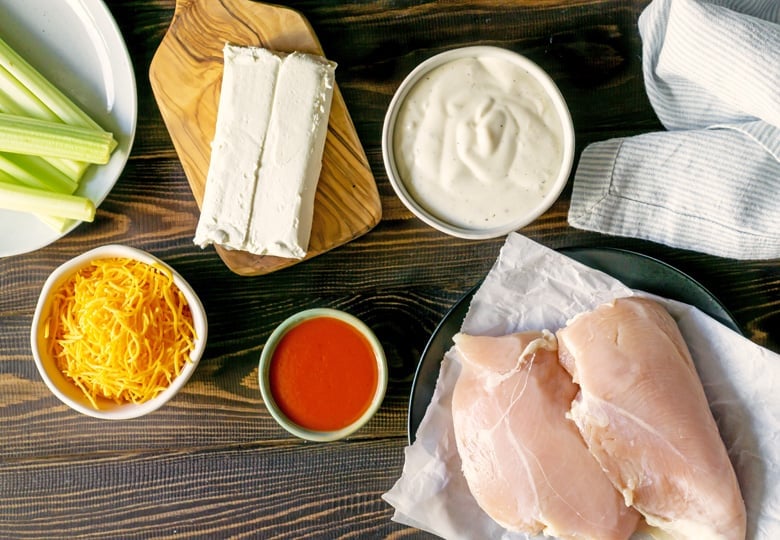 chicken
yellow onion
chicken bone broth or chicken broth
cream cheese
ranch dressing (or blue cheese!)
hot sauce
sharp cheddar cheese
mozzarella cheese
Buffalo Chicken Dip in the Crock Pot
Buffalo Chicken Dip comes together easily in the slow cooker. Everything cooks while you get other important things done!
1. Cook the chicken. Line the bottom of a slow cooker with the sliced onion and broth, place the chicken over the onion and cook on high for 2.5 hours.
2. Shred the chicken. Transfer the chicken to a plate and shred with two forks. Remove the onion and drain the broth from the slow cooker. Turn it on low and set the timer for 30 minutes.
Add the shredded chicken, cream cheese, ranch dressing, hot sauce, cheddar cheese, and mozzarella cheese. Give it a quick stir and allow the mixture to cook.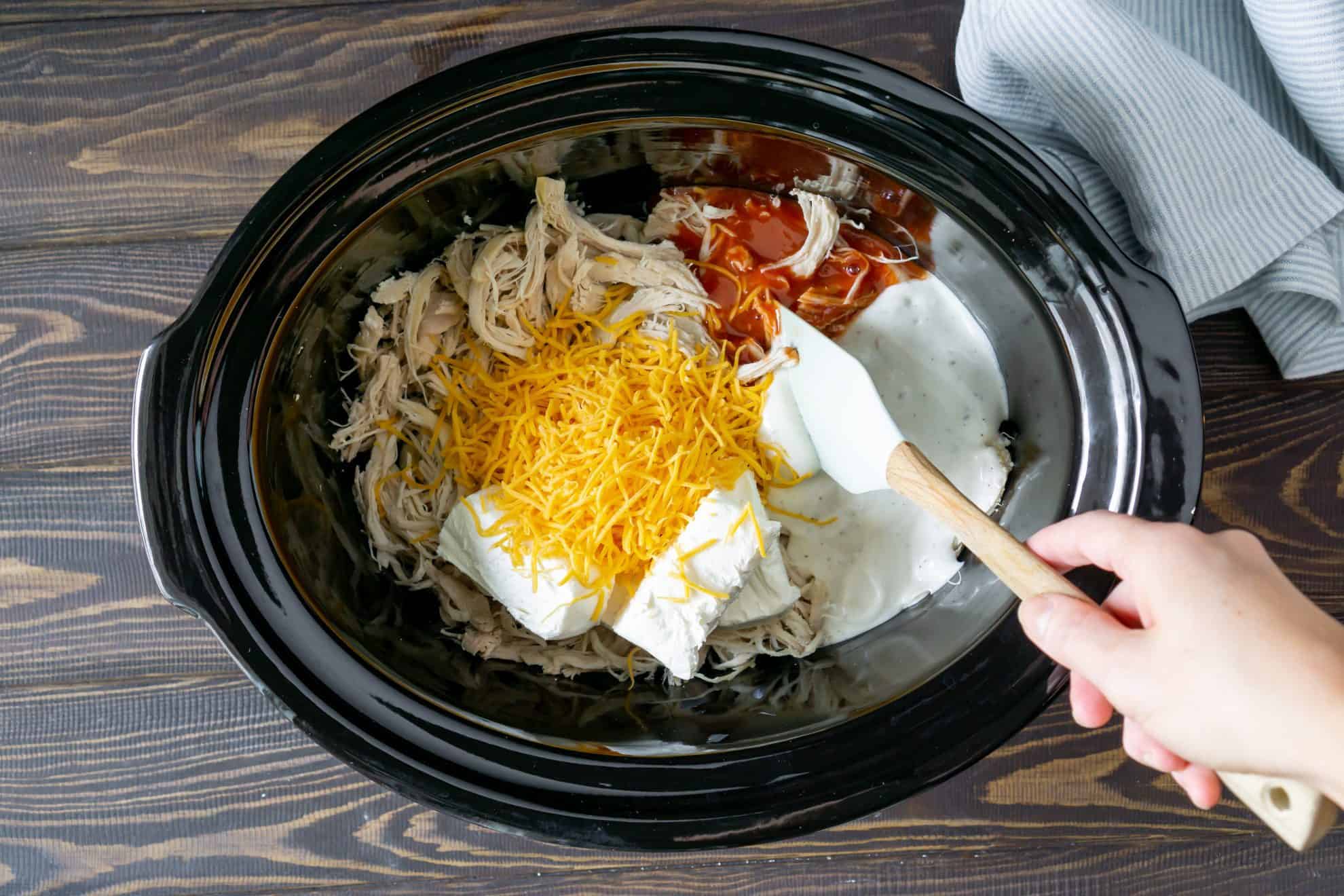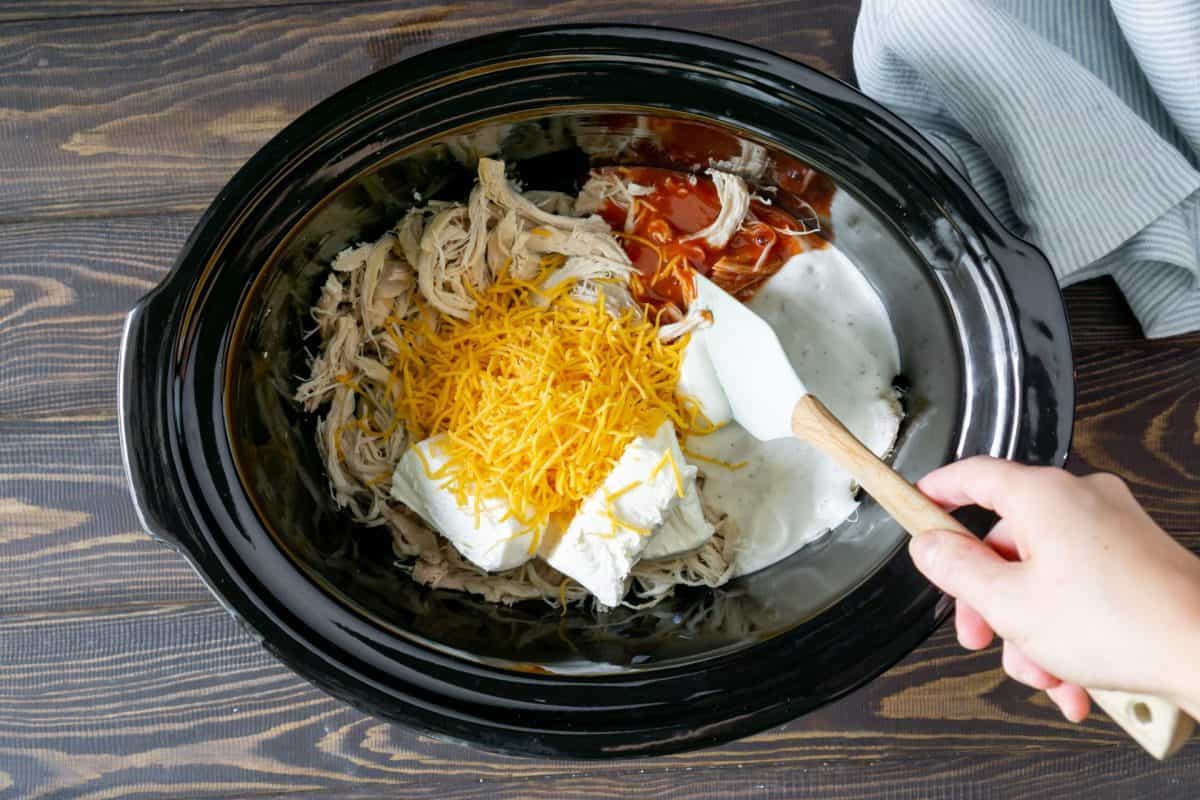 3. Mix it all together. Mix everything together until fully combined – I like to do a quick taste test here, too. Add more hot sauce if you like it spicy or more ranch if you need to cool it down. Let it all cook for 30 minutes, until the cheese has melted.
Tips for making Buffalo Chicken Dip
Set your cream cheese on the counter to soften for 30-60 minutes so it's easier to mix in.
If you really want to kick up the heat in this Buffalo Chicken Dip recipe, add extra hot sauce or grab a ghost pepper hot sauce.
For extra melty cheese, use thick cut shredded cheese, but shred it yourself. Pre shredded cheese is tossed in starch to prevent clumping and doesn't melt as well.
What to dip in Buffalo Chicken Dip
Normally I serve this dip with tortilla chips (always the scoop version), pretzel thins, or pita chips.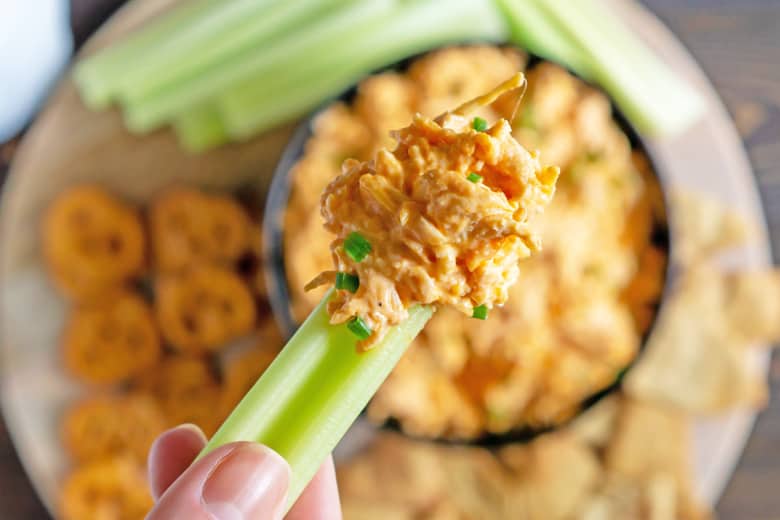 You can also use raw veggies like bell peppers, cucumbers, carrots, celery or radishes.
Baked Buffalo Chicken Dip
Rather than cooking the chicken in the slow cooker, you can use canned chicken or a cooked rotisserie chicken from the store.
Mix all the ingredients together in an oven-safe baking dish and bake it for 20-30 minutes at 350 degrees.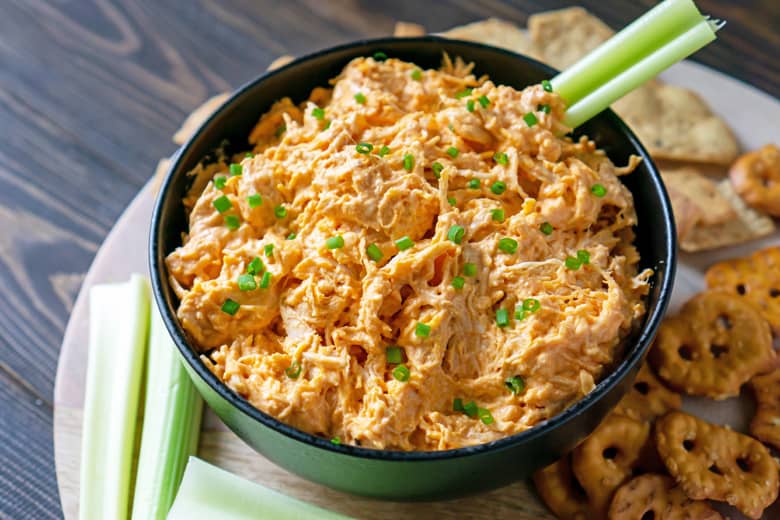 Making it in the crock pot simply saves time by using the same cooking mechanism to cook and shred your chicken as make the dip. It also keeps the dip warm for parties and gatherings.
Best Way to Shred Chicken
I like to cook my chicken in the slow cooker for a few hours until it easily shreds with a fork.
You can also do this in the Instant Pot if you're pressed for time.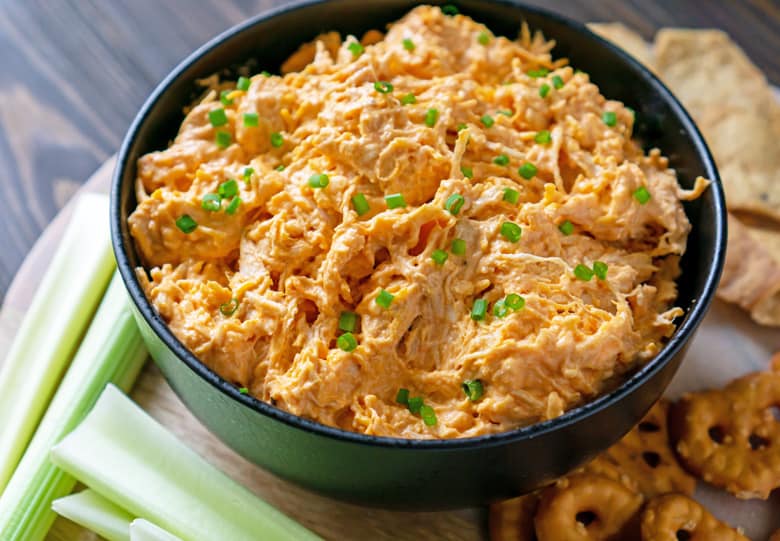 If you're really feeling lazy, just grab a rotisserie chicken, I won't tell! Canned chicken also works.
Reheating Buffalo Chicken Dip
If you want to reheat your leftovers, place them in an oven safe baking dish covered with foil. Bake at 350 F for 10-15 minutes, and give it a good stir halfway through.
You can also microwave it, but do it on 50% power for 1 minutes, stirring at 30 seconds.
Tools you might need:
Mixing Spoon– Use a large spoon or even fork to do the tossing!
Slow Cooker– This is a slow cooker recipe, so…. This one is my favorite because it is programmable and has locks to lock the lid in place for transit if you are taking it somewhere.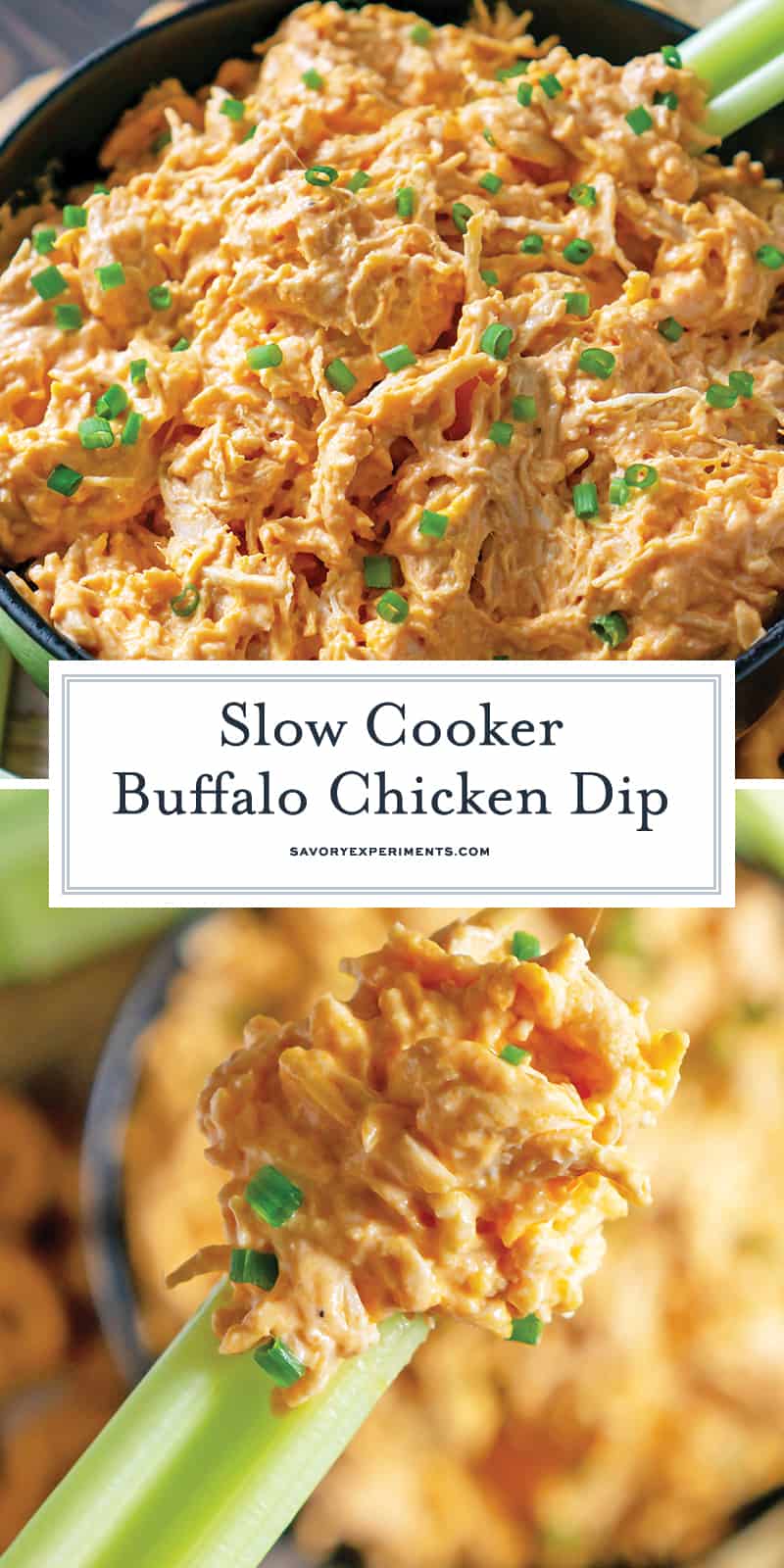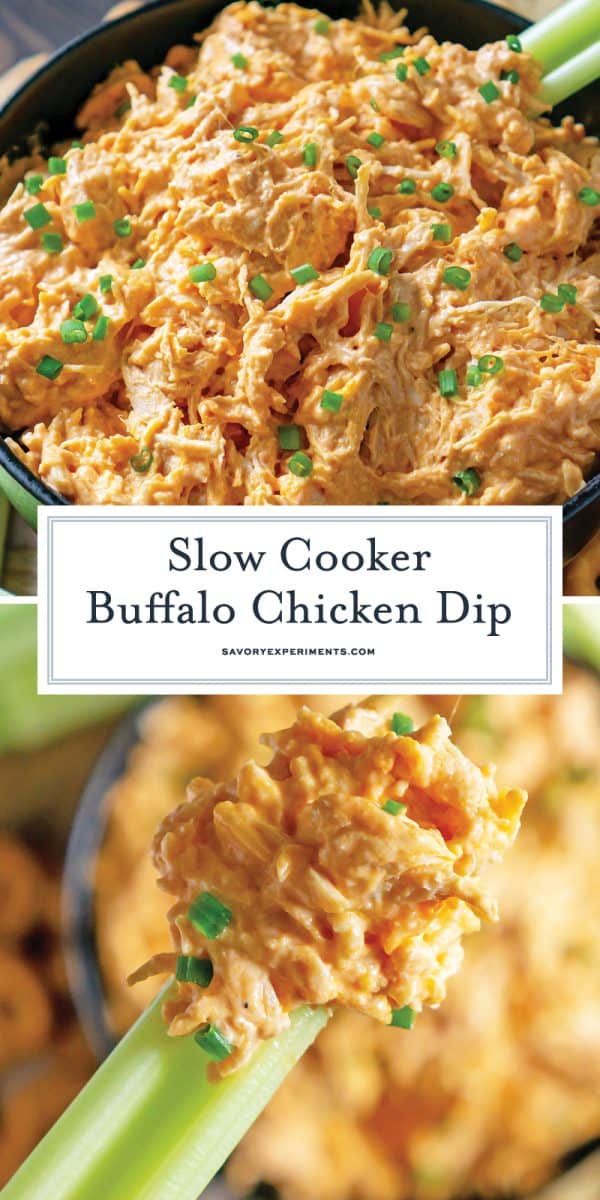 More buffalo chicken recipes: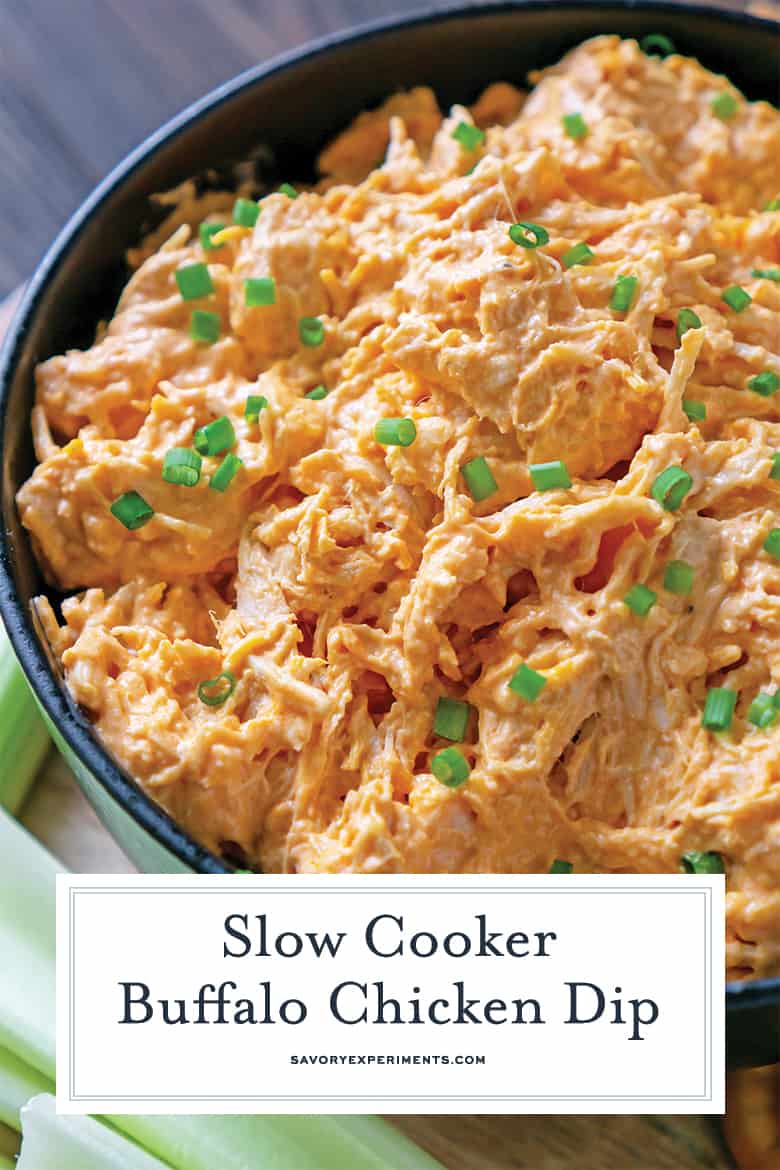 CONNECT WITH SAVORY EXPERIMENTS!

Be sure to follow me on social media, so you never miss a post!

Facebook | Twitter | Youtube
Pinterest | Instagram

Get our FREE 8 Day E-Course on How to Be a Better Home Cook. Sign up HERE!