Get ready to fire up your grill because these are the BEST Kabob and Skewer Recipes for summer! From pork to chicken, steak and shrimp, there's something for everyone!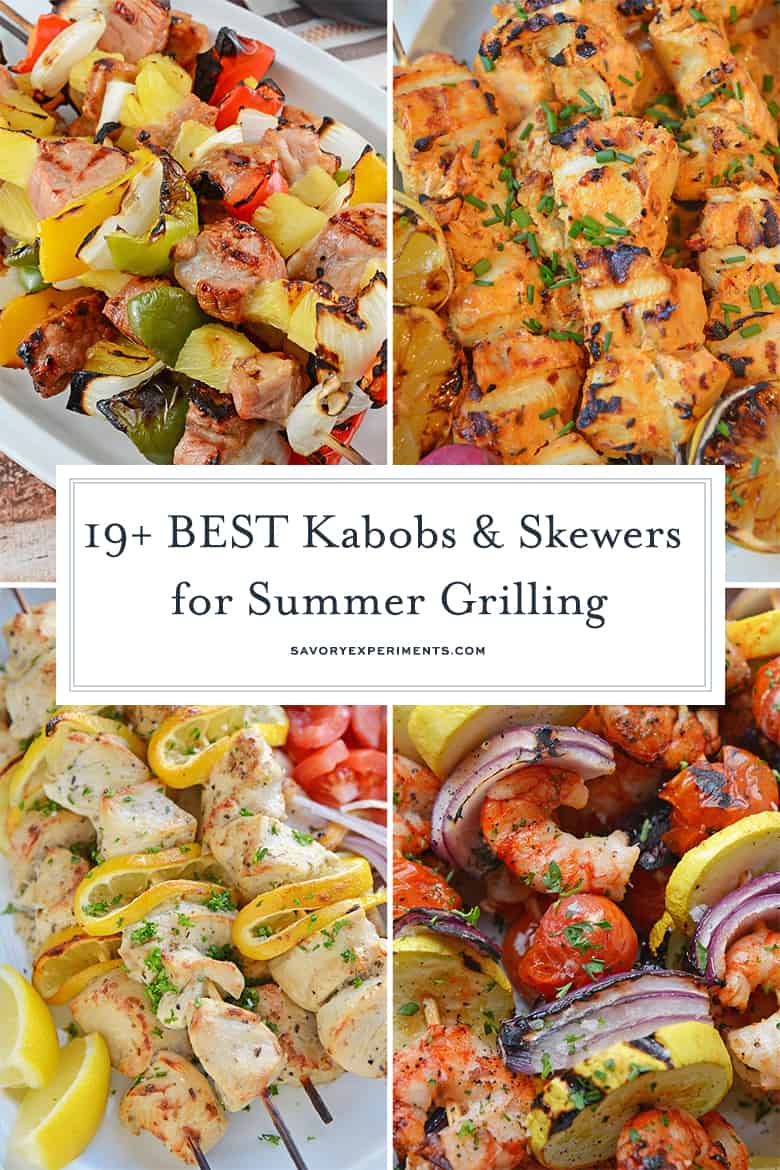 Spring has sprung and the weather is finally starting to be consistently warm (or at least warmer.) I don't know about you, but as soon as the temperature hits 50 degrees, I'm ready to take the cover off the grill and get to work!
Kabobs and Skewers
The best thing about kabob recipes is that you can really customize them to your liking. Add some juicy pineapple with some chicken to make Hawaiian chicken kabobs. Sprinkle on some red pepper flakes, lemon juice or even balsamic vinegar for an added flavor profile. These are some popular ingredients that are used:
red onion
bell peppers
cherry tomatoes
sweet potatoes
spicy shrimp
steak
Whether you use wooden skewers, bamboo skewers or metal skewers, make beef kabobs, a juicy chicken kabob recipe or even shrimp skewers, hot summer days just aren't the same without a delicious meal of kabobs! The whole family will enjoy!
If it's being able to get outside after being stuck inside all winter, the smoky flavor of grilled meat, or a combination of both- I just love to grill. It also takes the stress out of figuring out what to make for dinner.
And I never limit myself to only grilling things like burgers and steaks; the options are totally endless! You can grill:
kabob and skewer recipes
dessert kabobs
veggies
even fruits like my Grilled Peaches!
But my favorite thing to grill is kabobs. Throw some meat and veggies on a stick, grill it up and you've got yourself a complete meal! These Kabob and Skewer Recipes are flavorful, an easy summer meal and will make you want to grill all summer long!
The cook time depends on what type of meats and or veggies you are cooking. The amount of time varies slightly, but most kabobs are cooked on medium-high heat for the best flavor. Vegetables and meat tend to cook at different rates, so just keep that in mind when making these easy kabob recipes. Just make sure to cut each item into bite-size pieces.
More recipes to throw on the grill: