These Cold Tortellini Skewers add a little something extra special to any event you bring them to. The best part? No utensils needed!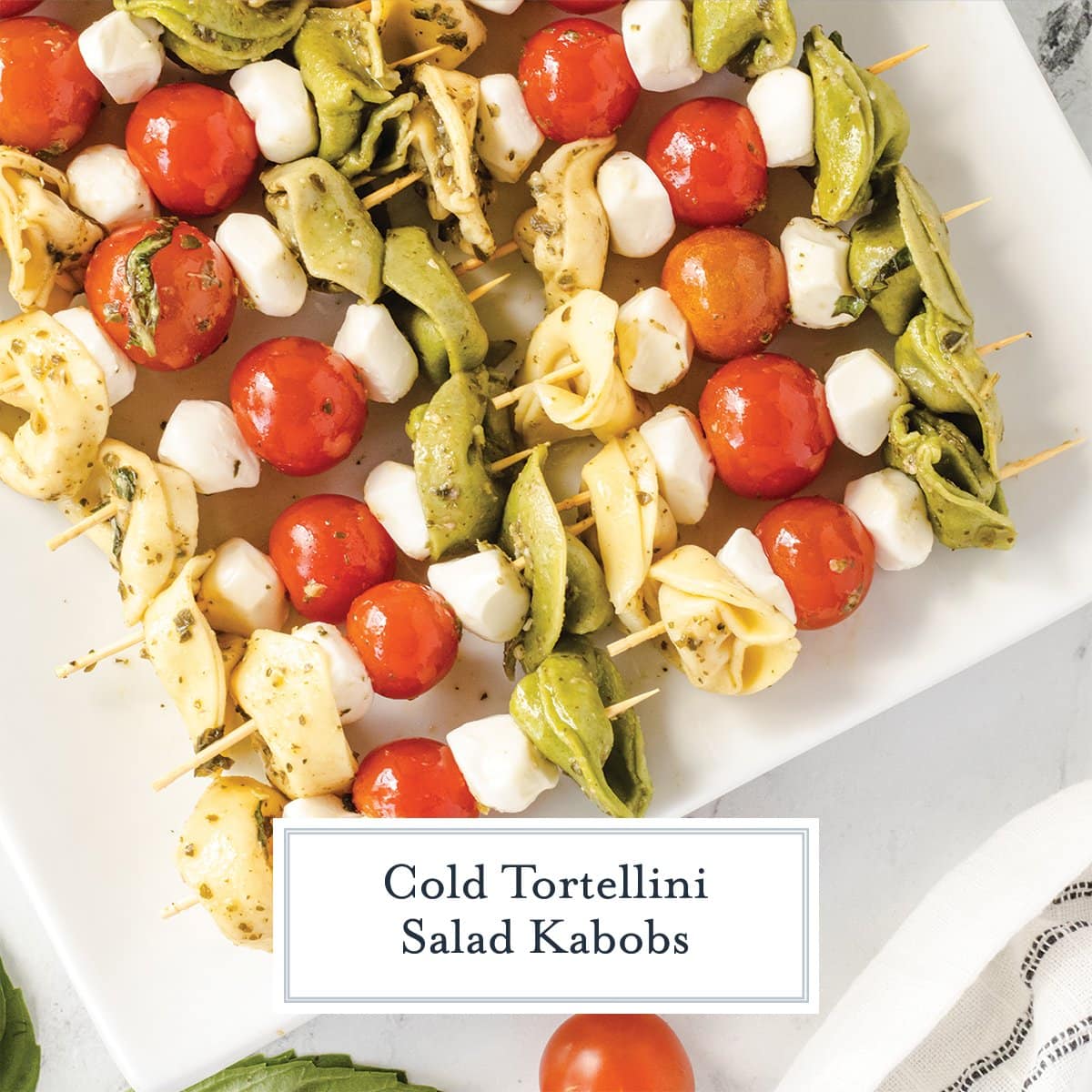 Cold Tortellini Salad Kabobs are a mouth-watering pasta salad served simply, on a stick. They are the perfect snack to serve at a BBQ or get together.
Tortellini Salad … on a Stick
Need a simple, crowd-pleasing, cold salad for your next BBQ? If you have an hour and a handful of ingredients, these Cold Tortellini Salad Kabobs will make you the talk of the neighborhood. Tortellini salad is always sure to please. They are so good, I plan for about 4 kabobs per person.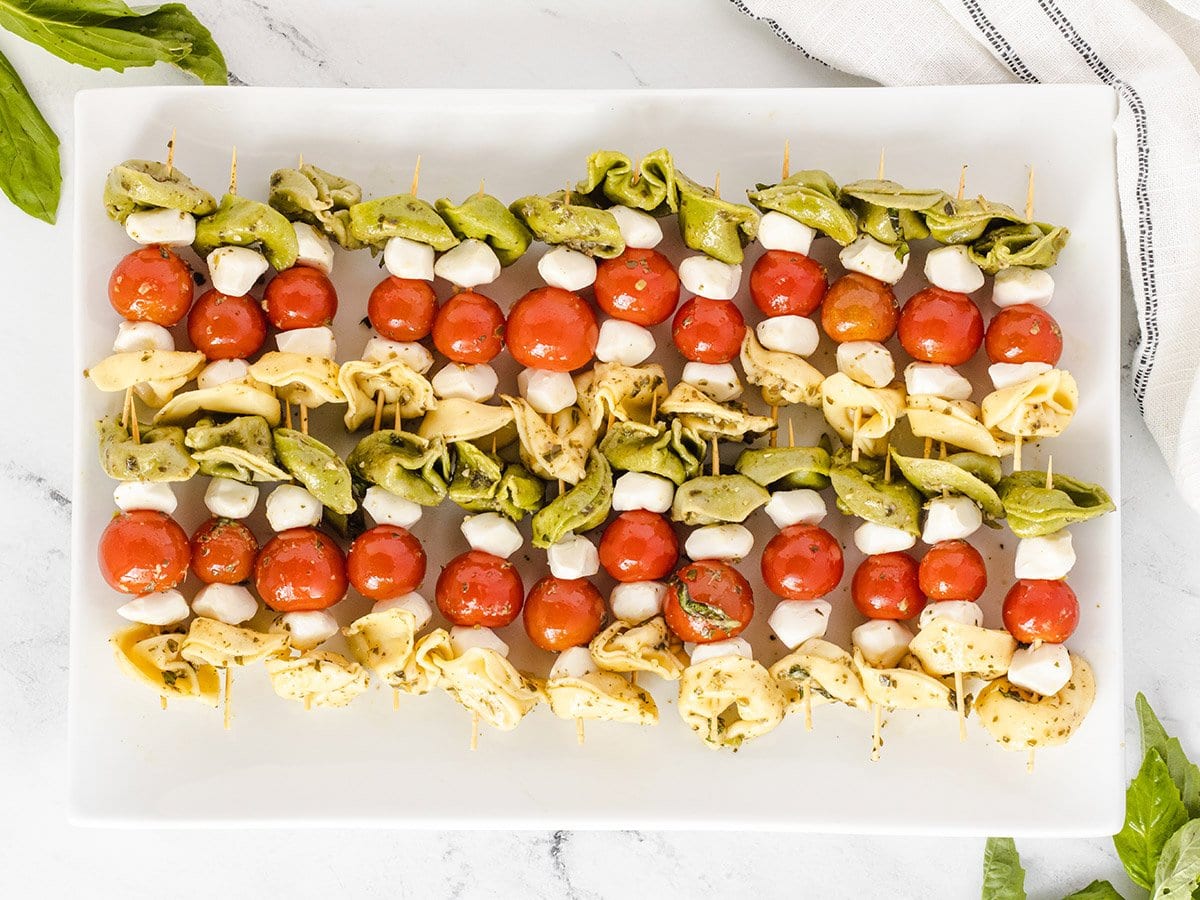 They say that foods on a stick are just a bit tastier and who I am to disagree? Cold pasta salad gets an upgrade with these kabobs. Cheese tortellini combines with pesto, cheese and tomatoes. No forks needed.
PRO TIP: Try using square or triangular skewers to firmly hold your ingredients and prevent them from spinning.
What is Tortellini Pasta?
Tortellini is a stuffed, ring shaped pasta that comes from the Italian region of Emilia, which is near Florence and encopasses Bologna, Parma and Modena, other notable Italian food towns.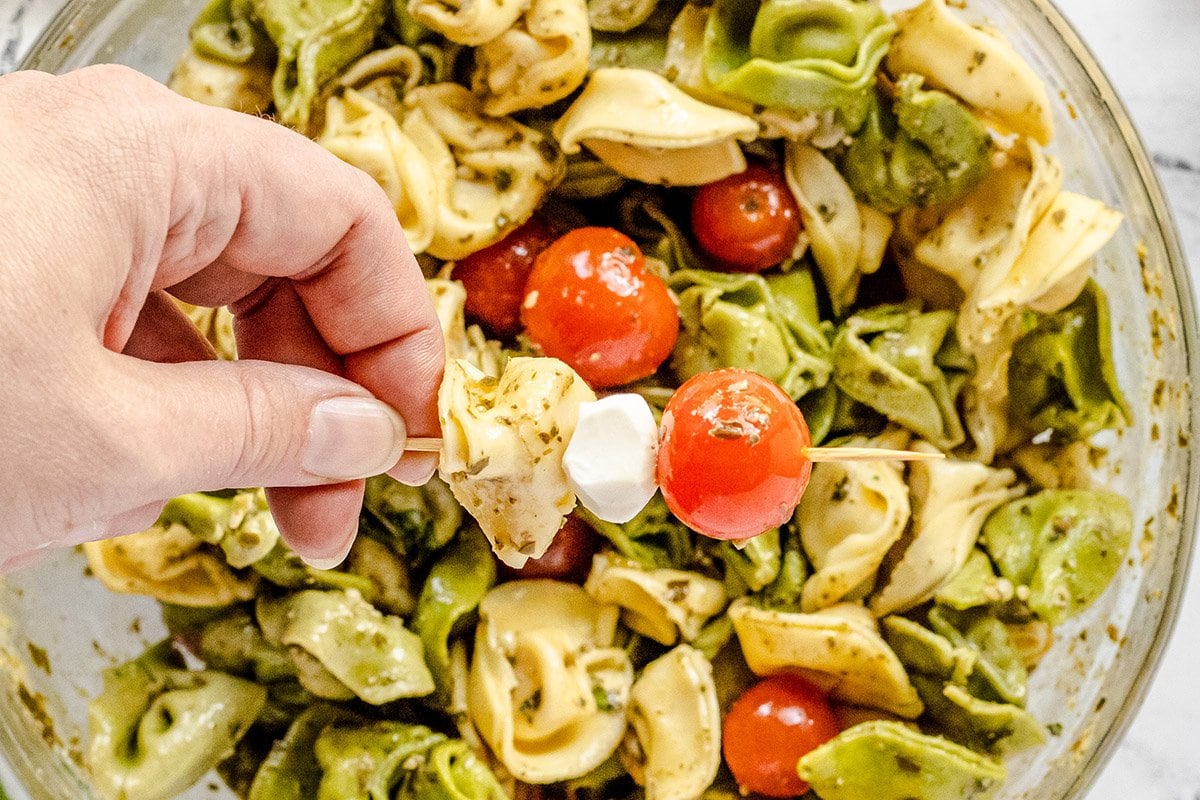 Cheese, meat and spinach are the most common items in stuffed tortellini. While these are the easiest to source, there are many other varieties and blends to make your creation unique.
How to Cook Tortellini
How to cook tortellini really depends on if it is fresh, frozen or dried. Fresh tortellini will takes only a few minutes and is basically heated through, plumped up and ready to go. It is easy to overcook, so watch it closely. It is done when it floats.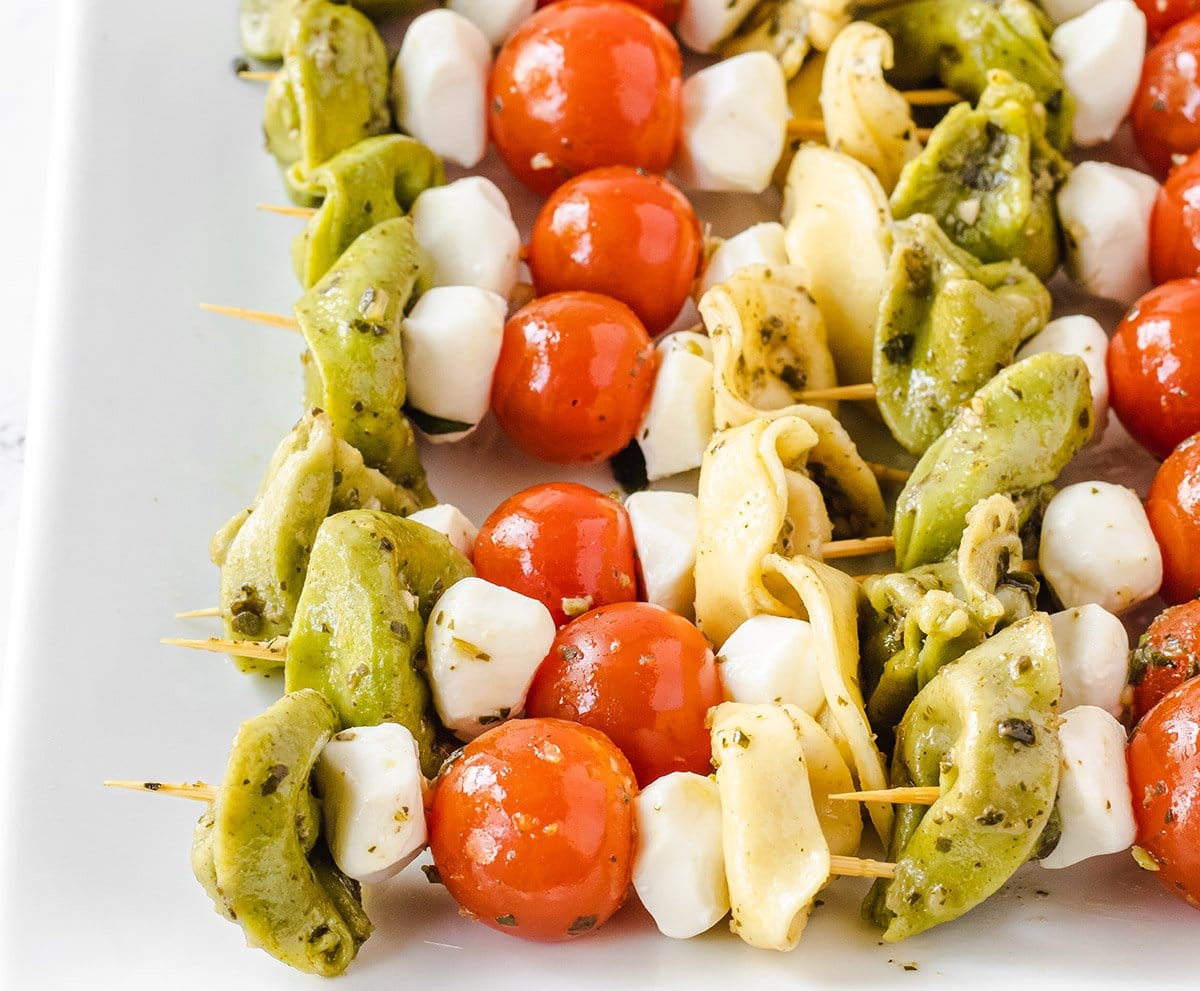 Frozen is in the middle and also fairly quick cooking, but will need a few more minutes to defrost before heating through. Dried will take the longest because it needs to fully absorb the water before softening. Even dried will only take 6-8 minutes because stuffed pastas cook quickly.
I'll let you in on a little secret. The leftovers are just as good. I made this recipe for my Memorial Day BBQ and forgot to bring them out!
Truth be told, I was okay with it because it meant more for me. The next day, I was left with a plate of cold tortellini salad. I popped them on a leafy green salad and boy was I happy.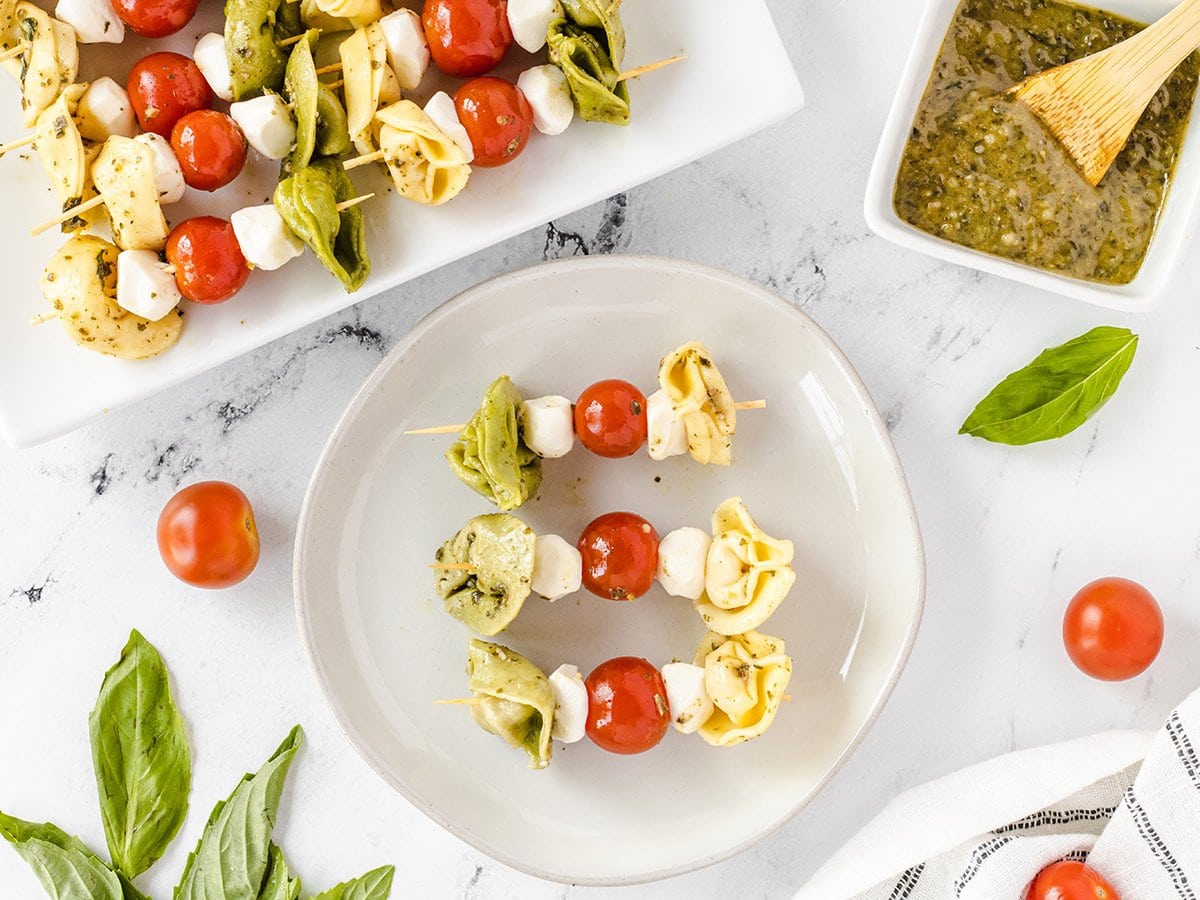 Ingredients & How to Make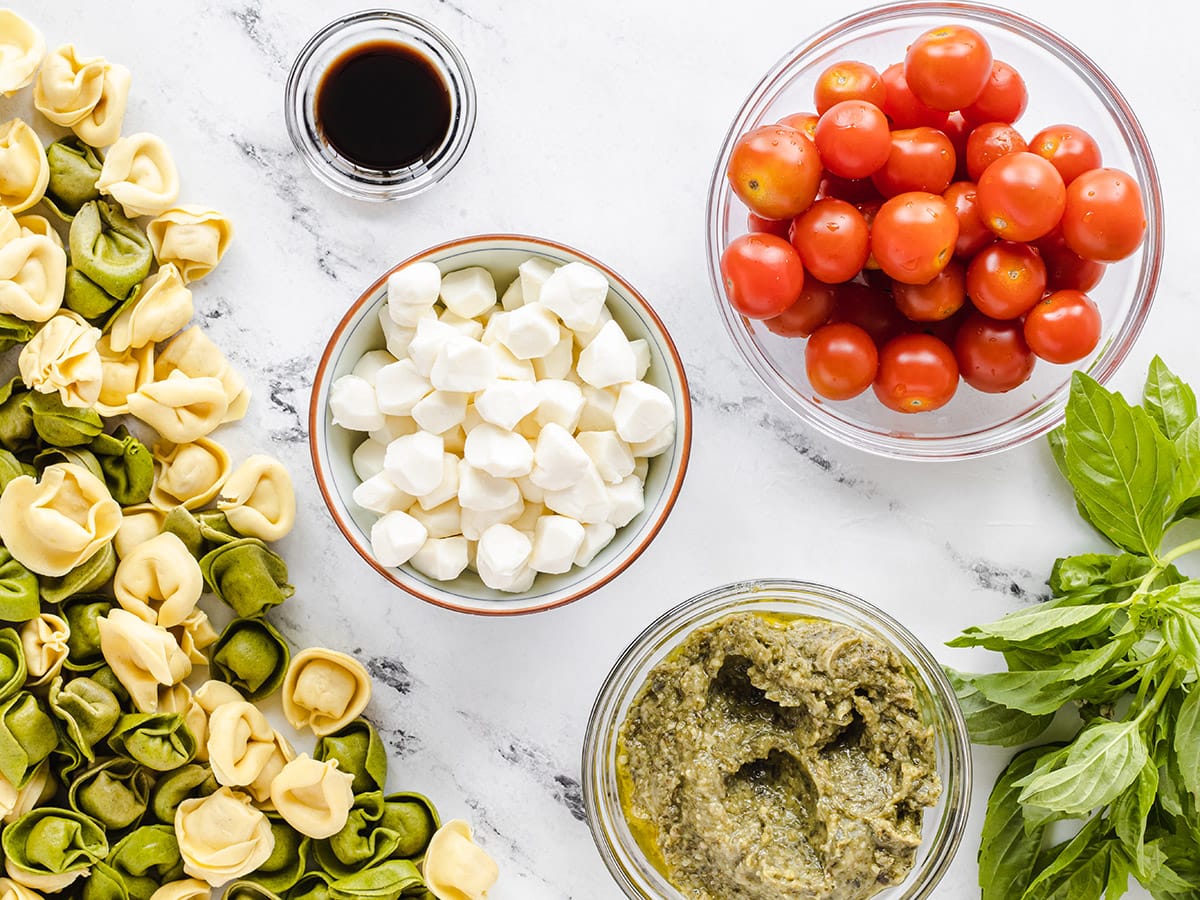 Tortellini– We used green and white (spinach and cheese tortellini) for the pictures, but try getting the tri-colored ones or even striped. The fillings are totally up to you as well.
Salt– This is just for seasoning the boiling pasta water. If you are using coarse salt, double the amount.
Pesto– You can use your own recipe or store bought salad dressing you'd like. Some people also add Parmesan cheese. I've even seen folks use alfredo sauce, but it gets a little messy. My Creamy Italian Dressing or Red Wine Vinaigrette is also an option!
Balsamic Vinegar– This is really where is gets taken up a notch. Vinegar is an acidic and create flavor sophistication past fresh the pesto. It is usually pretty unexpected and people "won't be able to put their finger on it". I've also used a balsamic reduction, which leans to the sweeter side.
Fresh Basil Leaves– I love the fresh basil along with pureed basil from pesto, but if you want to omit this, you'll still have a winning dish.
Grape Tomatoes– Just red or go for more color variation!
Mozzarella Balls– You know, those little marinated balls of cheese near the deli counter? Some are plain brined and others marinated in an Italian blend of herbs and spices, either will work.
Wooden Skewers– Since this is in appetizer, it made more sense to use smaller skewers. If you want to do longer ones, be my guest!
Next, make it! Threading the skewers is a great way to get the kids involved in the kitchen. Have a race and see who can get the most done in 5 minutes.

Cook the pasta according to package directions for al dente, then rinse with cold water and tap to get excess water off the pasta. If you skip the cold water, the residual heat will continue to cook the pasta.
Blend together the pesto with vinegar and fresh basil, if using, toss this with the tortellini and tomatoes. Make sure to toss it well so it gets in all the nooks and crannies. You can throw in the cheese too, but I like the stark white of the cheese.
Thread them onto skewers- we did two pieces of tortellini, two mozzarella pearls, and one tomato.
Chill until ready to serve. I like to take mine out to come to room temperature for about 15 minutes.
Variations
The possibilities are endless, so if you want to make these a bit more colorful, feel free to add other raw veggies. Make sure they are delicious and easy to eat raw and also thread well. These are our favorites:
Grape tomatoes
Cucumber slices
Whole Olives
Bell Pepper
Red Onion
Mushrooms
Can I add meat to these vegetarian kabobs? Sure! But since these aren't cooked (well, the pasta is…) I would suggest using pepperoni or think salami slices. You can ribbon up some prosciutto or even use cooked chunks of chicken or Italian sausage. If using sliced, cold meats, they do not need to be marinated.
Make Ahead & Storage
Can I make tortellini salad ahead of time? You sure can! I would suggest no more than 24 hours ahead of time. Store covered in the fridge. I also recommend saving a little of the pesto to baste them before serving. If you don't have any leftover, a little olive oil spritz will also help them look revived.
Can I freeze tortellini salad? This is one recipe I wouldn't recommend freezing. The amount of water in the ingredients will get mushy when thawed and cooked pasta just never seems to taste the same after freezing. The texture won't be ideal for skewering.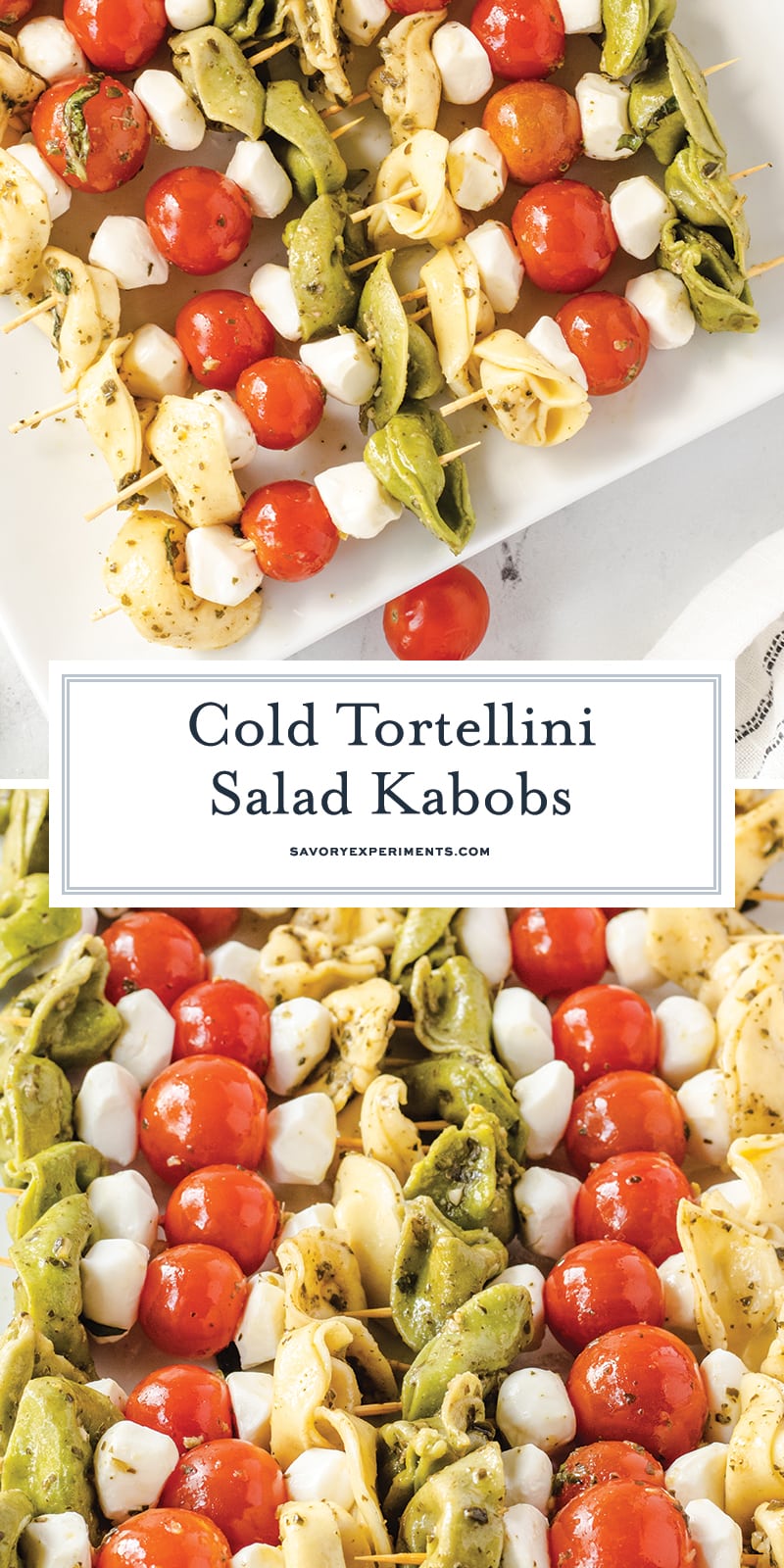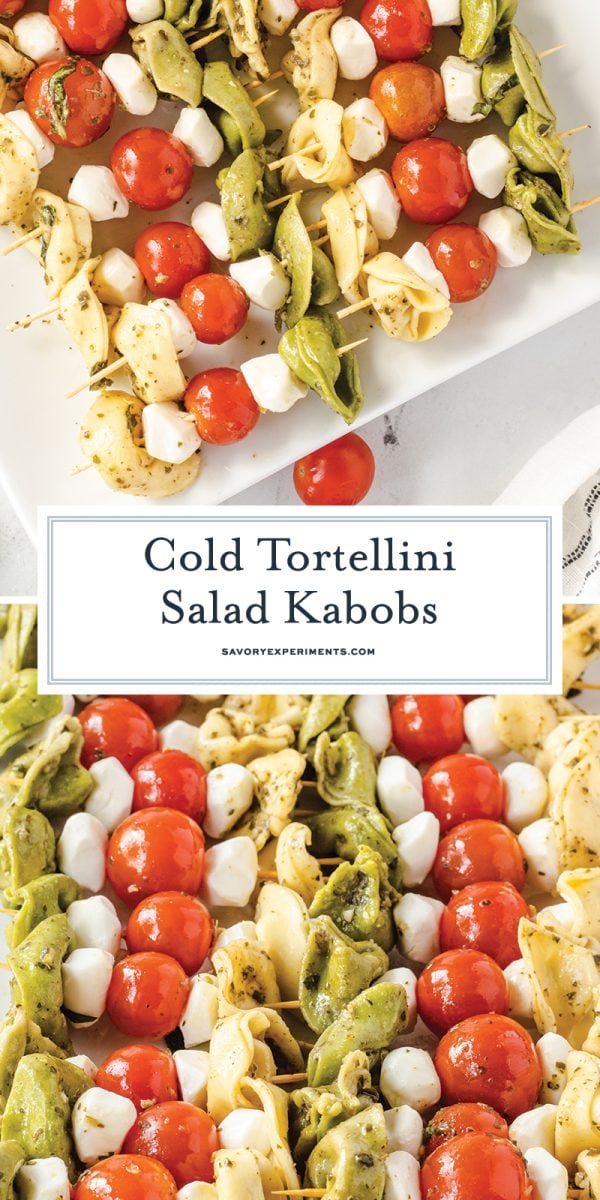 More kabobs and sides to enjoy…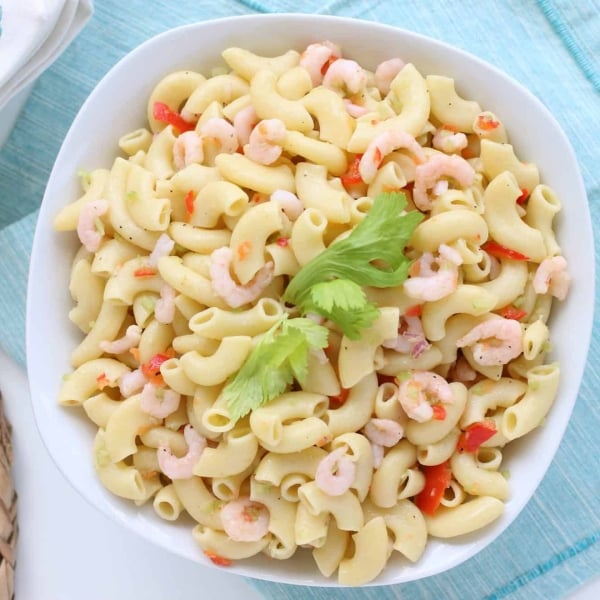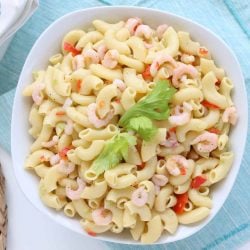 Shrimp Pasta Salad
Shrimp Pasta Salad is the best dish to bring to any party. This dish is has a zing to it that will help bring those family gatherings and neighborhood potlucks to life.
See The Recipe!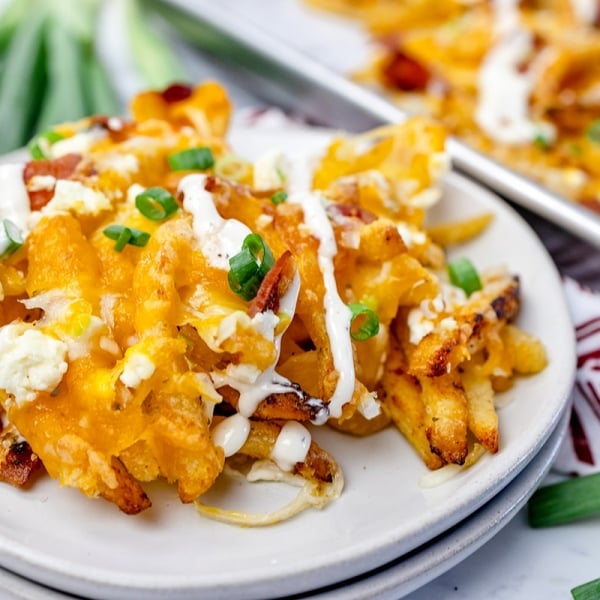 Ranch Bacon Cheese Fries
Crispy fries tossed with Ranch seasoning topped with a trio of freshly shredded cheese, crumbled bacon and scallions. Serve Ranch sauce on the side or drizzling on top.
See The Recipe!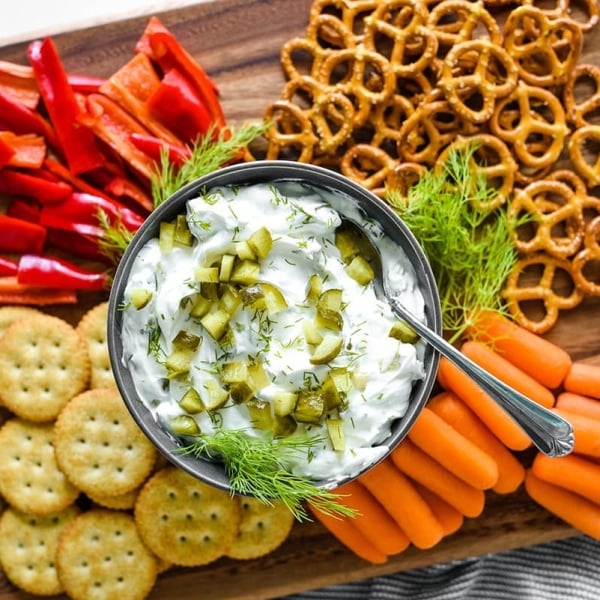 Dill Pickle Dip
This Dill Pickle Dip is a quick and easy appetizer, ready in 5 minutes! Less than 10 ingredients make this creamy dip the BEST!
See The Recipe!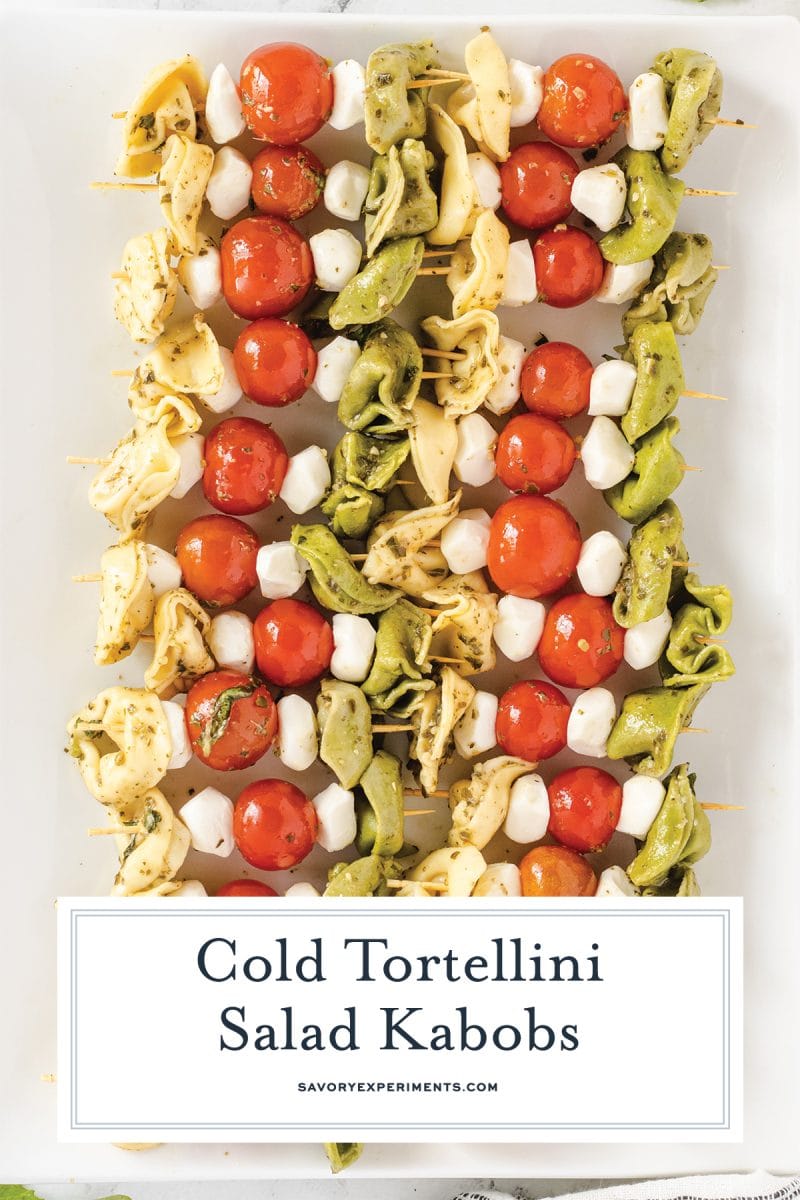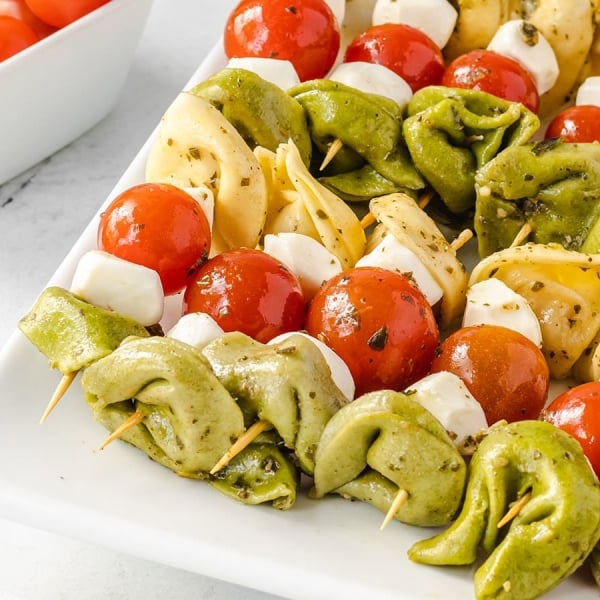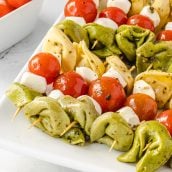 Cold Tortellini Salad Kabobs
Traditional tortellini salad becomes a finger food with these Tortellini Skewers. They are a fresh and flavorful, appetizer, perfect for everything from cocktail hours to pool parties!
Instructions
Boil a large pot of water, adding the salt when it comes to a full rolling boil. Cook tortellini "al dente" according to package directions. Drain and rinse with cold water to stop the cooking process.

In a small bowl, mix together the pesto sauce with balsamic vinegar and fresh basil leaves.

Place the cooked tortellini in a large bowl. Add the grape tomatoes and gently toss with the pesto mixture.

Thread the tortellini,tomatoes, and mozzarella onto skewers, with two pieces of tortellini, two mozzarella pearls, and one tomato on each skewer.

Refrigerate until ready to serve.

If you've tried this recipe, come back and let us know how it was in the comments or ratings!
Nutrition
Calories:
57
kcal
,
Carbohydrates:
4
g
,
Protein:
3
g
,
Fat:
4
g
,
Saturated Fat:
1
g
,
Polyunsaturated Fat:
1
g
,
Monounsaturated Fat:
1
g
,
Cholesterol:
5
mg
,
Sodium:
149
mg
,
Potassium:
38
mg
,
Fiber:
1
g
,
Sugar:
1
g
,
Vitamin A:
215
IU
,
Vitamin C:
2
mg
,
Calcium:
44
mg
,
Iron:
1
mg