These Cold Tortellini Skewers add a little something extra special to any event you bring them to. The best part? No utensils needed!
Cold Tortellini Salad Kabobs are a mouth-watering pasta salad served simply, on a stick. They are the perfect snack to serve at a BBQ or get together.
Need a simple, crowd-pleasing, cold salad for your next BBQ? If you have an hour and a handful of ingredients, these Cold Tortellini Salad Kabobs will make you the talk of the neighborhood. Tortellini recipes are always sure to please.
They say that foods on a stick are just a bit tastier and who I am to disagree? Cold pasta salad gets an upgrade with these kabobs. Cheese tortellini and veggies are a tried and true match made in heaven. No forks needed.
PRO TIP: Try using square or triangular skewers to firmly hold your ingredients and prevent them from spinning.
Let the salad ingredients marinate, load them onto your wooden skewers and voila, a fantastic party treat that allows your guests to skip the, plate, the knife, and the fork.
PRO TIP: Use a large bowl, larger than you think you need. It makes it easier to toss.
The longer you can let your tortellini salad mixture sit in the tangy Italian dressing marinade the better. More time is going to equal more flavor, but you can still get plenty of flavor in as little as an hour.
I'll let you in on a little secret. The leftovers are just as good. I made this recipe for my Memorial Day BBQ and forgot to bring them out!
PRO TIP: After you cook the pasta according to package instructions and drain the pasta, rinse with cold water to stop the cooking process and ensure you have al dente pasta.
Truth be told, I was okay with it because it meant more for me. The next day, I was left with a plate of cold tortellini salad. I popped them on a leafy green salad and boy was I happy.
If you enjoyed this easy kabob recipe, check out these other easy BBQ friendly recipes:
Shrimp Pasta Salad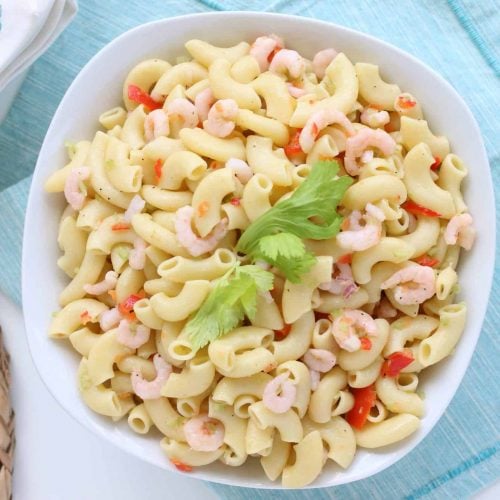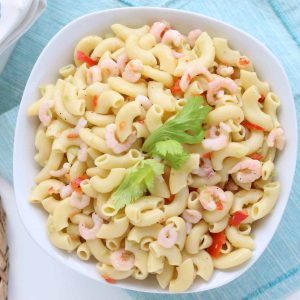 Shrimp Pasta Salad is the best dish to bring to any party. This dish is has a zing to it that will help bring those family gatherings and neighborhood potlucks to life.
Ranch Butter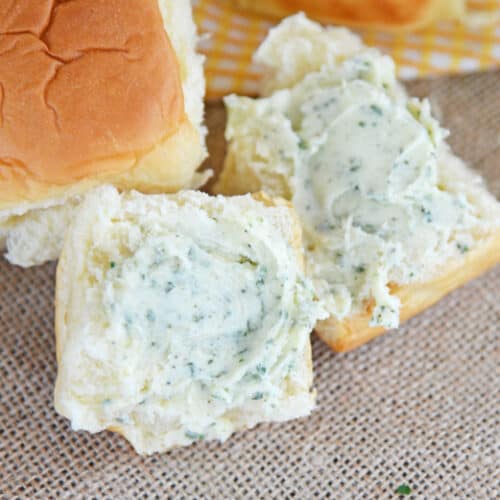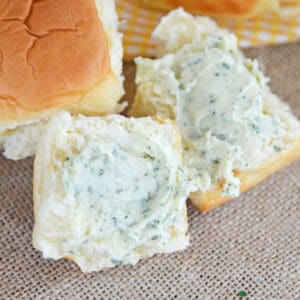 Ranch butter is easy homemade seasoned butter perfect for taking any dish using regular butter to the next level. Baked potatoes, pasta, seafood & poultry!
Tools for making tortellini salad:
Wood cutting board – wood won't dull your knives like plastic and if treated properly, has natural antimicrobial properties.
Good knife – Global is my favorite! They are worth the price, I promise. I am kind of obsessed with them and store them tucked away so no one else can use them. Including hubby. Hands off my good stuff!
Metal Skewers– save the environment and use reusable skewers for your kabobs! I prefer the shorter ones, they are easier to manage for simple recipes like this, but also for actual grilling.
Wooden Skewers– for a party, sometimes disposable skewers are just easier and you don't risk anyone throwing away your good metal ones. Bamboo is my favorite material.
Mixing Bowls– make sure to check out my article on Using the Right Mixing Bowl, you'd be surprised how many people aren't!
Questions you might have about how to make tortellini salad skewers:
Can I freeze tortellini salad? This is one recipe I wouldn't recommend freezing. The amount of water in the ingredients will get mushy when thawed and cooked pasta just never seems to taste the same after freezing. The texture won't be ideal for skewering.
Can I make tortellini salad ahead of time? You sure can! In the recipe I marinate mine for a good amount of time, but no more than 24 hours. The pasta might start to break down and you need it to be taunt to skew well.
After removing from the marinade, you can skewer them up to another 12 hours before serving. Save a little marinade to baste before serving and cover them well to prevent drying.
Can I make my own Italian Dressing? You can! You can use your own recipe or a combination of olive oil and red vinegar. You can even use any store bought salad dressing you'd like. Some people also add Parmesan cheese.
I've even seen folks use alfredo sauce, but it gets a little messy. My Creamy Italian Dressing or Red Wine Vinaigrette is also an option!
How much tortellini salad per person? Since these are pasta salad kabobs, it doesn't translate traditionally, but I would say to account for 1-2 kabobs per person.
Can I substitute the vegetables? Sure! The best vegetables for kabobs, especially raw, are:
Grape tomatoes
Cucumber slices
Whole Olives
Bell Pepper
Red Onion
Mushrooms
Can I add meat to these vegetarian kabobs? Sure! But since these aren't cooked (well, the pasta is…) I would suggest using pepperoni or think salami slices. You can ribbon up some prosciutto or even use cooked chunks of chicken or Italian sausage. If using sliced, cold meats, they do not need to be marinated.
Cold Tortellini Salad Kabobs are a mouth-watering pasta salad served simply, on a stick. They are the perfect snack to serve at a bbq or get together.
CONNECT WITH SAVORY EXPERIMENTS!

Be sure to follow me on social media, so you never miss a post!

Facebook | Twitter | Youtube
Pinterest | Instagram

Get our FREE 8 Day E-Course on How to Be a Better Home Cook. Sign up HERE!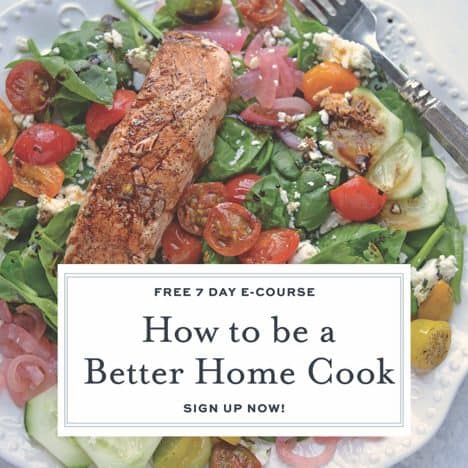 Cold Tortellini Salad Kabobs
Cold Tortellini Salad Kabobs are a mouth-watering pasta salad served simply, on a stick. They are the perfect snack to serve at a bbq or get together.
Instructions
Cook tortellini "al dente" according to package directions. Drain and cool to room temperature.

Quarter onion and place into a large mixing bowl. Drain and rinse olives and place in the same bowl. Cut bell pepper into 1-inch pieces. Add tortellini and tomatoes.

In a small dish, whisk together Italian Dressing, fine sea salt, black pepper and garlic powder. Pour over tortellini moisture and refrigerate for 1 hour-24 hours.

Remove from the refrigerator and thread onto long skewers. Drizzle a little bit of remaining dressing over skewers, and refrigerate until ready to serve.

Enjoy your Cold Tortellini Salad Skewers!

If you've tried this recipe, come back and let us know how it was!
Nutrition
Calories:
550
kcal
|
Carbohydrates:
57
g
|
Protein:
15
g
|
Fat:
29
g
|
Saturated Fat:
5
g
|
Cholesterol:
35
mg
|
Sodium:
2408
mg
|
Potassium:
284
mg
|
Fiber:
6
g
|
Sugar:
14
g
|
Vitamin A:
1175
IU
|
Vitamin C:
33.8
mg
|
Calcium:
171
mg
|
Iron:
3.1
mg