Jerk Chicken Skewers make the perfect summer party appetizer, or family dinner. The chicken has a bold Jamaican flavor, and is paired with fresh pineapple, red pepper and red onion for the perfect kabob.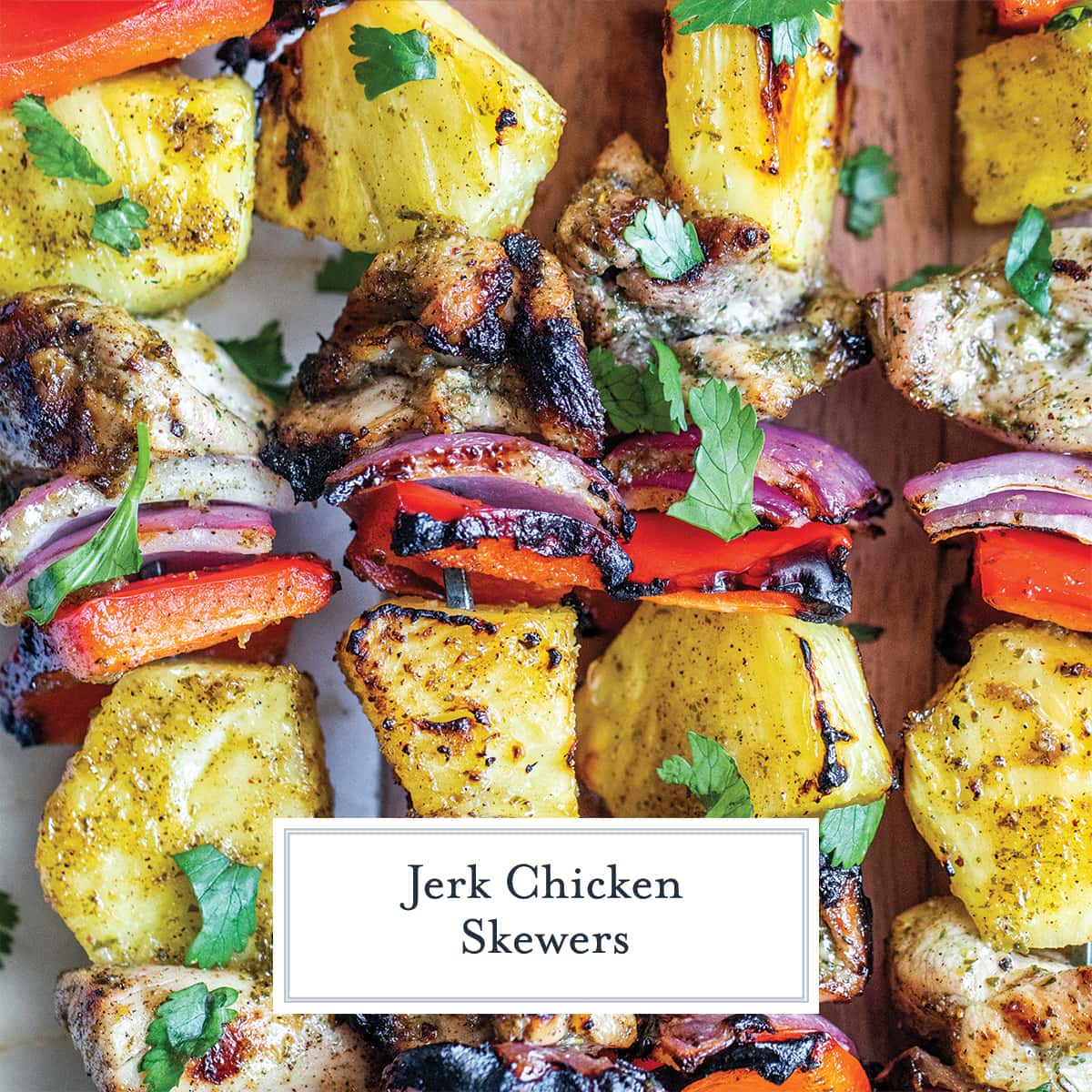 Jerk Chicken Recipe
Kabobs are a summertime favorite in my family, and I love being out in the fresh air grilling. These Jerk Chicken Kabobs pack a bold flavor with some spice, but are complemented with the sweet fresh pineapple and crisp veggies.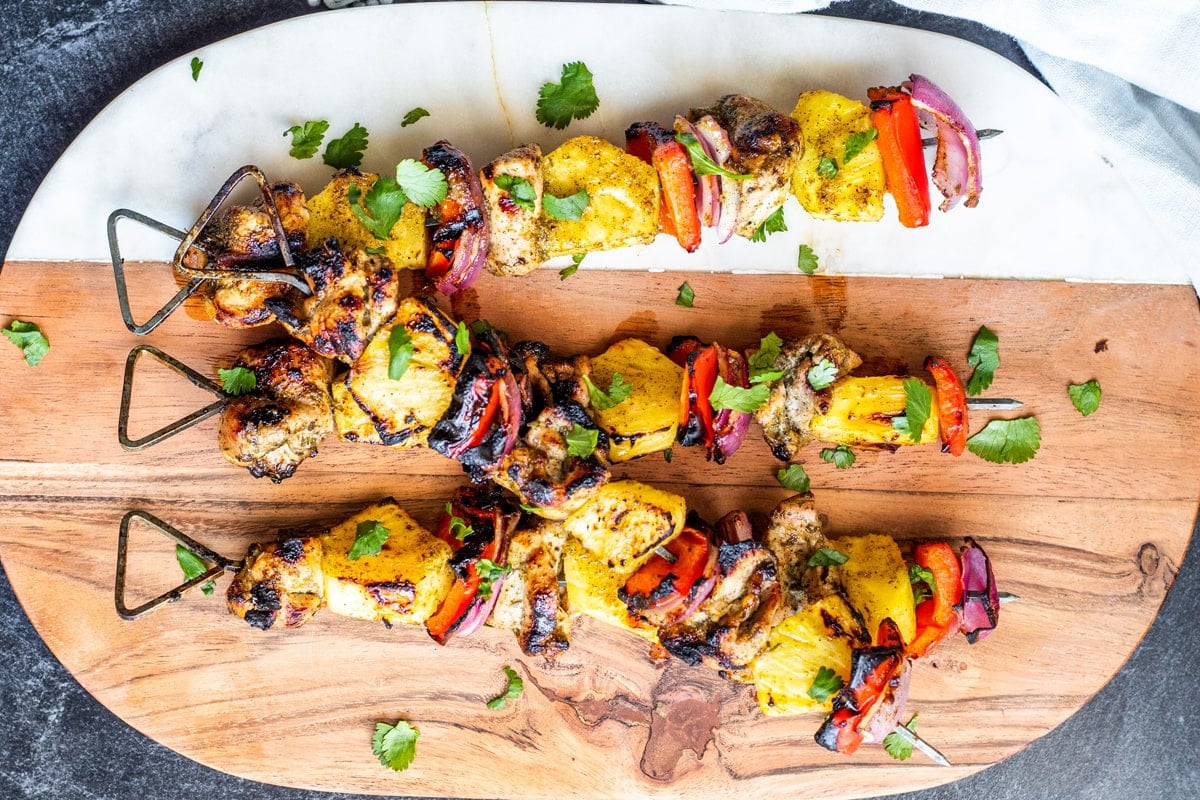 This chicken skewer recipe makes a great party appetizer, or make it a main when paired with cooked rice or beans.
What is Jerk Chicken?
Jerk refers to the cooking style in which meat (usually chicken) is coated in an array of spices then cooked over a fire or grilled.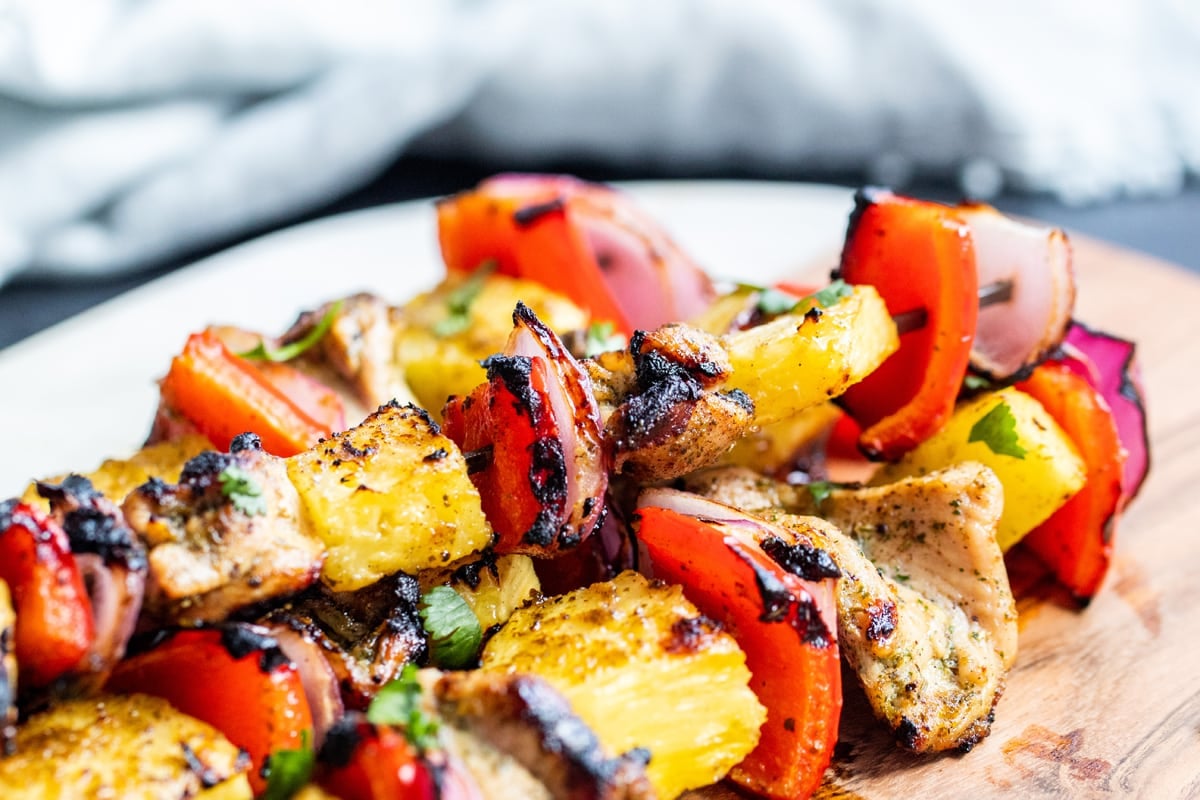 The smoke mixed with the spices gives the distinctive "jerk" flavor. The dish originated in Jamaica, but has roots from all over the Caribbean. It is also referred to in Jamaican Jerk Sauce.
The ingredient list for a good jerk chicken marinade looks long, but they are pretty basic and also easily verstile. Sure you can slap on some dry jerk seasoning, but marinating gets flavor through to the core of the chicken.
Here is what you'll need:
Olive oil- or another neutral oil like vegetable or canola
Lime juice
Pineapple Juice
Garlic
Jalapeno– scotch bonnets, habaneros or other peppers, omit if you don't like heat
Scallions– or other member of the onion family
Maple syrup– or brown sugar or honey
Soy sauce
Spices: thyme, nutmeg, allspice, cinnamon, ginger and sal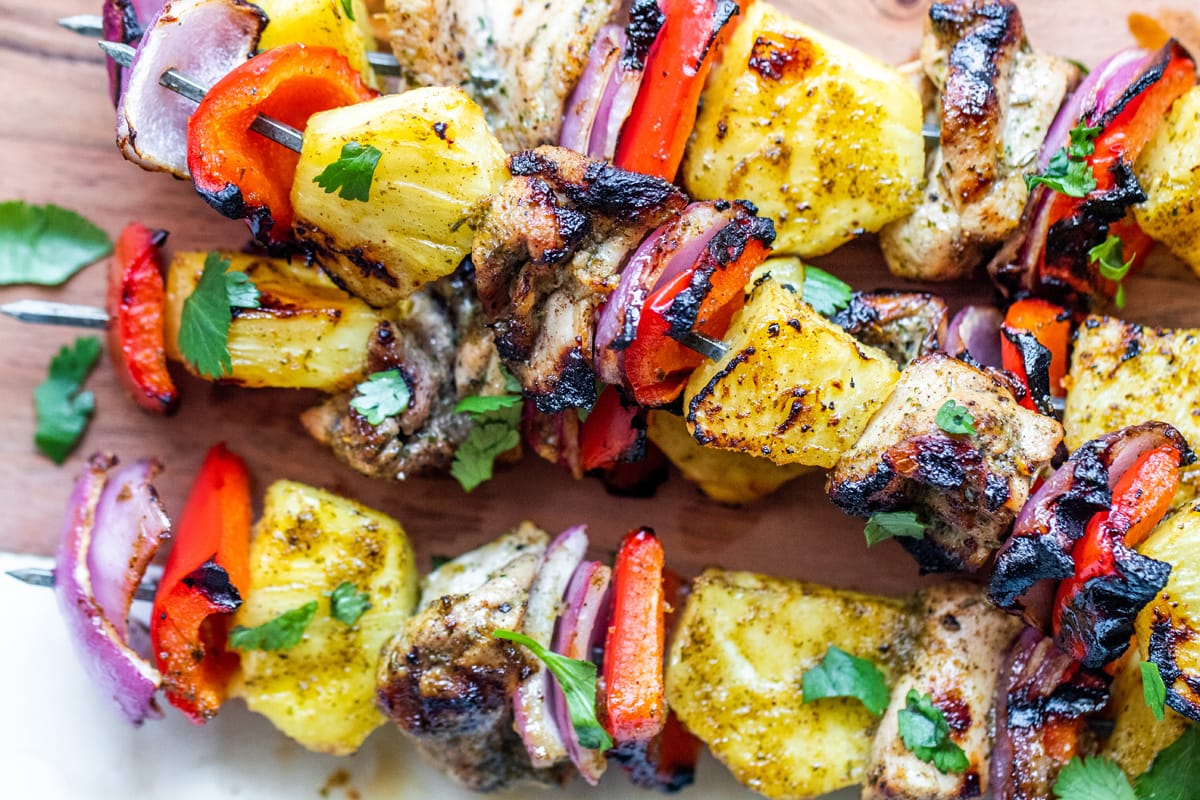 How to Make Jerk Chicken Skewers
Prepare the Marinade: Chop green onions and remove ribs and seeds from jalapeno pepper, then add all of the remaining marinade ingredients to the bowl of a food processor or blended.
Blend for 1 minute on medium speed until smooth. Once blended, add half of the marinade to a large bowl with the cubed chicken breast and toss to combine. Cover and marinade in the fridge for at least 20 minutes.

Prepare other Ingredients: While the chicken is marinating, Slice and chop the red pepper (removing the ribs and seeds) and red onion into large 1 inch pieces. If using a fresh pineapple; peel, core and chop into 1 inch chunks.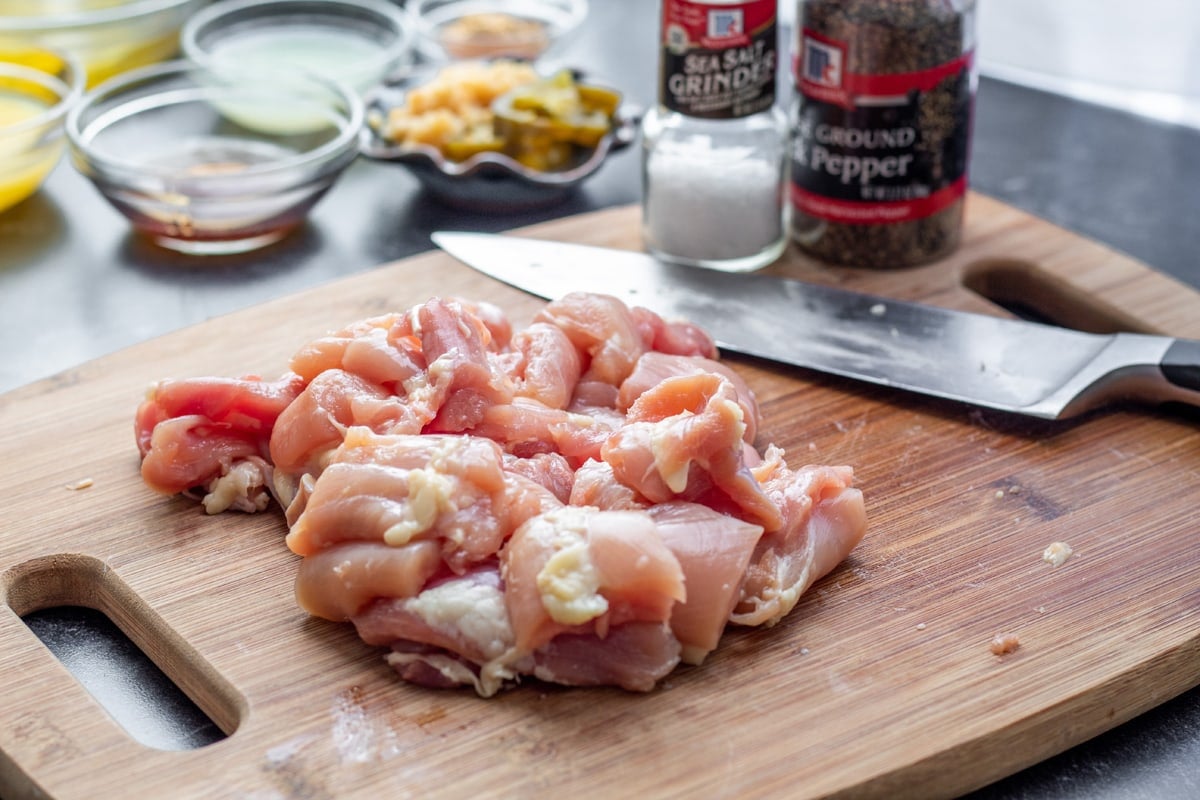 Prepare Kabobs: Once the chicken is done marinating, spray 8 10 inch metal skewers with cooking spray. Next, begin to skewer the chicken, chopped red peppers, red onion and pineapple chunks onto each skewer.
I like to alternate mine. Brush the remaining marinade over the finished kabobs and move on to grilling.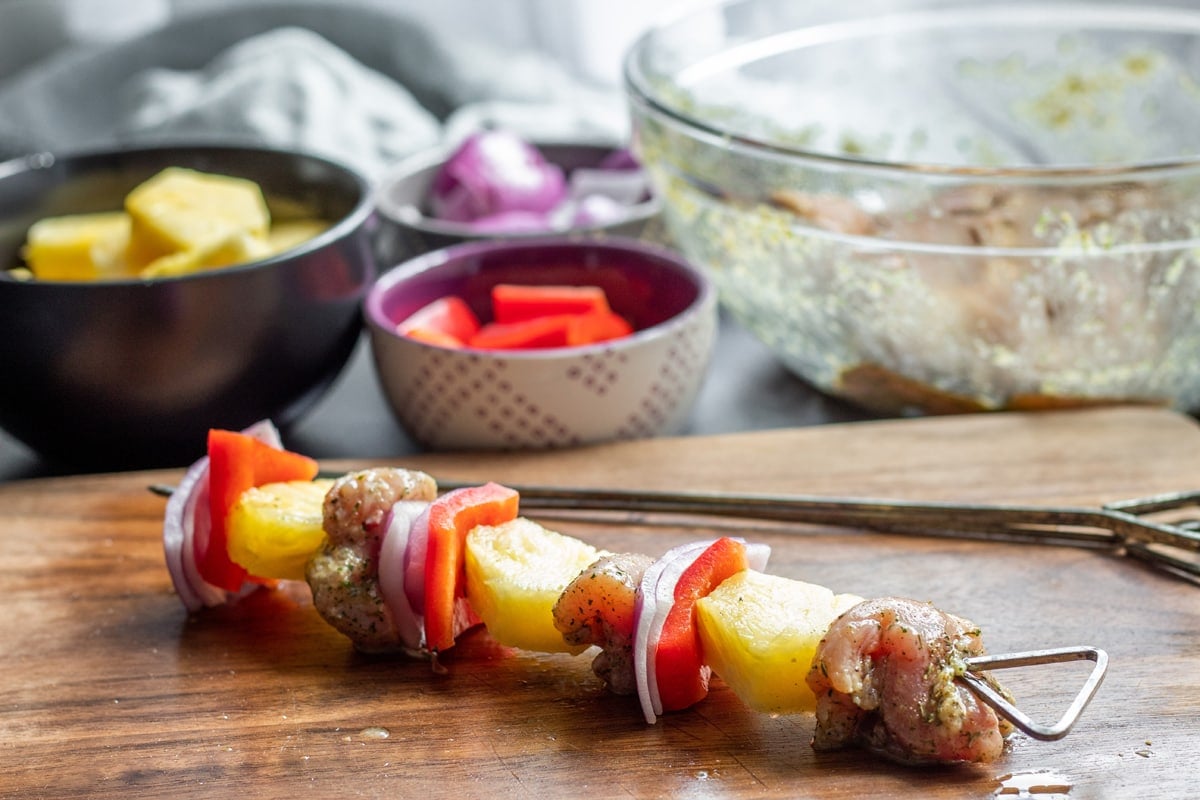 Grilled Kabobs
Spray the cool grill with cooking spray to avoid the chicken from sticking. Next, heat the grill to 400°F.
Once the grill is heated, add the jerk chicken skewers to the grill and cook 5 minutes per side, or until the internal temperature reaches 165 degrees F.
Kabobs in the Oven
If you prefer to use your oven instead of grilling these jerk kabobs you can absolutely do so. The cook time will differ, and traditionally jerk chicken is best cooked over open flame or grill, but the idea and concept will be the same.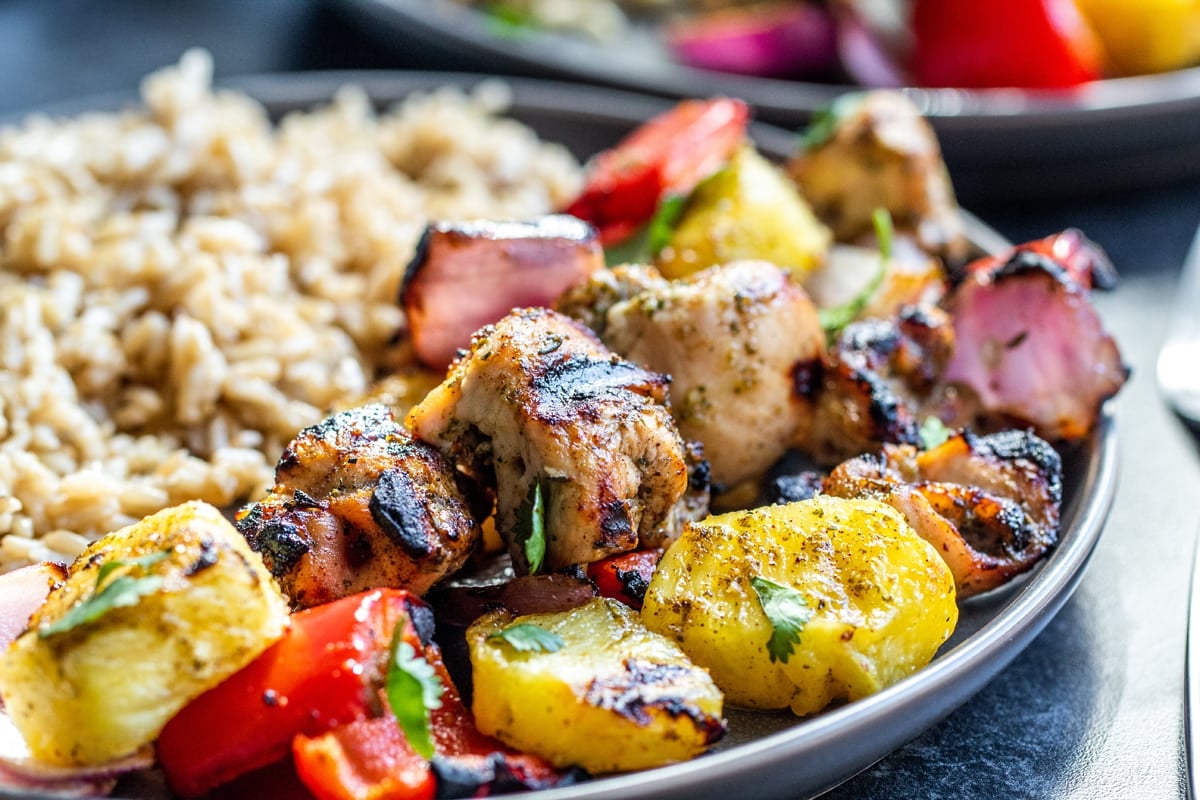 Preheat your oven to 450°F. Spray a large baking sheet with cooking spray or line with foil.
Once preheated, add prepared kabobs to the baking sheet and cook on the middle rack for 15 minutes, flipping halfway through. If you want a more charred veggie and chicken you can broil on high for an additional minute.
Tips & Suggestions
Spray your grill with cooking spray before heating it to help the chicken kabobs from sticking.
If using wooden kabobs, soak for at least 30 minutes in water before threading.
If using metal skewers, aim for square or swirly sticks to prevent meat from spinning.
If you are short on time, you can opt out of slicing and using a fresh pineapple and instead use canned pineapple chunks. Another option would be buying pre-sliced pineapple from your local grocery store.
Chicken Variations
I love using chicken thighs for my jerk chicken kabobs, because it is more authentic and yields more flavor. You can of course swap in some boneless skinless chicken breasts if you wish.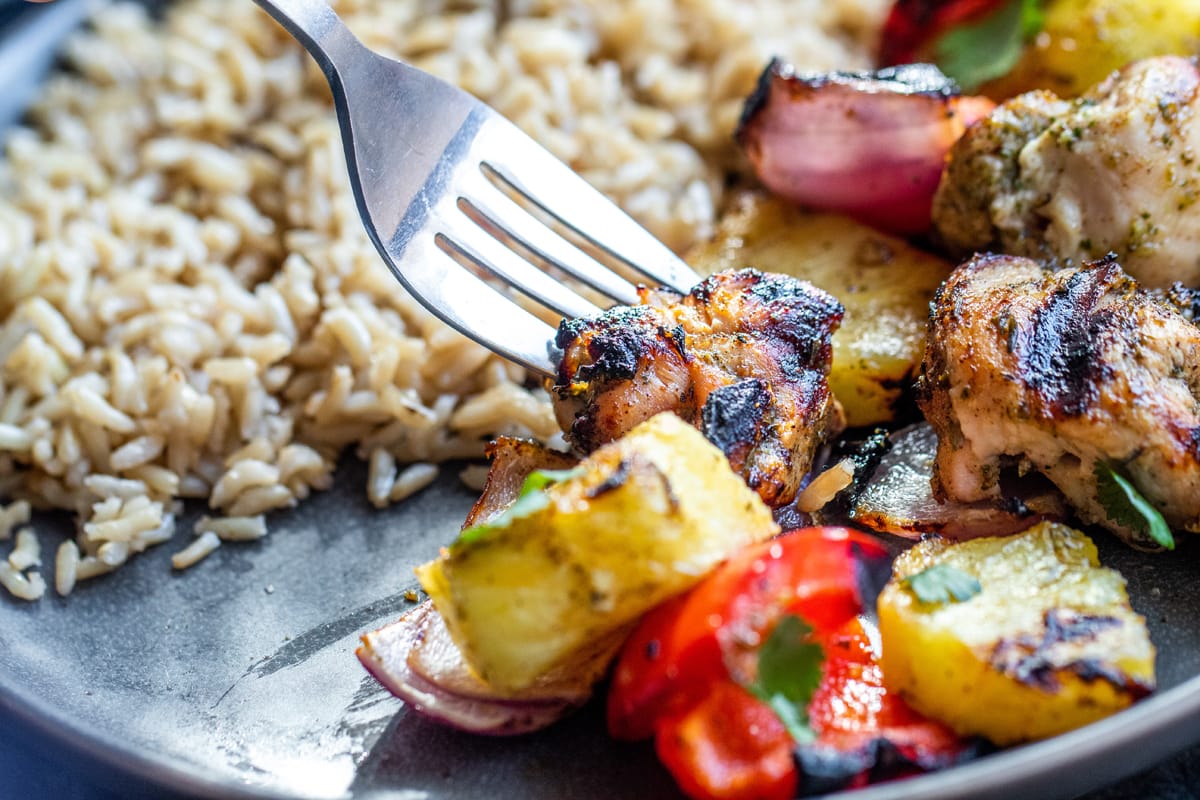 Makes sure that the chicken pieces are large enough to be thread, but not so big that they won't be able to cook at the same rate as the vegetables.

If you love the flavor of these kabobs, you could also use the marinade for chicken wings, chicken legs or even a whole chicken. The cook times and methods will vary depending on the cut you choose, but this jerk chicken marinade is versatile and can be used for a variety of recipes.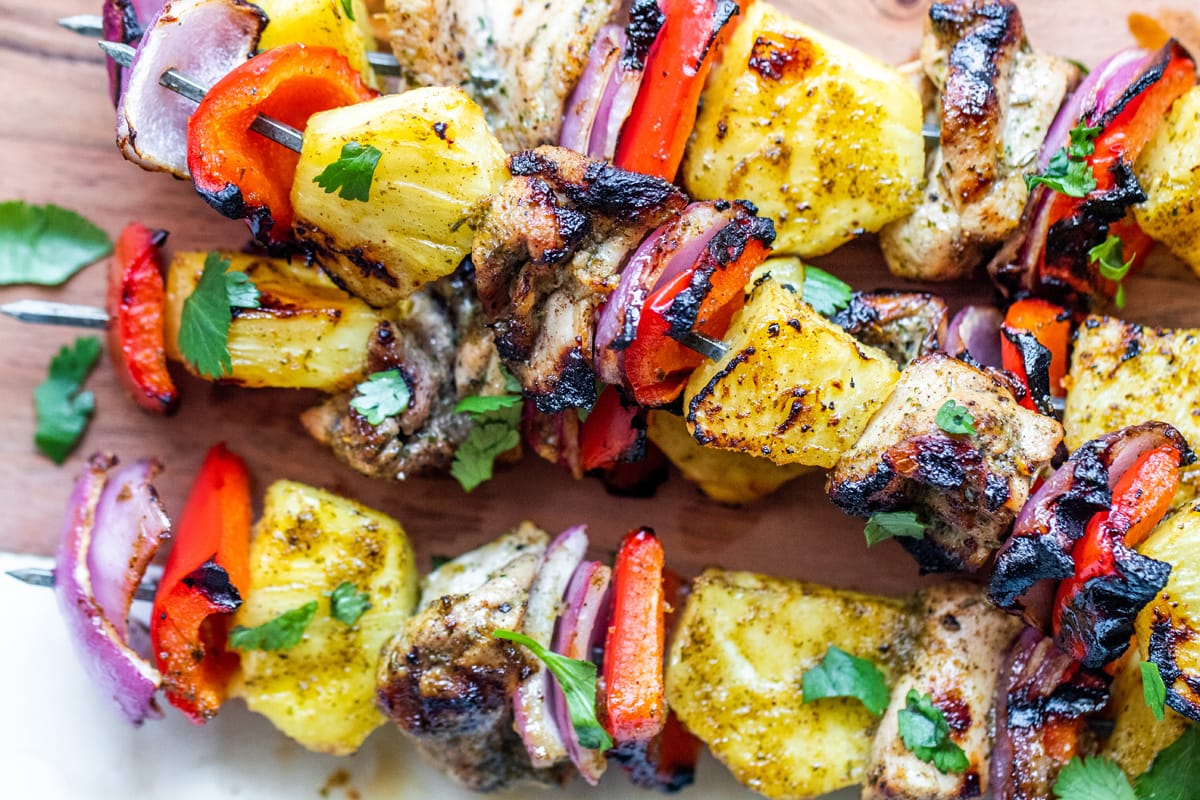 What should I serve with jerk chicken?
For a more traditional side you could go with corn, or rice. Other great options include cooked beans or grilled veggies. Here are a few other favorites:
Storage & Make Ahead
Kabobs can be made ahead of time up to 24 hours, but taste best right off the grill.
Remove the chicken from the kabobs and store in an airtight container in the fridge for up to 4 days. Rewarm before enjoying. The oven tastes best, but microwave is good too.