Part of our whole gig here is that we experiment with new recipes and new flavors. It is our job to learn more about trendy new ingredients and introduce you to them so you can be the star of your dinner party when you've got the hot new item.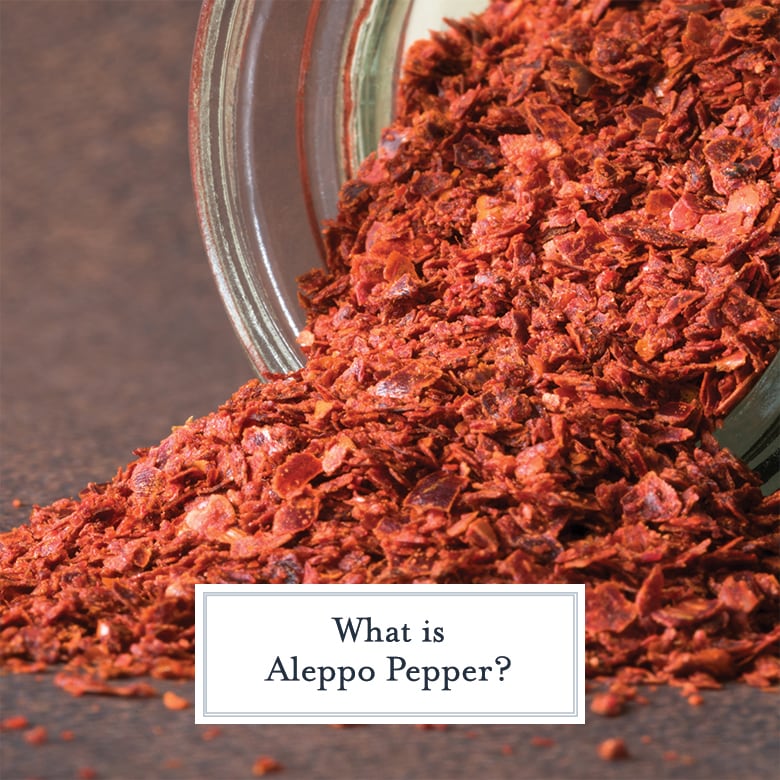 What is Aleppo Pepper?
Aleppo IS the hot new item. Only it isn't so new…
You might see it marketed as aleppo-style pepper or aleppo pepper flakes. It is all the same thing.
In fact, it is a really old condiment prominent in Middle Eastern and Mediterranean cuisine. It is names after the Syrian city of Aleppo (opposed to the name of the pepper it hails from). Present day, it is largely produced in Turkey. This is why it is called an aleppo-style chile instead of just aleppo.
It actually comes from the Halaby pepper, a long, thin, wrinkled and burgundy pepper. Like most dried peppers it is harvested when ripe, dried, seeded and then ground. You can grind it down to fine powder, but most is sold in flakes, like a traditional red chile pepper flake.
What Does Aleppo Pepper Taste Like?
Before you taste it- take a hefty waft in. The smell is intoxicating. A combination of fruit, smoky and spicy. Everytime I open the bottle, I sniff first.
The flavor is about half of crushed red chile flakes as far as heat goes, but with a much more sophisticated profile. I find it to be a little smoky, but also have a sweet aftertaste. It has also been described as earthy with cumin undertones and like sun dried tomatoes.
It scores a 10,000 on the scoville scale, but honestly, I found that hard to beleive with the batch I used.
How do I Use Aleppo?
Aleppo can be used on anything that needs a little zing or heat. It can replace crushed red or hot sauce or be used as a topping.
So far (and my bottle is now half gone), I've used it on:
Boring Lean Cuisine (it was a quick lunch, don't judge!)
Basic Alfredo Sauce
Salad
Steamed Veggies (asparagus and broccoli specifically)
Spatchcocked Grilled Chicken
I also plan to use it in rubs, on fries, for nachos and burritos, grilled meats, deviled eggs and also as a bread dip. I've even seen it used on dark chocolate. This spice begs to be used!
Aleppo Pepper Substitute
Crushed red pepper flakes are your best bet, but use half of the amount called for since they are spicer, or any type of ground chile powder.
You can also use a small amount of chipotle peppers in adobo sauce.
A mix of sweet or smoked paprika and cayenne pepper are also suggested for dried aleppo pepper.
Where Do I Buy Aleppo?
You might not find it at your local grocer, but speciality shops and gourmet food stores have it. Look for flakey, semi-oily pieces in a brilliant red.
I ordered mine online. A little goes a long way, but I'm going through mine mighty fast. It is that good.
Next on our list of things to try… fennel pollen. Stay tuned!
Check out more: