Grilling season is finally here, and these Greek Chicken Kabobs are the first thing on my "to-grill" list! I bet they'll be the first thing on yours, too!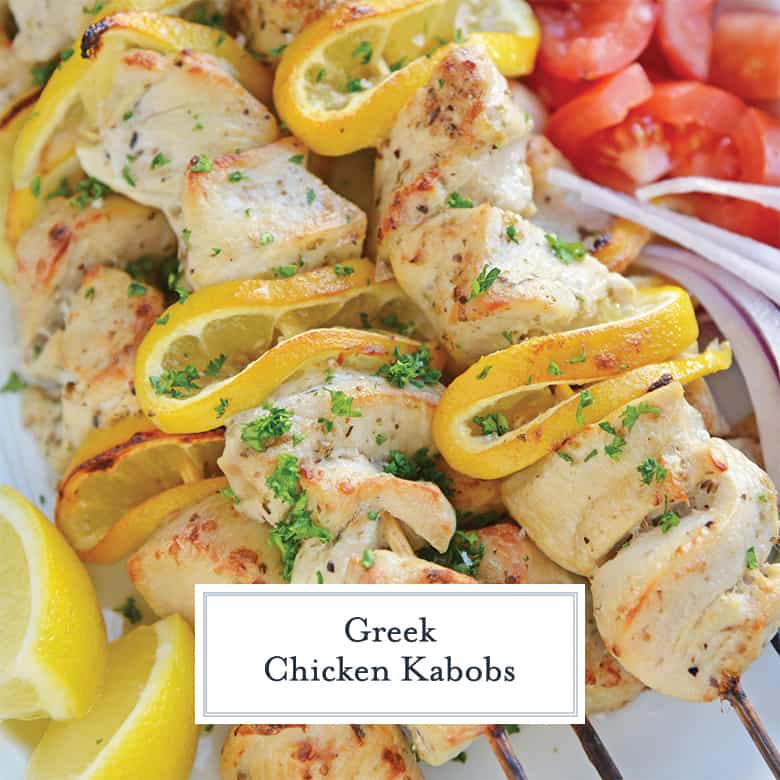 Full of fresh lemon flavor, these Greek Chicken Kabobs are perfect for summer grilling! You only need a handful of ingredients to make this greek yogurt chicken!
I don't know about you but I love grilling season! Living up north means that grilling season is pretty short lived, so when it comes around I take full advantage of it.
There's just something about being outside in the warm weather, with the smell of dinner wafting in the air that puts me in my happy place. And don't get me started on the flavor!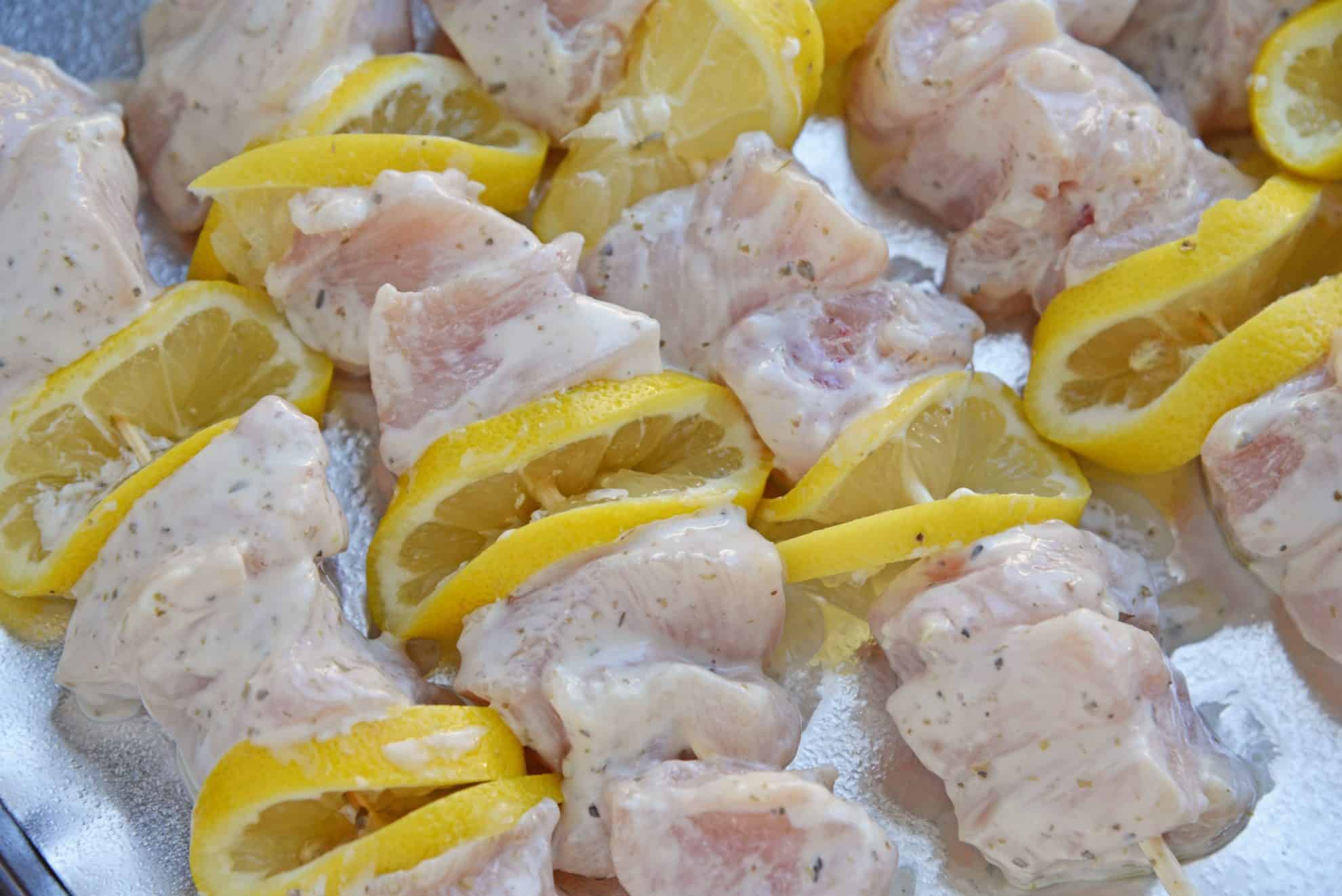 I like to grill anything from steaks to chicken, and even veggies! But my favorite thing to cook on the grill is kabobs. You can pretty much cut up any meat or veggie and add it to a kabob!
I usually use wooden skewers when making kabobs, but you can certainly use metal as well. Although they're a little more expensive, they are reusable which might be more cost effective in the long run.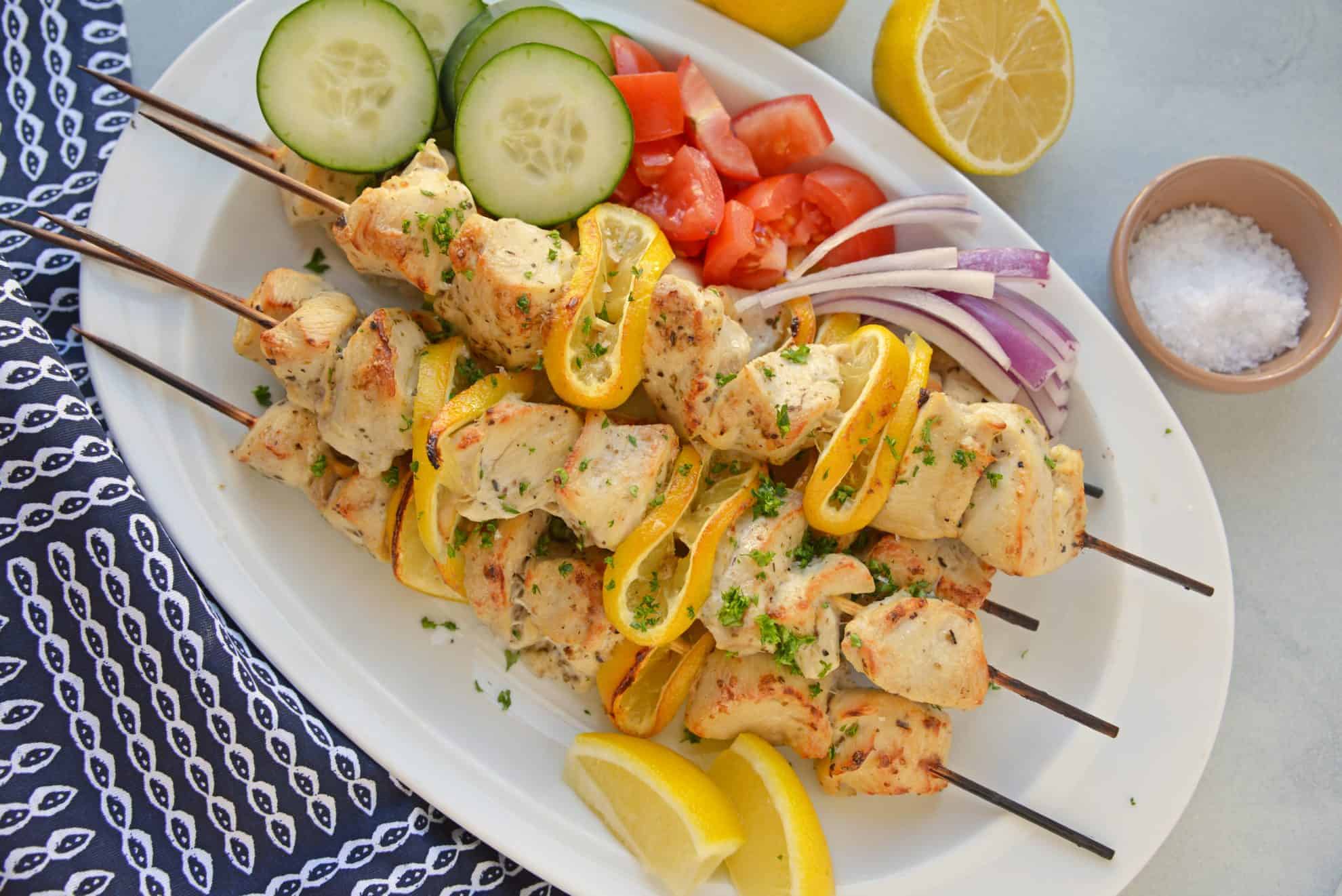 The inspiration for these Greek Chicken Kabobs came from my favorite Greek restaurant. Every time we travel to North Carolina, we stop at this mom-and-pop Greek restaurant with the best food! Aren't those little hidden gems always the best?
PRO TIP: If you are using wooden skewers, make sure to soak them for at least 30 minutes before threading to prevent fires on the grill!
They have the most amazing Lemon Chicken Orzo soup that I order no matter the temperature outside. And they also have this wonderfully flavorful chicken dish.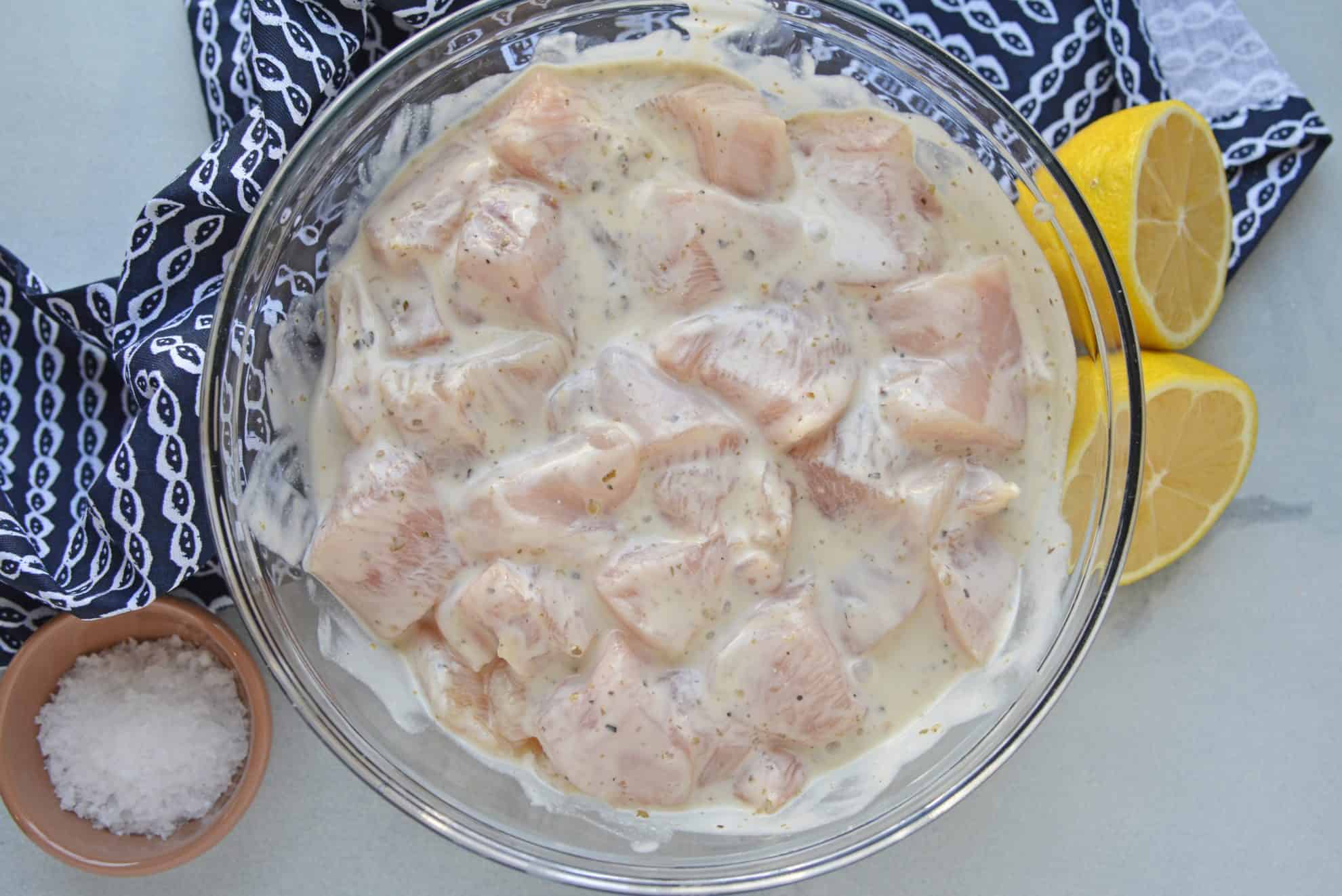 Seeing as how we don't live in North Carolina and can't frequent the restaurant as much as I'd like to, I had to come up with a solution!
I recreated the chicken dish to the best of my abilities and it came out pretty delicious, if I do say so myself! I changed it up a bit by turning the chicken into kabobs, (because eating food off of a stick is always more fun, right??)
This recipe is so simple, you are going to want to make it all summer long! It starts with my Greek Yogurt Salad Dressing. Simply place two pounds of cubed chicken into a large plastic bag with one cup of the dressing.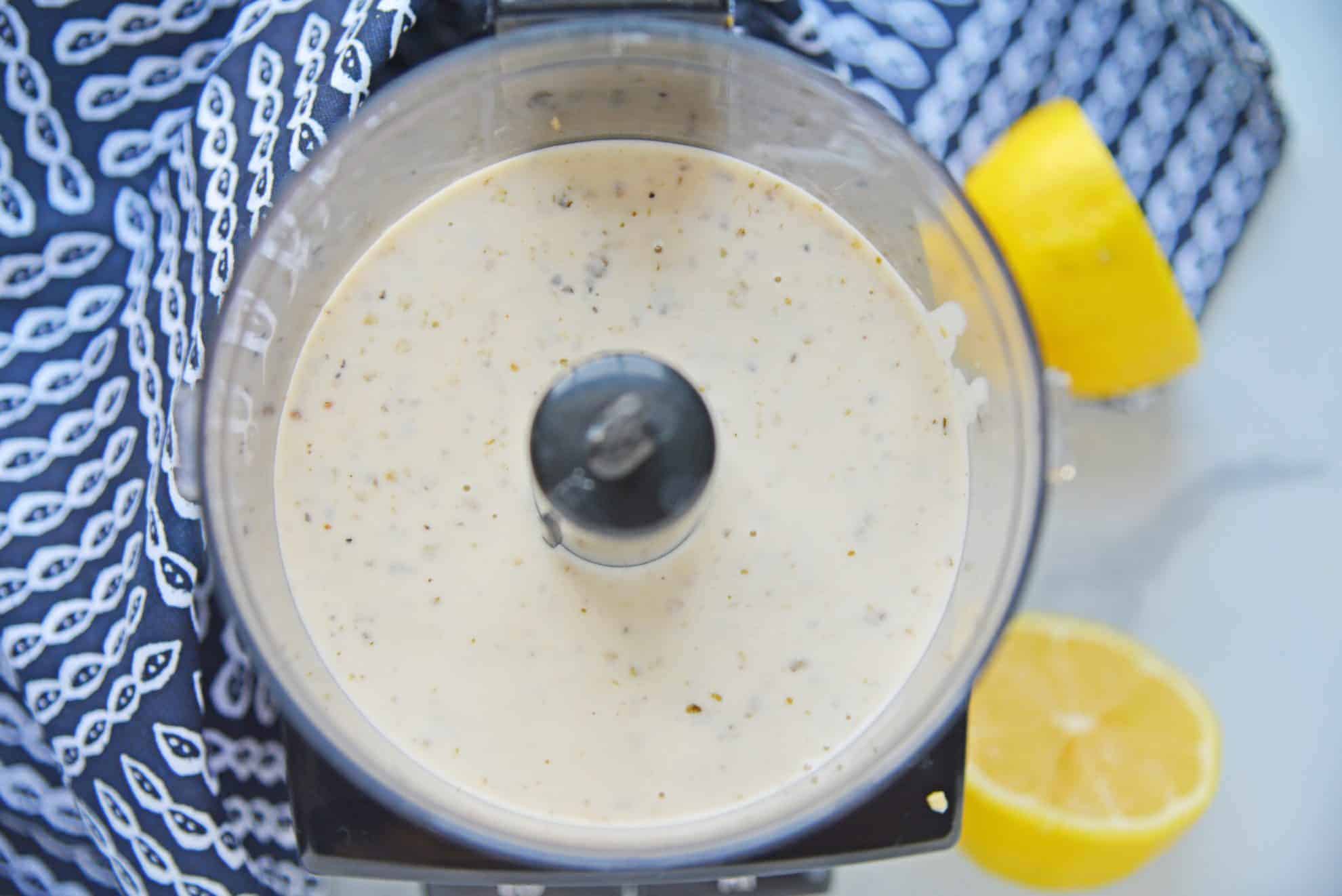 Depending on the amount of time you have, marinate the chicken anywhere from 1-24 hours. Obviously, the longer you let the chicken marinate, the better the flavor!
Alternate the marinated chicken pieces with thinly sliced lemons on the skewers. This recipe will make eight kabobs.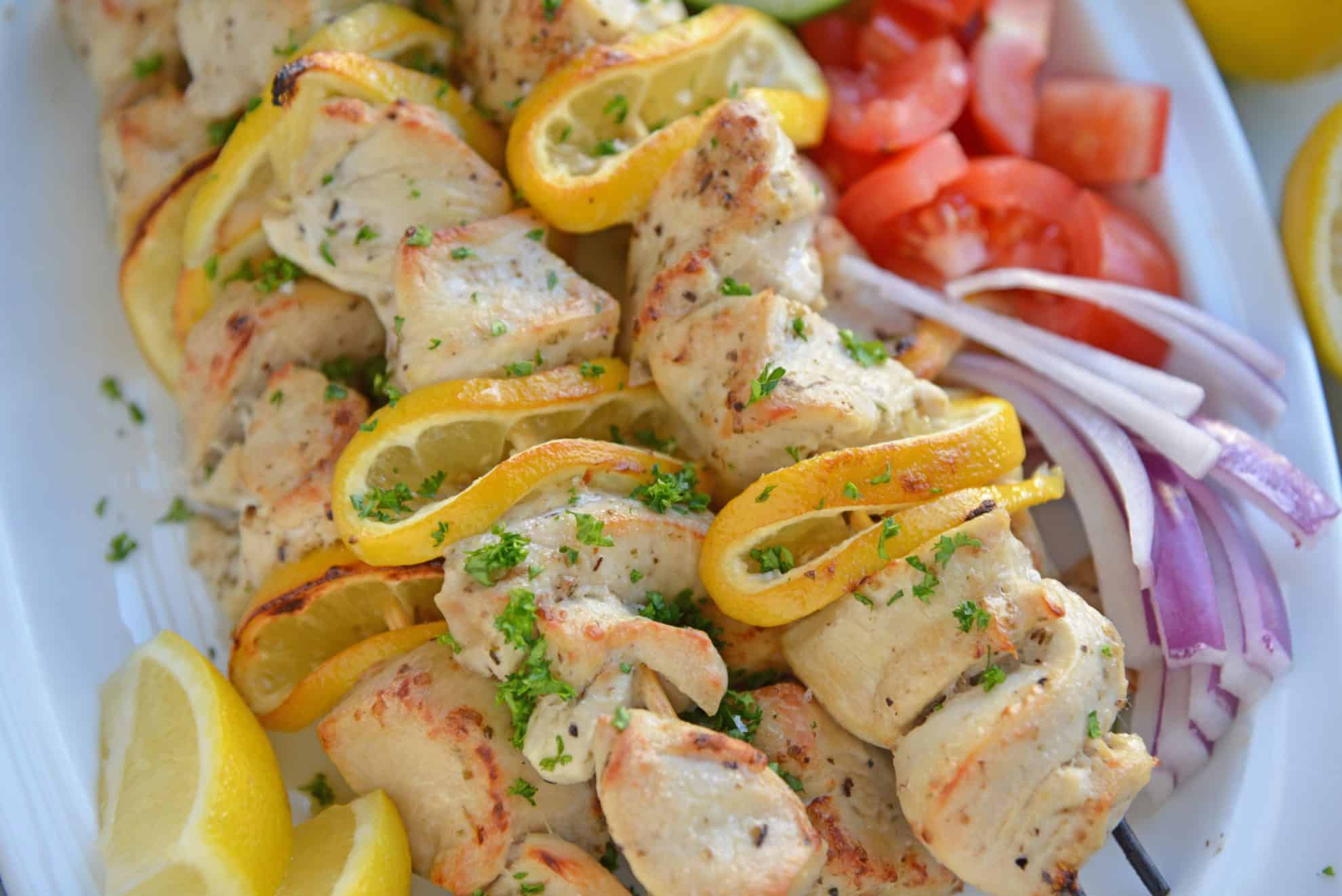 The next step is just grilling them over medium-high heat for 20 minutes! Not including the time to marinate, you can have these kabobs done in under 30 minutes!
I like to serve these kabobs with potato salad or baked beans – all the best summer foods! You could even serve these Greek Chicken Kabobs with a Greek salad to really stay on theme!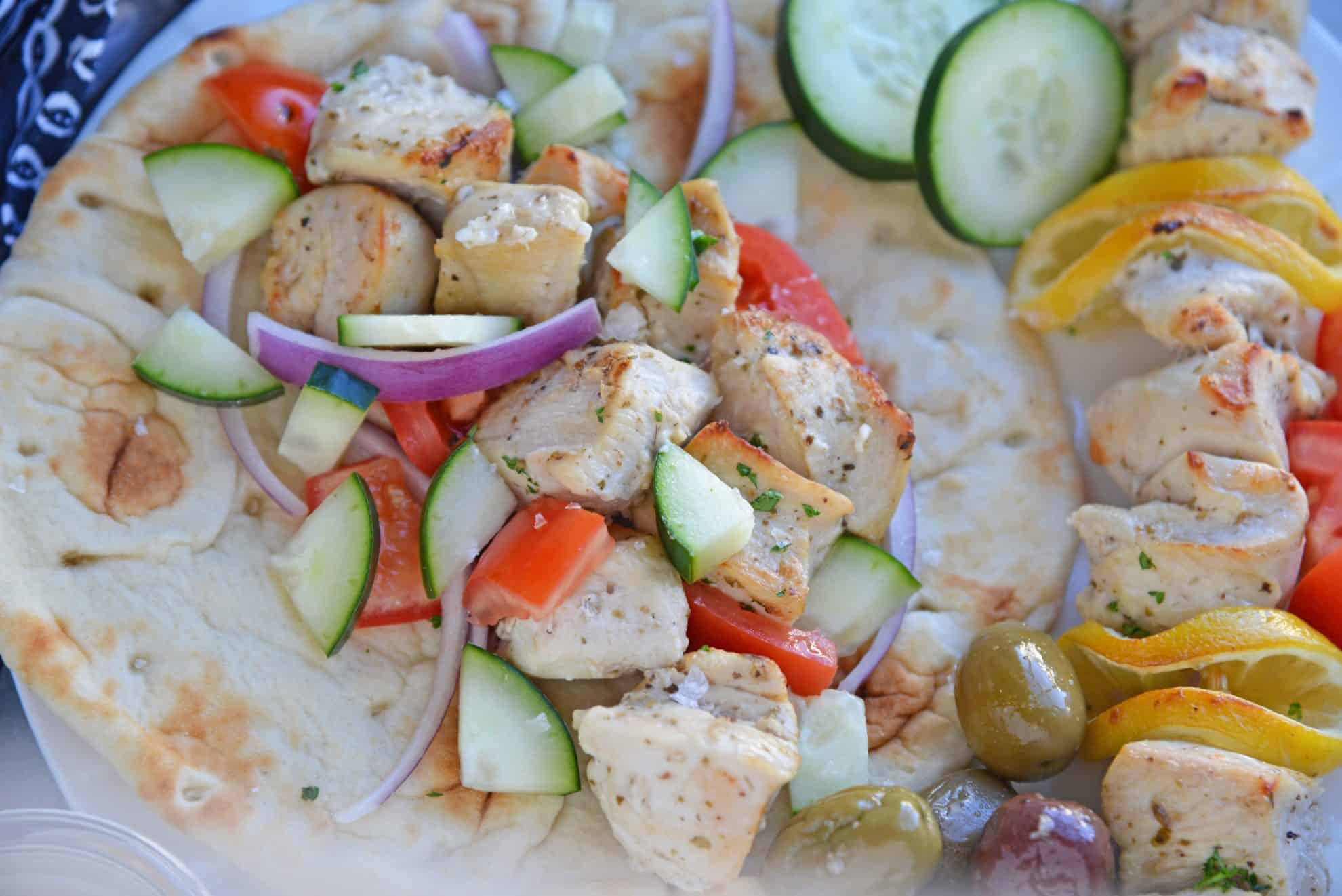 Tips for making kabobs:
Those babies are going to be hot! So even if you are using wooden skewers, make sure to use tongs when flipping or taking them off of the grill.
If you plan to add veggies to your meat kabobs, keep in mind the cooking time for each, as to not over or under cook one or the other. For example, potatoes cook much slower than onions or corn, so that might not be a good addition to your kabobs.
Be sure to leave a little bit of space between each ingredient. This allows heat to circulate more evenly. If you have extra ingredients, just make more kabobs!
Questions you may have about chicken kabobs:
Can you freeze chicken kabobs? If you'd like to prep a bunch of kabobs to freeze, I would recommend flash freezing first (a great freezing tutorial ). Once you flash freeze, transfer the kabobs to a freezer bag, seal it tight and freeze for long term.
How many chicken kabobs per person? Depending on how much meat you put on your kabobs (and what else you are serving with them) I would say two or three kabobs per person is plenty!
What temperature to cook chicken kabobs? I cook my chicken kabobs over medium-high heat on the grill for about 20 minutes. To be safe, make sure the chicken reaches an internal temperature of 165 degrees, because everyone's grill is a little different!
What to marinate chicken kabobs in? For these Greek Chicken Kabobs, I use my Greek Yogurt Salad Dressing as the marinade and it is delicious! However if you're looking for a different flavor profile, you can use regular Italian dressing, or any other chicken marinade that you love.
What goes with chicken kabobs? For these kabobs, I added sliced lemon to the skewers to give it that fresh flavor. You could always add your veggies of choice to the skewers as well. As far as side dishes go, you could serve these with a nice Herbed Potato Salad, Slow Cooker Baked Beans, or even a Grilled Corn Salad.
Can chicken kabobs be cooked in the oven? They certainly can be cooked in the oven (especially if the weather isn't cooperating,) but I much prefer the flavor that cooking on the grill provides.

Kabob recipes: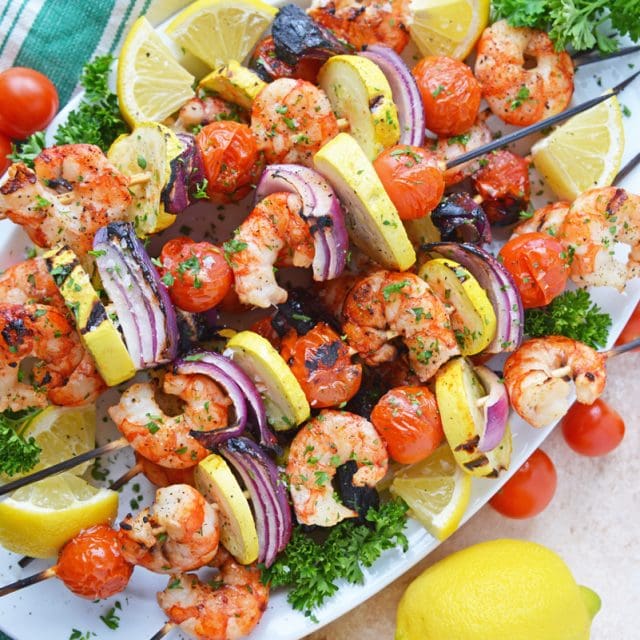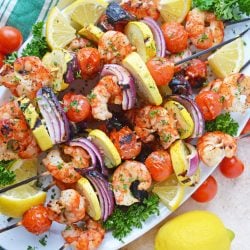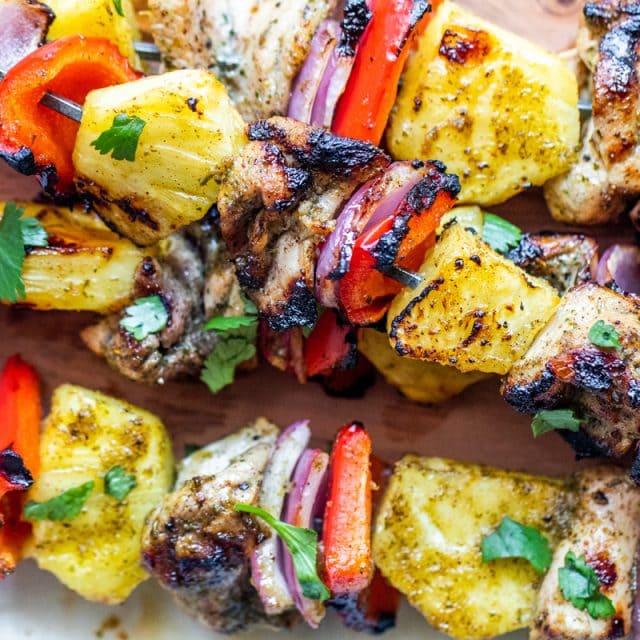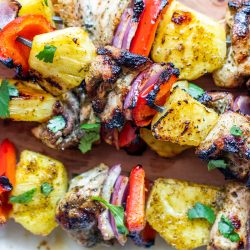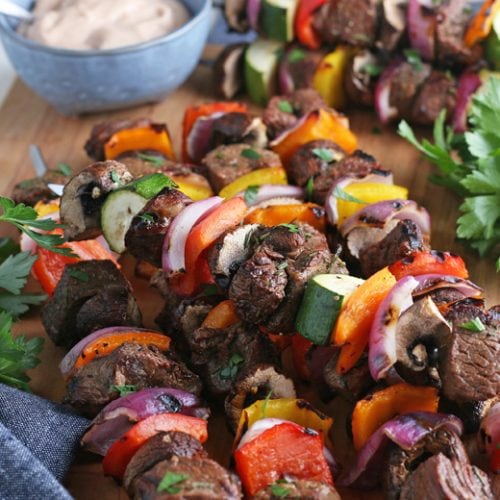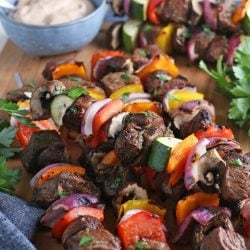 Steak Kabob Marinade
Whether you call them kebabs or kabobs, this Steak Kabob recipe is the best! Made with a flavorful marinade and served with veggies, it can't be beat!
See The Recipe!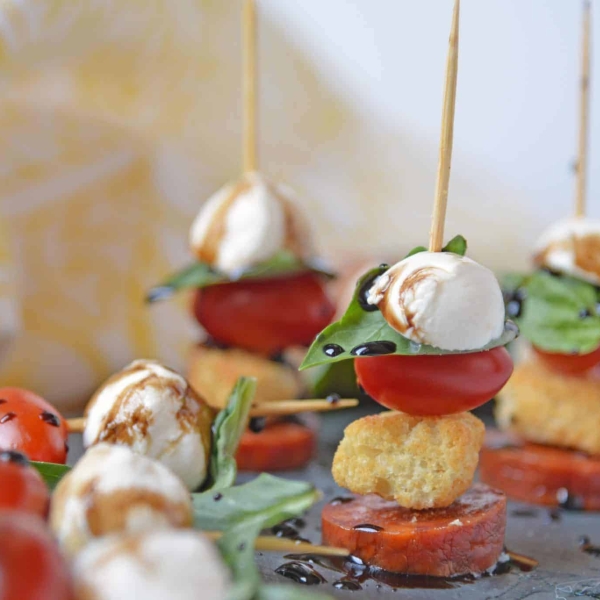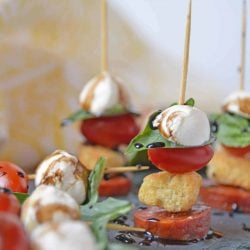 Caprese Skewer Recipe
Caprese Skewers are the perfect party appetizer made with fresh mozzarella, basil, tomatoes, garlicky croutons, and zesty pepperoni, all drizzled with a tangy balsamic reduction sauce!
See The Recipe!
Tools for making Greek Chicken Kabobs:
Wood cutting board – wood won't dull your knives like plastic and if treated properly, has natural antimicrobial properties.
Good knife – Global is my favorite! They are worth the price, I promise. I am kind of obsessed with them and store them tucked away so no one else can use them. Including hubby. Hands off my good stuff!
Metal Skewers– Metal skewers for kabobs at home save the environment and come in a flat shape to help hold your ingredients on the skewers!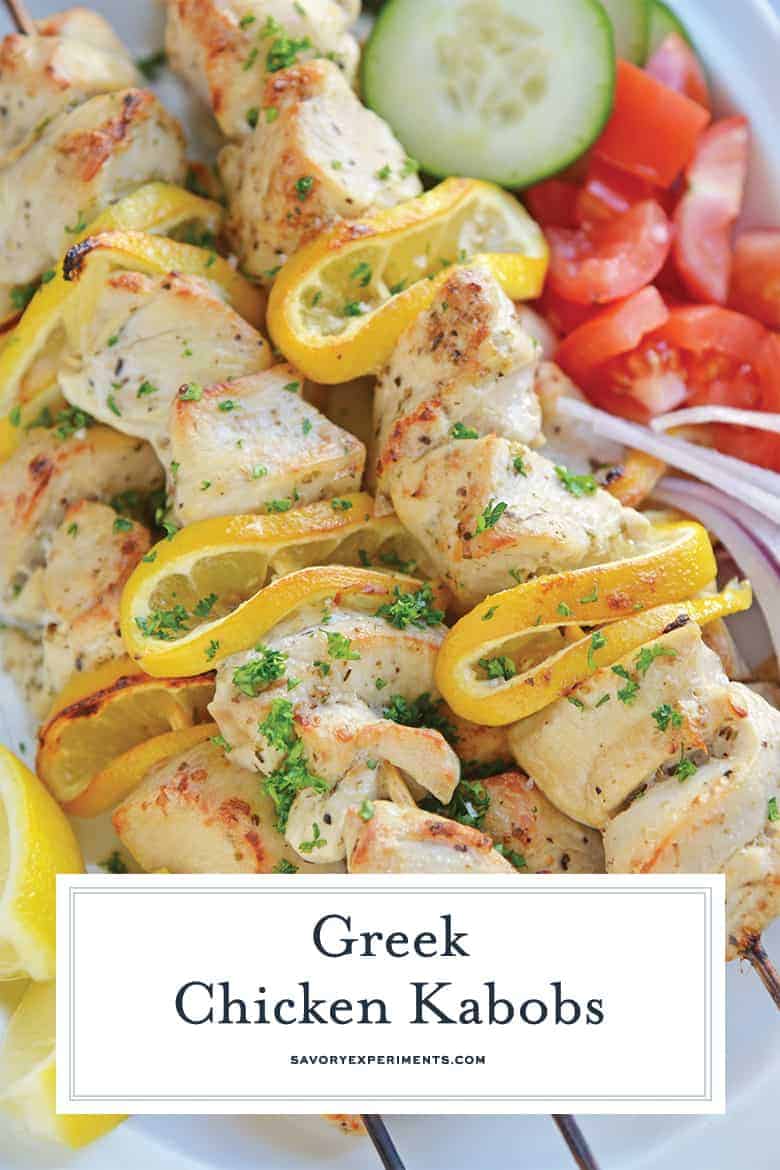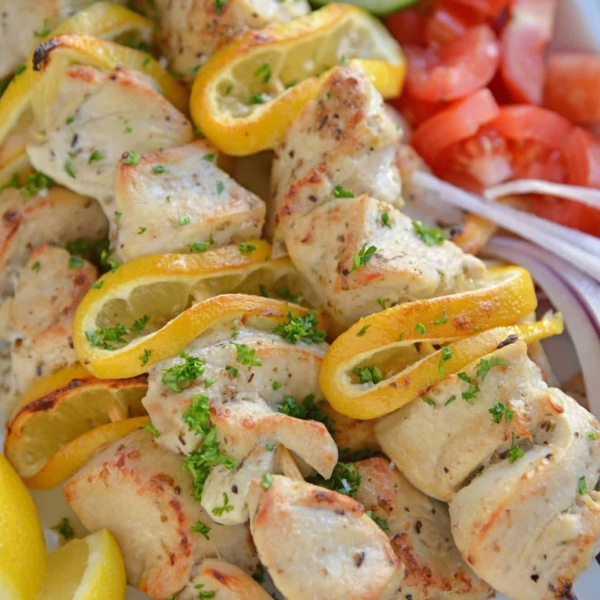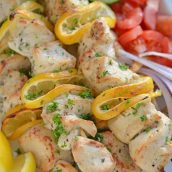 Greek Chicken Kabobs
Full of fresh lemon flavor, these Greek Chicken Kabobs are perfect for summer grilling! You only need a handful of ingredients to make this greek yogurt chicken!
Instructions
Place cubed chicken, Greek yogurt salad dressing and kosher salt into a large plastic bag to marinate for 1-24 hours. Massage in well.

Skewer chicken cubes alternating with lemon into 8 large skewers.

Heat grill to medium-high heat.

Grill over indirect heat for 20 minutes or until chicken reaches an internal temperture of 165 degrees. Rotate as necessary.

Remove and serve with pita bread, tomatoes, sliced red onion, cucumbers and tzatziki sauce.

If you've tried this recipe, come back and let us know how it was!
Notes
If you are using wooden skewers, make sure to soak them for at least 30 minutes before threading to prevent fires on the grill!
Nutrition
Calories:
304
kcal
,
Carbohydrates:
7
g
,
Protein:
54
g
,
Fat:
6
g
,
Saturated Fat:
1
g
,
Cholesterol:
148
mg
,
Sodium:
864
mg
,
Potassium:
984
mg
,
Fiber:
2
g
,
Sugar:
3
g
,
Vitamin A:
70
IU
,
Vitamin C:
31.4
mg
,
Calcium:
80
mg
,
Iron:
1.2
mg