Spice Cupcakes are fluffy cupcakes with a tangy cream cheese frosting using traditional fall spices of cinnamon, ginger, nutmeg and allspice in a buttery brown sugar cake batter. Topped with a whipped brown sugar cream cheese frosting, they are the ultimate fall treat.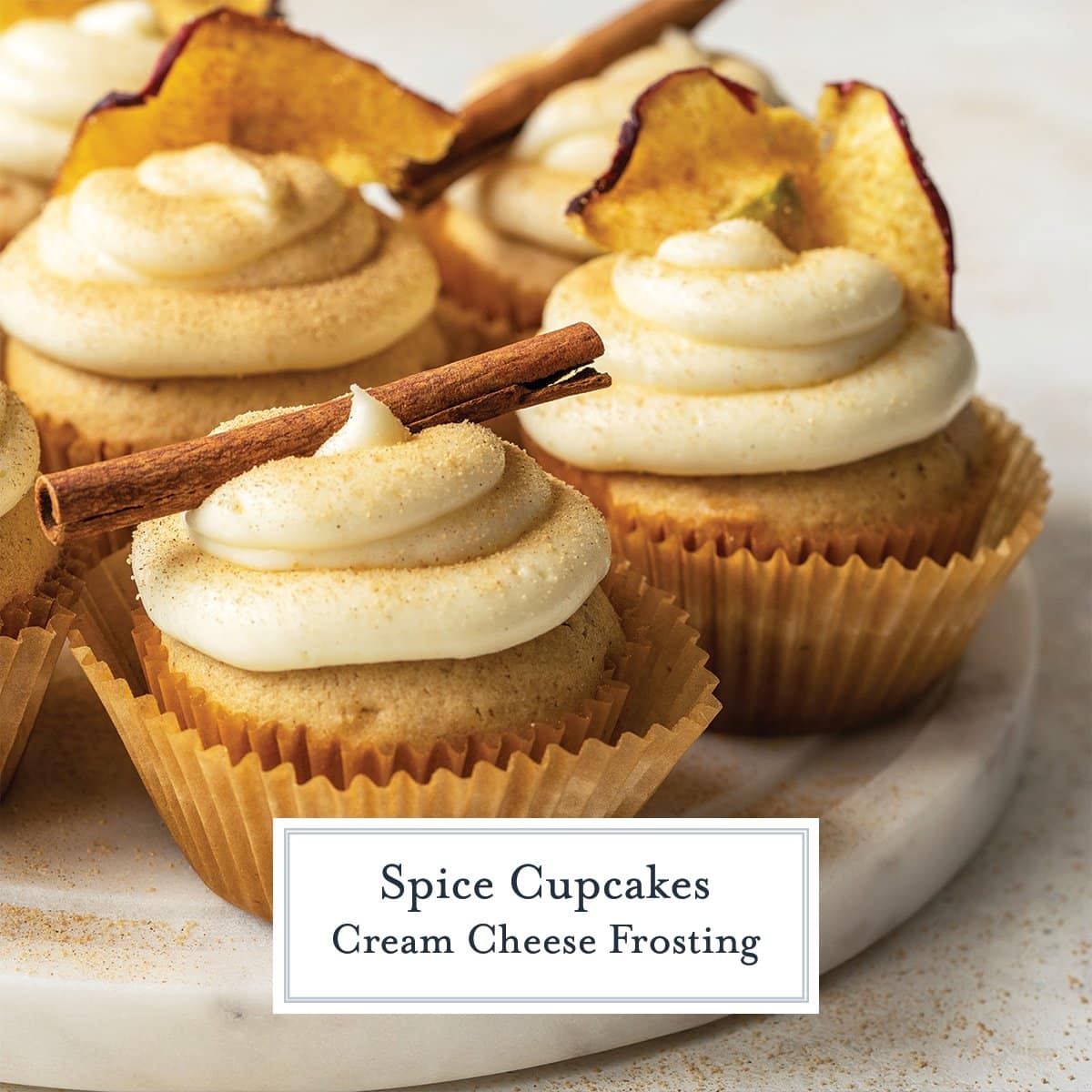 No monkeying around with cake layers or even a sheet cake and worrying about flipping it out and over without cracking.
What are Spice Cupcakes?
Apple spice cupcakes are basically just spice cake, but in cupcake form. The traditional flavors include brown sugar with tart molasses, nutmeg, cinnamon, allspice and ginger.
They are very similar to gingerbread, molasses cookies, pumpkin cake and carrot cake all in one.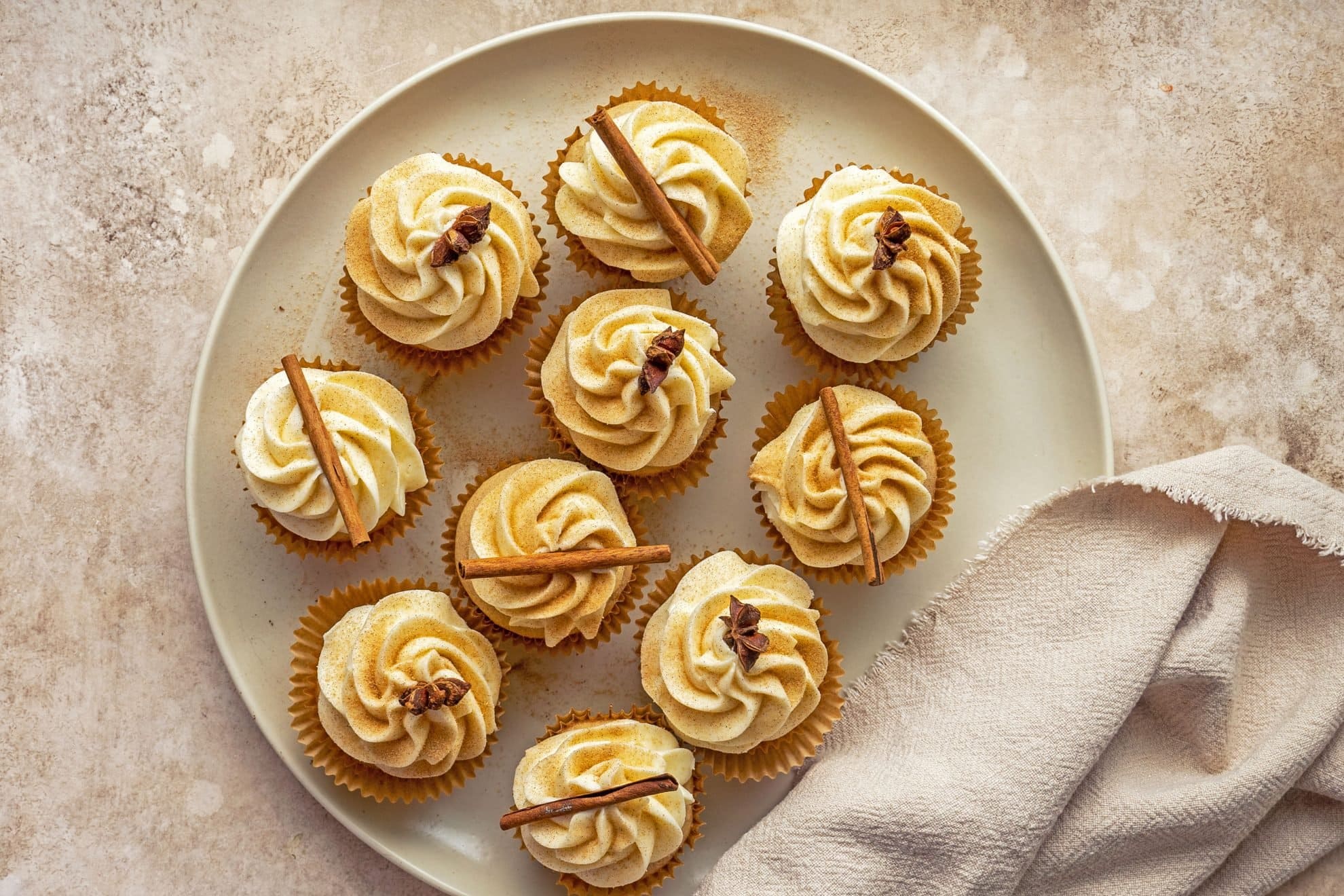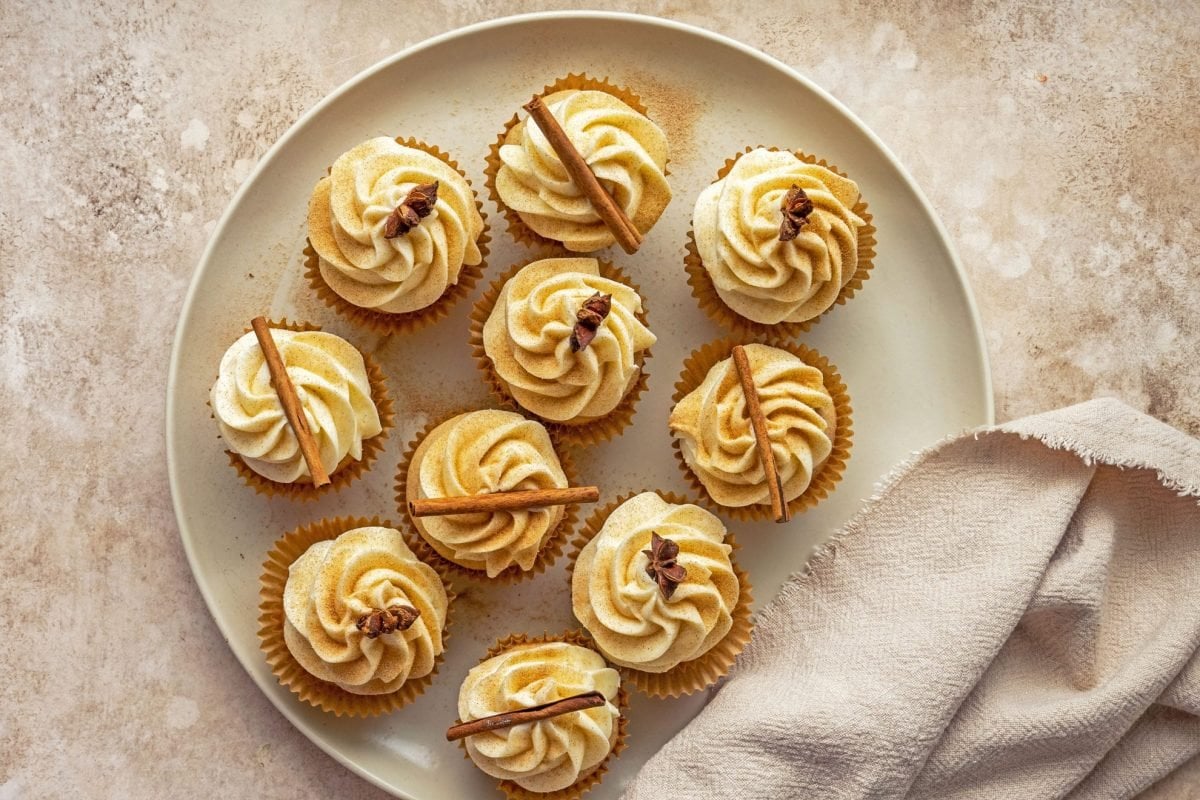 How to Make
Ingredients
The ingredients needed are kitchen staples, with the exception of maybe cream cheese.
Dry Ingredients: all-purpose flour, baking powder, ground cinnamon, ground ginger, allspice, ground nutmeg, salt
Wet Ingredients: Unsalted butter, brown sugar, large eggs, vanilla, milk
Some variations include adding maple syrup, pumpkin pie spice, apple pie spice (any warm spices) or even a heaping spoonful of sour cream for tang. Cake flour can be used, but we liked all-purpose best. Walnuts and pecans pair nicely, or a handful of mini chocolate chips or pumpkin spice chips. Dark brown sugar can be used instead of light. Alter the amount of spices to your desired potency.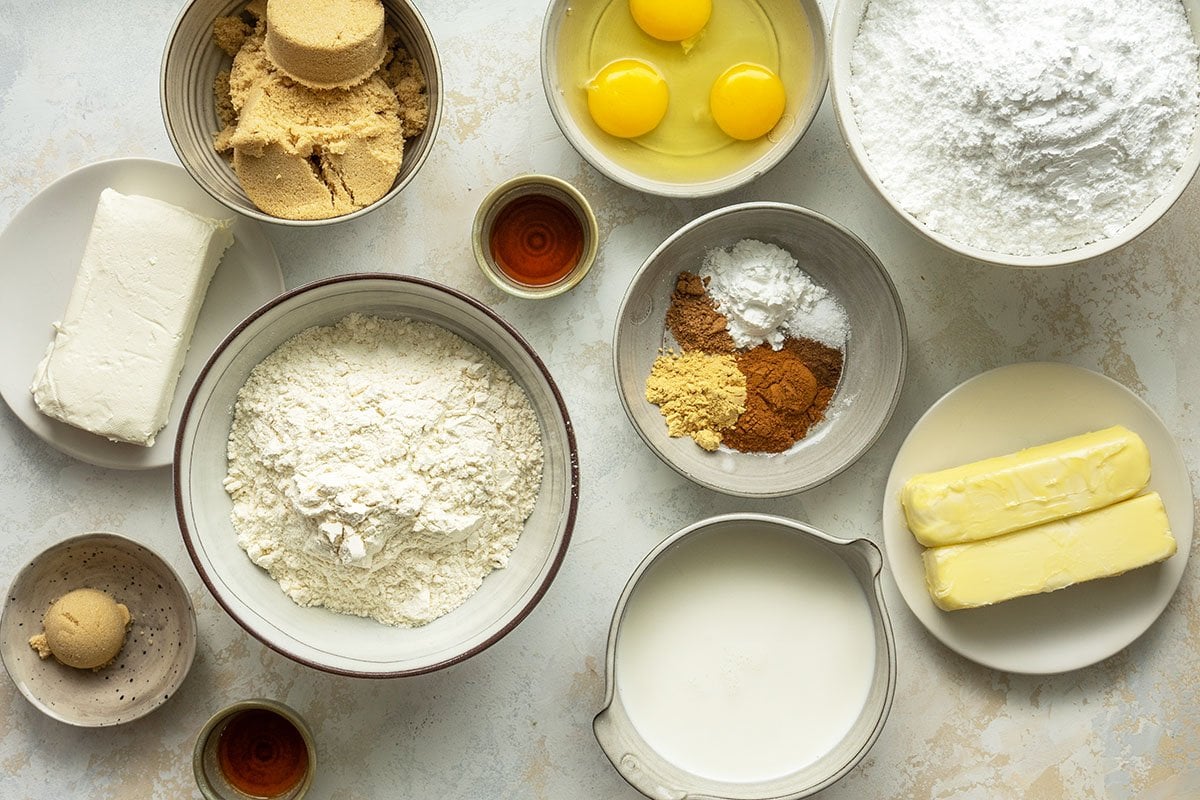 Make Them!
Preheat the oven and place cupcake liners into a standard muffin tin.
Sift together the dry ingredients in a medium bowl. This helps to evenly distribute all of the spices and leavener. Doing this will prevent over mixing when combined with the wet ingredients.
In a large mixing bowl or the bowl of a stand mixer fitted with the paddle attachment, beat butter until light a fluffy. Add the brown sugar, eggs and vanilla. Using some sort of electric mixer work best.
Alternate adding a small of the flour mixture and the milk into the wet mixture on a low speed, scraping down the sides of the bowl and the bottom of the bowl as you go. If you add too much of either at once, the batter gets soupy or too dry. Mix until just combined at medium-high speed.
Pour cupcake batter into a muffin cups and bake. Watch closely, as oven times vary. Cupcakes are done when they lightly spring back when touched or if it passes the toothpick test in the center of the cake.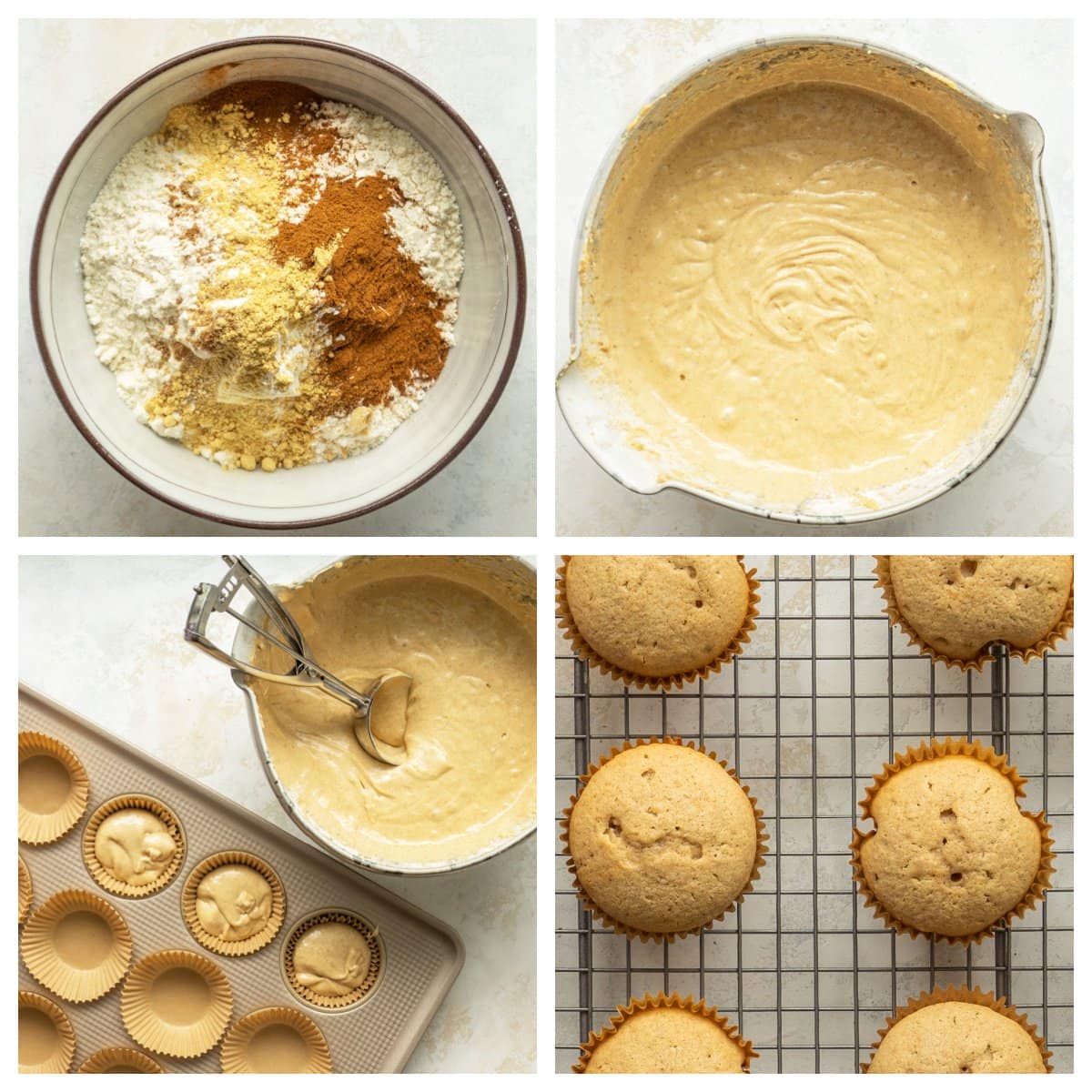 Remove and allow to cool for several minutes before removing from the tin and cool fully. They will cool faster if you place on a wire rack (cooling rack) so air can circulate around. If they sit in the pan, they can continue to cook from residual heat and then you won't have the coveted tender crumb.
Spice Cake Frosting (Tangy Cream Cheese Frosting)
The most traditional frosting is a cream cheese buttercream frosting. Cream cheese frosting happens to be my favorite frosting flavor, so I rarely deviate. But if I were to venture outside of my comfort zone, I'd do a browned butter, brown sugar or maple frosting.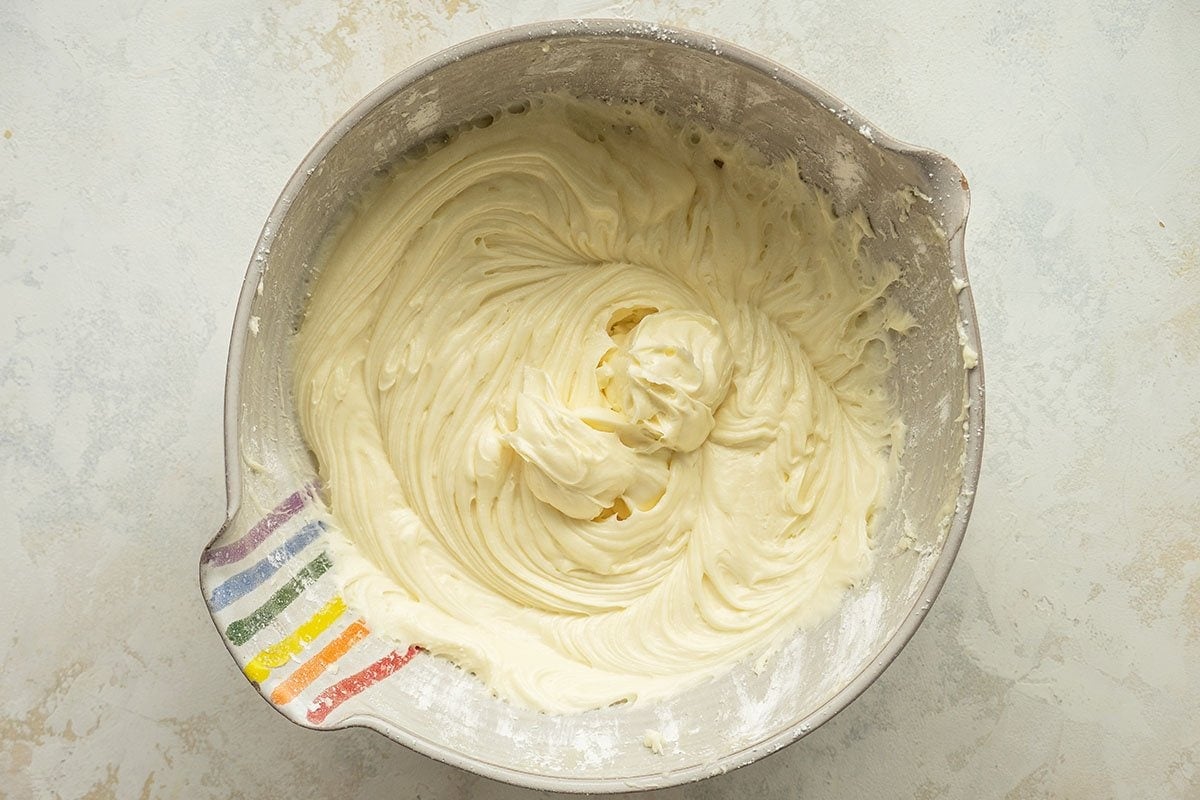 Here is what you'll need:
Unsalted butter
Cream Cheese
Light brown sugar
Vanilla extract
Salt
Powdered sugar (confectioner's sugar)
Milk or cream
In a large bowl, beat the butter and cream cheese on medium speed until well blended and light and fluffy, no lumps remaining!
Add the brown sugar, vanilla and salt, then powdered sugar.
Only add the milk or cream if needed to achieve a frosting consistency. Use a piping bag or an offset spatula and frost the cooled cupcakes.
We've made cream cheese frosting from scratch for ours, because let's face it, homemade frosting is the best! But… you can always grab a tub from the store to spare some time and we won't tell. You did make the cupcakes from scratch, at least.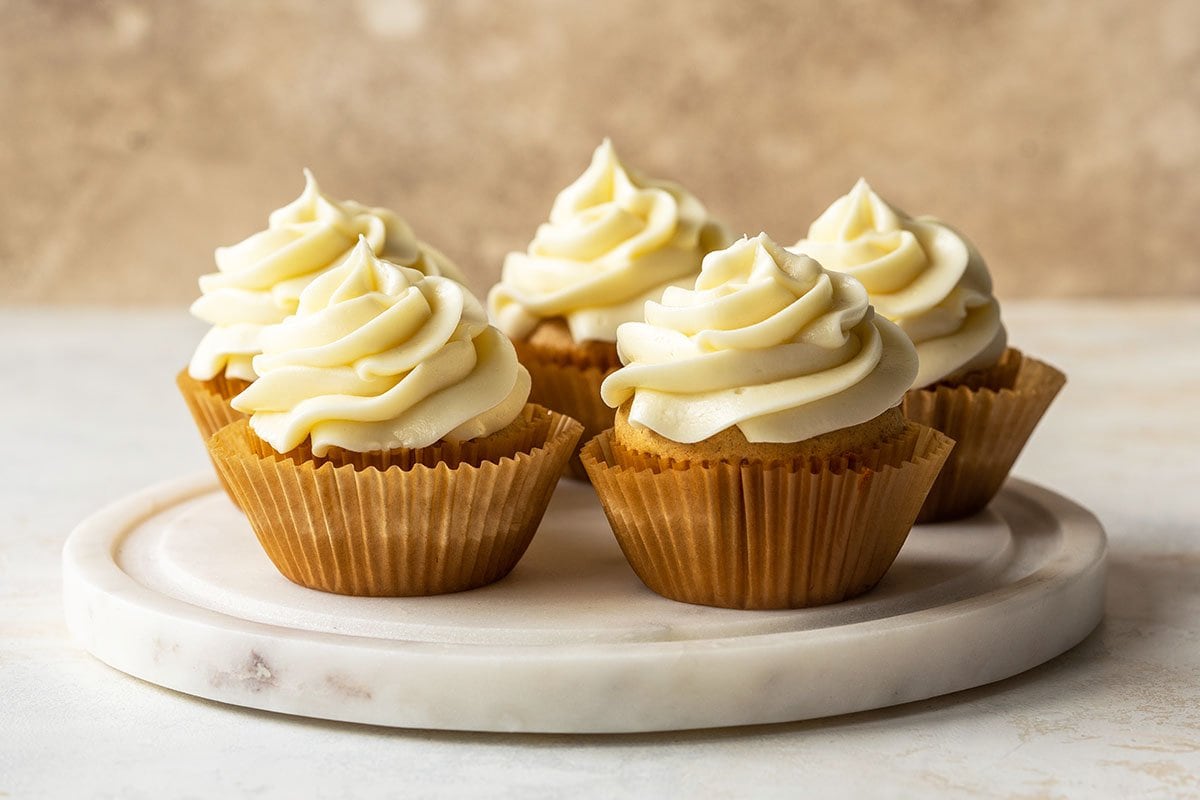 Garnish with whole cinnamon sticks or star anise (although not edible), a dusting of cinnamon or dried apple slices. Cupcakes can also be drizzled with caramel sauce or bourbon sauce. Cinnamon sugar also works well.
Or use store bought frosting and swirl it with ground cinnamon for cinnamon cream cheese frosting or caramel for caramel frosting.
Cutting Corners
Or did you? Making homemade cupcakes isn't really much more challenging than a box mix. The majority of ingredients are pantry staples, but should you decide that you need to save that time, you can transform a box mix into spice cake in no time at all.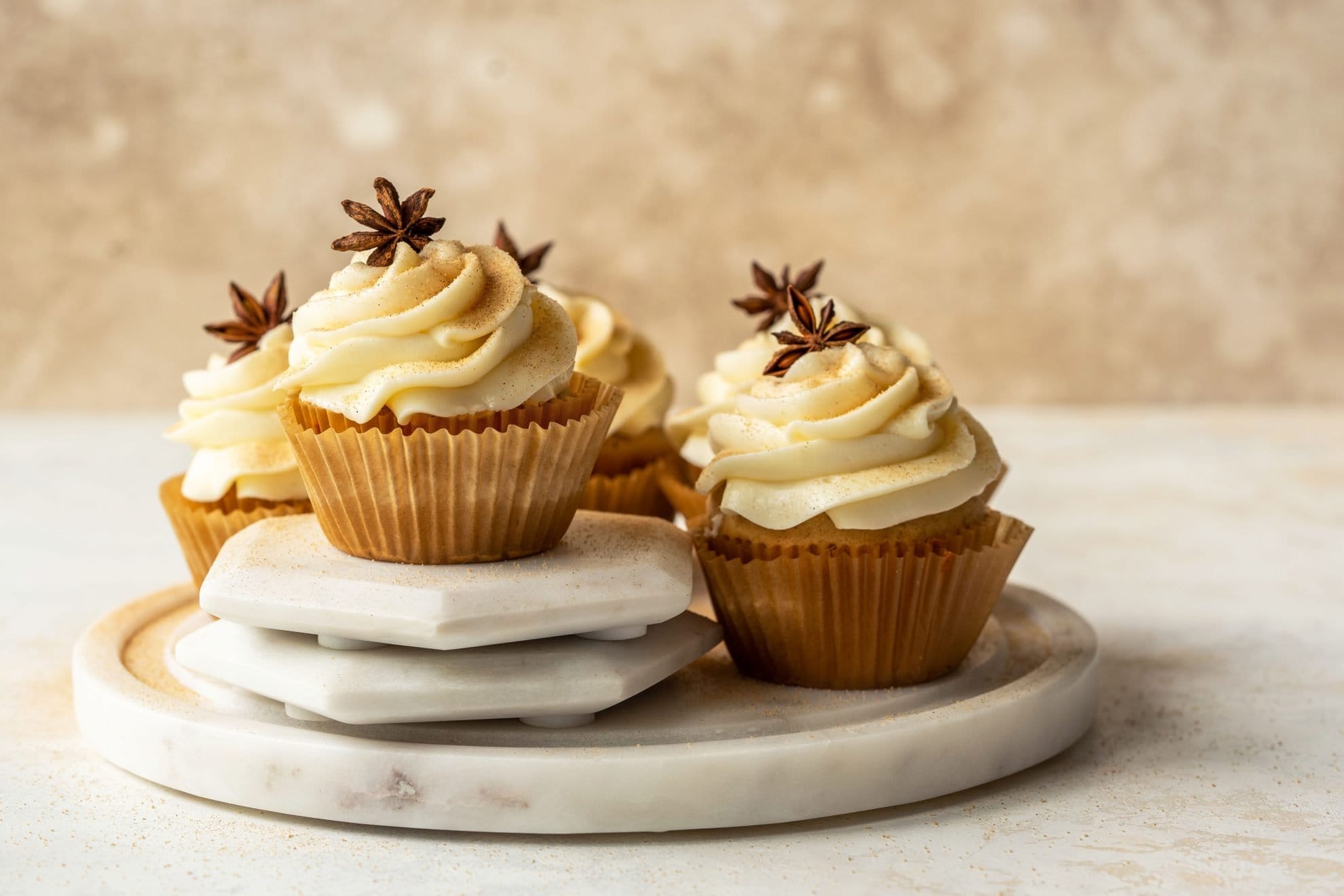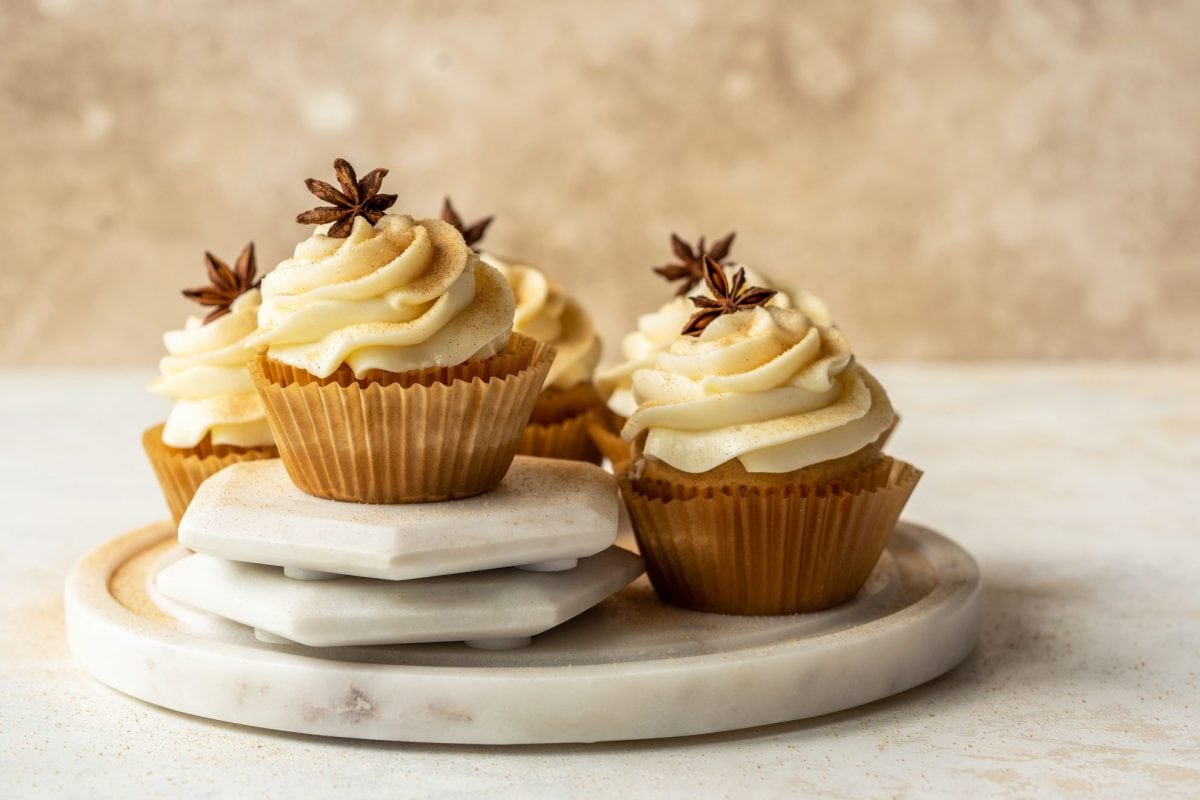 Start with a box of white or yellow cake mix and prepare according the package directions, but add the same amounts of cinnamon, nutmeg, allspice and ginger to the batter along with 1 tablespoon of brown sugar.
Bake according to package directions. Use premade cream cheese frosting.
Cupcake Making Tips
Don't Overmix The Dry Ingredients– People usually say don't overmix the batter, but in reality it is fine to mix well up until the flour is added. Overmixing flour activates the gluten and can create a dry crumb.
Measure flour properly– Do you dig the measuring cup into the flour canister? I do sometimes too even though I know better, but doing this gives you more than you need. Instead, gently spoon flour into your measuring cup and then level with a flat surface.
Sift- Sift dry ingredients even when a recipe doesn't specifically call for it. This helps to evenly distribute the dry ingredients without having to overmix.
Preheat the oven– Make sure the oven is preheated before you put the cupcakes in and then resist the urge to open the door. That blast of cold air changes the oven temp drastically.
Cook one tray at a time- Muffin tins needs to be in the center of the oven- both the oven cavity and the rack, so putting in too many and on different heights can impact baking.
Don't Over Bake– This seems like a no brainer, but people do it all the time. Cupcakes should lightly spring back when touched or pass the toothpick test.
Allow to Cool- Remove cupcakes from the muffin tins to cool. The muffin tins are hot and this just keeps them cooking leading to unintentional overcooking.
Storage & Freezing
Store cupcakes in an airtight container at room temperature. Putting them in the fridge will dry them out. Cupcakes will stay fresh for up to 5 days.
If you plan to freeze your cupcakes, wrap well before frosting and then freeze unfrosted. Thaw at room temperature until fully thawed (about 1 hour) and then frost.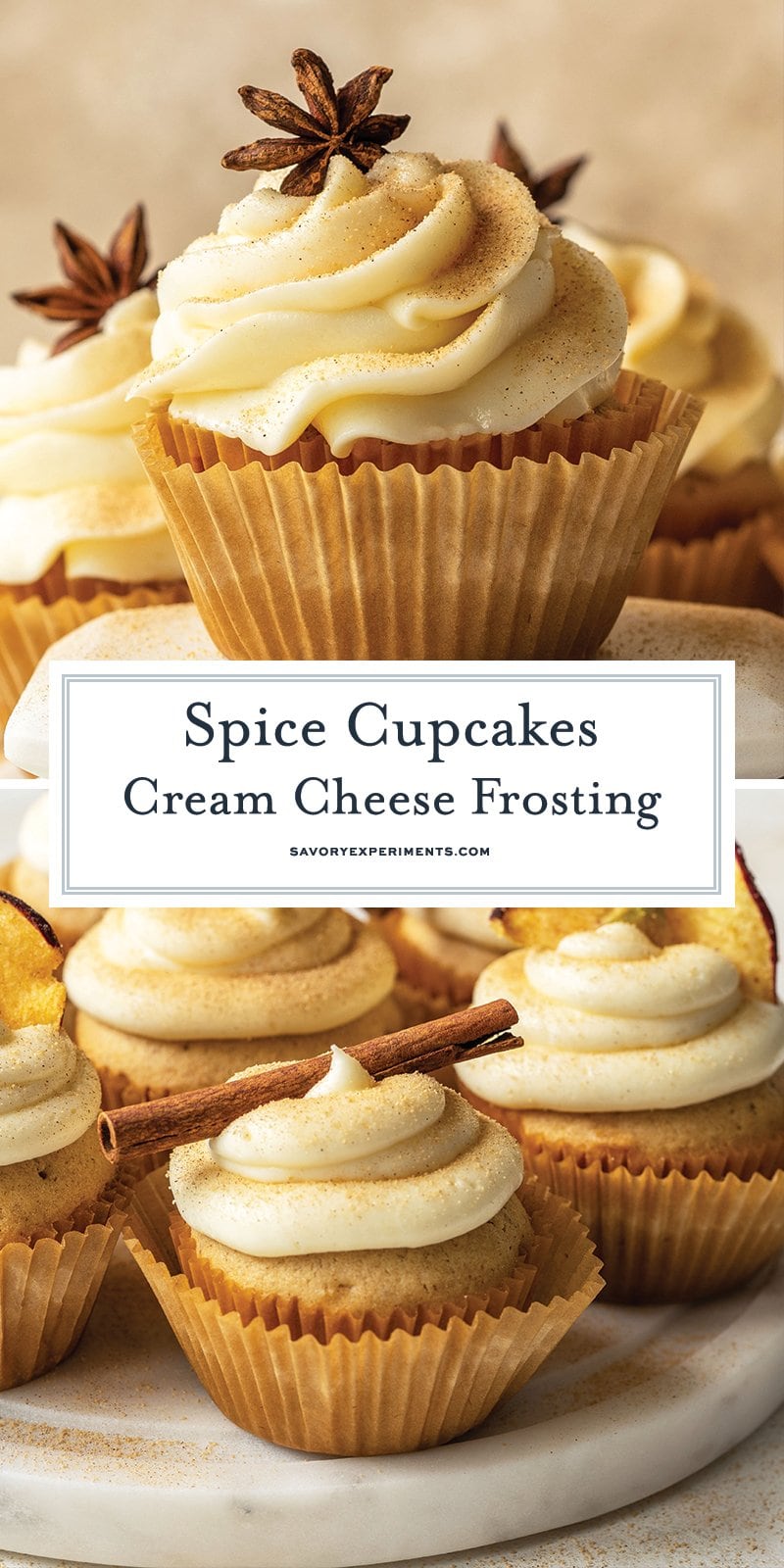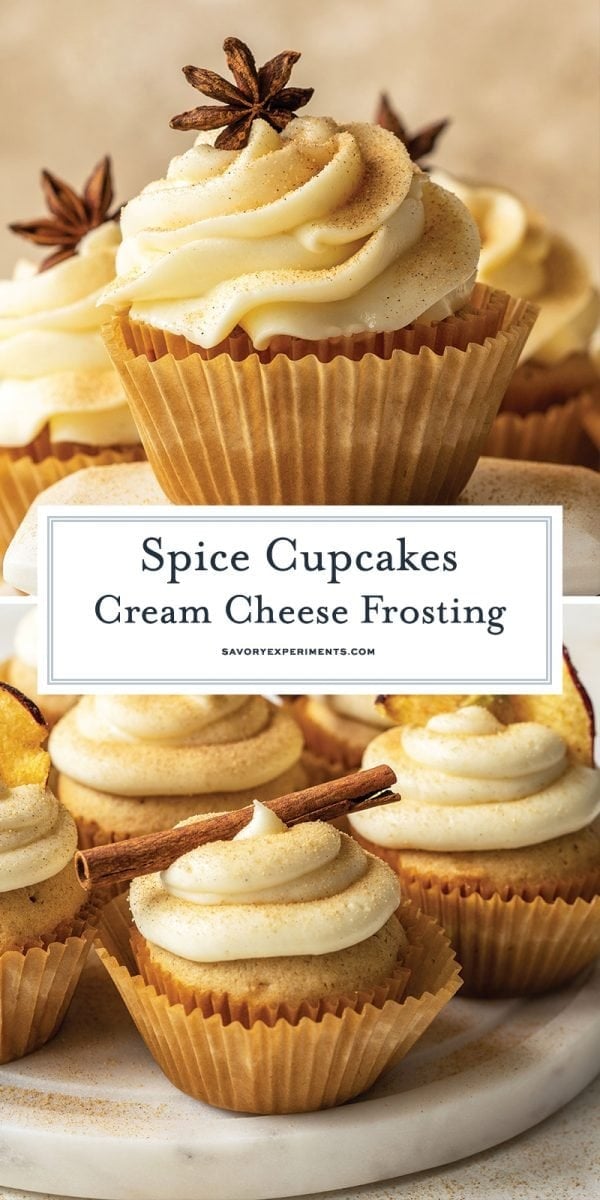 More cupcake recipes: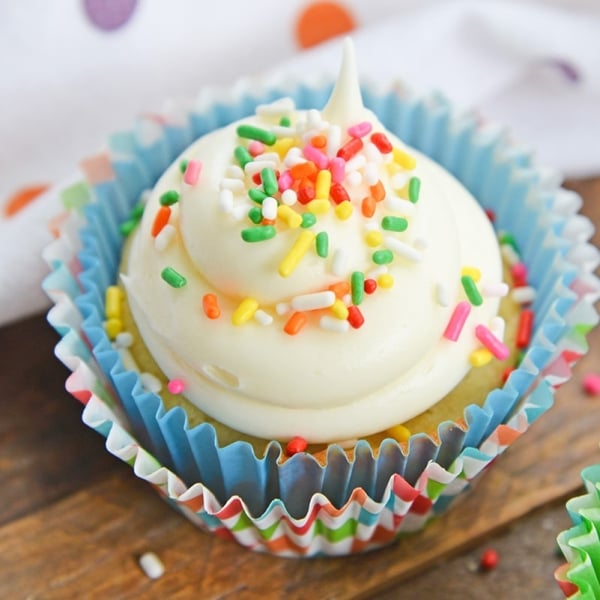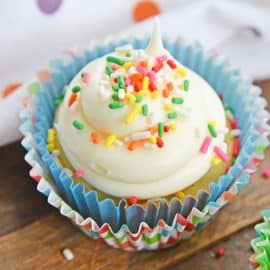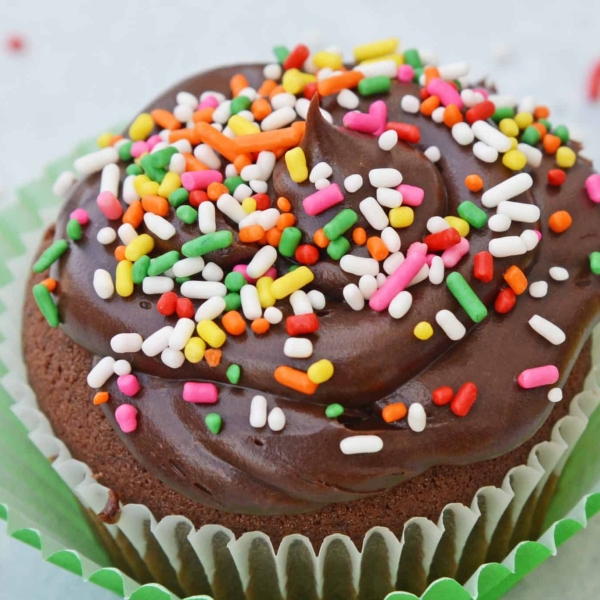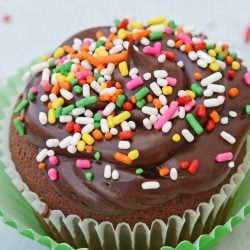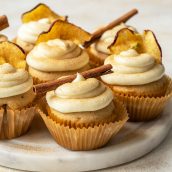 Spice Cupcakes with Cream Cheese Frosting
Spice Cupcakes are an easy cupcake recipe perfect for fall. Frost with rich cream cheese frosting and a few embellishments for festive fall cupcakes.
Equipment
Heat Resistant Rubber Spatula
Instructions
Cupcakes:
Preheat the oven to 350°F. Line 2 dozen muffin tins with paper liners.

In a medium mixing bowl, sift together the flour, baking powder, cinnamon, ginger, allspice, nutmeg and salt.

In a large mixing bowl, or the bowl of a stand mixer fitted with a paddle attachment, beat the butter until light and fluffy.

Add the sugar and continue to beat for 2 minutes. Add the eggs one at a time, beating well after each and scraping down the sides after each. Incorporate the vanilla until fully blended.

Alternate adding the milk and the flour mixture until fluffy combined. Mixture will be slightly runny.

Divide the batter between lined tins, filling them 1/2 -3/4 full.

Bake for 20-25 minutes until the cupcakes are golden and tops are springy to the touch and pass the toothpick test.

Remove from the muffin tins to cool completely.
Cream Cheese Frosting:
In the bowl of a stand mixer fitted with a paddle attachment, beat together the cream cheese and butter until smooth and no lumps remain. Add brown sugar and beat again.

Add the vanilla and salt, mixing well.

FInally, add the powdered sugar, beating well until smooth. If the mixture is too thick for a piping bag, add 1 tablespoon of milk or cream until a spreadable consistency.

Frost cupcakes with an offset spatula or a piping bag with a star tip.

If you've tried this recipe, come back and let us know how it was!
Nutrition
Calories:
291
kcal
,
Carbohydrates:
43
g
,
Protein:
3
g
,
Fat:
12
g
,
Saturated Fat:
7
g
,
Polyunsaturated Fat:
1
g
,
Monounsaturated Fat:
3
g
,
Trans Fat:
1
g
,
Cholesterol:
53
mg
,
Sodium:
122
mg
,
Potassium:
107
mg
,
Fiber:
1
g
,
Sugar:
32
g
,
Vitamin A:
423
IU
,
Vitamin C:
1
mg
,
Calcium:
58
mg
,
Iron:
1
mg
This post was previously sponsored by Pillsbury, but the product being promoted has since been removed from the market. To reduce confusion, we've updated the post with currently available items.