When the weather begins to get colder, nothing is more comforting than the familiar flavors of pumpkin spiced drinks and treats. This layered Pumpkin Cream Cheese Pound Cake is perfect with a cup of coffee and great for dessert!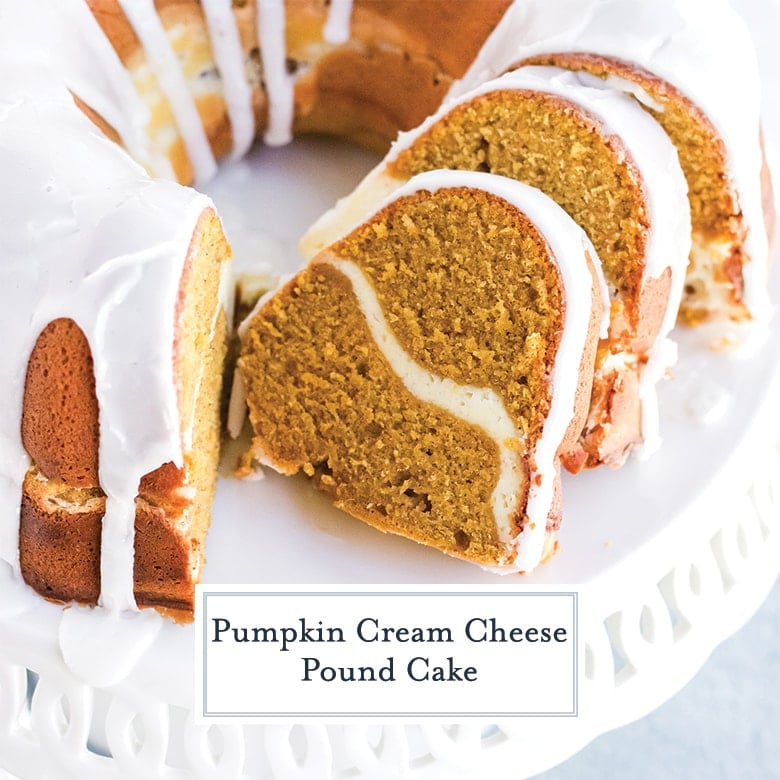 How to Make Pumpkin Cream Cheese Pound Cake
Don't be fooled by the layers, this recipe is easier than it looks. To make it, you will need to get three bowls and make each layer separately.
Prepare your oven by preheating to 350 degrees and spray a bundt cake with nonstick cooking spray and let's get started!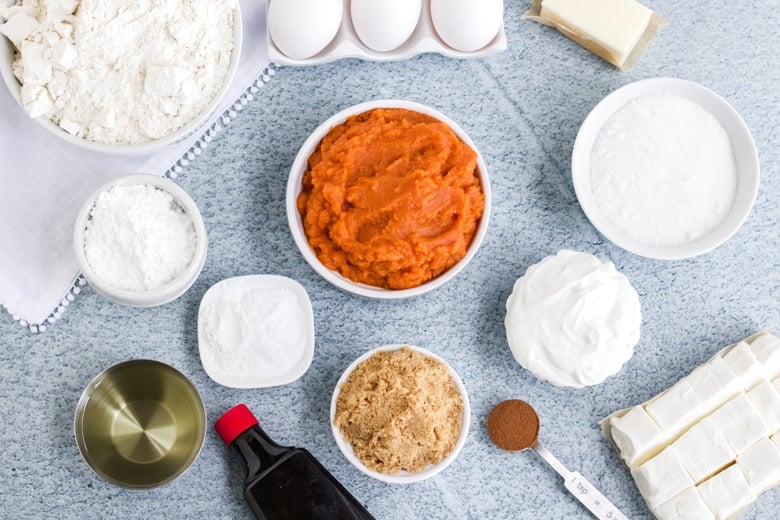 Ingredients for the pound cake layer, you will need:
Canned Pumpkin
Eggs
Vegetable Oil
Brown Sugar
Granulated Sugar
Vanilla
Flour
Baking Powder
Start by using an electric mixer on medium speed to combine the pumpkin, eggs, sugars and vanilla until smooth. Lower the speed of the mixer, add the dry ingredients and mix just until combined.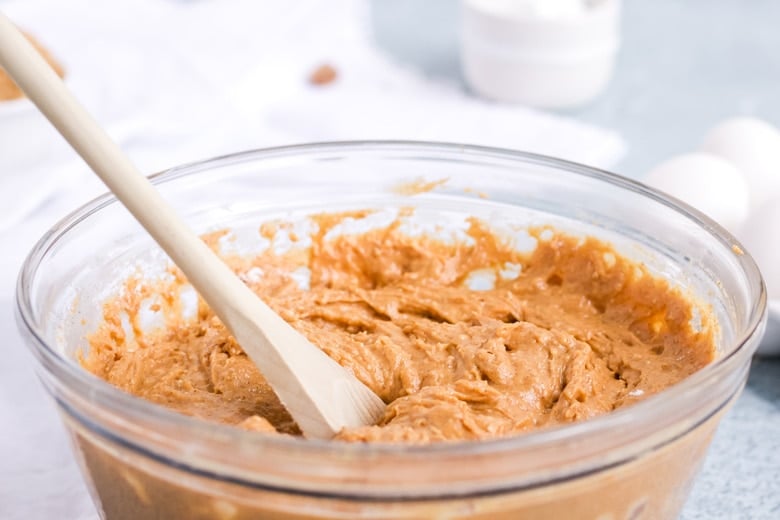 Pro-Tip – Be careful not to overmix the batter. Overmixing can cause the gluten to over develop which will result in a tough and chewy cake.
Pumpkin Cream Cheese Pound Cake Filling
Ingredients for the cream cheese filling, you will need:
Use an electric mixer on medium low speed and mix until smooth.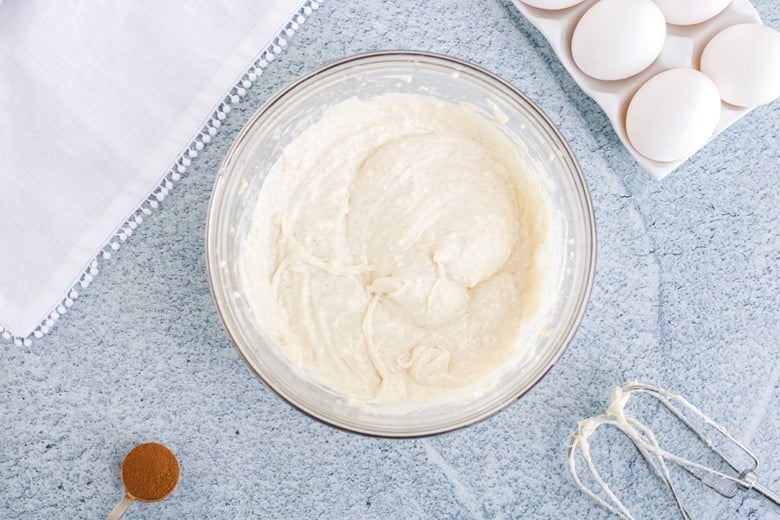 Getting those beautiful layers may look complicated, but it's super easy! Simply pour half the pound cake batter in the prepared pan. Carefully spoon the cream cheese layer in next, then top with the remaining batter.
Baking the Perfect Pumpkin Cream Cheese Pound Cake
Bake for about an hour or until cooked through. This cake is dense, so don't be surprised if it takes longer. If your cake begins to brown too quickly, you can cover with foil toward the end of baking time.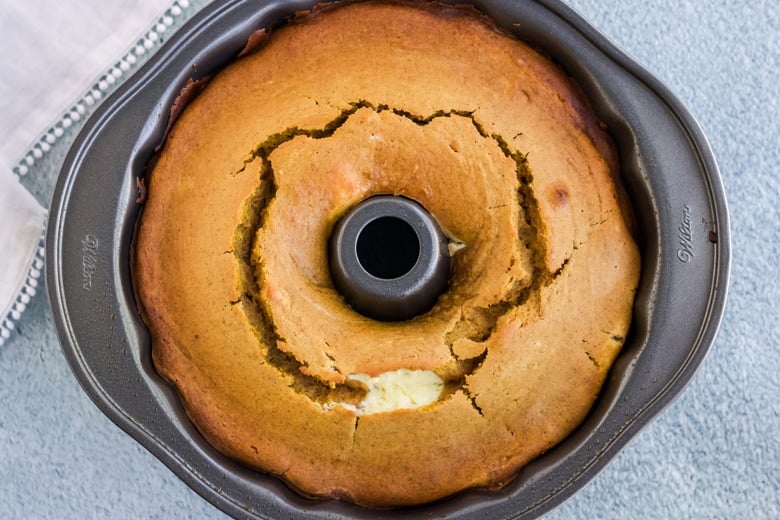 Remove from the oven, cool on a wire rack for 10 minutes before turning out onto a serving platter. Cool completely.
To make the glaze, you will need:
Combine the ingredients until smooth. You can adjust the consistency by adding more or less milk. Pour around the cooled cake, in the center of the ring and allow the glaze to drip off the sides.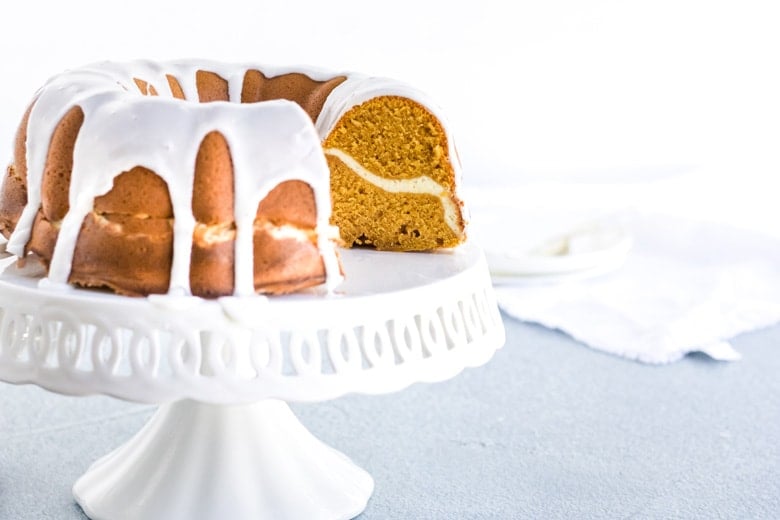 Pan Size & Storage Tips
This pumpkin cream cheese pound cake recipe uses a standard 10' bundt pan. If you don't have a 10', don't worry! You can still make this recipe in a 9 or 11 inch and it will turn out perfectly fine.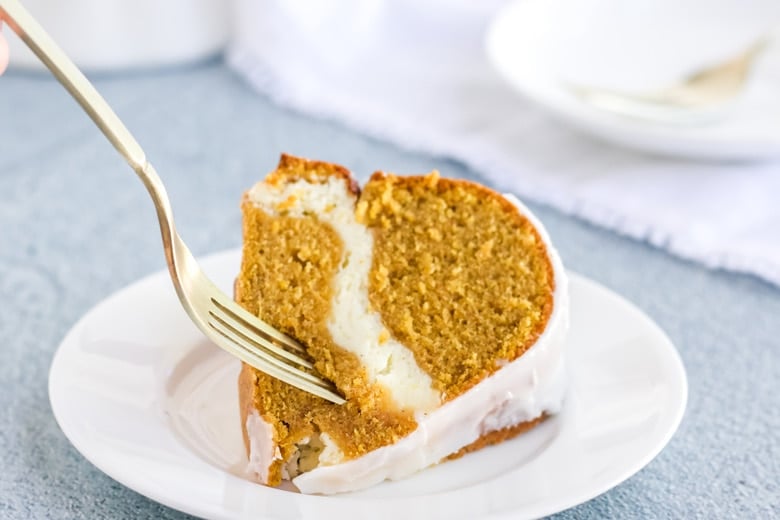 Because this cake contains cream cheese, you should put any leftovers in the fridge. I love a slice of this cake cold with a hot cup of coffee, but if you want it room temperature just pull it out about 30 minutes before you plan to enjoy it.
Alternatively, you can freeze it and thaw as needed.
Checking for Doneness
You will know when your pumpkin cream cheese pound cake is done when the top is cooked through and a knife inserted in the cake comes out mostly clean.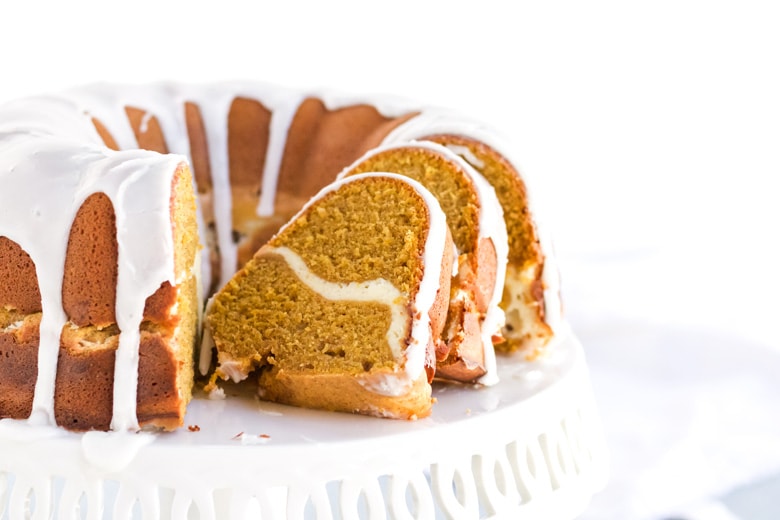 The cream cheese layer will spread a bit on the knife, but the orange pumpkin batter should not spread when the knife is removed. You can also use a toothpick or actual cake tester.
Fresh vs Canned Pumpkin
For this recipe, it is OK to take a short cut and use store bought canned pumpkin. Just make sure to choose plain 100% pureed pumpkin and not pumpkin pie filling.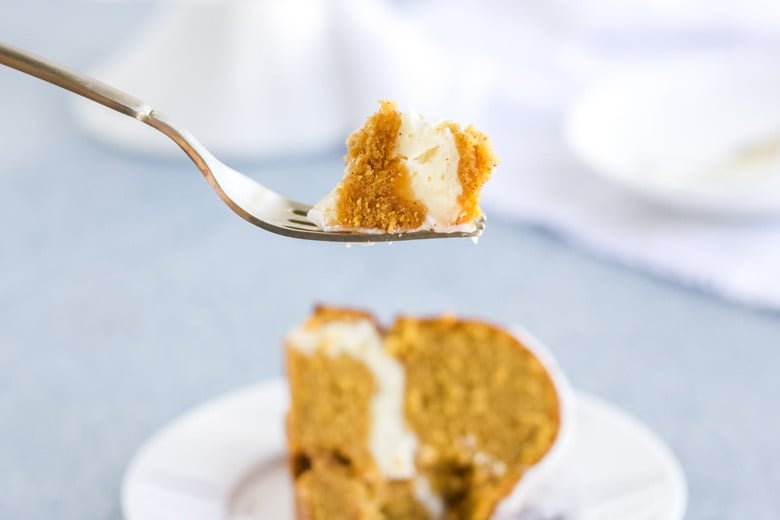 If you want to make your own puree, check out our complete guide to making your own puree from fresh pumpkin.
Gluten Free & Other Variations
I have experimented making this pumpkin pound cake recipe with a 1/1 gluten free flour replacement and while the texture was a bit more crumbly, it tasted just fine. So if you have food allergies, you can still make this dessert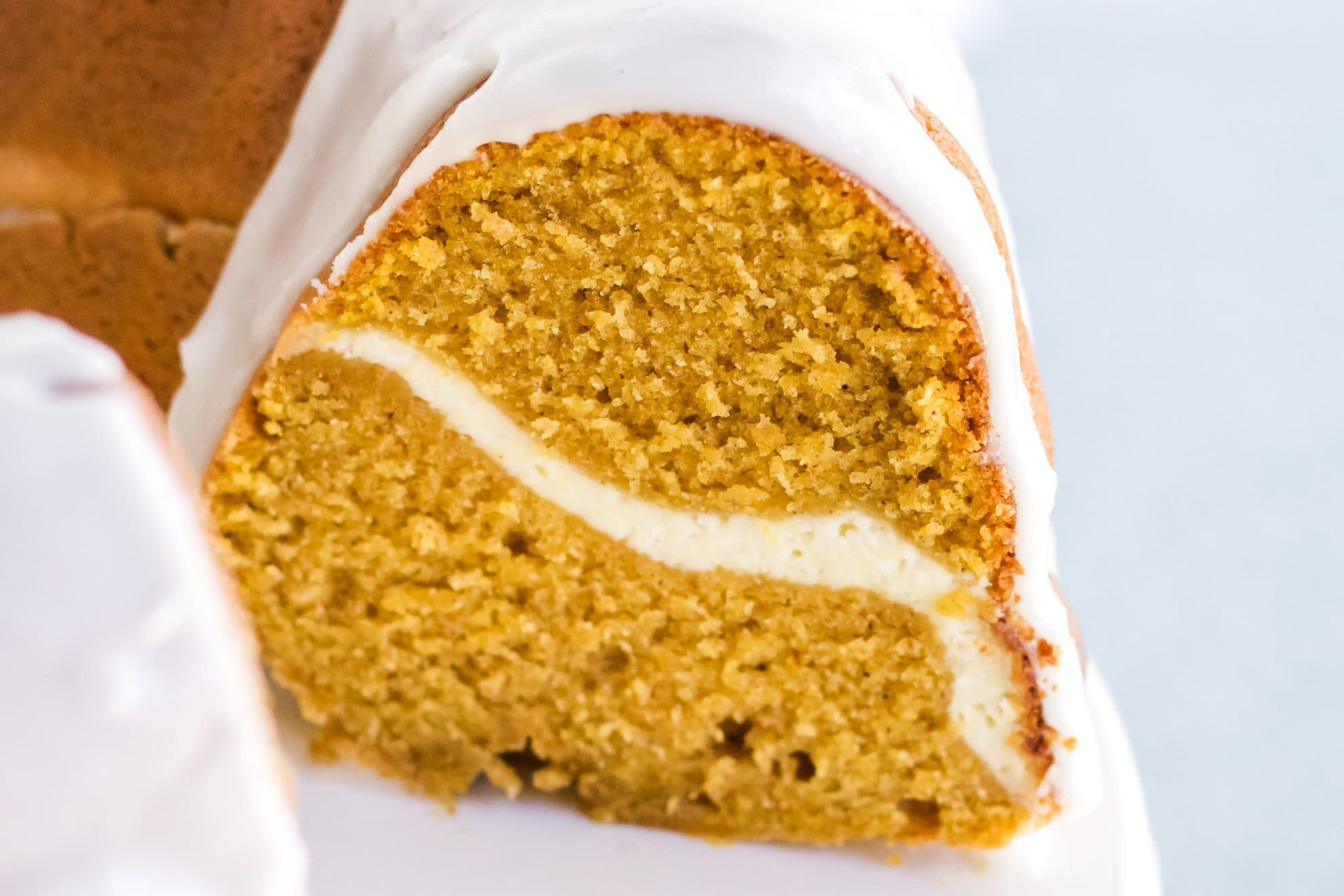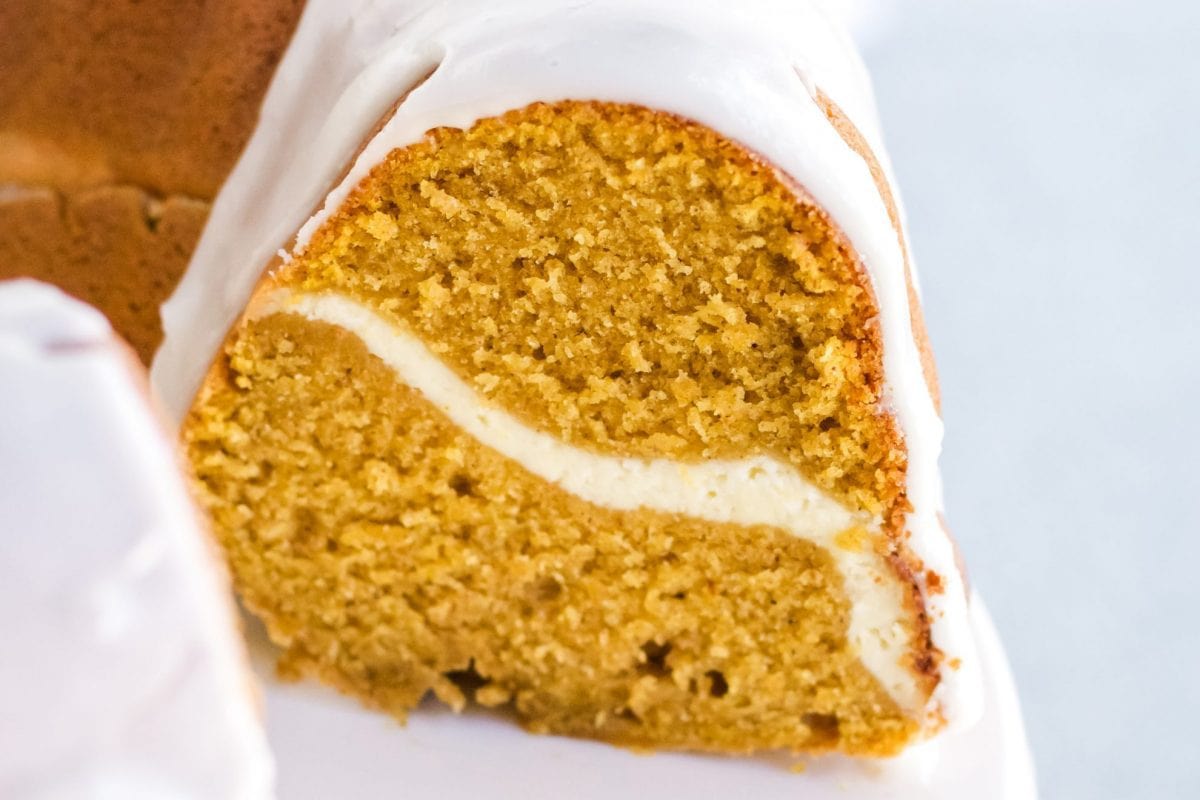 If you do not care for pumpkin pie spice, or there is a particular spice you prefer to leave out you can adjust the spices as needed. Simply put, you will want to add 1-2 tablespoons worth of spice to the cake layer and you can adjust that to your personal taste.
This recipe tastes great using only cinnamon as well, but pumpkin pie spice gives it that well-rounded classic fall flavor.