This Molasses Cookie Recipe are the perfect combination between sugar and spice, a crunchy sugar exterior with a soft, chewy interior. They take under 30 minutes to make with no chilling time, they're deliciously soft, and smell like the holidays.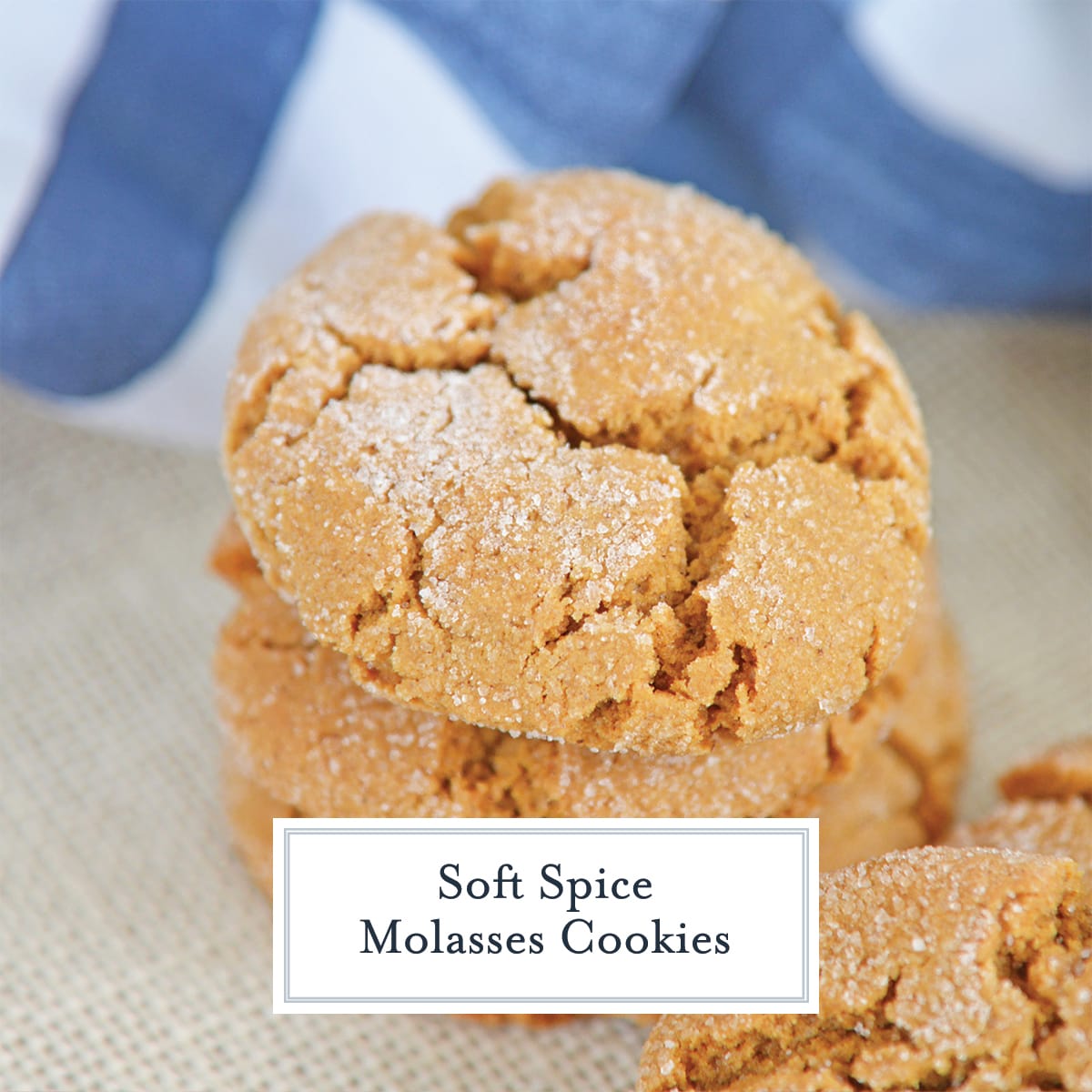 What more could you ask for?!
Ginger Snaps vs Molasses Cookies
What is the difference between molasses cookies and gingersnaps? They are the exact same base dough with molasses and ginger, but molasses cookies are soft and chewy and gingersnaps are historically crispy and crunchy, hence the "snap".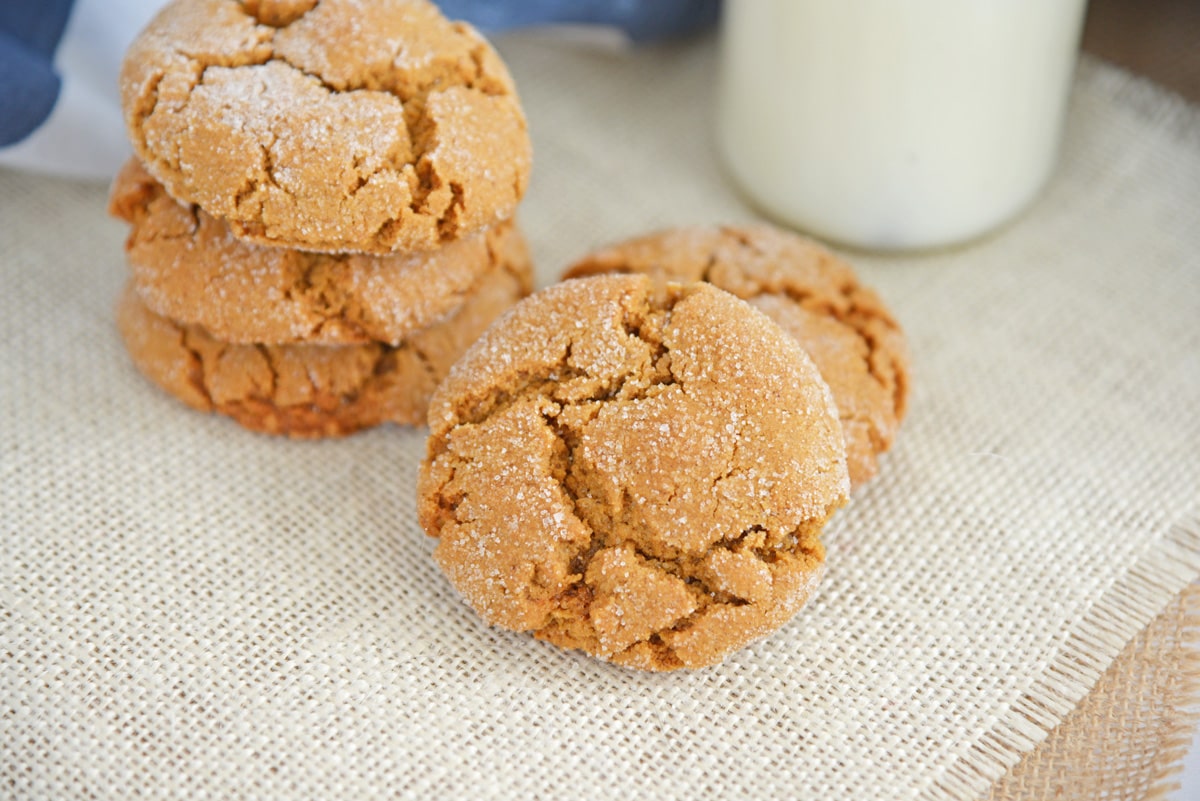 They cookies are technically soft molasses cookies, but you can also call them chewy ginger snaps. Some molasses cookies don't have any ginger at all, which is why I decided to call mine ginger molasses cookies.
To clear up the confusion, although they technically contain three of my favorite warm spices: cinnamon, ginger and cloves.
And then, of course, you also have Molasses Cookie Sandwiches with cream cheese frosting, which takes to a whole other level!
Ingredients
The ingredients for molasses cookies are generally pantry staples with the exception of molasses. While I have it in the pantry sometimes, is isn't always there and even when it is, it isn't always the best kind to make cookies (see below).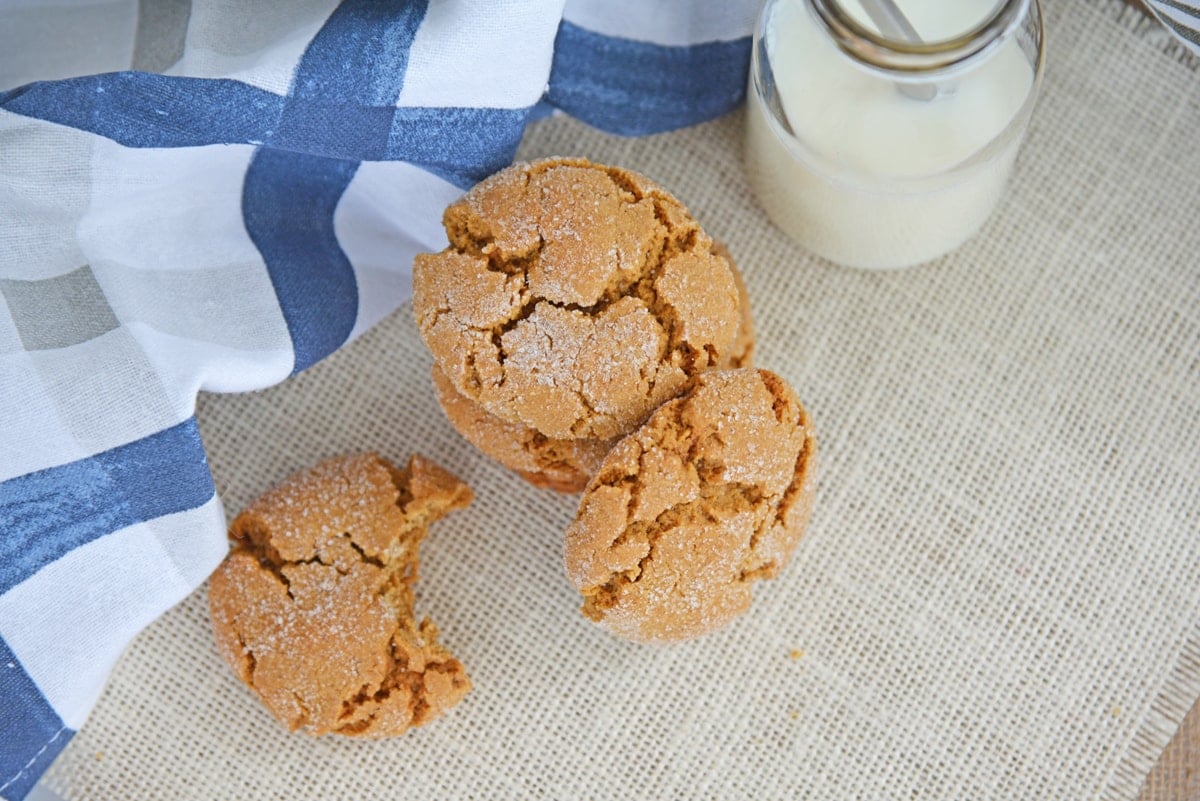 This is what you'll need:
Flour– to provide structure
Spices: ginger, cinnamon and clove, although any one of these can be omitted or doubled, depending on personal preference
Baking Soda– a leavener
Salt– omit if using salted butter
Unsalted butter– softened to room temperature
White sugar– brown sugar can be used for extra molasses-y flavor.
Egg– binder and also structure
Molasses– see more on this below
Types of Molasses
Did you know there is a wide array of molasses varieties? Different brands suit different recipes better than others. Molasses is a food sweetener that is made from sugar cane or sugar beets, but some are made from other types of food like dates. It is used in many things, but most well used is probably brown sugar.
For molasses cookies, you'll want to aim for a middle-of-the-road in flavor and density, although any can be easily swapped. Light molasses (medium) is still pretty dark in color and prefered for baking.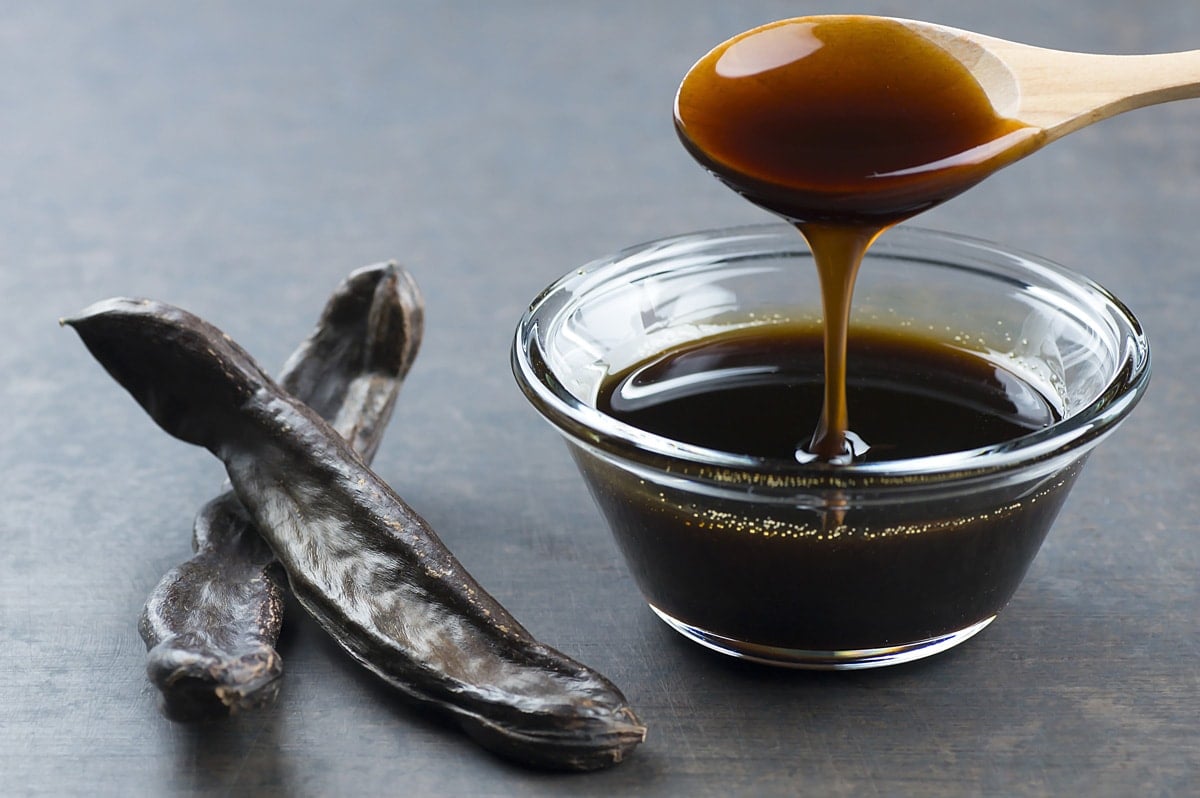 Dark molasses is more black and tar-like.
One thing to be aware of is that depending on how thick the molasses is, you may need to adjust the flour. Whatever you do, don't add more flour. Add it slowly and until just combined like a dough. Too much flour will make them dry and crumbly.
Light– One of my go-to's for baking, it is a little thinner and has a nice balance of sweet and tart. It is the first press after sugar, so it leaves behind a good deal of sweetness. I use light Grandma's Brand for these cookies.
Dark (sometimes labeled medium)– A little thicker than light and more bitter because it has been pressed twice for sugar, but not as full bodied as blackstrap.
Blackstrap- Robust blackstrap molasses that is deep in rich flavors and more bitter than sweet since it has virtually no sugar left.
Treacle– This one dates back to Victorian times and is very sweet as it is a combination of molasses and refined syrup. It will give your cookies a more sugar taste than molasses. It is also paler in color.
Cookies will range in color from light golden to dark brown depending on the variety and brand of molasses you choose to use, so don't be alarmed if yours are a different shade than mine.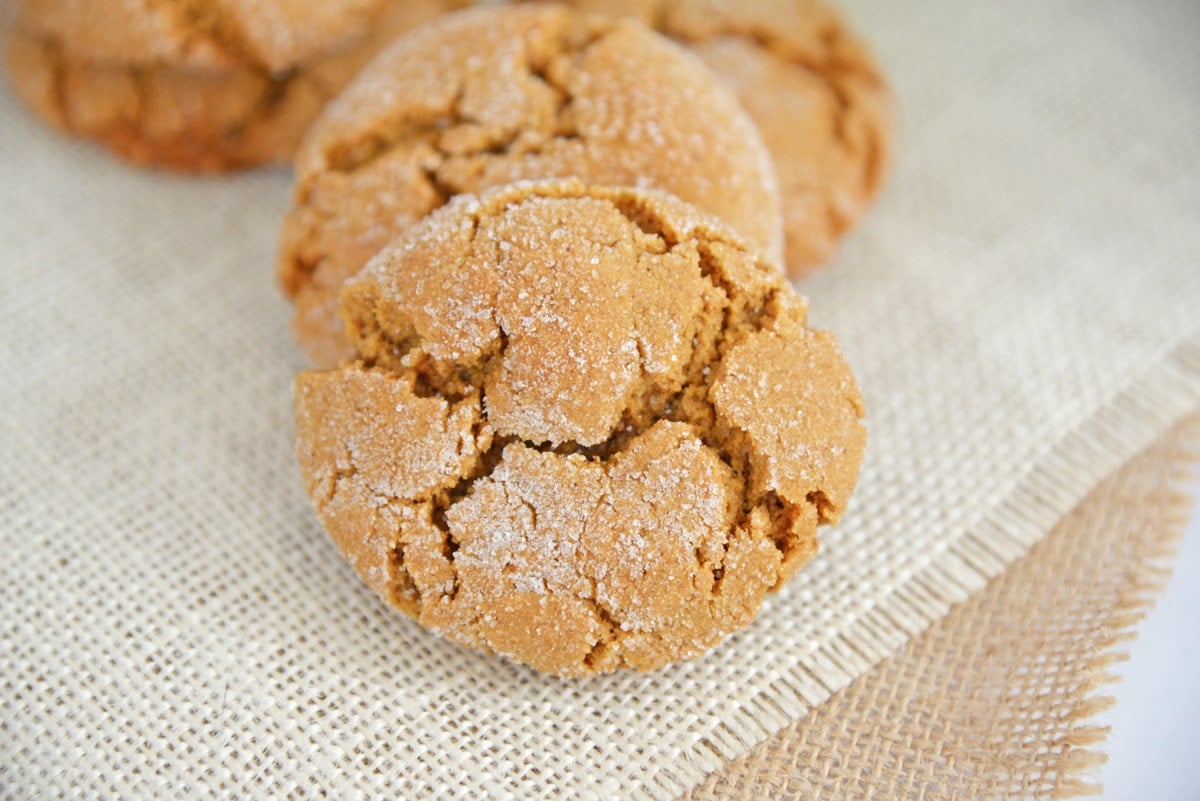 The consistency of molasses may also change. Use your best judgement and if you need to add liquid, add just 1-2 tablespoons of water at a time. You can also chill the dough for 30 minutes (but not longer or else it will mess with the cooking time) to firm up the dough a bit.
How to Make Molasses Cookies
Prep: Preheat the oven and line a baking sheet with parchment paper.
Dry ingredients: Sift together the dry ingredients- this cuts down on the amount of mixing you'll have to do in the bowl which makes for softer cookies.
Wet ingredients: Cream together the butter, part of the sugar, egg and molasses until fluffy. I highly recommend using a stand mixer or electric hand mixer for this one.
Make Dough: Combine dry and wet ingredients in a large bowl. Dough will not fully stick together until you start to roll the dough.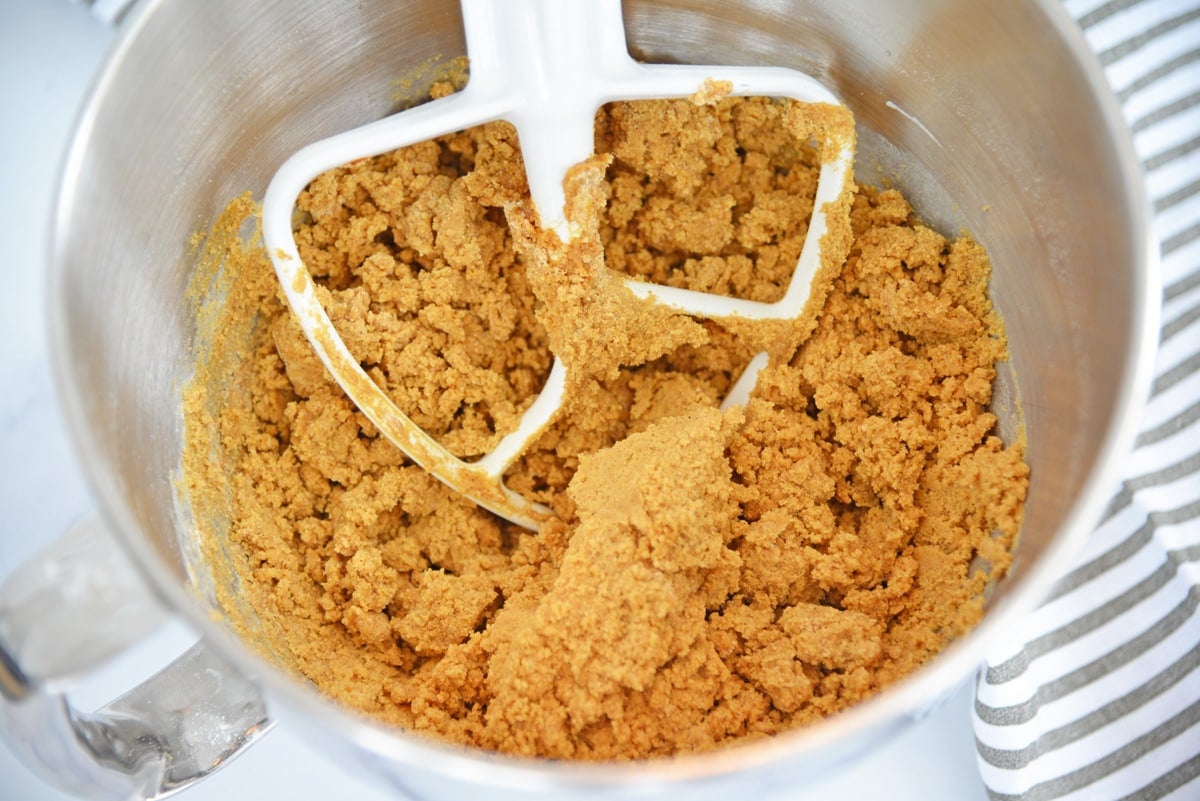 Form cookies: Roll dough into 1 inch balls and then roll in the sugar to coat fully. Don't make them too large or they won't cook all the way through (I've made this mistake).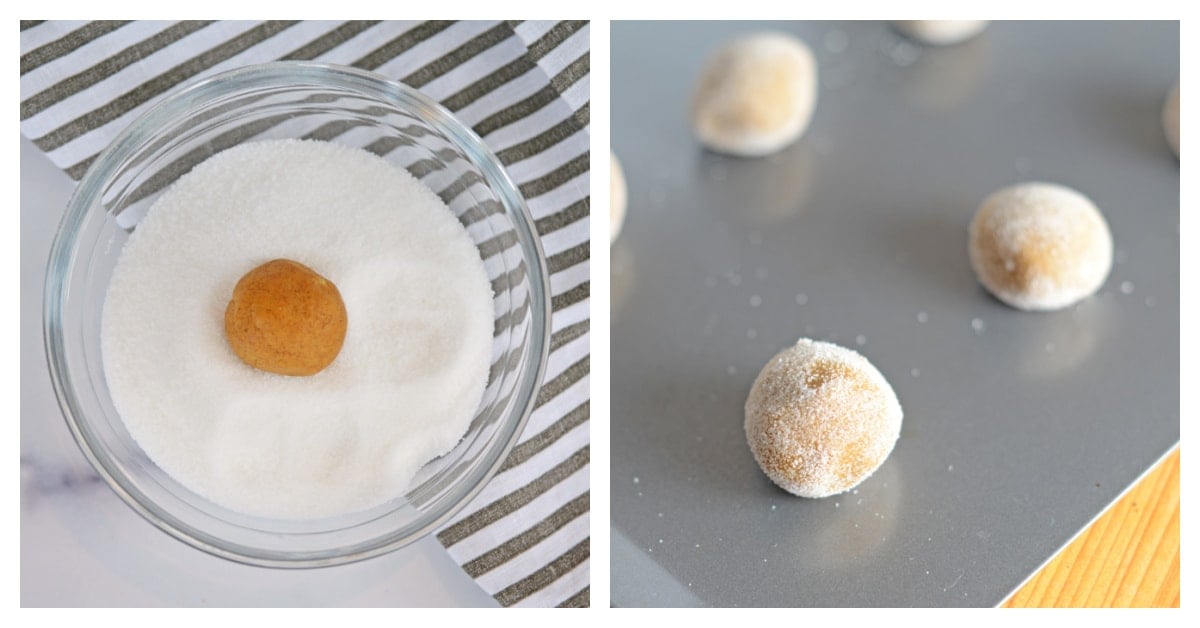 Cook: Bake until they look just under cooked. You will see uncooked dough through the cracks.
Cool. Remove and allow to cool on a wire rack. Don't allow to cool on the baking sheet or they will continue to cook.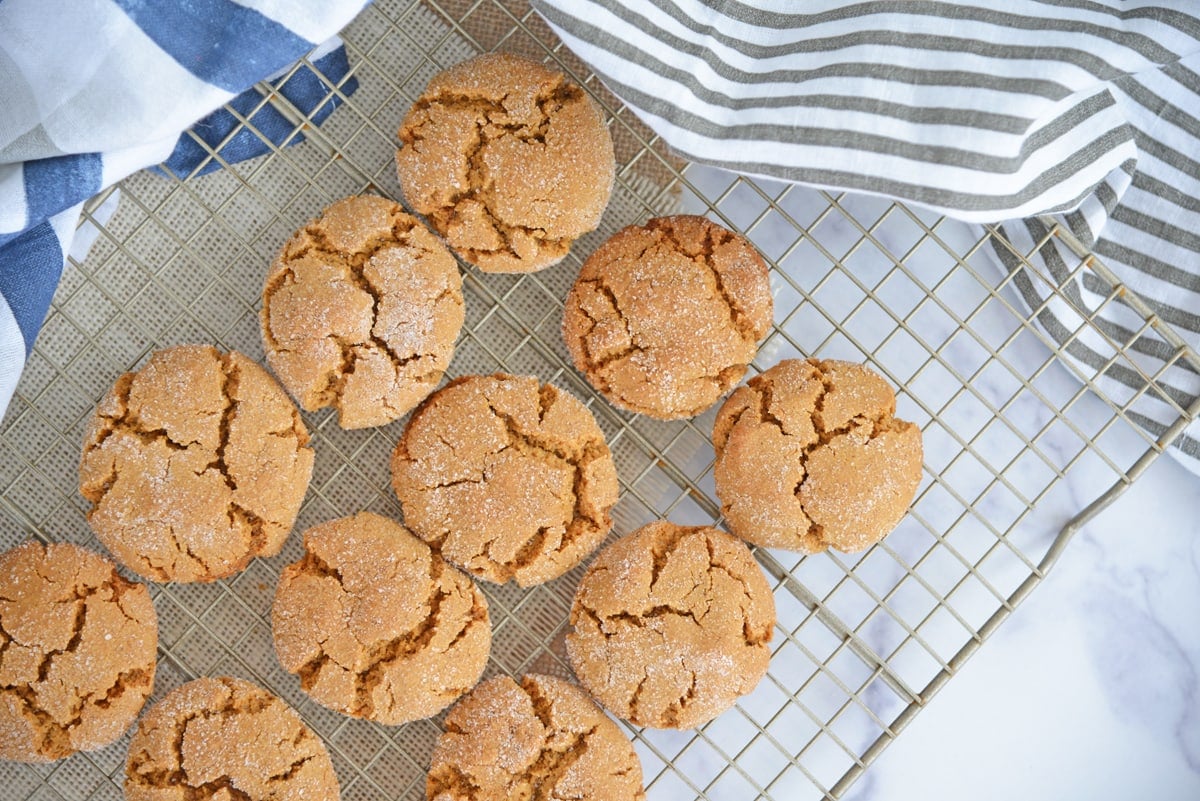 Storage & Freezing
Store in an airtight container for up to 1 week… if they last that long. Place a piece of soft sandwich bread over the top to keep them from drying out.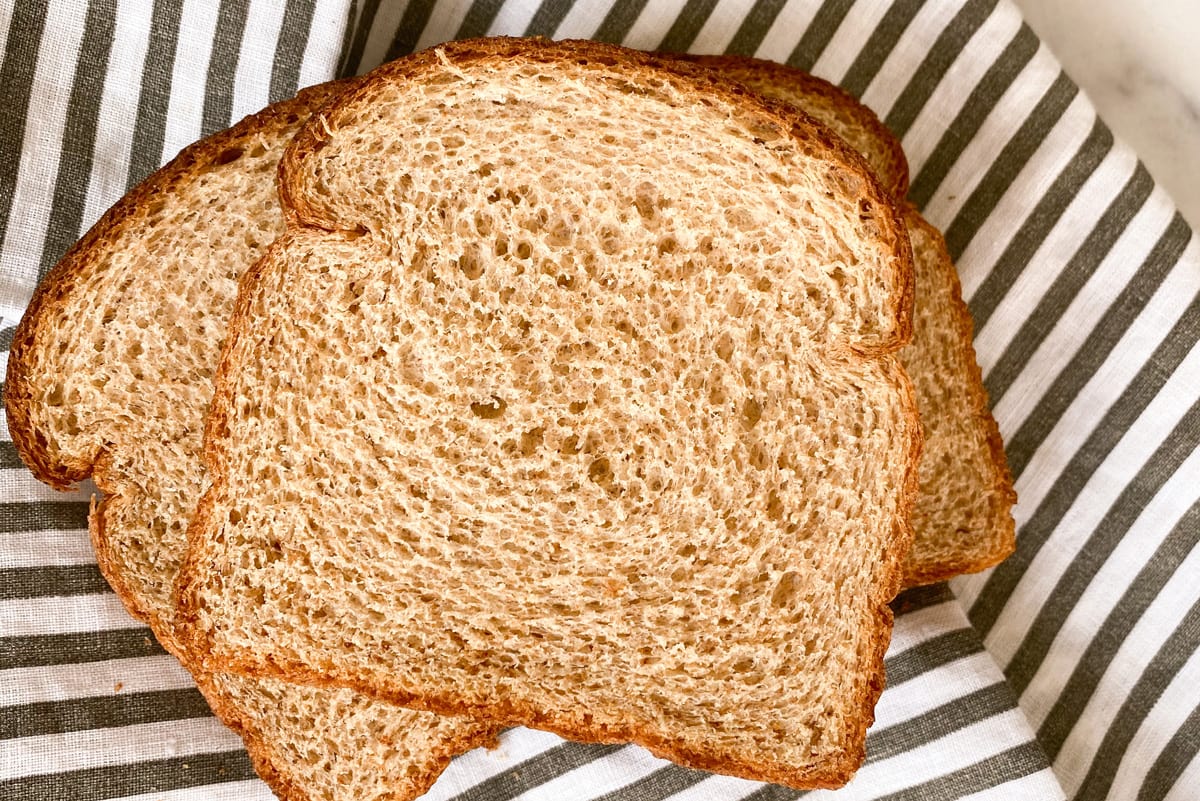 Towards the end of their counterlife, you can reheat these cookies by wrapping in a paper towel and microwave on 50% power for 10-12 seconds to reactivate the butter and soften them up. Plus, your house will smell of the aromatic spice blend. Perfection!
Molasses cookies can also be frozen for up to 3 months in an airtight container.
Tips for Soft Molasses Cookies
While these cookies are pretty straightforward, there are still a few things to be aware of.
Don't overmix the dough. It dries it out and will lead to crumbly cookies.
Form smaller, uniformly sized balls. One inch tends to be best.
Check the expiration and scent on your spices before using. Ground spices start to lose potency at about 6 months and by 2 years will taste like sawdust.
Remove them when they look slightly undercooked- do not wait to cool until they look fully cooked. Then you will have a crispy gingersnap.
Transfer cookies to wire racks to cool completely. Leaving them on hot baking sheets will allow them to cook even further.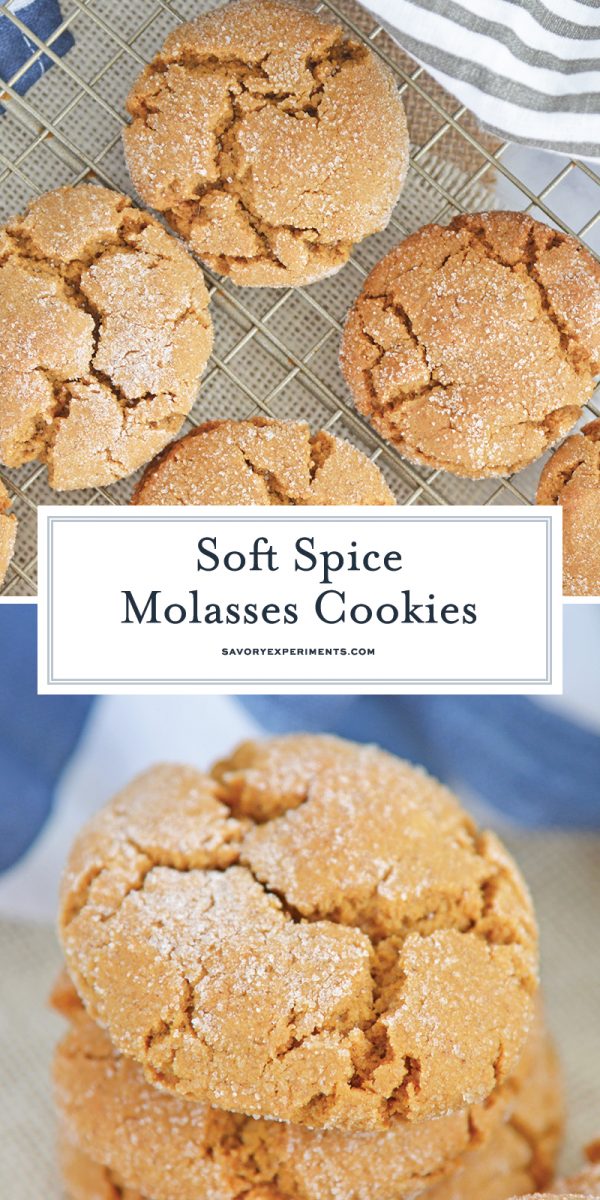 You can even make these into cookie butter! What is cookie butter?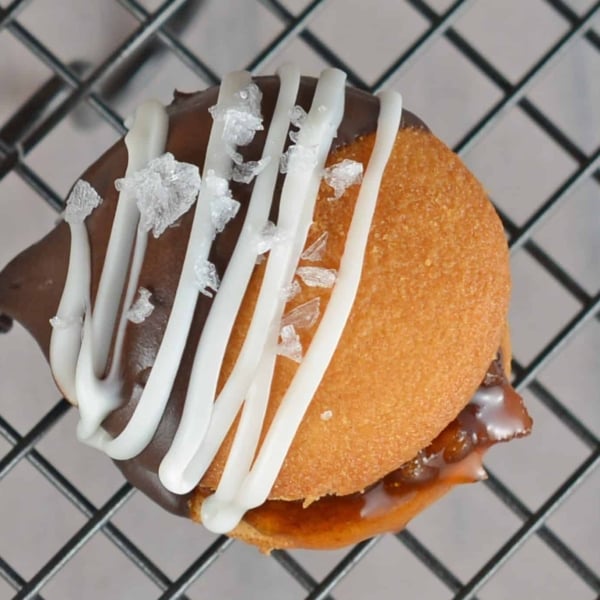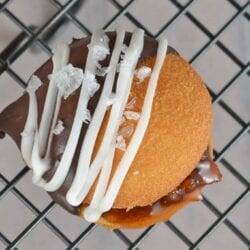 Dark Chocolate Bacon Cookies
Chocolate Bacon Jam Cookies are an unexpected cookie sandwich filled with a sweet bacon jam and then dipped in dark chocolate and sprinkled with sea salt.
View this recipe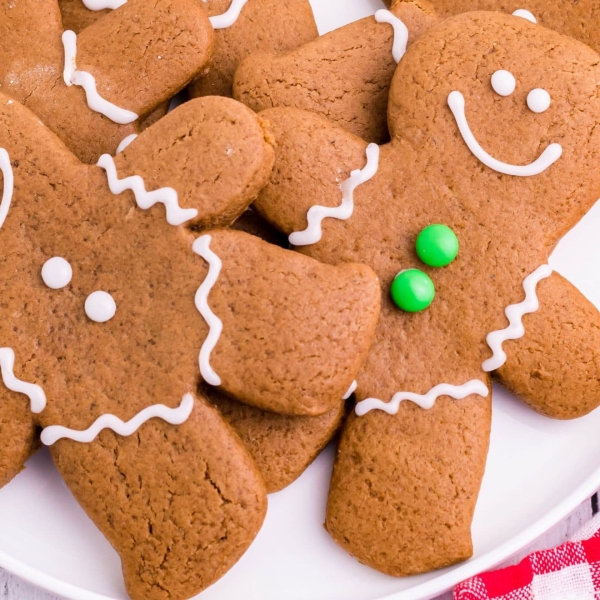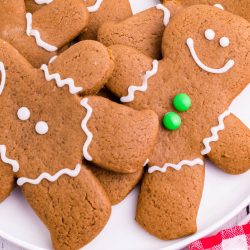 Gingerbread Man Cookies
Warm & spicy flavors and a light and sweet icing come together to make these Classic Gingerbread Men! Dress up your Christmas cookie trays!
View this recipe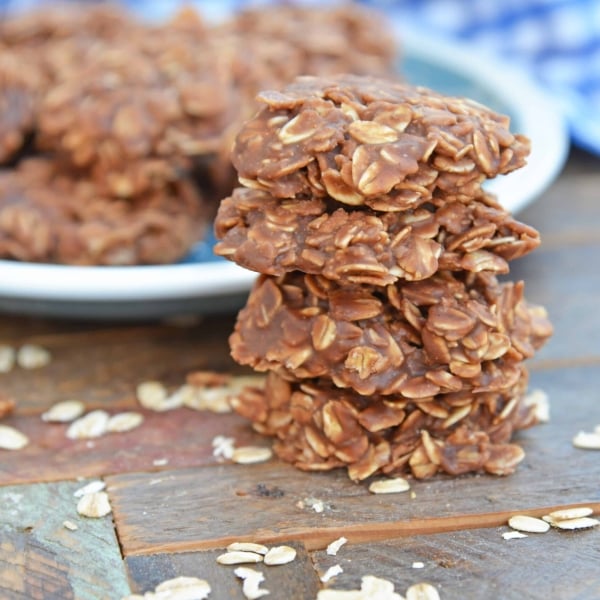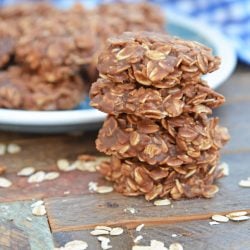 Classic No Bake Cookies
If you've always thought oatmeal no bake cookies were difficult, this classic no bake cookie recipe will change your mind. With these tips, you'll end up with the perfect peanut butter no bake cookies every time!
View this recipe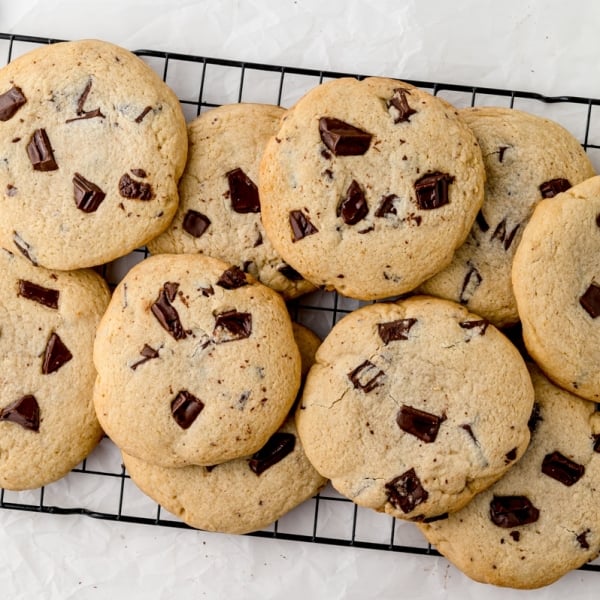 Copycat Crumbl Chocolate Chip Cookies
These Chewy Chocolate Chip Cookies are the ultimate homemade chocolate chip cookie recipe. Giant bakery style cookies with chunks of chocolate.
View this recipe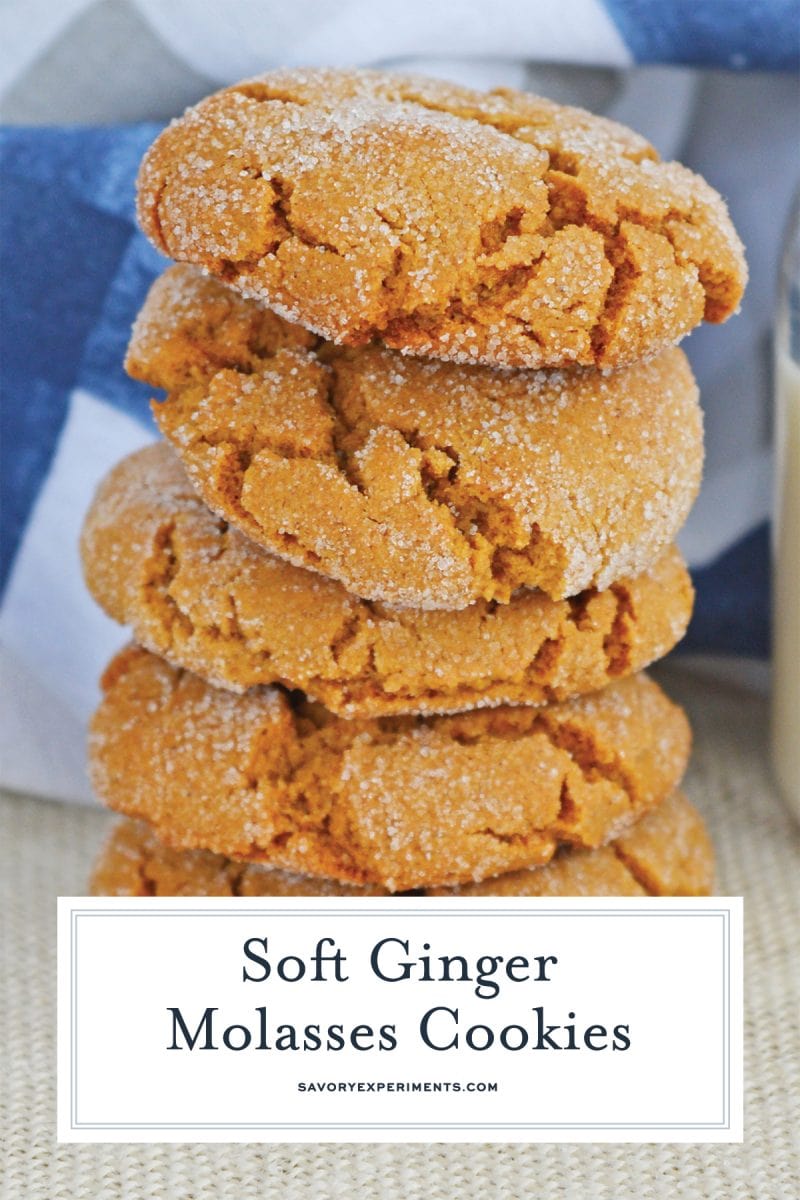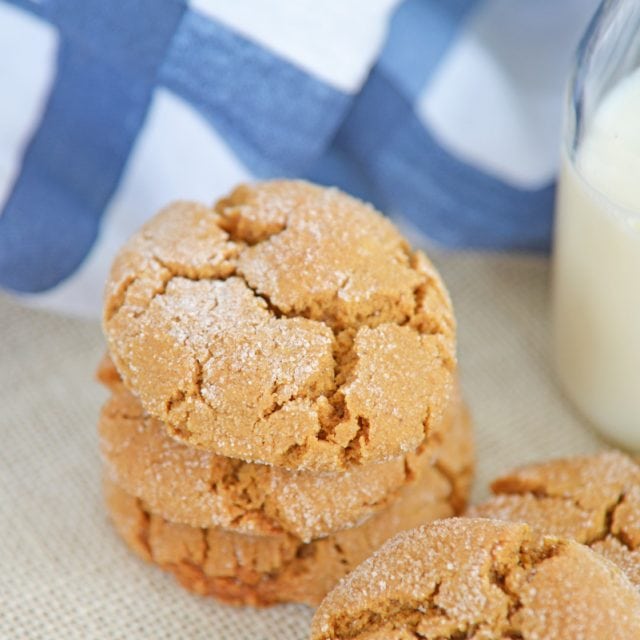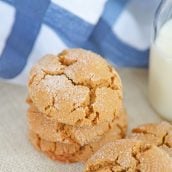 Soft Ginger Molasses Cookies
Ginger Molasses cookies, sometimes known as spice cookies, are one of my favorite Christmas cookies. Soft and spicy without being overly sweet.
Instructions
Sift together the flour, ginger, baking soda, cinnamon, cloves and salt. Set aside.

In the bowl of a stand mixer fitted with the paddle attachment or a large mixing bowl with electric hand mixer, cream the butter, 1 cup of the sugar, egg and molasses until fully combined and slightly fluffy, approximately 1-2 minutes.

Slowly stir in the flour mixture until it is crumbly. Dough will not fully stick together until you start to roll the dough.

Place 3/4 cup sugar into a small bowl. Roll dough into 1 inch balls and then roll in the sugar to coat fully.

Place 2 inches apart on parchment lined cookie sheet. I prefer to use insulated baking sheets because they cook evenly.

Cook each batch for 7-8 minutes or until they look just under cooked. You will see uncooked dough through the cracks. Remove from the oven and let sit on cooking sheet for 3-4 minutes. Transfer to a cooling rack.

If you've tried this recipe, make sure to come back and let us know how they were in the comments or ratings.
Nutrition
Calories:
137
kcal
,
Carbohydrates:
26
g
,
Protein:
1
g
,
Fat:
3
g
,
Saturated Fat:
1
g
,
Cholesterol:
14
mg
,
Sodium:
98
mg
,
Potassium:
68
mg
,
Sugar:
17
g
,
Vitamin A:
95
IU
,
Calcium:
12
mg
,
Iron:
0.8
mg