This recipe originally appeared on Real Housemoms, where I am a contributor.
Are you ready to make the easiest cupcakes ever? Five Ingredient Banana Cupcakes are literally JUST five ingredients and can even be knocked down to three in a jiffy. It doesn't get any easier. Seriously.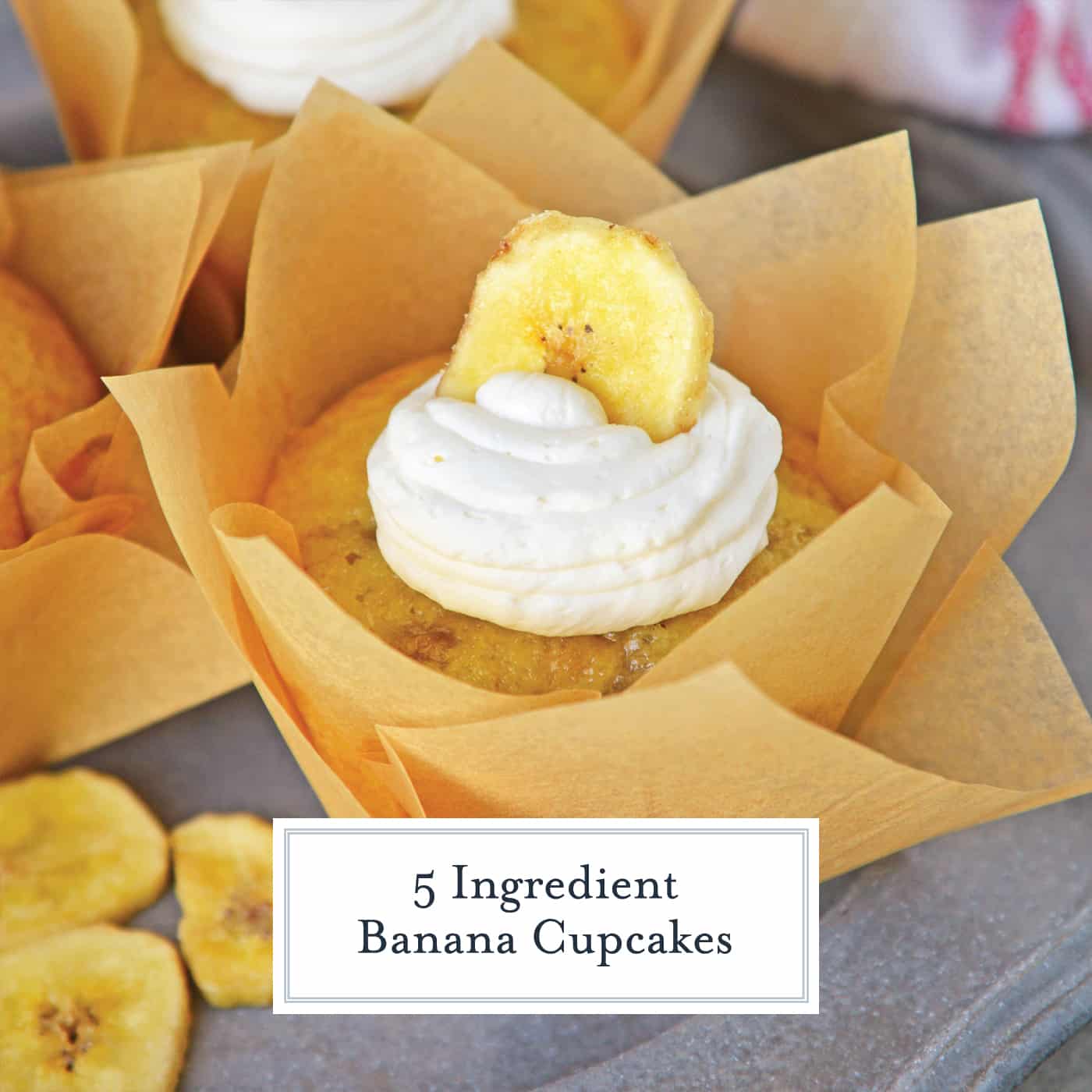 Five Ingredient Banana Cupcakes are a fabulous alternative to making banana bread with overly ripe bananas. So moist and delicious!
All you need are 3-4 ripe bananas, cake mix, 2 eggs, vegetable oil and a can of frosting. The frosting and vegetable can even be omitted in a crunch making them just three ingreidnet cupcakes.
At that point they are more like banana muffins, but still totally tasty.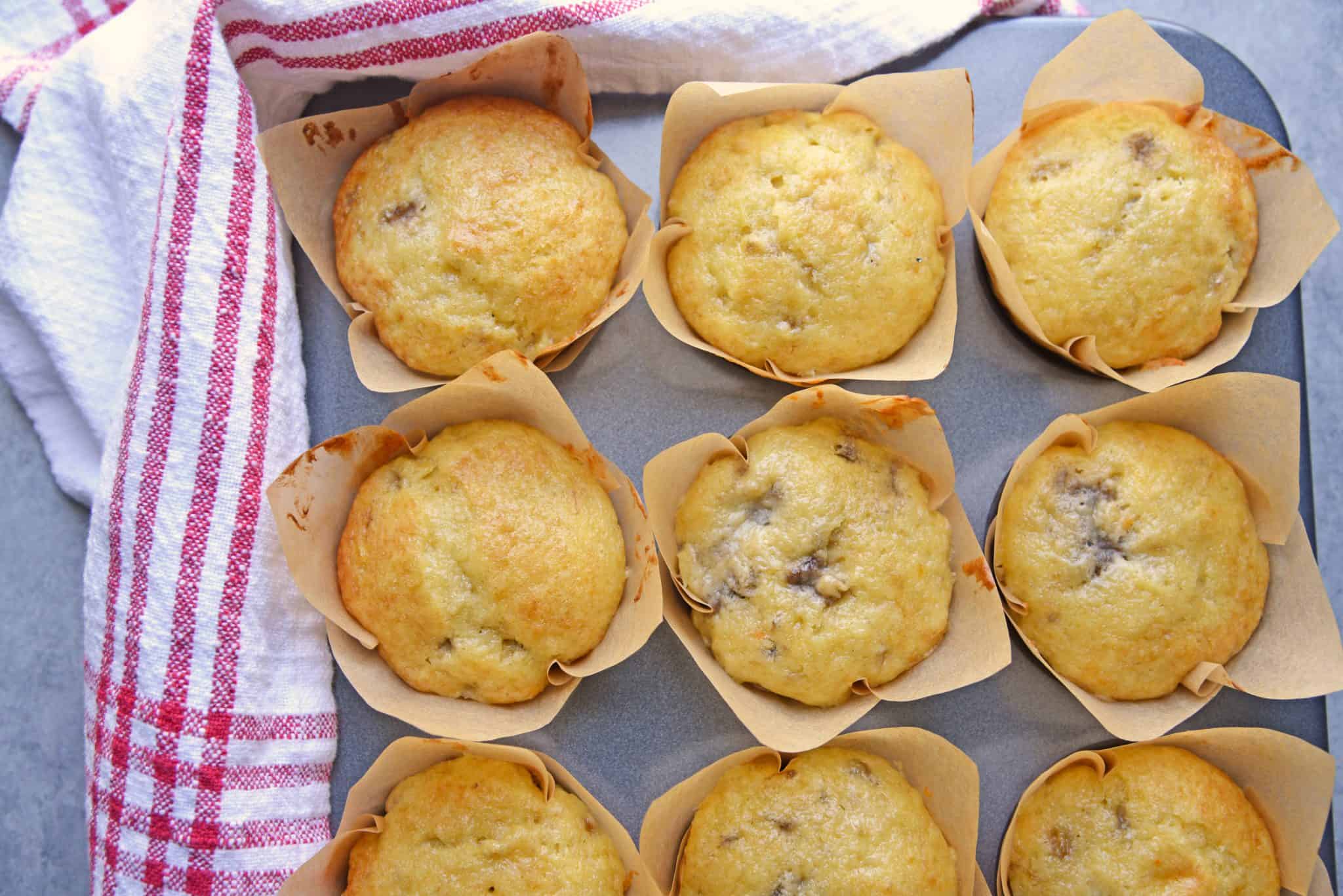 Five Ingredient Banana Cupcakes are a fabulous alternative to making banana bread with overly ripe bananas. The natural sugars give off a robust banana flavor and the moisture prevents you from needing much else to produce a soft crumb.
Boxed cake mix is something I always have in the pantry. I buy it in bulk when it is on sale in a variety of basic flavors. It can be used to make these fabulous Banana Cupcakes, Cookie Bars, Poke Cakes, a traditional cake and more.
For these cupcakes, you can use white, yellow or chocolate.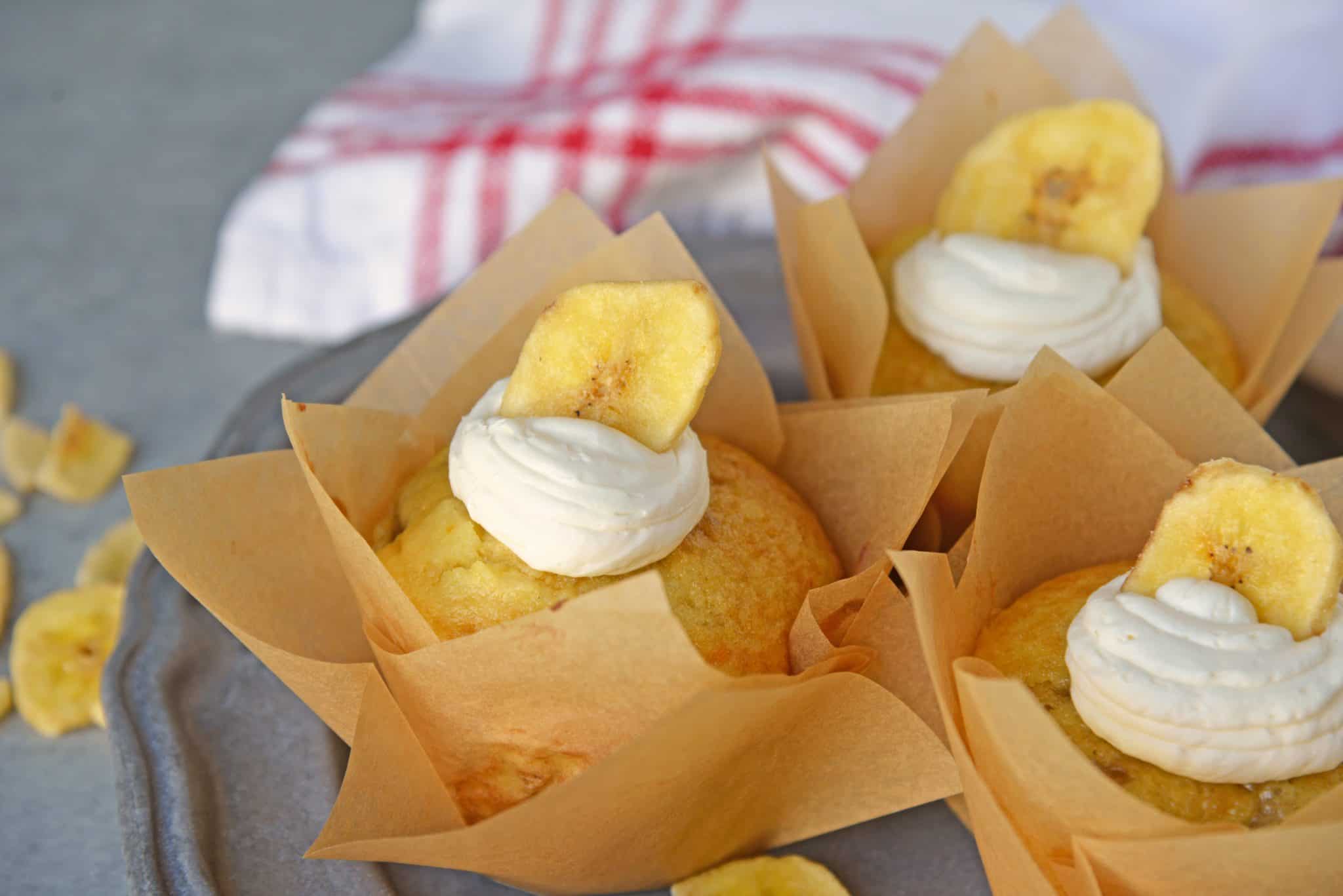 If you want to get super creative, add in a few other flavors you might have lying around. Chocolate chips or toffee bits pair excellently with the flavors of banana. Add a half a teaspoon of cinnamon, nutmeg, pumpkin or apple pie spice. You can also add nuts like pecans or walnuts.
Then you can customize the frosting. Cream cheese frosting is always a fabulous choice for banana cupcakes, but you can also use chocolate, German chocolate or vanilla.
Not using vegetable oil gives these Banana Cupcakes more of a muffin texture, so then I just dust them with turbando or powdered sugar.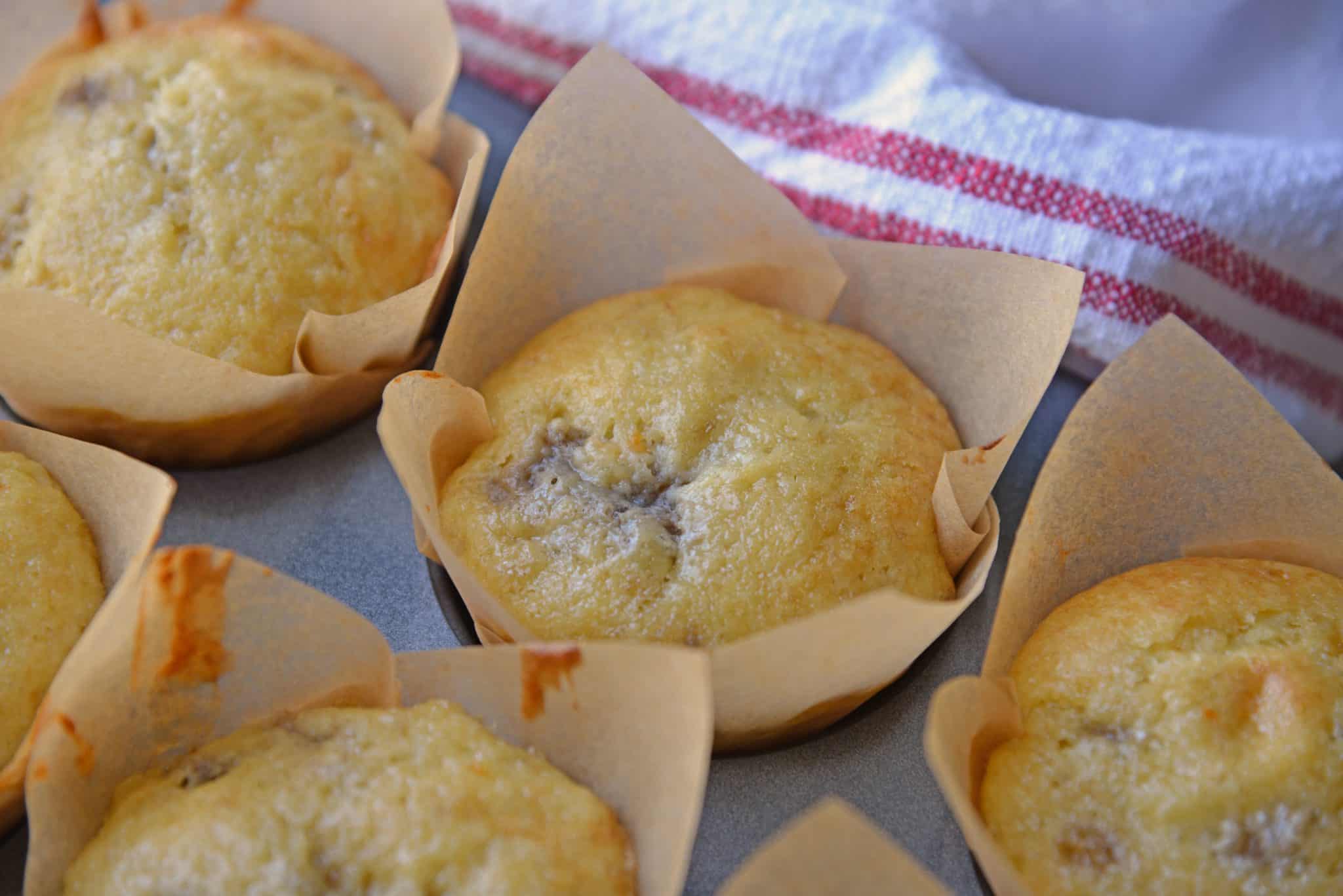 And if I'm really feeling like Susie Homemaker, I adorn them with banana chips, either homemade or store bought. Banana chips are surprisingly challenging to make from scratch without a dehydrator, so I usually cheat and just buy them.
Banana Cupcakes are perfect for dessert, brunch or even breakfast depending on how you decide to customize. One thing is for sure, Five Ingredient Banana Cupcakes will soon be your new go-to secret weapon.

How to make bananas ripen faster:
Microwave– The quickest way, but least likely to produce super sweet results. Nuke it for 30 seconds to one minute. Basically, you are cooking it and allowing the sugars to release a little before you put it into the recipe.
Oven- the same concept as the microwave. Heat to 350 degrees and bake for 5-30 minutes.
Brown Paper Bag – My mother used this technique, but it still takes about a day. Place your bananas in a brown paper bag and roll it closed. Ethylene will build up and speed up the ripening process.
Tropical Environment – Everything ages faster in the heat. Place your bananas someplace warm, like in a sunny window. It will still take up to a day, depending on how ripe the banana was to begin with.
Single them out – lastly, pull your bananas apart. They ripen much faster separated than they do still hooked together.
Tools for making Five Ingredient Banana Cupcakes:
Mixing Bowls– make sure to check out my article on Using the Right Mixing Bowl, you'd be surprised how many people aren't!
Muffin Tin– I'm assuming you have one, but just in case…
If you liked this recipe then you'll love these other easy dessert ideas: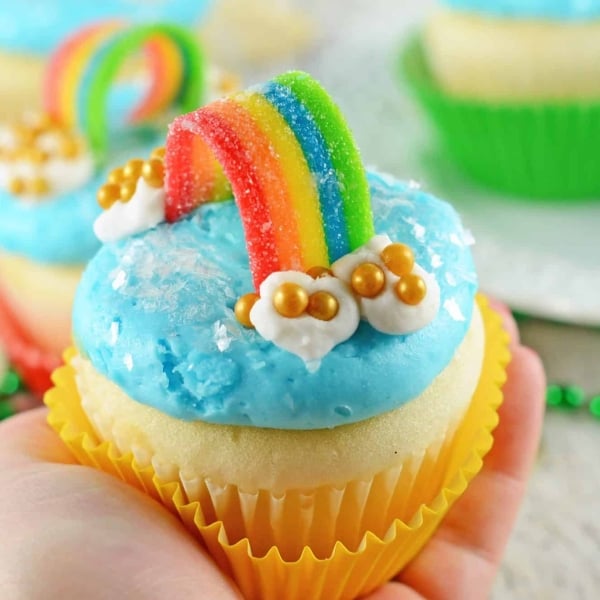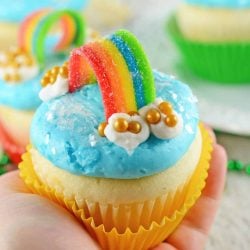 Rainbow Cupcakes
Rainbow Cupcakes are super easy and cute. The perfect cupcake for St. Patrick's Day, children's birthday parties or any random day of the week!
See The Recipe!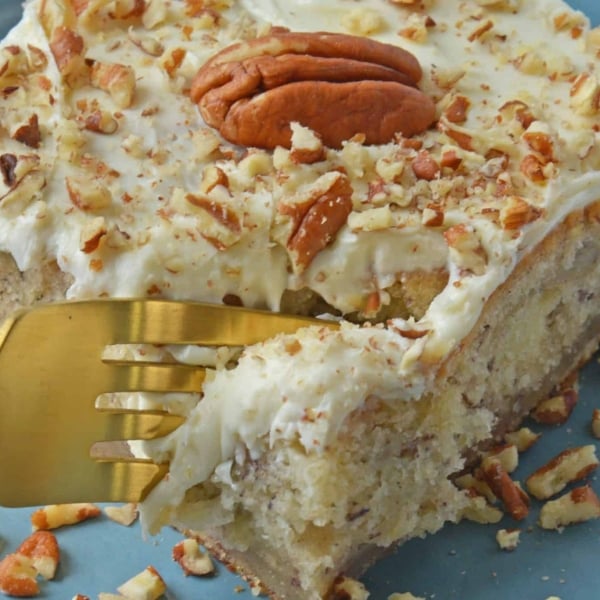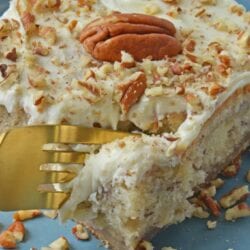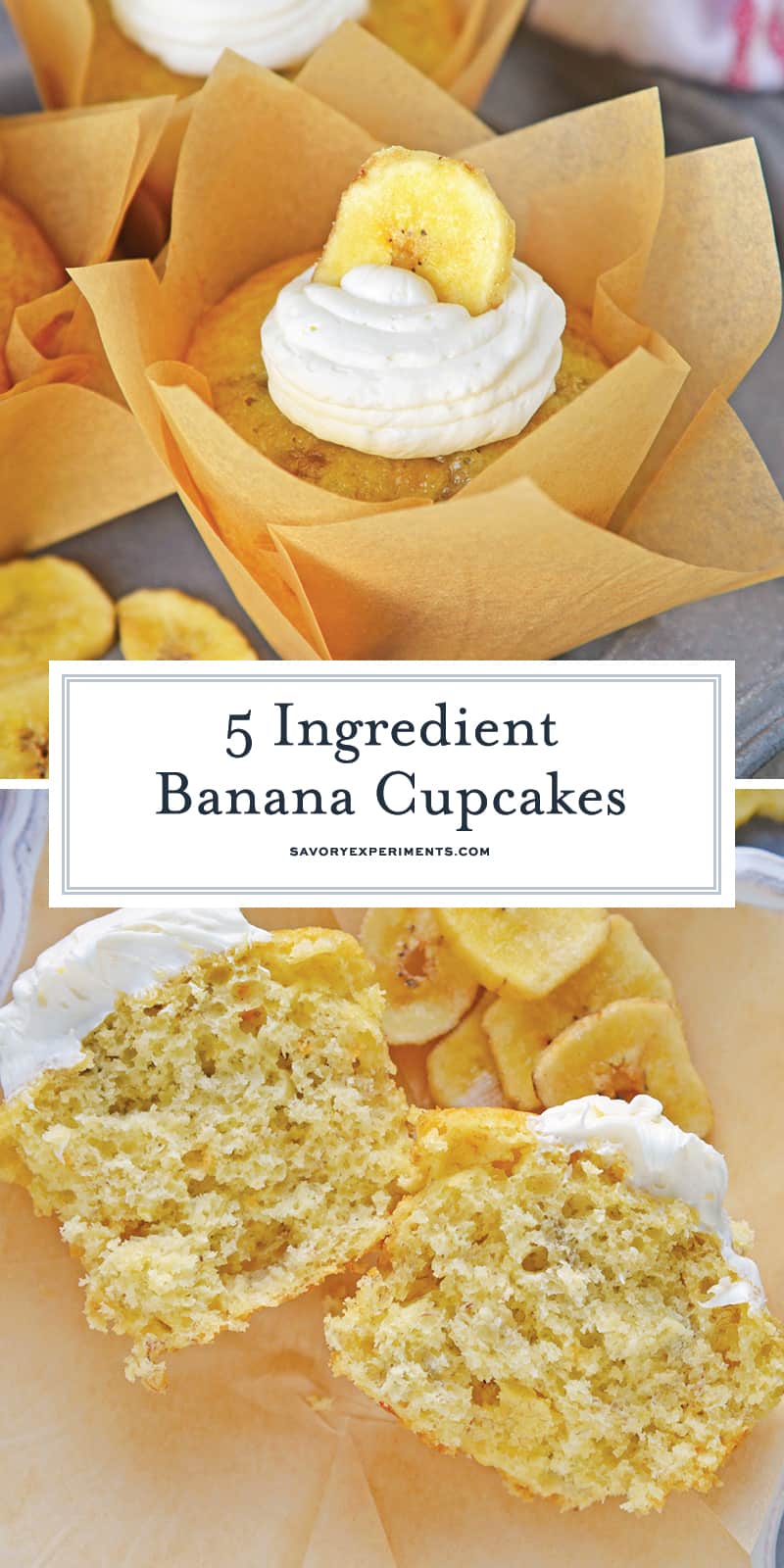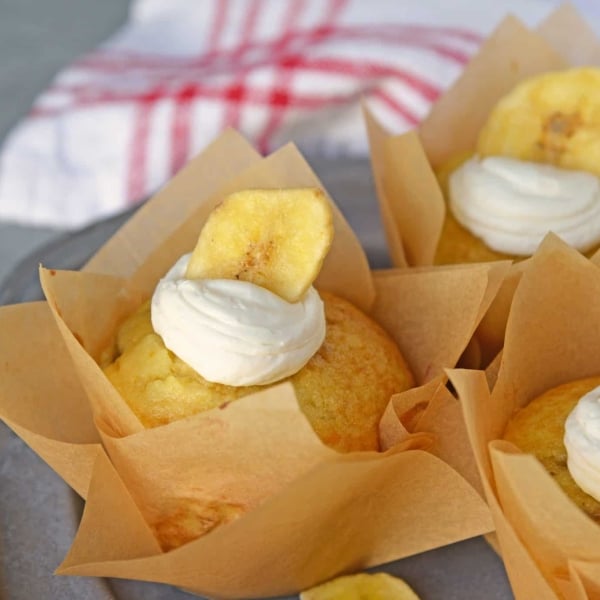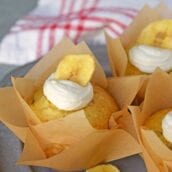 Banana Cupcakes
Five Ingredient Banana Cupcakes are a fabulous alternative to making banana bread with overly ripe bananas. This easy cupcake recipe will blow your mind with flavor and ease!

Ingredients
16.5

ounce

box vanilla cake mix

3-4

ripe bananas

2

tablespoons

vegetable oil

2

eggs

Cream Cheese Frosting
Instructions
Preheat oven to 350 degrees. Line 12 muffin tins with liners.

In a medium bowl, mash bananas.

Add cake mix, eggs and vegetable oil. Blend until just mixed.

Divide mix evenly among muffin tins.

Bake for 18-24 minutes, or until tops gently spring back when touched and pass the toothpick test.

Allow to cool fully before frosting. If serving as a muffin or without frosting, dust with powdered sugar and serve warm.

If you've tried this recipe, come back and let us know how it was!
Nutrition
Calories:
200
kcal
,
Carbohydrates:
38
g
,
Protein:
2
g
,
Fat:
4
g
,
Saturated Fat:
2
g
,
Cholesterol:
27
mg
,
Sodium:
294
mg
,
Potassium:
134
mg
,
Fiber:
1
g
,
Sugar:
20
g
,
Vitamin A:
60
IU
,
Vitamin C:
2.6
mg
,
Calcium:
88
mg
,
Iron:
1
mg