There are days, you know the kind, where there is a three-alarm fire kind of craving in your brain for sweets. For me, that craving typically involves cake. (Don't laugh, it's true.)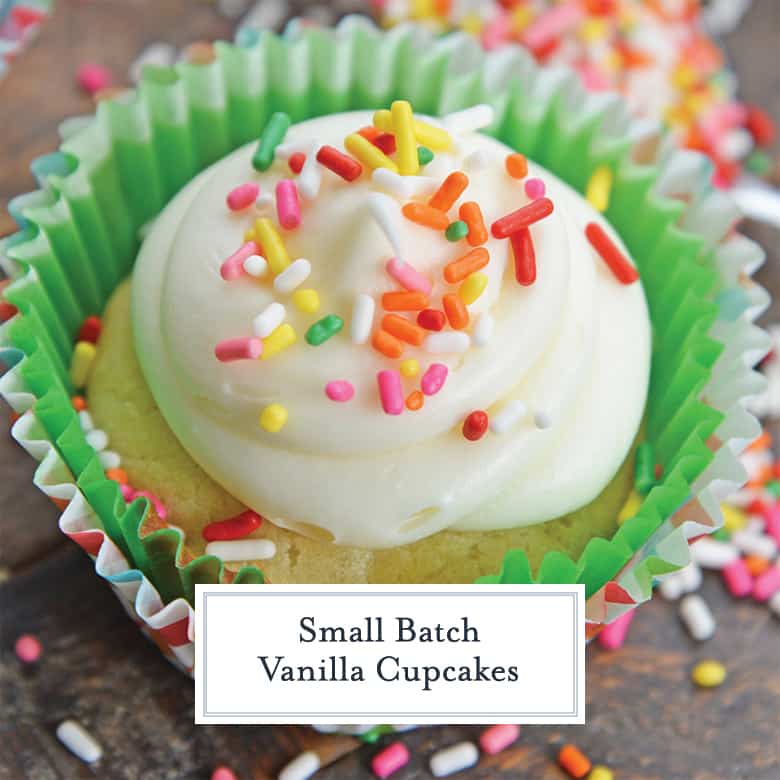 Small Batch Vanilla Cupcakes are unbelievably easy to make and the perfect portion for when you want a sweet treat but don't need the full dozen.
Small batch vanilla cupcakes are great for those days when you need a quick hit of sugar but don't want all of the hullabaloo that goes along with baking a cake.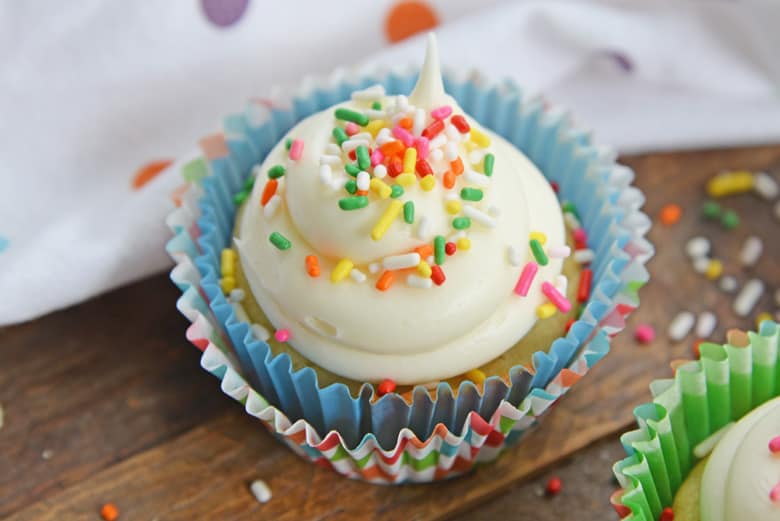 Easy Dessert Idea
While this recipe is great for those days when our brain is pestering us for something sweet, but it works in other scenarios as well. Maybe you want a little treat for the kiddos (or hubby) on the counter when they get home. Perhaps you are hosting a small gathering and you need to make a dessert.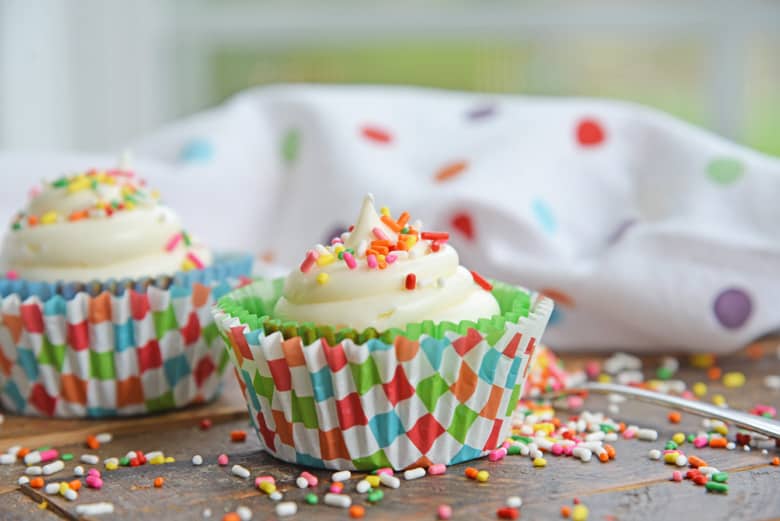 Whatever the occasion, these little beauties are the perfect blend of sweet and treat in a little two or three-bite package. And do you know the best part?
You can brag about making them from scratch. No box mixes here.
To be honest, as much as I love baking cakes, it can be tedious and time-consuming. At the very least, you are using a bunch of different bowls, the stove, the oven, spatulas, and more.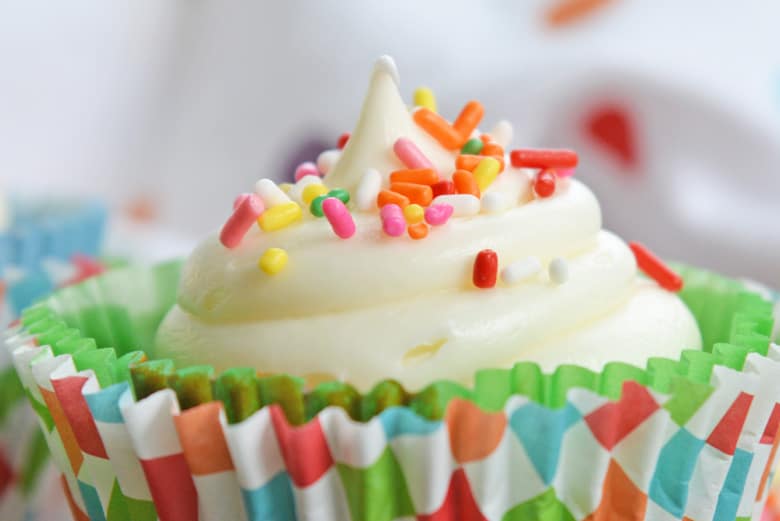 And sometimes, you just don't need a whole cake. Half a dozen cupcakes seemed like the perfect magic number so I built things around that.
Easy Vanilla Cupcakes
This recipe means:
No busting out the stand mixer.
No waiting for butter to soften.
No scalding milk.
No giant cake lingering on the counter beckoning to you at 10 pm to have at it with a fork. (Just me?)
By melting the butter with the milk in the microwave, you skip the pot you have to watch like a hawk on the stove as well as the time it takes for butter to soften on the counter.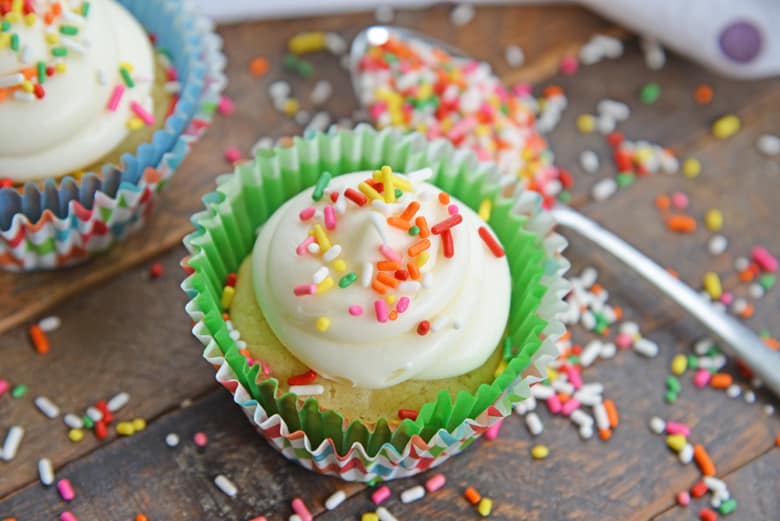 Be careful not to fully melt it though. Fully melted butter means your cupcakes won't set up and then you'll overcook them, it's a whole nasty cycle of cupcakes no-nos.
Decorate Cupcakes
This recipe is great for getting creative with your cupcakes. I like to call it cupcake customization. This is a fun and fancy term for add-ins that amp up the classic vanilla cupcake's deliciousness factor.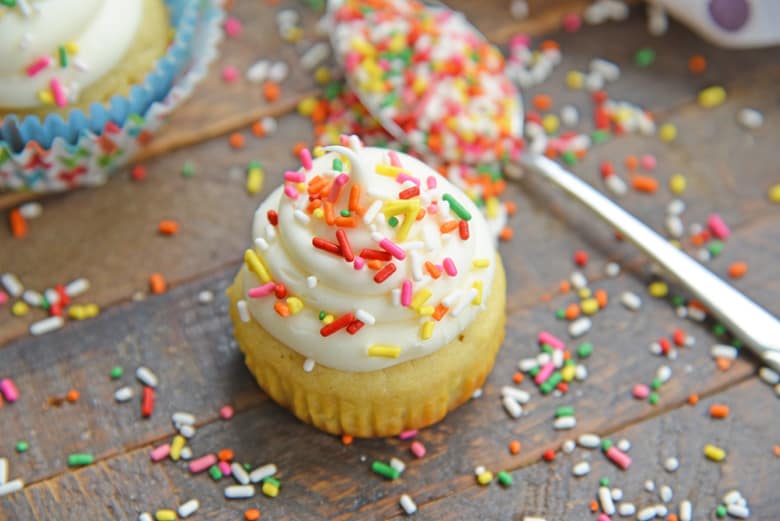 Say you have some picky folks in the house. One likes chocolate chips, one likes butterscotch, one wants a raspberry jam swirl, and one wants sprinkles.
No problem! All you have to do is drop a bit of each into each cupcake cup and give it a quick stir.
Cupcake Frosting
When it comes to frosting and decorating, you can easily use store bought frosting or whip up some of your own. And if you are like me, frosting challenged, I would recommend topping each cupcake with some sprinkles or chips to hide your decorating shortcomings.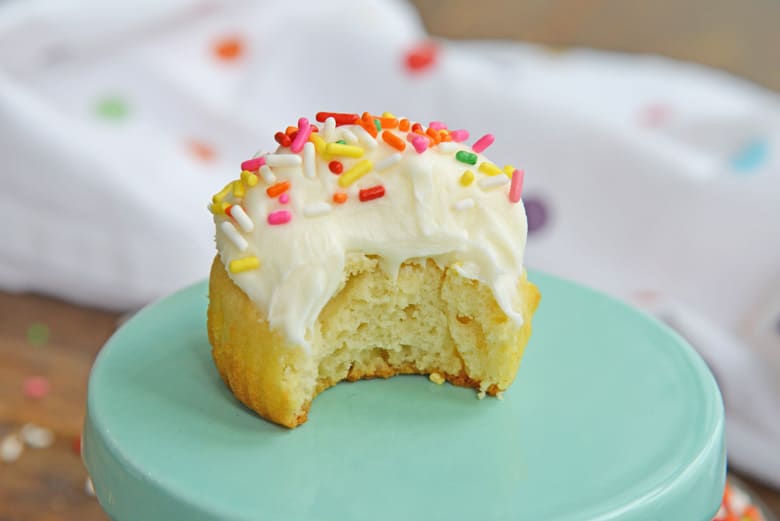 If you are customizing, I like to top each cupcake with the same ingredient that is in it to make them easily recognizable. A pinch of sprinkles here, a smattering of chips there, and if you go for the swirl, create a little divot in the frosting and fill it with jam. Fair warning, it's messy but oh so yummy.
PRO TIP: Set your cupcakes on a rimmed baking sheet or plate so extra sprinkles are contained. Especially with kids!
It is fun and easy for the kids too. I love decorating sugar cookie cutouts, but the time it takes to make the dough, chill, roll, bake, cool, frost and then finally get to decorating is just too much!
Whatever route you decide to go with your cupcakes, you won't be disappointed.
Also try our Small Batch Chocolate Cupcakes!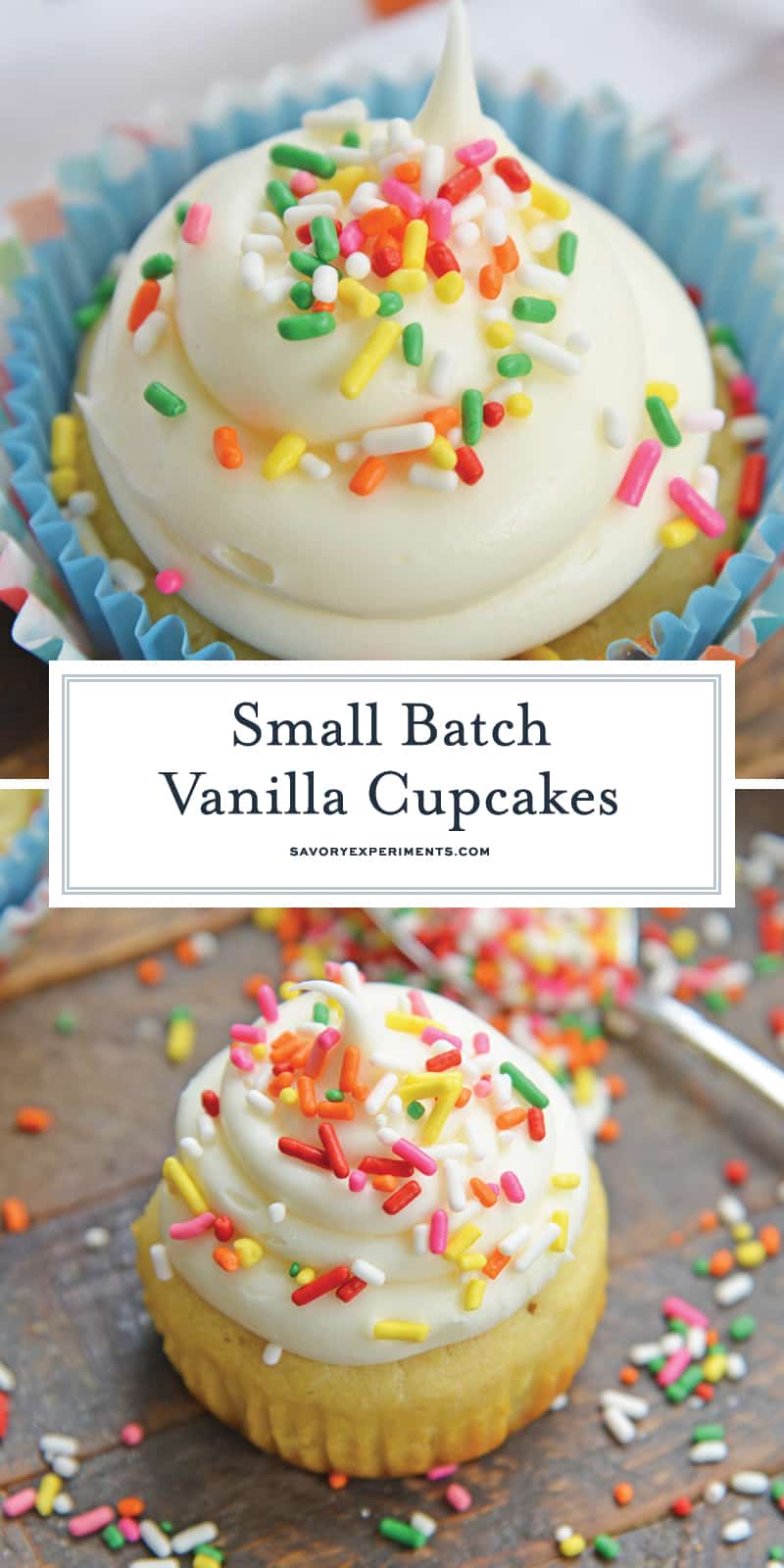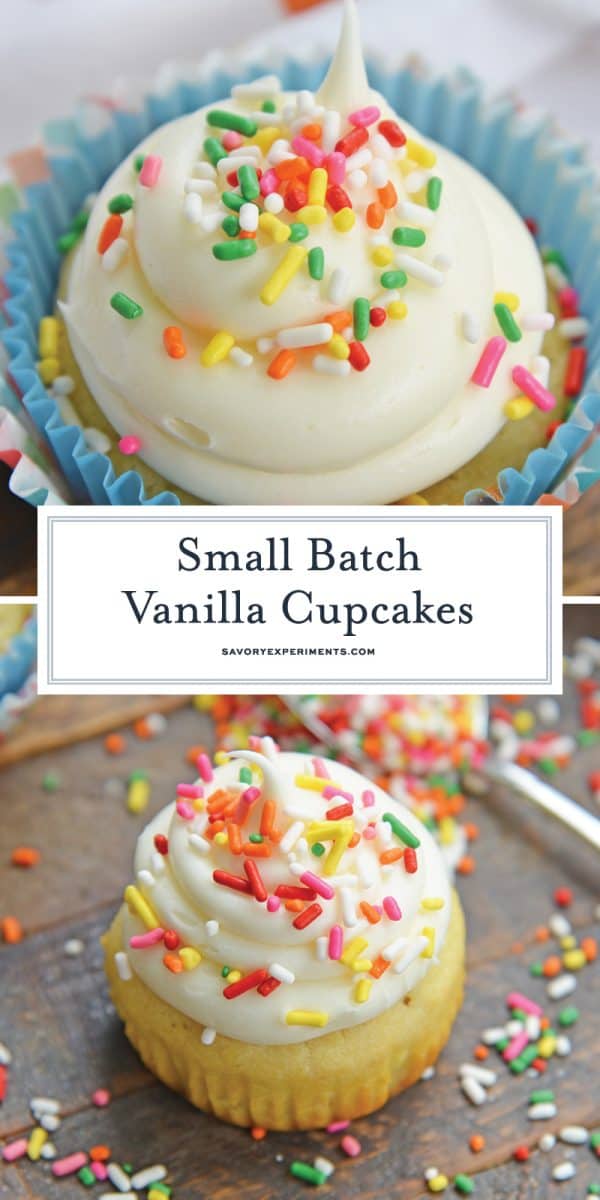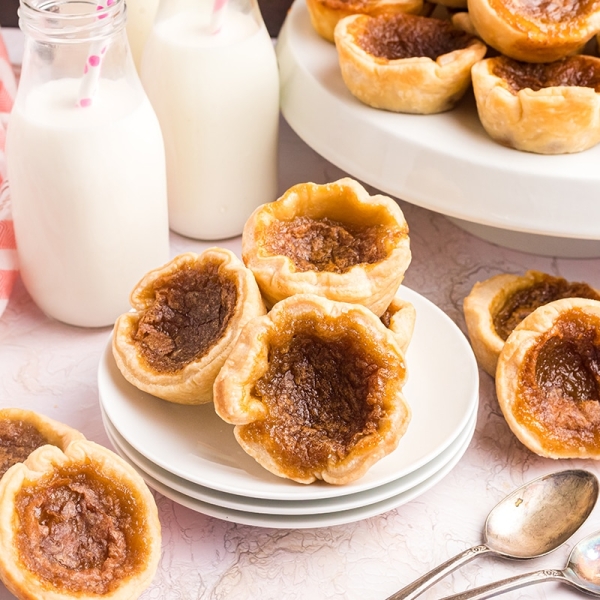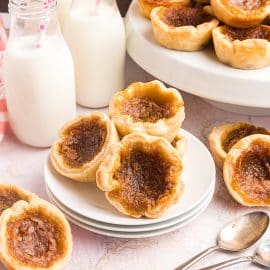 Canadian Butter Tart Recipe
A Canadian treat that everyone should try, these EASY Canadian Butter Tarts consist of a flaky crust filled with a buttery, caramel-like, gooey center!
View this recipe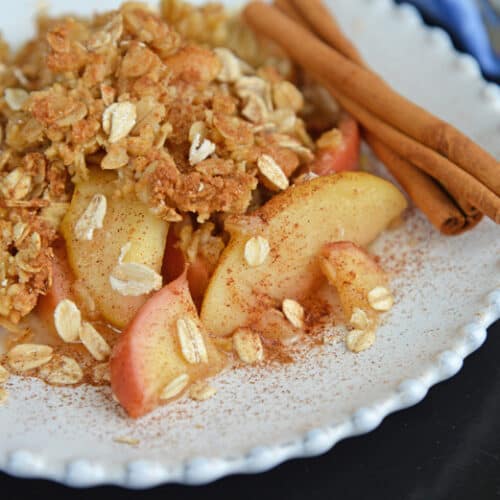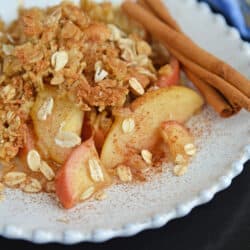 Easy Apple Crisp
Traditional Easy Apple Crisp made with an oat topping. Recipe includes regular and gluten free options! Serve vanilla ice cream or caramel sauce.
View this recipe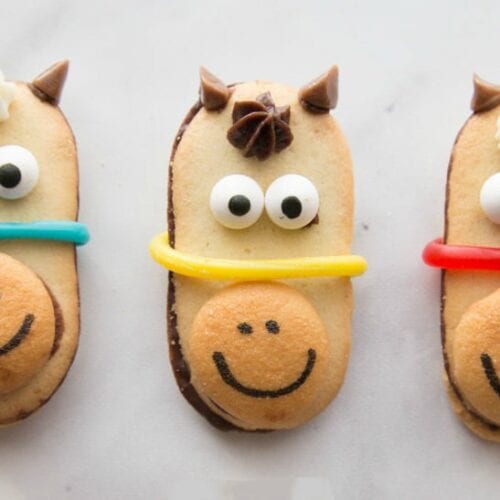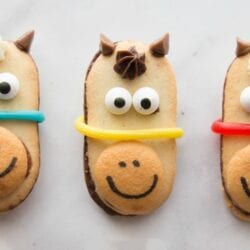 No Bake Horse Cookies
No bake, smiling long faced horse cookies that are perfect for Triple Crown races or horse themed parties.
View this recipe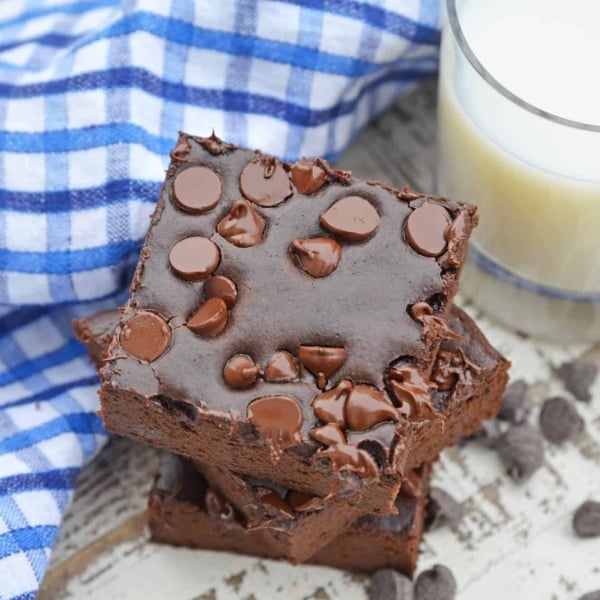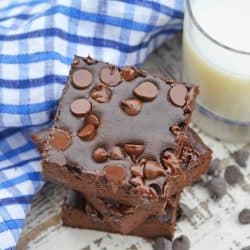 Flourless Black Bean Brownies
Black Bean Brownies are delicious, rich gluten free brownies. Since they're flourless brownies and the black beans are full of fiber, this is actually a healthy brownie recipe!
View this recipe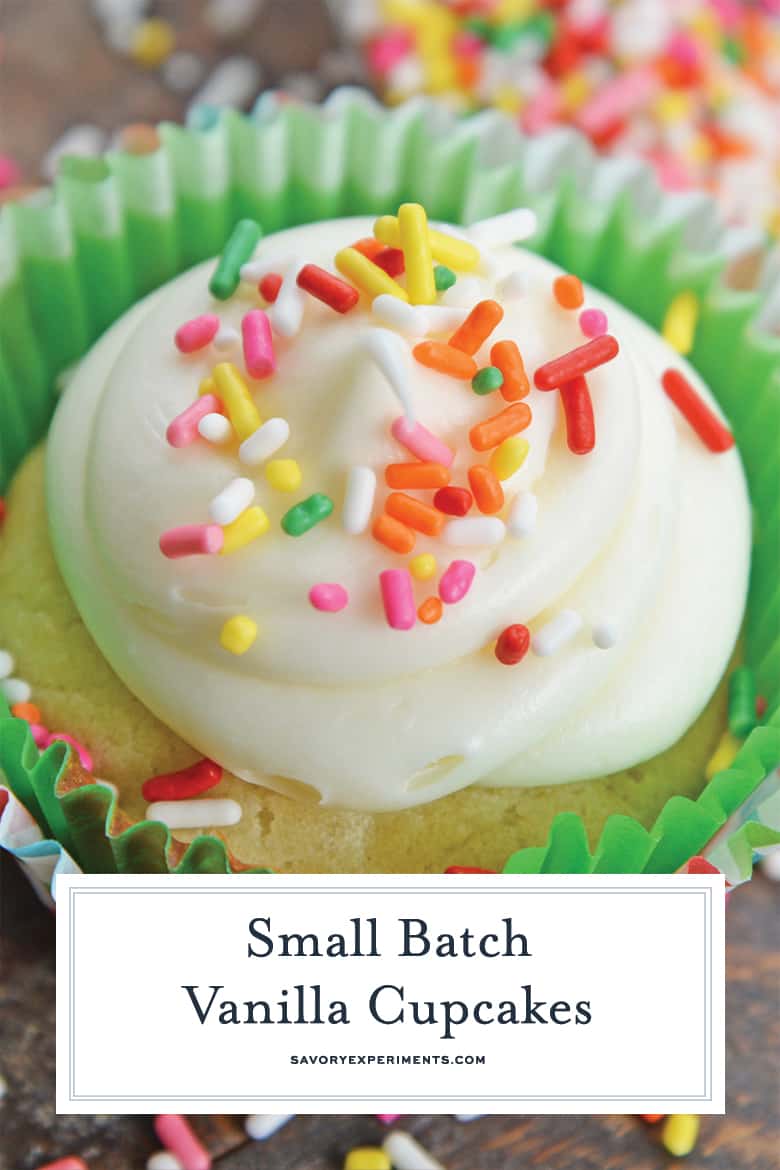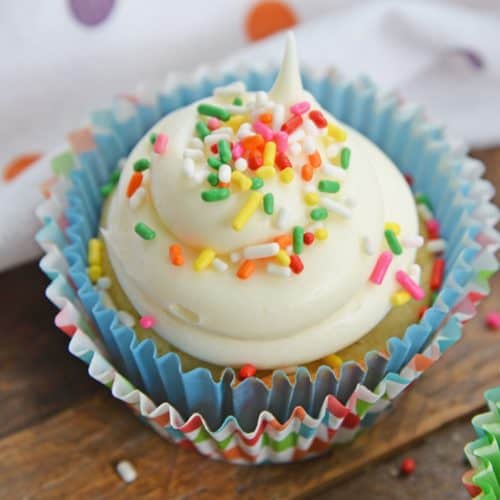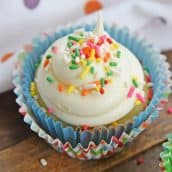 Small Batch Vanilla Cupcakes
Small Batch Vanilla Cupcakes are unbelievably easy to make and the perfect portion for when you want a sweet treat but don't need the full dozen.
Instructions
Vanilla Cupcakes:
Preheat oven to 375 degrees. Line muffin tin with 6 cupcake liners.

Heat milk in a microwave safe bowl for 30 seconds. Add chopped butter and stir. Allow to sit for 2-3 minutes so the butter further softens.

While milk and butter rests, sift together flour, baking powder and fine sea salt. Set aside.

Add sugar, vanilla and a lightly beaten egg to the milk mixture. Stir well, mixture will be lumpy.

Add dry ingredients and blend until you no longer see streaks of butter, about 50-ish strokes.

Equally divide cupcake batter into 6 muffin liners.

Bake for 14-16 minutes or until they pass the toothpick test. Remove and allow to cool fully.

When cool, frost and decorate as desired.

If you've tried this recipe, make sure to come back and let us know how it was!
Vanilla Frosting:
In a small bowl, mix together softened unsalted butter and powdered sugar.

Add 2 tablespoons cream or milk, or more, until frosting is spreadable.
Notes
This recipe works best with whole milk or 2%milk since it has a higher fat content.
Cupcakes are small, only 2-3 bites. If you want a larger cupcake, use the same standard muffin tin, but only make 4 and bake for 1-2 minutes longer.
Remove muffins right when they start to brown, overcooking can lead to rubbery cake.
Nutrition
Calories:
315
kcal
,
Carbohydrates:
41
g
,
Protein:
2
g
,
Fat:
16
g
,
Saturated Fat:
10
g
,
Cholesterol:
68
mg
,
Sodium:
67
mg
,
Potassium:
85
mg
,
Fiber:
1
g
,
Sugar:
32
g
,
Vitamin A:
523
IU
,
Calcium:
42
mg
,
Iron:
1
mg