Whatever you call these – black bottom cupcakes, black bottom muffins or cream cheese cupcakes – the end result is the same…they're absolutely delicious!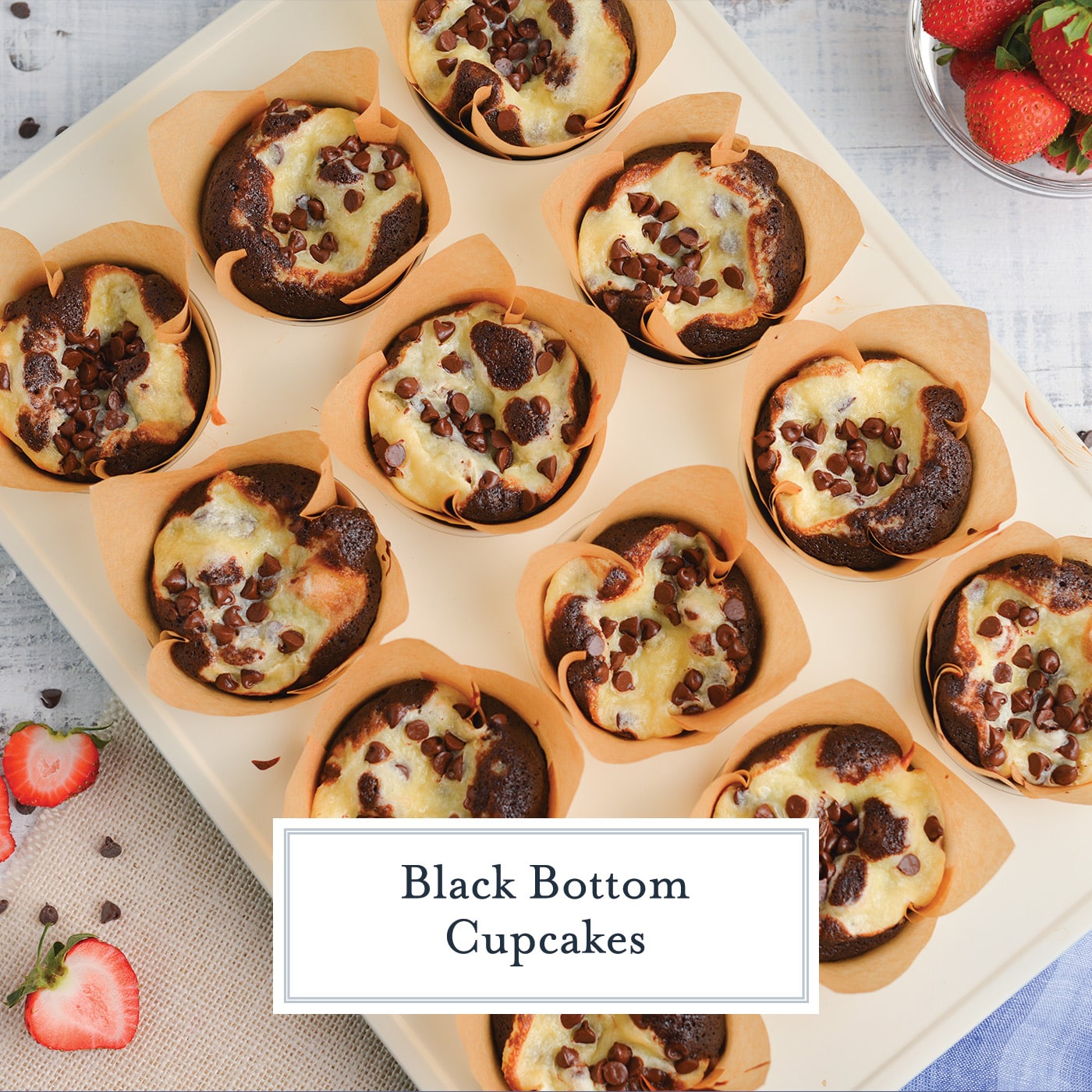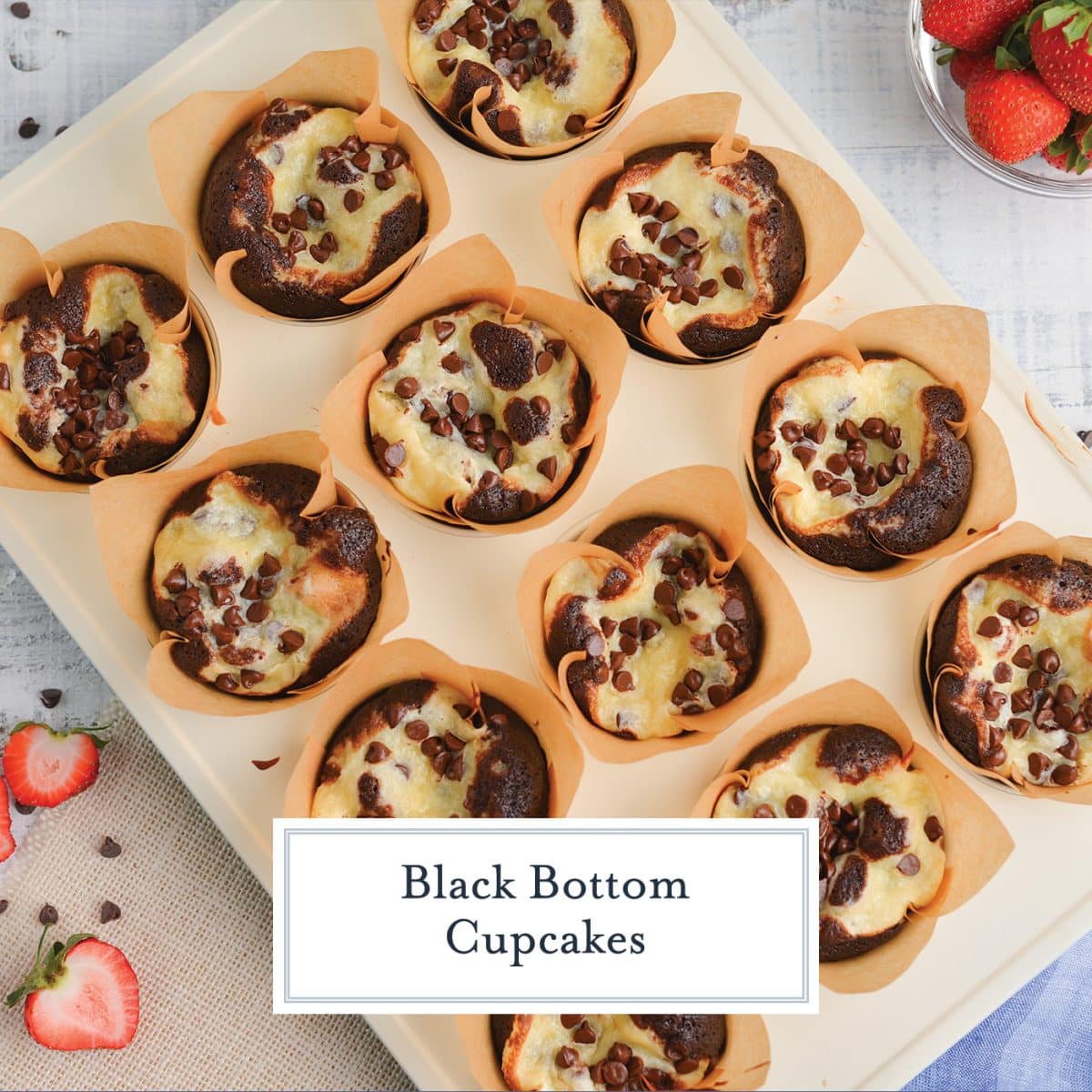 These are great for a Sunday dinner, bake sales, pot lucks and more. They are a classic old-fashioned recipe that everyone enjoys.
What are Black Bottom Cupcakes?
Black Bottom Cupcakes are a tasty dessert combination of chocolate and creamy cheesecake filling. The base falls someplace between chocolate cake and fudgy brownie, making the texture of the sponge layer and the creamy cheesecake a match made in flavor heaven.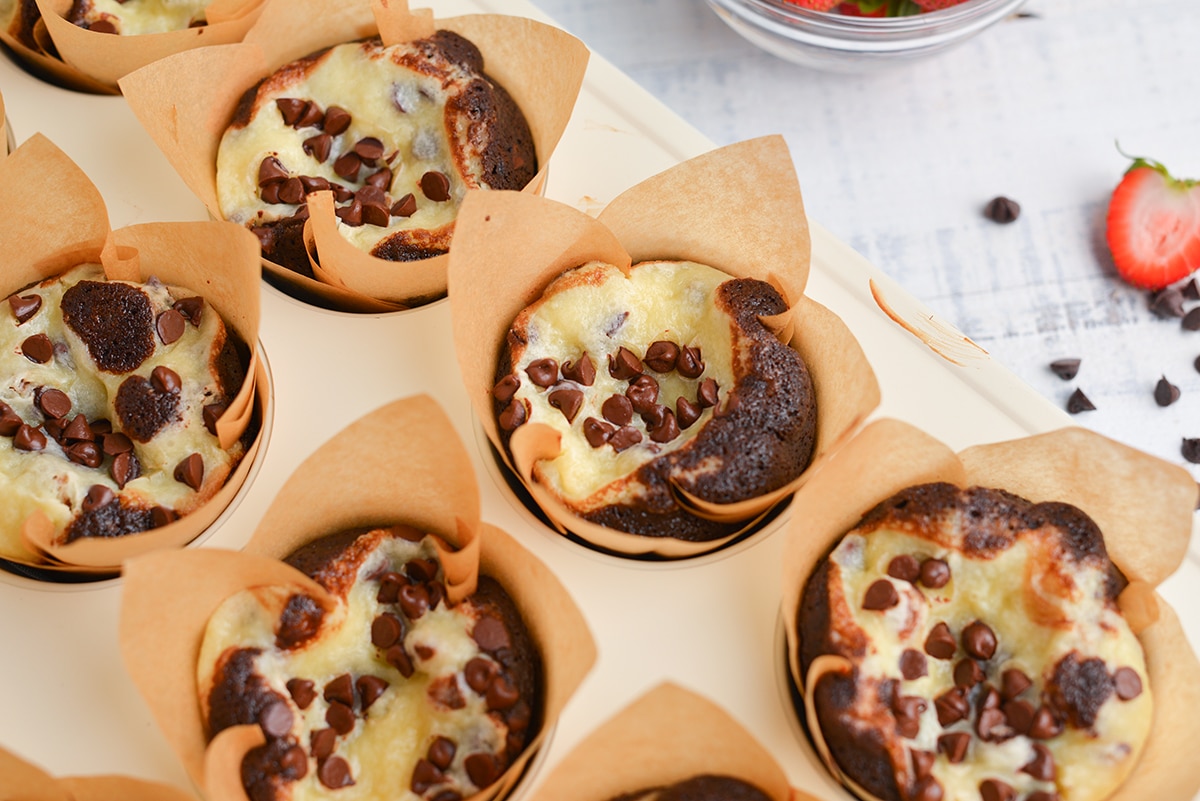 Many, like these, are also dotted with mini chocolate chips. And some go a step further with a dollop of cream cheese frosting.
Although they are now found all over the states, these moist cupcakes originated in Baltimore, Maryland, where I currently reside. Baltimore has long had an obsession with black and white confectionaires, as evidenced by the Black & White Cookie and also the Berger cookie.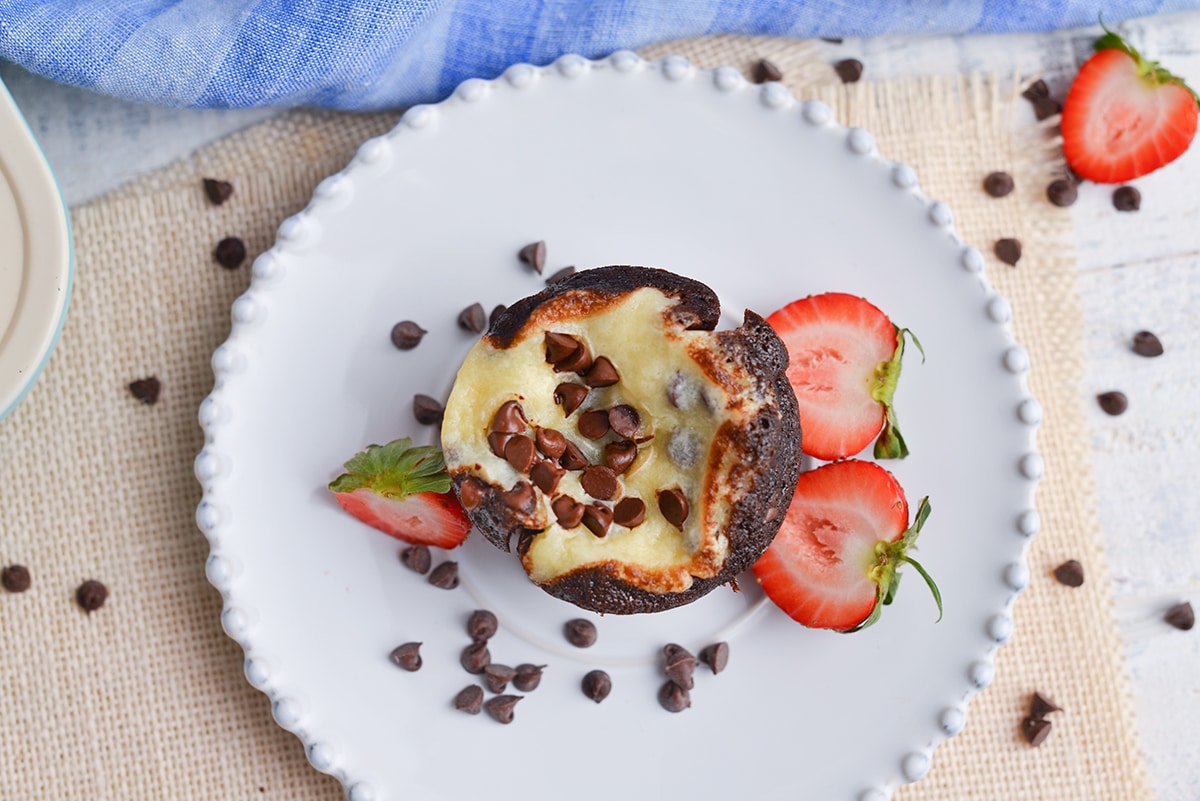 What You'll Need
With the exception of cream cheese (for some), the ingredient list is pretty simple and full of pantry staples. This is a classic recipe, you can make all sorts of customizations including mini cupcakes.
All-Purpose Flour– We have not tested this recipe using alternative flours, however it should work for 1:1 ratios for baking. Alternately, you can use the same amount of self-rising flour and omit the baking soda and salt.
Baking Soda & White Vinegar– I am listing these two together because they go together even though vinegar seems like an odd ingredient for a sweet recipe. Baking soda is a leavening agent, meaning it creates little pockets of carbon dioxide, making baked goods fluffy and tall. Vinegar helps to activate it even further and balances the other sweet flavors for a well-balanced taste. Some recipes call for apple cider vinegar, which is a fine swap.
Salt– In most baking, salt brings out naturally occurring flavors and also balances the sugar. In this case, it enhances the cocoa and vanilla.
Unsweetened Cocoa Powder– This is what gives the base rich chocolatey flavor. Make sure to use a good quality cocoa powder that hasn't already been sweetened, otherwise they will be off-the-charts sweet!
Sugar– This is a dessert.
Egg– Many black bottom cupcake recipes don't use egg in the cake base, but I like mine to be a little more like a cake than a brownie. You can omit the egg in the chocolate batter and you'll have more of a fudgy brownie base. However, it is needed in the vanilla cheesecake in order for it to cook properly.
Coffee– I know it sounds odd, but I promise they will not taste like coffee (or mocha since we are pairing them with chocolate). Coffee enhances anything chocolate flavored, which is why you'll commonly see it or espresso added to cake mixes and brownies. Use a decaffeinated version if serving to the littles and not wanting them up all night long. Water can also be used.
Vegetable Oil– Or any other neutral oil like avocado oil, canola oil or a blended oil.
Vanilla Extract– Rich and homey, not many baked goods are made without it! Almond is also a great substitution.
Cream Cheese– Go full fat for the creamiest black bottoms.
Mini Chocolate Chips– Minis are best for the ratios and size of the cupcakes. I like to fold some in the batter, but also sprinkle a few on top before baking for good measure. They can also be omitted or swapped for regular size chocolate chips, peanut butter chips, toffee bits or dark chocolate chunks (although I'd coarsely chop these up a bit).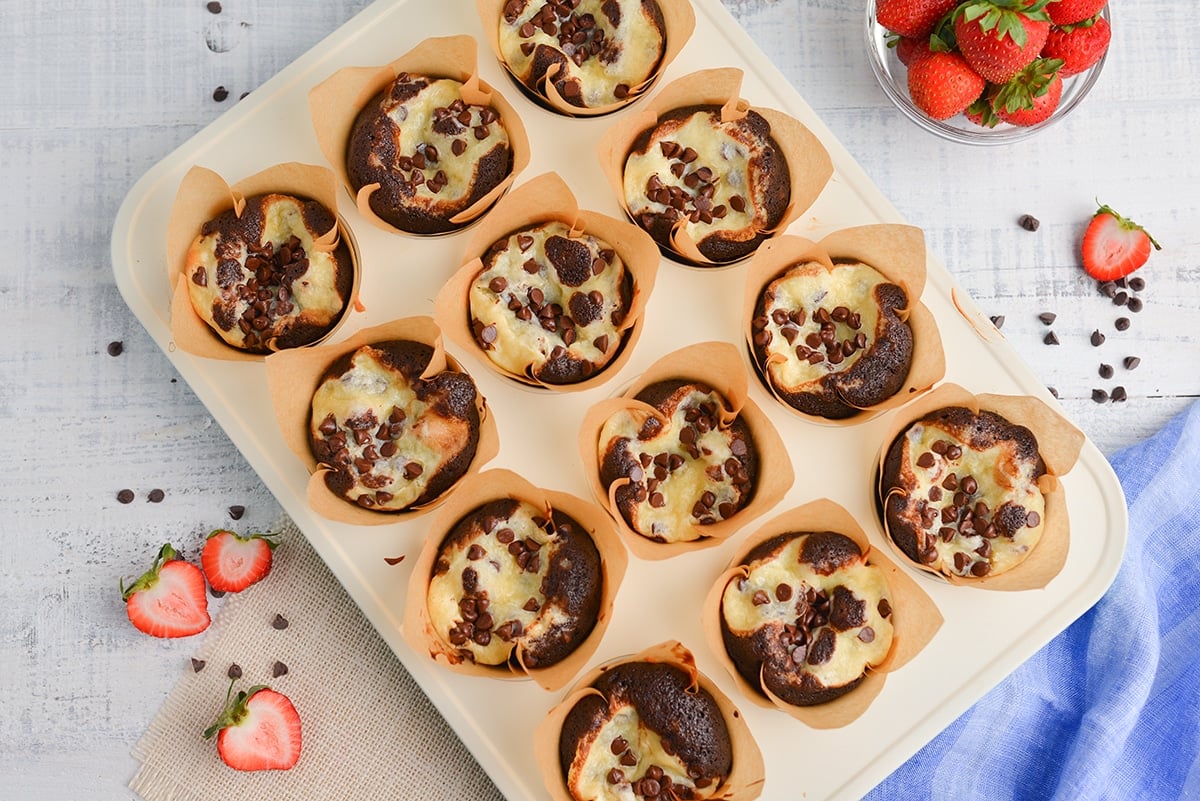 In addition to the ingredients, you'll also need oversized cupcake liners. You can use the standard ones, but you might end up with some overhang, also known as muffin top. These bakery style liners (also known as tulip style) are the perfect size and the ones used in the photos.
How to Make Black Bottom Cupcakes
Here are the instructions to my famous black bottom cupcakes recipe.
Preheat the oven and line a standard size muffin tin (12 wells) with large or oversized paper liners like these tulip liners.
For this next step, I like to a large 8-cup measuring cup for making the chocolate batter instead of a stand mixer. The reason being is that over mixing can make these dry and unpleasant, making the batter by hand prevents them from being overmixed and drying out. The pourable spout is great for pouring into the wells. You can also use a mixing bowl with a spout just the same or a large bowl.
Sift together the flour, baking soda, salt and cocoa- these ingredients tend to get stuck in little balls and need to be broken down and evenly distributed. Whisk in the sugar last because these grains are usually too big to fit through the fine mesh of a sifter.
Whisk the wet ingredients )egg, coffee/water, vegetable oil, vanilla and vinegar) into the dry dry ingredients until just mixed. Do not overmix. Next you'll set this aside so the baking soda and vinegar can activate and bake little bubbles, much like letting pancake batter rest. The batter is fairly thin, this is normal.
While it rests, make the cheesecake filling in a separate medium bowl. Beat the cream cheese on medium speed until smooth so it isn't lumpy. This takes 2-3 minutes, so be patient and it is easiest to use an electric mixer or a stand mixer with the paddle attachment.
Add the sugar, vanilla and egg until fully incorporated and glossy. Fold in 1/2 cup of the mini chocolate chips by hand so the beater doesn't mix them into tiny bits. Reserve the rest of the chips for topping.
Evenly divide the cupcake batter between the muffin cups and then top with the cream cheese mixture in the center of each cupcake, which is a heaping tablespoon per well. Sprinkle with the remaining chocolate chips. Be careful and know that the wells will be full. This is normal.
Bake until the tops spring back slightly, but are not brown.

Turn off the oven and crack the oven door for 10-15 minutes. This will hopefully prevent them from deflating too much, which is actually pretty normal and standard. They will still taste good!
Remove and cool fully before serving. Setting the whole muffin pan on a wire rack helps air circulate around and cool faster.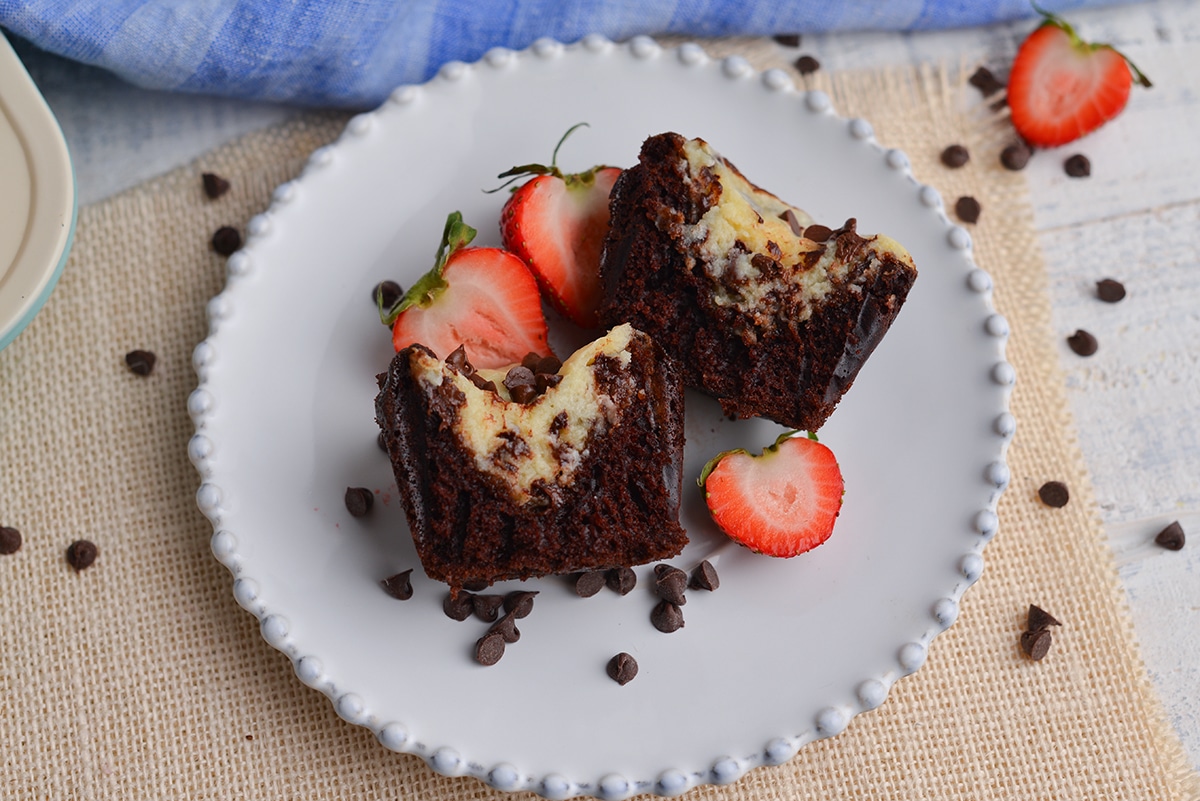 Storage & Freezing
Because black bottoms are technically a cheesecake, they do need to be refrigerated. They are best enjoyed within a few days of baking. Store in an airtight container.
But they are also very freezer friendly. Wrap them individually or in a large plastic bag and freeze for up to 6 months. Defrost at room temperature for 15-20 minutes.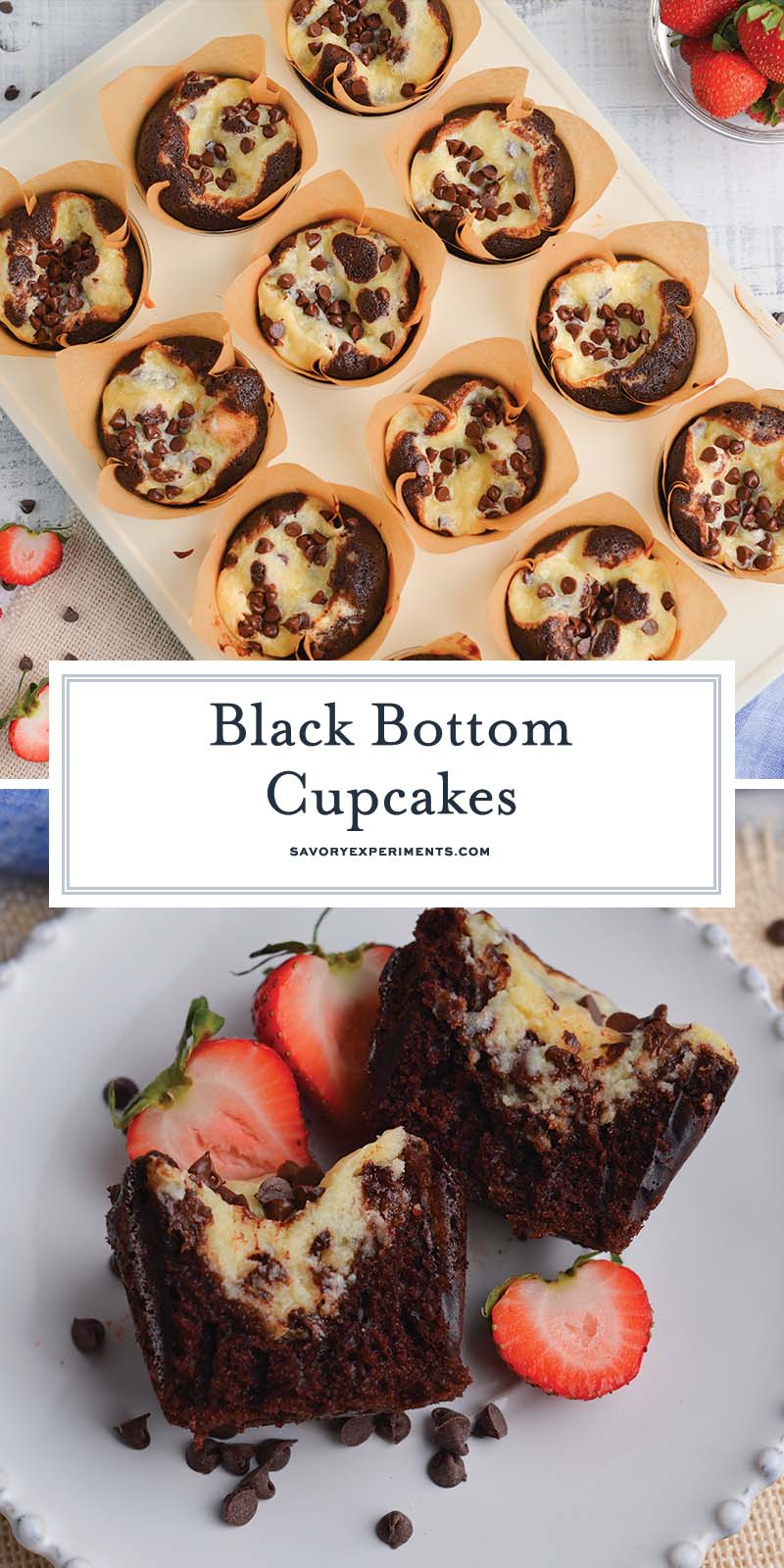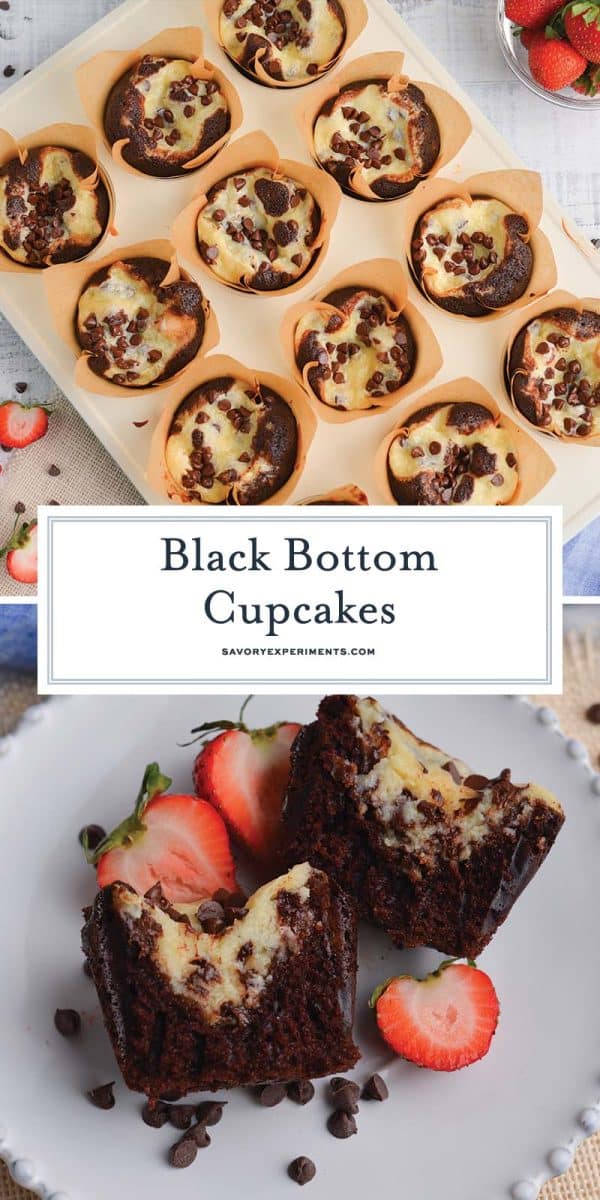 More Cupcake Recipes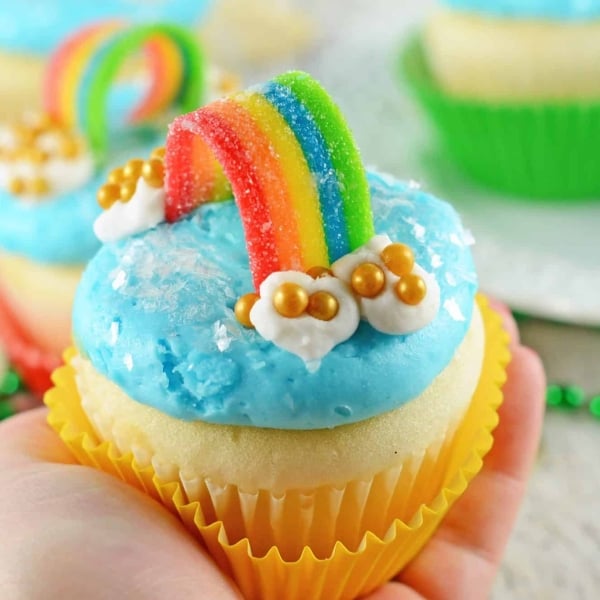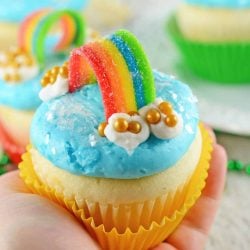 Rainbow Cupcakes
Rainbow Cupcakes are super easy and cute. The perfect cupcake for St. Patrick's Day, children's birthday parties or any random day of the week!
See The Recipe!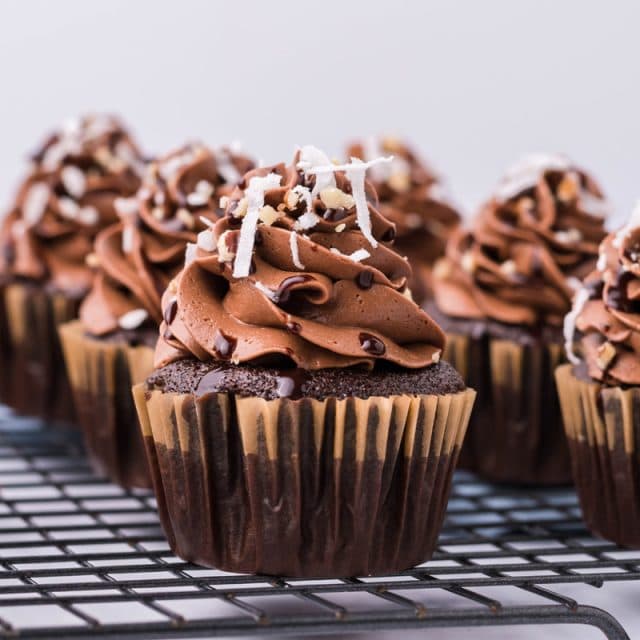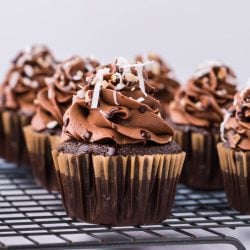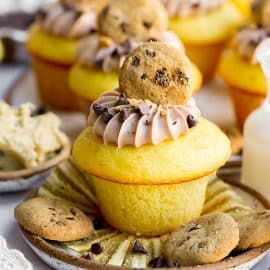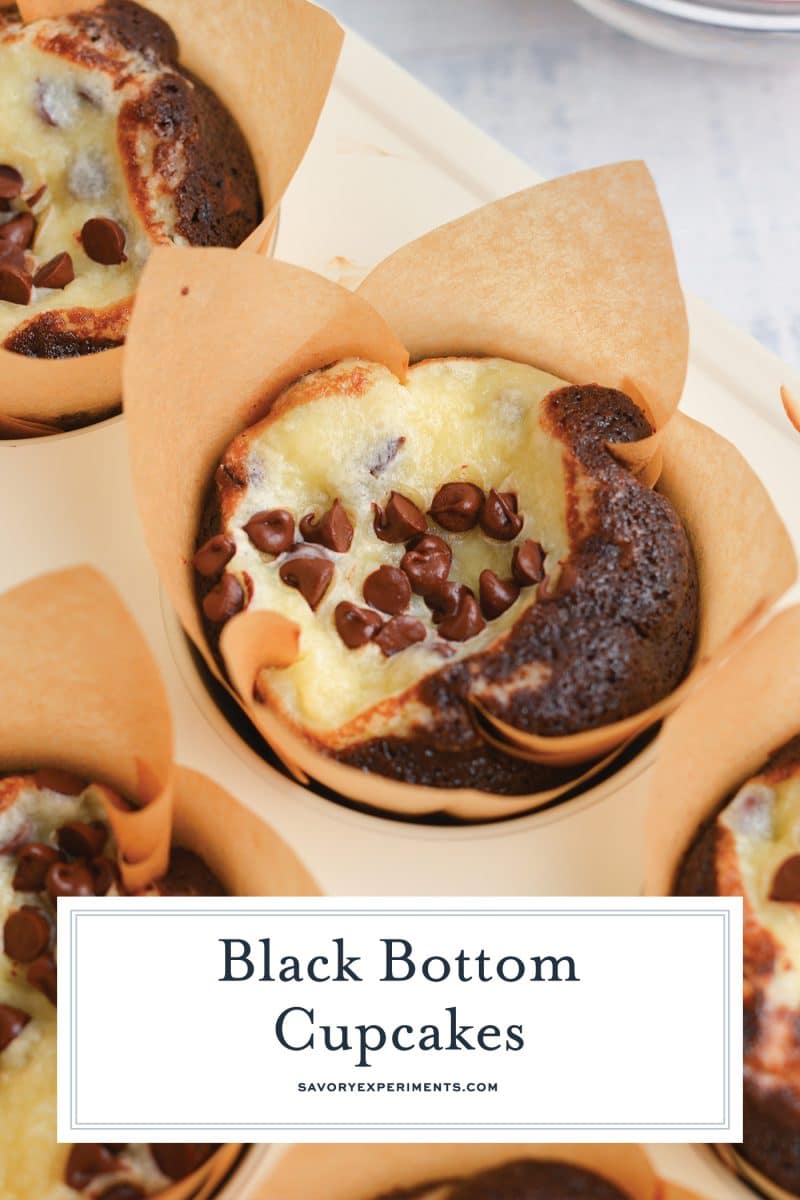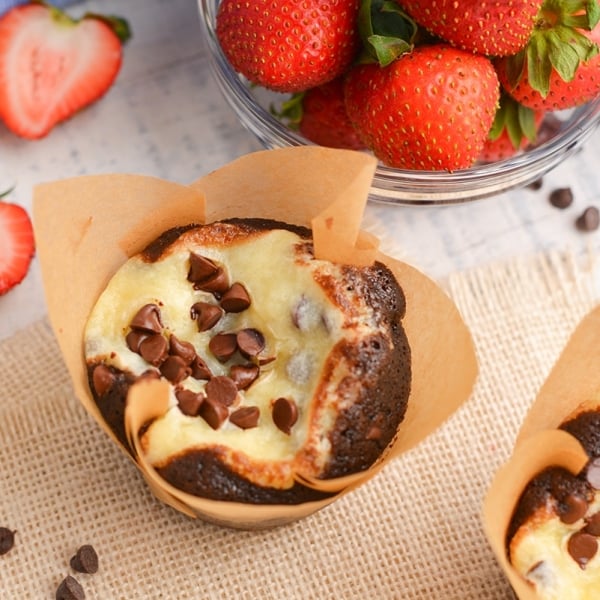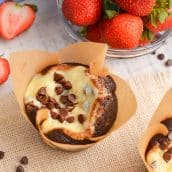 Black Bottom Cupcake Recipe
Black bottom cupcakes are a delicious combination of chocolate cupcake bottom, vanilla cream cheese filling and mini chocolate chips.
Ingredients
Vanilla Cream Cheese Batter:
Instructions
Chocolate Batter:
Preheat oven to 350°F. Line a standard size muffin tin (12 wells) with large or oversized cupcake liners. Set aside.

In a large bowl or an 8-cup measuring cup, sift together the flour, baking soda, salt and cocoa. Whisk in the sugar.

Whisk the egg, coffee/water, vegetable oil, vanilla and vinegar into the dry dry ingredients until just mixed. Do not overmix. Set aside for 10-15 minutes.
Vanilla Cream Cheese Batter:
In a separate mixing bowl or bowl of a stand mixer fitted with the paddle attachment, beat the cream cheese until smooth, approximately 2-3 minutes.

Add the sugar, vanilla and egg until fully incorporated and glossy. Fold in 1/2 cup of the mini chocolate chips by hand.

Evenly divide the chocolate batter between the wells. Evenly divide the cream cheese mixture to each well. Evenly divide the remaining 1/4 cup of mini chocolate chips between each cupcake. Wells will be full.

Bake for 20 minutes, or until tops spring back slightly. Do not allow to brown. TUrn off the oven and crack the oven door for 10-15 minutes.

Remove and cool fully before serving or transfering to the refrigerator for storage.

If you've tried this recipe, come back and let us know how they were the star ratings or comments.
Nutrition
Calories:
373
kcal
,
Carbohydrates:
47
g
,
Protein:
5
g
,
Fat:
19
g
,
Saturated Fat:
7
g
,
Polyunsaturated Fat:
6
g
,
Monounsaturated Fat:
4
g
,
Trans Fat:
0.1
g
,
Cholesterol:
48
mg
,
Sodium:
267
mg
,
Potassium:
81
mg
,
Fiber:
1
g
,
Sugar:
33
g
,
Vitamin A:
319
IU
,
Vitamin C:
0.1
mg
,
Calcium:
41
mg
,
Iron:
1
mg