This post and recipe was created for #SummerDessertWeek! I was sent samples by some of the sponsor companies but as always opinions are 100% mine. This recipe is for adults 21 and older and does contain alcohol.
How do you make caramel even better? Add bourbon! This homemade Bourbon Caramel Sauce is velvety smooth and will take any dessert to the next level!
I am a firm believer that everything tastes better with caramel. And even better with caramel that has bourbon in it! And there is no better way to enjoy caramel than to make it yourself. Homemade caramel doesn't have the high fructose corn syrup that a lot of store bought version have, which is always a win in my book.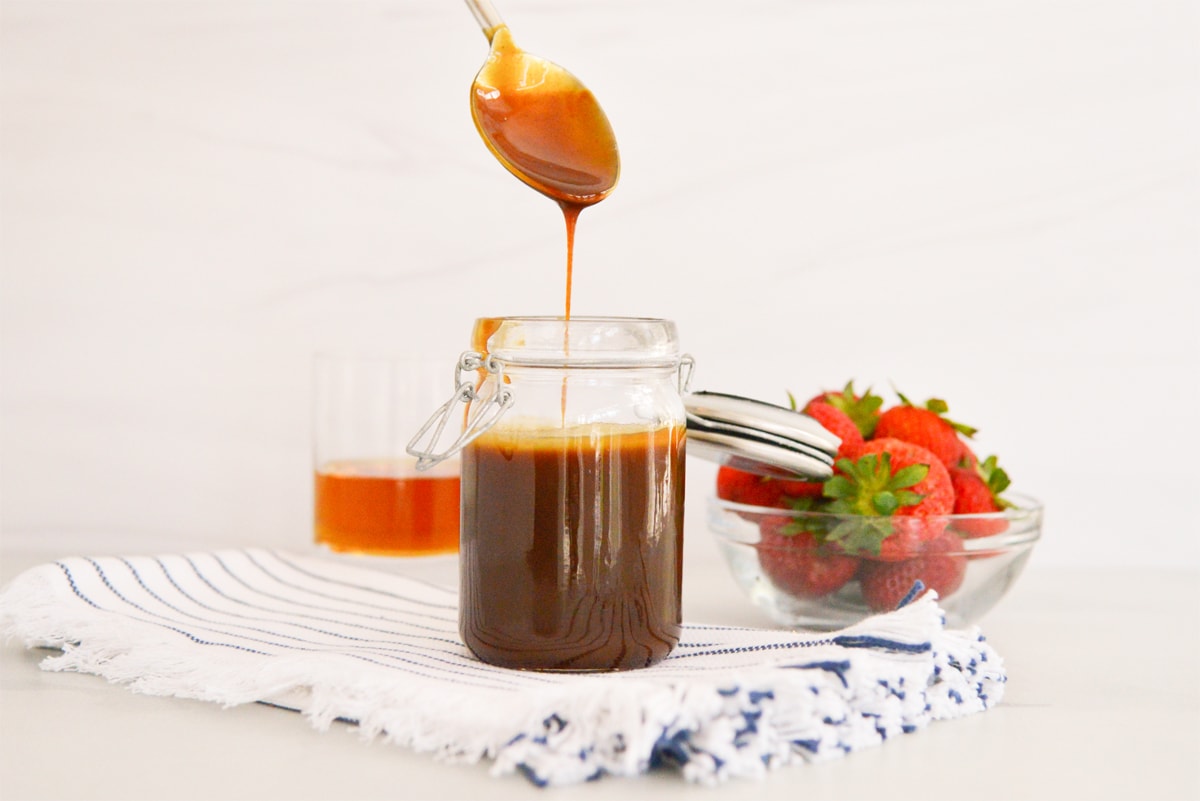 You can add it to something as simple as vanilla ice cream, or even use it as a sauce for a bread pudding. It tastes great on anything, even straight out of the jar!
Bourbon Caramel Sauce Ingredients
The ingredients for the sauce are so simple, which is why I love making homemade caramel so much. Well, that and it tastes SO much better than anything you can buy at the store.
Sugar – The basis of caramel is, you guessed it, sugar! How else do you think you get that delightfully sweet taste?
Water– allows you to simmer it long enough for the sugars to melt without it burning. The majority of the water will evaporate before the sauce is finished.
Light Corn Syrup– Corn syrup helps to prevent caramel sauce from being graining, acting as an interfering agent and preventing crystallization. It can be omitted, but there is a higher risk of crystals, especially after cooling.
Heavy Cream – Adding cream helps give your caramel that smooth, creamy texture.
Vanilla – The vanilla helps to amp up the rick flavor of the caramel. The two flavors marry really well together.
Coarse Kosher Salt– In my opinion, there is nothing better than salted caramel! If you love salt, use the same amount I do. If not, cut it in half or omit it.
Bourbon – The bourbon is what really sets this caramel sauce apart from others. It adds a nice bite, while also giving it a delicious flavor. Vary the amount depending on how much of a punch you it to have.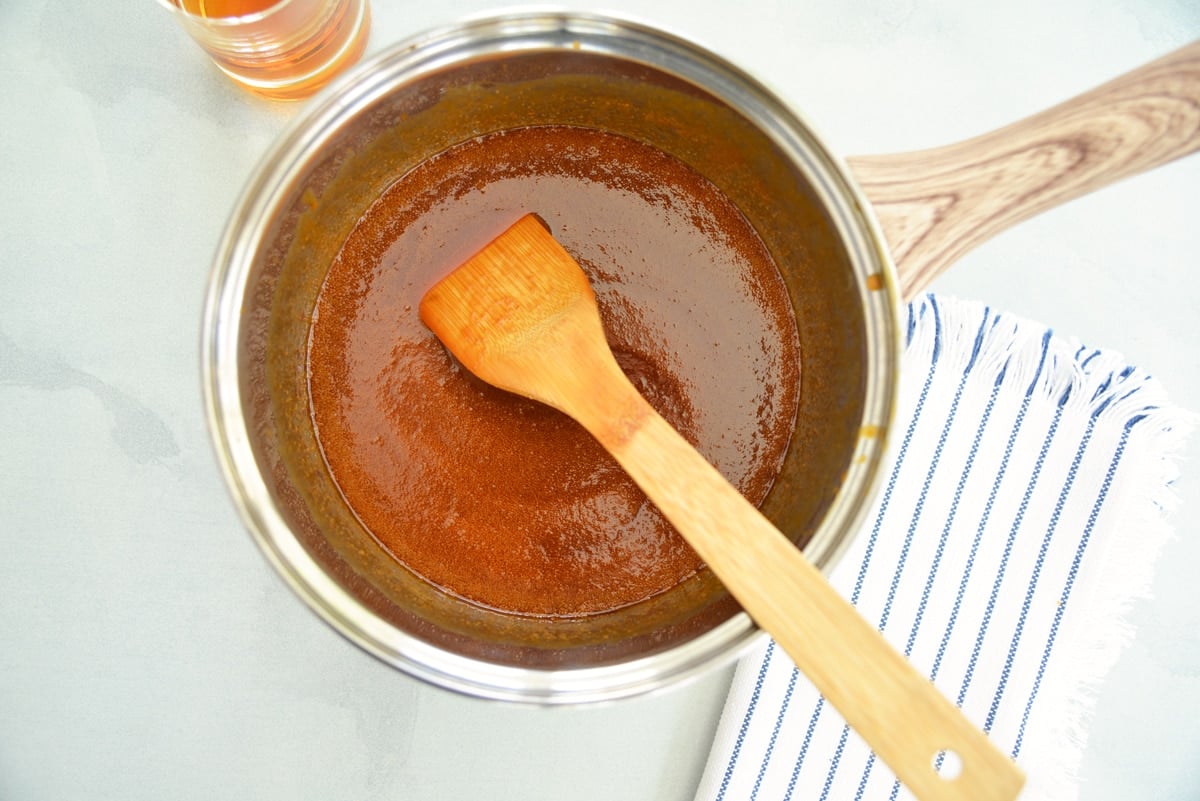 Which Bourbon to Use
Bourbon itself already has a very caramel, vanilla-like flavor, so it's perfect to use for baking or caramel making! But does it matter which kind of bourbon you use?
Bourbons that are high in rye usually have spicy flavors that are better when used with savory things like salad dressings and sauces. But because we are making something sweet in this bourbon caramel sauce, you will want to use a bourbon that is wheated. Wheated bourbons tend to be a bit sweeter, so they will enhance the already sweet flavors of things like fruits and desserts.
Here are a few examples:
Makers Mark
Redemption
WL Weller
Pappy Van Winkle
Larceny
How to Make
Now, how to make Bourbon Caramel Sauce. No bottled caramel sauce will ever compare to freshly whipped. It stays fresh in the fridge for over a week, so you can enjoy it on all of your favorite treats.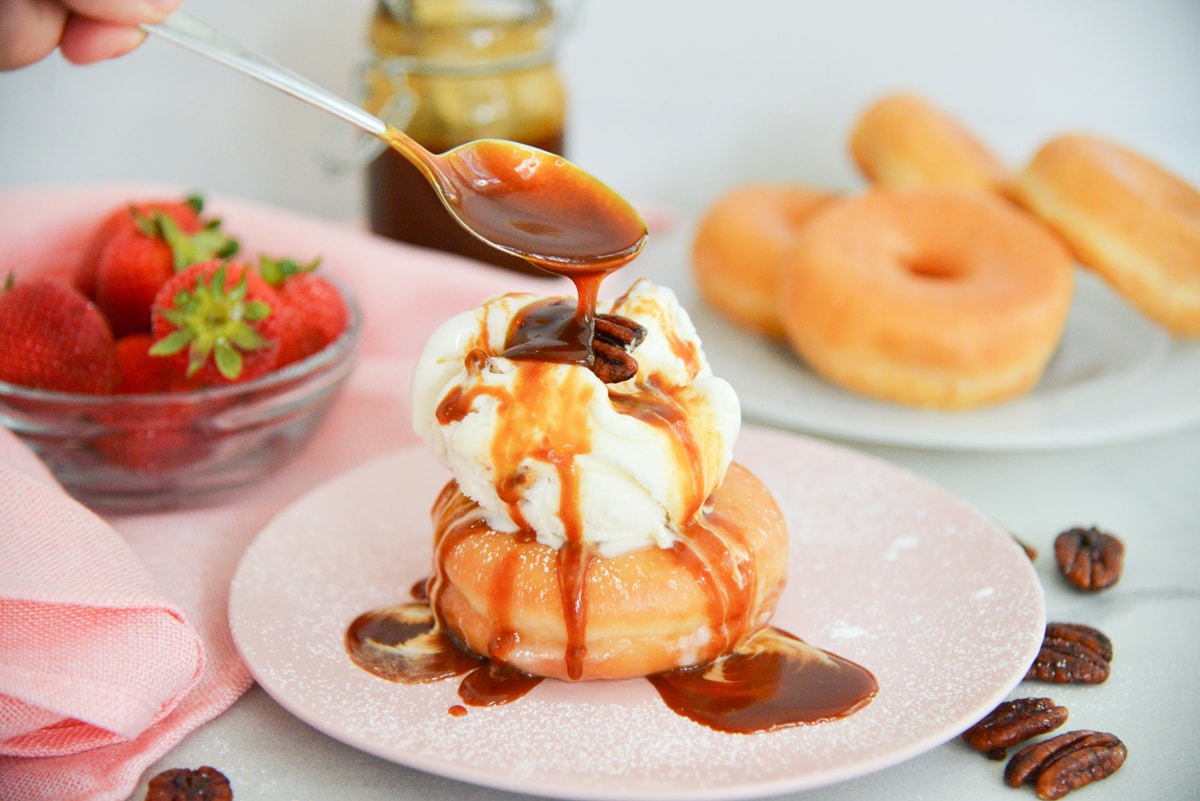 I do highly suggest using a heavy bottom saucepan. Sugar has the tendency to burn quickly and easily. A heavy bottom saucepan distributes heat more evenly and keeps it further from the heating element, giving you more control and thus less likely to burn.
Start by combining the sugar and water over medium-low heat until the sugar dissolves. Turn the heat up to medium-high heat and bring to a boil, swirling the saucepan gently. DO NOT STIR. This is the mistake people make, do not stir it, it might disrupt the gentle balance of chemistry going on here.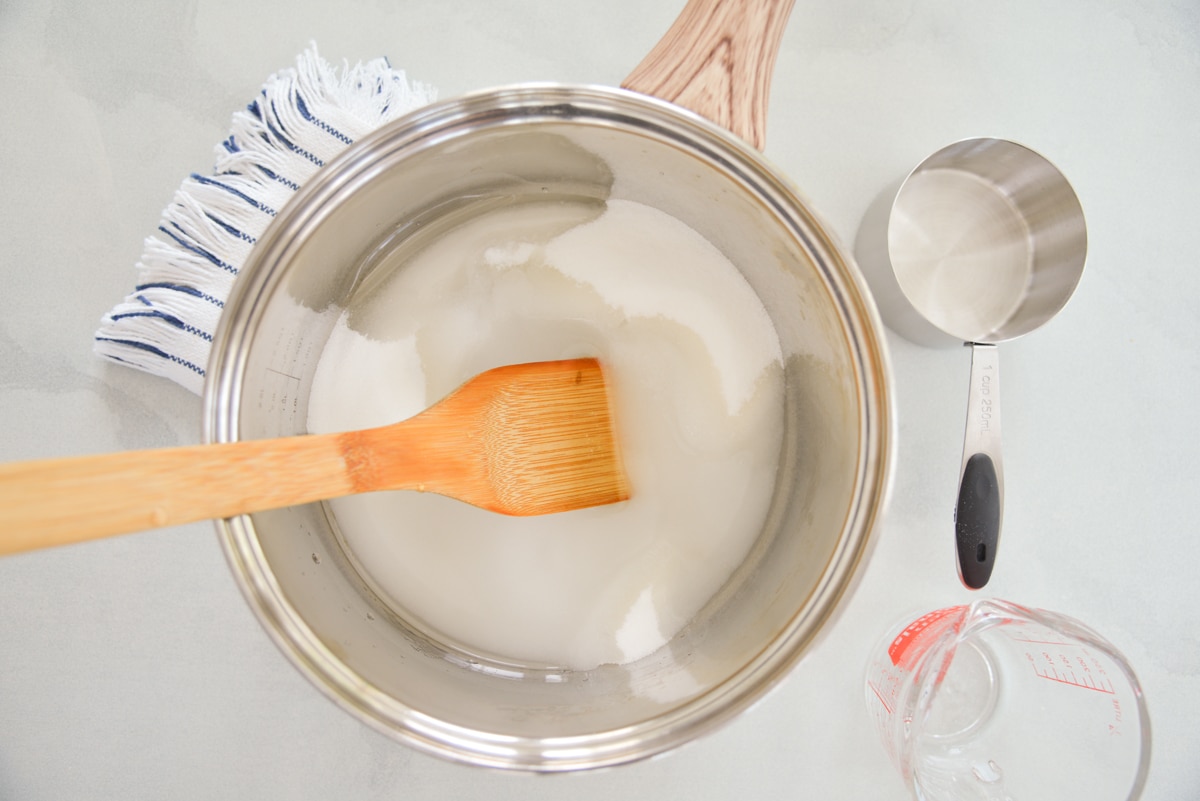 When it comes to a boil, despite all your temptations, do not stir it. Just swirl in the pan. Stirring is going to allow more air to hit the surface and mess up the gentle heating to a dark amber color. Simmer until the mixture is syrupy and a deep caramel color, about 5-10 minutes. It happens fast, so keep an eye out.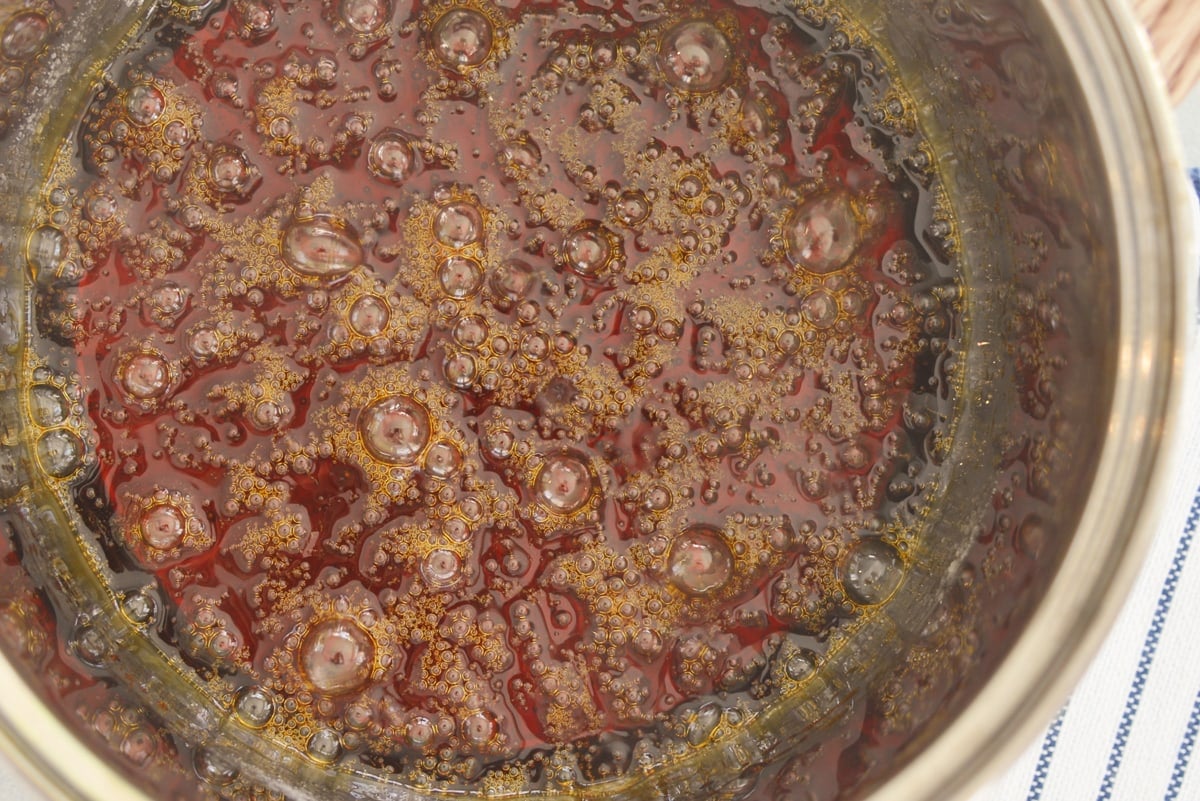 Remove the mixture from heat and whisk in the cream. Be prepared for the sizzle and spit, this is normal and you'll soon understand that caramel making might come with a few small war wounds in the form of pin-sized burns.
Whisk vigorously until it reaches a smooth, sticky consistency. Finally, whisk in vanilla, kosher salt and bourbon. Set aside to cool.
It also has the tendency to clump and thicken at this point and you might think you messed it all up. Have no fear, just keep whisking and it will come together to form a beautiful caramel sauce just liked you dreamed. You can also add 1-2 tablespoons of butter to further thin the sauce.
Does this Sauce Contain Alcohol?
Yes, this sauce contains bourbon and is only cooked slightly after its addition so the alcohol does not full burn off.
You can, however, cook it on low for several more minutes to get the essence of bourbon without any alcohol content.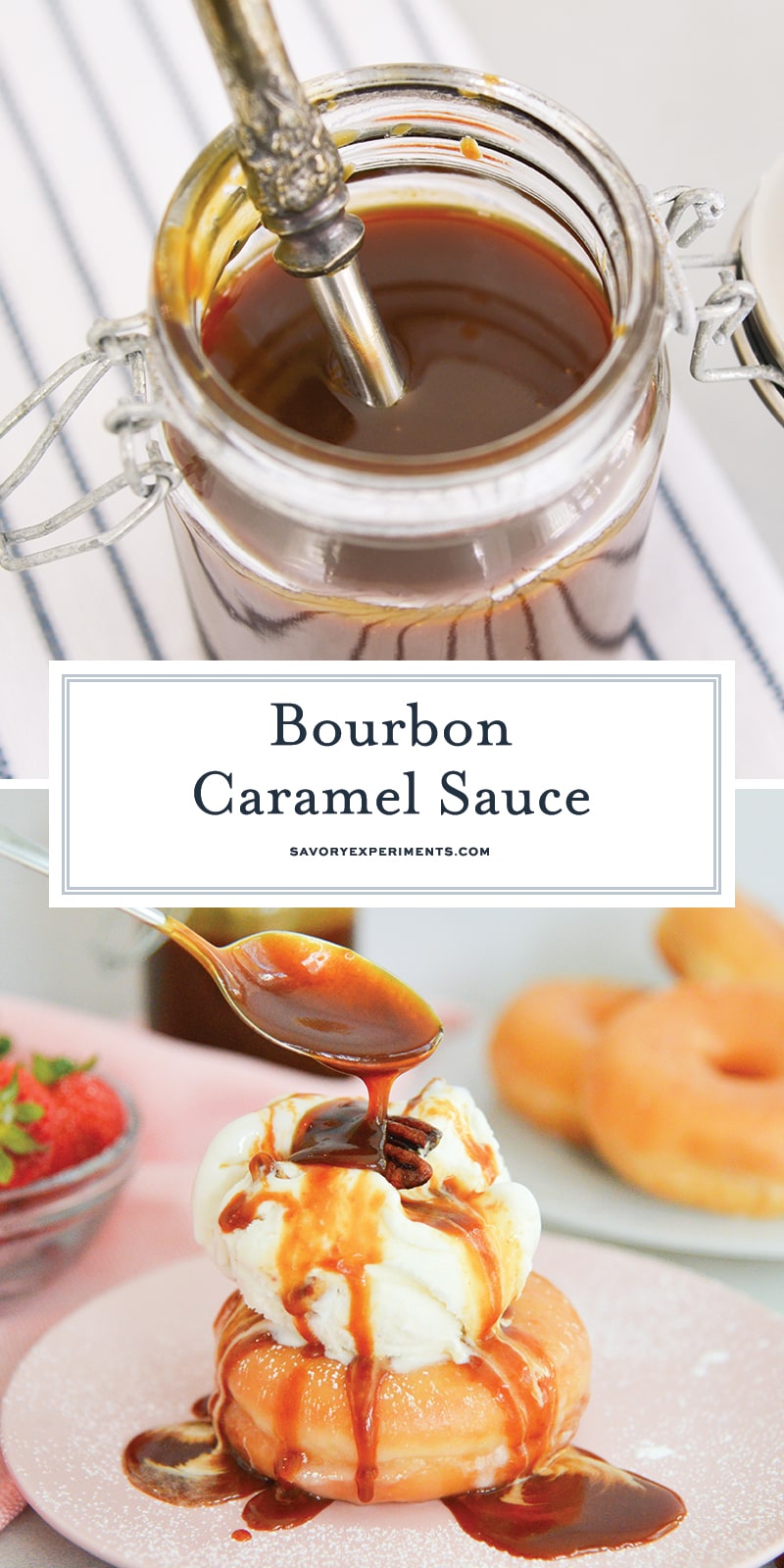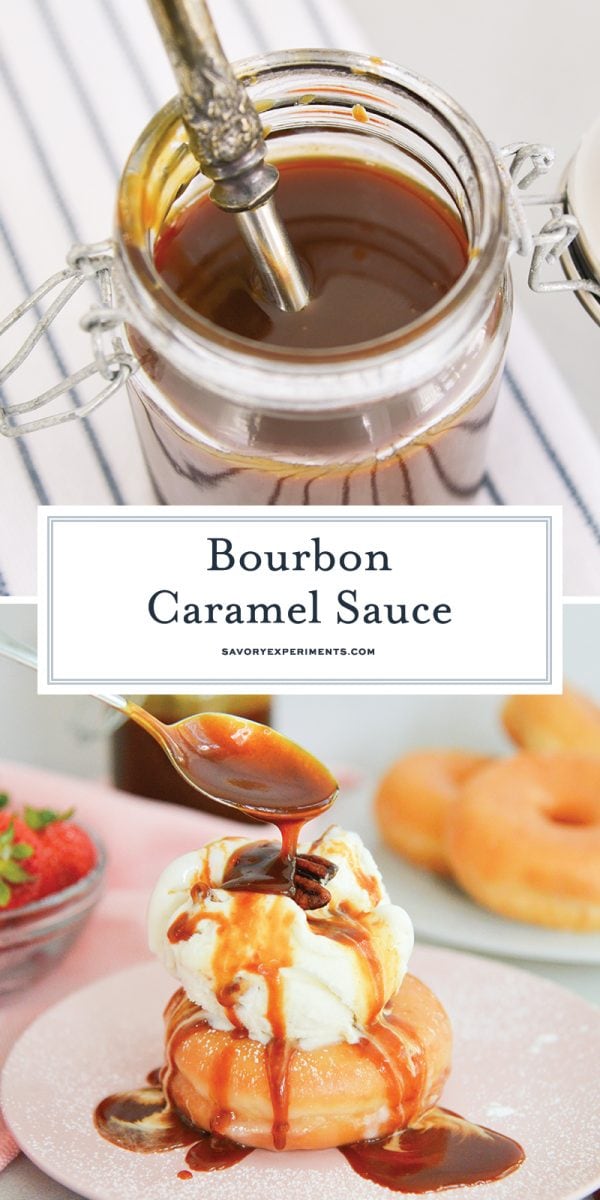 Try putting your homemade caramel on: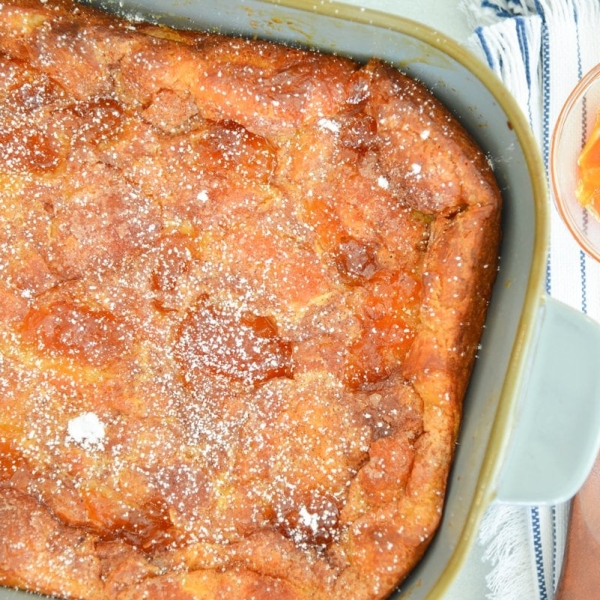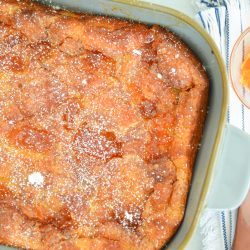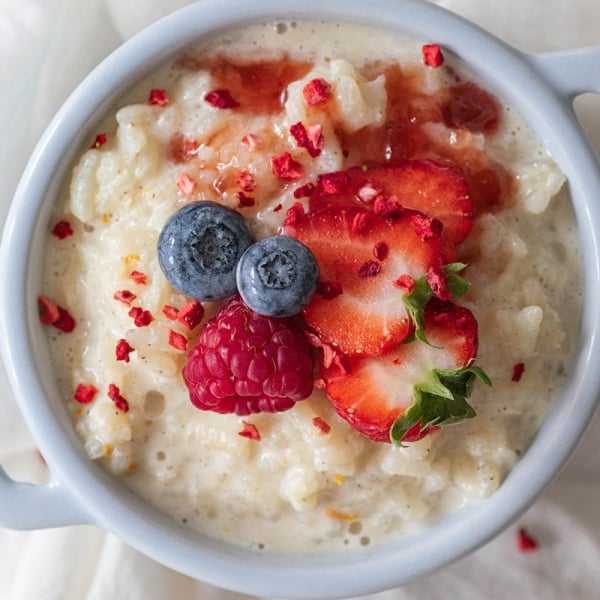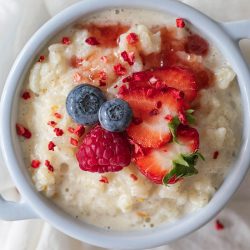 Rice Pudding Recipe
This easy rice pudding is creamy, comforting and feels like a hug- just like grandma used to make it! Not only is it easy to make, but it's also fragrant and full of flavor!
See The Recipe!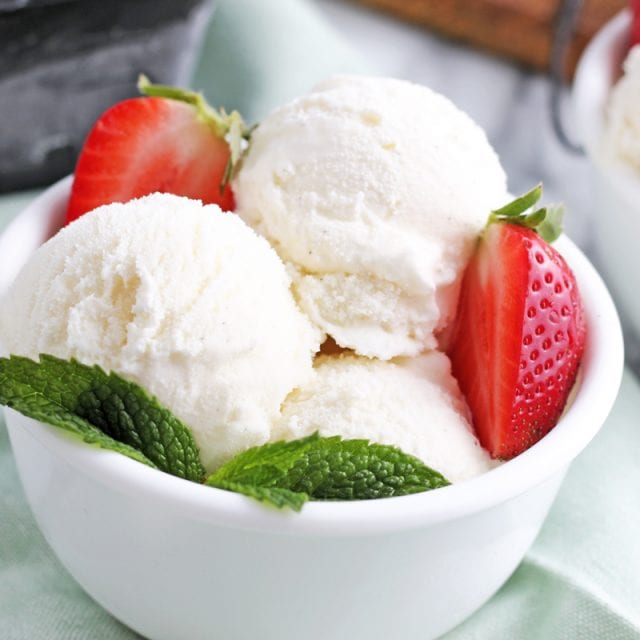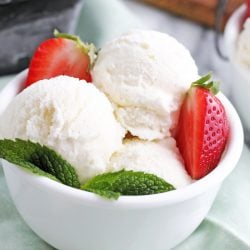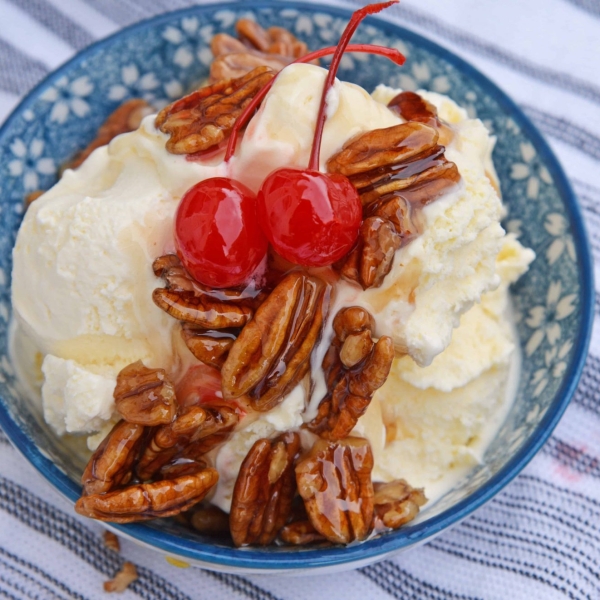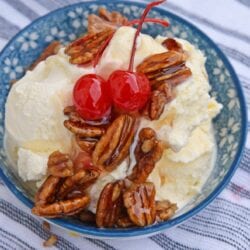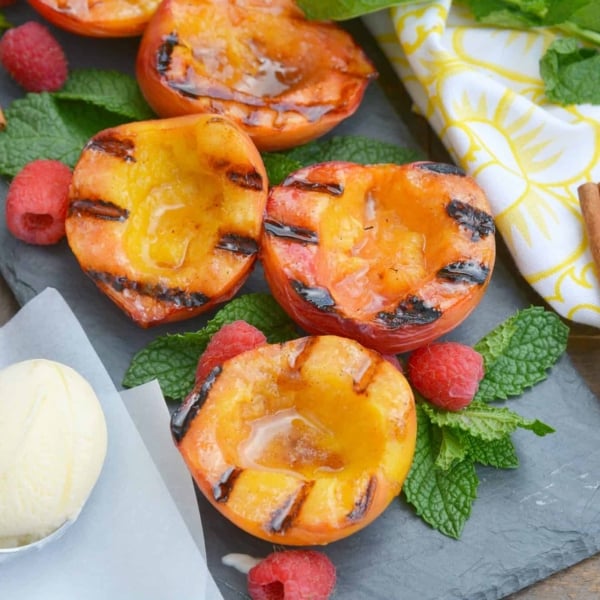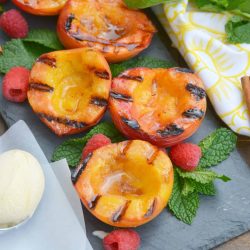 Grilled Peaches
Grilled Peaches basted with cinnamon brown sugar and butter are the ultimate summer dessert idea. Add vanilla ice cream and fresh raspberries for dessert perfection!
See The Recipe!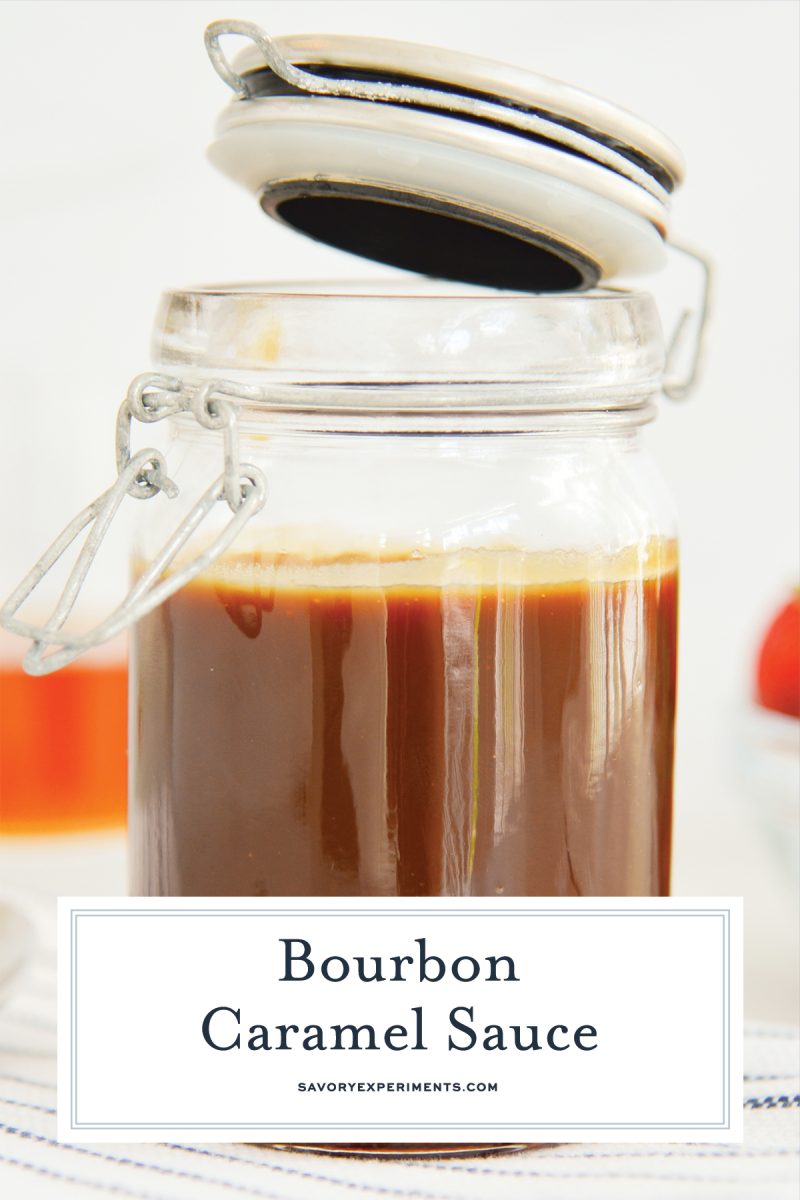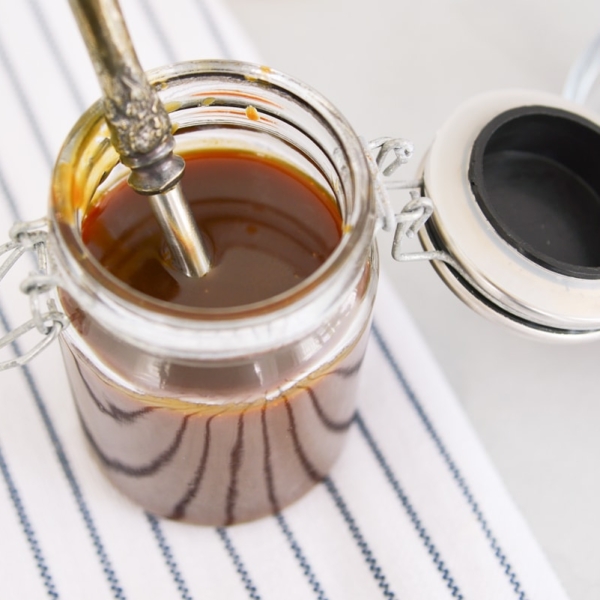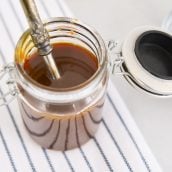 Bourbon Caramel Sauce
How do you make caramel even better? Add bourbon! This homemade Bourbon Caramel Sauce will take any dessert to the next level!
Instructions
In a large, heavy bottom saucepan, combine sugar, water and corn syrup over medium-low heat. Stir until sugar starts to dissolve.

At this point, stop stirring and just gently swirl or allow to simmer. The mixture will start to turn into an amber, caramel color.

Remove from heat and whisk in cream. Be careful because it spits a little.

After cream is fully incorporated, whisk in the vanilla, salt and bourbon. Return to heat for 1-2 minutes.

Remove and allow to cool before serving.

If you've tried this recipe, come back and let us know how it was in the comments or ratings.
Nutrition
Calories:
259
kcal
,
Carbohydrates:
43
g
,
Protein:
1
g
,
Fat:
9
g
,
Saturated Fat:
5
g
,
Polyunsaturated Fat:
1
g
,
Monounsaturated Fat:
3
g
,
Cholesterol:
33
mg
,
Sodium:
128
mg
,
Potassium:
27
mg
,
Sugar:
42
g
,
Vitamin A:
350
IU
,
Vitamin C:
1
mg
,
Calcium:
17
mg
,
Iron:
1
mg