I adore any pasta shape — thick pastas like tagliatelle, spirally ones like cavatappi, and little ones like conchiglie or orecchiette. However, on a night when I need some hearty comfort food, nothing is as amazing as stuffed pastas and this classic stuffed shells recipe tops my list.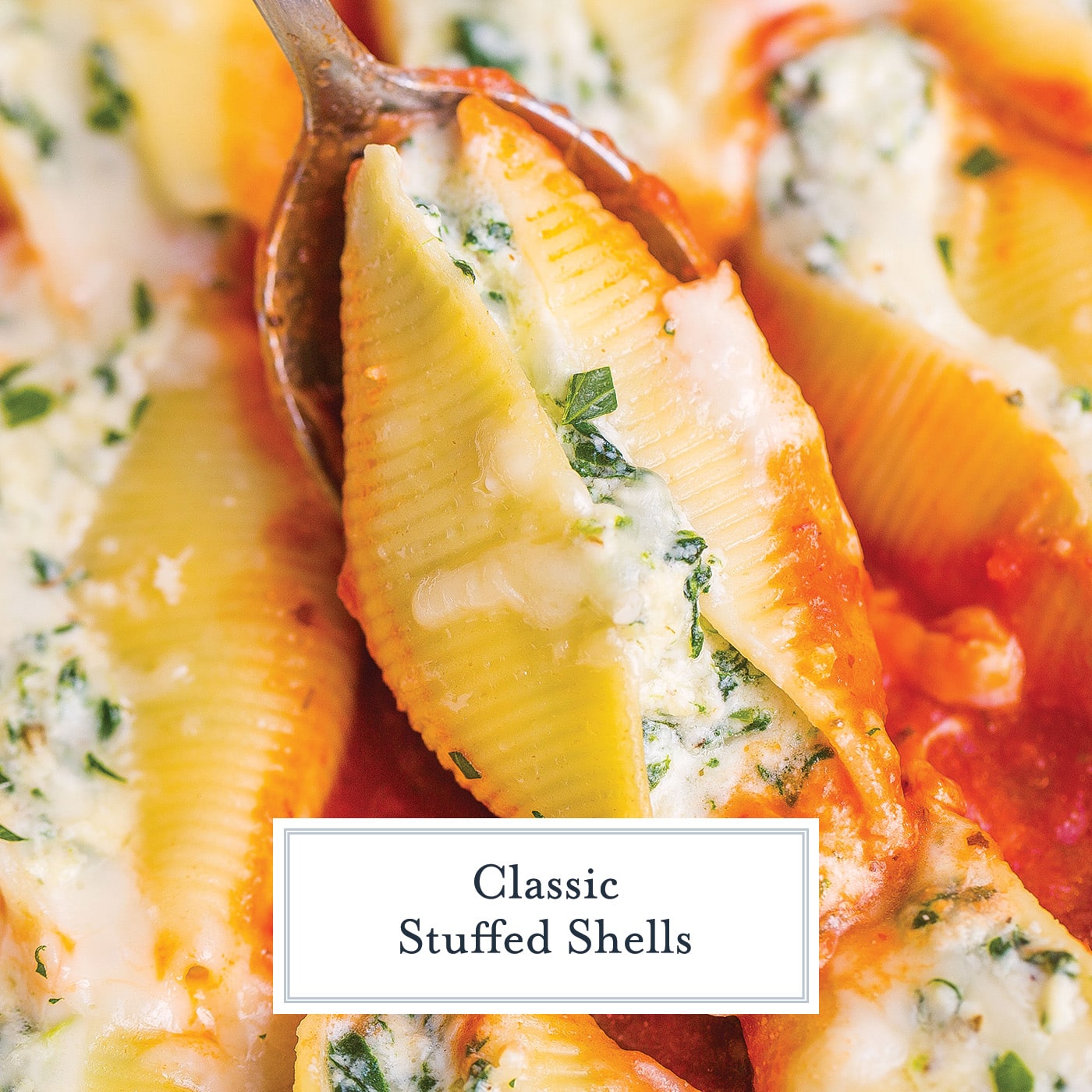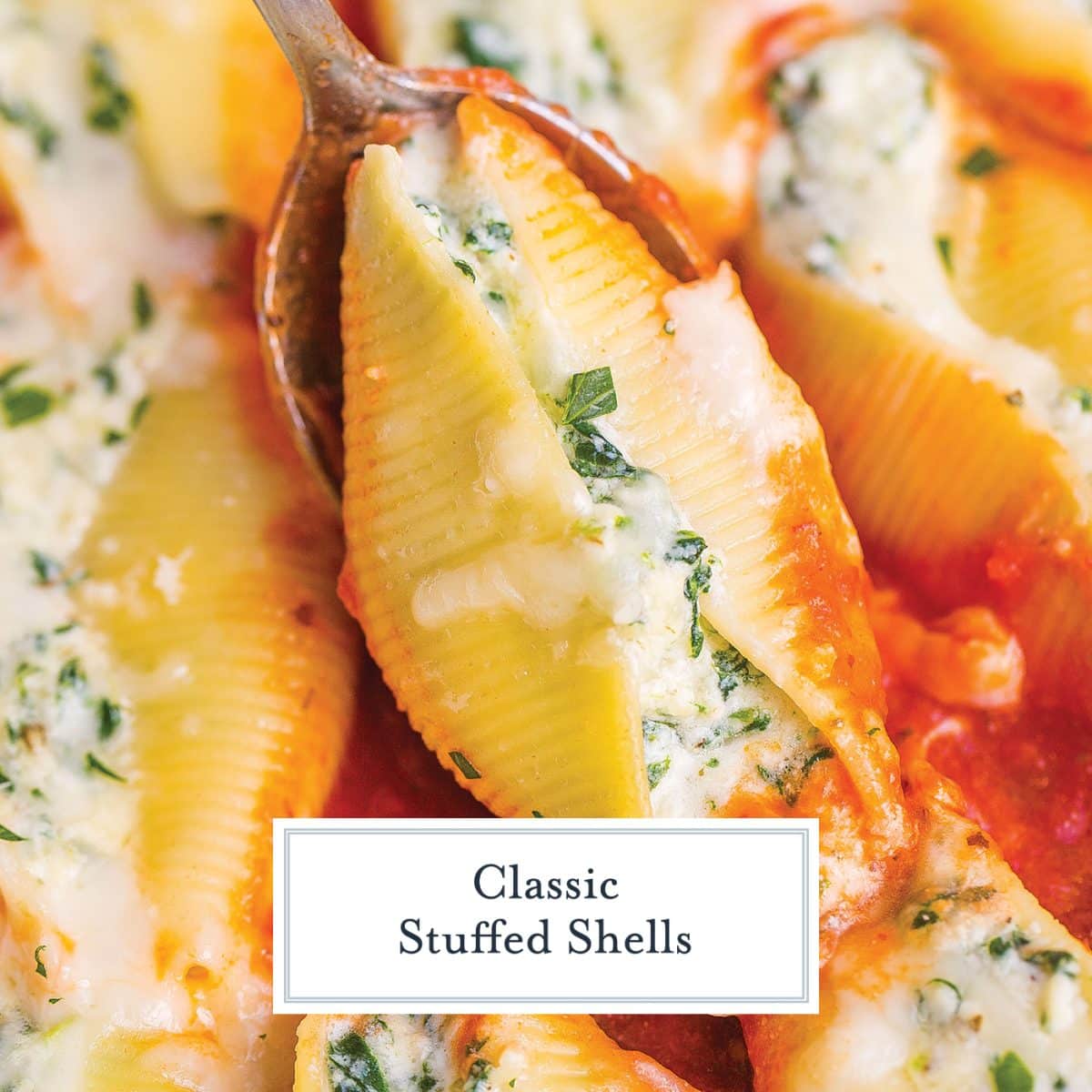 Some hearty Italian dishes, like lasagna, can be a bit time consuming but this is actually a pretty easy recipe. While the shells are cooking you can whip up the cheese mixture and saute the spinach.
One thing (among many) that I love about this dish is that it's great for meal prep and also makes for a fantastic freezer meal. I also love that there are tons of variations you can use it to make it your own. Use different kinds of cheese or add other veggies.
You can also add meats or meat substitutes or toss in whichever herbs and spices you might like.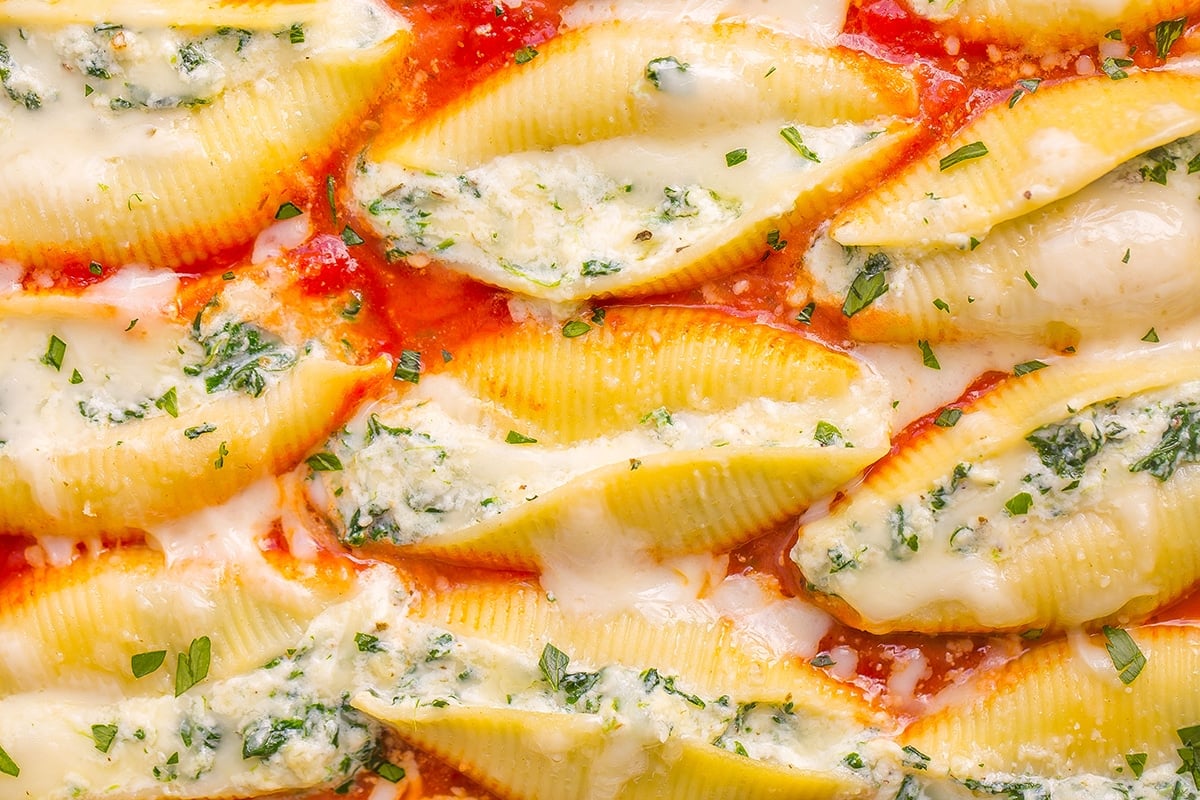 Why you will love these Stuffed Shells with Ricotta
Decadent – This stuffed pasta is full of creaminess and flavor and makes for the perfect comfort food after a long day or on a chilly night.
Flavorful – The spinach and the garlic lend an earthiness to the filling while the acidity of the marinara expertly balances the dish.
Versatile – You can pile a bunch of stuffed shells on your plate for a casual, hearty dinner all on its own. However, you can also pair this with your garlic bread recipe alongside your favorite side salad.
Make-ahead meal – Just assemble the shells and place in the prepared dish and you can bake it anytime in the following 24 hours. It's ideal for when guests are coming over, on busy weeknights, or to take to a party.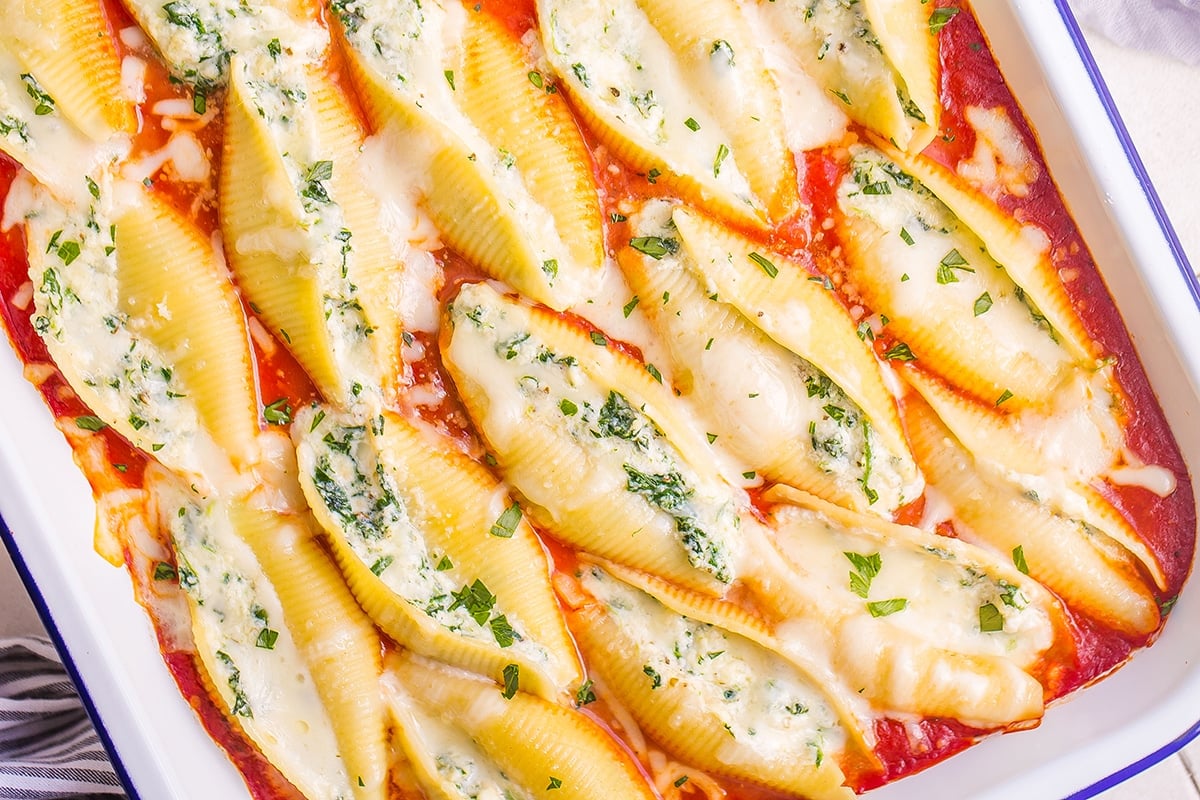 Stuffed Ricotta Shells ingredients
Many of these ingredients are pantry staples and others can be adjusted if you just have a little of this and a little of that.
Jumbo pasta shells – Make sure to get the jumbo sized so that there is plenty of room to fill them with all of the cheesy goodness.
Fresh spinach – In a pinch you can saute up frozen spinach from your freezer but fresh spinach definitely lends superior flavor and color to this dish.
Olive oil – Extra virgin olive oil is best to use for this dish, but if you don't have it handy you can use whichever variety you have or prefer.
Marinara sauce – If you have a jarred sauce that you love you can use that, or you can make your own homemade marinara sauce. You can also doctor up any jarred or canned tomato sauce or use another sauce like garlic alfredo or creamy vodka sauce.
Garlic – You can adjust this taste depending on whether you prefer a little garlic or a lot. Just be sure that it is finely minced.
Whole milk ricotta cheese – Using full fat ricotta ensures that your filling is super creamy.
Mozzarella cheese – Shredding your own mozzarella cheese from the block is definitely the best way to go but you can use the bagged version if time is short or that's what's on hand, but remember these are tossed in starch to prevent clumping. A low moisture cheese is also great to prevent pooling.
Grated parmesan cheese – You can pick up any grated parmesan at your grocery store (or grate it yourself). If you want to get a richer, more authentic flavor, though, look for parmigiano reggiano.
Italian seasoning – You can find this in your store's spice aisle. If you don't already have it in the cabinet, it's a great spice blend to keep on hand or make your own!
Egg – Don't skimp on your egg and use anything smaller than large size, or just the white. The whole egg acts an emulsifier and helps to give the cheese filling its creamy texture.
Salt – Use your typical table salt or kick it up a notch with sea salt or even a flavor-infused salt.
Black pepper – Grind your own peppercorns or shake it out of your table shaker.
Parsley to garnish – While this is optional, it does make for a pretty presentation.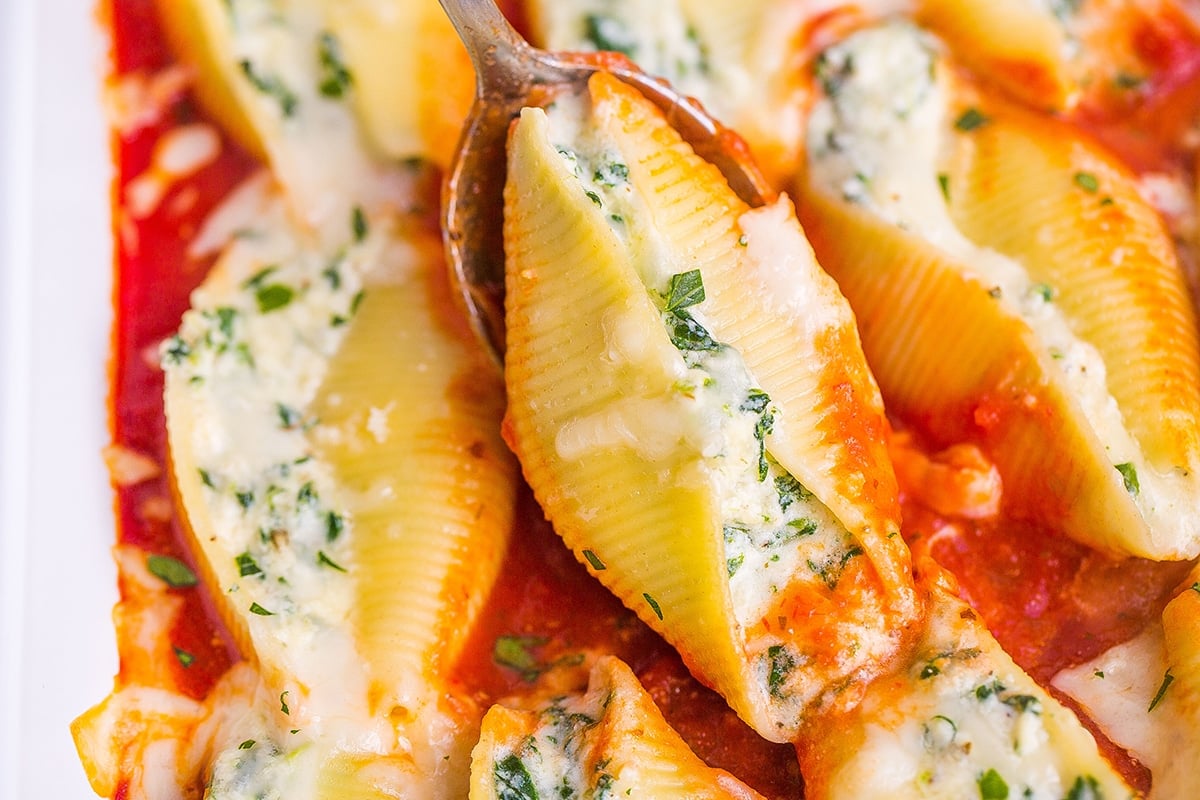 How to make Stuffed Shells with Ricotta
If this is your first time making stuffed shells, rest assured it's an easy meal. You'll be able to get food from the oven to the dinner table super fast!
Bring salted water to a boil in a large pot. Remember- the water should be salty like the sea!
Add the shells to the boiling water and cook following the package instructions, or until al dente. They will cook a tad more in the oven, so making sure they aren't fully cooked is paramount.
Drain the shells in a colander, then toss gently with olive oil to completely coat (or spray them with cooking spray) in order to prevent them from sticking together and ripping. Set the shells aside.
Next, heat olive oil on medium heat in a large skillet. Add the garlic, cnce the garlic becomes fragrant, add the spinach.
Saute the spinach until it is fully wilted then remove the pan from the stove and drain the excess liquid. You can also transfer it to a fine meshed strainer over the sink. Allow the spinach to cool slightly before chopping.
While the spinach is cooling, pour the marinara sauce into the bottom of a baking dish.
Next, combine ricotta with the chopped spinach, other cheeses, Italian seasoning, egg, salt, and pepper in a large bowl. Use a large spoon or spatula to completely combine all ingredients.
Using either a spoon or a piping bag, stuff each shell with the ricotta filling before placing the shell in the marinara-lined casserole dish. If desired, top with more shredded mozzarella cheese. Measure cheese with your heart.
Cover the dish with aluminum foil. Remember to remove the foil just before the baking time is finished to allow the cheese to brown slightly and the marinara to become slightly bubbly. Cooking it covered keeps the moisture in so it doesn't dry out.
Garnish with a sprinkle of fresh parsley, if desired, and serve immediately.

Stuffed Shells Ricotta Variations
There are endless variations for stuffed shells. Here are just a few!
Meat – Try adding ground beef, ground turkey, chopped Italian sausage or any other options that you might like to make a meat sauce.
Fresh herbs – You can add chopped basil, oregano or other herbs to either the marinara sauce or to your cheese filling.
Sauces – Instead of red sauce try using alfredo sauce for an extra cheesy decadent dinner. You can also switch it up with any number of different homemade sauces.
Lasagna roll ups – Swap out the shells for cooked lasagna noodles. Spread the cheese mixture over the noodles, roll them up, and then cover in sauce and cook.
Small curd cottage cheese – Substitute small curd cottage cheese for some of the ricotta to change up the texture.
Extra cheese – Use extra cheese wherever you please! Add more parmesan to the filling or sprinkle more mozzarella on top.
Garlic powder – If you're trying to make this on the fly but don't have fresh garlic handy, you can use garlic powder instead.
How to serve this Stuffed Shell Recipe
When serving stuffed shells, you can complement them with a variety of delicious accompaniments. I always start mine with a caesar salad or green salad and, of course, bread sticks!
Vegetable side dishes are good options too. Asparagus, zucchini and greens beans are excellent options.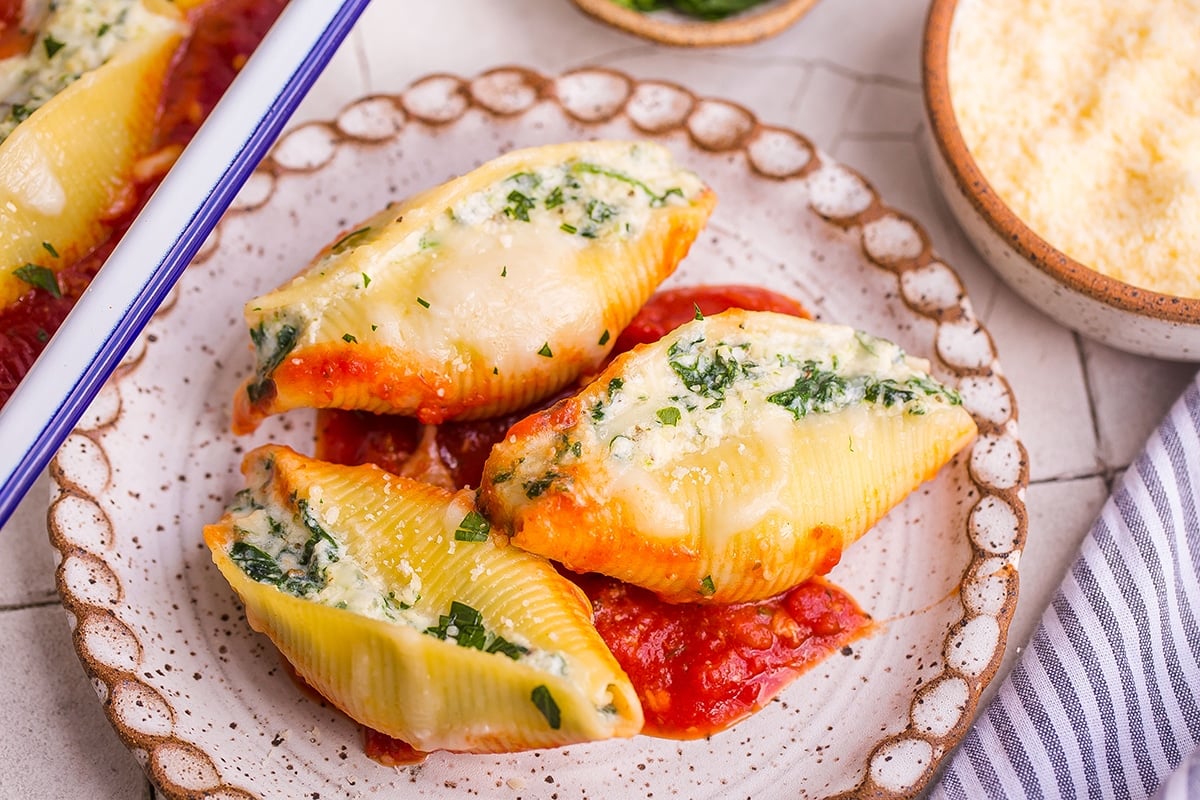 How to store this Stuffed Shells Recipe with Ricotta
Storage: You can store stuffed shells in an airtight container (or wrap the top of the dish with plastic wrap) in the refrigerator for 2-3 days. Reheat in the oven at 300°F for 10 minutes, covered, or in the microwave.
Freezer: You can also freeze them for 3-4 months in container altogether, or individually in a freezer bag. Reheat from frozen in a 350°F oven. A single serving will take about 20 minutes while a whole tray will be closer to 45 minutes.
Ricotta Stuffed Shells FAQs
How do you thicken ricotta cheese for stuffed shells?
If the ricotta seems too watery before using it, put in a fine mesh strainer to let any extra water drip out. Allow it to sit for 5-10 minutes. You can also add extra egg to thicken.
Why do stuffed shells get watery?
Stuffed shells can become watery for a few reasons. One common reason is excess moisture in the filling, particularly from ingredients like ricotta cheese or vegetables that release water when cooked. Another factor can be the sauce used during baking, which can seep into the shells and make them soggy. Additionally, if the shells are overcooked or not properly drained before assembling, they may retain excess water.
Is the filling same for manicotti as stuffed shells?
Yes, the filling for manicotti is typically similar to that of stuffed shells. Both dishes often use a ricotta cheese-based filling that can be flavored with herbs, spices, and other ingredients like grated Parmesan cheese or chopped vegetables.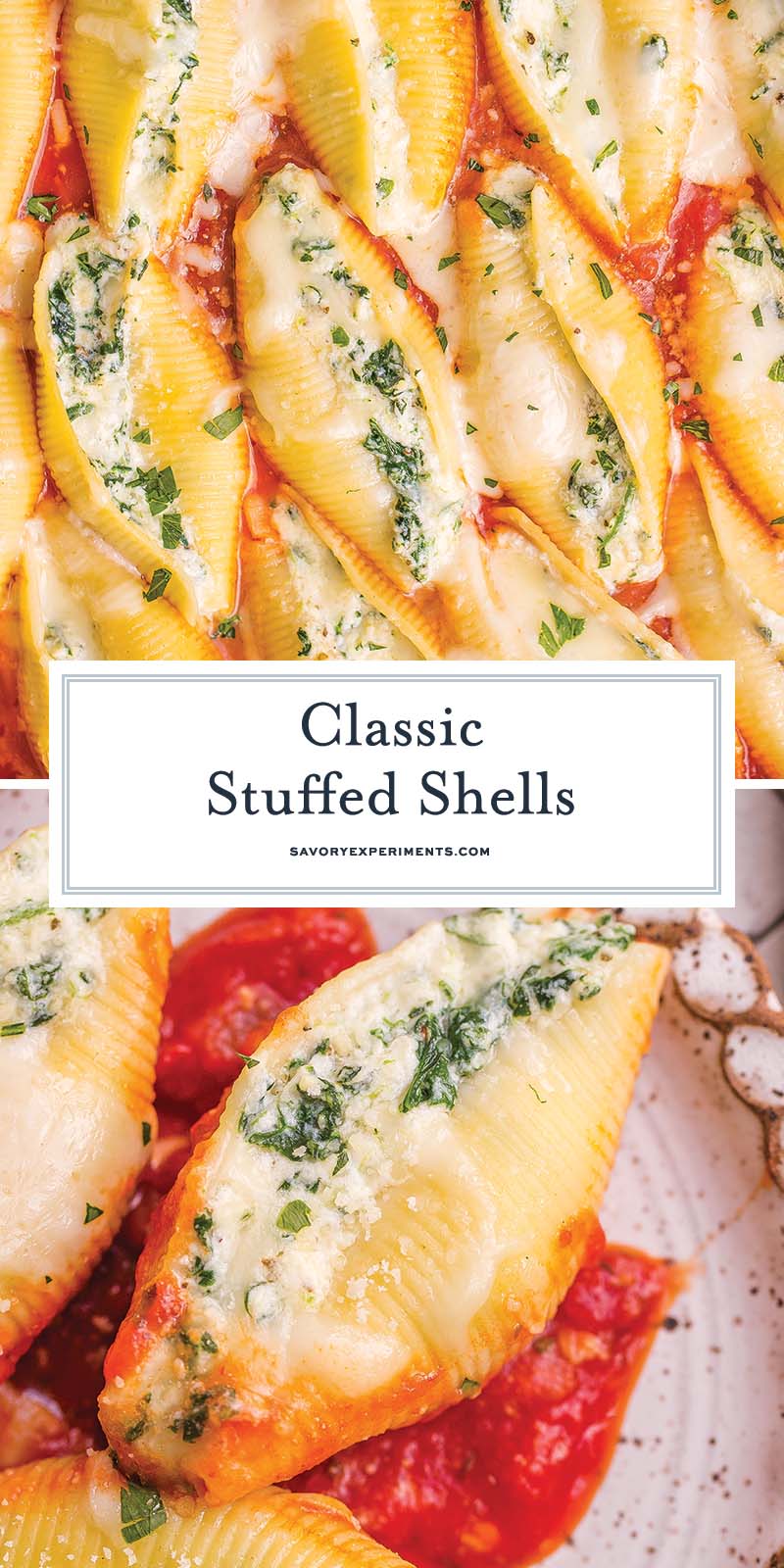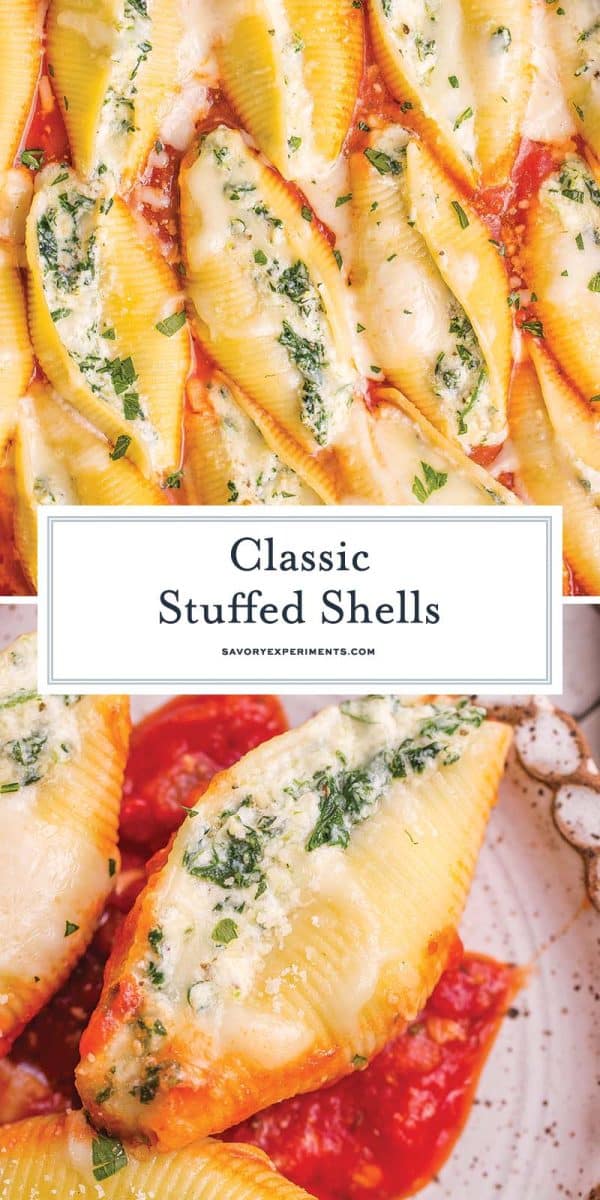 More Stuffed Pasta Dishes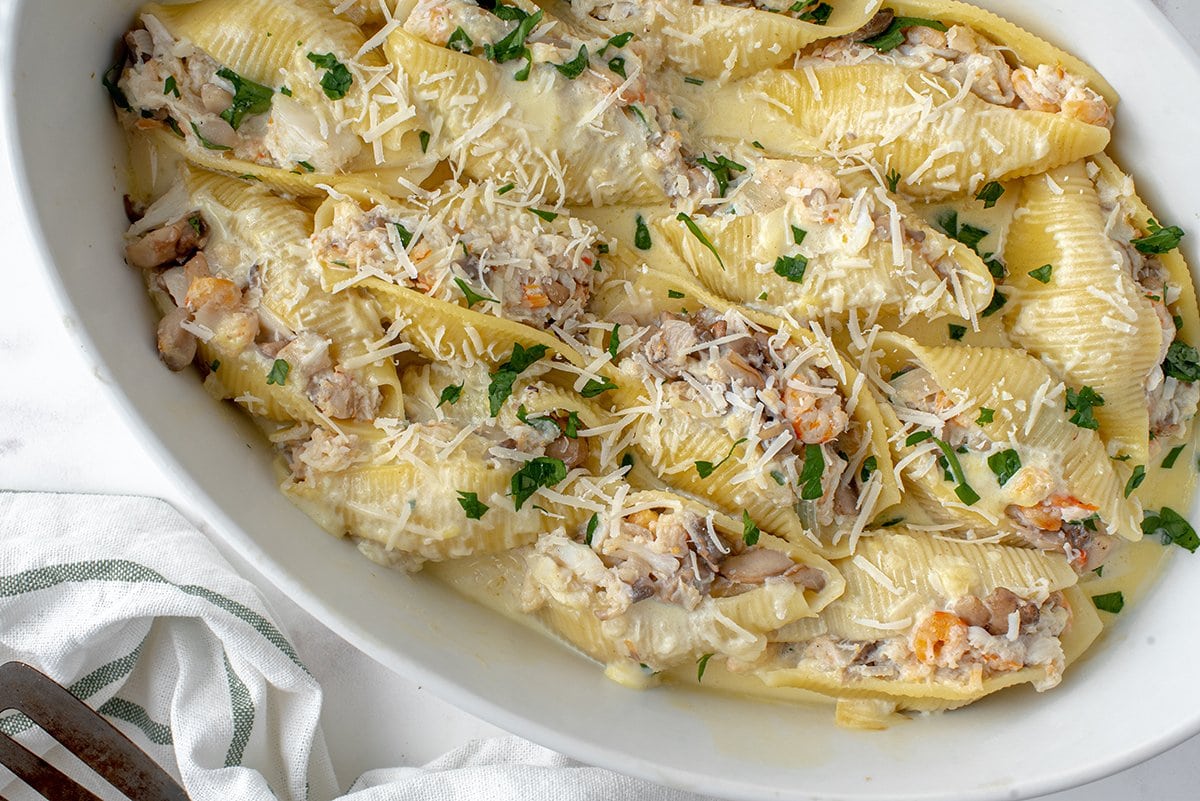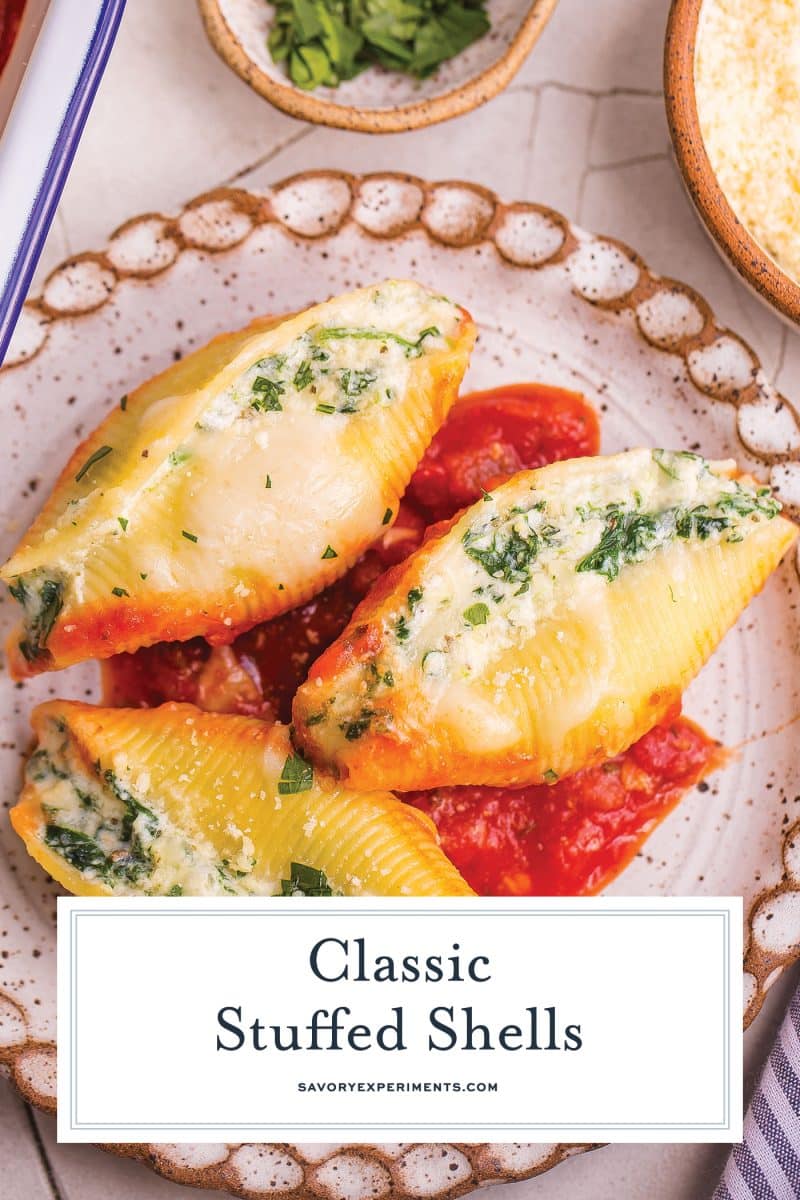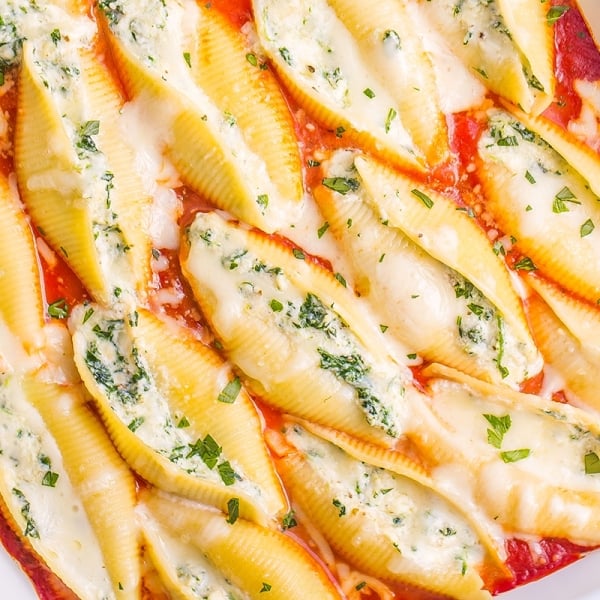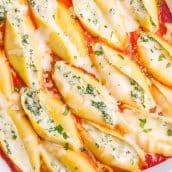 Stuffed Shells with Ricotta
If you're craving hearty Italian food but also a quick and easy recipe, these classic stuffed shells are what you're looking for.
Instructions
Preheat oven to 375°F and coat a 9×13 baking dish with cooking spray. Set aside.

Cook the shells in a large pot of salted boiling water according to box instructions or until al dente, about 11 minutes. Drain and lightly coat in olive oil or cooking spray to prevent the shells from sticking together.

In a large frying or saute pan, heat the olive oil and garlic and cook until garlic is fragrant, about 1 minute. Add the spinach and saute until wilted, about 3 minutes. Remove from the pan and drain excess liquid. Let spinach cool for a few minutes and then chop.

Pour the marinara sauce into the bottom of the prepared baking dish, set aside.

In a large bowl combine the spinach, ricotta, 2 1/2 cups of the mozzarella cheese, Parmesan cheese, Italian seasoning, egg, salt and pepper, mixing well.

Stuff each shell with the filling of about 2 heaping tablespoons in each shell and place in the dish. Top with the remaining 1/2 cup of shredded mozzarella cheese.

Cover with foil and bake for 20 minutes, then remove foil and bake for 5 more minutes. Garnish with parsley, if desired.

If you've tried this recipe, come back and let us know how it was in the comments or star ratings.
Nutrition
Calories:
549
kcal
,
Carbohydrates:
19
g
,
Protein:
38
g
,
Fat:
37
g
,
Saturated Fat:
21
g
,
Polyunsaturated Fat:
2
g
,
Monounsaturated Fat:
11
g
,
Trans Fat:
0.01
g
,
Cholesterol:
166
mg
,
Sodium:
1772
mg
,
Potassium:
929
mg
,
Fiber:
4
g
,
Sugar:
8
g
,
Vitamin A:
4771
IU
,
Vitamin C:
22
mg
,
Calcium:
796
mg
,
Iron:
4
mg