Lemon Ricotta Fritter Recipe
Ricotta fritters will become your all time favorite fritter recipe. Make sure you give this amazingly tasty recipe a go!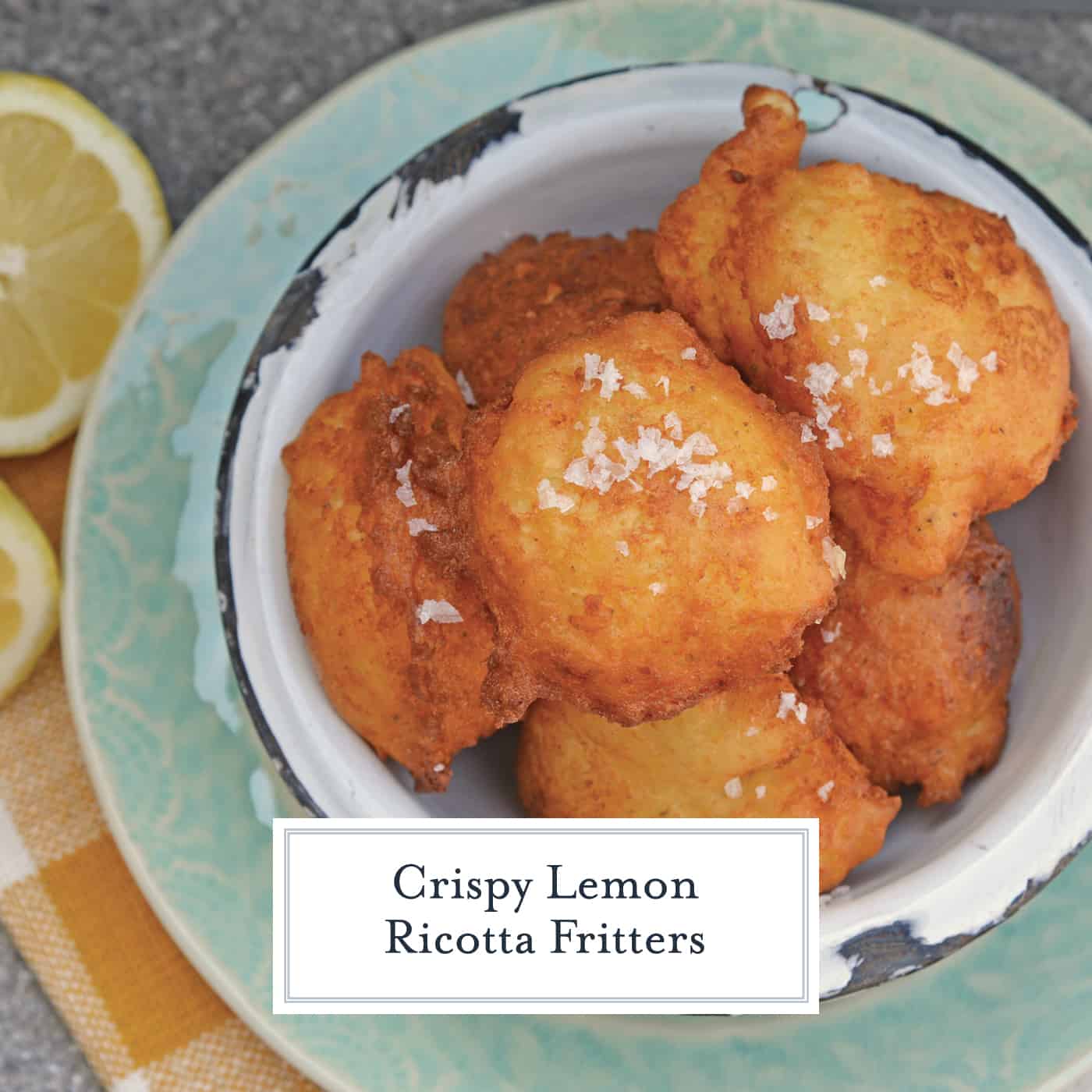 Lemon Ricotta Fritters are a savory fritter recipe. Smooth and rich, they are filled with cheese and a subtle lemon and sage. Serve with garlic aioli for the perfect dipping sauce!
Ricotta Fritters weren't even on my radar until one day they were brought to my attention by hubby, kind of. Hubby travels for work and saw this recipe in one of the airline magazines on a flight.
He tore out the page and proudly presented it to me upon his return home: "honey, can you make these for me???" (gasp…).
We had a talk about how it is not proper to rip out magazine pages. I reminded him of The Sopranos episode when Dr. Melfi warned Tony Soprano of doing the same thing. He relates well to The Sopranos. Lucky for him this wasn't the latest edition.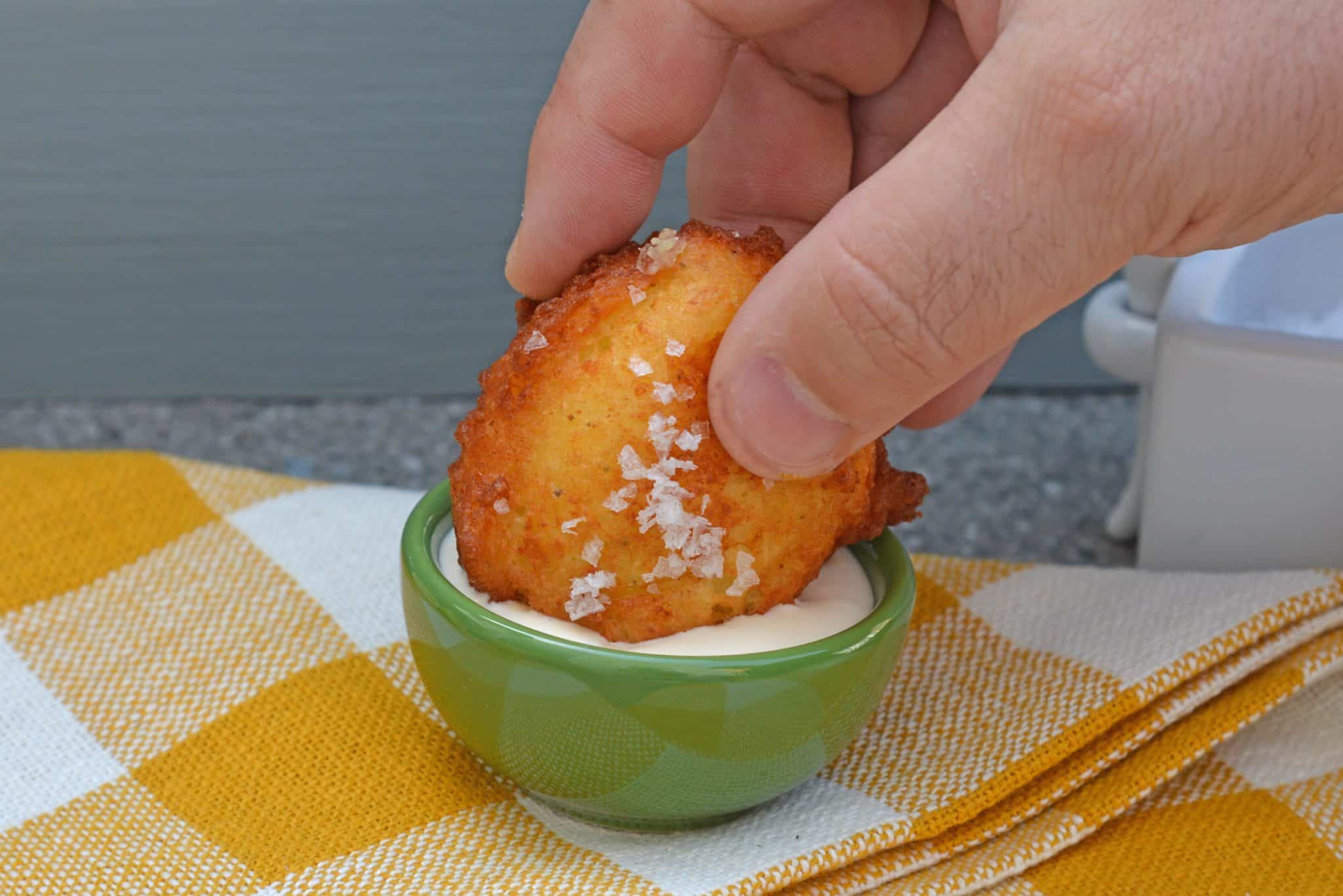 However, I couldn't fault him, these Lemon Ricotta Fritters did look delicious! Fluffy and pillowy, almost like a savory donut. I mean, we make corn fritters and zucchini fritters, why not cheese fritters?
Paired with garlic aioli, this recipe was downright dreamy!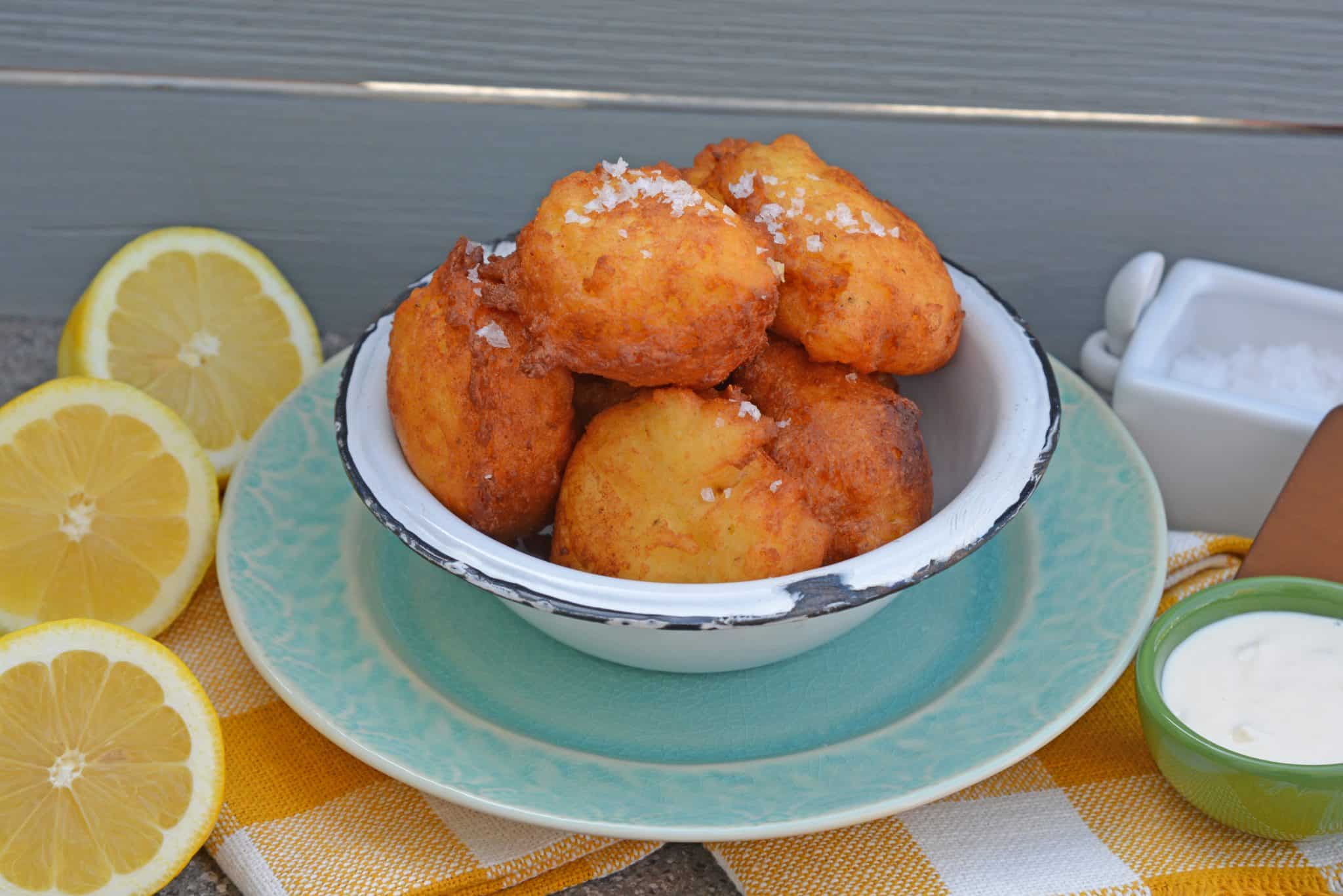 No matter how the recipe was obtained, it was delightful. I adapted considerably to add more cheese and less work. The end result was fluffy fritters of zesty ricotta with a tangy cream dipping sauce. Pure bliss and also out of the norm as far as appetizers go.
While I was making our ricotta fritters I started to wonder about the origin "fritters." What is a fritter? You have to admit, it is an odd name for food, right?
I always thought of them as traditionally southern, but actually it is an international term and used to describe any egg, flour and milk mixture with fruit, vegetables or meat. Who knew?
The word fritter is derived from the Latin word frictura, meaning "a fry." So now you know!

If you liked Lemon Ricotta Fritters, you'll also enjoy these easy recipes:
Tools used to make Lemon Ricotta Fritters:
Mini food processor – this is my most used kitchen appliance by far. Cheap and easy to clean (dishwasher safe), it will be your new best friend for minced, chopping, salad dressings and more!
Metal Slotted Spoon or Fry Spoon – frying can be tricky and you want a utensil that won't stick to the food or batter, but also won't melt under the heat.
Heavy Bottom Frying Pan – You'll need this to evenly distribute the heat and not burn while you fry. Cast iron also works.
Maldon Sea Salt – when I tell you put this stuff on everything, I'm not kidding. I even travel with it in my purse. Best. Salt. Ever.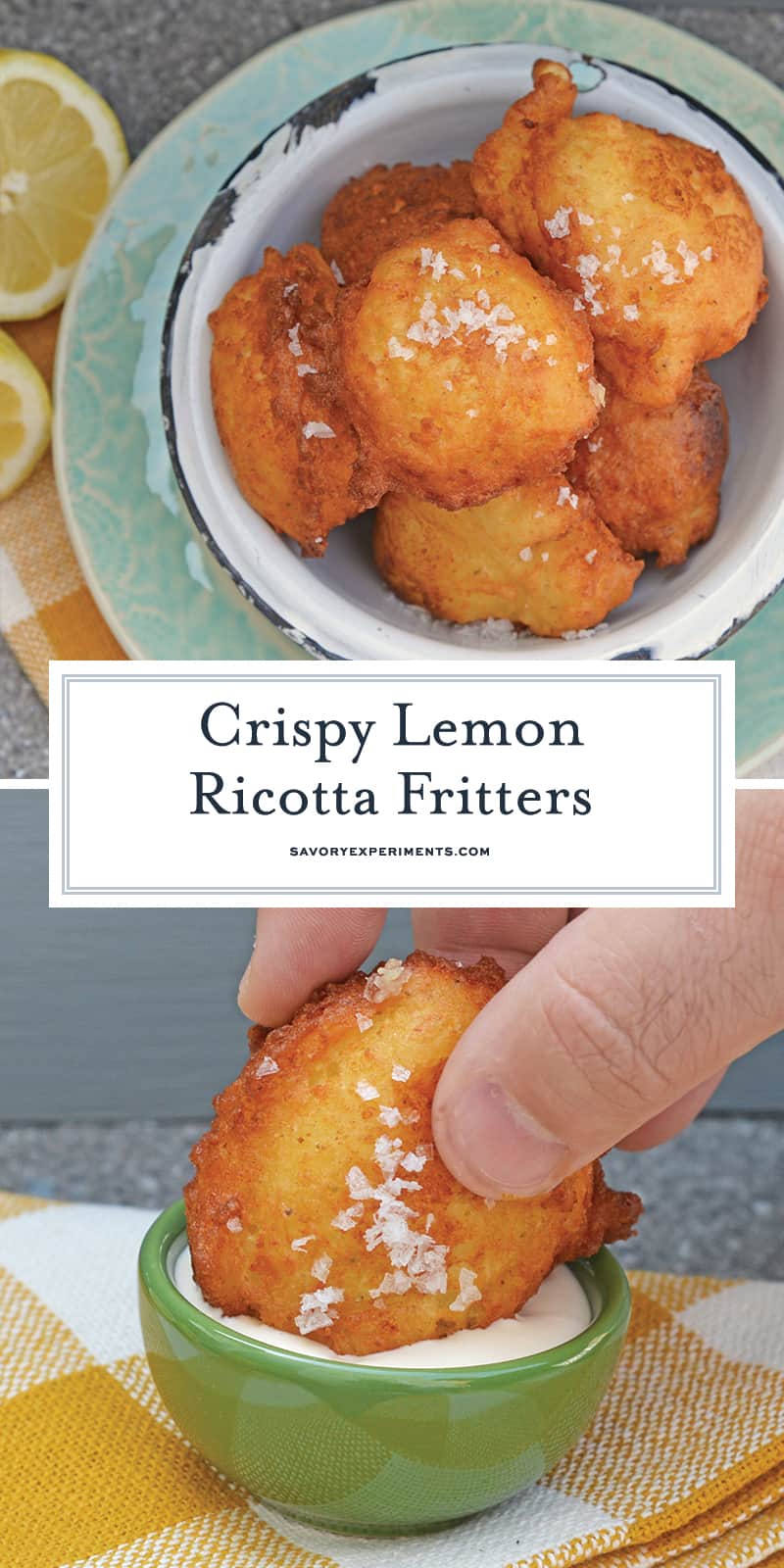 If you are looking for even more fabulous appetizers, snag a copy of my Easy Appetizers Beyond Dips Mini-Cookbook. Available here for only $0.99, one of these fun and festive appetizers sure to be the hit of any gathering!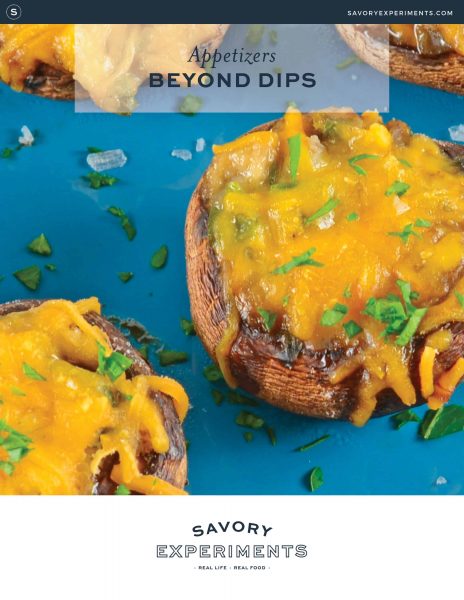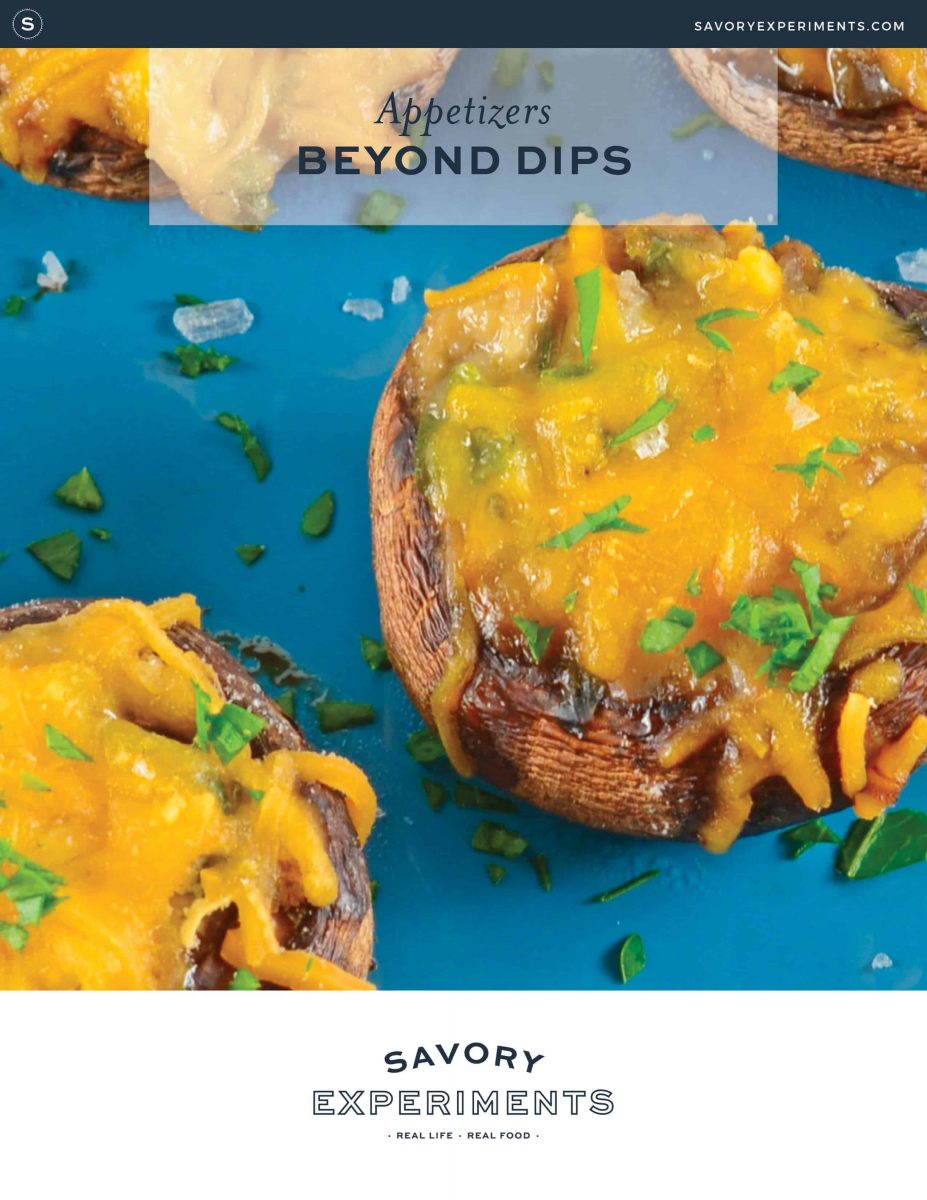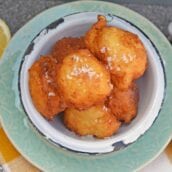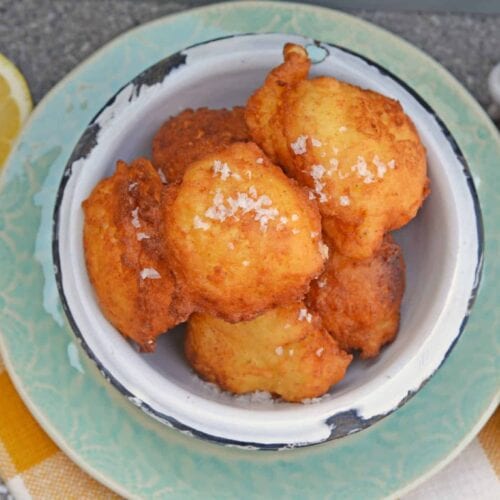 Print Recipe
Lemon Ricotta Fritters
Lemon Ricotta Fritters are a savory fritter recipe. Smooth and and rich, they are filled with cheese with subtle lemon and sage. Served with garlic aioli!
Ingredients
Fritters:
16

ounces

whole milk ricotta

4

large eggs

1

cup

flour

1

tablespoon

baking powder

1

teaspoon

dried rubbed sage

1

teaspoon

fine sea salt

1

lemon

juice and zest

1/2

cup

pecorino romano cheese

, finely grated

inch

vegetable oil

, enough to fill up to 1of your frying pan

1

cup

Garlic Aioli
Instructions
In a large bowl or with your stand mixer, blend ricotta and with eggs until fully combined.

In a separate bowl mix flour, baking powder, dried rubbed sage and sea salt. Gradually add to ricotta mixture until combined. Fold in lemon zest and finely grated pecorino romano cheese. Cover and chill for a minimum of 30 minutes or as much as 24 hours.

Meanwhile, blend together garlic aioli ingredients including garlic, salt and mayonnaise, in a small food processor. Refrigerate until ready to serve.

Pour 1 inch of vegetable oil into a large frying pan and heat over medium heat. Remove batter from the refrigerator. Using a small cookie scoop or a tablespoon, spoon batter into hot oil. Use a metal spatula or fry spoon to flip after lightly browned on each side. This process is relatively quick and will only take about 1-2 minutes on each side.

Remove to a paper towel lined plate and repeat with remaining batter. You can place in the oven on 150-200 degrees to keep warm.

Top with Maldon Sea Salt before serving with a side of garlic aioli.

If you've tried this recipe, come back to let us know how it was!
Video
Nutrition
Calories:
134
kcal
|
Carbohydrates:
4
g
|
Protein:
4
g
|
Fat:
10
g
|
Saturated Fat:
3
g
|
Cholesterol:
43
mg
|
Sodium:
208
mg
|
Potassium:
89
mg
|
Vitamin A:
140
IU
|
Vitamin C:
0.2
mg
|
Calcium:
89
mg
|
Iron:
0.5
mg