Cajun Shrimp Alfredo is an excellent meal for any night of the week. This simple pasta recipe that features shrimp and andouille sausage is great to feed a family. Also, it comes together in 30 minutes or less, so it's an easy to make and enjoy.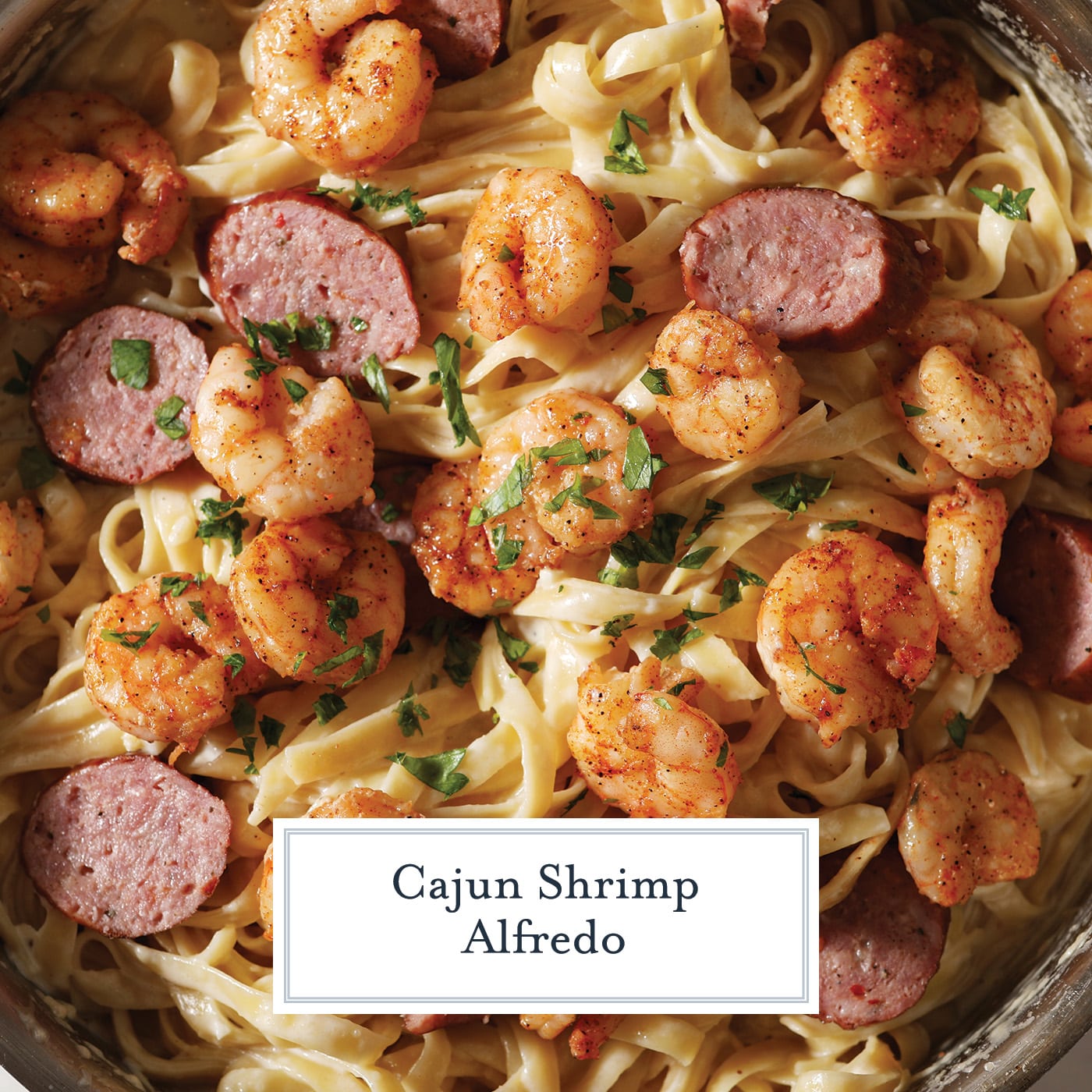 You will love this Shrimp Alfredo Pasta Recipe
Cajun dishes are some of my favorites to serve in my home because, well, my husband hails from Cajun country and because these dishes never disappoint.
This Cajun Shrimp Alfredo recipe is one of those that we keep coming back to because it's comforting and jam-packed with flavors we all know and love.
All you must do is toss your favorite pasta noodles in a homemade creamy alfredo sauce—which is easier to make than you think!—and top it with perfectly spiced Cajun shrimp and sliced andouille sausage.
As with many comfort food meals, this recipe is NOT low fat, and it's certainly FULL of flavor.
It's also ready in 30 minutes, which makes it a fabulous meal for any night of the week.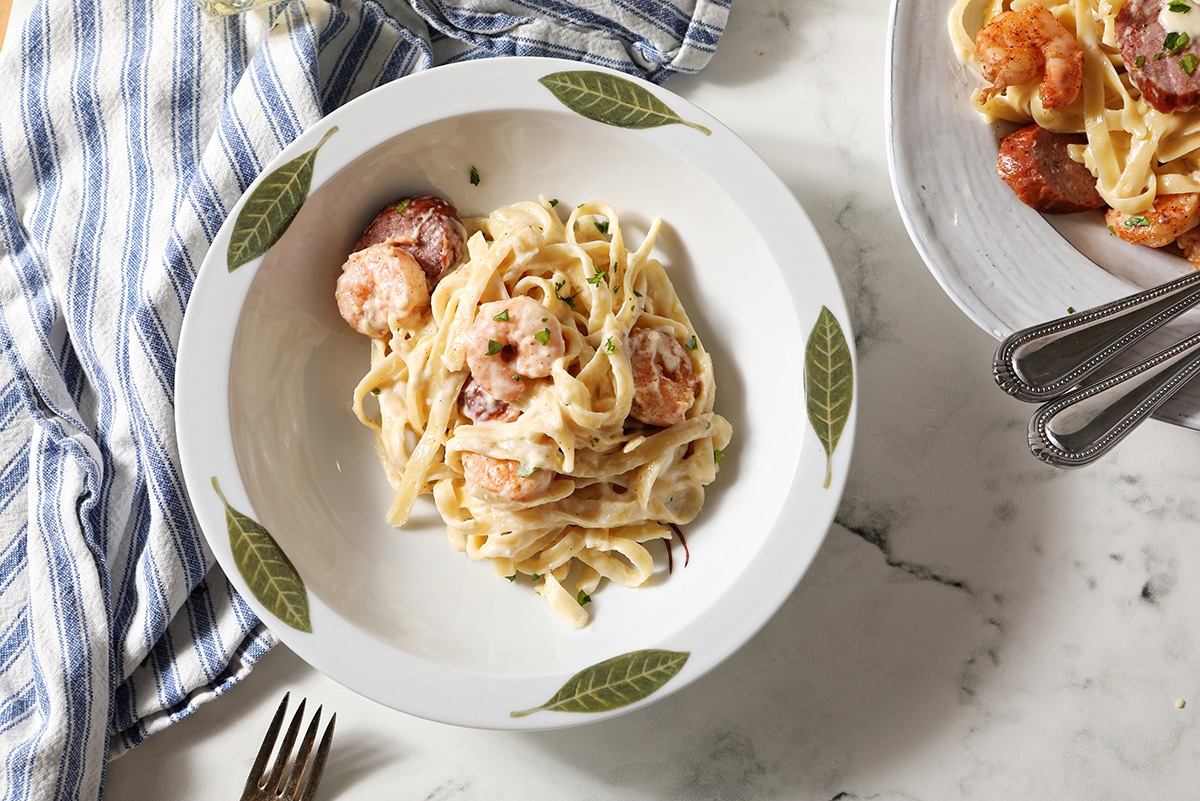 Cajun Shrimp Alfredo Ingredients
This recipe calls for a LOT of dairy products, so plan on visiting your grocery store for the ones you don't keep at home. The good news is these should be simple, easy-to-find ingredients.
Here's what you'll need:
Fettuccine pasta—this is the classic pasta for Fettuccine Alfredo. If it's not your favorite, use another type of pasta that makes you happy. Bow ties are an excellent choice, especially if you're serving kids.
Shrimp—we purchased peeled, deveined shrimp in the freezer section of our grocery store. You can purchase them fresh, too, though you might have to peel and devein them. That will take more time than it takes to make this alfredo recipe.
Andouille sausage—smoked andouille is best here, in my opinion, but if you can only get the fresh kind, that works, too! You'll need to cook it all the way through before slicing and adding to the pasta. I prefer pork over chicken andouille sausage because I think the flavor is better.
Cajun seasoning—this is a mixture of several different spices, including several peppers. You should be able to find this in the spice aisle at your local grocery store! There are lots of brands and different levels of spice. If you want to make homemade Cajun seasoning, have at it!
Salted butter—this serves as our base for the sauce.
Fresh garlic—this aromatic adds just a bit more flavor to the cream-based sauce
Heavy cream—also known as heavy whipping cream. It's thick, luscious and provides a TON of flavor to our cajun shrimp alfredo. There is no substitute.
Whole milk—this thins out our sauce without skimping on flavor. While you could substitute it for lower fat milk, I don't suggest that since Alfredo sauce is meant to be decadent.
Grated parmesan cheese—please purchase the real deal and not the shelf-stable kind. The cheese counter at our local grocery sells containers of freshly grated parmesan, and I bet yours does, too.
Fresh parsley—for garnish
Salt and pepper—if your sauce needs a little extra seasoning, add these! We don't always add them in because the sauce has great flavor already.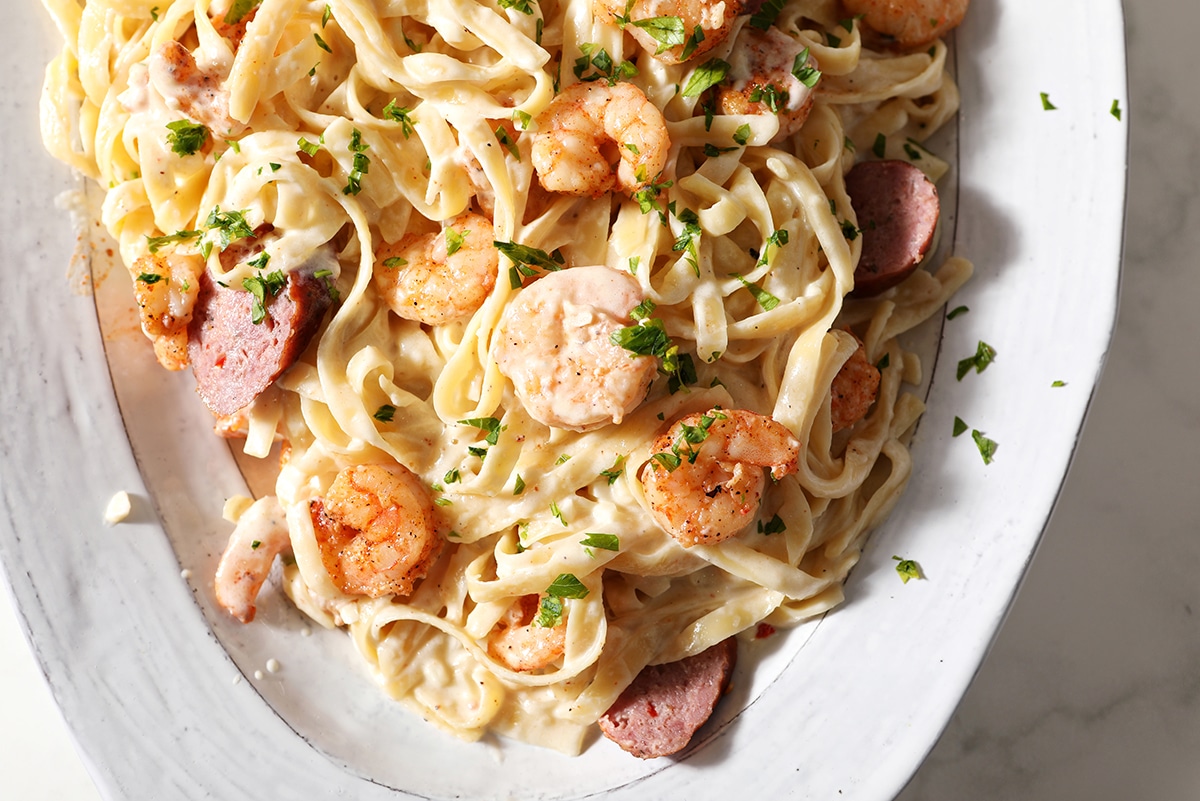 How to make this Cajun Shrimp Alfredo Pasta Recipe
Cook the fettuccine pasta. Read the pasta's packaging, and boil until the pasta is cooked through but still has some shape to it. (This is called al dente.) Drain it in a colander, drizzle with a little olive oil to prevent it from sticking to itself and set it aside.
Sear the andouille sausage in a large skillet with high sides over medium-high heat. We'll do this to crisp up the sausage casing, as well as warm the meat through. When crispy and browned, remove the sausage from the pan. Slice into rounds and set aside for later.
Melt butter. Melt the butter in the same skillet over medium heat. Don't turn up the heat higher than this—we don't want any burned bits making our Alfredo sauce bitter.
Pro tip: Use the same skillet for the meats and the sauce! As the andouille and shrimp cook, browned bits will stick to the bottom of the pan. This is flavor and will add some depth to the creamy pasta sauce.
Season the peeled, deveined shrimp with Cajun seasoning. I like to do this in a bowl and then gently toss them together so the shrimp are evenly coated.
Cook the shrimp on both sides until pink and firmed up. This should not take a lot of time because shrimp cook quickly. Remove the shrimp from the pan, and let it rest!
Add the garlic to the skillet and cook until fragrant. Lower the heat to a simmer, and pour the cream and milk into the pan. Add in the grated parmesan cheese, and stir until smooth.
Transfer the cooked pasta into the skillet, and toss until it's coated with the alfredo sauce. This is why we're using a high-sided skillet—to ensure that there's enough space for both the pasta and sauce!
Serve the pasta topped with the shrimp and sliced sausage. Garnish with parsley and a sprinkling of extra Cajun seasoning.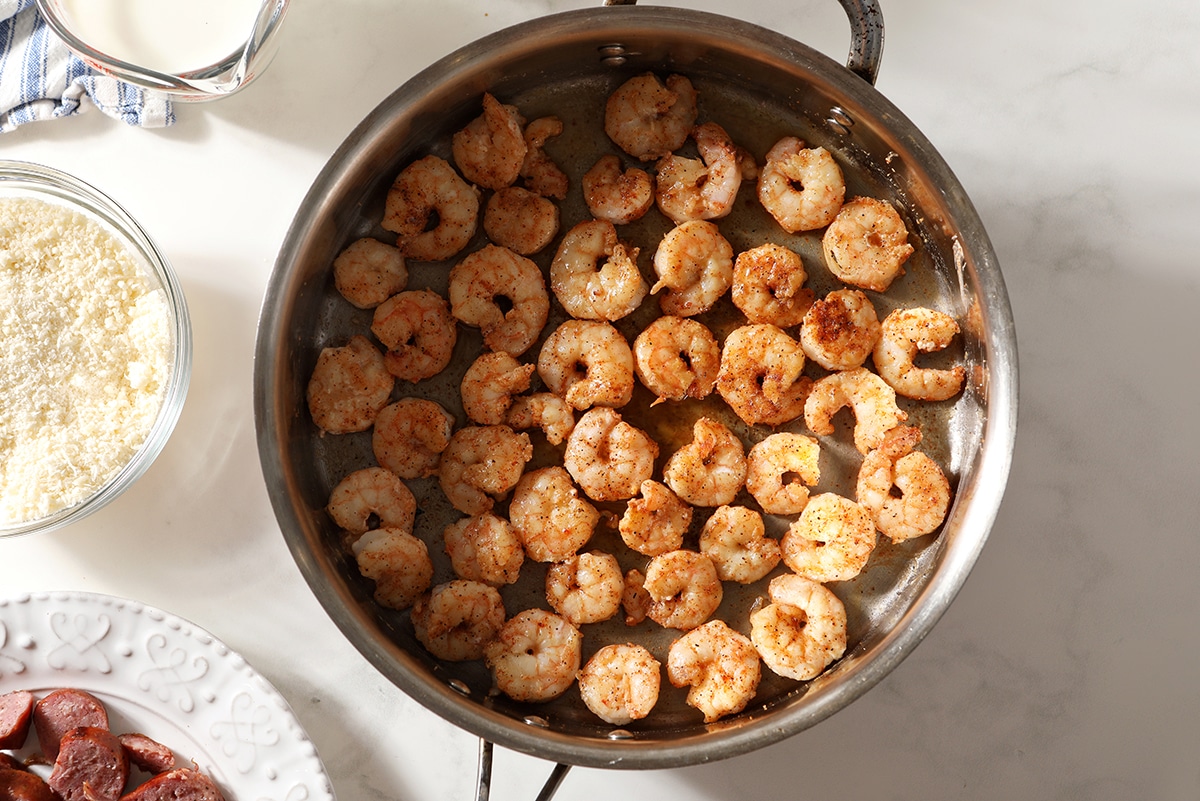 How to store Cajun Shrimp Pasta
Storage: If you've got leftover cajun shrimp alfredo, store it in an airtight container in the refrigerator for 2-3 days. I suggest storing the shrimp, sausage and pasta separately, as they'll take different times to reheat.
Reheat: To reheat the leftovers, add a drizzle of whole milk to the sauce before popping in the microwave. Heat in 30-second increments until warmed through.
Freezing: I have not tried freezing this recipe, but have read mixed reviews about freezing cream-based sauces. I do not recommend freezing leftovers at this time.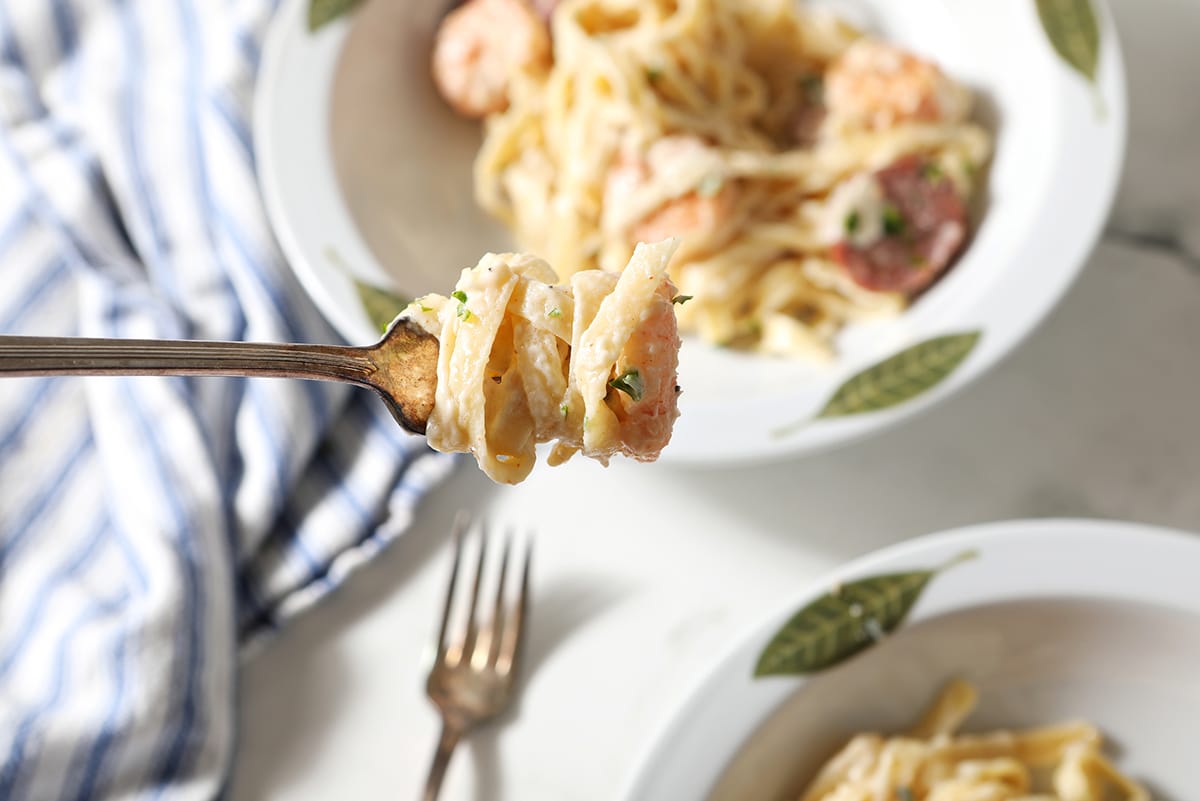 Cajun Shrimp Pasta Recipe Tips and Tricks
This is not a low-fat recipe. It's not meant to be one, so please, do not make substitutes to try to make it "healthier." Alfredo sauce is meant to be decadent—enjoy it!
Make it faster! Purchase shrimp from the store that has already been peeled and deveined.
Grate your own cheese or purchase the grated stuff from your grocery's cheese counter. Please don't use a shelf-stable cheese in this recipe. It will not taste the same.
You can use Creole or Cajun seasoning in this recipe. They have the same flavor profiles, though Creole seasoning has more herbs. Keep in mind that both can get super salty, so read the label before you purchase. Our favorite brand has a salt-free variety, and that's what we keep at our home.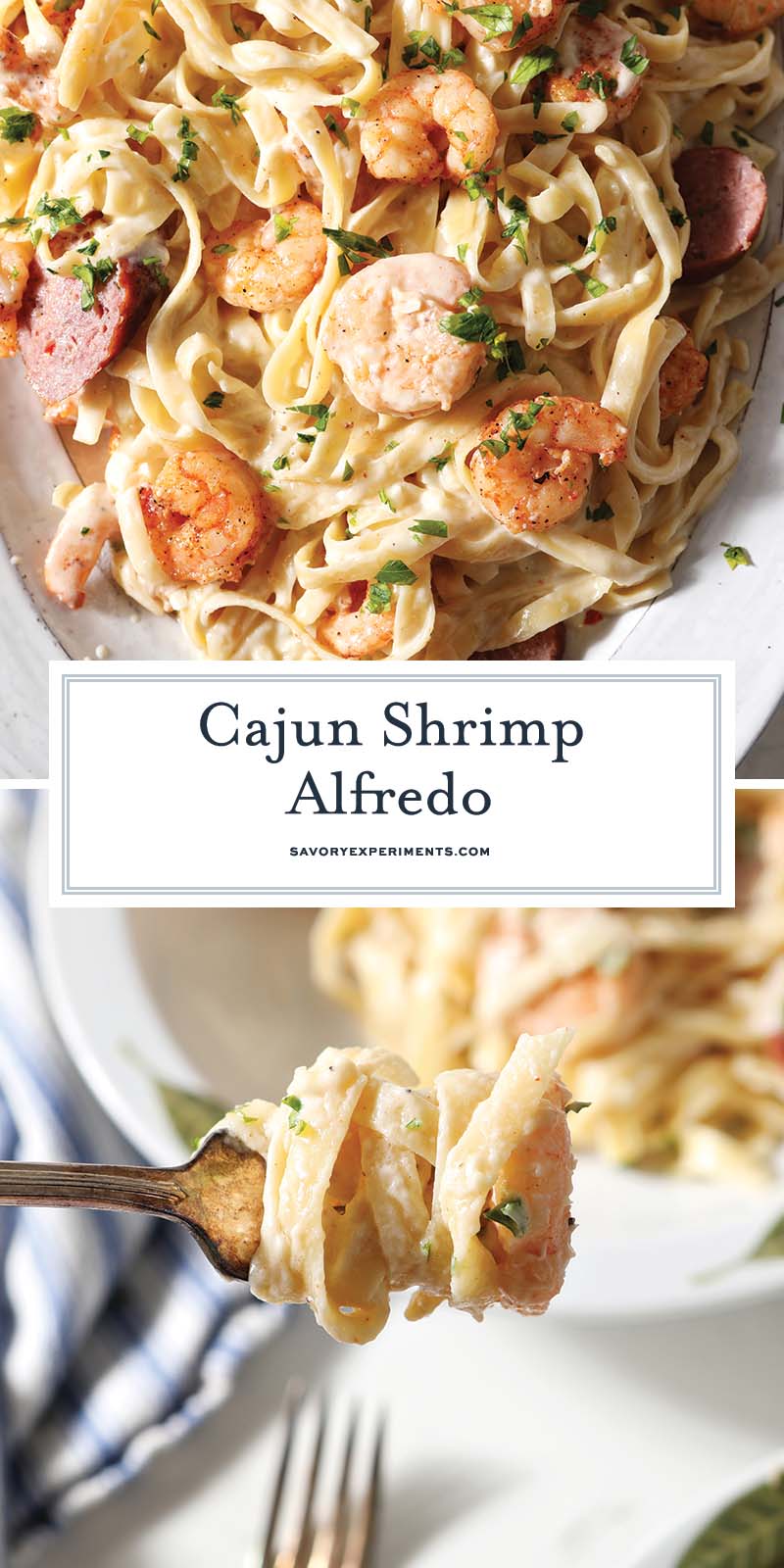 More Cajun Inspired Dishes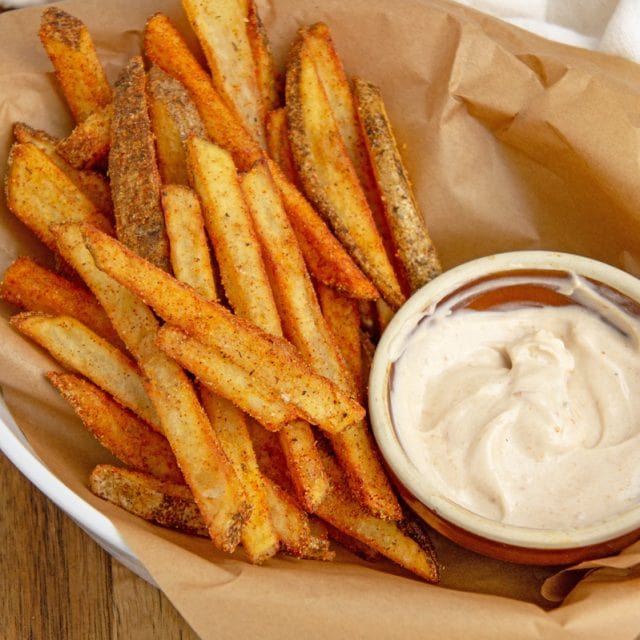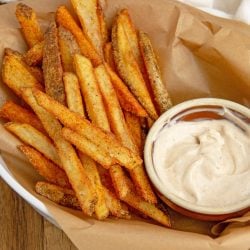 Cajun Fries
A batch of homemade Cajun Fries are just the ticket to satisfy that crispy, potato craving. Steps for both traditional fried and baked fries included!
View this recipe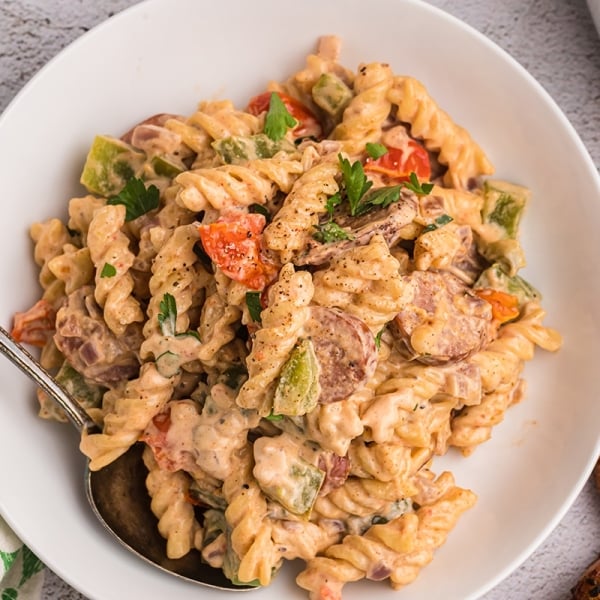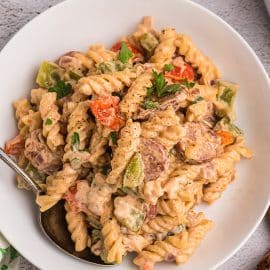 Creamy Cajun Pasta Recipe
Creamy Cajun Pasta is seriously AH-MAZING and only takes 20 minutes! Rotini covered in a cream sauce with Cajun seasoning, smoky andouille sausage, sautéed peppers, red onion and grape tomatoes.
View this recipe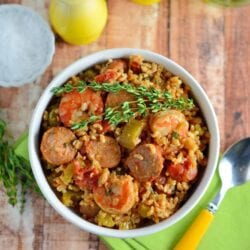 Cajun Jambalaya
This Cajun Jambalaya is a mouthwatering recipe that can be ready in less than an hour. Andouille turkey sausage and shrimp give this recipe so much flavor!
View this recipe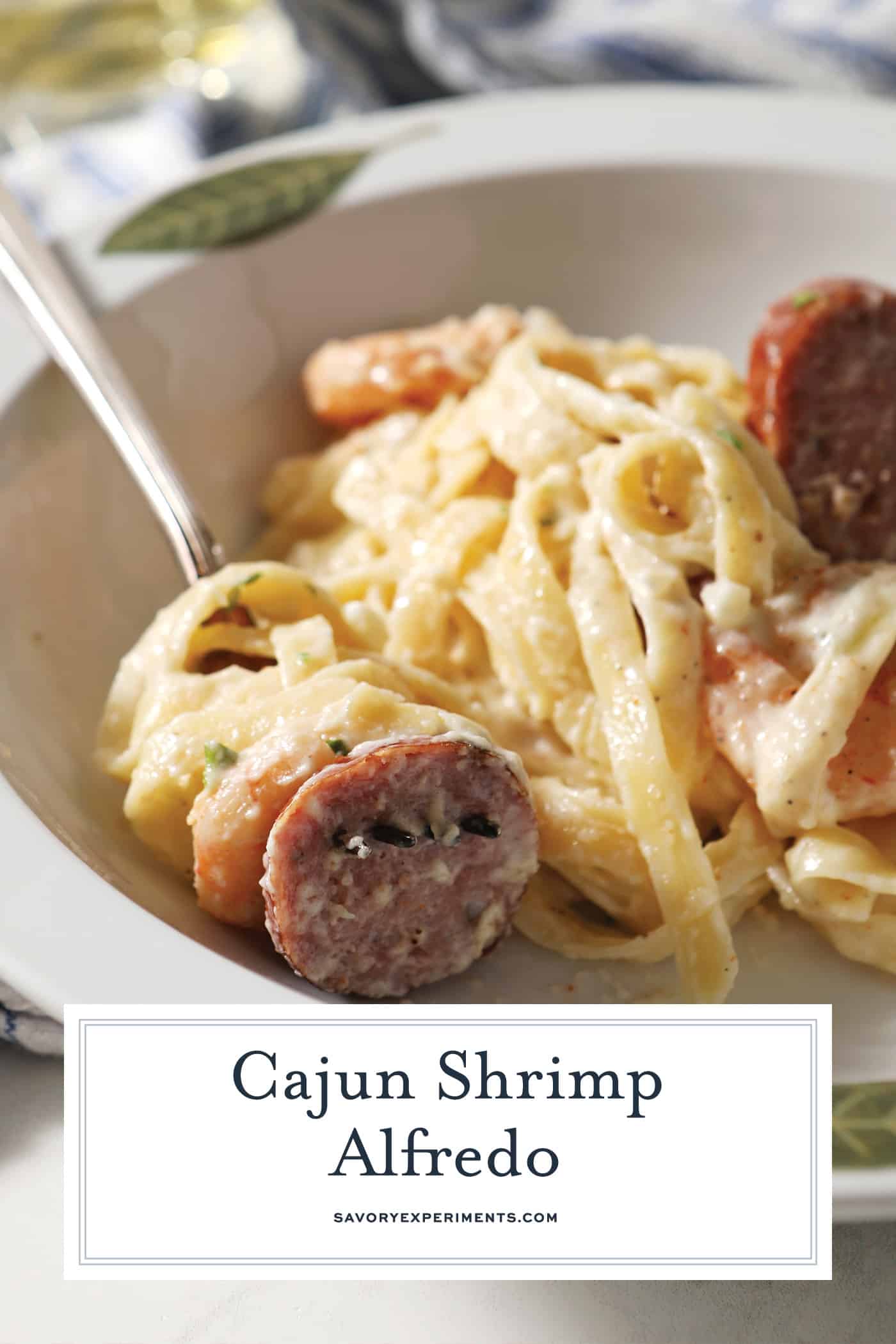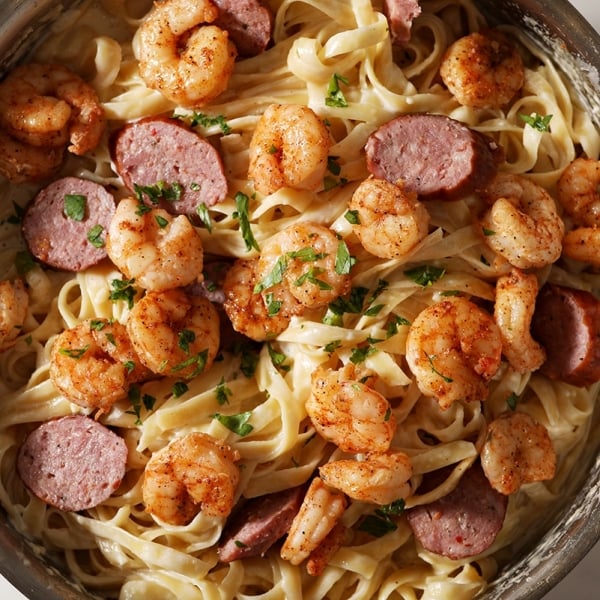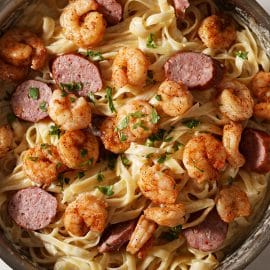 Cajun Shrimp Alfredo
This Cajun Shrimp Alfredo features shrimp and andouille sausage, and comes together in 30 minutes or less. It's an easy to make and enjoy!
Instructions
Cook the pasta in salted boiling water until al dente. Follow the instructions on its packaging. Drain in a colander, drizzle with a little olive oil to prevent sticking and set aside.

Heat a high-sided skillet over medium-high heat. Sear the smoked sausage on both sides until the exterior is browned and crispy. Remove from the pan, slice and set aside.

Season the shrimp with the Cajun seasoning. Toss to coat.

Melt the butter in the same skillet that you cooked the sausage in over medium heat.

When the butter bubbles, add the shrimp, and cook on both sides until pink and cooked through, about 2-3 minutes per side, depending on the size of the shrimp.

Remove the shrimp from the skillet, and set aside.

Add the garlic, cooking until fragrant and lightly colored, about 1-2 minutes.

Lower the heat to low, and pour in the cream and milk. Add the grated parmesan cheese, and stir until smooth and creamy, about 4-5 minutes.

Give the sauce a taste, and add extra salt and pepper, if necessary.

Add the pasta to the sauce, and toss until coated.

Serve the pasta in bowls, then top with the shrimp and sliced andouille sausage.

Garnish with parsley and more Cajun seasoning, if desired, and enjoy immediately.

If you've tried this recipe, come back and let us know how it was in the comments or star ratings!
Nutrition
Calories:
851
kcal
,
Carbohydrates:
63
g
,
Protein:
29
g
,
Fat:
54
g
,
Saturated Fat:
30
g
,
Polyunsaturated Fat:
5
g
,
Monounsaturated Fat:
15
g
,
Trans Fat:
0.3
g
,
Cholesterol:
222
mg
,
Sodium:
829
mg
,
Potassium:
520
mg
,
Fiber:
3
g
,
Sugar:
6
g
,
Vitamin A:
1956
IU
,
Vitamin C:
1
mg
,
Calcium:
360
mg
,
Iron:
2
mg