If you love pumpkin desserts, you'll also love this Cinnamon Pumpkin Bread Pudding; a fantastic way to welcome fall. Made with cinnamon swirl bread, plenty of warm spices, and real pumpkin, this easy dessert (or breakfast!) will surely impress.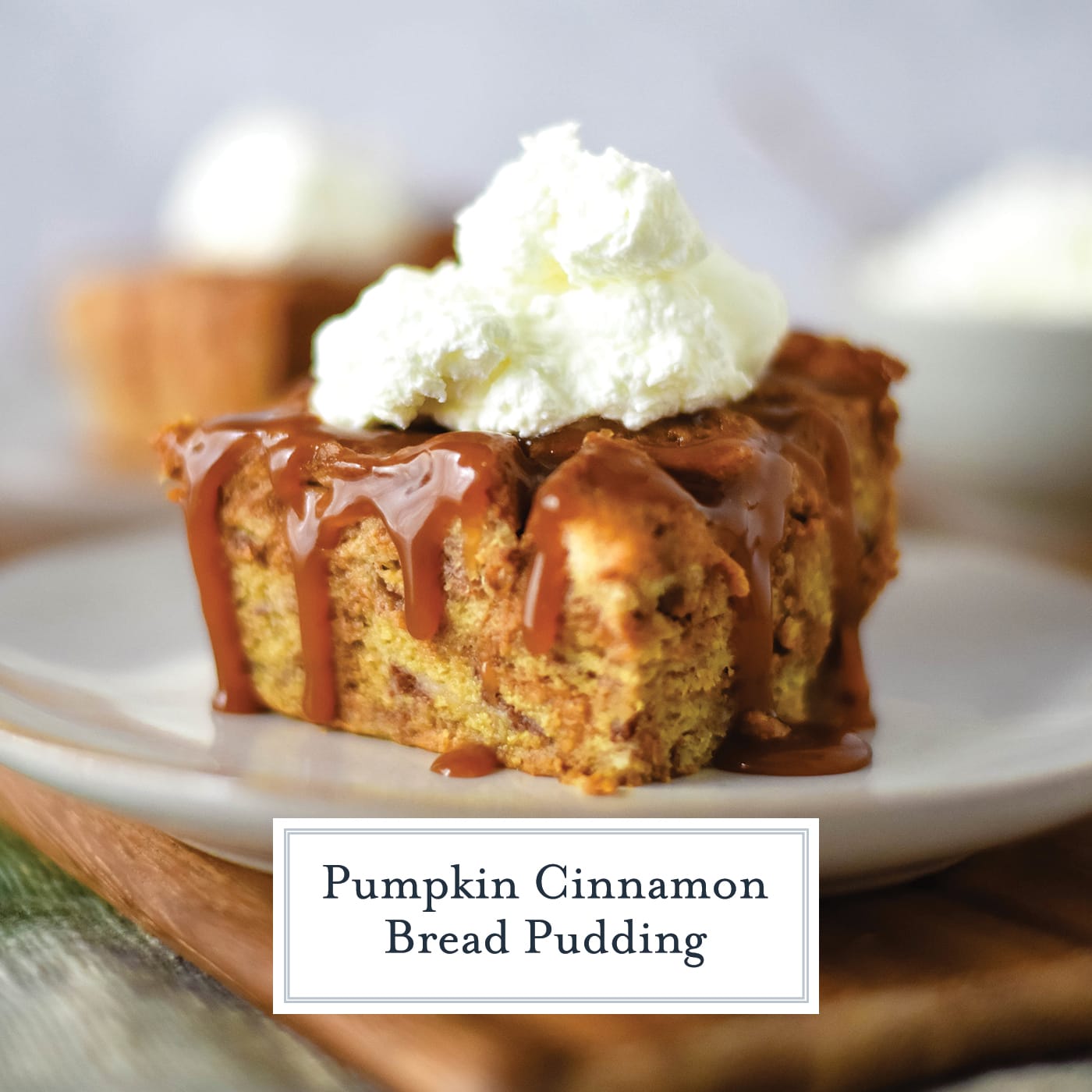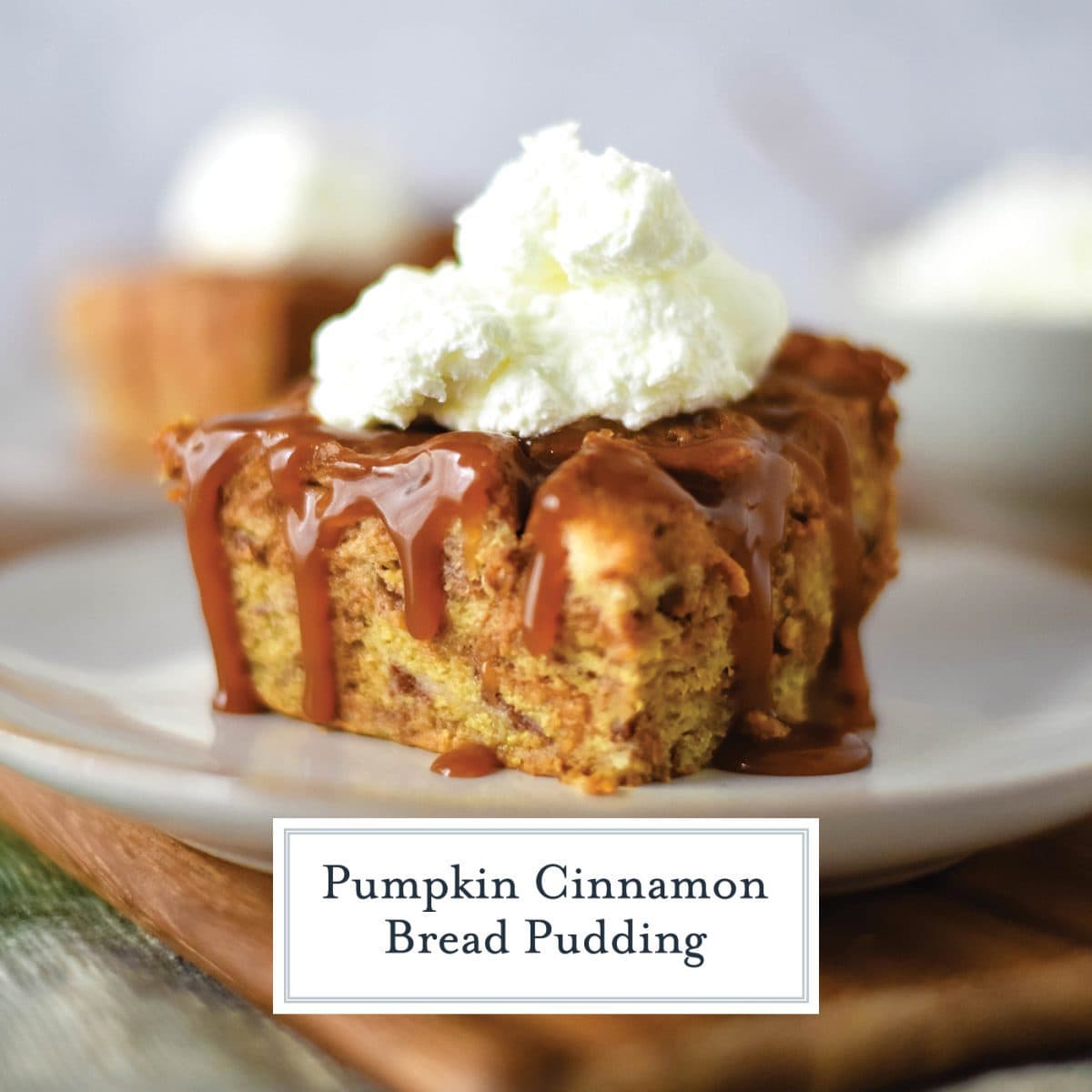 This easy and flavorful bread pudding is perfect for breakfast, brunch, or dessert- the perfect end to any holiday meal. The pumpkin and cinnamon flavors make it a great recipe to serve all fall and winter, and it is so easy to make you will be able to easily make one for all your get-togethers.
Good bread pudding is often made with any kind of crusty thick bread, like challah bread or french bread. But this recipe takes the fall flavors up a notch by making it with cinnamon swirl bread!
Ingredients
You only need a few ingredients to make this great fall dessert! That's why this cinnamon bread pudding in one of our favorites!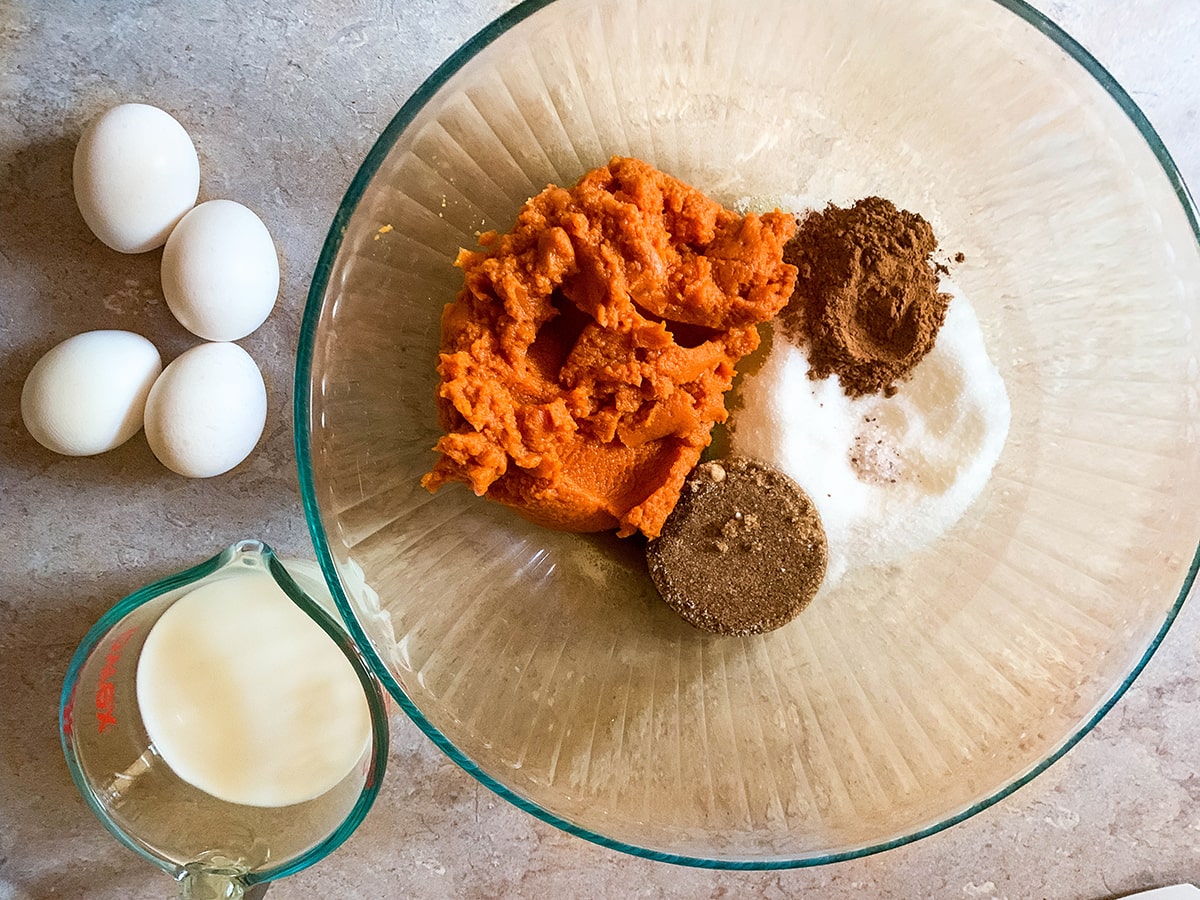 Eggs – Use fresh, quality eggs are best! You need 5 for a great custardy texture without it being too "eggy". Egg yolks give off the most flavor, so if you are worried, use 3 whole eggs and 4 egg whites. Some yolk is essential to make a custard base.
Whole milk – You can use a different fat percentage or even a non-dairy milk, but whole milk will give it the a richer flavor and texture. Some use part heavy cream too, but I found this to be a little too rich for my taste.
Canned pumpkin – make sure you use pure pumpkin puree and not pumpkin pie mixture.
Sugar – Using a combination of brown sugar and granulated sugar sweets and adds a hint of molasses flavor.
Vanilla extract – use a good quality pure vanilla extract, not imitation flavoring.
Pumpkin pie spice mix – Use a pre-bought pumpkin spice, or make your own. You can also substitute apple pie spice mix in.
Salt – just a touch helps bring out the sweetness and pumpkin flavor.
Cinnamon swirl bread – Find this in your grocer's bread aisle! You can also use a loaf that has raisins in the swirls. Stale bread or day old bread works best because the dry parts soak up the custard well.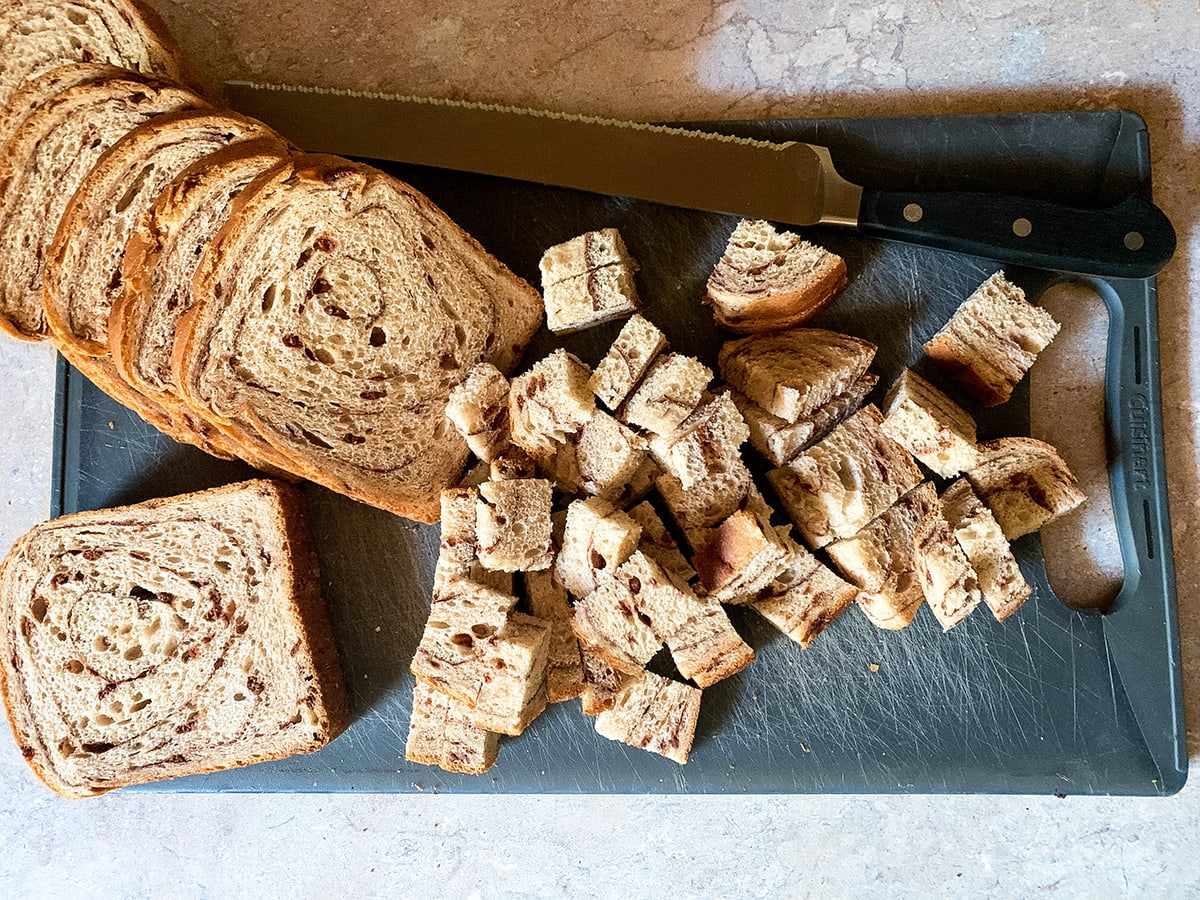 How to Make Bread Pudding
This recipe is so easy to make!
Preheat the oven and prepare the baking pan.
In a large bowl, whisk together all the ingredients except for the bread. Set side.
Slice the bread using a serrated knife (bread knife). Since cinnamon swirl bread is usually pre-sliced and on the thinner side, you want to use slightly larger cubes so they don't disintegrate.
Gently toss the cubed bread into the pumpkin custard and allow to rest for 10 minutes so the bread can soak up some of the liquid. You might want to toss one more time between to get any pieces that weren't fully coated.
Transfer the mixture to the prepared baking pan.
Use a spoon or spatula to press down on the egg mixture, evenly distributing it and really pressing it down to help create the right texture.
Bake until set, for bread puddings that usually means it will be slightly spongy, but with an internal temperature of 160°F. Actual cooking times might vary depending on the depth of your baking dish.
Allow to cool for a few minutes and then serve with caramel sauce and whipped cream!

*Recipe Note: This bread pudding recipe is on the wetter/more pudding side. If you want a thicker, drier bread pudding, add another half loaf of cinnamon swirl bread to the recipe. Don't cut down on the milk and eggs, just bulk it up with more bread.
Prep Ahead: You can make this a day ahead and place it in the fridge overnight before baking.
Cinnamon Bread Pudding Variations
This bread pudding is great because it is so versatile, and served so many different ways.
Serve it for breakfast, brunch, or dessert.
Serve it hot or cold (it's amazing warm from the oven, but leftovers are awesome straight from the fridge, too).
Serve it with a bread pudding sauce like caramel sauce, a bourbon sauce, or a traditional vanilla sauce. Fudge is also delightful.
Serve it with homemade whipped cream, or vanilla ice cream.
Fold 1 cup of raisins or chocolate chips into the custard.
USe a batch of our Pumpkin Muffins with streusel for a fun twist.
You can't make a wrong choice here!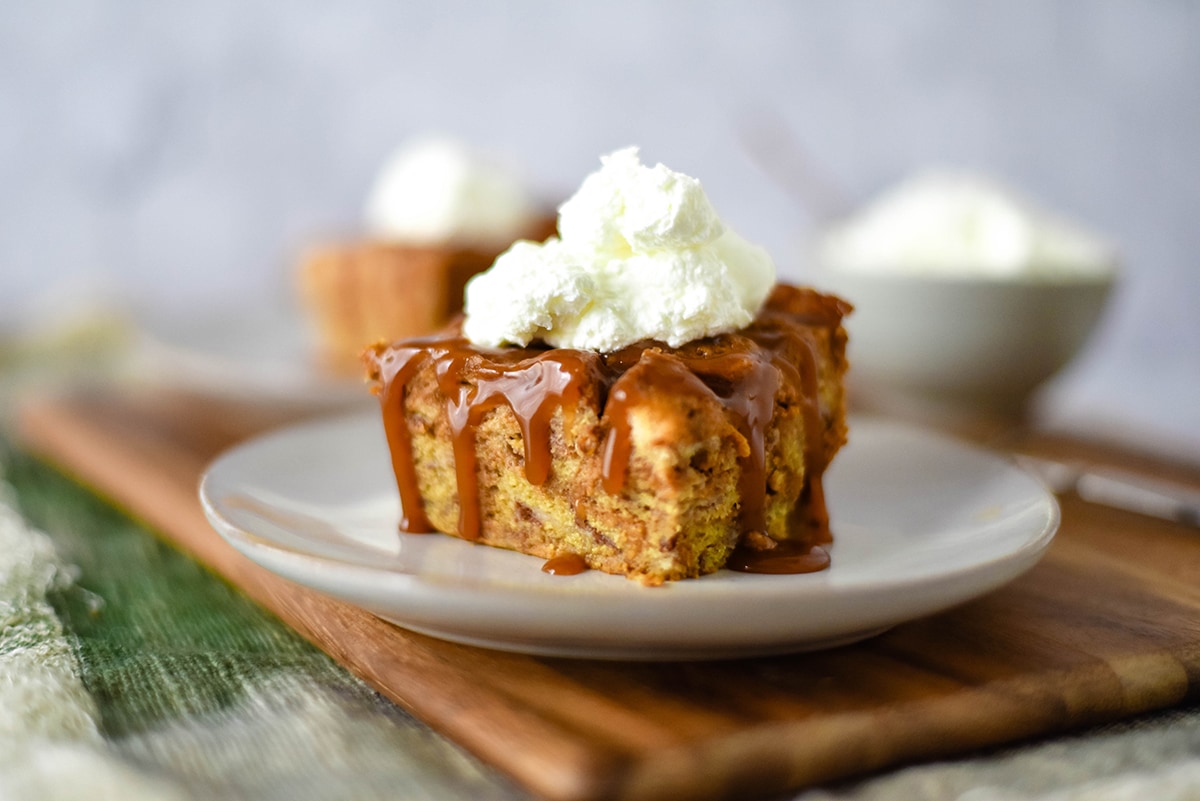 Leftovers & Freezing
Store any bread pudding leftovers in a covered container in the fridge for 2-3 days.
To reheat and serve, cover the container with foil and bake at 350 F for 15-20 minutes. You can also reheat individual servings in the microwave for 45-60 seconds, or until warmed through, but like any bread, it has the tendency to get a little chewy.
Can you freeze bread pudding? YES! In fact, it freezes really well. Wrap any baked leftovers in aluminum foil and/or freezer paper well. Or place in a plastic freezer bag and try to get out as much air as possible to prevent ice crystals.
To thaw, place frozen bread pudding in the oven at 350°F and bake for about 20 minutes, or until warm all the way through. Do not thaw and then heat, it gets watery.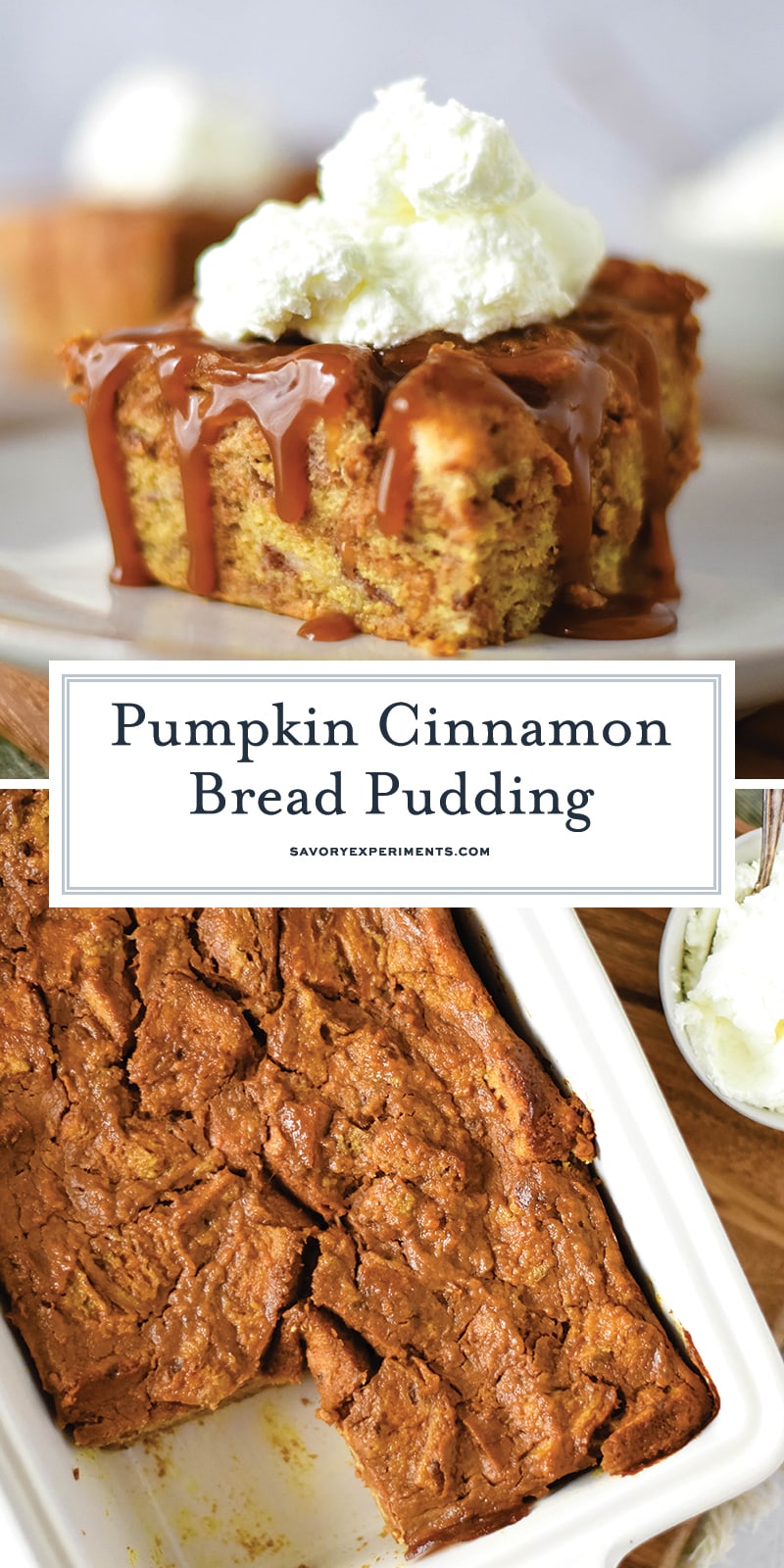 More Desserts You Will Love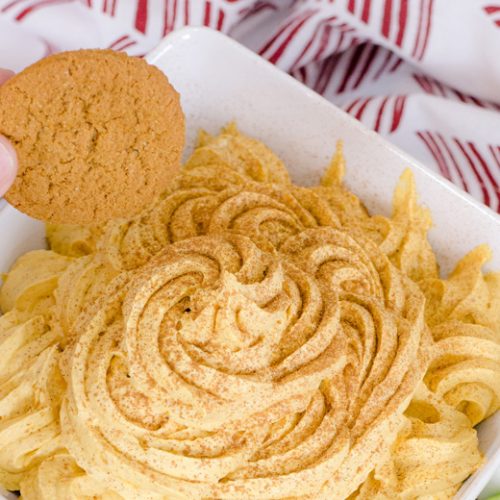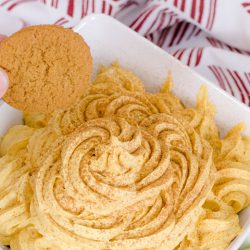 Pumpkin Fluff
Pumpkin Fluff is an EASY no bake fall dessert to dip graham crackers, apples, cookies or even a spoon into and enjoy all season long!
View this recipe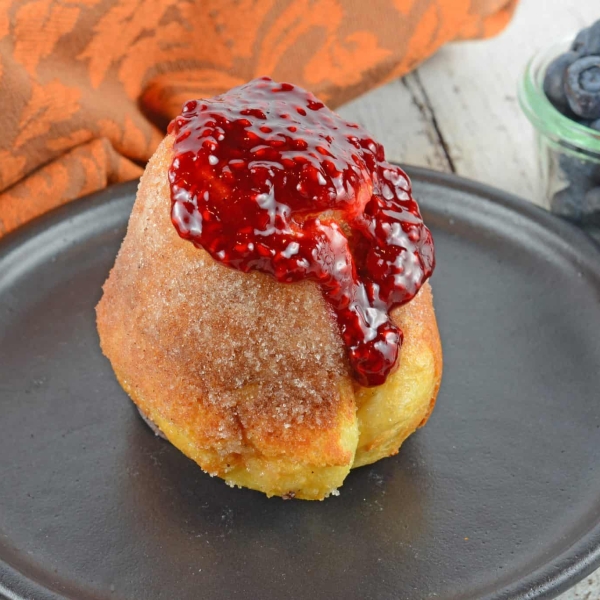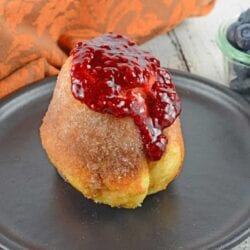 Cinnamon Sugar Popovers
Cinnamon Sugar Popovers are easier to make than you think! A crispy outside and chewy inside coated with cinnamon and sugar, then drizzled in a fresh raspberry sauce. Perfect for a decadent breakfast or dessert.
View this recipe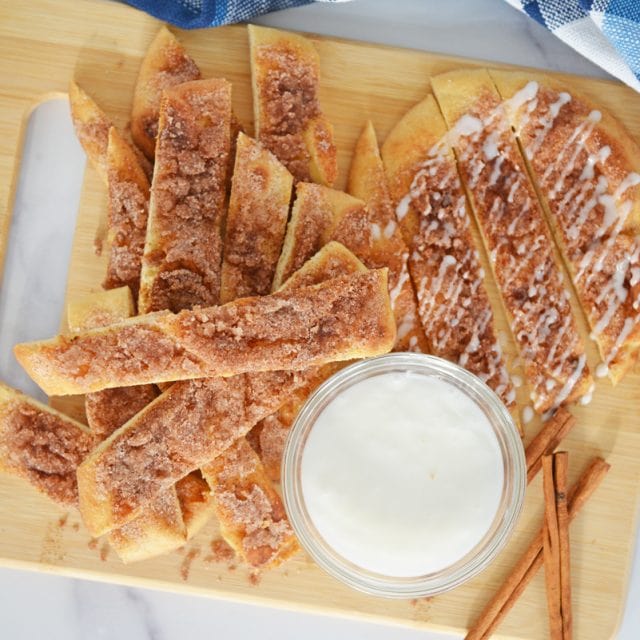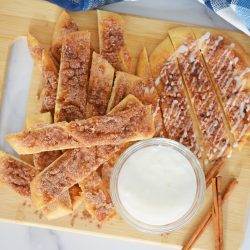 Super Easy Cinna-Sticks
Cinna-Sticks are super easy dessert or snack recipe using flatbreads, a simple cinnamon sugar mixture and powdered sugar glaze. Kids just love them!
View this recipe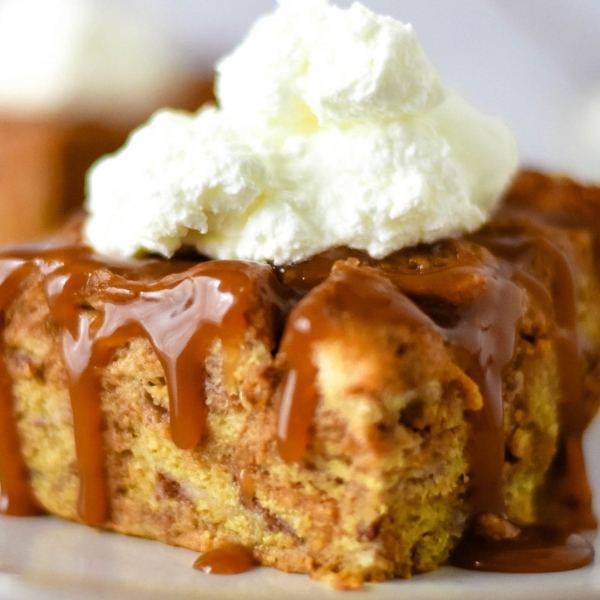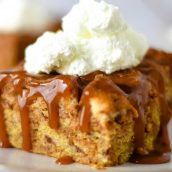 Pumpkin Cinnamon Bread Pudding
Pumpkin Cinnamon Bread Pudding is the best way to welcome fall! With cinnamon swirl bread, warm spices, and real pumpkin, it's the BEST!
Instructions
Preheat the oven to 350° F.

Coat a 9×13 baking pan with cooking spray and set aside.

In a large mixing bowl, whisk together the eggs, milk, pumpkin, brown sugar, granulated sugar, vanilla extract, pumpkin spice mix, and salt. Set aside.

Working with a few slices at a time, cut the bread into 1 1/2" cubes.

When all the bread has been cut, gently toss into the pumpkin mixture to coat.

Allow the mixture to rest for 10 minutes.

Carefully spoon the mixture into the prepared baking pan. Use a wooden spoon or spatula to evenly spread the mixture around and to press down on the mixture.

Bake for 45-55 minutes, or until the mixture is set and doesn't jiggle when you wiggle the pan.

Allow to cool before serving. Serve with caramel sauce and whipped cream.

If you've tried this recipe, come back and let us know how it was in the comments or ratings.
Notes
Nutrition is calculated without caramel sauce and whipped cream.
Nutrition
Calories:
237
kcal
,
Carbohydrates:
43
g
,
Protein:
7
g
,
Fat:
5
g
,
Saturated Fat:
2
g
,
Polyunsaturated Fat:
1
g
,
Monounsaturated Fat:
2
g
,
Trans Fat:
1
g
,
Cholesterol:
60
mg
,
Sodium:
227
mg
,
Potassium:
262
mg
,
Fiber:
3
g
,
Sugar:
23
g
,
Vitamin A:
5678
IU
,
Vitamin C:
2
mg
,
Calcium:
110
mg
,
Iron:
2
mg