I vowed to only make one pumpkin spice dessert this year and here you go- a spice cake made with pumpkin puree and rolled like a Swiss cake roll: Pumpkin Roll Cake!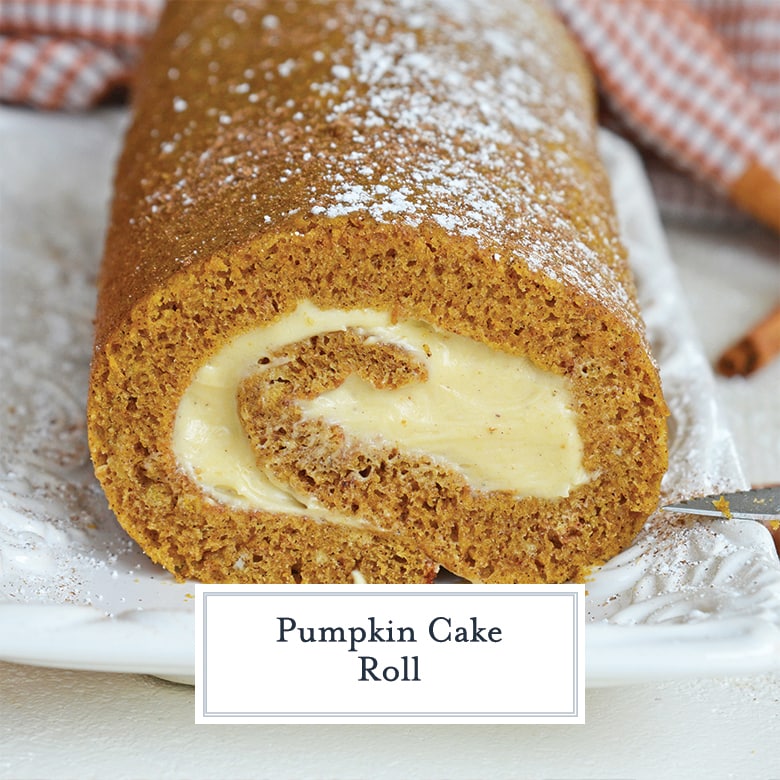 Pumpkin Roll Cake
And to be 100% honest, this was first time I made a roll cake. I've always been a little timid seeing that I am not the most delicate baker. Savory dishes that allow for more error tend to be more my jam.
But I did want to try it. They look so pretty!
And you just can't beat the cake to frosting ratio. As a person that might enjoy frosting- especially cream cheese frosting- more than cake, this was right up my alley.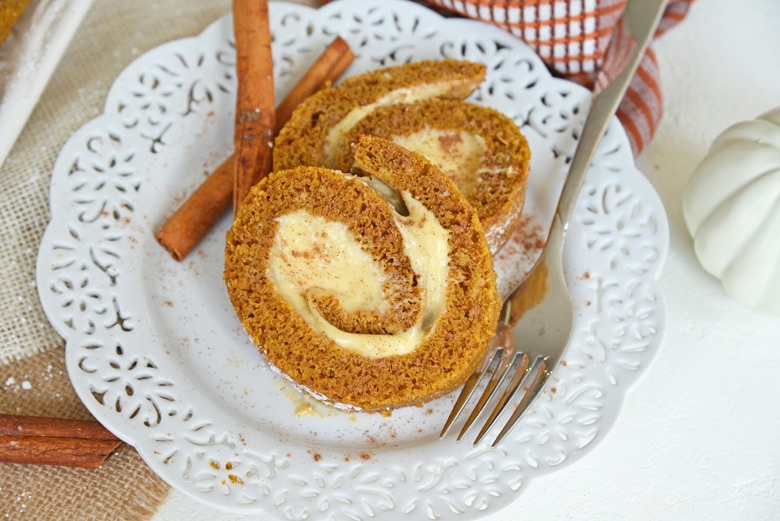 It wasn't as hard as I thought either! So here is the skinny…
Tips for Making Roll Cakes
Don't skimp on the parchment paper. You really do need it. Buy the precut sizes or measure well and cut well. Cake batter can leak under the parchment and that is no good.
Don't over bake the pumpkin roll cake. It needs to lightly spring back when touched and be a little spongy.
Loosen the edges. Use a butter knife to loosen the edges around the baking sheet before inverting it.
Invert and roll with a tea towel while the cake is still hot- like literally right out of the oven. It is the most malleable and will have less chance of tearing or breaking while hot.
Dust your tea towel with powdered sugar to prevent sticking.
Make sure you frosting is a spreadable consistency. This is a thin, delicate cake, so you don't want to have to do a lot of working it around.
Allow the cake to fully cool before unrolling and frosting.
Store your pumpkin roll cake in the refrigerator. Since the frosting is made with cream cheese, dairy, it needs to be kept chilled.
Jelly Roll vs. Cake Roll
The two are the same, but jelly roll seems like the old school term while cake roll is the newer label.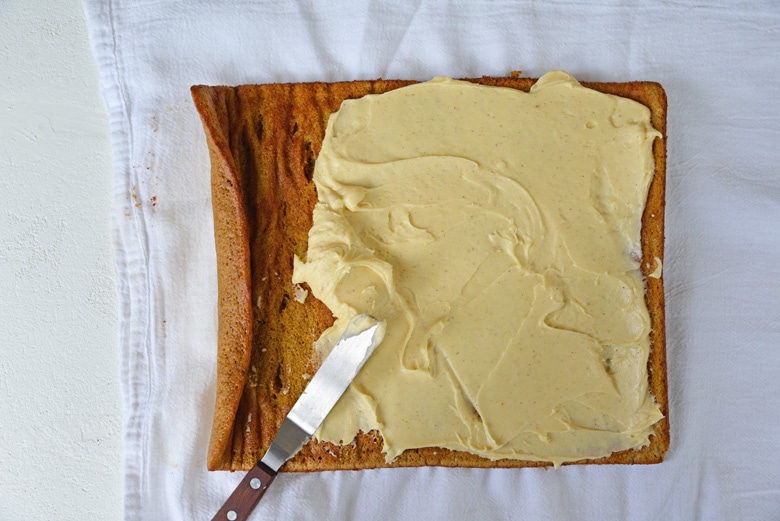 Jelly roll cakes presumably got their name because they were baked in a jelly roll pan (rimmed baking sheet) and maybe also because many were stuffed with a jelly or jam instead of frosting or ice cream.
Cake rolls are similar to Swiss cake rolls and such, the name kind of stuck. They are pretty interchangeable and equally delicious!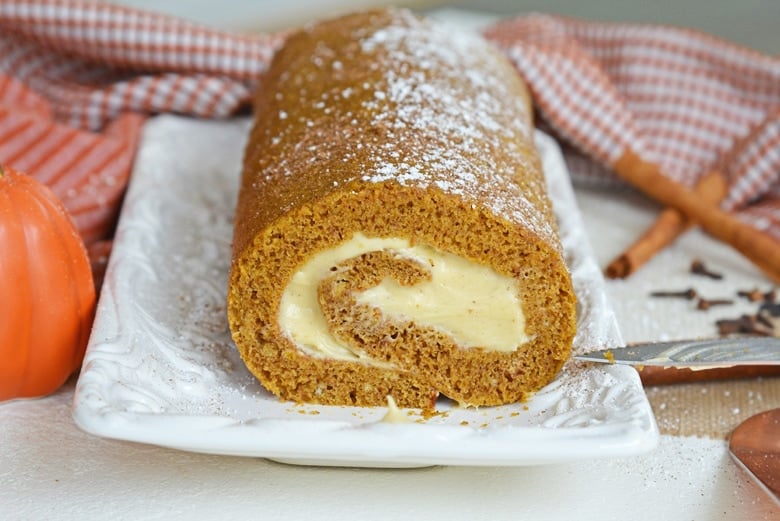 Pumpkin Roll Cake Ingredients
Ingredients for a pumpkin roll can vary. I was honestly aiming for more of a spice cake, but ended up adding pumpkin knowing it would help to keep it super moist.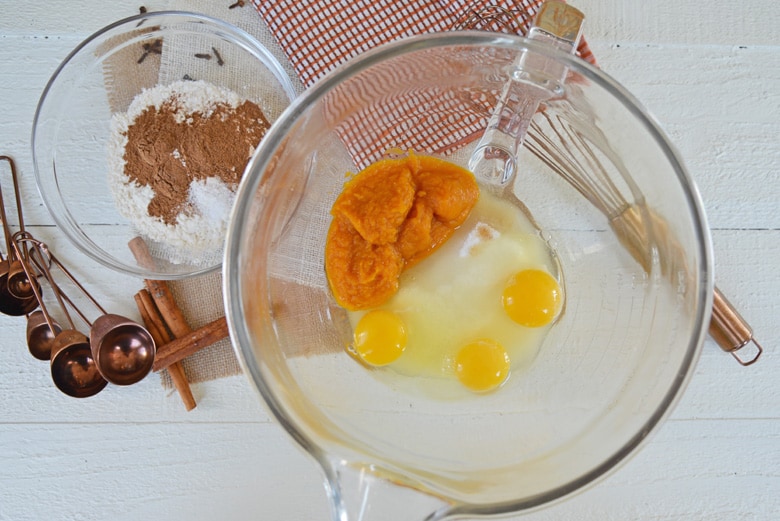 Pumpkin alone is actually pretty flavorless. It needs the spice blend to amp it up. The rest of the ingredients are pretty standard as far as cakes go.
Pumpkin puree- not pumpkin pie filling (which is already spiced and sweetened). Consider making your own for best results.
Pumpkin pie spice– make your own, thank me later. Apple pie spice can be substituted in a pinch.
Flour– to provide structure and bind.
Baking powder & baking soda– to leaven and rise.
Coarse Kosher salt– use a coarse salt or cut the amount in half if using fine salt.
Eggs– to bind and provide structure.
Sugar– to sweeten… this is a cake recipe!
Vanilla extract– learn how to make my never ending vanilla…
Pumpkin cream cheese frosting– this is where the magic happens and what really sets this pumpkin roll recipe apart from others.
Spiced powdered sugar- or use just plain powdered sugar or make little dollops of frosting or whipped cream for decorating.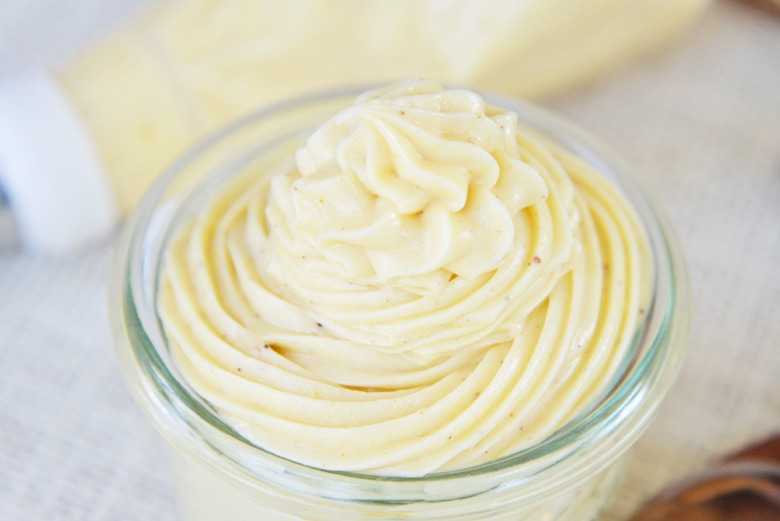 How to Make a Pumpkin Roll Cake
Start by making the cake batter. Simply combine the ingredients and then set the bowl aside.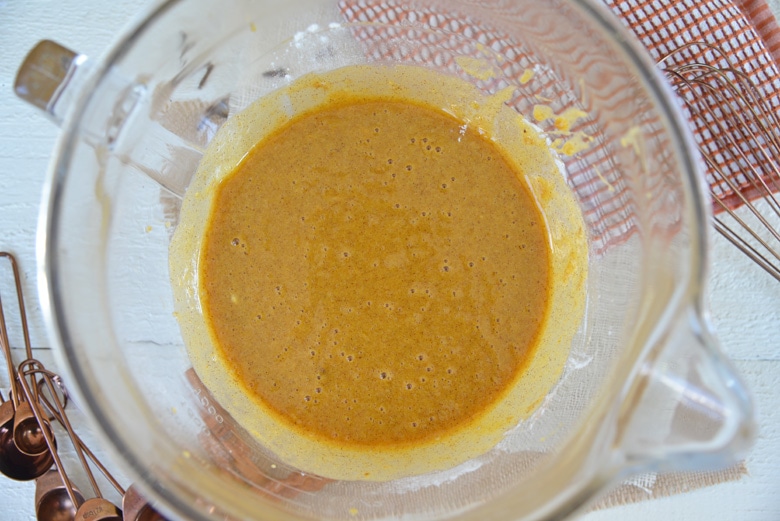 Line a jelly roll pan (rimmed baking sheet) with parchment paper. I used a 9×13 pan for this one. I like that it is a little thicker. You can use a 11×15 pan as well for a little thinner, which makes it easier to roll. This one is still thinner than others… leaving more room for frosting!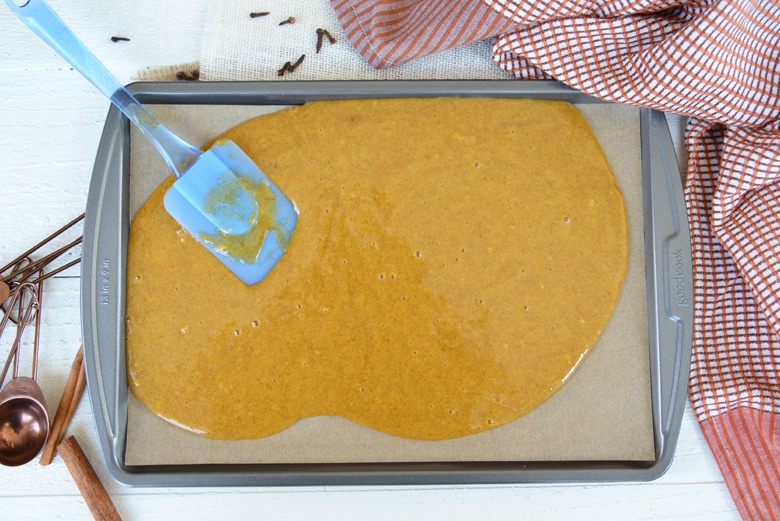 Pour batter into the prepared pan and bake. Don't over bake, removing when the cake springs back to the touch and is a little spongy.
Immediately (and carefully) invert it onto a clean tea towel. Peel off the parchment paper and gently roll in the tea towel.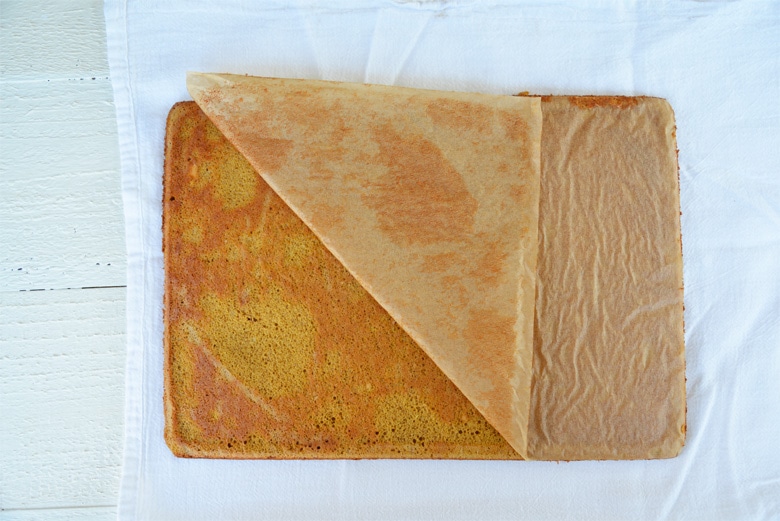 Set aside and allow to cool fully.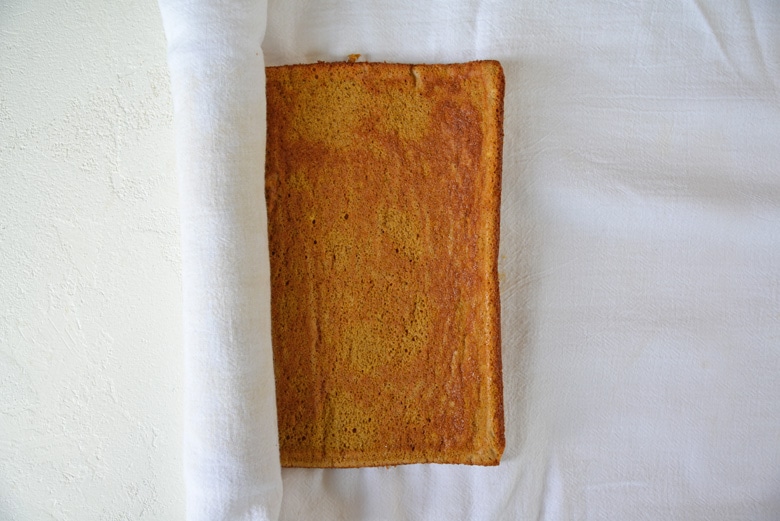 When cool, unroll and frost to edges, smoothing with a knife. Re-roll, plate seam side down and refrigerate for at least 1 hour.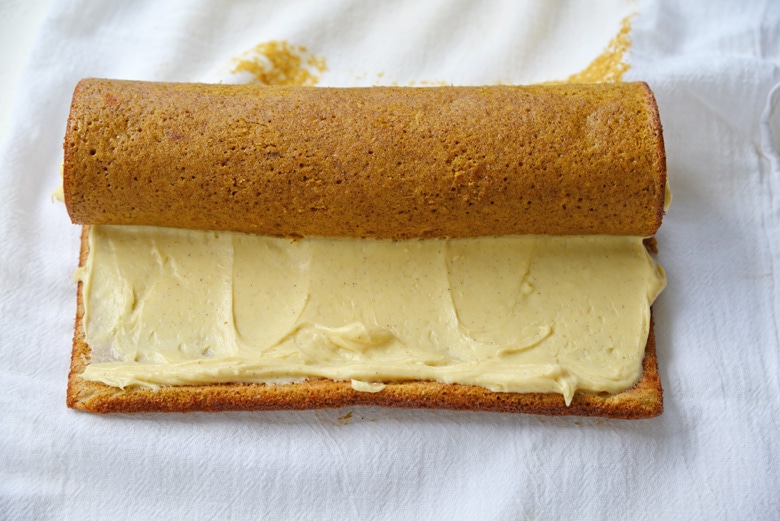 Before serving, dust with spiced powdered sugar or top with whipped cream. Use a serrated knife to slice.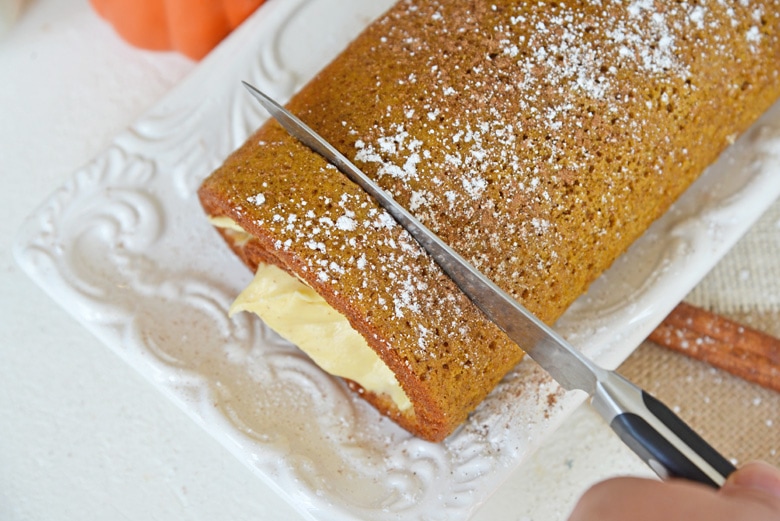 Pumpkin Cream Cheese Frosting
I used a custom frosting here. First I made a savory pumpkin cream cheese and then made that into a sweet frosting. The beauty is that it isn't that sweet. The frosting isn't super thick or super sweet.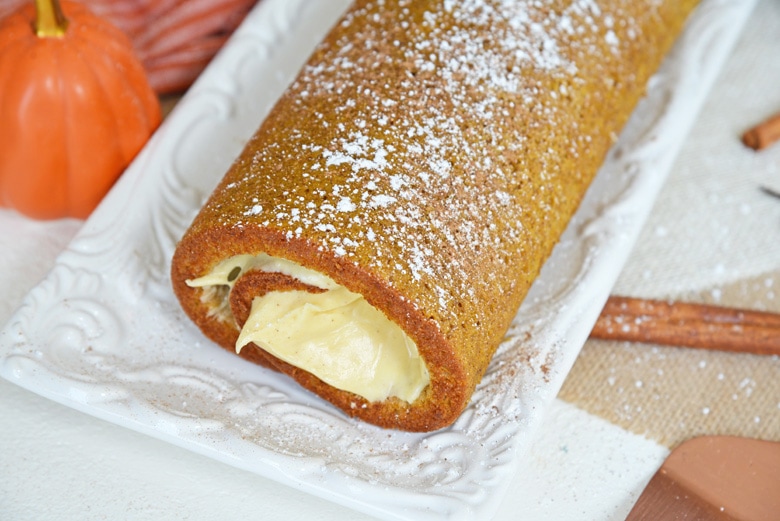 Perfectly balanced, it is ideal for having with a cup of coffee or tea. You can even enjoy it as a breakfast cake.
Storage
Keep your pumpkin roll cake covered in the refrigerator. Cake is best on the first day, but will last up to 5.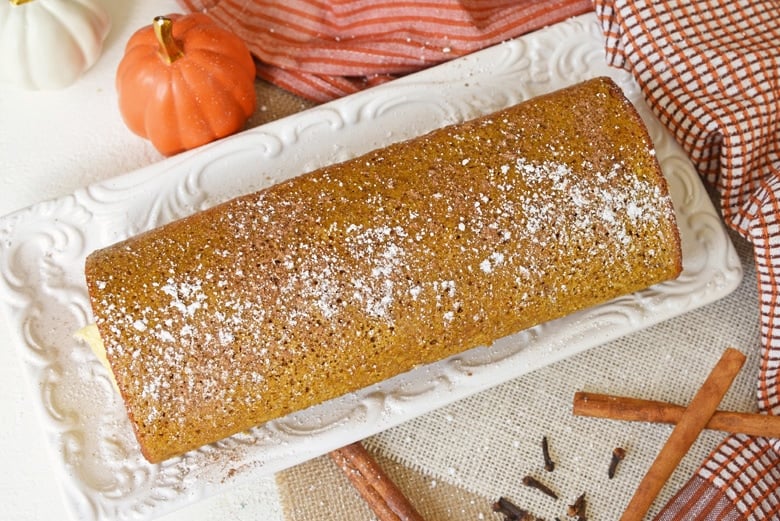 This cake doesn't freeze well. It thaws fairly dry, so I don't recommend freezing either whole or by the slice.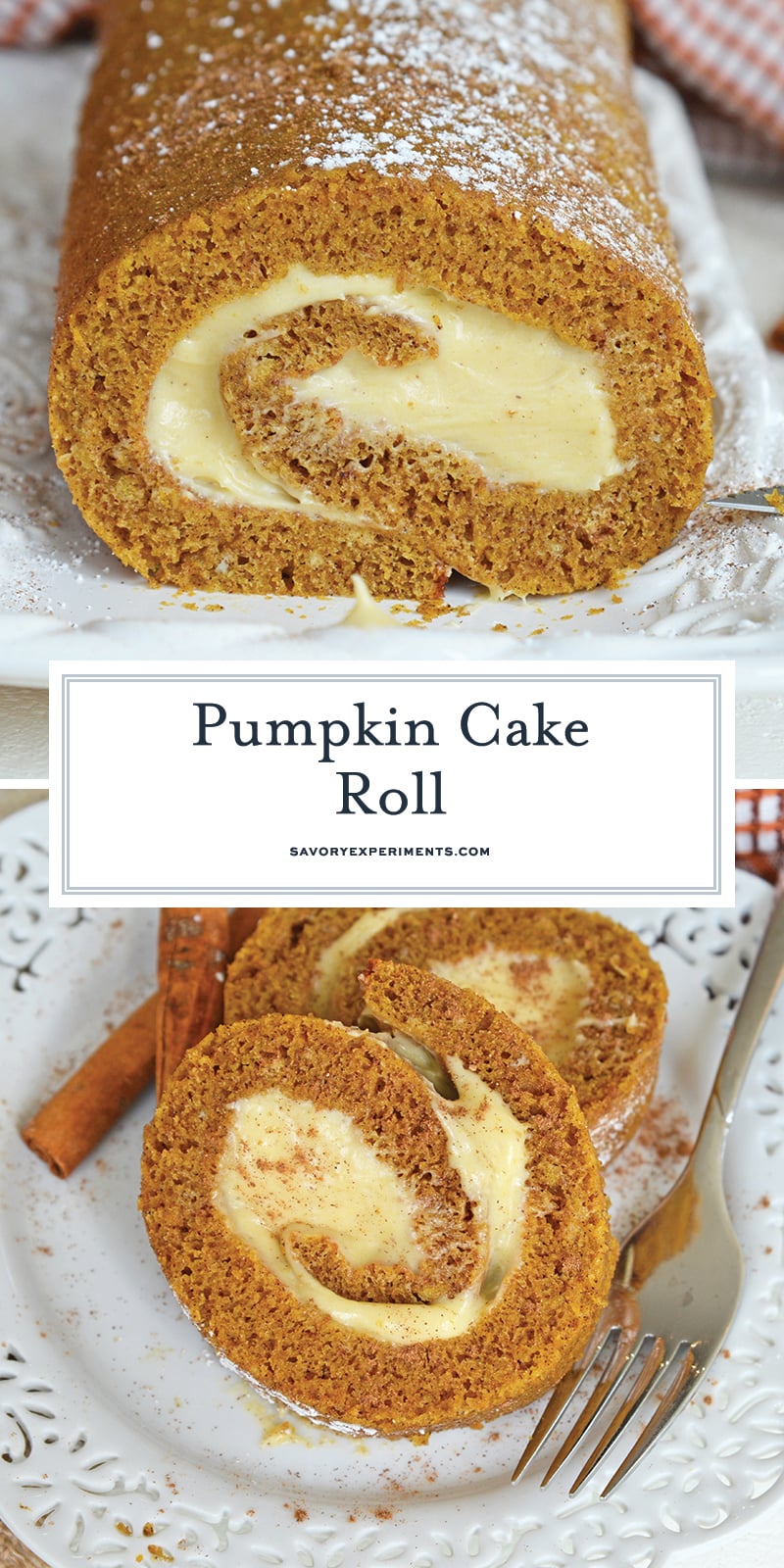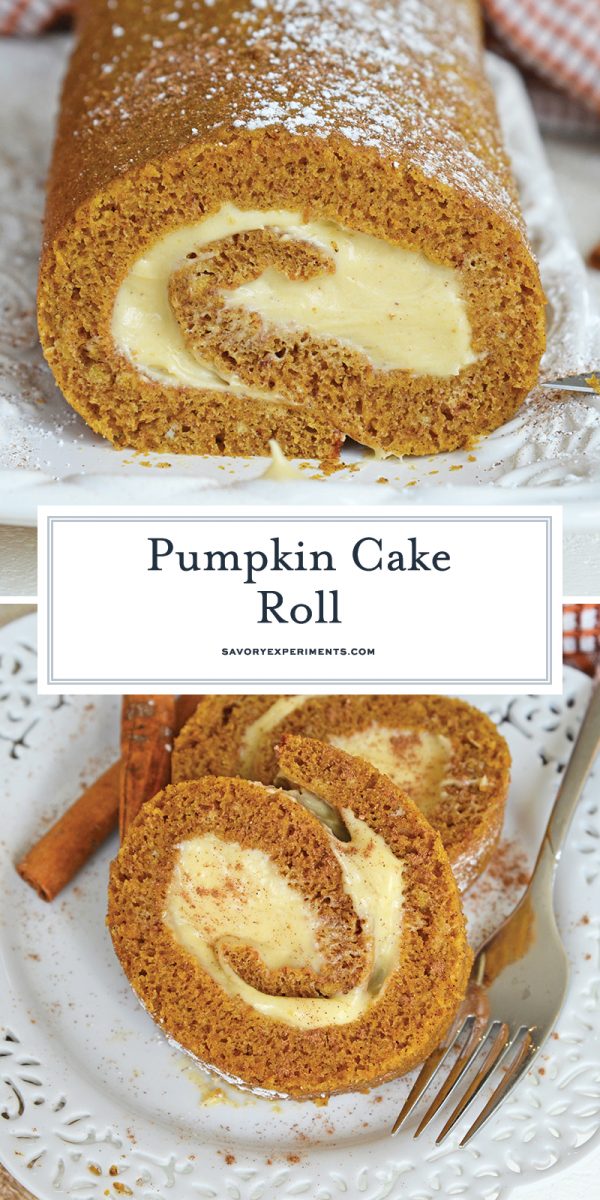 More pumpkin recipes: