Let's talk Pumpkin Fluff, okay? Don't get burnt out trying pumpkin recipes until you've tried this Pumpkin Dip!
This creamy goodness is sweet, delicious and a favorite dip around the holidays. It's easy to make a batch last minute and dip your favorites right into.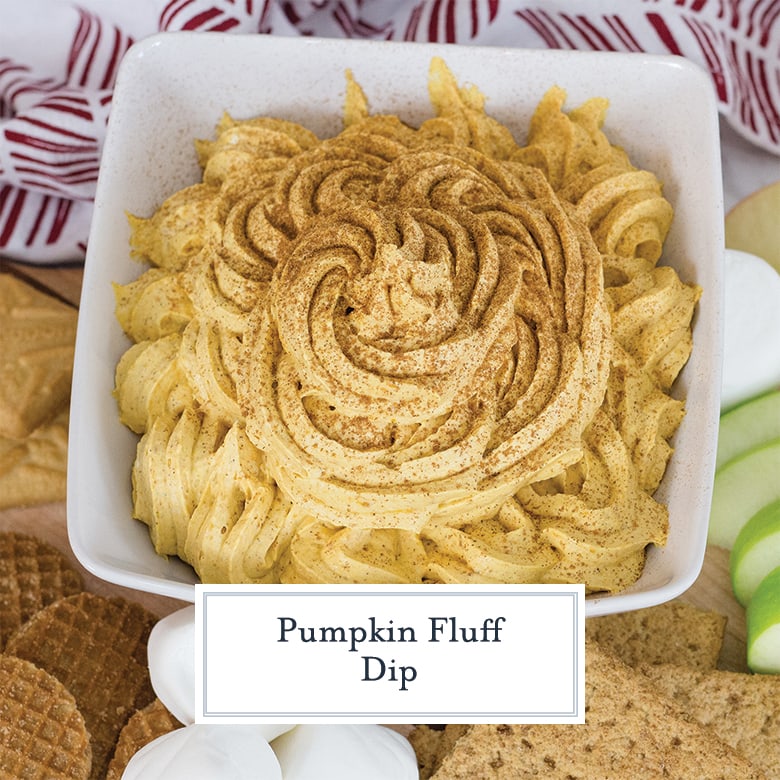 Fall flavors are a must in my home, the smell of cinnamon, nutmeg, and pumpkin just make me smile. It's like a big warm hug, something we all need. Pumpkin Fluff Dip, sometimes called pumpkin pie dip, is made with only a few simple ingredients and can easily be made right when you need it or even the day before.
This is a recipe that is perfect for those little chefs to get into the kitchen and learn to mix together. And who knows, you just might make some fun memories too.
Pumpkin Fluff is an easy no bake dessert that you dip graham crackers, apples, Stroop Waffles, ginger snaps, vanilla wafers or even a spoon and enjoy.
What is Pumpkin Fluff?
Pumpkin Fluff is a dip, a dessert, a fall treat if you will. It's creamy and delicious and the best part is everything you dip into it.
Don't hesitate to lick your fingers clean should they find their way into the bowl. You know it will be smiles to the table when you serve this up in a mini pumpkin too.
Pumpkin Fluff Ingredients
The ingredients for this dip are really quite simple. And aside from a few spice you more than likely already have in your spice cabinet, you really only need to pick up three things:
Pumpkin puree – Make your own or use store bought in a can.
Cool Whip– use a whipped topping, not actual whipped cream. It is more stable and will not fall flat and melt after a day or two in the fridge.
Instant vanilla pudding mix– Sugar free pudding works too.
Cinnamon – read my notes on fresh cinnamon and the best type to use for full flavors!
Nutmeg – ground or grate your own.
Allspice – ground or grind your own.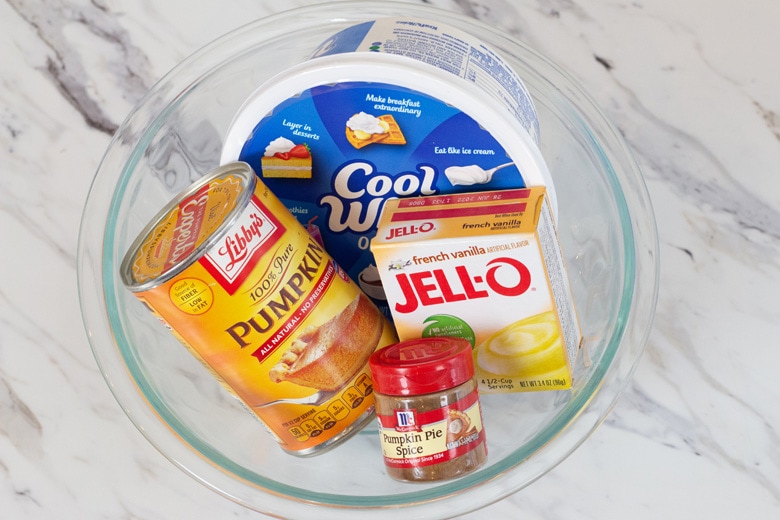 The fun part is when we get to the dippers! The options for these are endless, but here are a few of my favorites:
Apple slices
Nilla Wafers
Graham crackers
Pretzels
Gingersnaps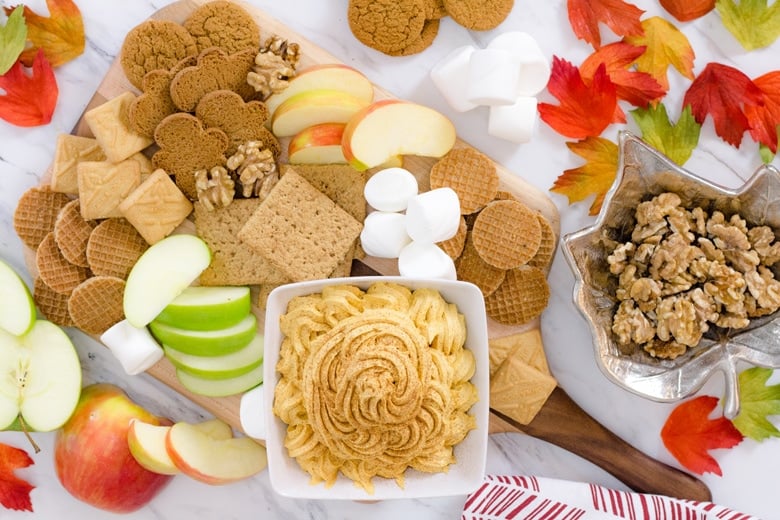 Substitutions
What makes this Pumpkin Fluff recipe so perfect is the light texture and great flavor, but also all of the ways you can customize it to your liking.
For more of a rich flavor, try substituting instant cheesecake pudding for vanilla pudding. You can even add pumpkin pie spice for extra seasoning, or as a garnish on top.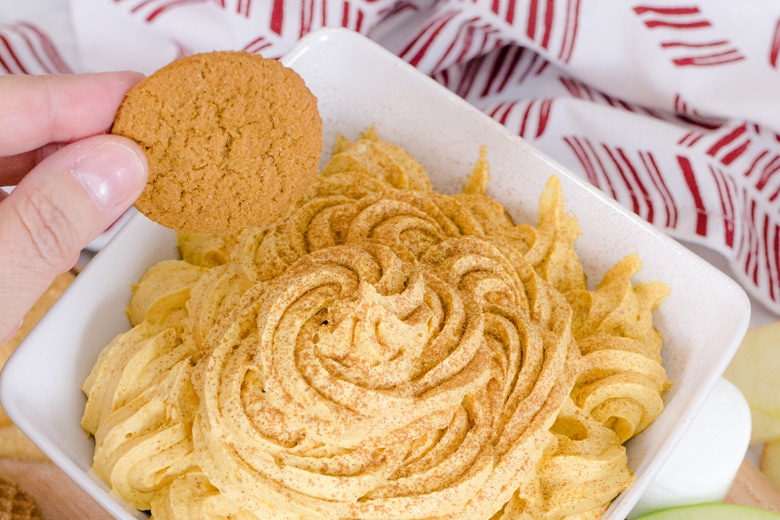 Maybe you want just a hint of pumpkin, then you will prefer this recipe made with 1 cup of pumpkin puree. If you are die-hard fan of all things pumpkin then you will love using the entire can of pumpkin for this dessert fluff recipe.
How to Store and Serve Pumpkin Fluff
Should you have any extras make sure to store Pumpkin Fluff Dip in an airtight container and put it in the refrigerator.
Pumpkin Fluff Dip can be served in a mini pumpkin, which is adorable by the way, or in single serve cups.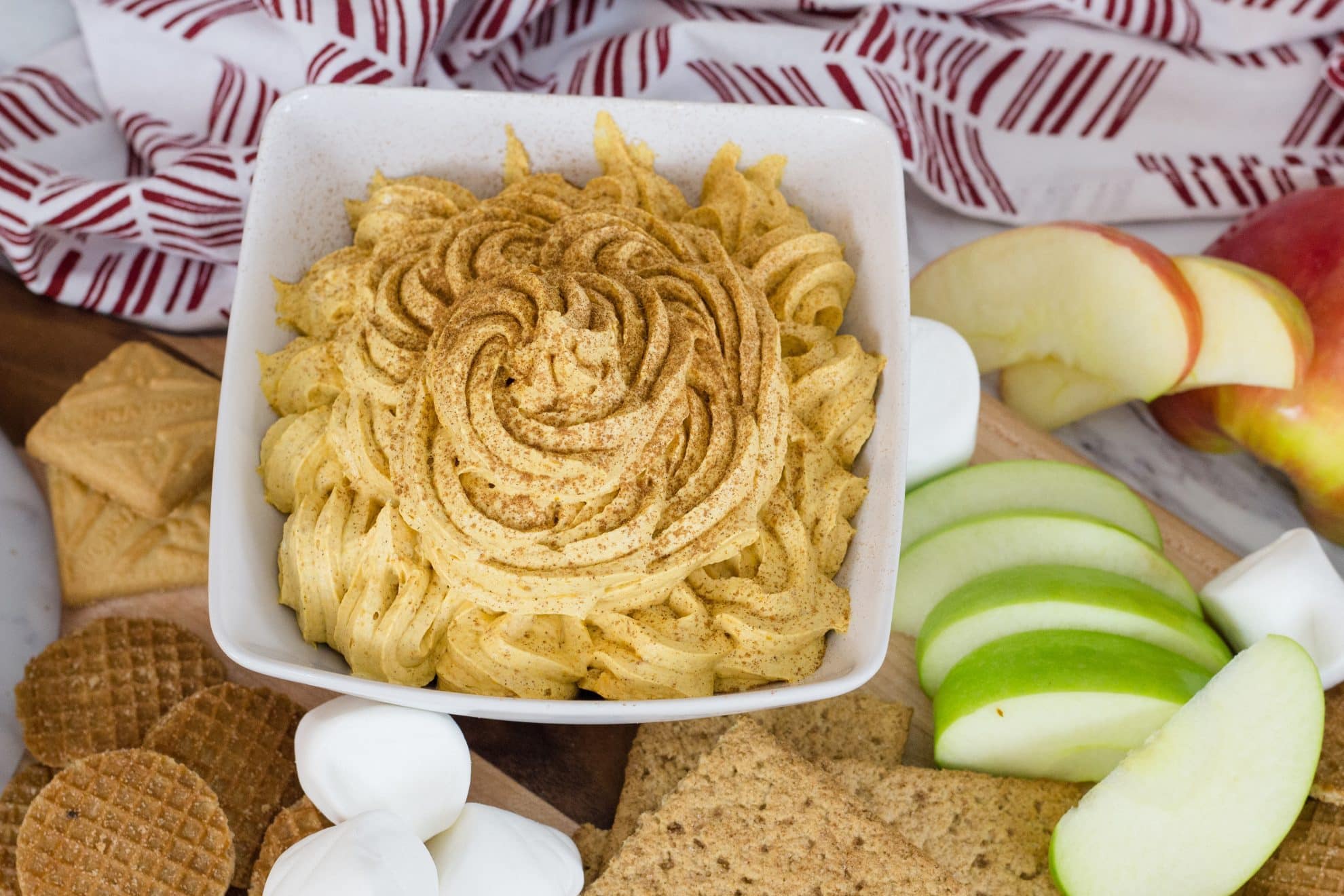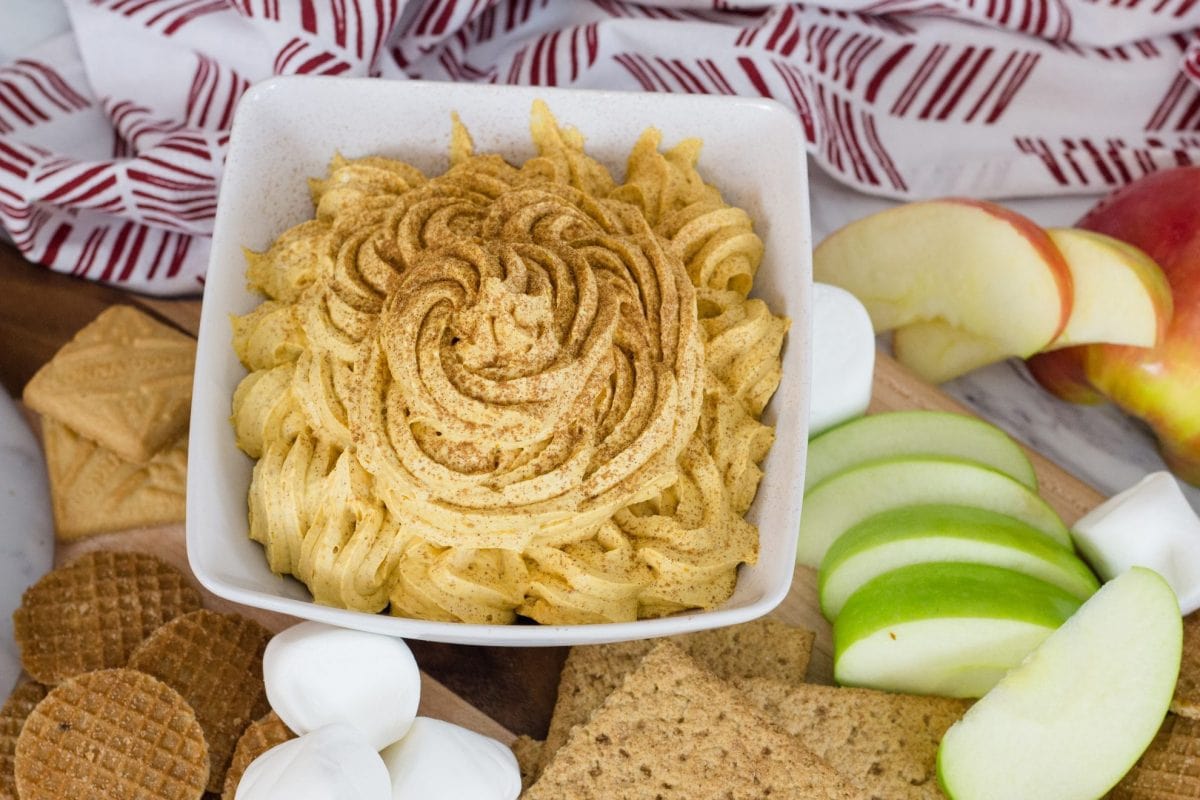 You can absolutely make this the day before too, although I prefer to fold in the Cool Whip right before serving so it doesn't go flat.
With the holidays right around the corner make sure to save this recipe, It will be a welcome surprise at any party or event. Or just surprise your family or co-workers one day out of the blue. It never hurts to make someone smile!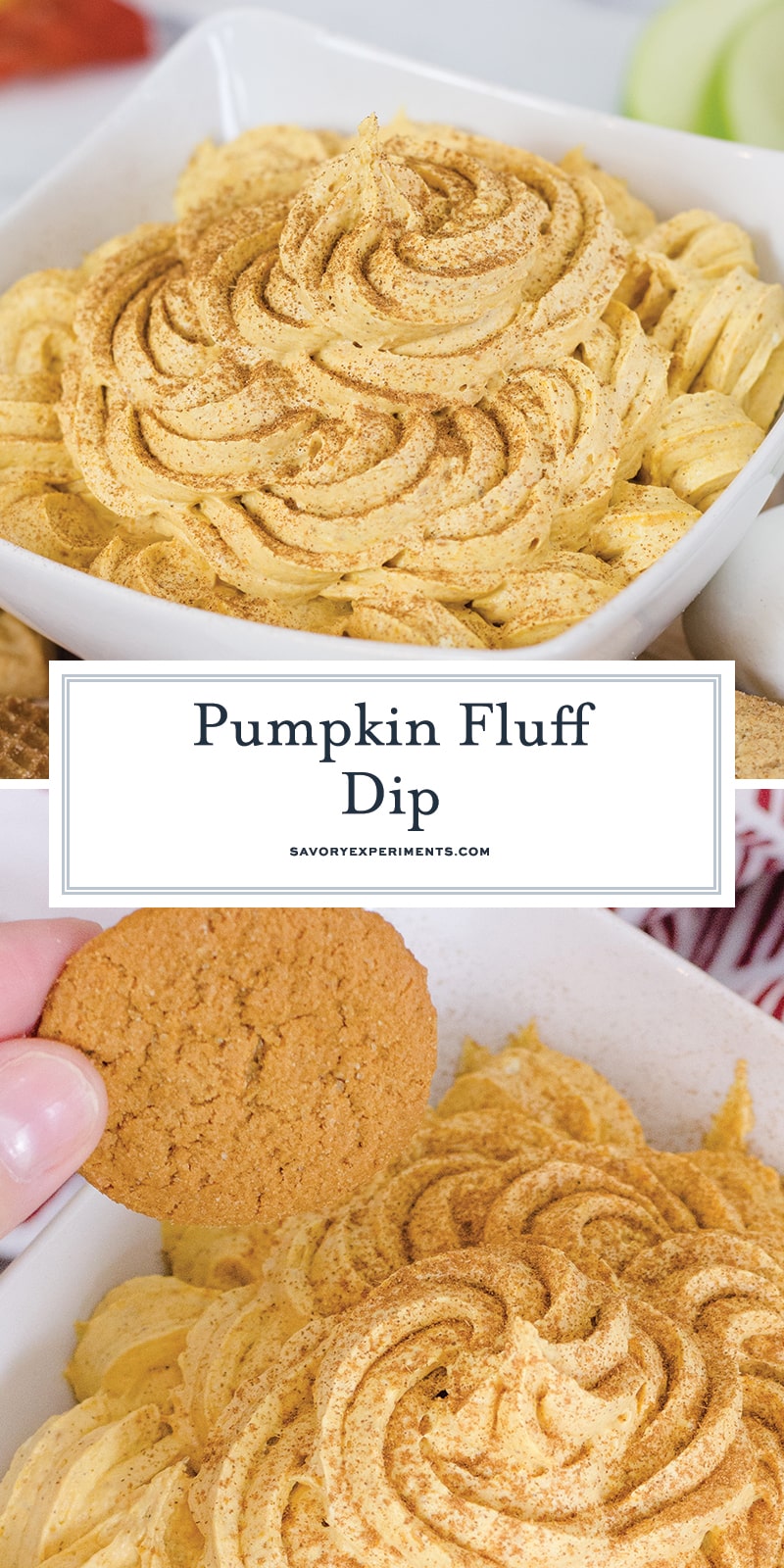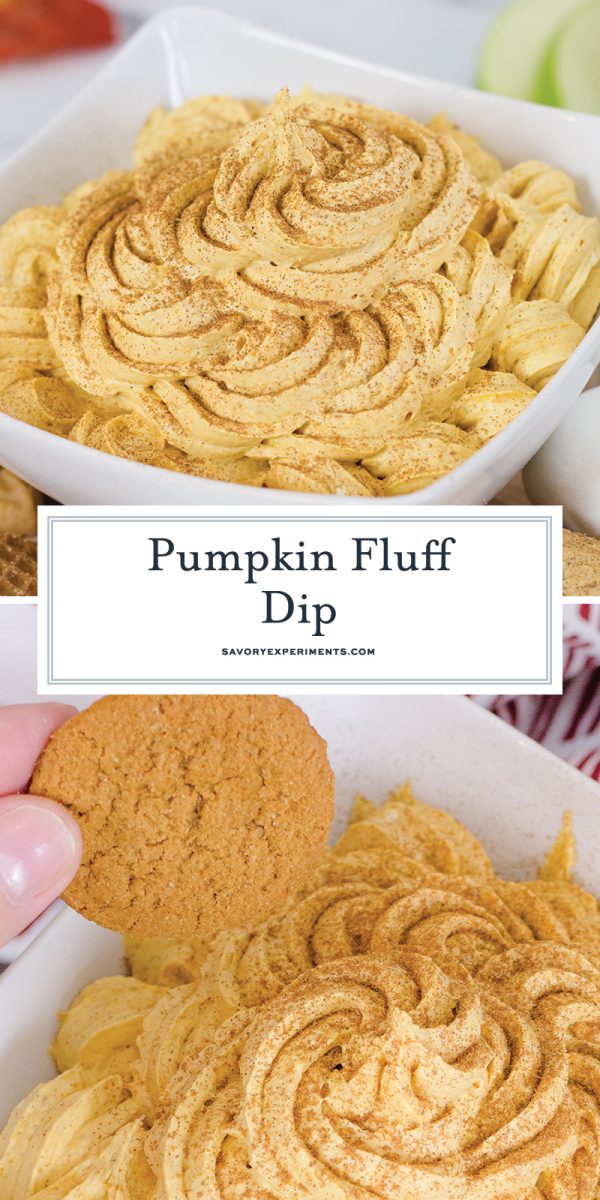 More fall desserts: