I have fond memories of cinnamon and sugar. On toast, churros, sopapillas, sugar cookie, pretzels and of course, cinna sticks, sometimes known as cinnamon sticks or even cinna stix.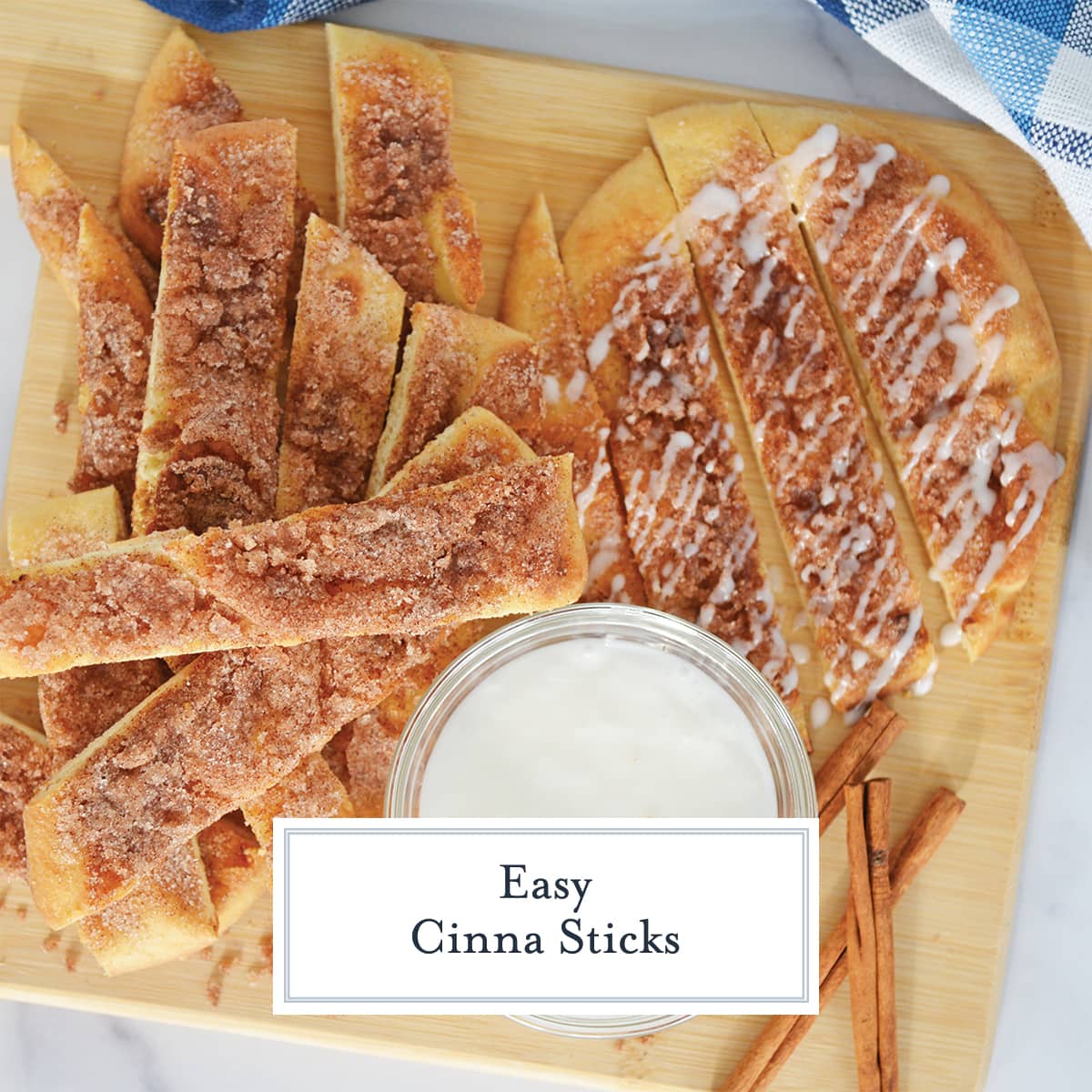 Cinna Sticks Recipe
Cinnasticks are super easy dessert or snack recipe using flatbreads, a simple cinnamon sugar mixture over melted butter with a powdered sugar glaze. A blend of churro and sopapilla.
There is a reason why they are so darn popular at Domino's Pizza. They are basically cinnamon sugar sprinkled on pizza dough. Basically just dessert bread sticks. Can you check out that crunchy bubble of deliciousness?
The concept for these easy Cinna sticks are simple: cinnamon toast, but flatbread, with a simple powdered sugar glaze. Similar, but slightly different.
I use regular granulated sugar but make sure you use the good ground cinnamon. Not only will it taste better, it also has a few nutritional properties. Yes, I just tried to tell you that your dessert might be the slightest bit good for you…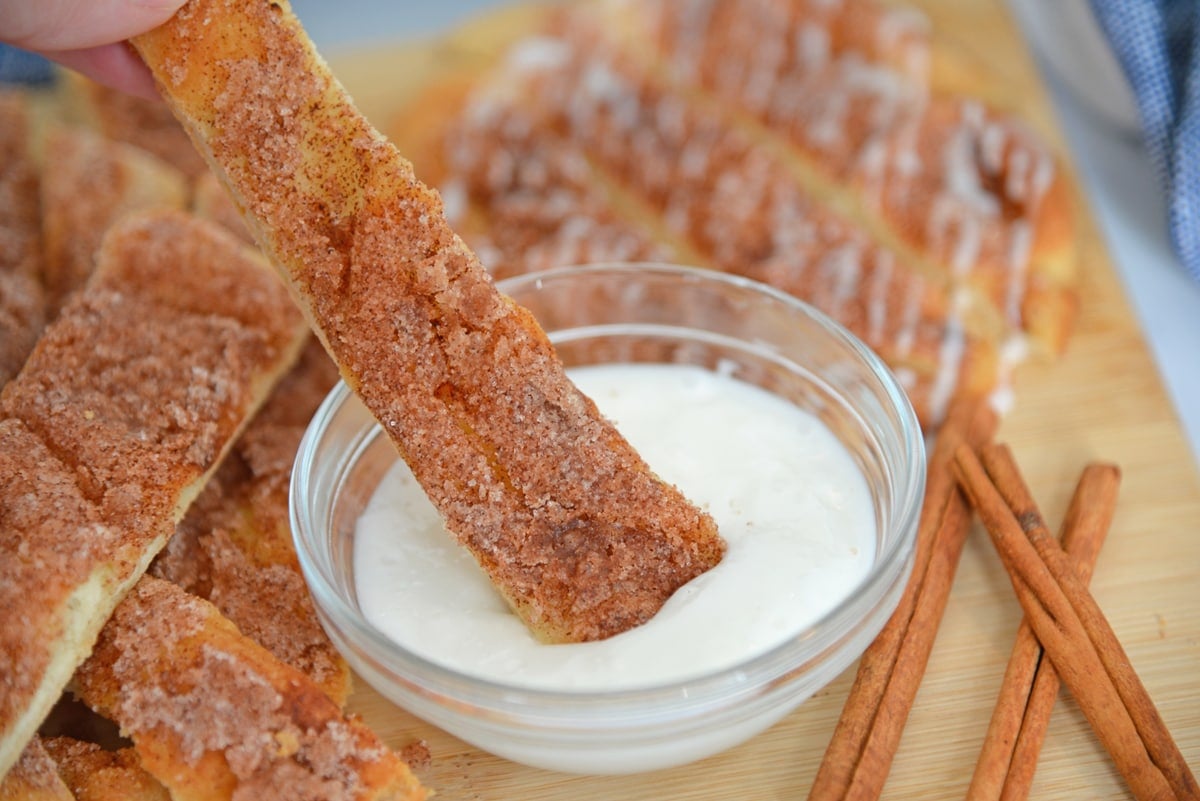 Cinnamon Sugar Toast
This might sound odd to some, but cinnamon sugar toast was one of my favorite childhood memories. No matter how I've made mine since being an adult, there is something about how my mother makes it that is just… better.
I called it mommy toast.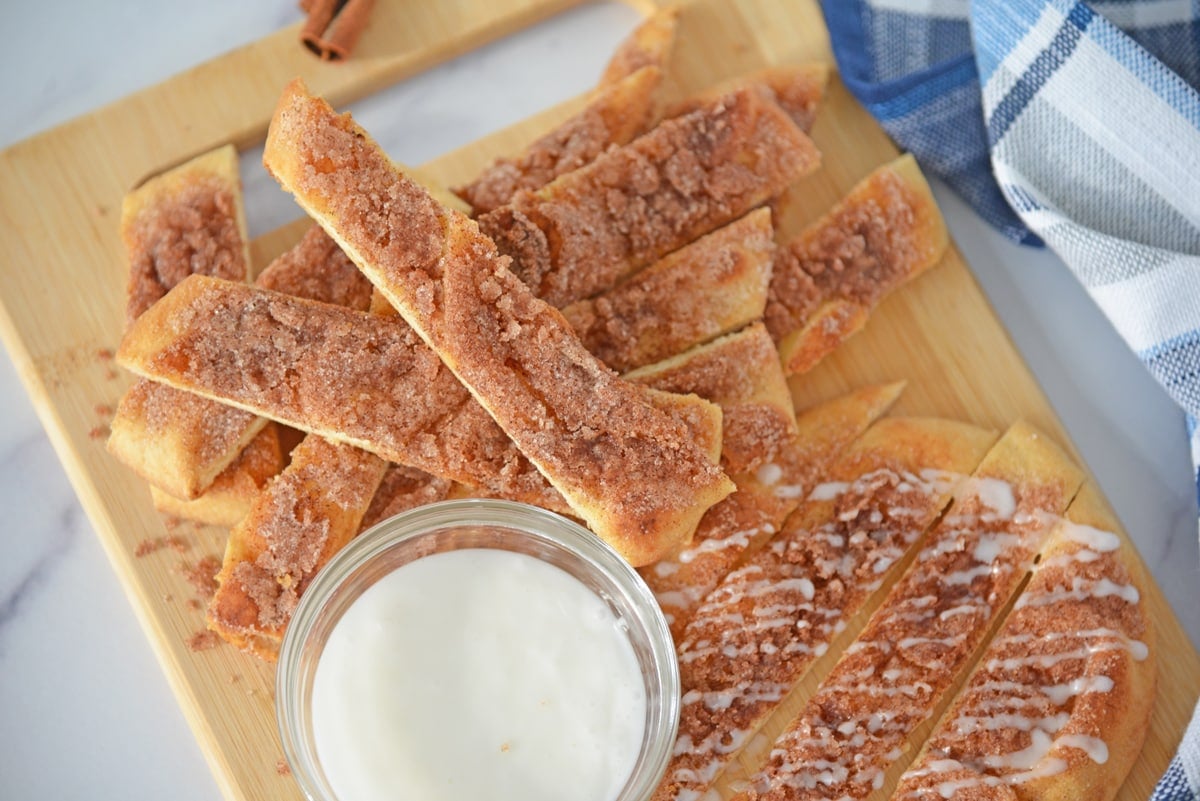 Then there was a silly SNL skit mocking NPR called Delicious Dish. On one episode they highlighted the state dish of Nebraska… toast. My mother grew up in Nebraska, so the giggles just never stopped. She really is the queen of toast!
Ever since, I crave the simple mixture of butter, cinnamon and sugar on everything. Gritty and sweet, there is nothing like it. What is the simplest way to feed my craving? Cinna Sticks, of course!
Flatbread
Easy Cinna Sticks can be made on any type of flatbread or pizza dough, but my favorite is Stone Fire (nope, this isn't a sponsored pot, I do really like Stone Fire). It is a little gummy, freezes well and bakes up light and fluffy.
If you are using flatbread, spritzing it with water wakes it right up.
You can also use cooked pizza dough or even prebaked pizza crust.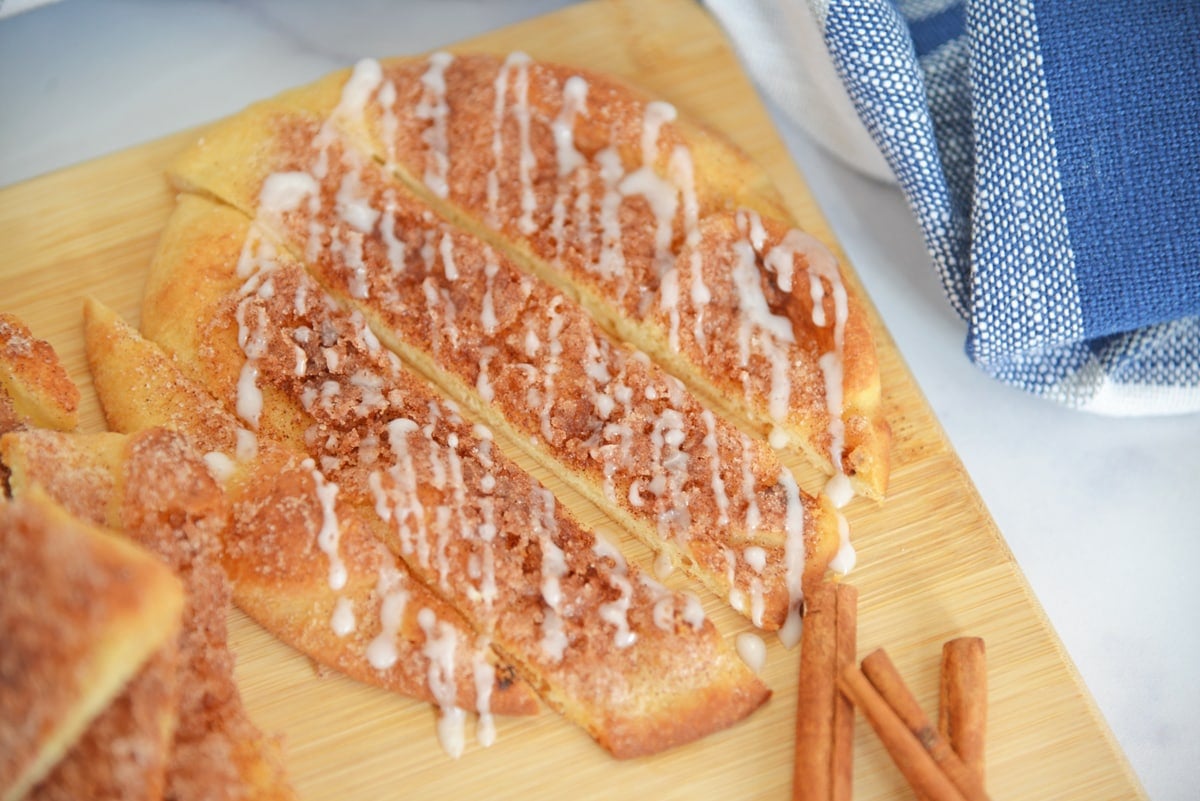 A few brushes of salted butter and then a sprinkle of cinnamon sugar is all it needs before being popped in the oven. Drizzle with a 2-ingredient powdered sugar icing and BOOM, you are done!
If you use unsalted butter, add a pinch of fine sea salt to offset the sugar and sweet. Salty and sweet is the perfect simple combo.
Cinna Sticks Dipping Sauce
The classic cinna stix are just cinnamon breadsticks with a powdered sugar icing dipping sauce. I lace mine with rich vanilla extract. Almond extract also tastes great.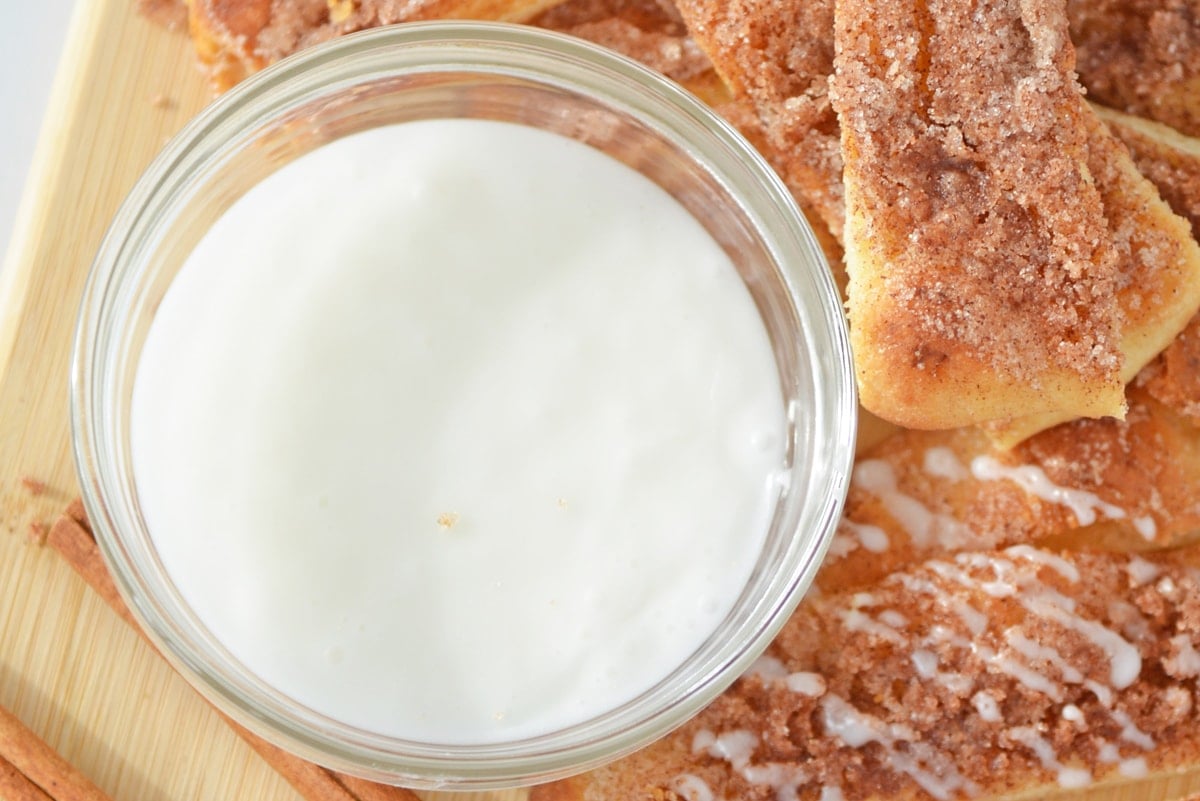 You can drizzle it or dip it, your choice.
Freezing & Storage
Cinnamon sticks taste best fresh and right after baking. Like any bread, they get a little gummy when you microwave them.
With that said, it isn't impossible. Store at room temperature in airtight plastic containers or plastic bags. To reheat, microwave for 10-20 seconds on 50% power and wrapped in a paper towel.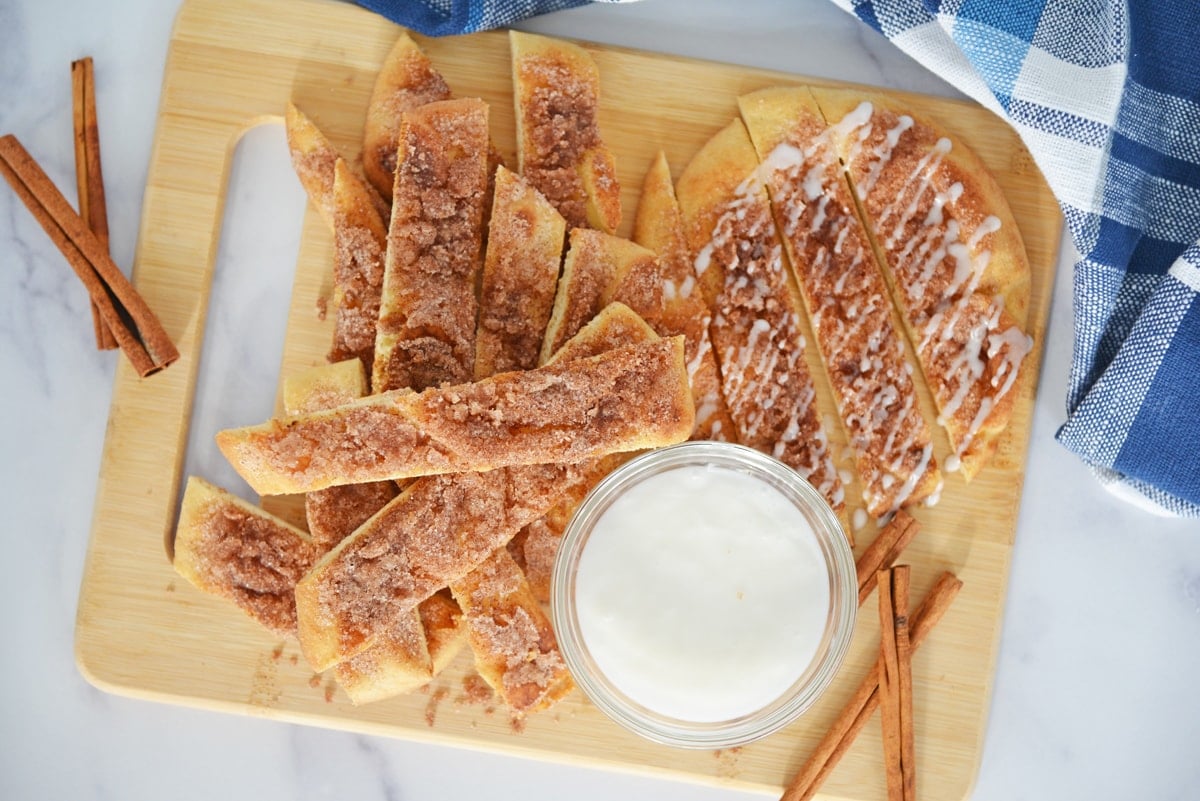 You can freeze them after baking, just make sure they are wrapped super tight. Cinna sticks will last in the freezer for 6 months and are best thawed at room temperature for 30 minutes.
Make fresh frosting or dipping sauce. You'll thank me. It livens them right on up!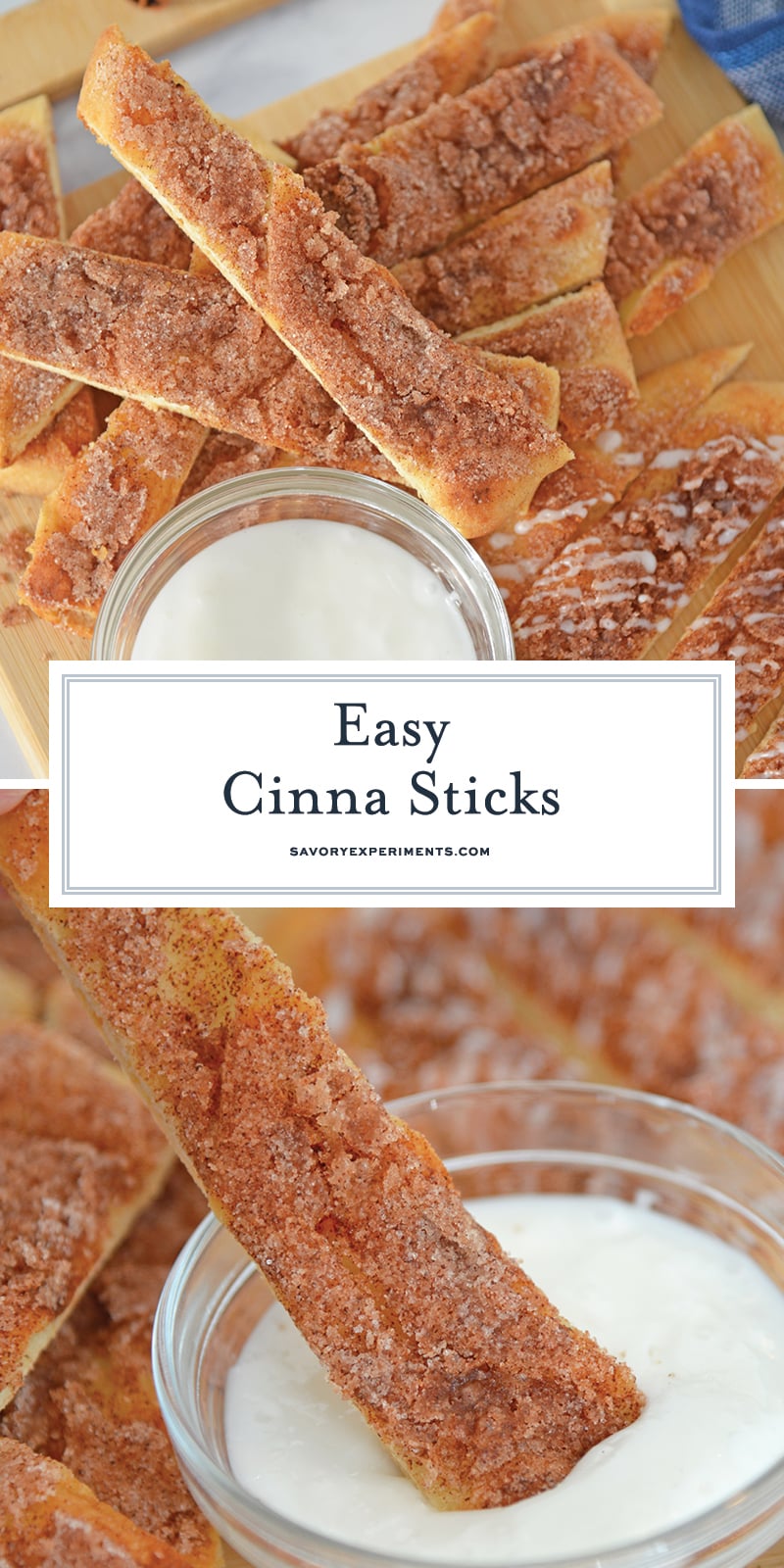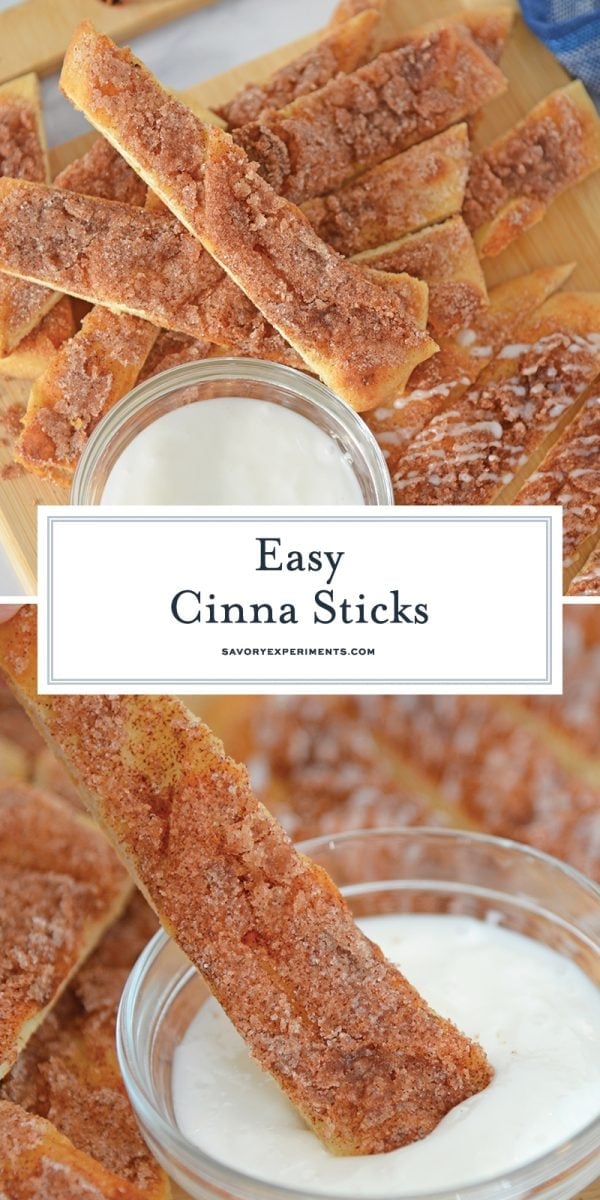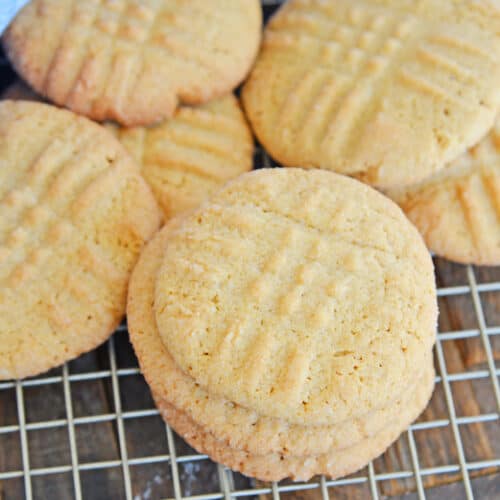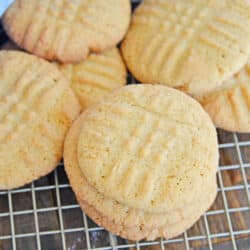 Soft Peanut Butter Cookies
Soft and chewy Peanut Butter Cookies made from scratch with a few pantry essentials.
View this recipe
Nutella Brownies
Homemade Nutella brownies are made in one bowl. With 7 simple ingredients and in less than 1 hour you can enjoy a piece of this delicious brownie recipe!
View this recipe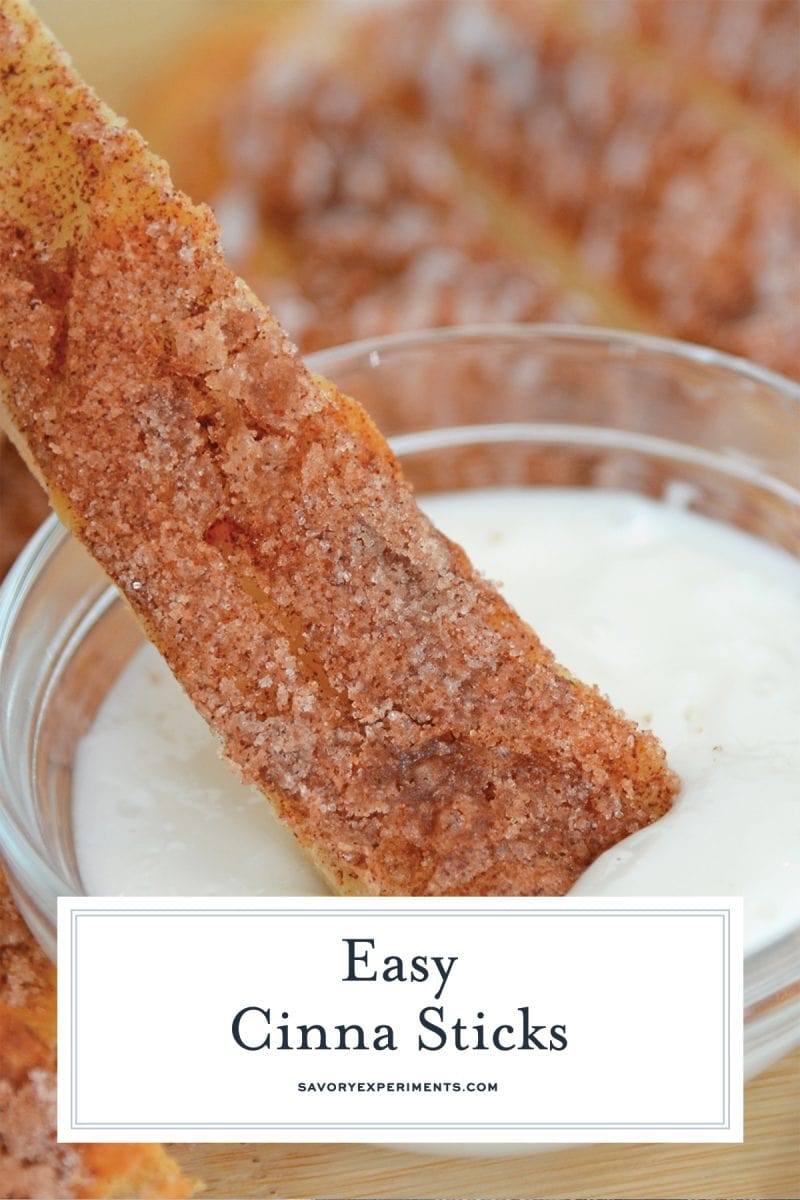 What You'll Need
Wood cutting board – wood won't dull your knives like plastic and if treated properly, has natural antimicrobial properties.
Baking Sheet- This thick aluminum baking sheet is inexpensive and perfect as a kitchen work horse. It won't warp in high heat and it durable.
Measuring Spoons– Although I am the type that usually eyeballs these types of things, you can totally measure things out. These are basic and dishwasher safe.
Glass Mixing Bowls- A must for any kitchen, you'll need something to mix that glorious cinnamon sugar mixture in!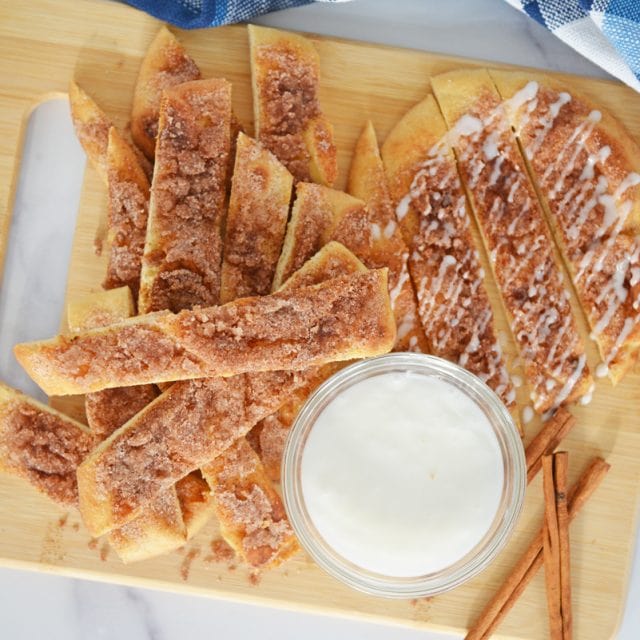 Super Easy Cinna-Sticks
Cinna-Sticks are super easy dessert or snack recipe using flatbreads, a simple cinnamon sugar mixture and powdered sugar glaze. Kids just love them!
Instructions
Meanwhile, whisk together the powdered sugar, milk and vanilla until is reaches a drizzle-able consistency.

Drizzle powdered sugar glaze over flatbreads or serve on the side as a dipping sauce.

Cut into thin slices. Eat while hot or room temperature.

If you've tried this recipe, come back and let us know how they were in the comments and ratings!
Notes
Are flatbreads the same as pita? Not really, they are a little more gummy and smooth, but you can also use pita bread.
If you use unsalted butter, add a little pinch of fine sea salt to the butter.
Nutrition
Calories:
165
kcal
,
Carbohydrates:
36
g
,
Protein:
1
g
,
Fat:
2
g
,
Saturated Fat:
1
g
,
Cholesterol:
5
mg
,
Sodium:
77
mg
,
Potassium:
22
mg
,
Fiber:
1
g
,
Sugar:
28
g
,
Vitamin A:
60
IU
,
Calcium:
12
mg
,
Iron:
0.5
mg