There is a time and a place for processed frozen chicken nuggets. But I've never seen a piece of meat that also came in the shape of a dinosaur or star, so I tend to shy away.
Chicken bites in just a few simple steps.
Instead, make your own at home. Popcorn chicken is quite literally crispy, crunchy nuggets.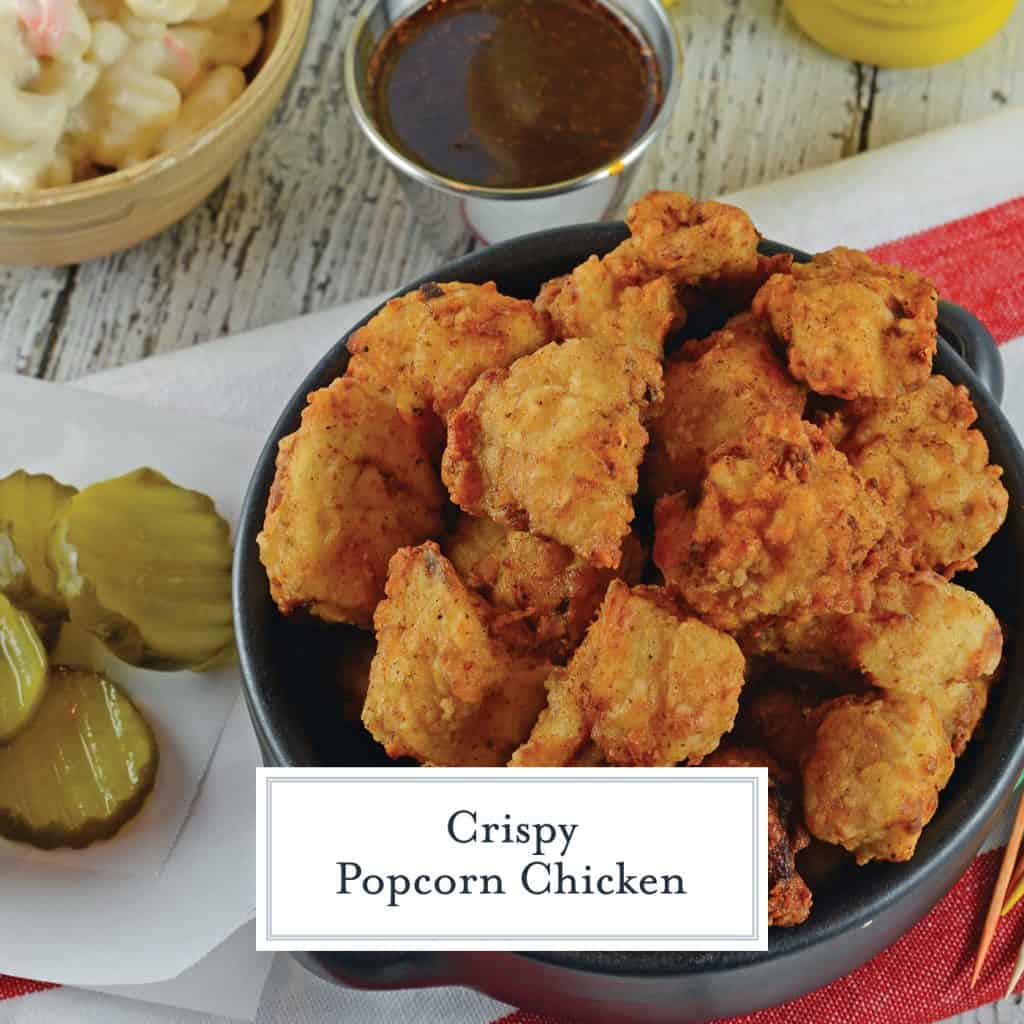 Crispy homemade popcorn chicken at home. This easy recipe and collection of popcorn chicken dipping sauce will have you craving more!
You'd think KFC invented popcorn chicken. They did not. Bite-sized chicken nuggets were around long before they popularized it.
This is not a copycat KFC popcorn chicken recipe. It is just a simple, but tasty, way to make crunchy, crispy chicken bites at home.
This recipe is also proof that popcorn chicken is not just for kids. Adults can indulge in these deliciously crunchy chicken bites too .
Judging by the fact that they mysteriously disappear within minutes of being put on the table, I can say that adults like them as much as kids. Or maybe is it just the collection of chicken dipping sauces.
I like to provide options. Not only is it fun to taste them all, it is also a conversation piece.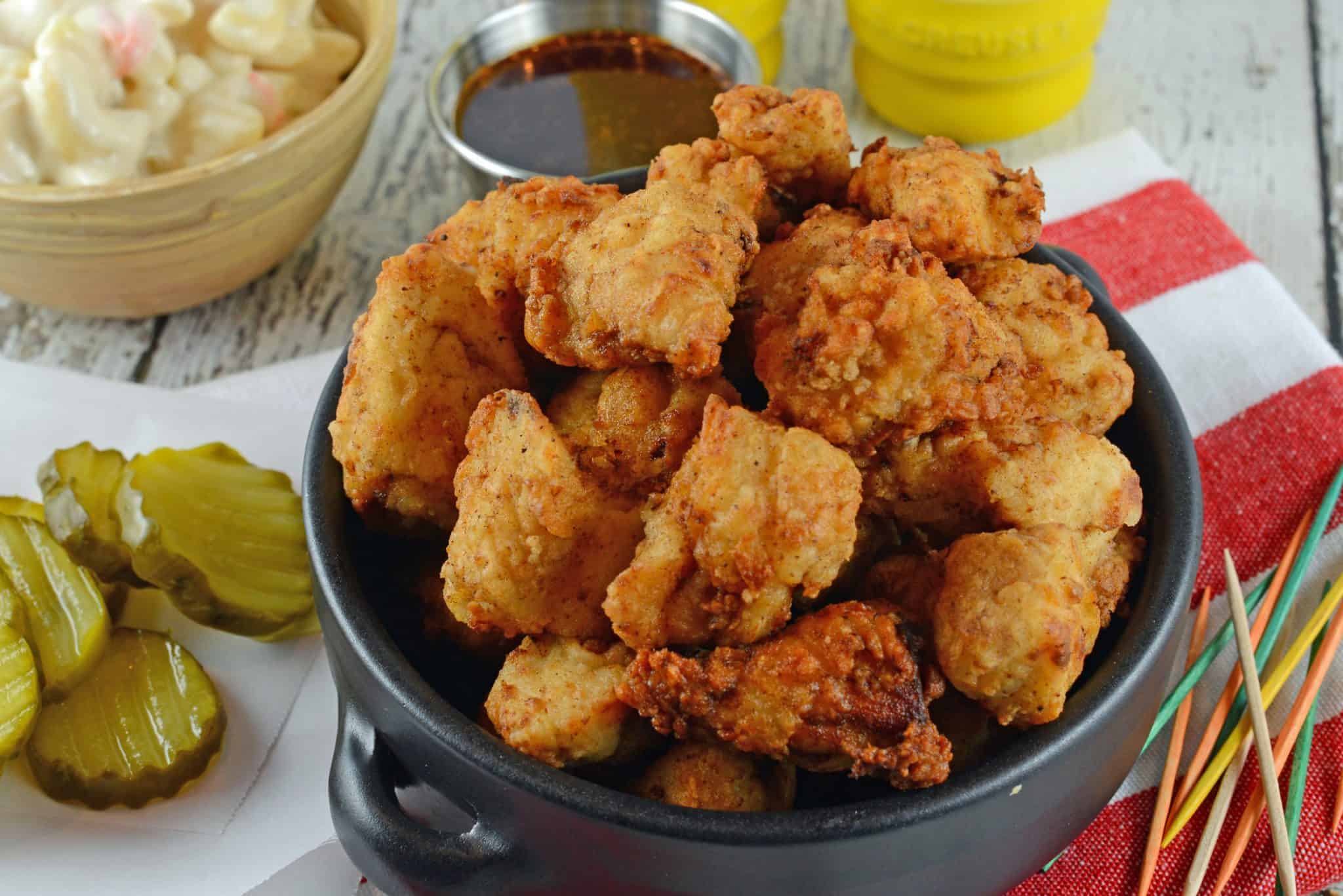 There's some complicated ideas of how to make popcorn chicken out there, ones that include a grocery list of ingredients or marinating and brining them for hours.
I'm totally guilty of this when making a good, down home fried chicken, but not for popcorn chicken. These are supposed to be as easy to make as they are to pop in your mouth and eat.
PRO TIP: For juicer meat, use chicken thigh fillets instead of chicken breast.
And while I have no doubt those result in tasty bites, I like to keep things simple. As long as simple still equals delicious, which I think I managed with this recipe.
Popcorn chicken can be eaten as a lunch or dinner, but my absolute favorite way is as an appetizer. If kids will be in attendance – even better!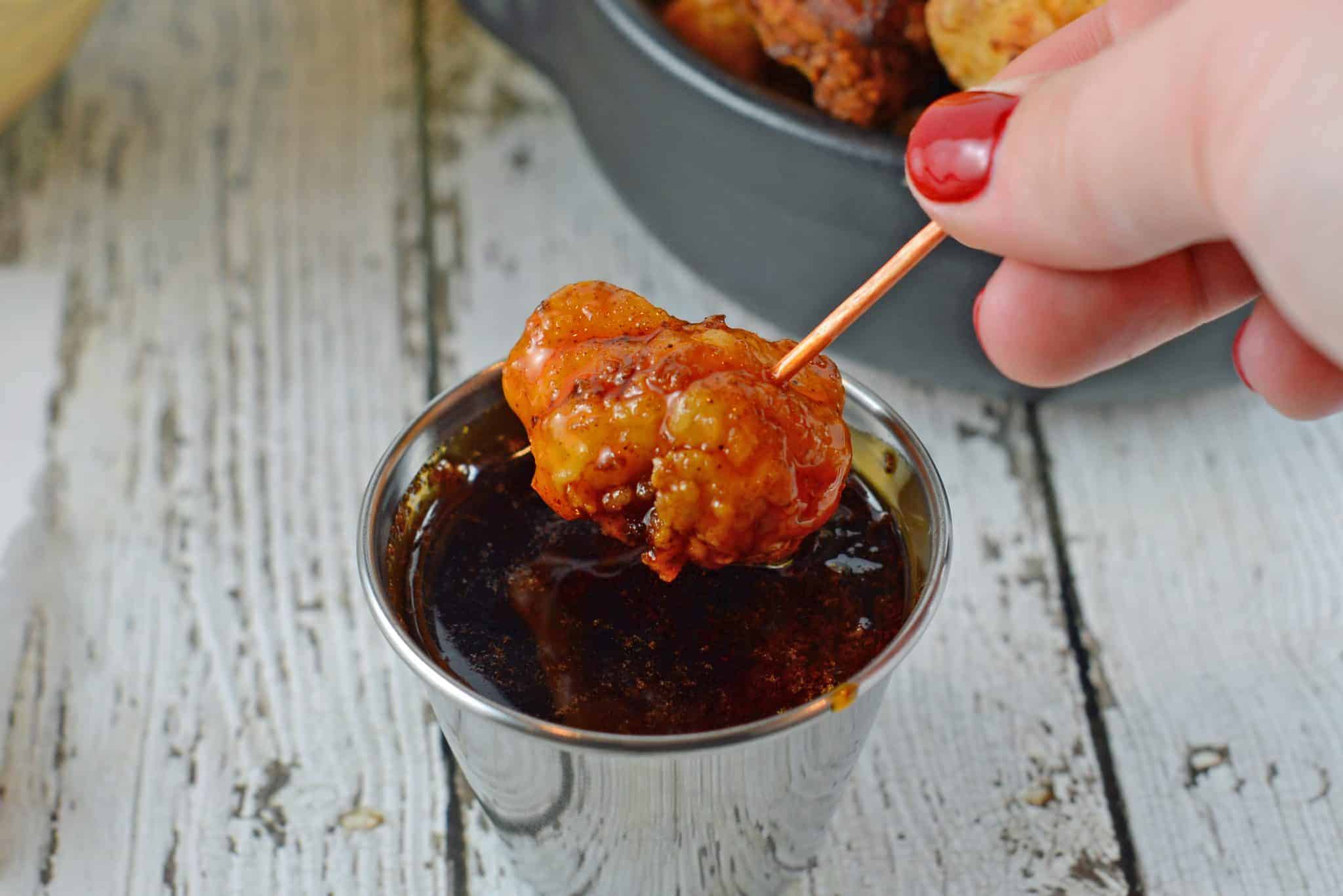 This is definitely one kid-friendly appetizer and usually ends up being the main dish for a few picky little eaters.
You'll just want to make sure you're finishing it up as guests arrive, because these are best served hot. I wouldn't worry too much about how to keep them hot, though, because they've never lasted long enough on my table to even worry about it!
It just isn't the best make-ahead dish. If you do need to make them ahead, keep them on a rimmed baking sheet in a warm oven until ready to be served.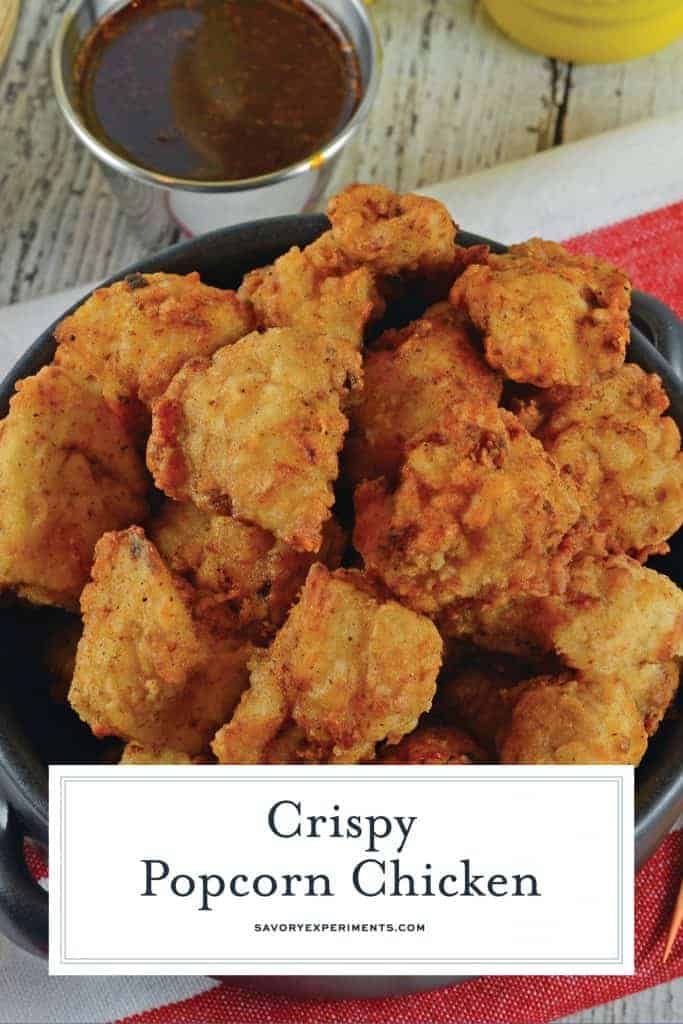 When I am entertaining, I like to set a buffet of sauces next to my popcorn chicken platter.
These are my favorite popcorn chicken dipping sauces:
If you're deciding to go for a full meal, it tastes great on a baguette or in a wrap, with some cheese, lettuce and tomatoes. Chicken nugget sub, anyone?
Or, maybe a delicious popcorn chicken salad with a bed of greens and your favorite veggies. Yum!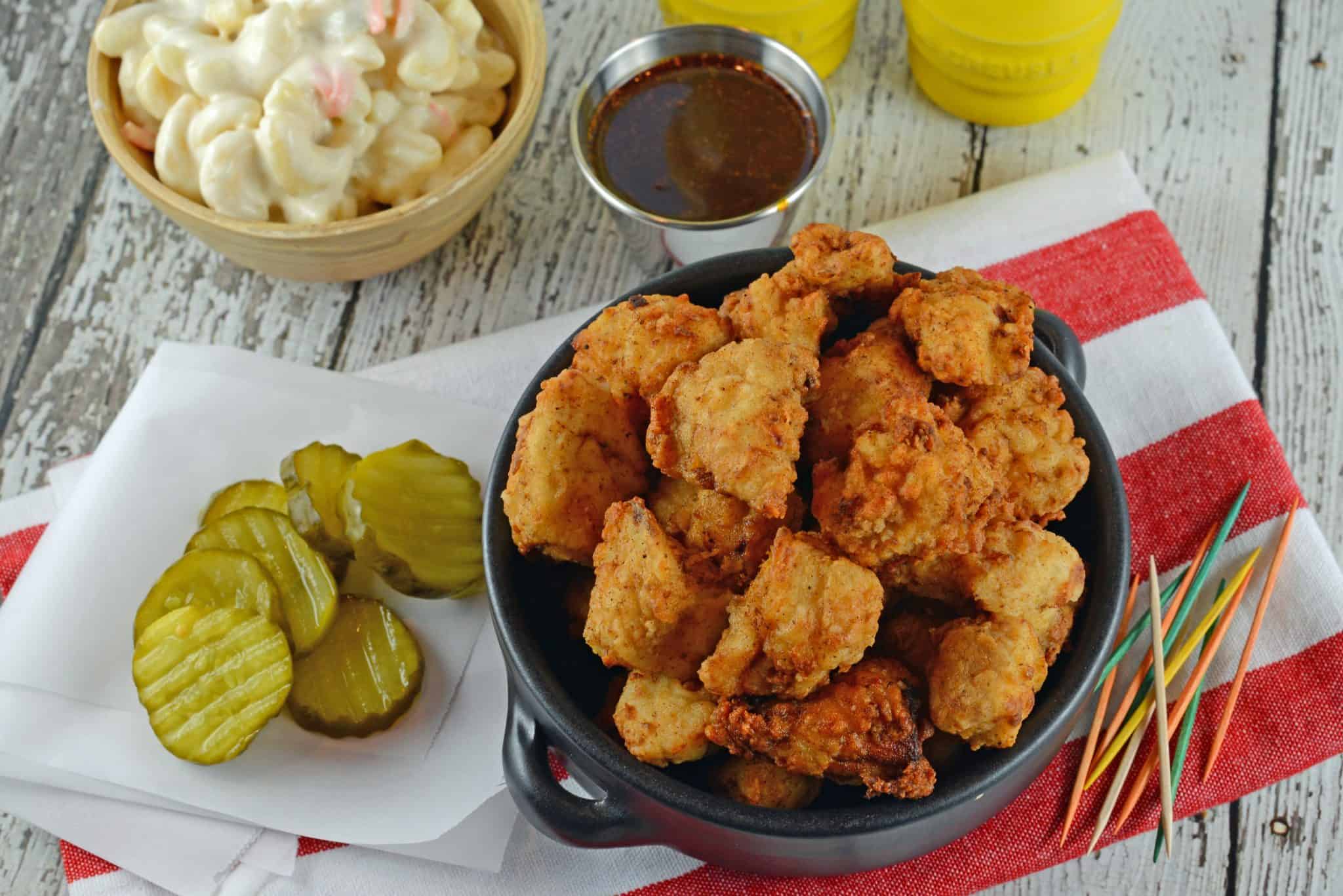 More easy appetizer recipes:
Pimento Cheese Deviled Eggs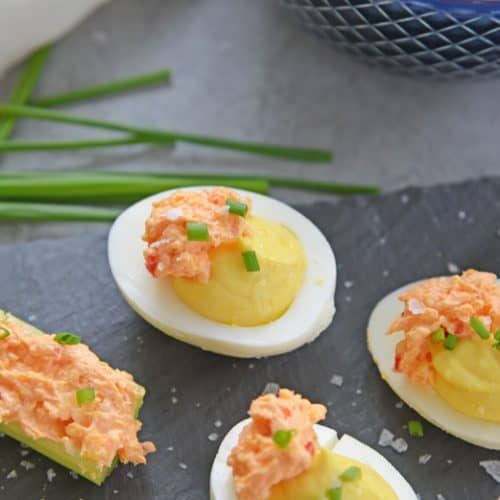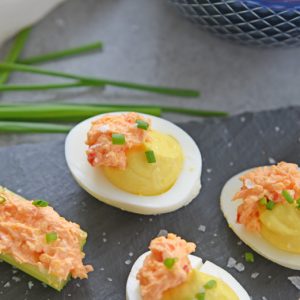 If you're looking for a way to step up your usual deviled eggs, look no further than this easy southern Pimento Cheese Deviled Eggs recipe!
German Egg Rolls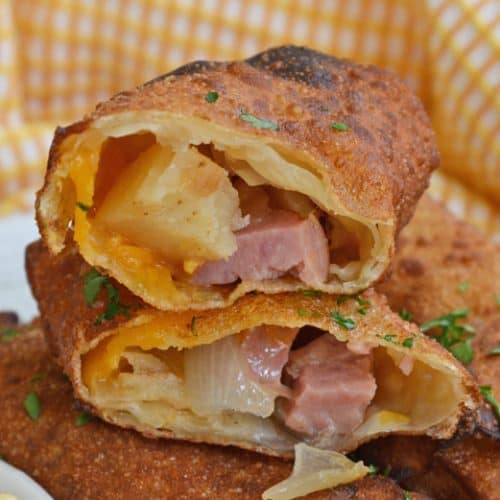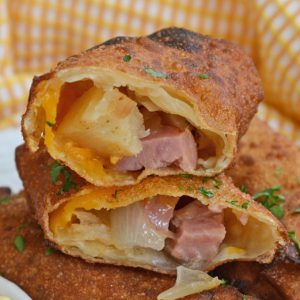 Your new favorite fried appetizer, kielbasa and sauerkraut with potatoes and cheese wrapped in an egg rolls wrapper, fried + dipped in mustard aioli sauce!
Bacon Ranch Dip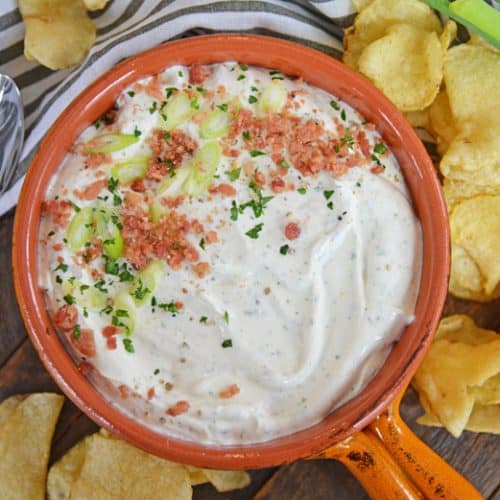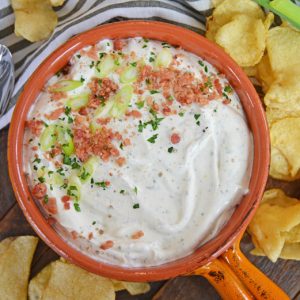 Bacon and ranch collide into one delicious chip dip with this easy Bacon Ranch Dip recipe!
Tools for making Popcorn Chicken:
Fry Daddy – You can totally fry these up on the stove, but controlling temperture is so much easier with a fryer.
Kitchen thermometer – If you aren't using an electric fryer, then make sure to use a thermometer to monitor the oil temperture.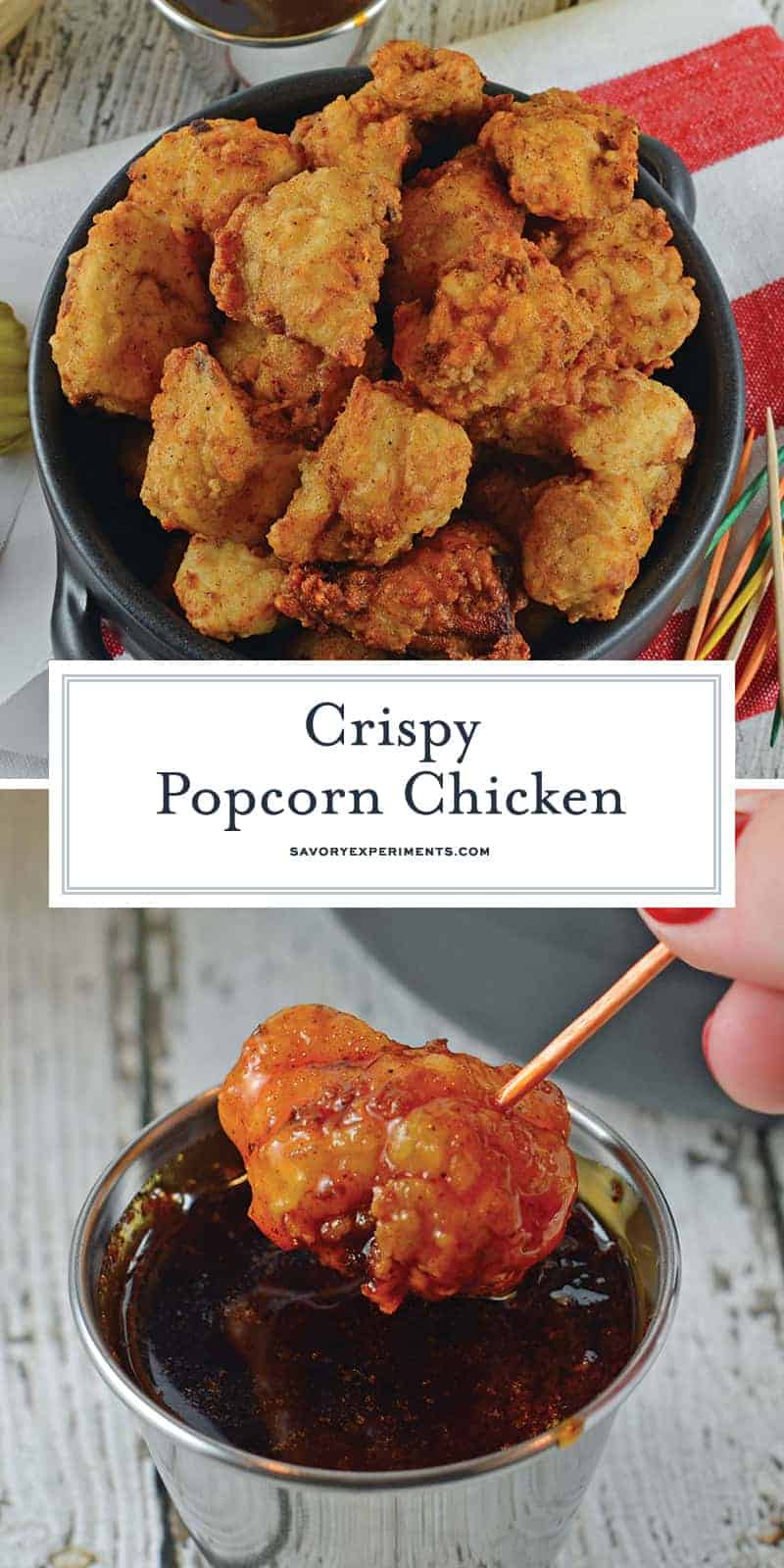 Questions you might have about how to make popcorn chicken:
Why is it called popcorn chicken? Popcorn chicken got its name from KFC who was the first to make the small, bite-size bread and fried chicken pieces. They served it in red and white popcorn boxes just like the real stuff.
What part of the chicken is popcorn chicken? I make mine with white meat chicken breast, but you can make yours with boneless dark meat thighs too.
Can I bake them instead of fry? The flour breading won't get crispy and will taste pretty grainy if baked.
Can I make these in the AirFryer? I am sure you can, but I don't own an Airfryer, so I don't know how to convert the recipe.
Can I freeze popcorn chicken? You can freeze these chicken bites after they have been cooked. Simple bake them at 350 degrees on a rimmed baking sheet for about 12-15 minutes to thaw and reheat.
Is popcorn chicken healthier? I wouldn't consider it healthier, no, but maybe you won't eat as much because they are small?
CONNECT WITH SAVORY EXPERIMENTS!

Be sure to follow me on social media, so you never miss a post!

Facebook | Twitter | Youtube
Pinterest | Instagram

Get our FREE 8 Day E-Course on How to Be a Better Home Cook. Sign up HERE!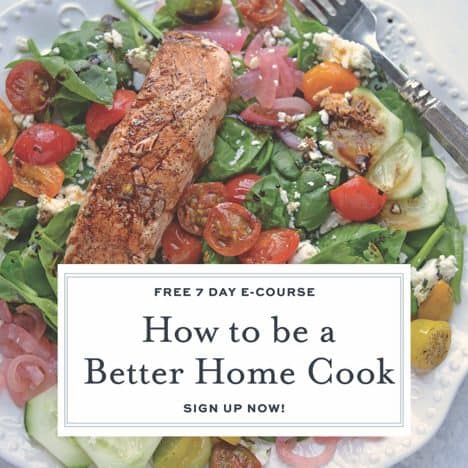 Homemade popcorn chicken is easier than you think! Give it a whirl and let us know what your favorite dipping sauce is below in the comments.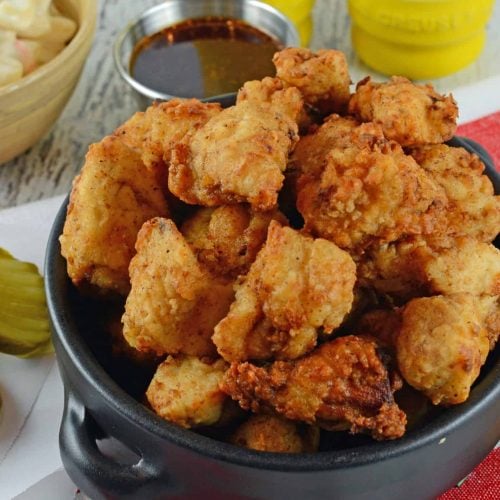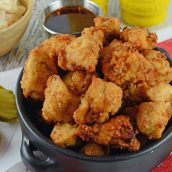 Print Recipe
Popcorn Chicken
This Popcorn Chicken Recipe is a simple and easy to make deliciously crispy popcorn chicken bites at home. Great for game days, parties or even lunch!
Instructions
Place lightly beaten egg into a bowl.

In another shallow dish, combine flour, onion powder, paprika, salt and white pepper.

Toss chicken in flour mixture, then egg and flour again.

Place on a baking sheet or plate. Continue to repeat for all chicken.

Allow breaded chicken to sit at room temperature for 10-15 minutes. This allows the breading to harden and stick, preventing it from flaking off during cooking.

Heat oil in a large, shallow frying pan or cast iron skillet. Oil should be on medium-high heat and reach 350 degrees.

Working small batches, fry chicken. Small pieces should only take 5-6 minutes, being turned very 2 minutes. Cook until lightly browned and remove to a paper towel lined plate.

Serve hot with choice of sauces.

If you've tried this recipe, make sure to come back and let us know how you liked it!
Video
Notes
*The amount of oil you will use depends on the pan you are using, I suggest a low sided frying pan or cast iron skillet. Anything with sides too high will essentially steam your chicken, making it soggy instead of crunchy. You also don't want to crowd the pan, so a larger surface space is ideal. Lastly, your chicken doesn't need to be submerged in oil. If you have about 1/2 inch, you'll be good.
Nutrition
Calories:
297
kcal
|
Carbohydrates:
33
g
|
Protein:
22
g
|
Fat:
7
g
|
Saturated Fat:
1
g
|
Cholesterol:
102
mg
|
Sodium:
497
mg
|
Potassium:
370
mg
|
Fiber:
1
g
|
Vitamin A:
430
IU
|
Vitamin C:
1.2
mg
|
Calcium:
23
mg
|
Iron:
2.7
mg