A fun Southern twist on traditional deviled eggs, this Pimento Cheese Deviled Eggs recipe is anything but boring! Made with simple ingredients and ready in less than 30 minutes!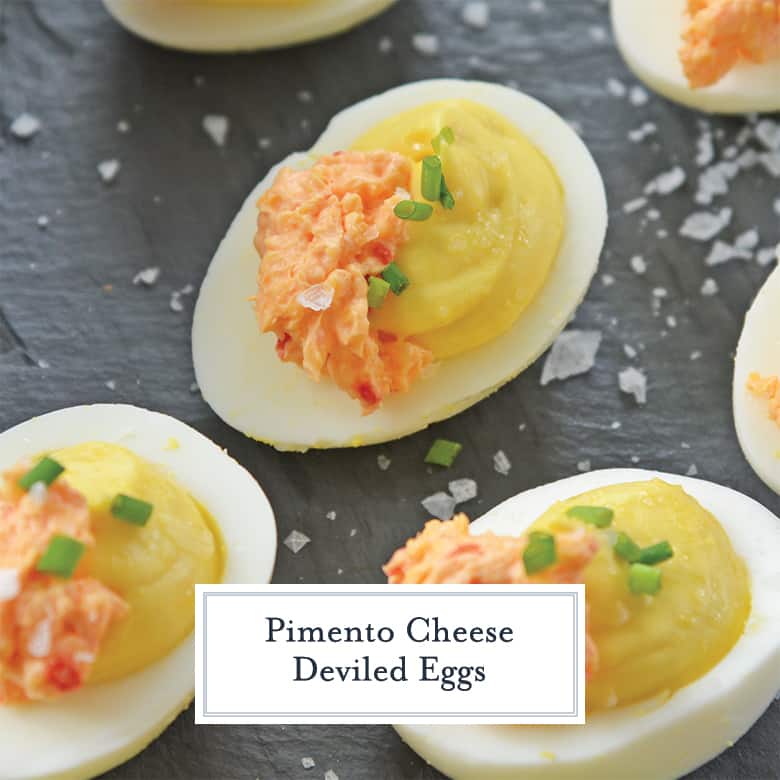 If you're looking for a way to step up your usual deviled eggs, look no further than this easy southern Pimento Cheese Deviled Eggs recipe!
I don't know about your family, but we love deviled eggs here! Of course traditional deviled eggs are delicious themselves, but there are so many ways to dress them up and make them exciting:
And now these Pimento Cheese Deviled Eggs!
Deviled eggs are usually thought to be an Easter dish (because you can easily use your dyed eggs to make them.) But you can really make them any time of year!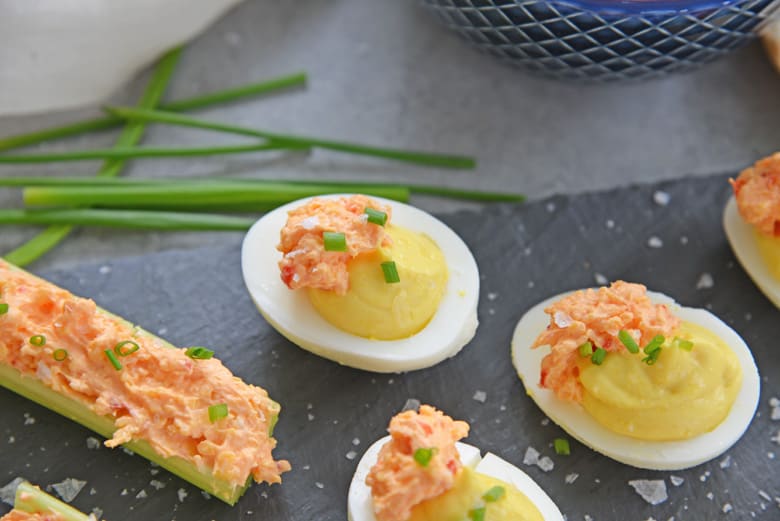 Boiling eggs is a much easier process than people may think, and that's the hardest part of making deviled eggs. Just check out my guide to the perfect boiled eggs if you don't believe me!
Another thing we love around here is pimento cheese! So much so that I put it into the filling of these easy Pimento Cheese Deviled Eggs.
What is pimento cheese?
Pimento cheese is a cheddar cheese and pimento pepper dip. Pimento is just a fancy word for roasted red peppers, if you aren't familiar.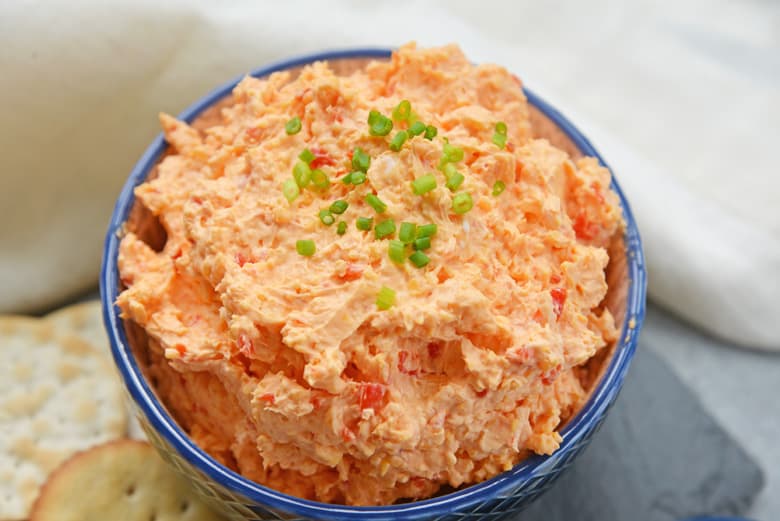 It originated and is still most popular in the South and sometimes listed as "pâté du Sud," or Southern pâté or the caviar of the south. If you do find it in the midwest, primarily made with Wisconsin cheese, it might be called palmetto pimento cheese or simply palemetto.
Pimento Cheese Recipes
Although it is usually used as a dip for crackers, pretzels or veggies, you can use pimento cheese however you'd like! Here are some of our favorite recipes:
And these Pimento Cheese Deviled Eggs!
How to Make Pimento Cheese Deviled Eggs
Start by boiling your eggs. To make a dozen deviled eggs, you will need 6 boiled eggs because you end up cutting them in half. Allow them to cool completely before moving on.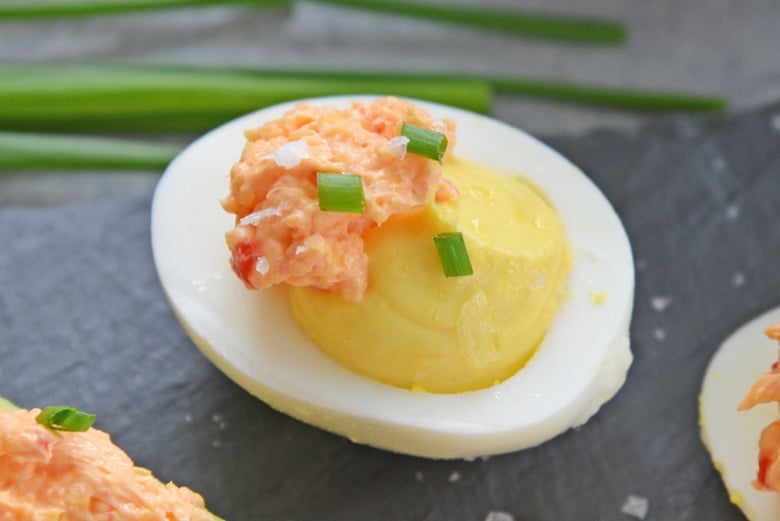 Peel the outer shell off of your cooled boiled eggs, and then cut them in half. You can either cut them lengthwise or widthwise, whichever way you prefer.
Next you will need to remove the yolks. The easiest way to do this is using a spoon. Place the yolks in a separate bowl to mash.
Make them as smooth as possible when mashing. I like to use either a ricer, potato masher, grater or just a fork. Once completely smooth, transfer them to the bowl of a stand mixer (or keep in the same bowl if using a hand mixer.)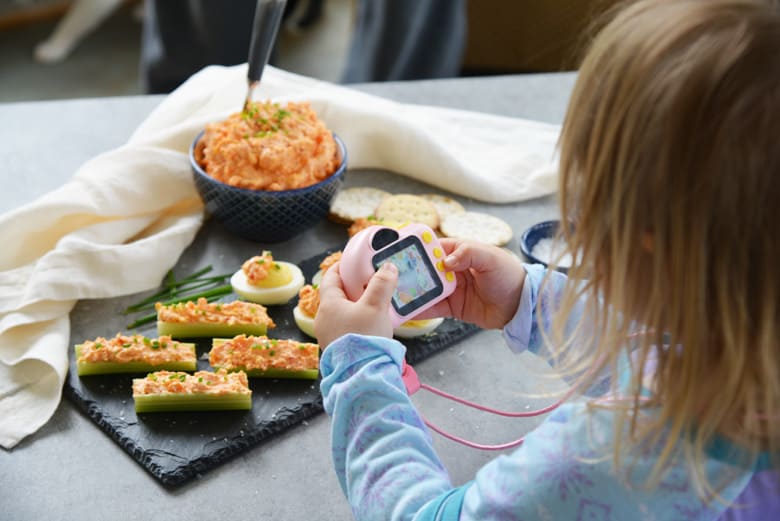 Start whipping the egg yolks while slowly adding in the mayonnaise. Be sure to mix well in between each addition of mayo. Once it is fully incorporated, you can add the white vinegar, Dijon mustard, Kosher salt and white pepper.
And now your filling is done! You can start filling the egg whites with the egg yolk filling. You can either use a spoon or a pastry bag to do this. But don't fill them too full!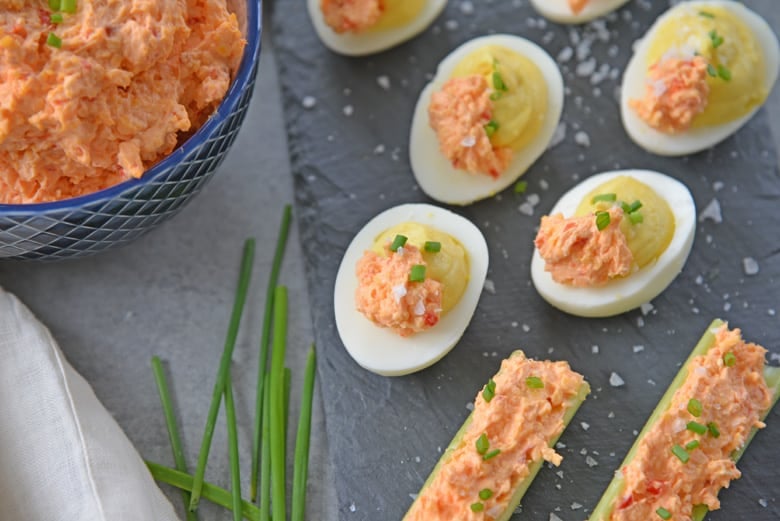 You might be wondering by now what makes these "Pimento Cheese Deviled Eggs" instead of just regular ones. Well now comes the best part. Top each deviled egg with a dollop of pimento cheese dip and chopped chives.
And there you have it! A fun and easy way to combine two of my favorite appetizers into one delicious bite!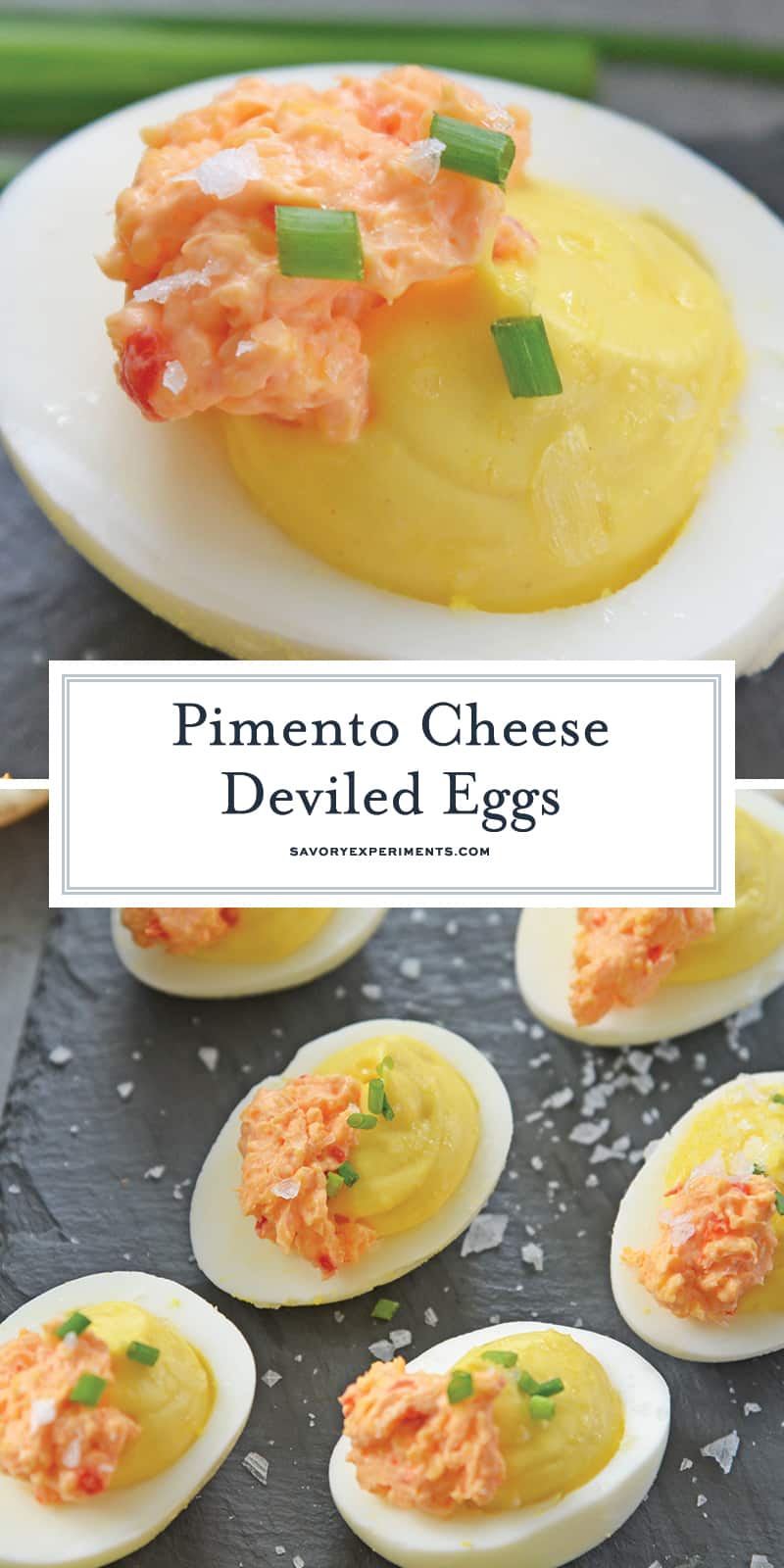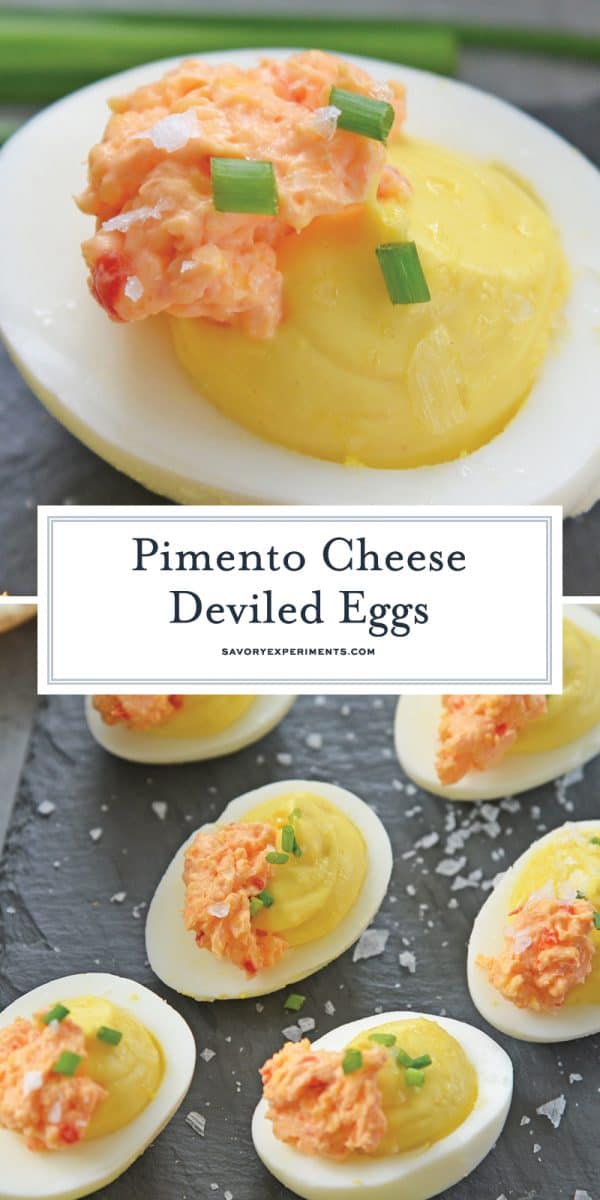 More southern dishes you will love: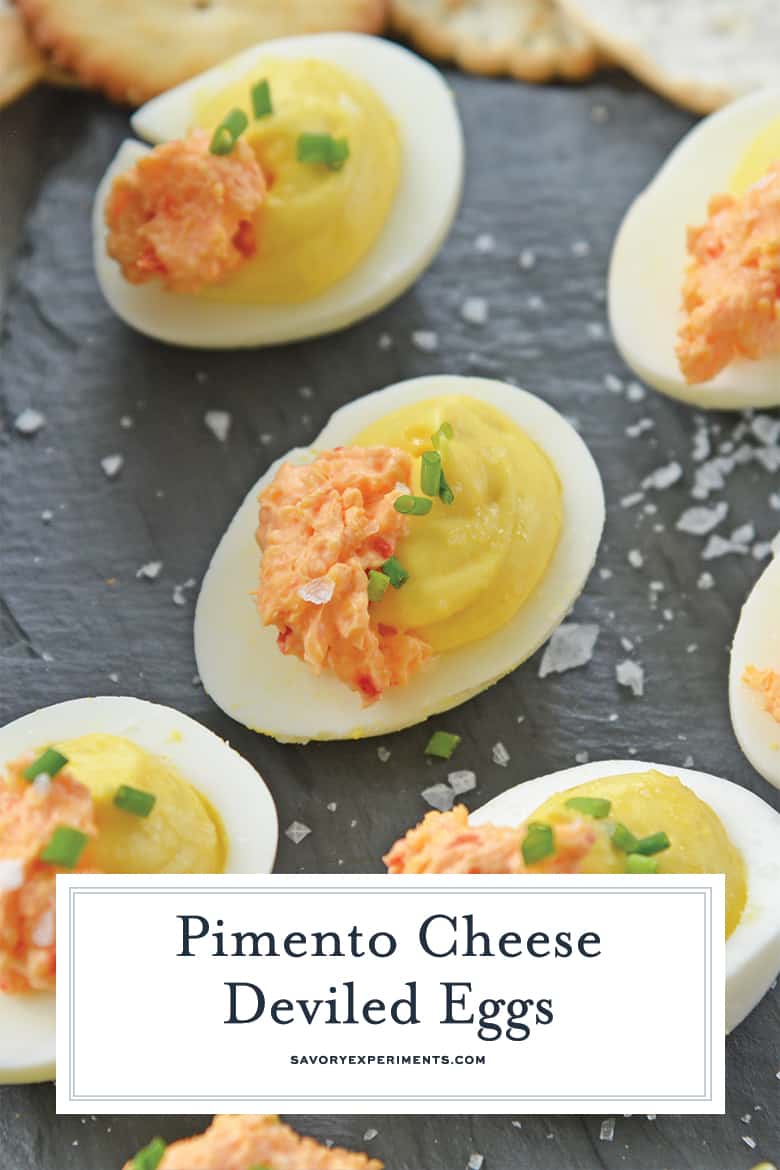 CONNECT WITH SAVORY EXPERIMENTS!

Be sure to follow me on social media, so you never miss a post!

Facebook | Twitter | Youtube
Pinterest | Instagram

Get our FREE 8 Day E-Course on How to Be a Better Home Cook. Sign up HERE!