Yes, you read correctly. I made egg rolls and they are German. Or polish… or something. I honestly don't know what to call them.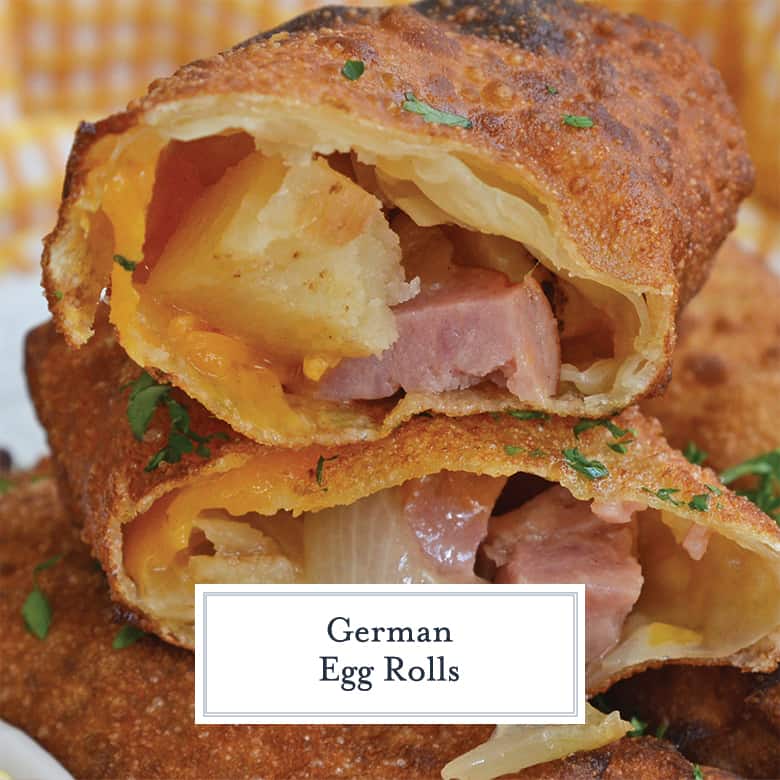 In a nutshell, they are kielbasa and sauerkraut with cheese, wrapped into a wonton wrapper and then fried. I had leftovers from my sausage and sauerkraut skillet and also egg rolls wrappers from pizza logs and bam.
If I could stuff, it then I could fry it. Tada = German Egg Rolls.
I had seen ham and sauerkraut rolls and also reuben egg rolls with corned beef, but never sausage and sauerkraut, or at least using kielbasa instead of ground pork.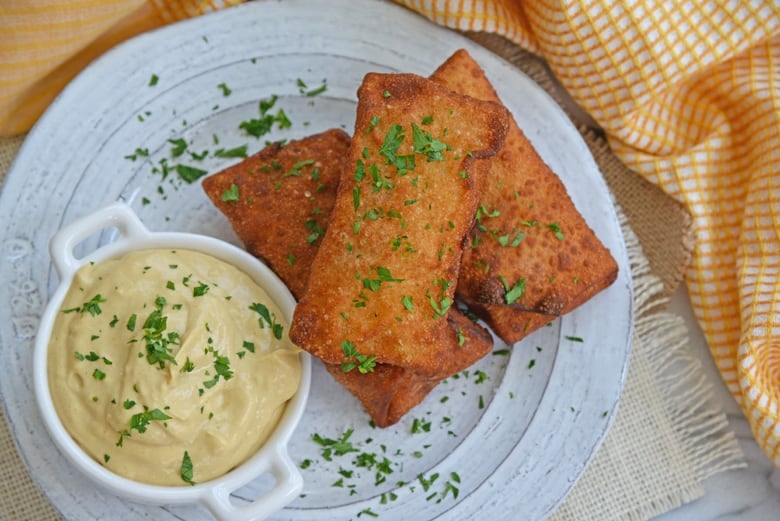 Egg Rolls Ingredients
This recipe for German egg rolls is pretty basic and does not use peppers, like some pork and krauts do. Instead it uses: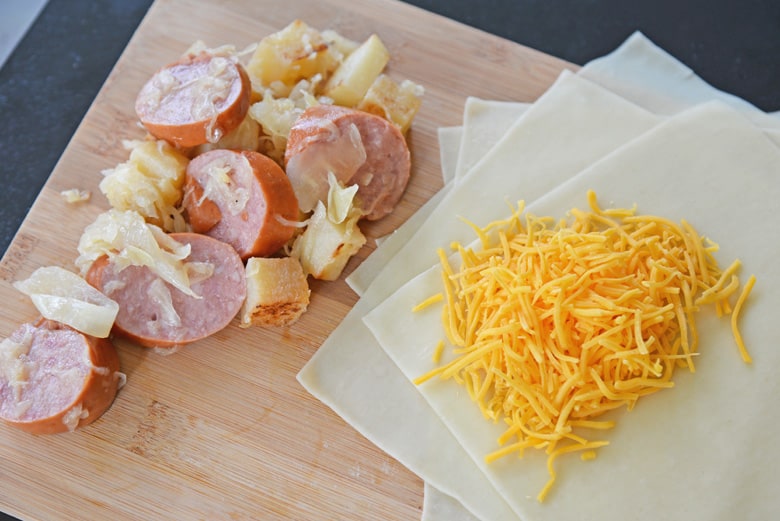 Kielbasa – roped smoked sausage, it is typically Polish but can be in many slavic foods.
Sauerkraut– see more below on sauerkraut!
Onions- I used sweet onions, but you can also use red, white or yellow.
Potatoes– This is a one dish meal, so I add starch right to the bowl. It was easier to leave the potatoes in when I fried the egg rolls, so now you've got potato egg rolls. LOL.
Brown Sugar– Helps to Balance out the acids.
Liquid– the base ingredients are cooked in liquid before being fried to add moisture and flavor. Apple juice, chicken stock and even white wine can be used. And, of course, water.
Egg Roll Wrappers– Large wrappers work best for this recipe because of the large array of ingredients. They are thin wrappers made from wheat flour, eggs and water. I usually find mine near the refrigerated produce section.
Cheddar Cheese– I don't know, these didn't seem complete without some cheese, so I added it even though you generally don't see cheese in Polish or German food. I guess pierogis have cheddar, right?
Any of your favorite cheese will do, but I strongly suggest shredding it fresh instead of pre shredded. This is tossed in starch to prevent clumping, but it can also melt a little wonky.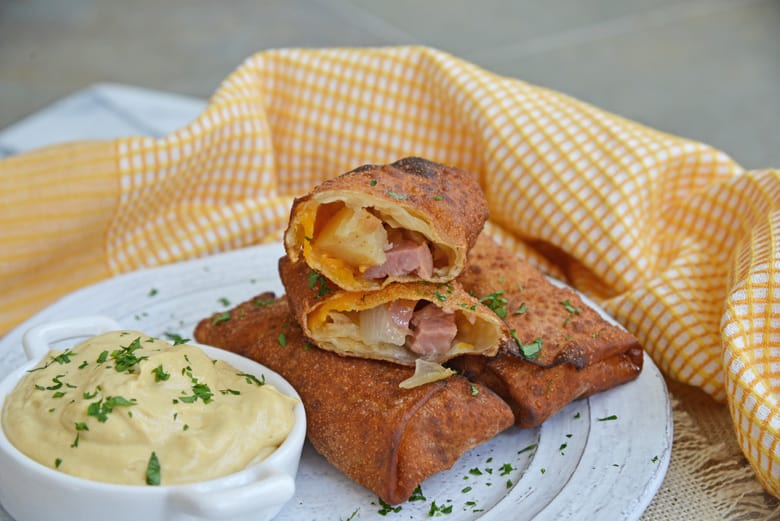 Sauerkraut
Sauerkraut is simply fermented cabbage, basically pickled. It is best to be rinsed and drained before cooking otherwise you might get a super vinegary flavor. It would be like using pickles and not draining them… which some pickle fanatics probably would do!
It is also fairly easy to make at home. I made it once a few years ago and the batch was so good that it was gone by the time I went to go take pictures and post the recipe.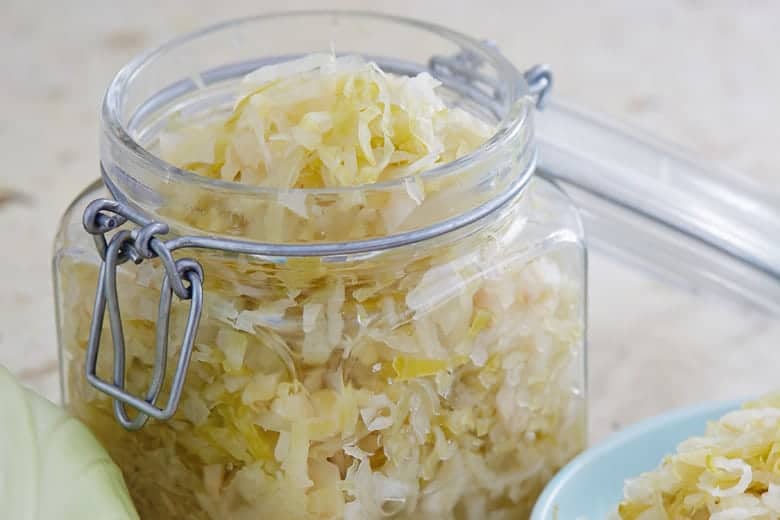 In Maryland, where I live, sauerkraut and sausage is eaten all the time, but mostly for celebratory events. It might sound odd to others, but you'll see it at Thanksgiving and also Christmas, but most notably, New Year's.
Pork and Sauerkraut
I mentioned that this came about as a leftovers dish. I didn't have enough for a full meal for the family, so I divided it into portions we could eat as an appetizer, much like when I made Pork and Sauerkraut Sliders.
You can make this in the slow cooker or skillet. It freezes well, so you can freeze leftovers and make egg rolls later.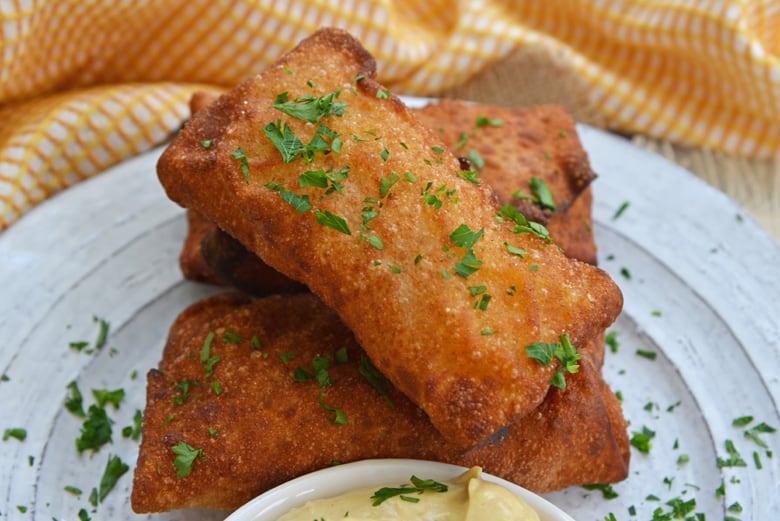 But one thing I will say is that the mixture works best when it is dried, so chilling it to before adding it to the rolls is key.
Then freezing it before frying is also a big step to not miss. This freezes the cheese so they it doesn't immediately melt and escape all over the place.
Frying
Next, you'll fry your pizza logs. I use peanut oil because the smoke point is high and I don't have to worry about it burning. Vegetable oil and refined peanut oil are both 400 degrees and won't run the risk of burning as long as you keep the oil around 325 degrees.
I highly suggest using deep fat frying thermometer or an actual deep fat frying machine to control oil temp. You'll be amazed at how this changes your at-home frying game.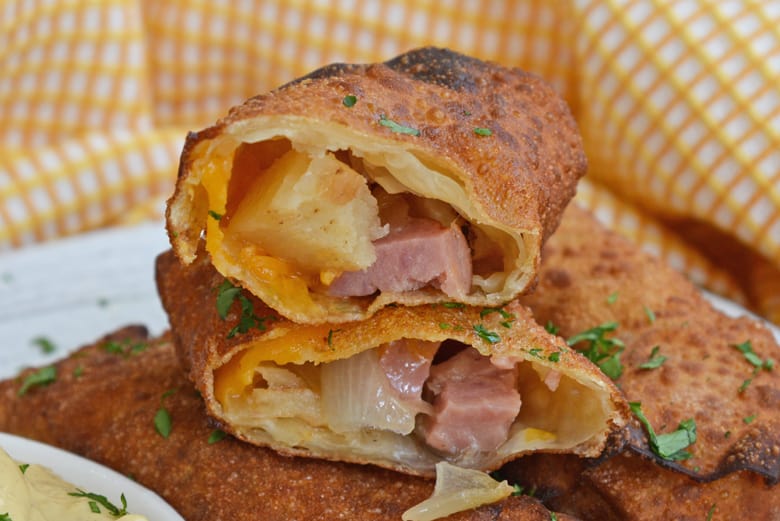 If the oil is too low, it will take longer to cook and the cheese will have longer to melt and escape. If the oil is too hot, they will brown (or burn) immediately and the cheese won't have enough time to thaw. You are like the Goldilocks of fry temps to get it "just right".
I also like to use a high sided Dutch oven or enamel pot so the spitting oil is less likely to burn me. You can use a fry screen, but since these fry up so fast, you'll barely have it on before you need to flip them.
Work in batches to not overcrowd the pan.
Assembly
The easiest part of making German Egg Rolls is the assembly.
Get all your ingredients ready and then set up a work space for rolling.
Place about 2 tablespoons of your chopped sausage/kraut mix in the center with about 1 tablespoon of shredded cheese.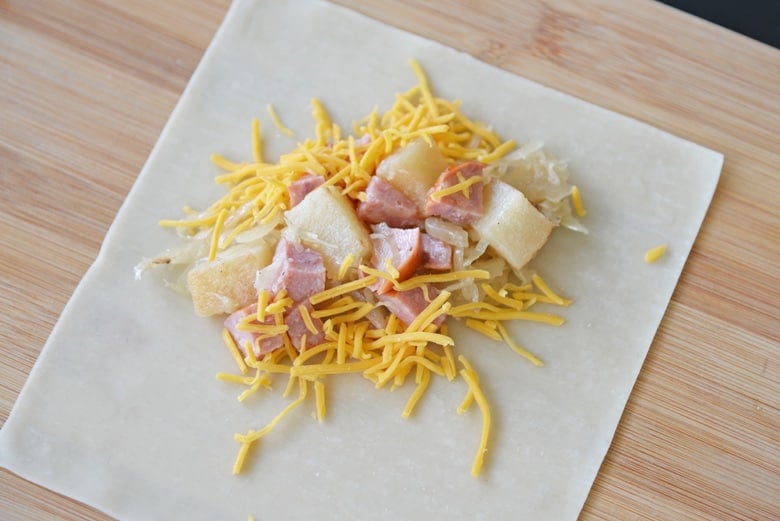 Baste the edges with egg wash and then fold over one corner to cover the stuffing ingredients.
Tuck in both corners and secure with a dab of egg wash. It will look like an open envelope.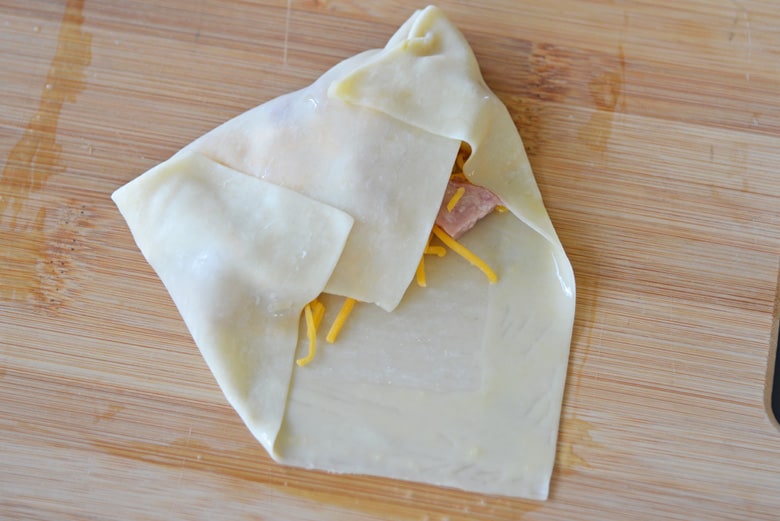 Continue to roll until it looks like an egg roll.
Place all rolls on a piece of parchment paper on a baking sheet or in a plastic container or bag that will fit into the freezer.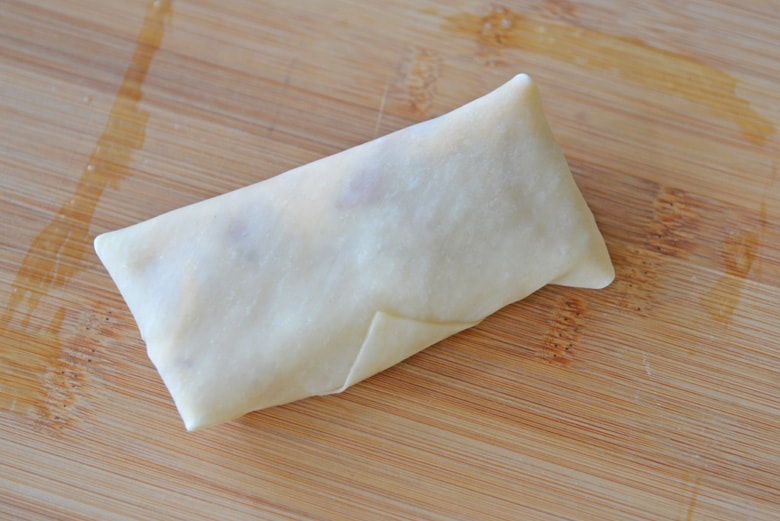 The next step is to freeze the egg rolls. Do not skip this. Freezing well is imperative so the cheese won't immediately melt and start oozing out into the oil. If it is frozen, there will be enough time for the egg roll wrapper to brown and crisp up before the cheese starts to escape.
Dipping Sauce
We love sauce in this family and while these would be perfectly fine with no sauce at all, I added some.
Mustard Aioli to be exact! They would also be great with just Garlic Aioli Sauce or even Garlic Butter Dipping Sauce. Hubby also suggests using a thousand island dressing!
Make Ahead & Freezing
Like most fried foods, they are best eaten freshly fried. You can, however, assemble and freeze all the pieces so they are all ready to go when you want to serve.
You can also freeze them indefinitely after rolled. I might have a batch in my freezer right now just waiting for a rainy day lunch.
After they are fried, you can reheat them in the oven for about 5 minutes at 350. Again, you run the risk of the cheese escaping, so don't let them stay in there too long.
Refrying is also an option, just heat up oil like you did the first time and plop them in for just 20-30 seconds on each side. Enough to warm them up, but not cook further.