A good French Onion Soup recipe will warm your heart and soul. Just seeing the gooey cheese on top makes me excited. In fact, I usually burn my mouth. I just can't wait!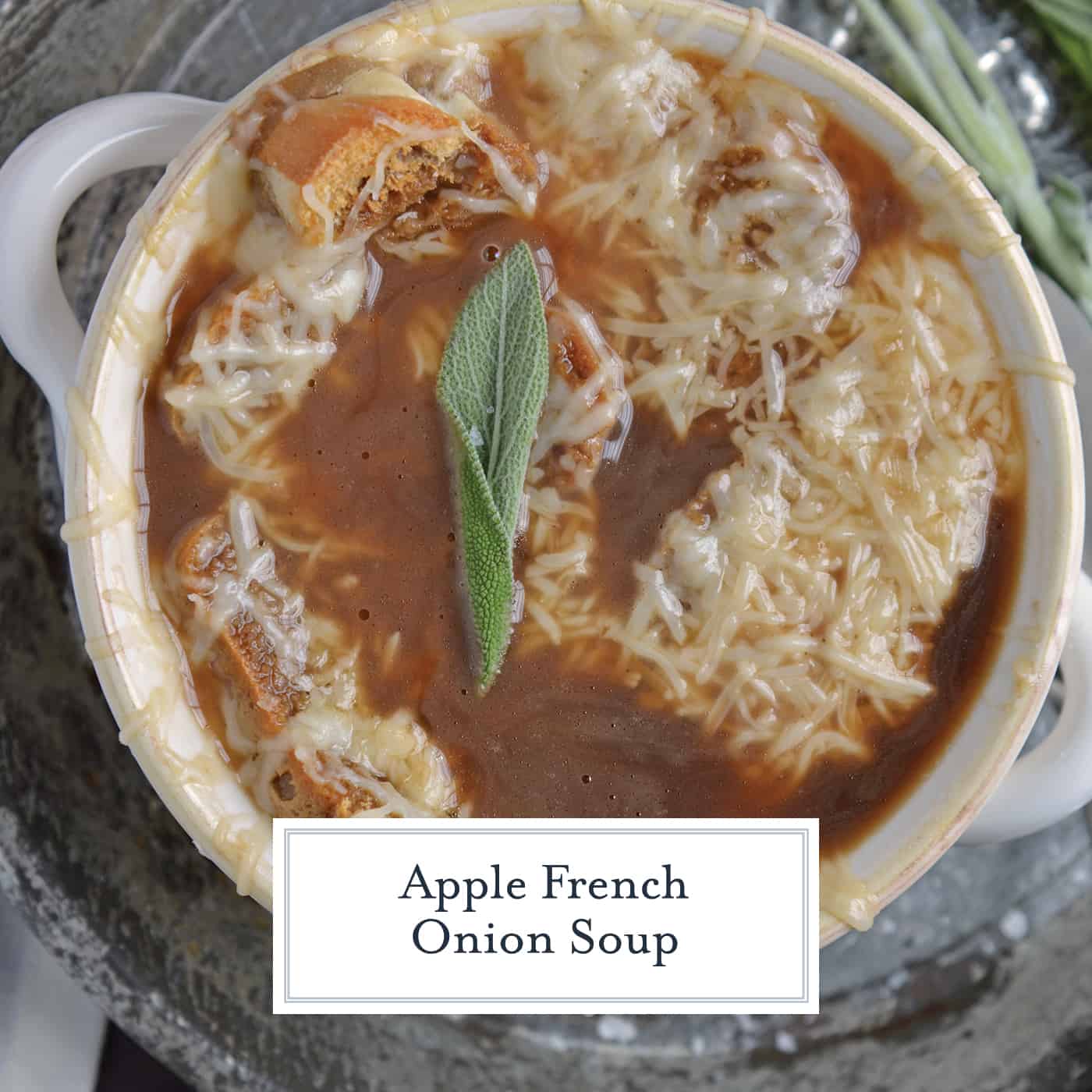 Apple French Onion Soup combines a robust French Onion Soup Recipe using sweet apples for flavor and texture. Top with crunchy garlic croutons and gooey cheese.
French Onion Soup seems simple enough, but is actually pretty sophisticated if you want to do it right. Much more than merely tossing a packet of onion soup mix into a pot of boiling water.
The base, of course is a beef broth or stock. Stocks alone are tricky, but a homemade stock can make or break French Onion Soup.
Simply pouring it out of a cardboard container from the store will give you flavor, but not the rich, velvety texture you crave.
Of course, if you wanted to make an easy French Onion Soup, you could totally cut the corner and buy a good pre-made beef broth, But if you are looking to make one yourself, check out my Best Beef Broth for tips and tricks.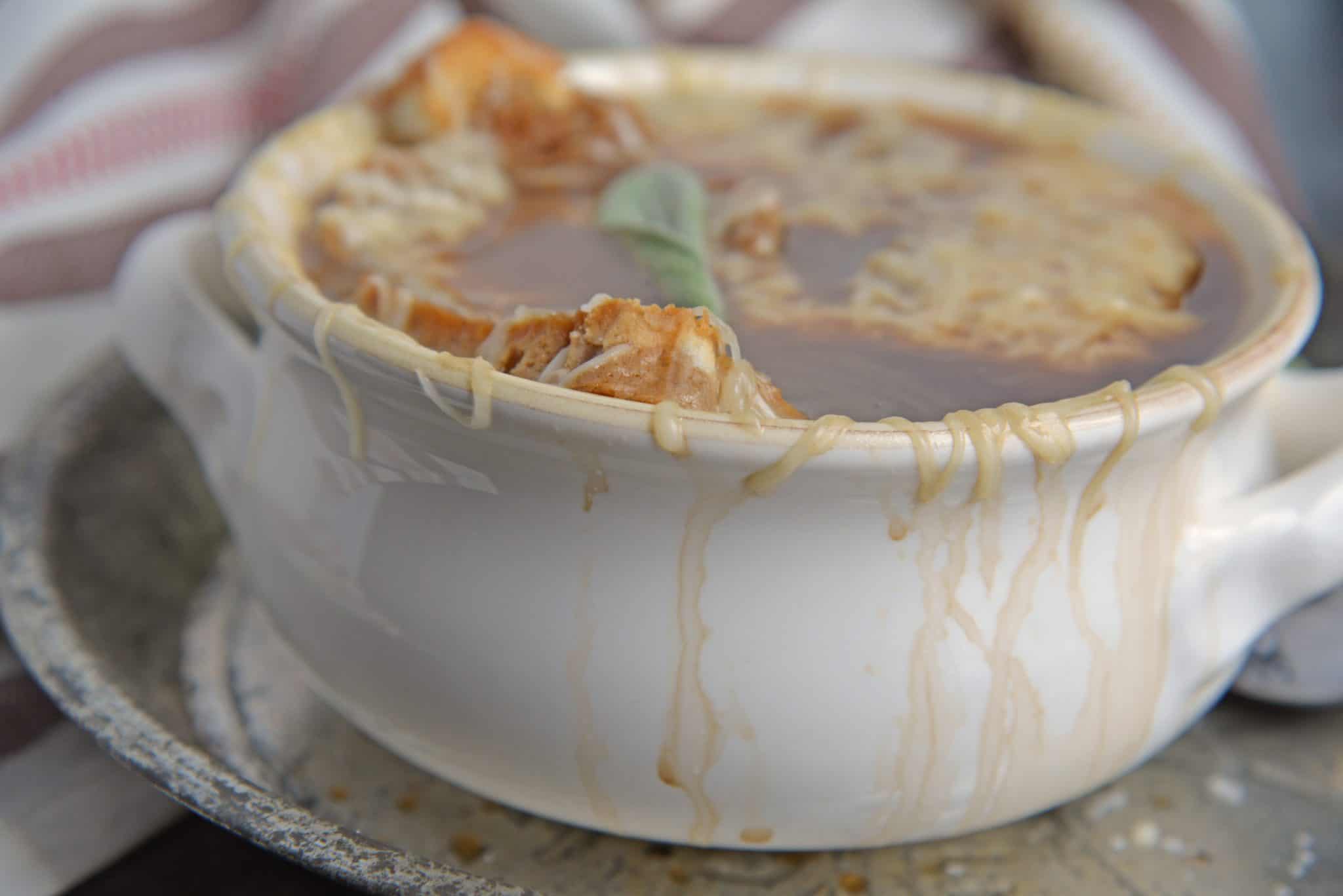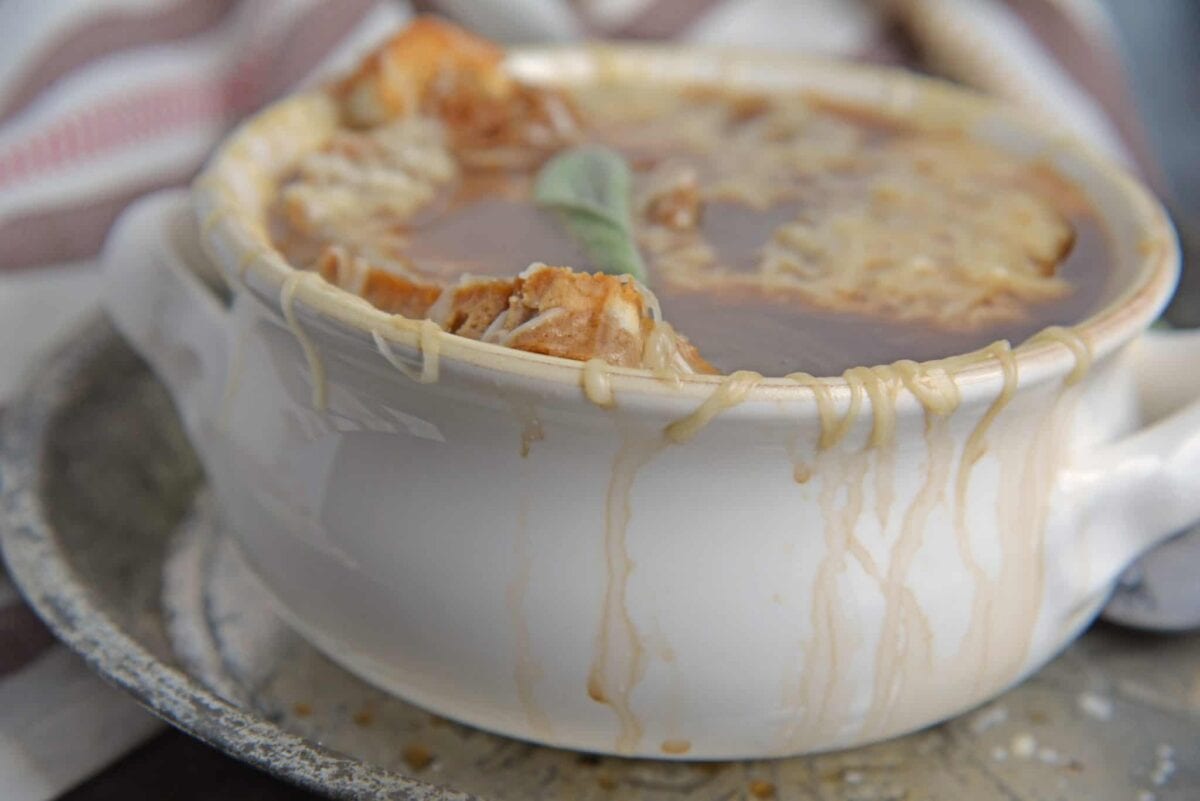 The second layer of complexity for French Onion Soup is caramelized onions. Caramelized onions take time, about an hour or so and are not the same as simple sauteed onions.
They need to be cooked low and slow to turn into a golden and sweet brown. These can be made days, even weeks ahead of time and frozen until you need them. Check out my tips and tricks for caramelized onions.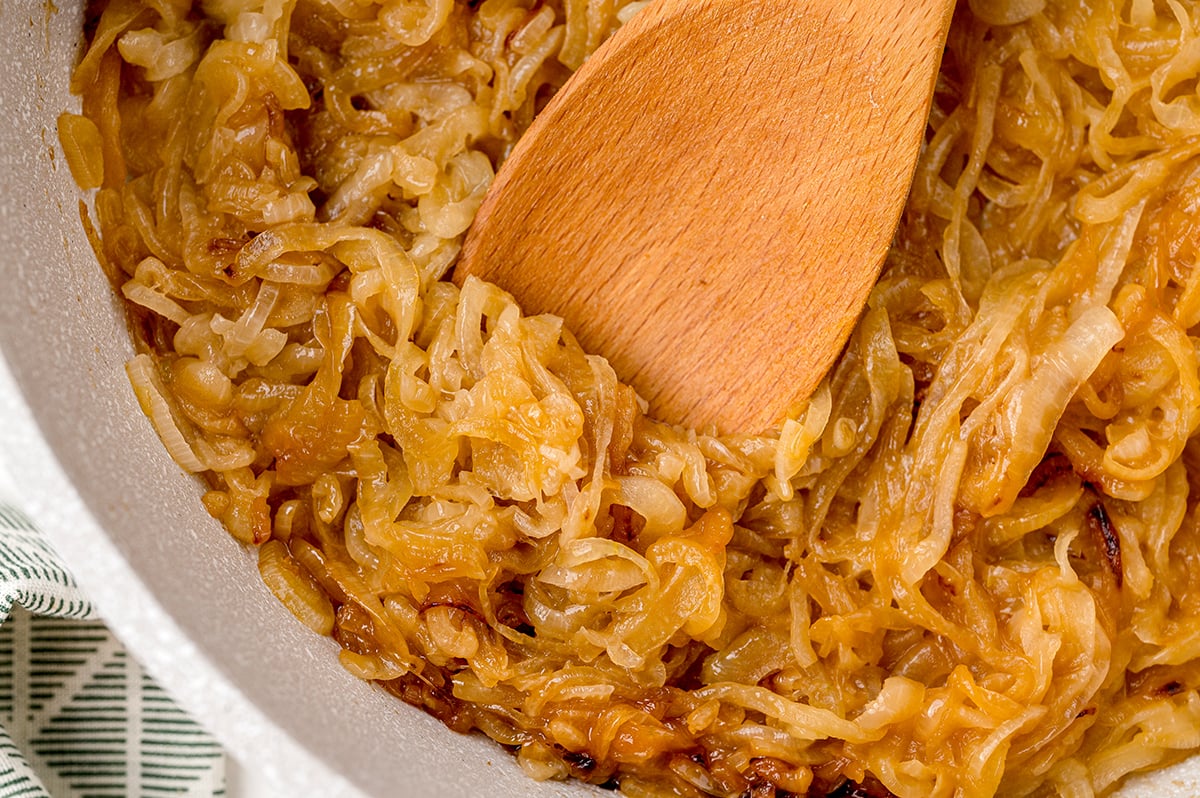 Next up, the croutons! Don't feel obligated to get the perfect French Onion Soup bread, use whatever you have. For this batch, I cut up some leftover Italian sub rolls.
I've even used sourdough and brioche. Just baste with garlic butter and make sure to get a good crisp on it. You'll need it so it doesn't just dissipate in the broth. You can also use olive oil if you prefer no garlic in your soup.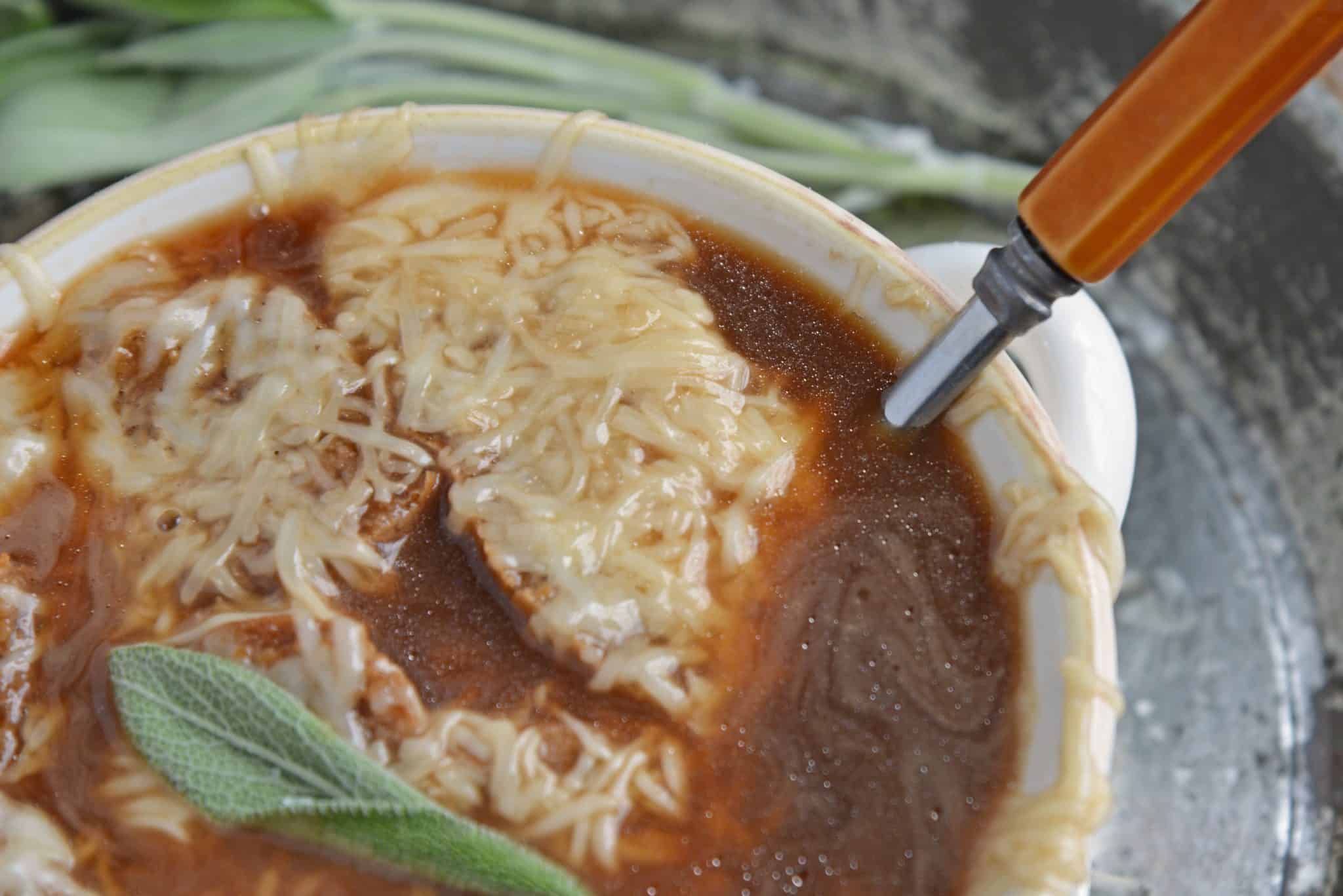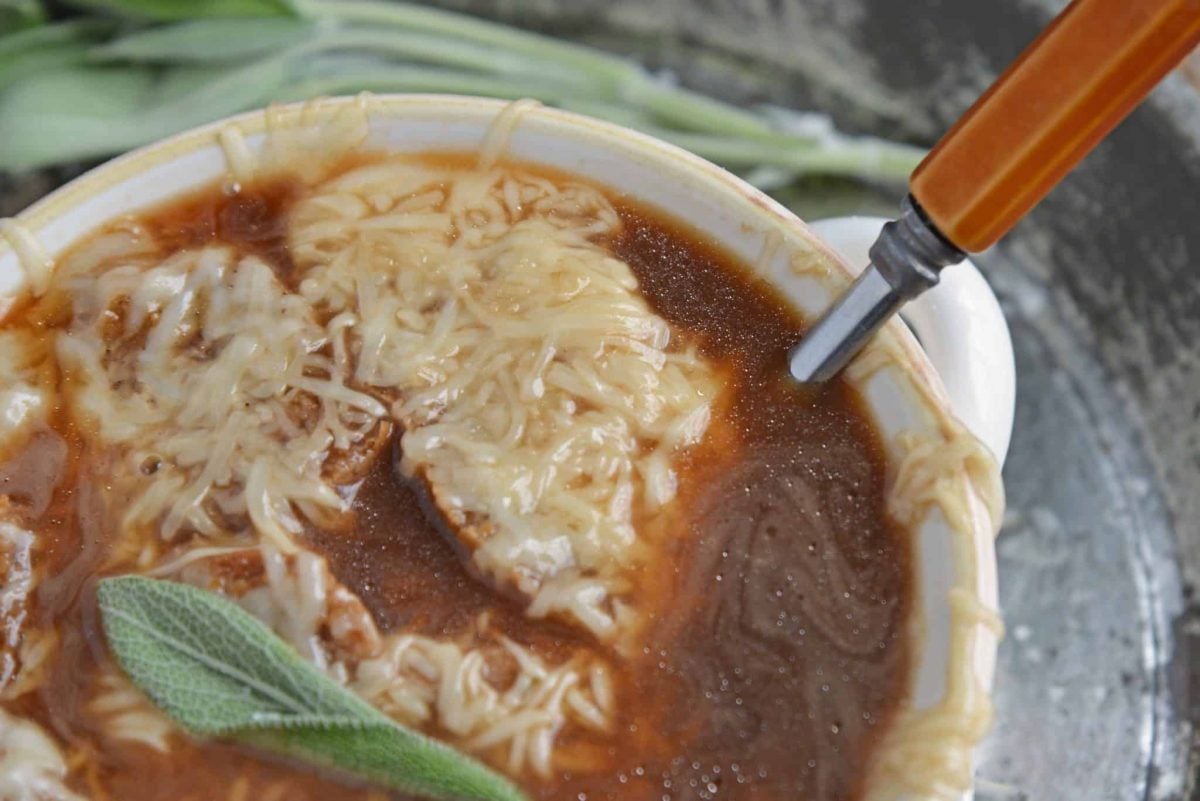 What type of cheese is "French Onion Soup cheese?" You can use a variety of cheeses and even a mix if you want! The typical ones are provolone, Swiss, Gruyere and Parmesan.
I typically use what I have on hand. Shredded cheese sinks into the broth, but melts better, while a slice of cheese will stay floating right on top, but not sink.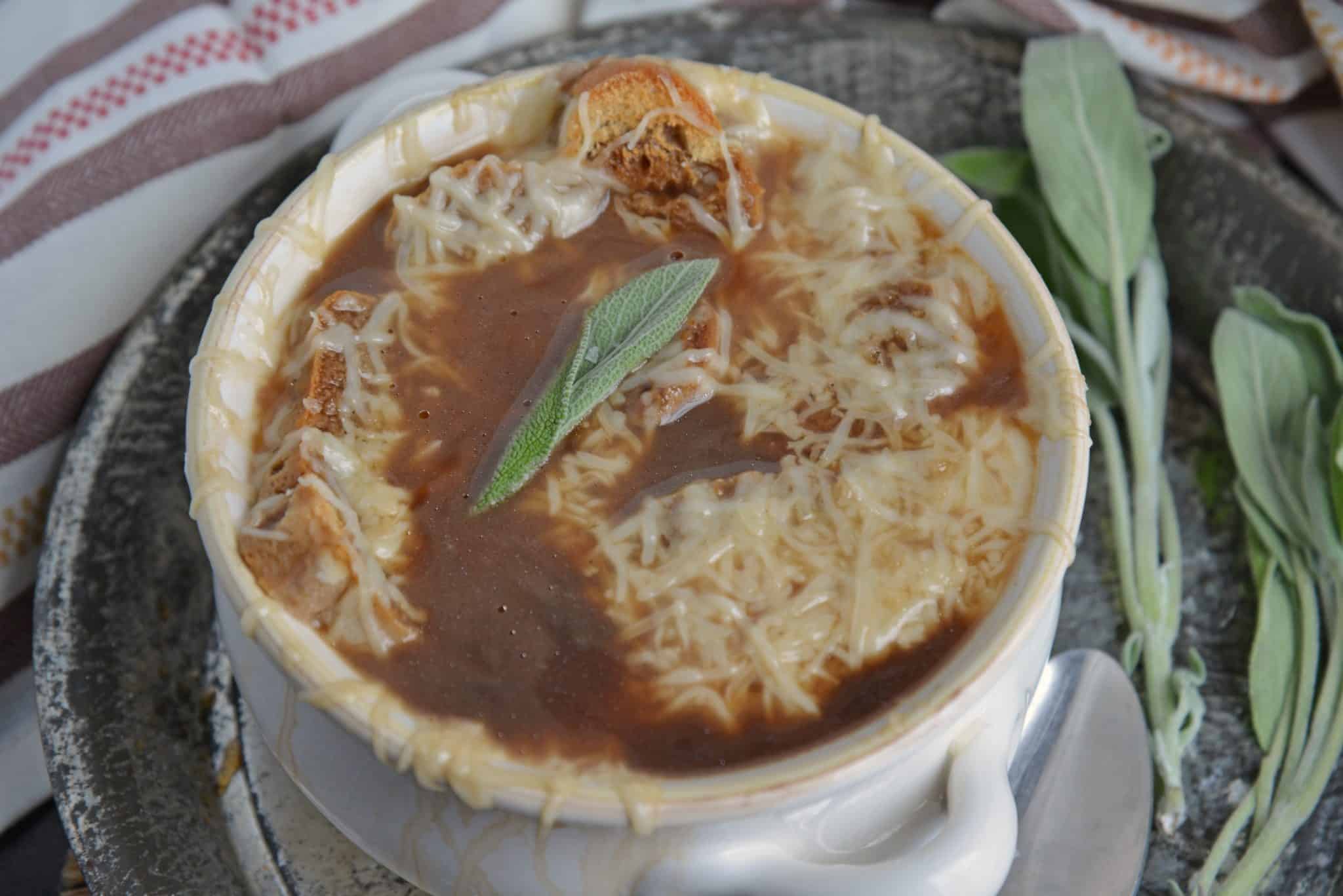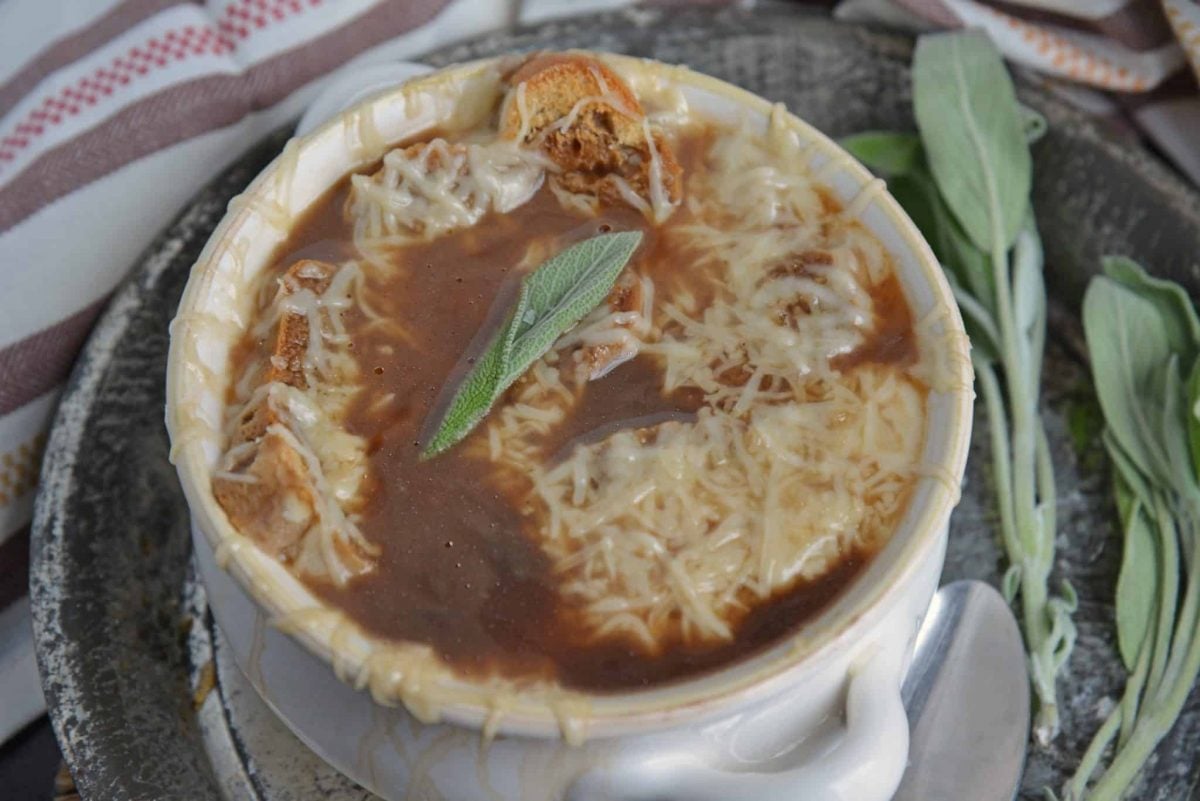 So makes my French Onion Soup different? Apple! A week ago I had an amazing bowl of French Onion Soup at a local restaurant and the added ingredient that really made it pop was the addition of apples.
And what a surprise lurking under the cheese! Guest raved and wondered why no one thought of this before. Pure genius!
his French Onion Soup is adapted from the masterful Julia Childs. Perfect in just about every way, it is finished with a splash of cognac. Feel free to omit it to make other adaptations as needed.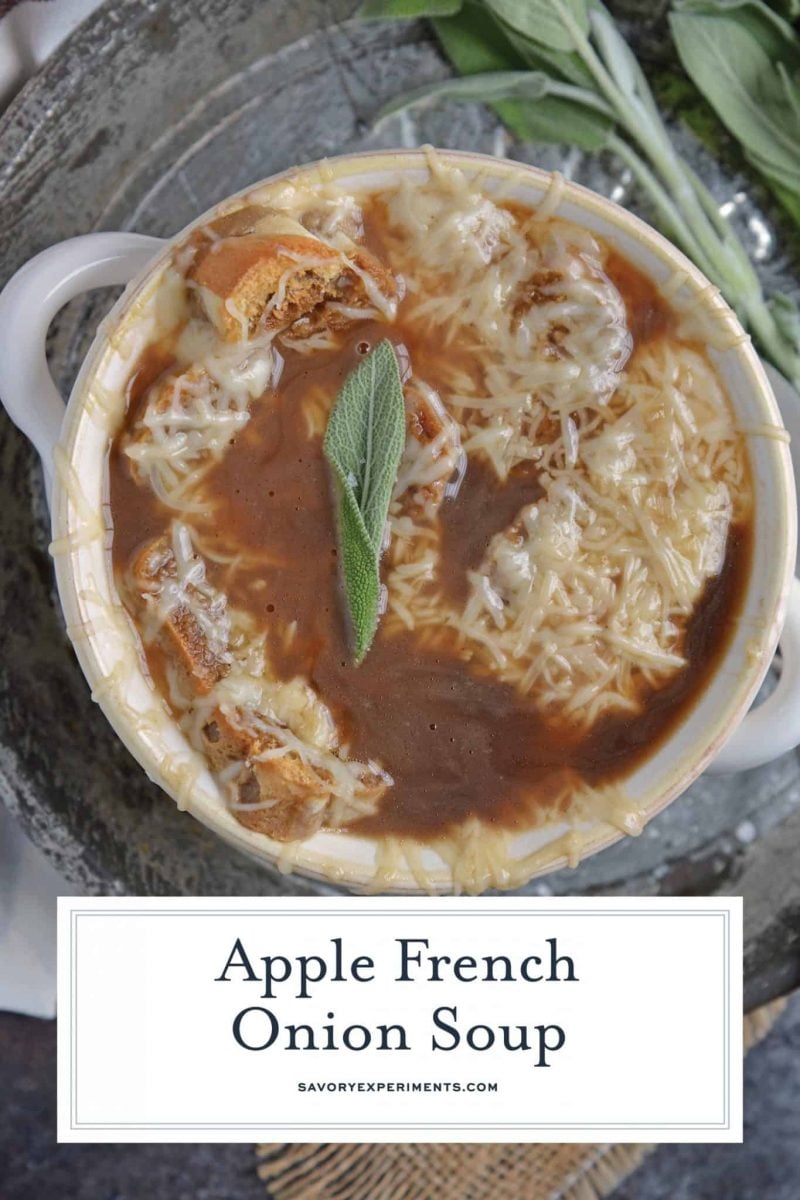 Tools you'll need to make Apple French Onion Soup:
French Onion Soup Crocks– these are oven safe bowls perfect for serving any soup, especially those with melted cheese. I personally like the old school brown porcelain with a handle. It makes it easier to transfer from the baking sheet to a serving plate.
Dutch Oven– every kitchen should have one! They are heavy. They are expensive. They are worth it!
Micrograter– A small kitchen utensil you find you use a lot more than you expected!
If you liked our Apple French Onion Soup, here are more recipes that use caramelized onions!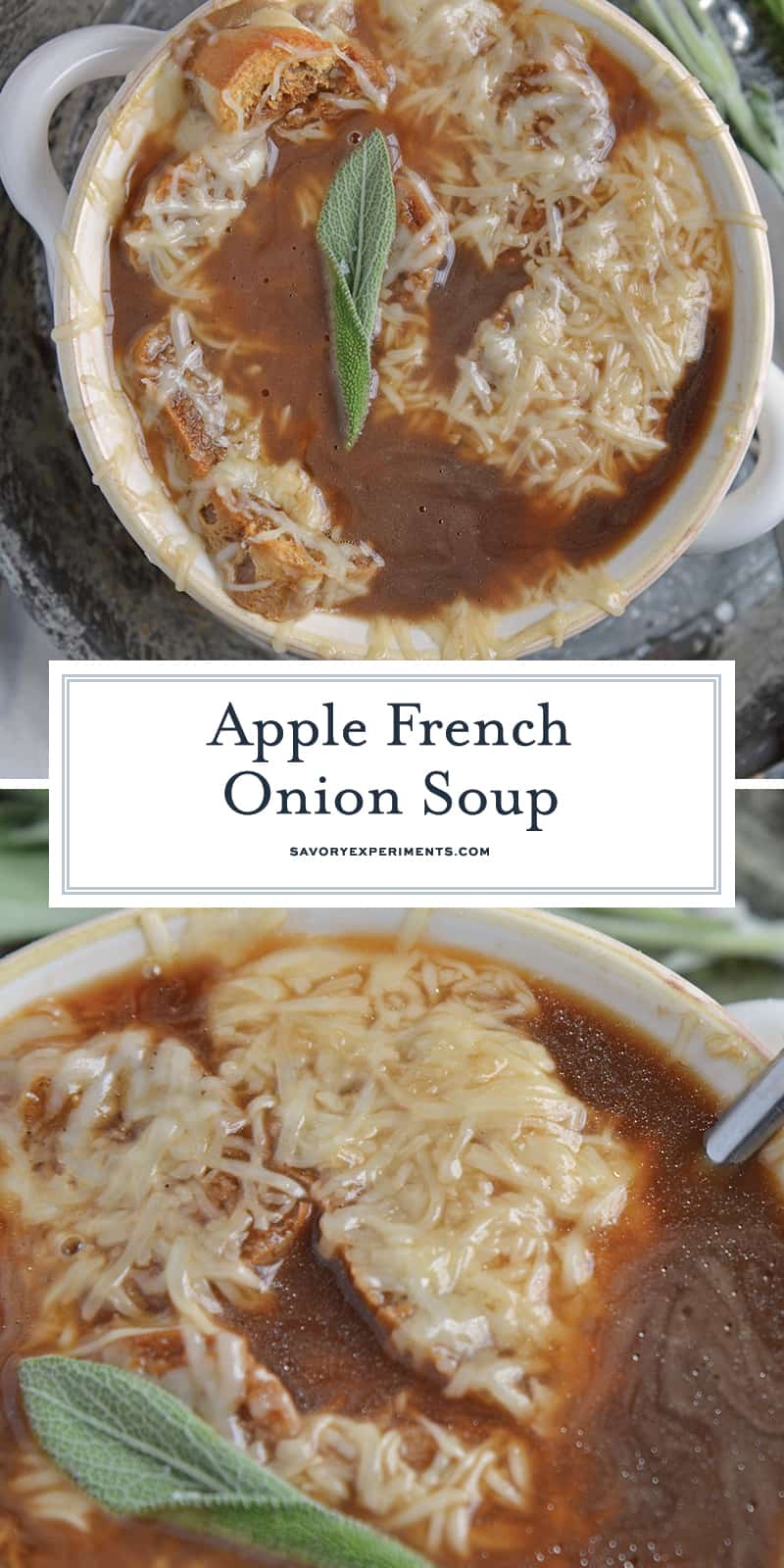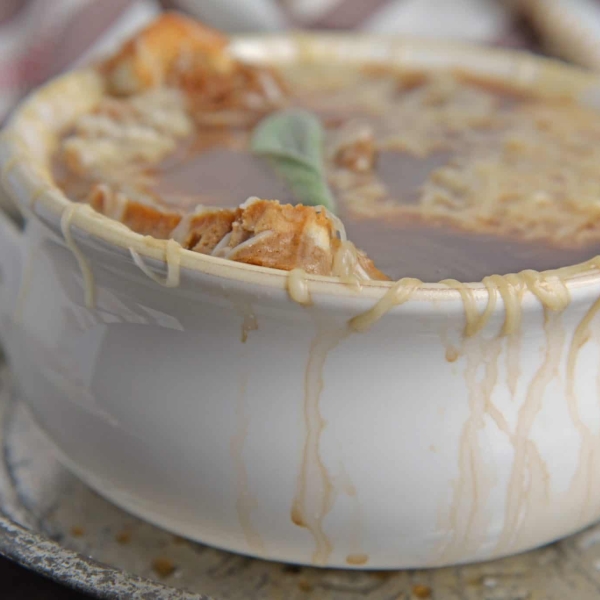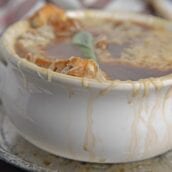 Apple French Onion Soup
Apple French Onion Soup combines a robust French Onion Soup Recipe using sweet apples for flavor and texture. Top with crunchy garlic croutons and gooey cheese.
Instructions
Heat a large Dutch oven or sauce pan over medium heat. Melt butter. Add caramelized onions and diced apples to the butter. Cook for an additional 5 minutes, stirring periodically to prevent burning. Apples should be slightly tender, but not mushy and not hard.

Add flour to mixture, allowing it to brown, forming a roux along with the caramelized onions and apples.

After flour browns slightly, add BEST beef stock, dry red wine, bay leaves, rubbed sage, fine sea salt and freshly ground black pepper. Stir and bring to a low simmer. Never bring to a full boil.

Simmer for a minimum of 30 minutes, but no longer than 1 hour (the apples will start to lose their texture).

Meanwhile, prepare the croutons by preheating the oven to 325 degrees. Baste with melted butter mixed with garlic powder and then bake for 15 minutes or until brown and toasty.

Add grated onion, cognac and Parmesan cheese to the soup. Remove the bay leaves. Give it a quick stir.

Place Onion Soup Crocks onto a rimmed baking sheet. Top each with a croutons and 2 slices of Swiss cheese. Make sure the edges of the bread are covered with cheese to prevent the bread from burning.

Broil on high until cheese melts.

Remove, garnish with additional fresh sage, if desired, and serve immediately.

If you've tried this recipe, come back and let us know how it was!
Nutrition
Calories:
472
kcal
,
Carbohydrates:
12
g
,
Protein:
20
g
,
Fat:
34
g
,
Saturated Fat:
22
g
,
Cholesterol:
101
mg
,
Sodium:
594
mg
,
Potassium:
152
mg
,
Fiber:
1
g
,
Sugar:
3
g
,
Vitamin A:
1050
IU
,
Vitamin C:
4.4
mg
,
Calcium:
609
mg
,
Iron:
0.5
mg