Best Zucchini Bread? YES!!! I enjoy banana bread, apple cinnamon bread and even butternut squash cake, but zucchini bread, but it isn't something I necessarily crave or even get really excited about. Until now.
Best Zucchini Bread is the most moist zucchini bread recipe made by a pastry chef. One of the best zucchini recipes ever! Serve with zingy molasses butter.
A few months ago I attended a local media event The Turn House, a restaurant at a golf course. A beautifully kept course with an equally gorgeous club house, complete with restaurant.
We aren't talking snack bar, nor Bushwood's, but someplace in the middle where you can feel comfortable with a glass of wine or craft cocktail.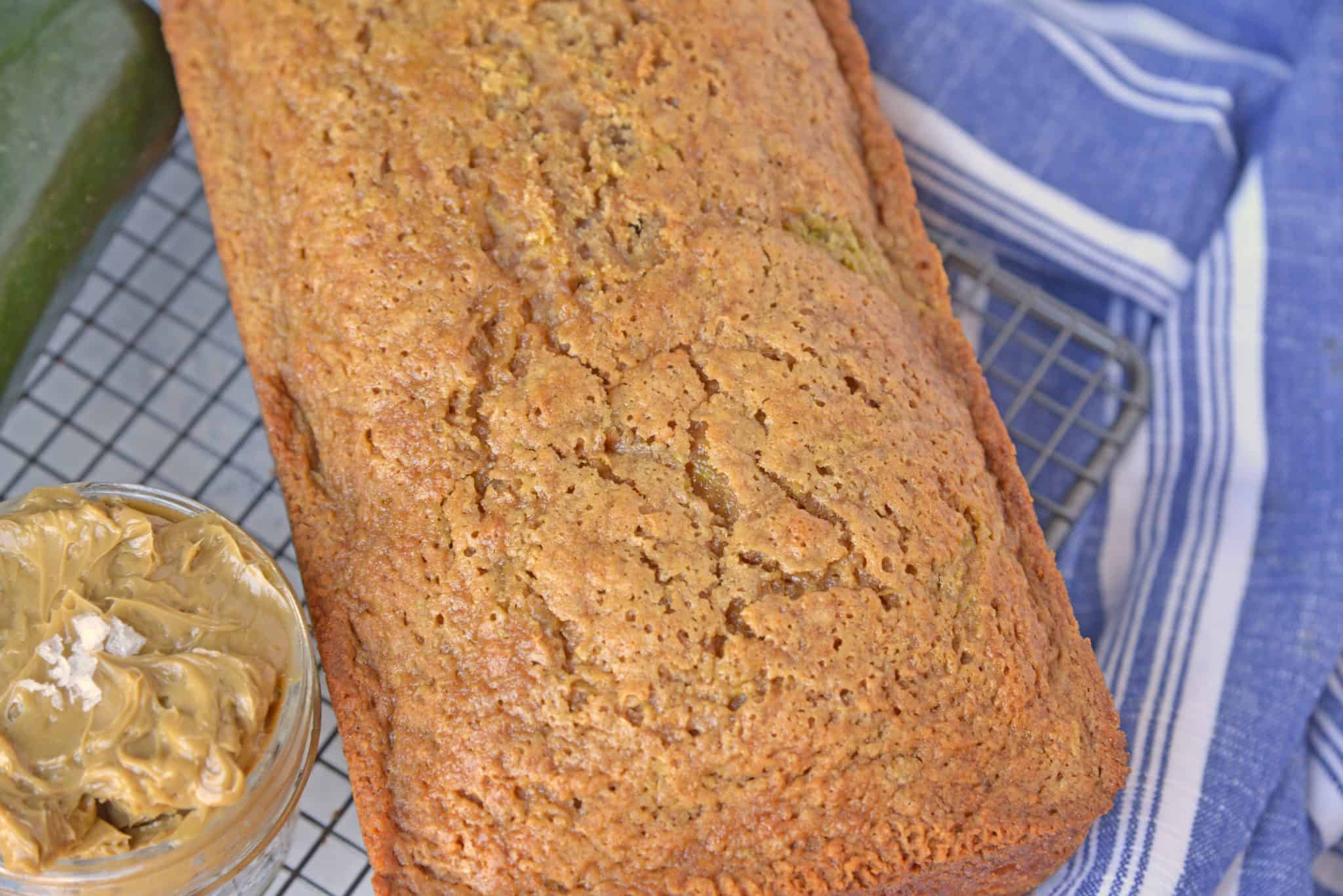 And with that refreshing libation also comes expertly prepared, locally sourced food. All things you don't necessarily associate with the golf course clubhouse.
And while I can't stop talking about the brisket and other dishes, I came home craving Zucchini Bread.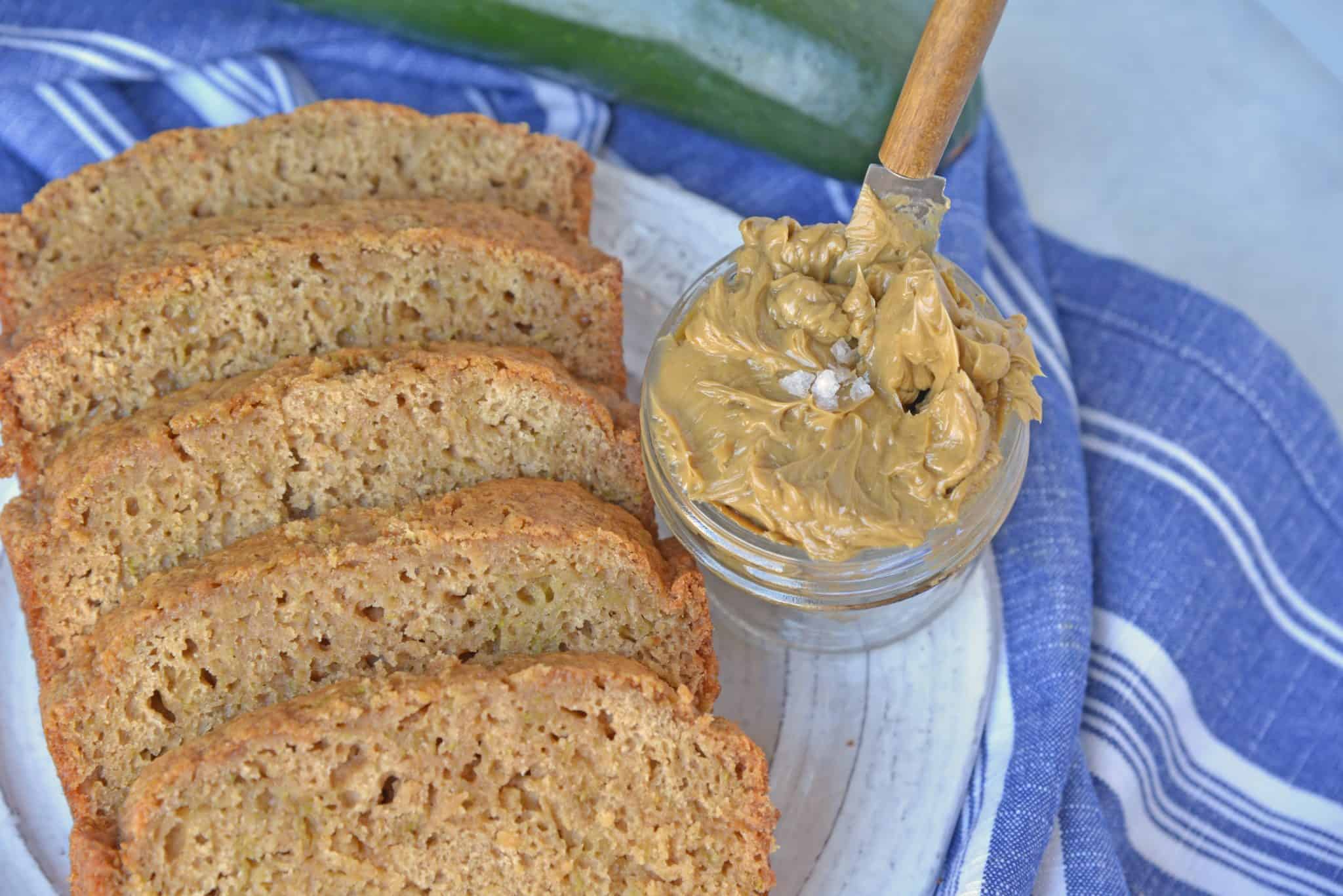 I've had a lot of zucchini bread in my day and let me tell you, this is the BEST zucchini bread ever. Moist and flavorful, this one of the best zucchini recipes I've ever made.
Another bonus? This recipe makes two zucchini loaves, so even after you've devoured the first, the second is ready and waiting!
The Turn House was gracious enough to share the coveted recipe using finely shredded zucchini, applesauce and a blend of spices to make the best zucchini loaf ever!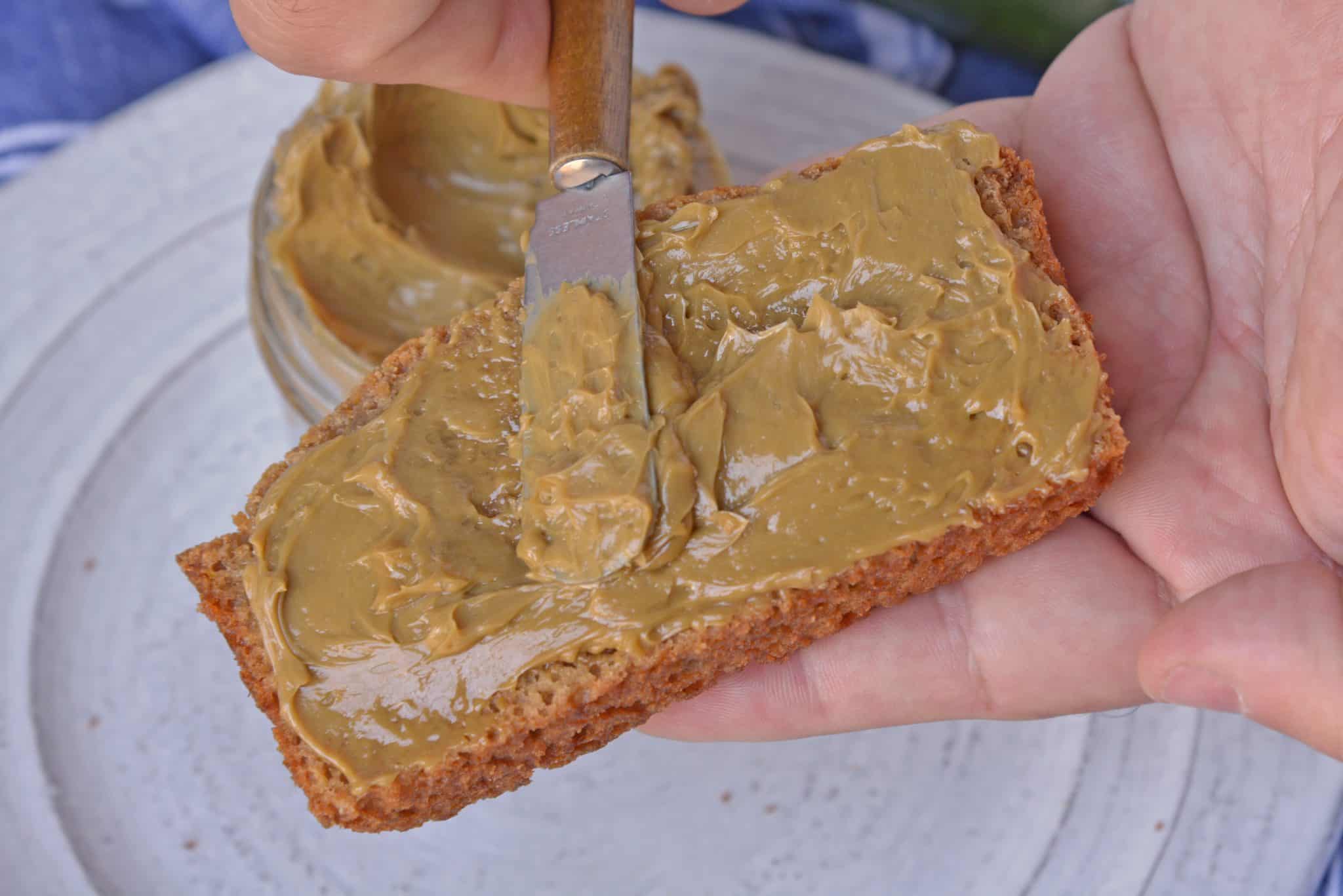 One of the other tricks to excellent zucchini bread, at least in my opinion, is using a finely grated zucchini. Some folks use a box grater and a thick, coarse cut, but I prefer mine to be almost in pulp form. It releases the flavors and juices, resulting in the best zucchini bread ever!
I achieve this by using my mandolin slicer, but be careful and always use the guards! This is also the kitchen utensil with the most injuries! You can also use a food processor or do it by hand.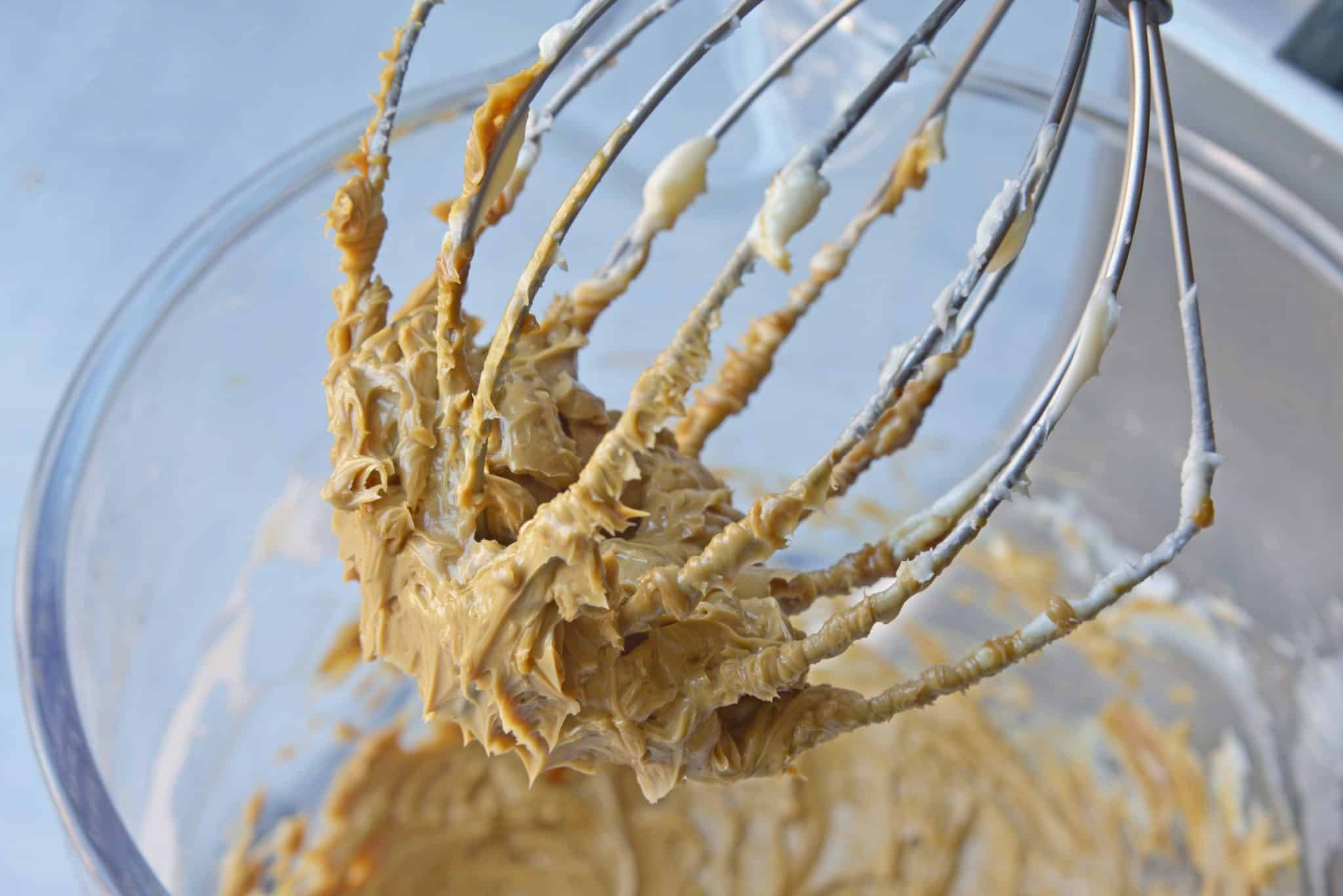 The Turn House also shared the perfect pairing for zucchini bread: molasses butter! And this molasses butter isn't just a basic butter, oh no! It has a secret ingredient you'll have to click over to see. If you want more of a cake-type bread, feel free to use maple cream cheese frosting.
Take the extra 5 minutes to make molasses butter. You'll thank me. I'm going to start making this butter with all of my breads and for breakfast. It will steal the show!
Tools need to make the BEST Zucchini Bread:
Mixing Bowls– make sure to check out my article on Using the Right Mixing Bowl, you'd be surprised how many people aren't!
Stand Mixer– I lived for a long time without one. My life was changed when I finally bit the bullet and bought one. Just do it and thank yourself later.
Mandolin Slicer
– this is the easiest way to finely shredded anything without pulling out all of the accessories to your stand mixer.
Kitchen Scale
– another one of those gadgets I didn't think I needed, but use all the time to make sure my breads and cakes are even!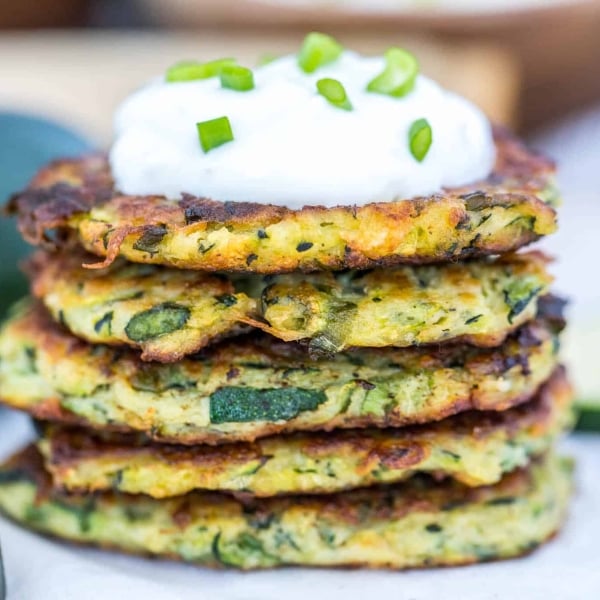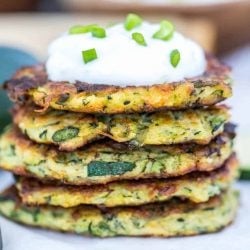 Zucchini Fritters
Zucchini Fritters, also known as zucchini pancakes, are the best way to use shredded zucchini to make a delicious summer snack!
See The Recipe!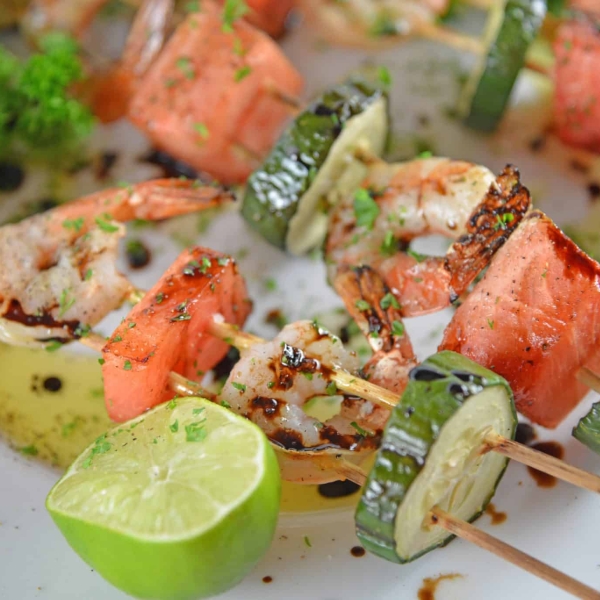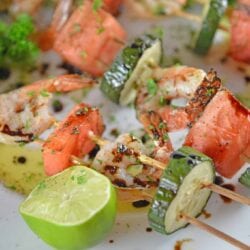 Watermelon Shrimp Kabobs
Watermelon Shrimp Kabobs combine grilled shrimp with grilled watermelon with a sweet balsamic reduction and zesty lime. A healthy kabob recipe on the grill.
See The Recipe!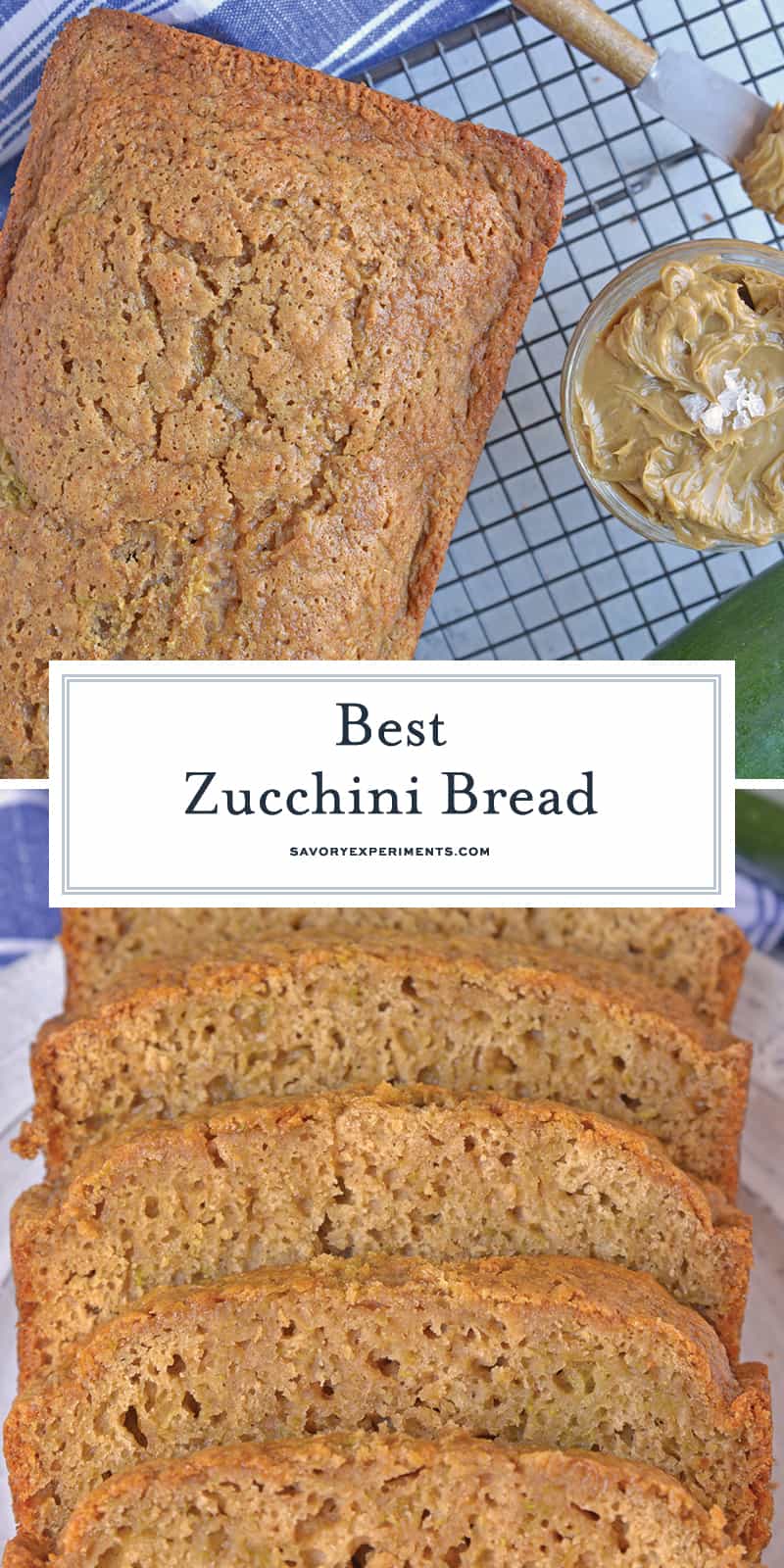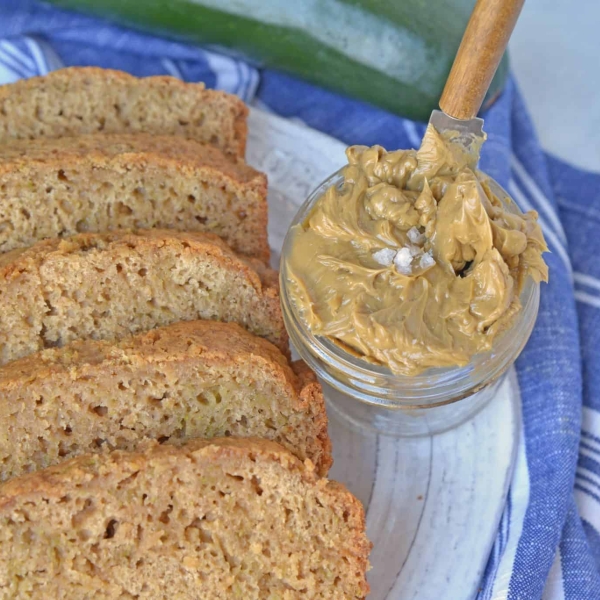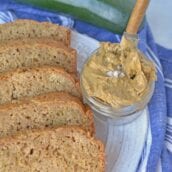 Best Zucchini Bread
Best Zucchini Bread is the most moist zucchini bread recipe made by a pastry chef. One of the best zucchini recipes ever! Serve with zingy molasses butter.
Instructions
Grease two 8×4 inch bread pans and preheat oven to 325 degrees.

Sift or whisk together flour, nutmeg, cinnamon, ginger, baking powder and baking soda and salt. Set aside.

In a stand mixer fitted with the paddle attachment or a large mixing bowl, beat applesauce, vanilla, sugar and brown sugar together.

Add eggs, one at a time, fully incorporating between each addition.

Add dry ingredients until just combined. Do not overbeat. Fold in finely grated zucchini.

Pour batter into prepared pans.

Bake for 30-40 minutes or until bread is light brown and passes the toothpick test. Times will vary greatly depending on how much batter you put in each pan. Use a kitchen scale to get them equal. If not, one may be complete before the other.

Cool in pan on a rack for 20 minutes before removing from pan.

Serve with molasses butter.

If you've tried this recipe, come back and let us know how it was!
Notes
Recipe adapted from Jessica Banner.
Nutrition
Calories:
210
kcal
,
Carbohydrates:
46
g
,
Protein:
3
g
,
Fat:
1
g
,
Cholesterol:
30
mg
,
Sodium:
231
mg
,
Potassium:
131
mg
,
Fiber:
1
g
,
Sugar:
27
g
,
Vitamin A:
80
IU
,
Vitamin C:
2.9
mg
,
Calcium:
37
mg
,
Iron:
1.5
mg