There's nothing better than a delicious grilled steak in the summer or any time of the year for that matter. This easy marinade for steak will give you the most flavorful steak you've ever tasted!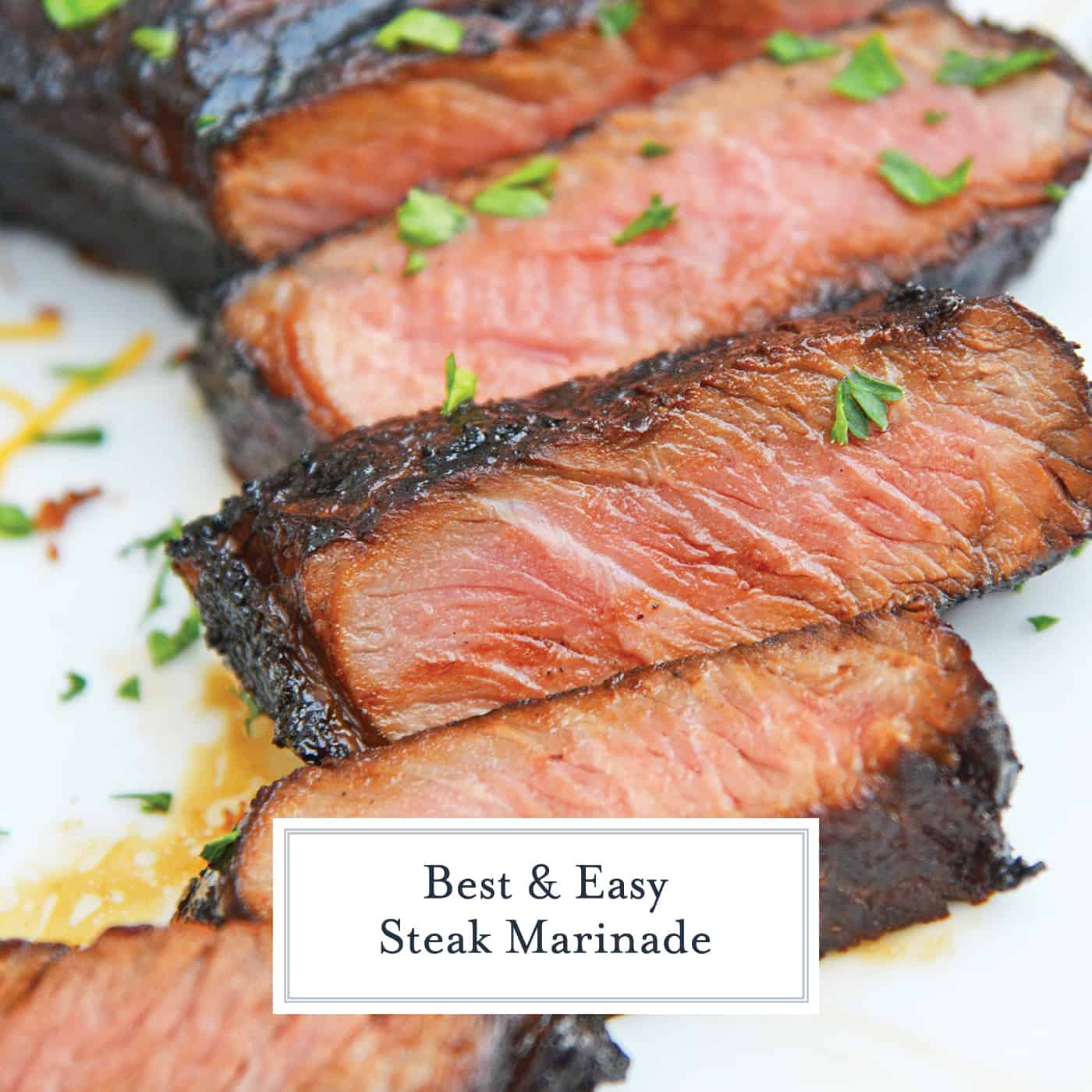 This easy marinade for steak is the absolute BEST steak marinade you'll ever use. The best part? You only need 3 ingredients and half an hour for it to marinate!
Who doesn't love to throw a steak on the grill during the summer or into a cast iron pan at any time of the year? No one, vegans and vegetarians aside.
While a beef connoisseur will argue that a really good slab of meat doesn't need any seasoning, I like to give mine a little pizzazz, a little excitement without taking over the flavor that makes it so beefy in the first place.
I have two go-to methods of achieving this culinary heaven. The first is marinating my meat in that plain, old Italian dressing. A great choice.
But…the second option is marinating with my BEST easy steak marinade.
Get ready for it…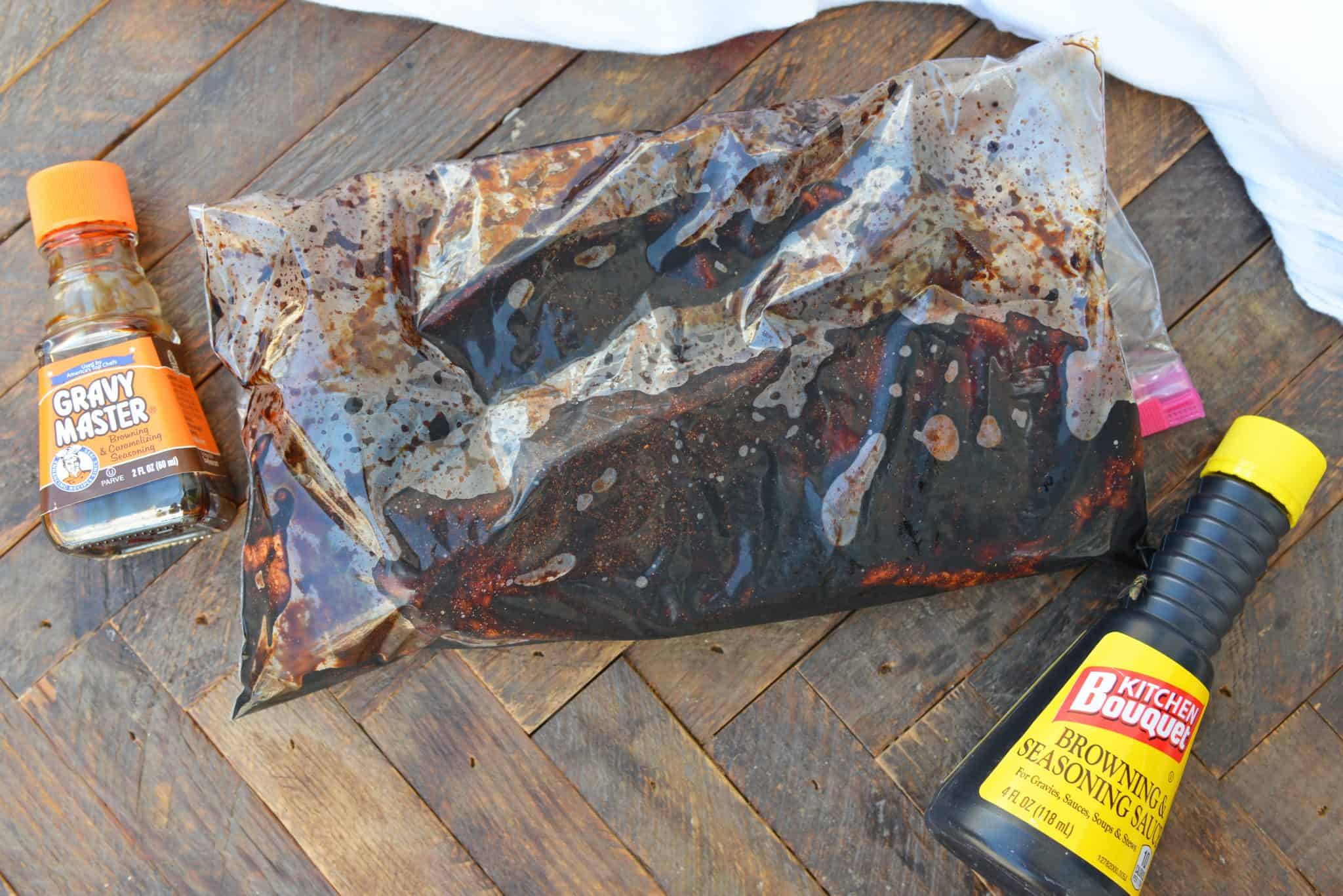 You want to know the secret to my easy steak marinade? Kitchen Bouquet or Gravy Master.
Rich and flavorful blends of caramel and vegetable seasoning create a deep brown, crusty exterior while leaving the interior nice and tender.
I mean seriously, look at this lovely piece of meat!!!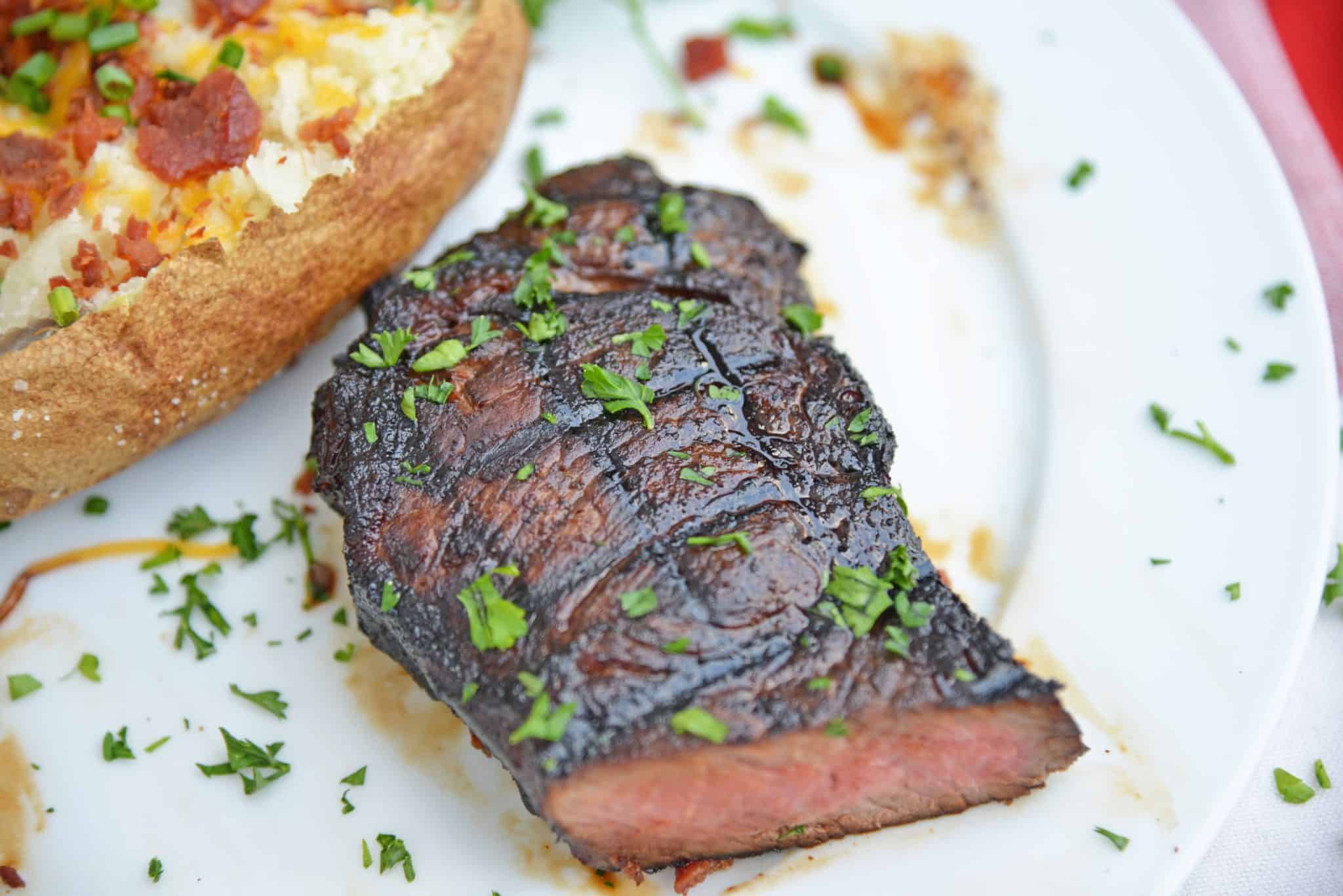 Tell me that didn't make your mouth water just looking at it!
This recipe can be used on steaks being cooked on the grill, in cast iron or even under the broiler. If you do use cast iron, blot it very well to get a dry steak.
My favorite way to prepare steak using this marinade and then lighting up the grill. It is a little sweet with caramelized molasses notes and a bit of smoke and char offset that nicely. It almost intensifies the beefiness.
Everyone always raves about it and asks me for my secret, expecting it to be something difficult and time-consuming. When they realize how easy it is, they're always impressed.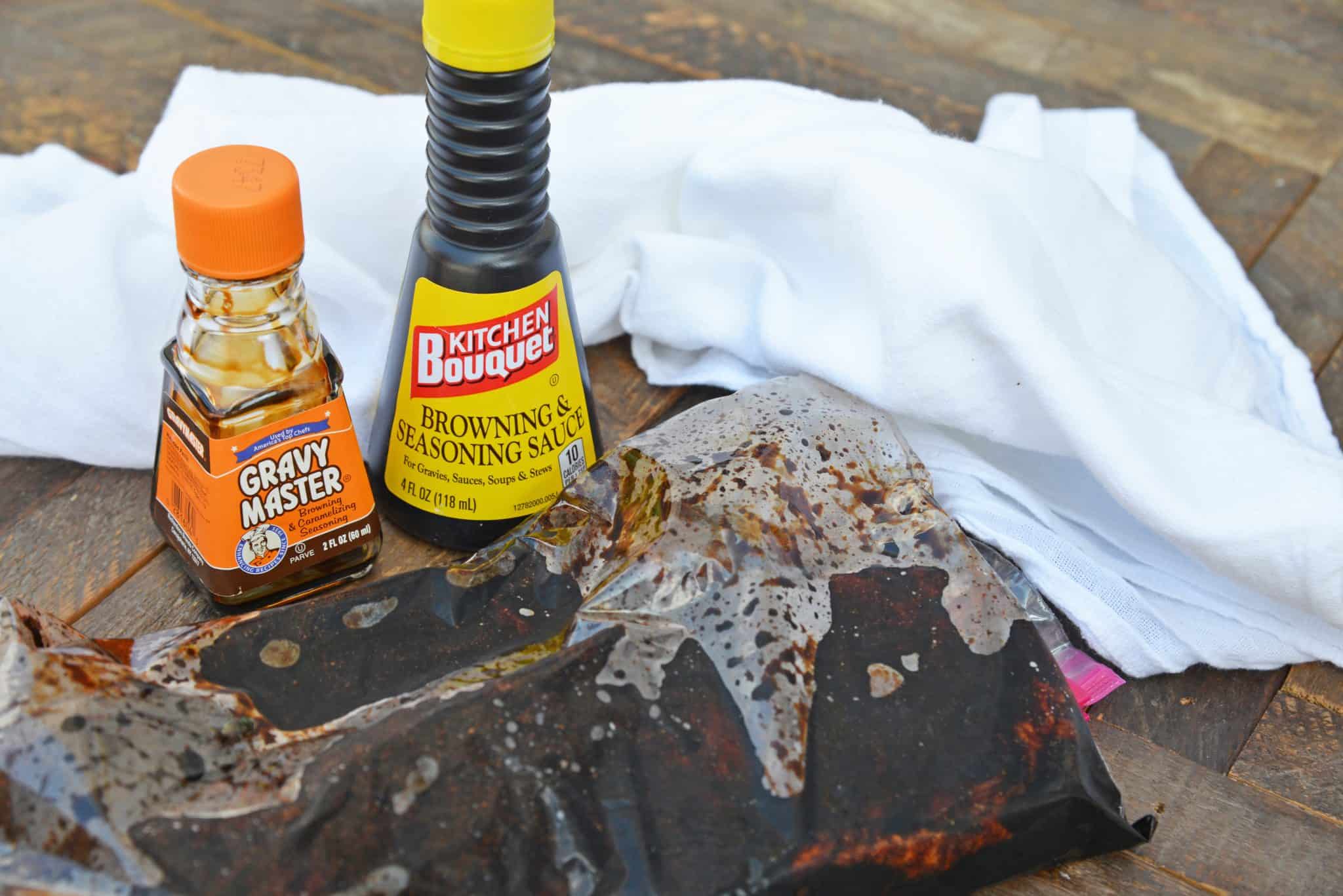 The whole dish can be ready in as little as half an hour, for the nights when you're running short on time.
However, I've also left the steak marinade on for up to 24 hours and usually like to throw the steaks in the marinade in the morning or early afternoon so I don't have to think about it later.
That way, when it is time to grill, everything is ready to go.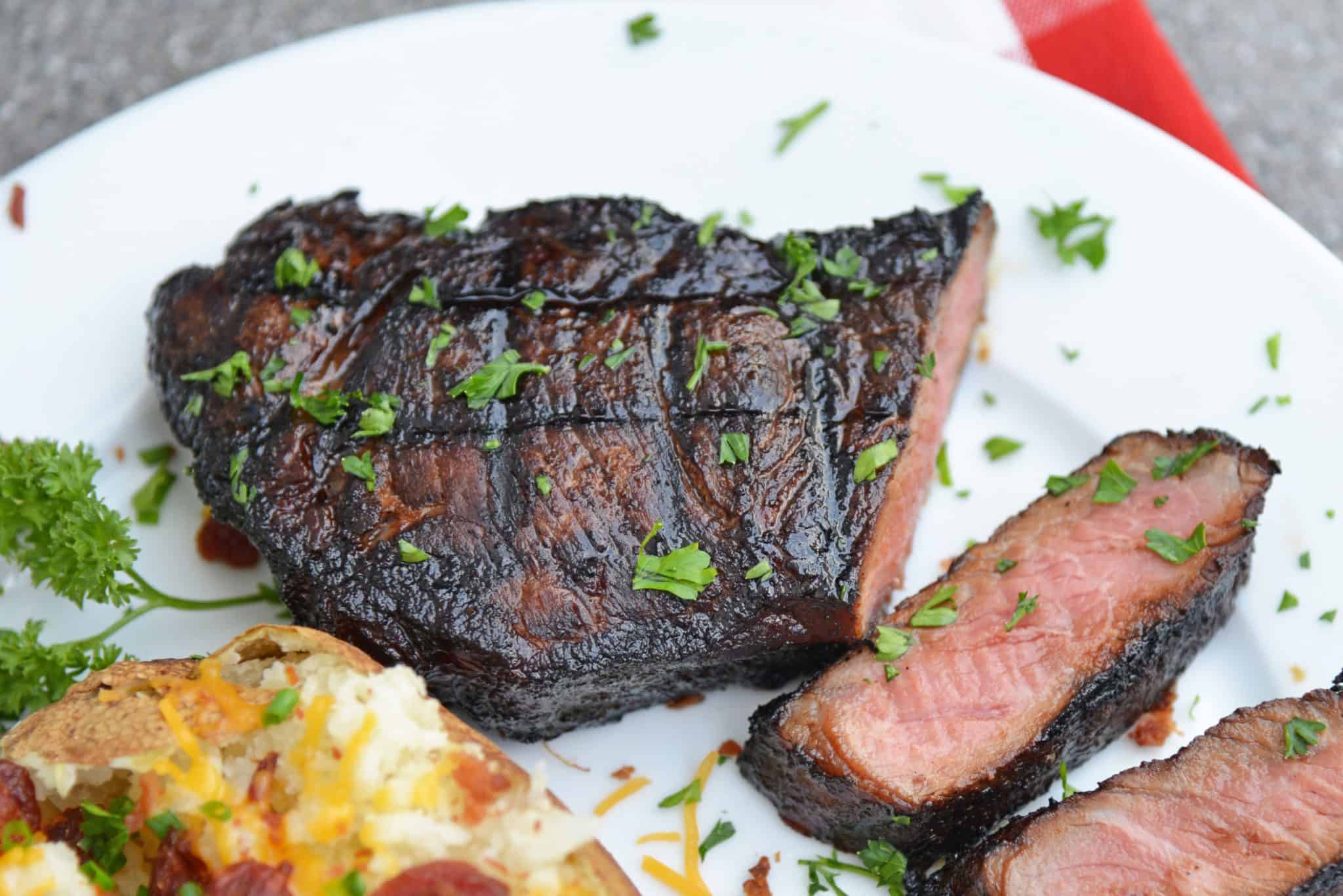 I love serving this easy steak marinade with corn on the cob and grilled potatoes. The perfect summer dinner! It also also great for making Steak Frites.
Since you love steak just like we do, you like these other easy recipes to make on the grill:
Grilled Chicken Fajitas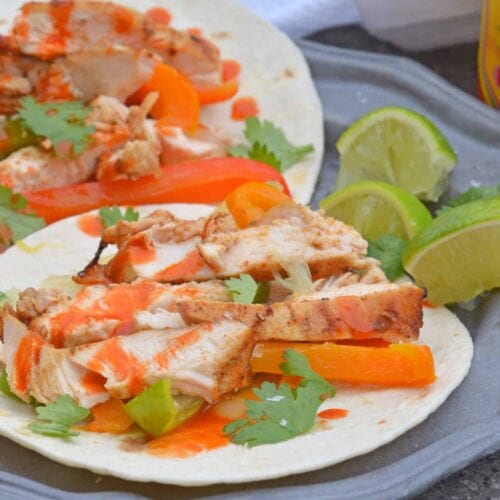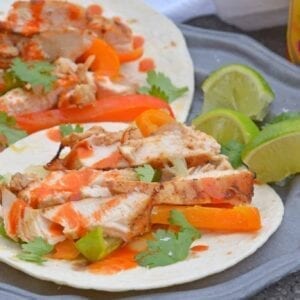 My Grilled Chicken Fajitas are a simple and healthy meal that you can have ready in under 30 minutes and make for the perfect weeknight meal.

Grilled Watermelon Steaks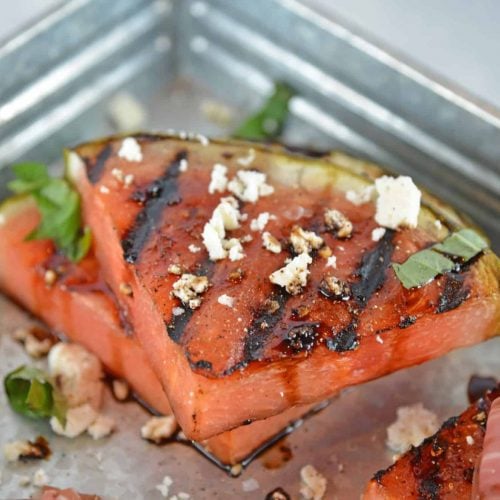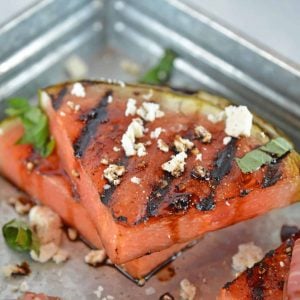 Grilled Watermelon Steaks with balsamic reduction and feta cheese are an easy BBQ side dish. Caramelized, juicy watermelon with savory cheese and sticky reduction is delicious!
Best Grilled Chicken Marinade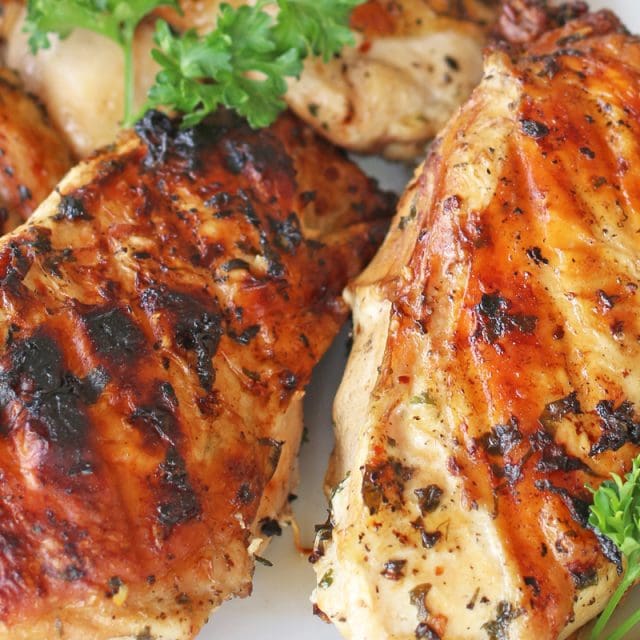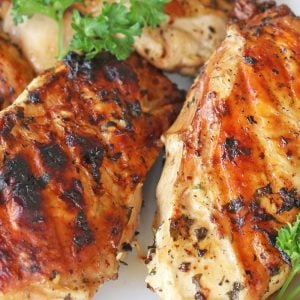 This simple marinade hands down makes the best chicken I have ever had on the grill. And versatile enough to be used on both vegetables and other meats.
Grilled Peaches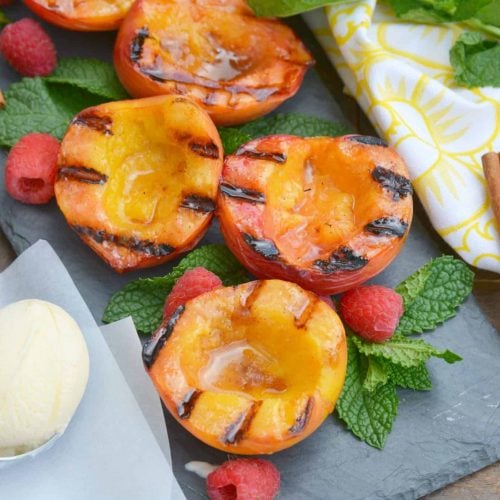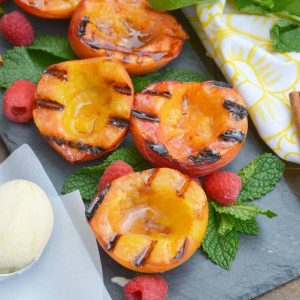 Grilled Peaches basted with cinnamon brown sugar and butter are the ultimate summer dessert idea. Add vanilla ice cream and fresh raspberries for dessert perfection!
Tools for making the Best Steak Marinade:
Plastic bag holder – This gadget is great for meal prep or preparing marinades to prevent them from spilling all over the counter.
Grill Tongs – I'm assuming you have them, but if you don't …..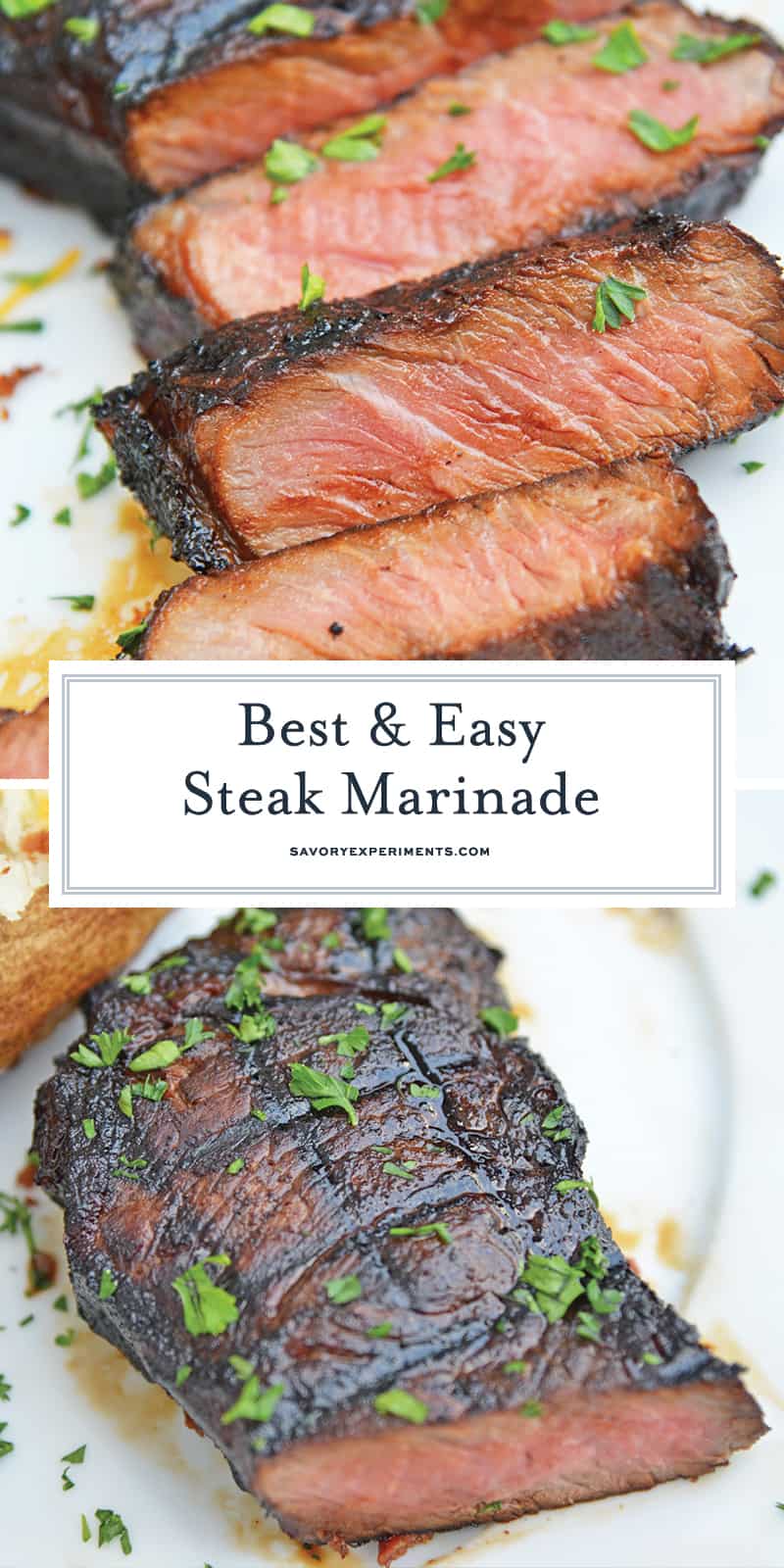 CONNECT WITH SAVORY EXPERIMENTS!

Be sure to follow me on social media, so you never miss a post!

Facebook | Twitter | Youtube
Pinterest | Instagram
Get our FREE 8 Day E-Course on How to Be a Better Home Cook. Sign up HERE!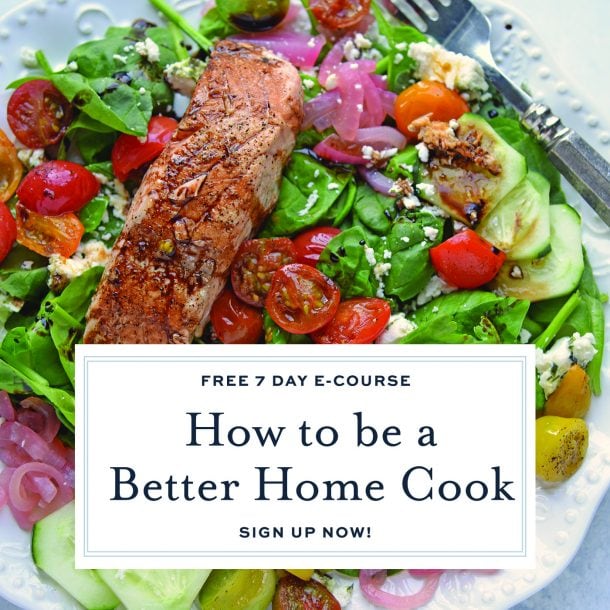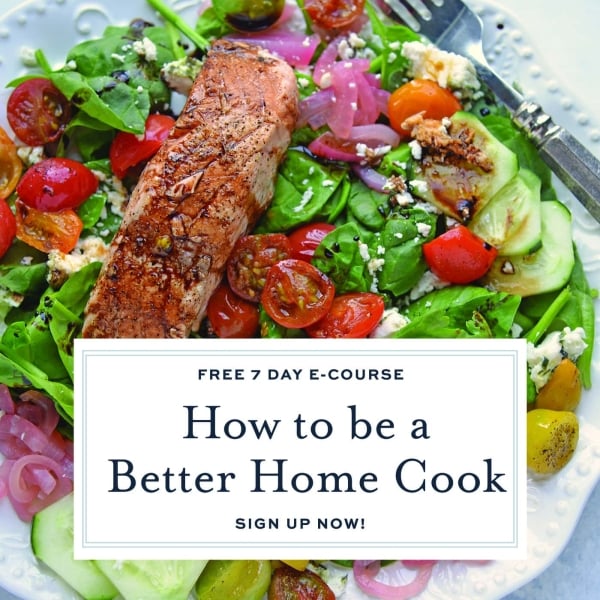 CONNECT WITH SAVORY EXPERIMENTS!

Be sure to follow me on social media, so you never miss a post!

Facebook | Twitter | Youtube
Pinterest | Instagram
Get our FREE 8 Day E-Course on How to Be a Better Home Cook. Sign up HERE!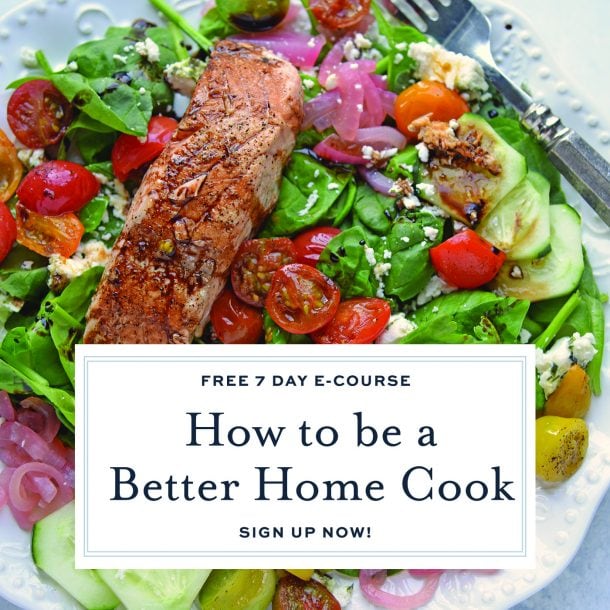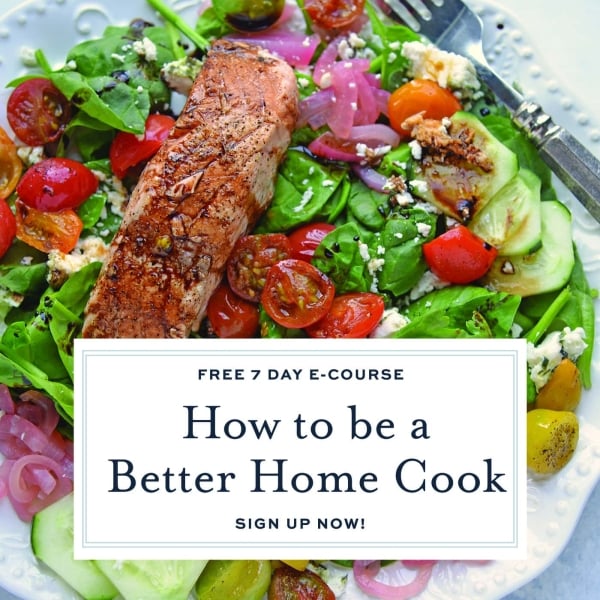 BEST Steak Marinade
The BEST Easy Steak Marinade will be the only marinade you ever use in the future!
Ingredients
2

steaks

, any cut you choose

4

ounces

Kitchen Bouquet or Gravy Master

1

teaspoon

fine sea salt

1

teaspoon

finely ground pepper
Instructions
Combine all in an airtight container or plastic bag, marinate for a minimum of 30 minutes, but up to 24 hours.

Cook steaks on grill until desired doneness.

Allow to rest for at least 5 minutes, cut against the grain, serve and enjoy!
Nutrition
Calories:
493
kcal
|
Carbohydrates:
2
g
|
Protein:
46
g
|
Fat:
32
g
|
Saturated Fat:
14
g
|
Cholesterol:
142
mg
|
Sodium:
1539
mg
|
Potassium:
605
mg
|
Vitamin A:
35
IU
|
Calcium:
16
mg
|
Iron:
3.9
mg