This is the perfect seafood soup for any day of the week! In just under 30 minutes you will have this Thai seafood soup on the table and tasting amazing!
Thai Coconut Soup is an easy and healthy appetizer or entree using scallops, shrimp, vegetables and a red curry coconut broth.
We are all busy and looking for new easy meals to prepare for our family. Make this Thai coconut milk soup using Dorot Fresh Frozen Garlic and Herbs. It makes for a 30-minute meal or appetizer the whole family will enjoy!
I use a lot of fresh garlic and herbs. The flavor of fresh compared to dried just can't be beat and will elevate any meal.
Because I use so much, I've attempted to grow my own, but living in the city coupled with the sheer volume that I use, my little potted plants just couldn't keep up. I was always buying fresh herbs at costly prices until I discovered Dorot Fresh Frozen Garlic and Herbs.
I still get fresh garlic and herbs, but I am saving oodles of time and money by buying them frozen. Dorot Frozen Herbs come in a mini ice cube tray with prepped fresh herbs so there is no prep or clean-up and they stay good for an entire year. Just pop out a cube and you are ready to rock your recipe!
Dorot Fresh Frozen Garlic and Herbs have 20 teaspoons per tray and stay fresh in the freezer, so you will always have herbs and garlic to complete your culinary masterpiece.
Dorot can be found at Trader Joes or Whole Foods (and many other retailers) in the freezer aisle near the vegetables. Test them out for yourself in my Thai seafood soup!
Thai Coconut Soup uses a mix of fresh and cooked vegetables to add texture and flavor to a red curry and coconut milk. Scallops, shrimp and any other cooked seafood you desire can be used.
Both base and broth can be made ahead for easy serving as an appetizer or entree.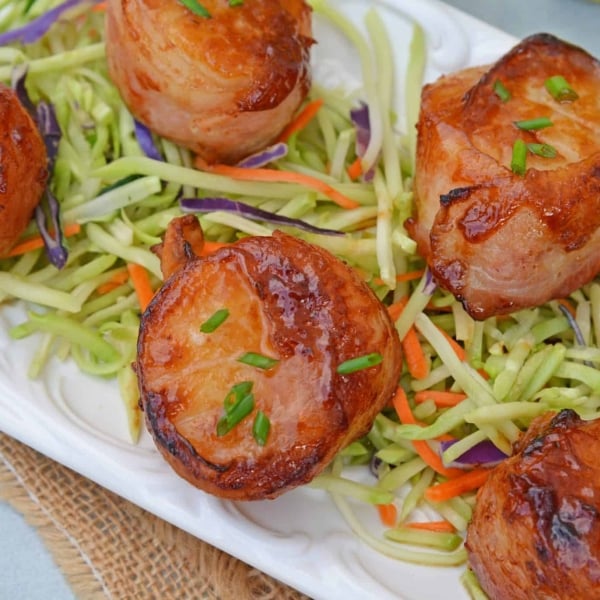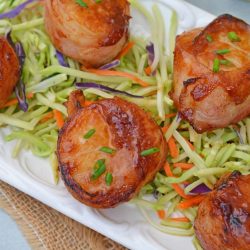 BBQ Bacon Wrapped Scallops
Scallops wrapped in bacon and brushed with barbeque sauce.
View this recipe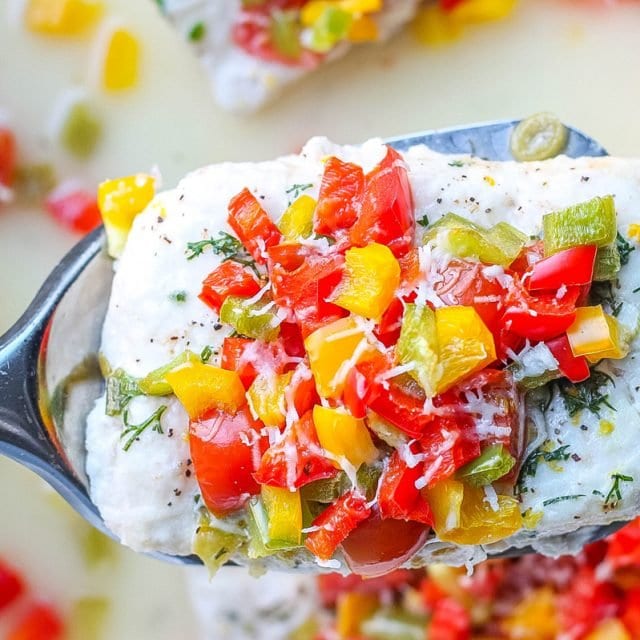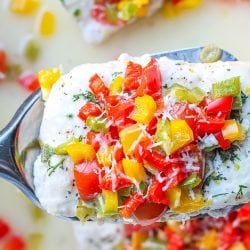 Easy Baked Halibut
Easy Baked Halibut is an easy, healthy and colorful dish. Perfect for an easy weeknight meal or sophisticated enough for a holiday.
View this recipe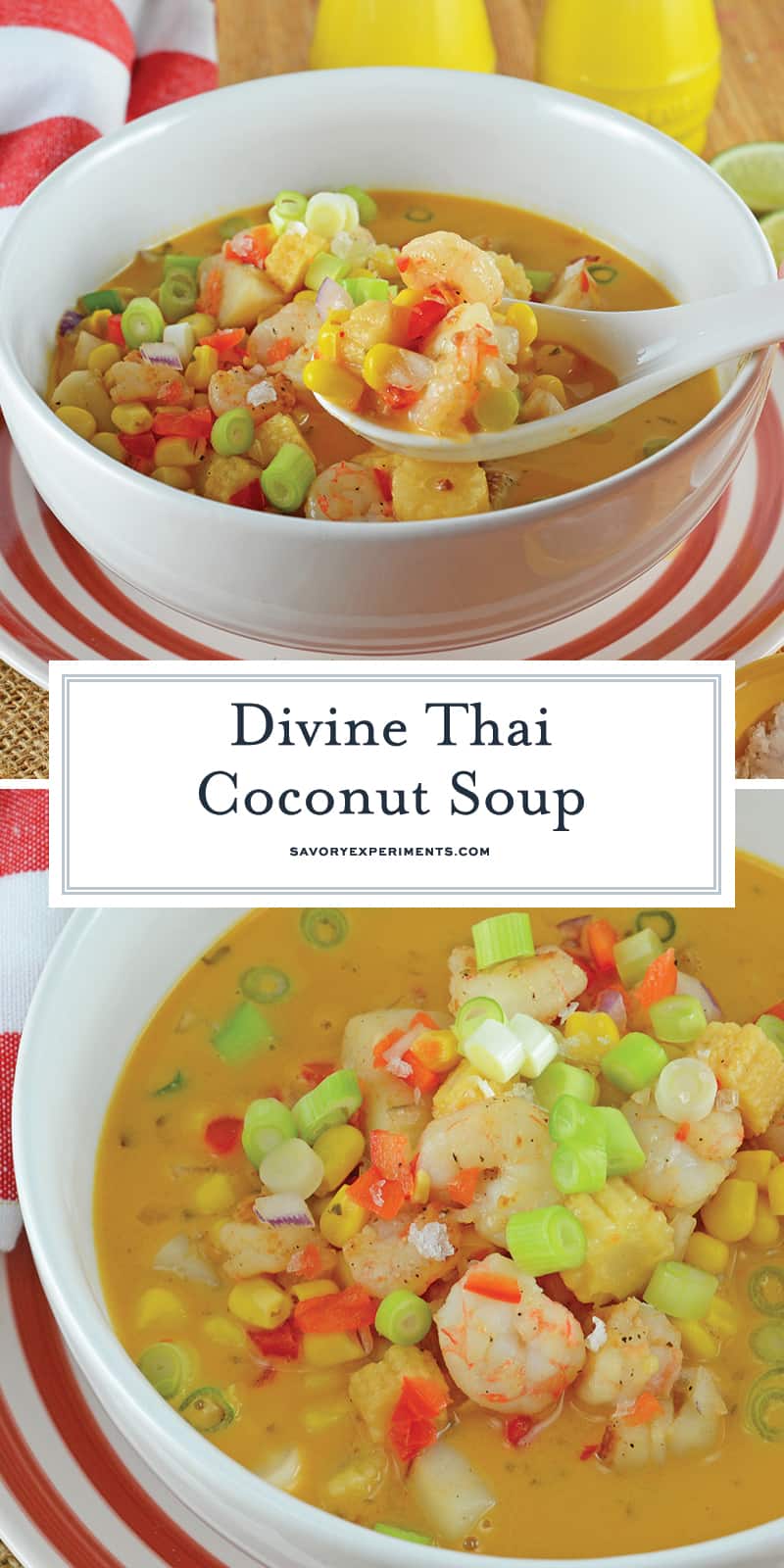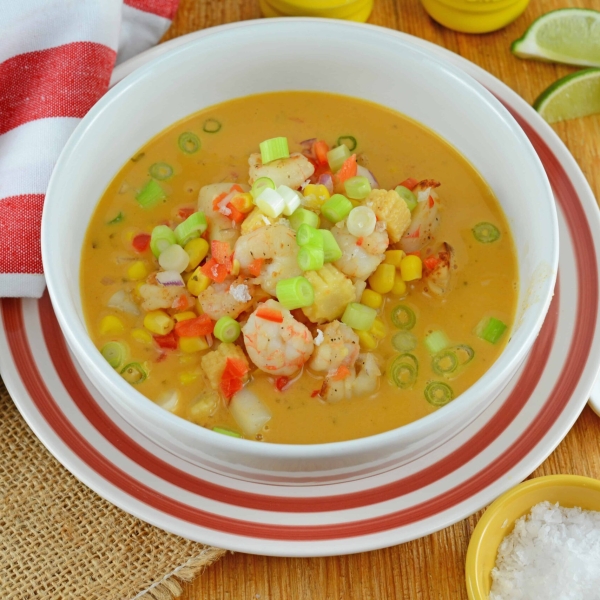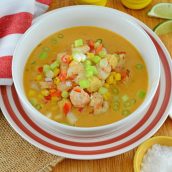 Thai Coconut Soup
Seafood Thai Coconut Soup is an easy and healthy appetizer or entree using scallops, shrimp, vegetables and a red curry coconut broth.
Instructions
In a medium saucepan, heat the butter. Add the scallops and shrimp. Cook, stirring occasionally, for 2-3 minutes or until opaque and cooked. Remove and set aside.

In the same sauce pan, add 1/4 cup of the red bell pepper, red onion, garlic and ginger. Saute for 2 minutes, or until vegetables start to soften. Add the curry paste, mixing until fragrant.

Stir in the lime juice, basil, coconut milk and broth. Whisk until combined. Bring to a low simmer for 10 minutes, or until mixture is heated and slightly reduced. Broth will be loose.

While broth boils, combine remaining the remaining 1/4 cup red bell pepper with the corn and cooked seafood. Toss to combine and then spoon into serving bowls. The hot broth will heat the other ingredients when it is added.

When ready to serve, ladle or pour broth into each bowl. Top with scallions, Maldon salt and fresh lime juice.

If you've tried this recipe, come back and let us know how it was in the comments or star ratings.
Nutrition
Calories:
523
kcal
,
Carbohydrates:
25
g
,
Protein:
15
g
,
Fat:
43
g
,
Saturated Fat:
35
g
,
Cholesterol:
136
mg
,
Sodium:
1342
mg
,
Potassium:
666
mg
,
Fiber:
2
g
,
Sugar:
7
g
,
Vitamin A:
2195
IU
,
Vitamin C:
61.8
mg
,
Calcium:
124
mg
,
Iron:
7.1
mg