When you're craving something warm and comforting but need to add some veggies to your diet, a bowl of this Cauliflower Soup is sure to do the trick!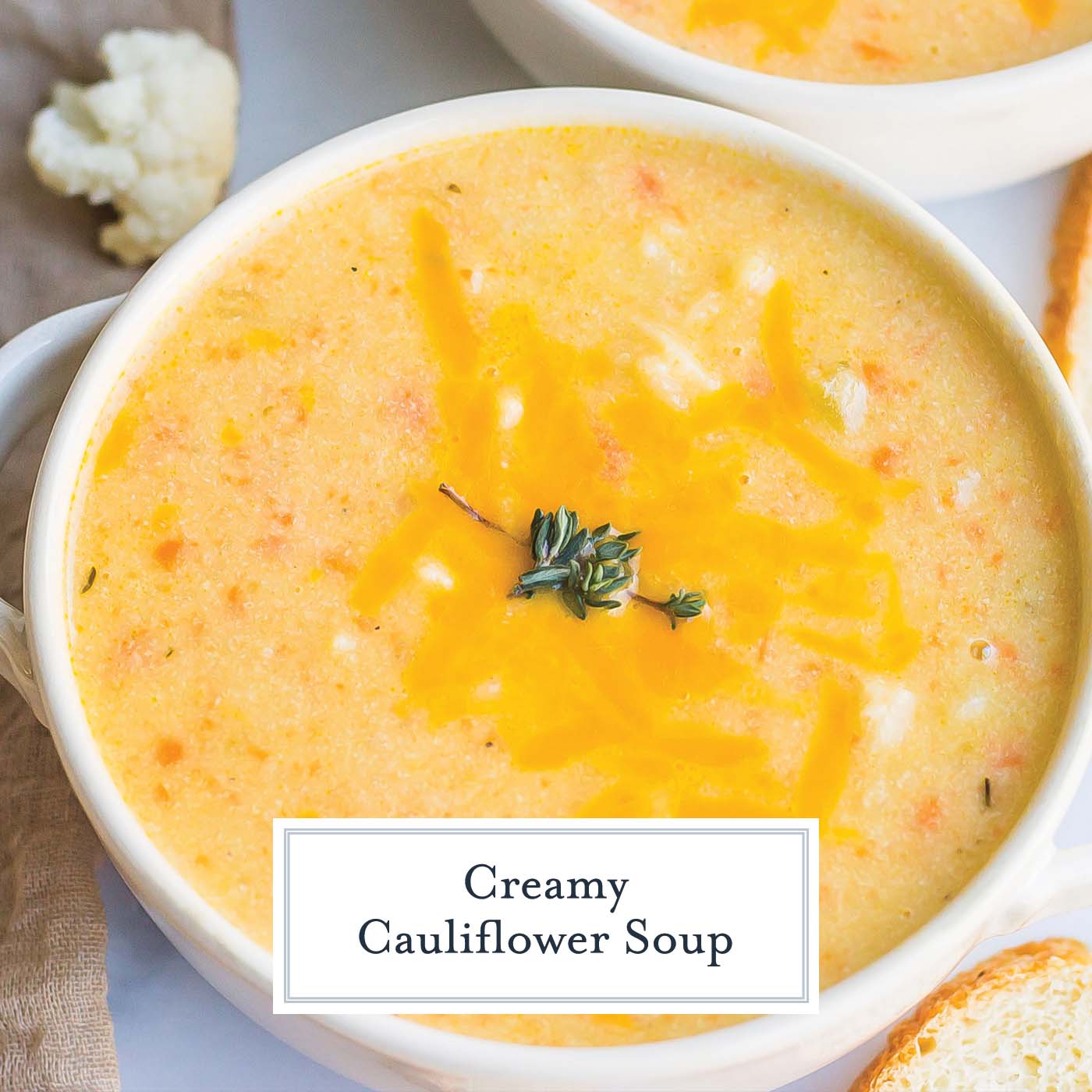 Turning cauliflower into some totally unexpected dish is one of my favorite things to do in the kitchen. You take something that might not be the healthiest (like mashed potatoes for instance) and swap the carbs out for a veggie to make Creamy Mashed Cauliflower– how genius is that??
The texture of this cauliflower soup is very similar to that of a potato soup. And while this recipe still does have potatoes, we're getting the majority of our texture from the cauliflower.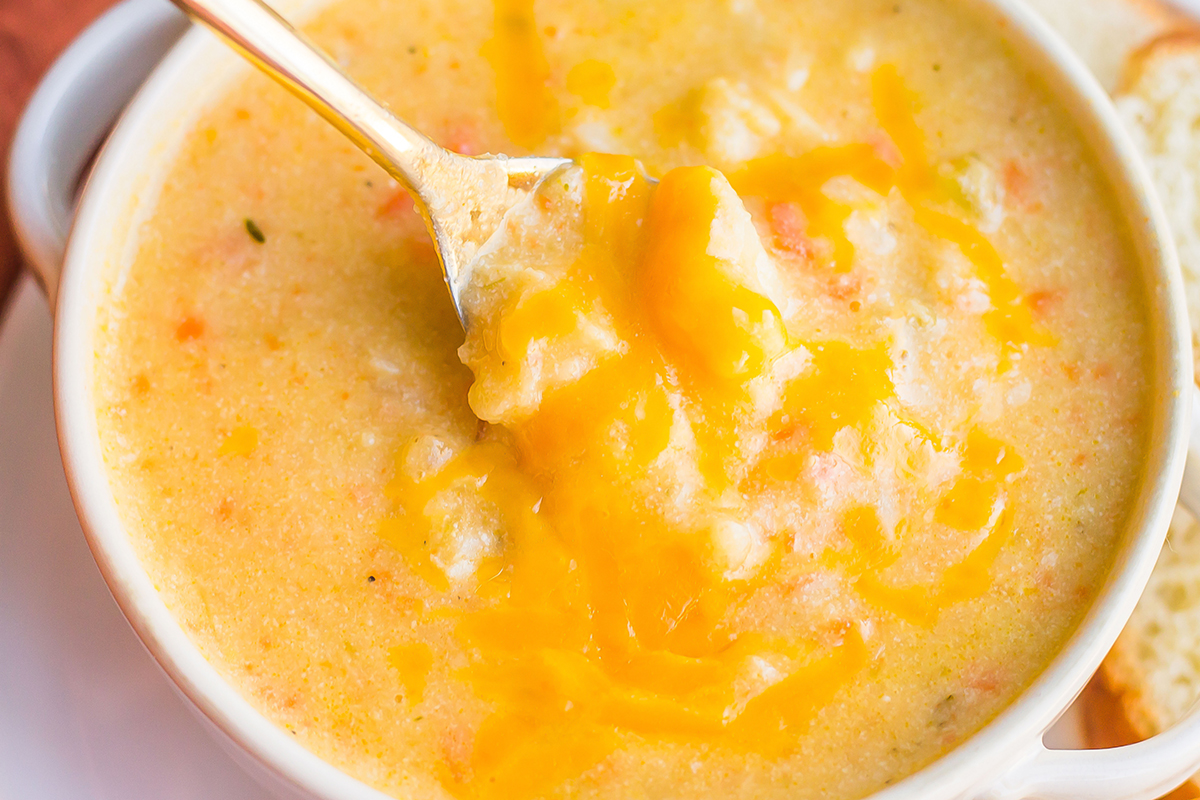 Ingredients
The ingredients for this cauliflower soup are fairly simple. Just lots of veggies and basic spices that you probably already have in your spice cabinet. Let's walk through them together.
Cauliflower – This might sound like a no brainer, considering it's in the title of the recipe. We'll be using an entire head to maximize on texture.
Potatoes – Because this soup is very reminiscent to a potato soup (just a little healthier) we do still add in some potatoes for both flavor and texture.
Carrots and celery – Adding in these extra veggies not only ups your vegetable intake, but they provide some color and a nice crunch to your cauliflower soup.
Onion and garlic – You can never have too much garlic, that's my motto! But seriously, a nice yellow onion paired with some fresh garlic really adds a great flavor to the soup.
Olive oil – In order to make sure the onion and garlic have maximum flavor and achieve the softness we're looking for, we sauté them in olive oil before adding them to the soup.
Chicken broth – We need our soup to be, well, soupy! Chicken broth helps to thin it down a bit so that it's the perfect slurp-able bowl!
Herbs and seasonings – For this cauliflower soup, I like to use fresh thyme, fresh rosemary, sea salt and black pepper for seasoning.
Butter, flour and milk – The combination of these three ingredients when whisked together over heat is called a roux. This acts as a thickening agent to the soup.
Sharp cheddar cheese – Adding cheese to your roux not only adds the best cheesy flavor, but it also help to thicken the soup as well.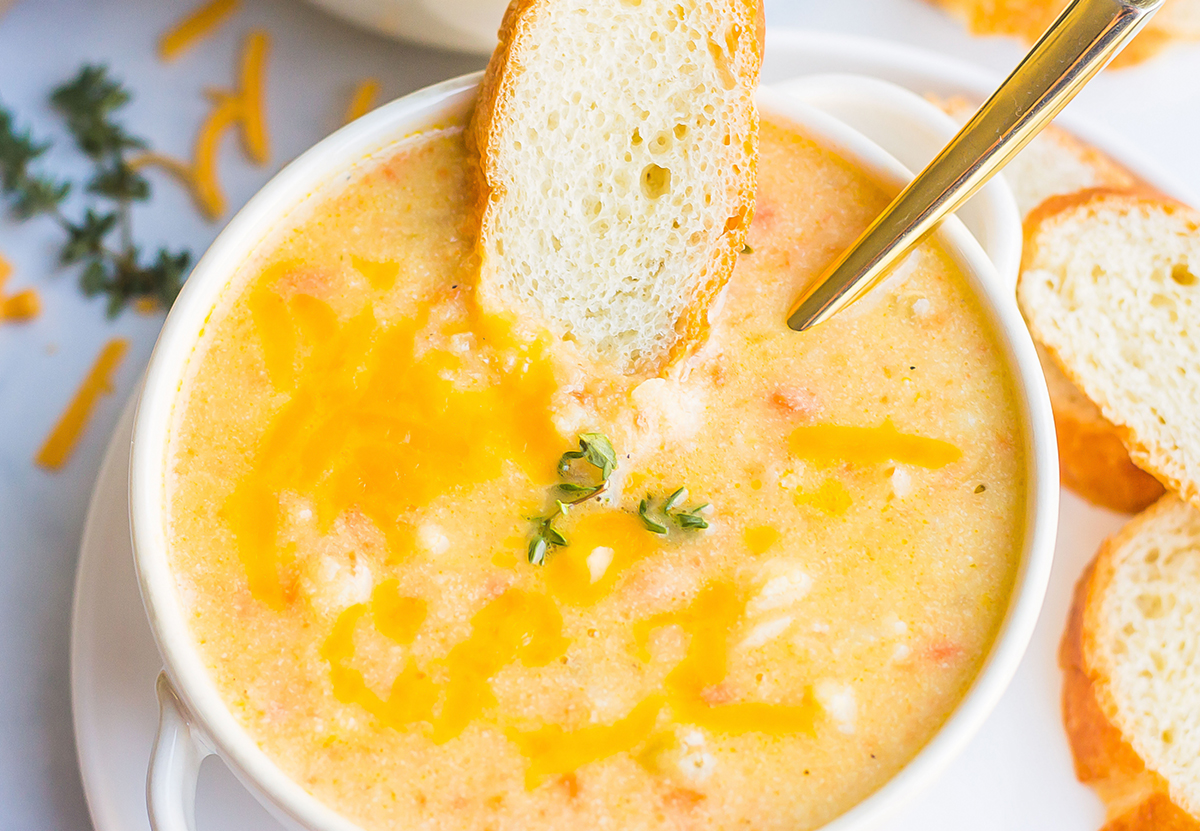 Topping ideas:
The ideas for topping this cauliflower soup are endless, however we do have a few great suggestions!
Extra cheddar cheese
Bacon
Green onions
Fresh herbs
Croutons
A side of crusty bread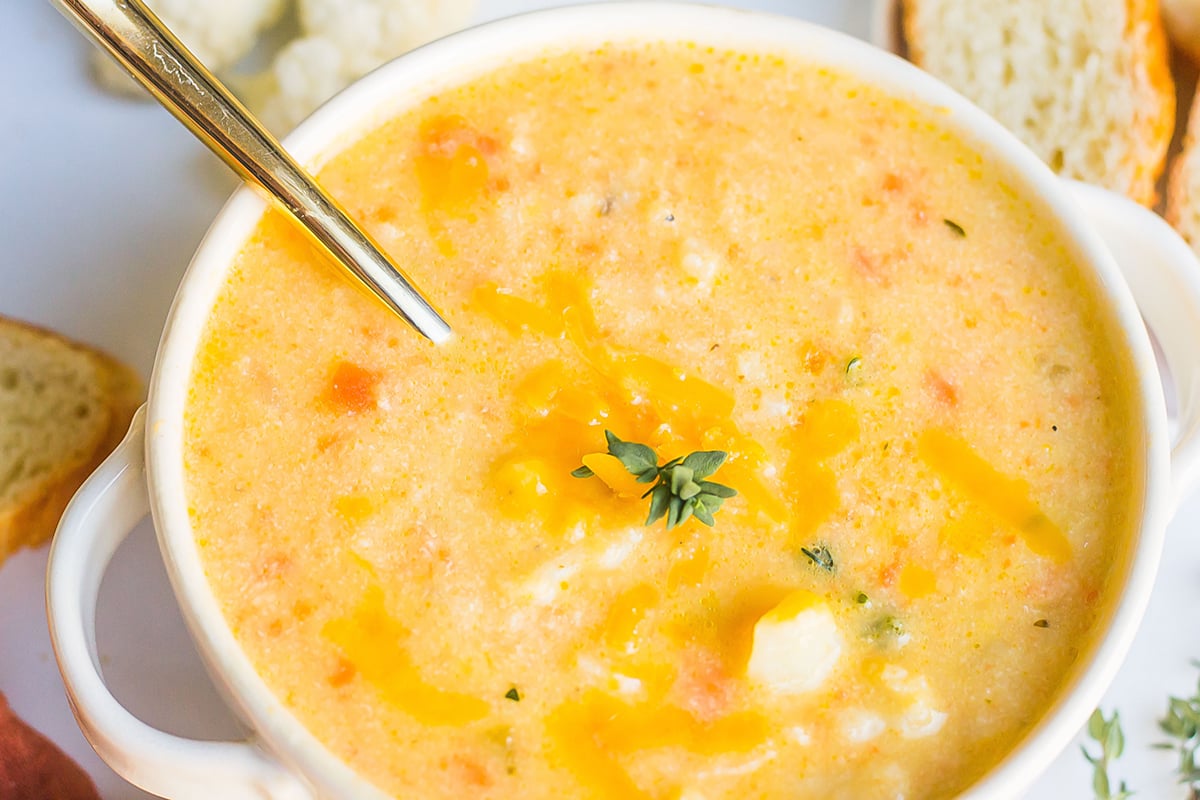 How to Make Cauliflower Soup
You won't believe how easy it is to make a warm and comforting yet healthy bowl of soup! Let's walk through the steps together.
Sauté onion and garlic. We want the garlic and onion to be soft and fragrant before adding to our soup. Sautéing in olive oil over medium heat will help us achieve that.
Add in cauliflower, broth, vegetables and seasoning. After the onion and garlic are soft, it's time to add in the cauliflower, celery, carrots, potatoes and seasonings to the same pot. Stir those until combined, and then add in your chicken broth and allow it to simmer until everything is soft.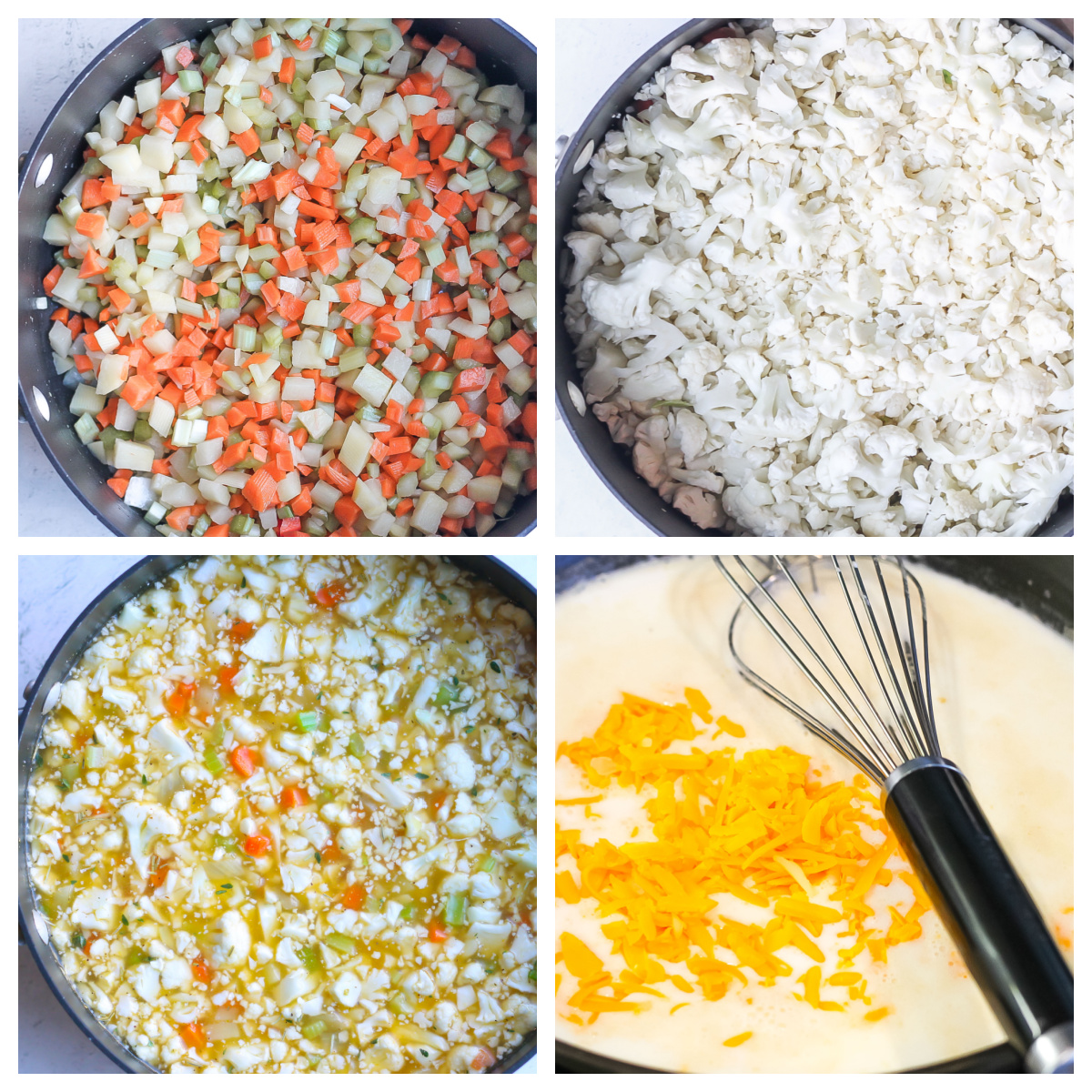 Make the roux. Melt butter in a pan and slowly whisk in the flour, milk and cheese until a thick paste forms. Add this to the soup pot.
Blend. Blend half of the soup with an immersion blender until smooth and creamy. Combine with the rest of soup and let simmer for another five minutes.
Top and enjoy! Top your cauliflower soup with any of the toppings suggested above, or come up with some of your own!

Storage and Reheating Cauliflower Soup
The great thing about this cauliflower soup is that it freezes well. You can store any leftovers in the refrigerator in an airtight container, or simply freeze until you're ready to enjoy it again. Just make sure none of the toppings are added when doing so.
When you're ready to eat it, simply warm it up in a pot on the stove, top with your favorite toppings and enjoy all over again!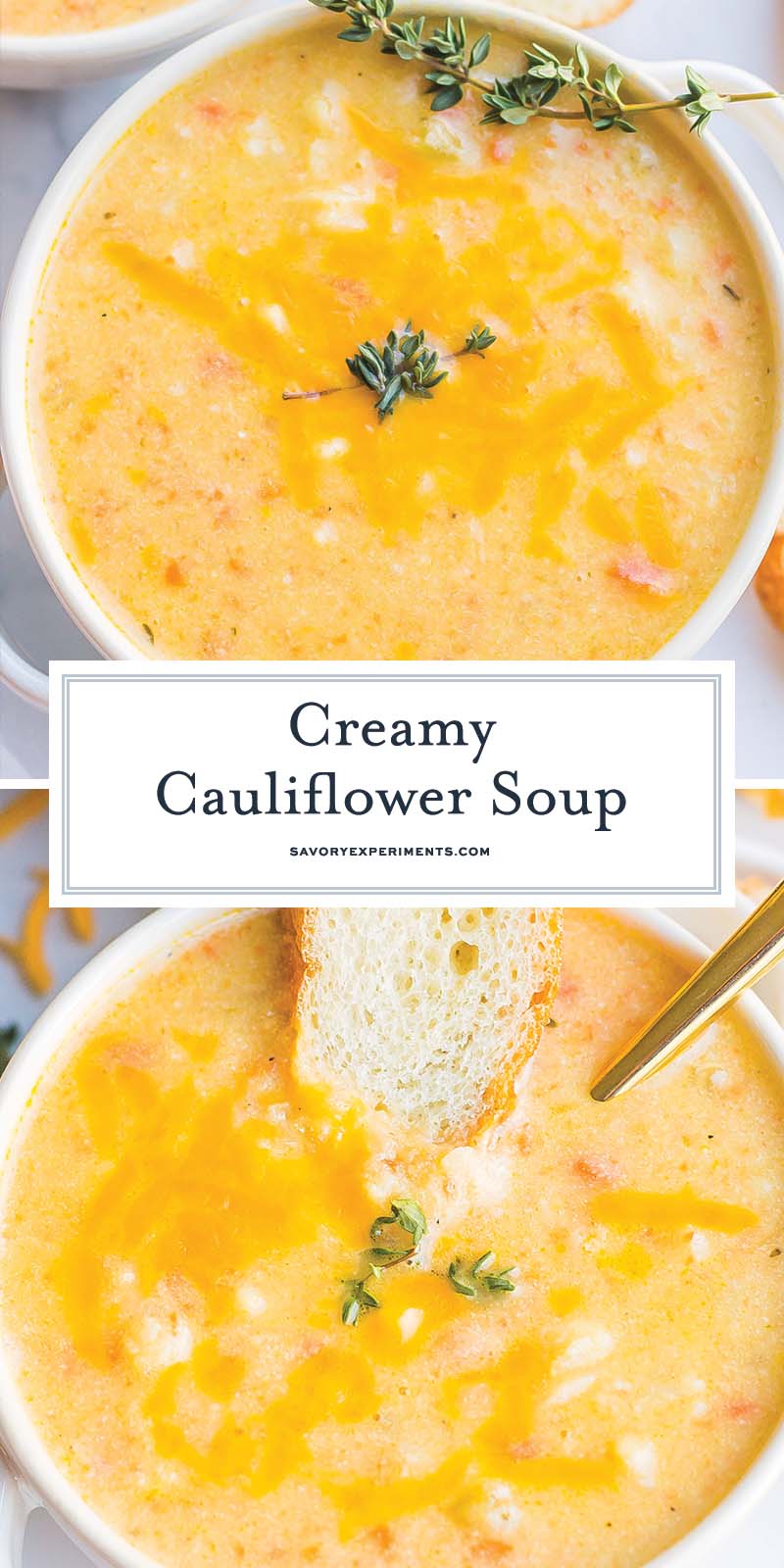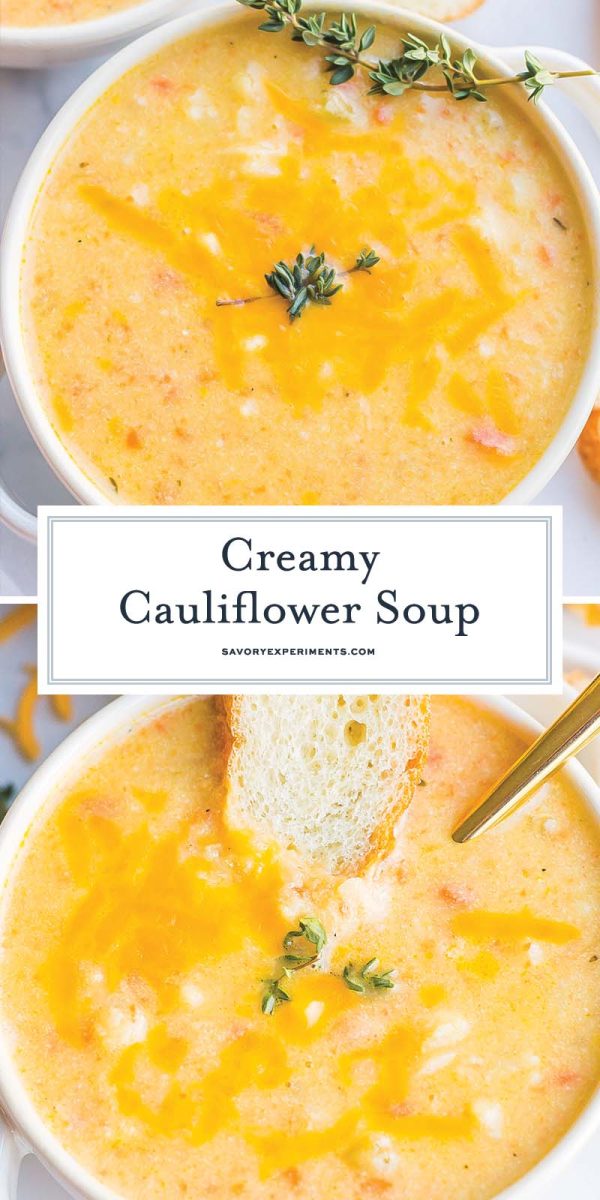 More easy cauliflower recipes: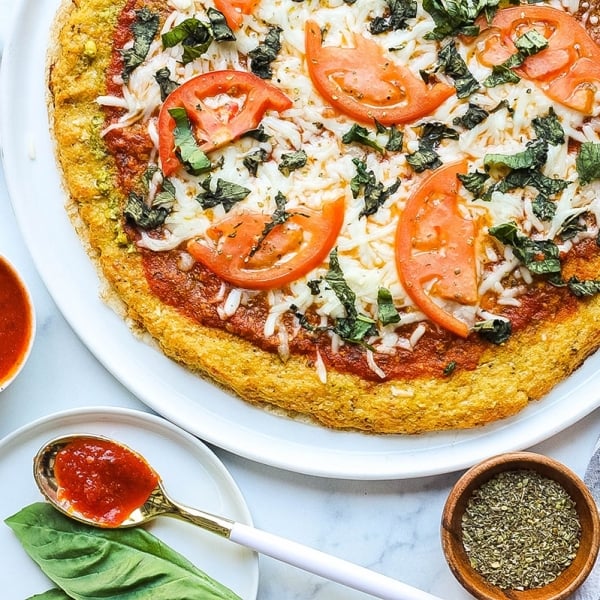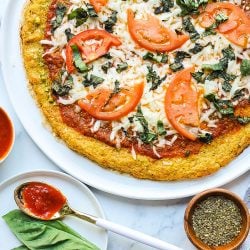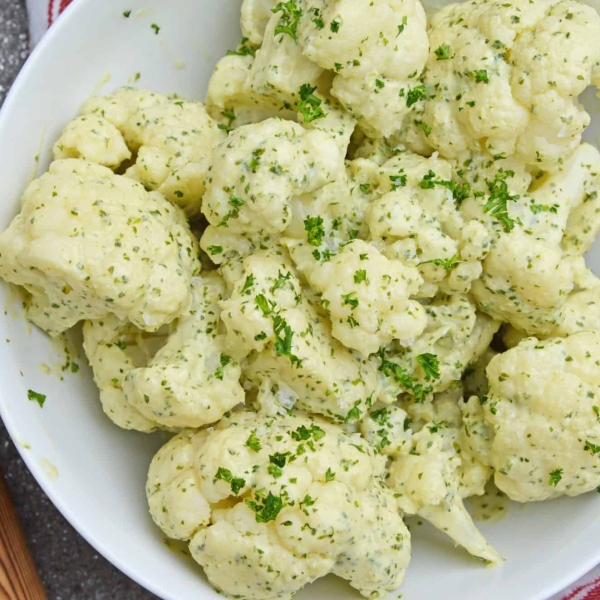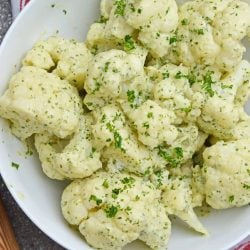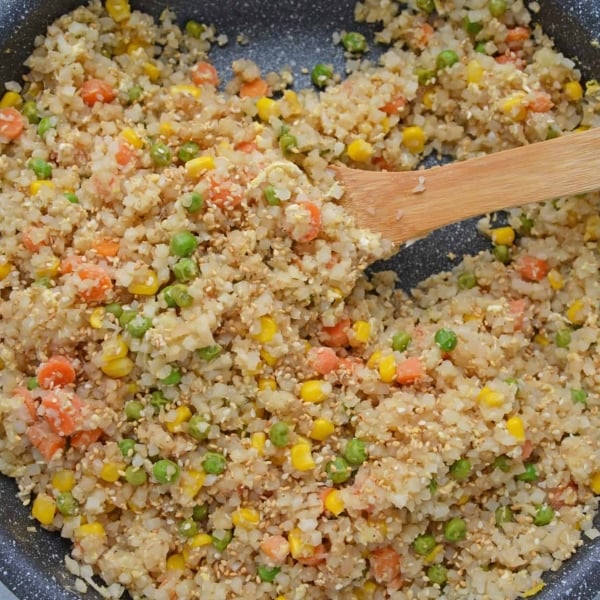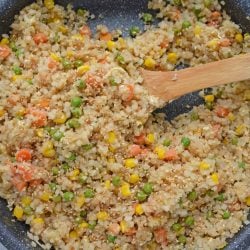 Cauliflower Fried Rice
If you've ever wondered how to make Cauliflower Fried Rice, look no further! This cauliflower fried rice recipe is the perfect way to cut down on carbs!
See The Recipe!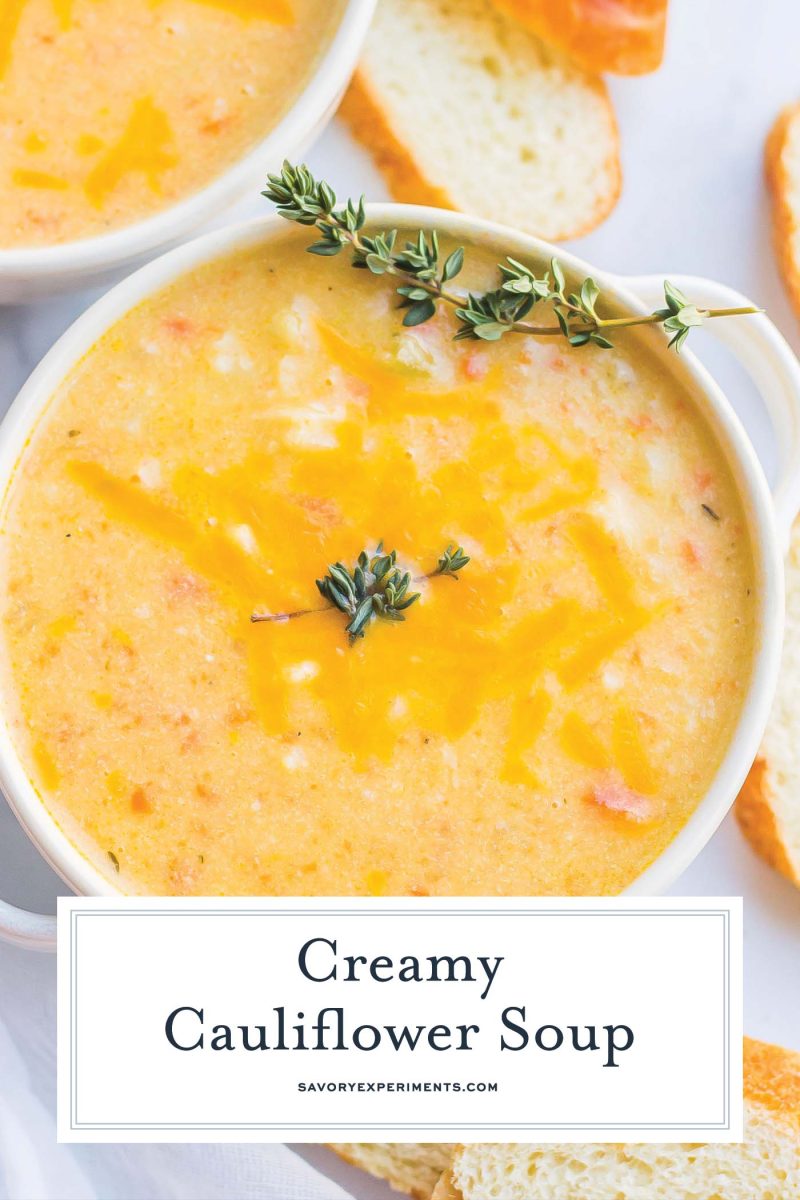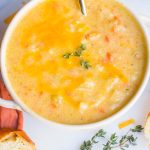 Cauliflower Soup
When you're craving something warm and comforting but need to add some veggies to your diet, a bowl of this Cauliflower Soup is perfect!
Instructions
Heat a large pot, add the olive oil, garlic and onions. Saute until onions are soft, about 2 minutes.

Add the cauliflower, carrots, celery, potatoes, thyme, rosemary, salt and pepper. Stir until combined. Add the chicken broth and simmer for 20-25 minutes, or until soft.

In a medium pan, melt the butter. Whisk in the flour until it forms a paste. Slowly add in the milk and whisk until smooth. Add the cheese and continue to whisk together until the cheese is completely melted and a slightly thickened roux forms.

Slowly add the roux to the soup and stir until combined.

With an immersion blender, blend half of the soup together just until it has a thick and creamy texture. You could also transfer half of the soup to a blender or blend with a handheld potato masher. Stir until the soup is completely blended together. There will be small chunks and the soup will thicken. Let simmer for another 5 minutes.

Top the soup with more shredded cheese and serve with fresh bread or toasted baguette slices. Enjoy!

If you've tried this recipe, come back and let us know how it was in the comments or star ratings!
Nutrition
Calories:
198
kcal
,
Carbohydrates:
16
g
,
Protein:
9
g
,
Fat:
12
g
,
Saturated Fat:
6
g
,
Polyunsaturated Fat:
1
g
,
Monounsaturated Fat:
5
g
,
Trans Fat:
1
g
,
Cholesterol:
23
mg
,
Sodium:
340
mg
,
Potassium:
574
mg
,
Fiber:
3
g
,
Sugar:
4
g
,
Vitamin A:
2978
IU
,
Vitamin C:
44
mg
,
Calcium:
148
mg
,
Iron:
1
mg