My new favorite way to make the crispiest wings: in the air fryer! You won't believe how easy it is to make these Crispy Air Fryer Chicken Wings!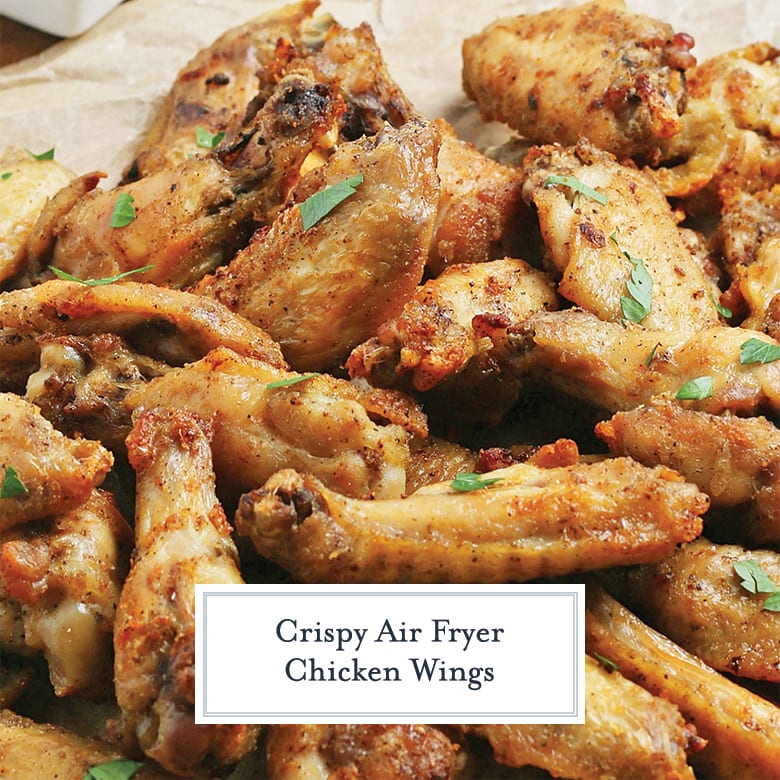 Chicken wings in our house are a way of life. Crispy, totally crunchy, amazingly delicious wings.
I'd made it my life's work to come up with the best way to make crispy wings in the oven and then BAM- the Air Fryer came out.
Air Fryer Chicken Wings
Cooking chicken wings in the air fryer totally changed the game. Amazingly crispy wings without all the oil, grease and mess of traditional frying but with all of the crunchy flavor.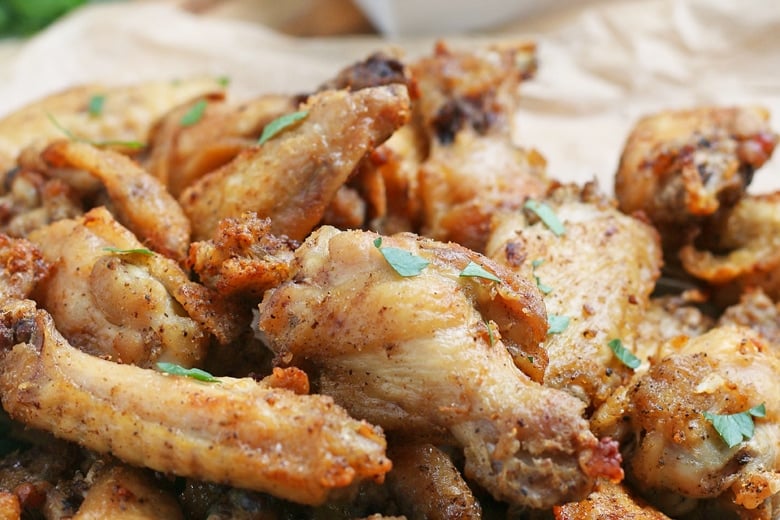 A few things to keep in mind when making this recipe:
Use smaller, cut wings that are separated into drumettes and wings. They are easier to manage and cook faster.
Never overcrowd your air fryer. This is the number one rule for nearly any recipe. Putting things in anything more than 2 thin layers will prevent that crunchy goodness you are looking for.
Don't use too much oil. Oil will help to crispy up the wings, but use sparingly or they won't crispy at all.
Sauce comes last. So many folks try to bake the sauce on their wings. The trick is a dry seasoning while cooking and then either dipping sauces or toss in sauce before serving.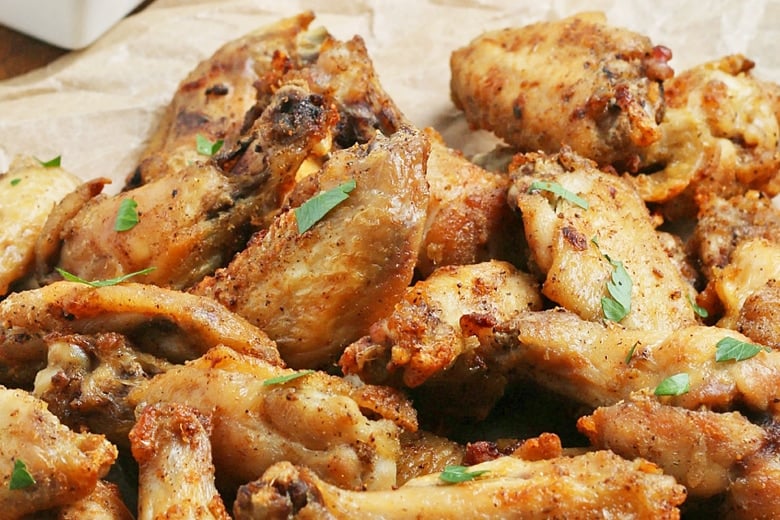 Seasoning
Seasoning for wings is truly personal preference. I like to keep mine simple and then offer an array of sauces for dipping. To make sure the season complements them all, it's basic.
Fine sea salt– please, no iodized salt, it can end up tasting metallic and being too salty.
Ground black pepper– if you want a milder pepper flavor, use white pepper.
Garlic Powder– for flavor.
Onion Powder– for flavor.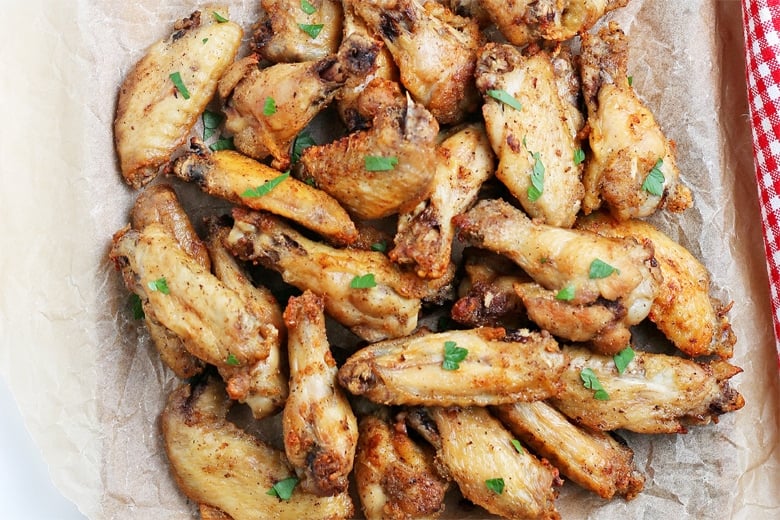 For oven baked wings, I'd tell you to get them as dry as possible, but for Air Fryer (AF) you'll need a little bit of oil. Olive oil works best because of it's high smoke point.
Other seasoning blends work too like Cajun, blackened, taco, seasoning salt and Thai. And if you like it truly basic, dial it back and few notches and go with just salt and pepper. Totally verstile.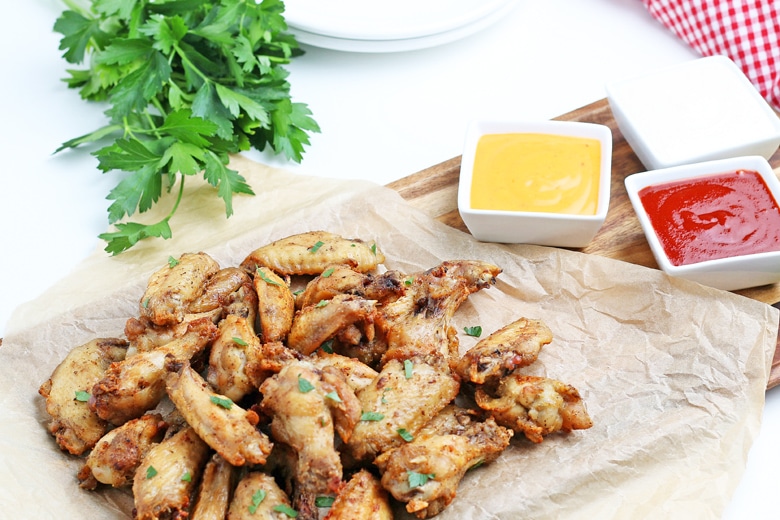 How to Cook Chicken Wings in the Air Fryer
Now that you've got a seasoning and the basic of what we are doing, follow these directions.
Dry wings well and pat dry.
Toss in olive oil, just enough to coat. Discard any extra oil.
Toss in seasoning blend of choice so wings are evenly coated.
Preheat air fryer.
Place in a single-ish layer in the air fryer basket. A few overlays won't make a big difference, but you don't want full layering.
Cook for 10-15 minutes, tossing/flipping halfway through cooking.
Remove and serve with your favorite sauces.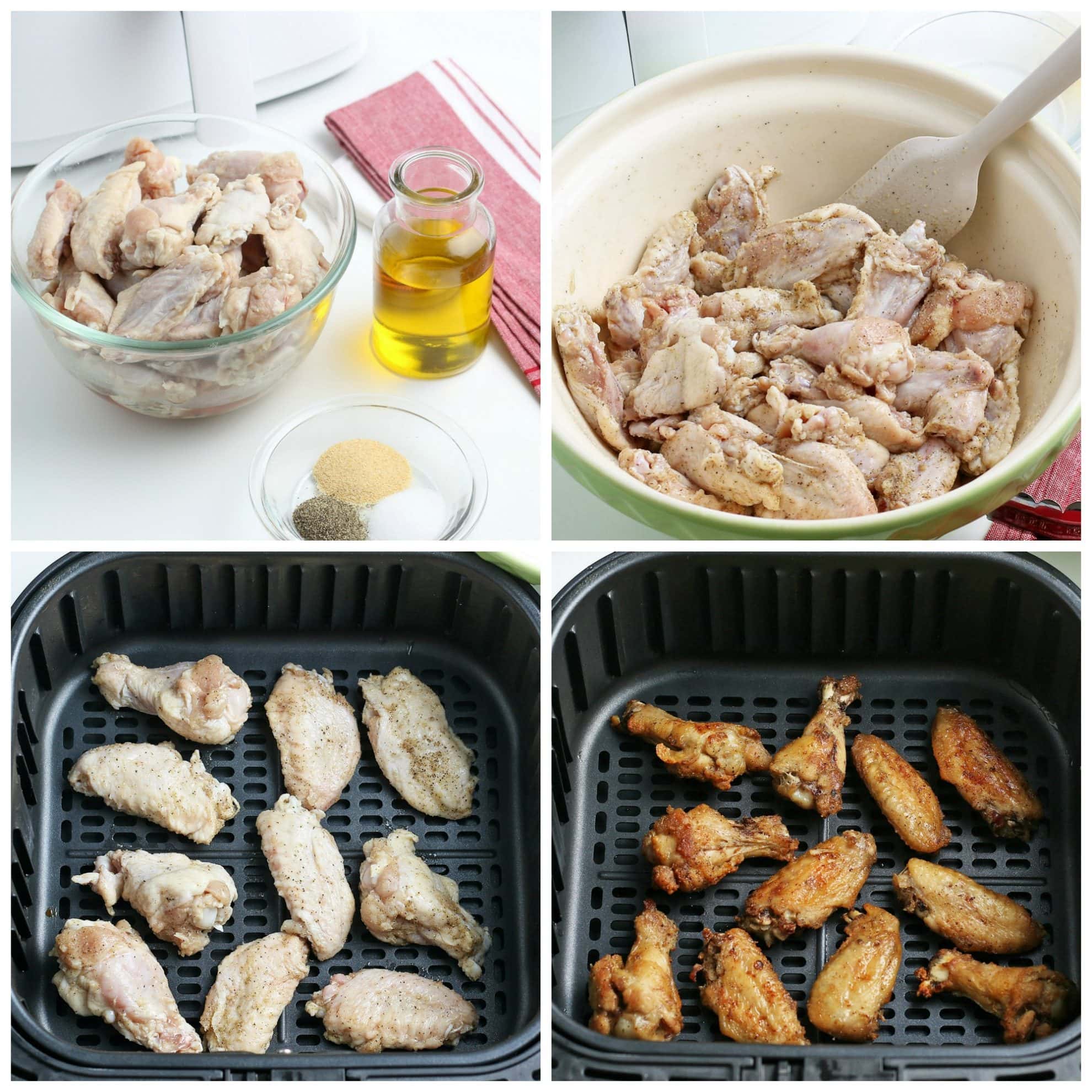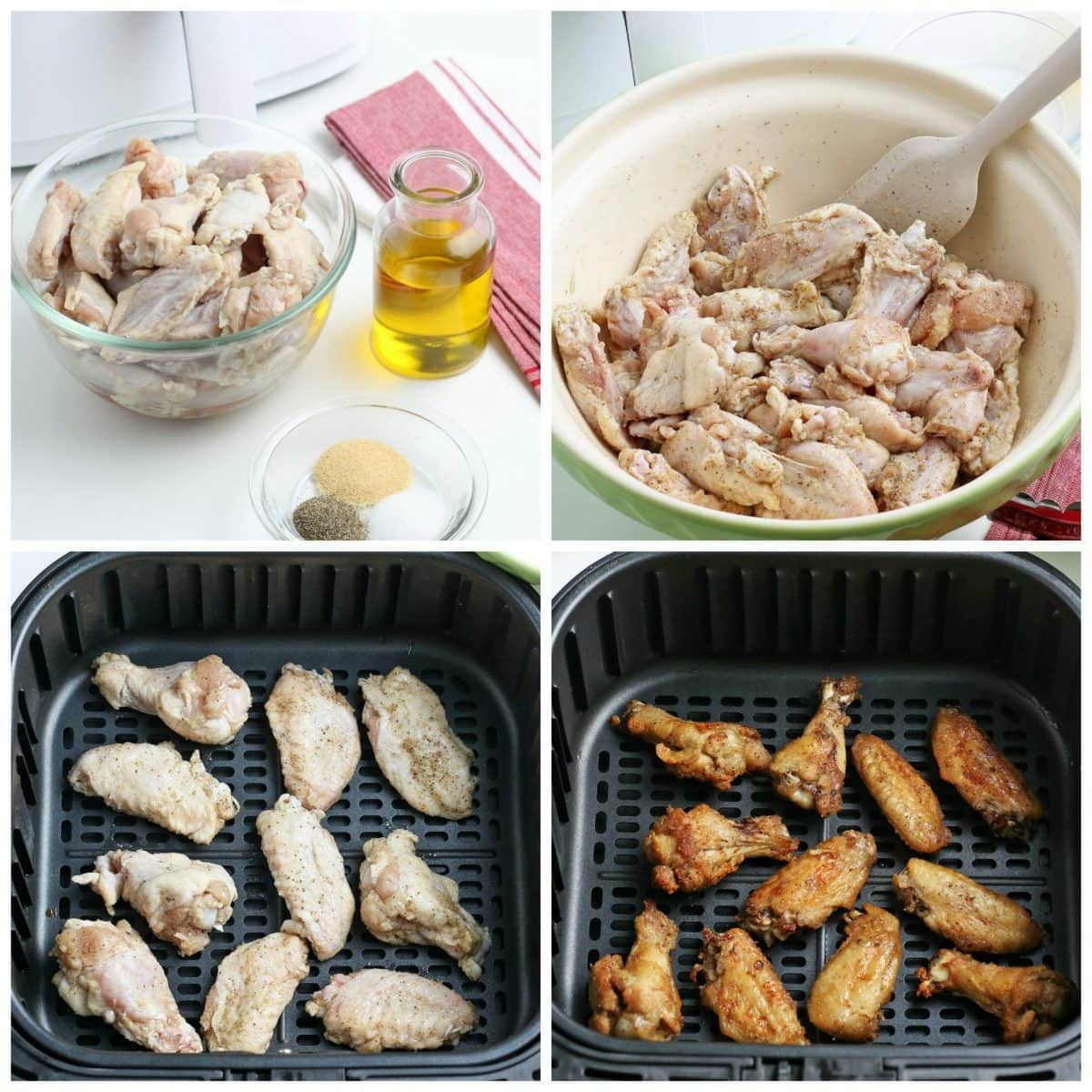 Frozen Chicken Wings in the Air Fryer
Yes! You can make this same recipe using frozen chicken wings and be just fine. There are just two simple modification to be made.
The first is changing the cooking temperature. Instead of the same temp the whole cooking time, we are going to start lower and increase when we take them out for the first shake.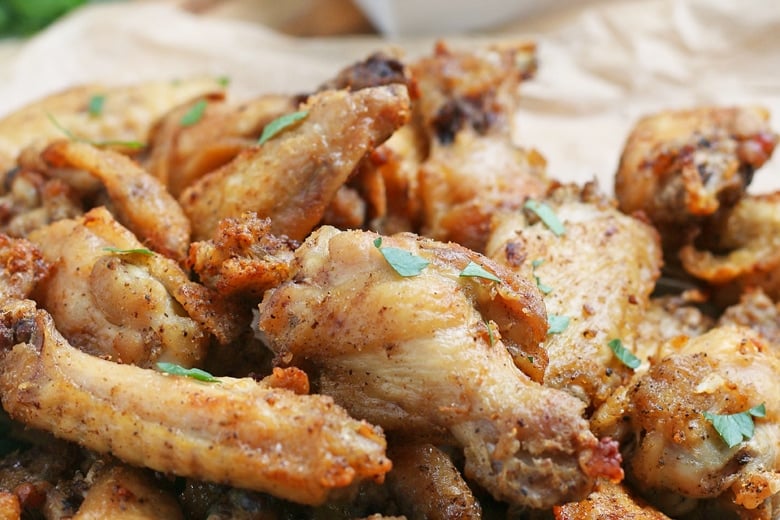 The second is an overall increase in cooking time. Afterall, they are frozen, so they need a little more time to defrost and heat.
Toss frozen wings in olive oil. Discard excess.
Toss wings in seasoning blend.
Cook in preheated air fryer at 360 degrees for 10 minutes.
Remove, flip, return to air fryer on 380 degrees for an additional 15-20 minutes. This will depend on the size of your wings and how much they overlapped.
The internal temperature of a chicken wing should be 165 degrees.
Dipping Sauces
Now you've made the crispiest wings in all the land, you'll need some fabulous dipping sauces.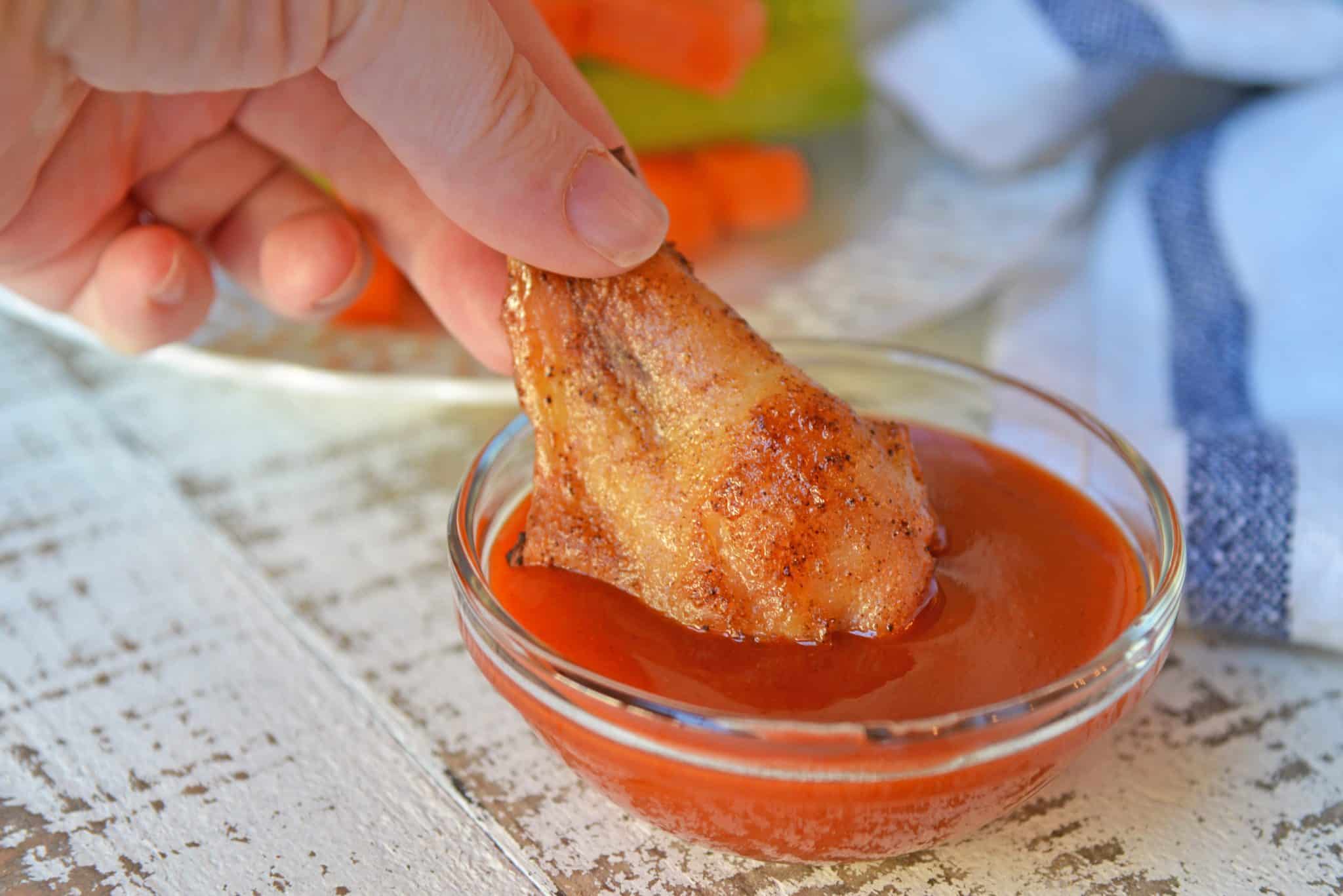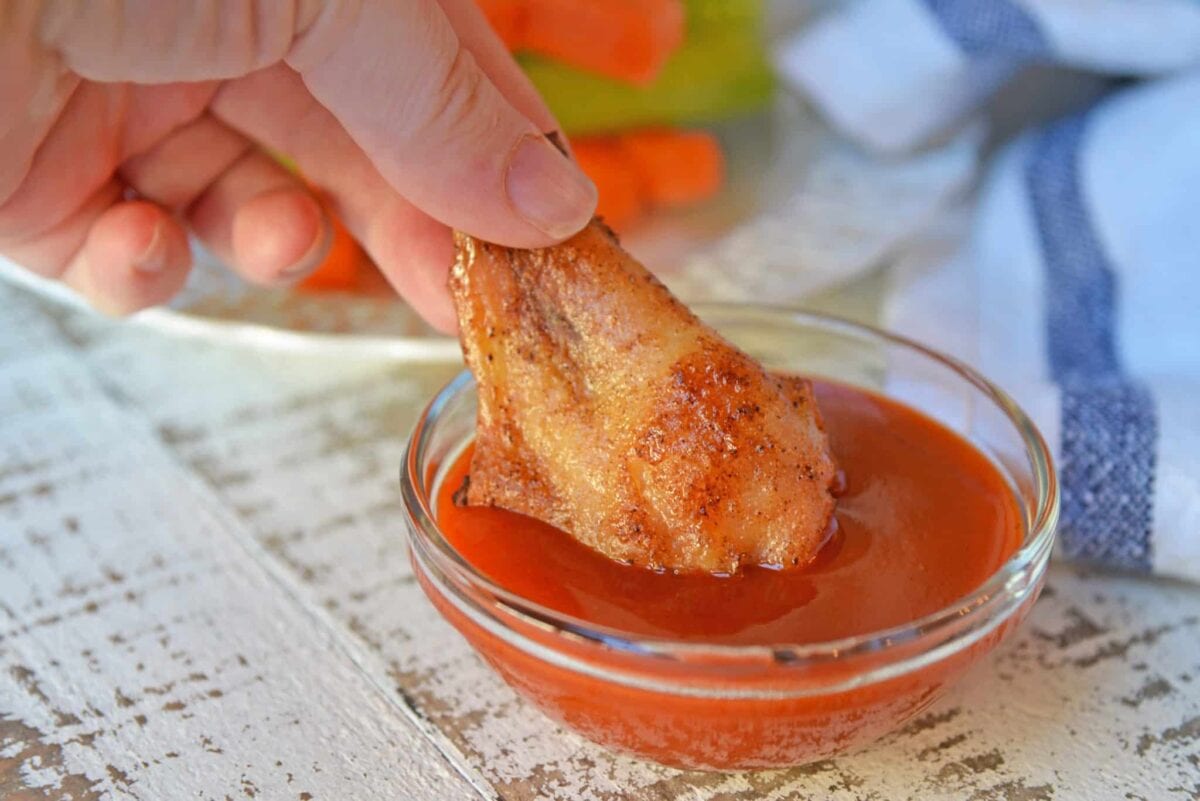 Air Fryer Tips
Before you get started, check out our tips for any recipe in the air fryer!
Always preheat the Air Fryer. Just like the oven, it needs to get hot.
Have your food ready to go, every minute the basket is out of the machine, it loses heat, just like opening the oven door.
Grease the basket. Even though the baskets are non-stick, a little oil never hurt.
Use olive oil in a spray bottle. Aerosol sprays can cause damage to the nonstick finish. That said, I've sprayed mine with Pam several times and never had an issue.
Don't overcrowd the basket. Most foods cook best in a single layer, filling the whole basket will result in unevenly cooked foods. There are some foods you can pile like shrimp, fries, tots and wings.
Shake or flip foods while cooking. But again, don't have the basket out too long, it will lose heat.
Add a small amount of water to bottom when cooking fatty foods. Literally just a little. This prevents them from falling and burning to the bottom creating a mess and also smoke.
For super messy foods, like the basket with aluminum foil for easier cleaning. If the food has grease or oil, like chicken wings, make holes to allow to drain. You'll still need to wash the basket, but with less caked on mess.
Allow space around your Air Fryer. Not just in the basket, but the actual appliance. It relies on circulated air, so it pushes and pulls air in and out at a high rate. Don't stuff between other appliances, give it some room to breath.
Hand wash the parts. I know it says dishwasher safe, but your Air Fryer will last a lot longer if you take the time to hand wash the baskets.
AF stands for "Air Fryer"- not "As f-word" like the kids tend to say. 🙂