We love wings in our house, but are always looking for new ways to make them. Sometimes it is using a different sauce, but this time is was all in the breading.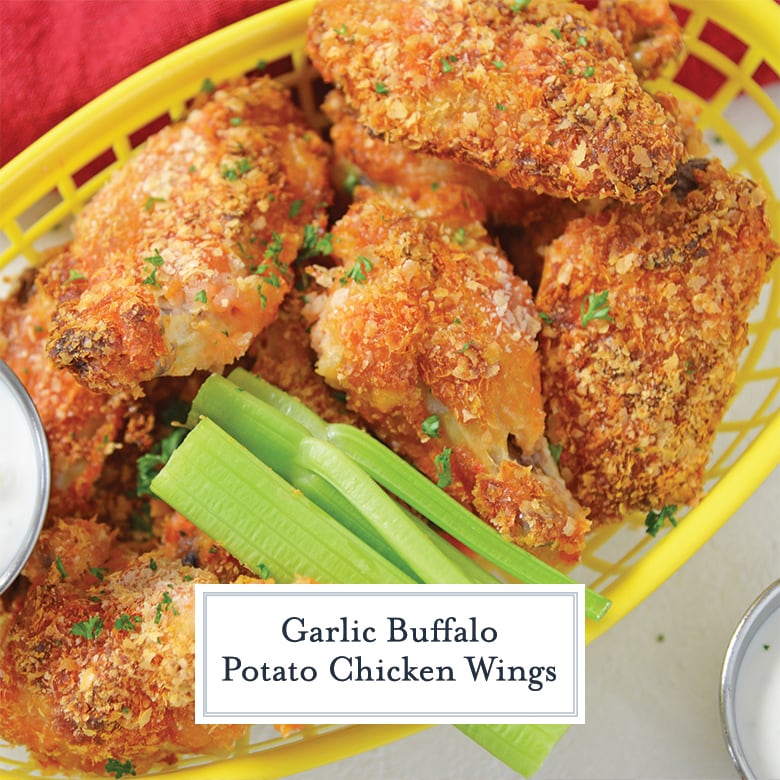 Potato Flakes for Breading
How did I end up using instant potatoes as "breading"? I'm not sure if I've told this story… so just skip the next section if you have or you are one of those "I don't care about your stories, just give me the recipe" people. (There is also a "Jump To Recipe" button at the top to skip it all!)
T'was the weekend before Thanksgiving. I was attending a food blogger conference and hubby, being as supportive as he is, volunteered to do all of the grocery shopping for our 18 person Thanksgiving day feast.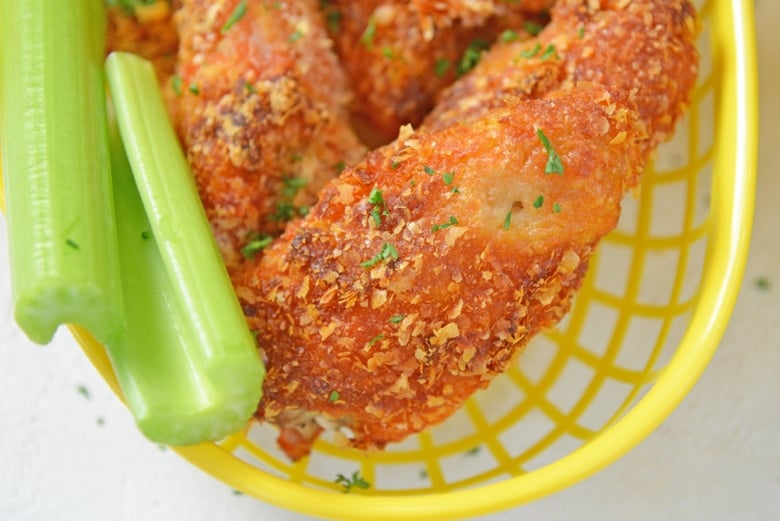 Now let me start by saying that Thanksgiving is the only day of the year that I do NOT make homemade mashed potatoes. Serving 18 people, living in a narrow row home and having at least a dozen people milling around forces me to cut some corners and mashed potatoes are one of them. No shame in that game.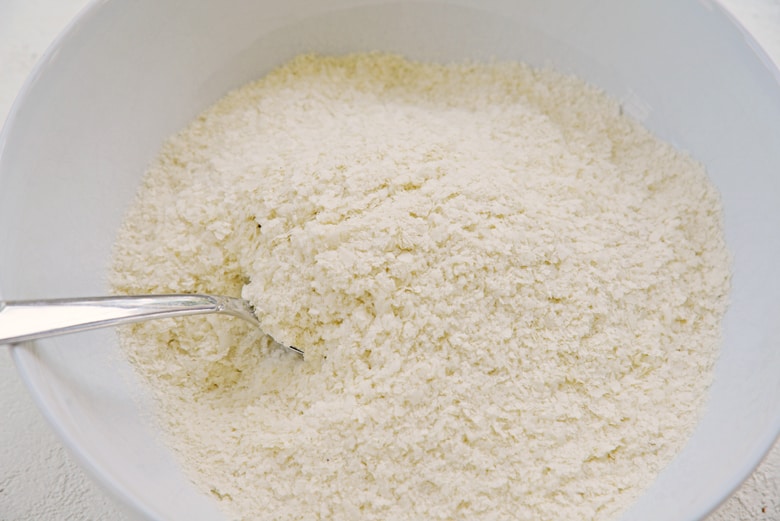 I put a box of instant mashed potatoes on the grocery list.
Hubby, who is very practical, was at the store and saw that the box was only 1 pound. Logically speaking, 18 people will need much more than 1 pound of mashed potatoes, right?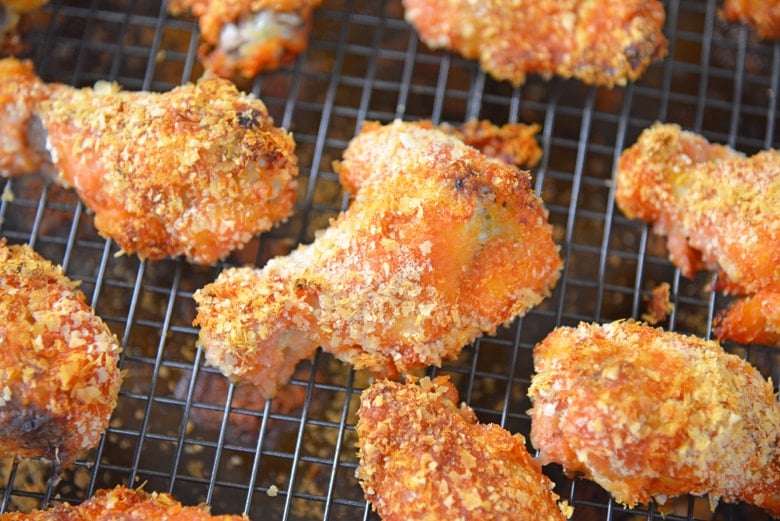 I mean, I whip up a 5 pound bag of fresh potatoes for a small dinner party. Obviously I had made a mistake on the shopping list, so hubby opted to purchase a few more boxes of instant mashed potatoes… like 5… from Costco.
I returned home to a full pantry, including 5 extra large boxes of instant mashed potatoes. I asked about this clear over-purchase and as he proceeded to tell me his chain of logic, I nearly snorted Diet Coke out of my nose.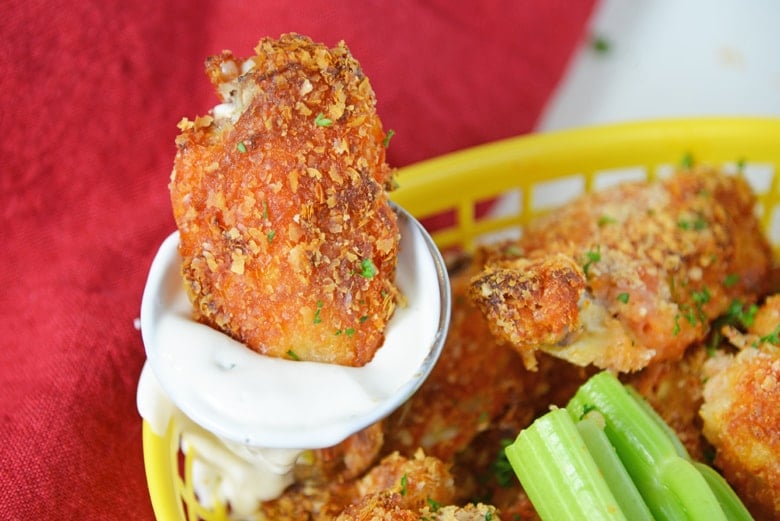 I explained that this meant 1 pound DRY and that each box would be well more mashed potato than we would need even for 18 people. Now I'm on the search for new ways of using dehydrated spuds and I saw a recipe for Crispy Baked Buffalo Wings on the side of the box.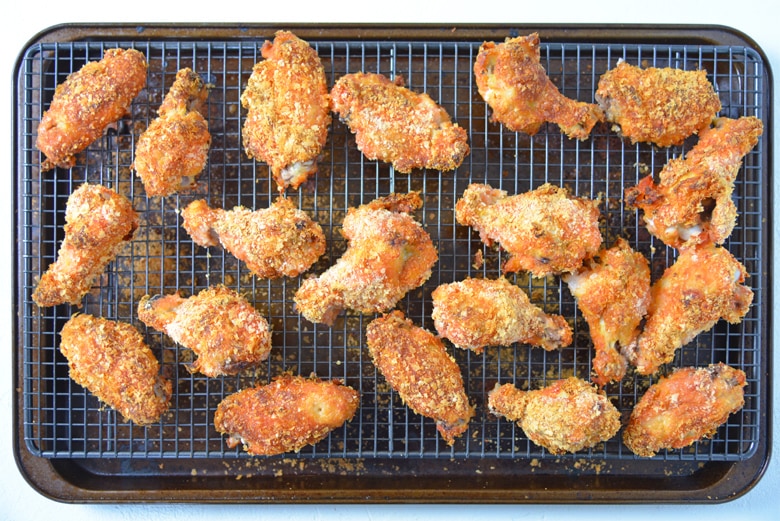 Baked Buffalo Wings
If you are looking for baked wings just to save a few calories, this isn't your recipe. If you are looking to have crunchy breaded wings without frying, it is.
Typical buffalo sauce is made from equal parts butter and hot sauce, usually a cayenne version. In order to get out instant potatoes to stick, you'll be dipping them into the butter mixture and then rolling in potatoes.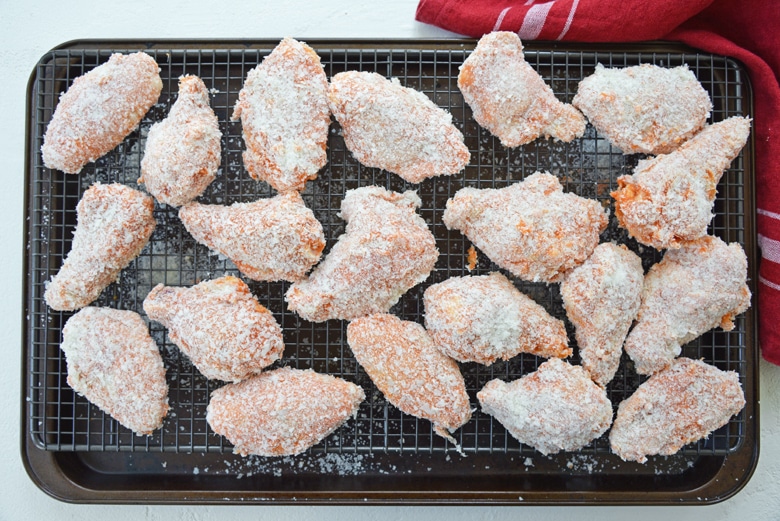 They do get super crispy with a unique texture that I happen to love! AND… they are gluten free!
Ingredients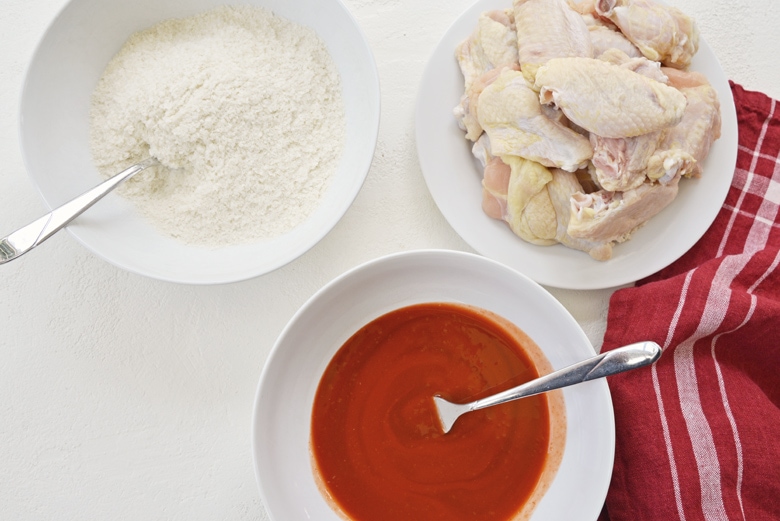 Chicken Wings– small drumettes and flappers
Buffalo sauce– easily make your own or buy a "wing sauce" in a bottle. Don't use just straight hot sauce. Making your own means you can adjust the heat. Use more butter and less sauce for mild and more sauce, less butter for hot. All add chile powder, crushed red pepper flakes or Aleppo pepper for "make you sweat" heat.
Powdered garlic – try to find powdered (opposed to granulated which is coarser)
Instant mashed potato flakes– the breading
Cooking spray– to prevent sticking
Blue cheese, ranch, carrots and celery, for serving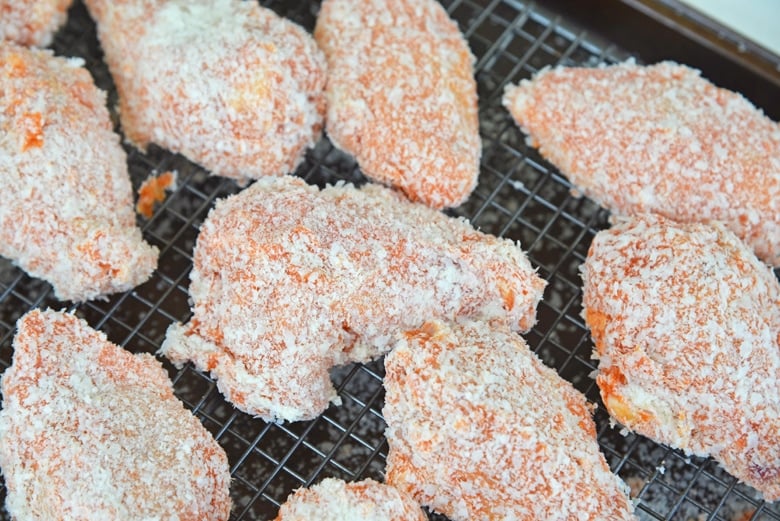 How many chicken wings per person? While 2 pounds sounds like it will feed a lot, you are looking at about 2 dozen, so 12 per person. Remember, those bones weigh a lot!
You can use this on full size wings, but the cooking times might increase slightly.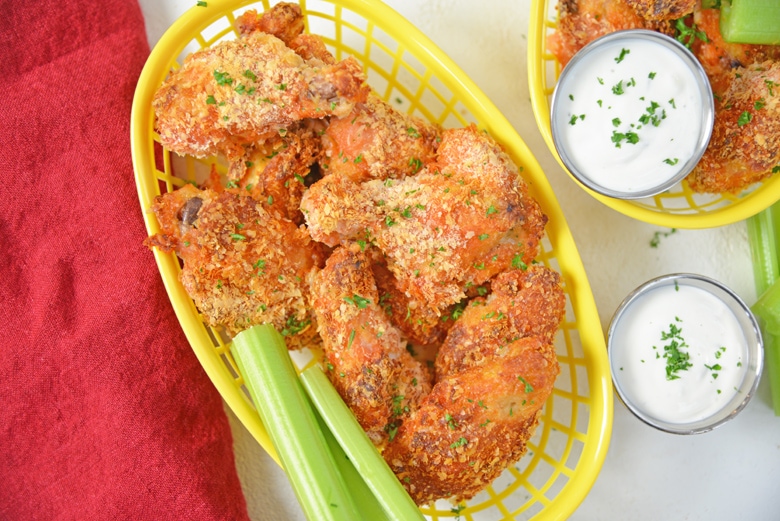 How to Make
The process is simple. To prep, I highly suggest placing a wire rack on a rimmed baking sheet. Allowing hot air to circulate around the wings will results in 360 degree crispy wings.
You can also place them directly on the baking sheet too. Your choice.
Rinse and dry wings, blotting dry with paper towels.
Dip a dry wing in buffalo wing sauce.
Roll in potato flakes.
Bake in high heat until golden brown and crispy.
Remove and allow to rest for 5 minutes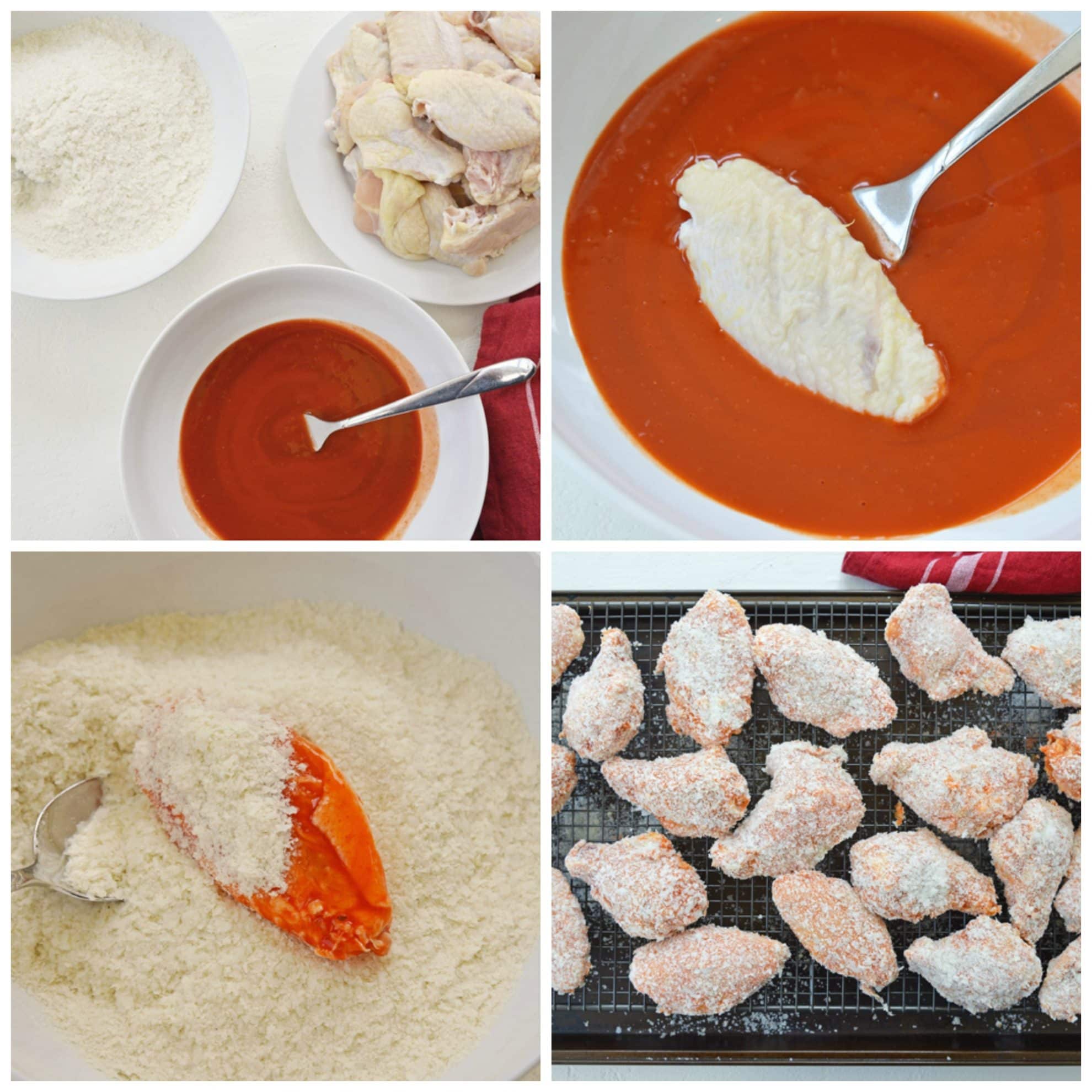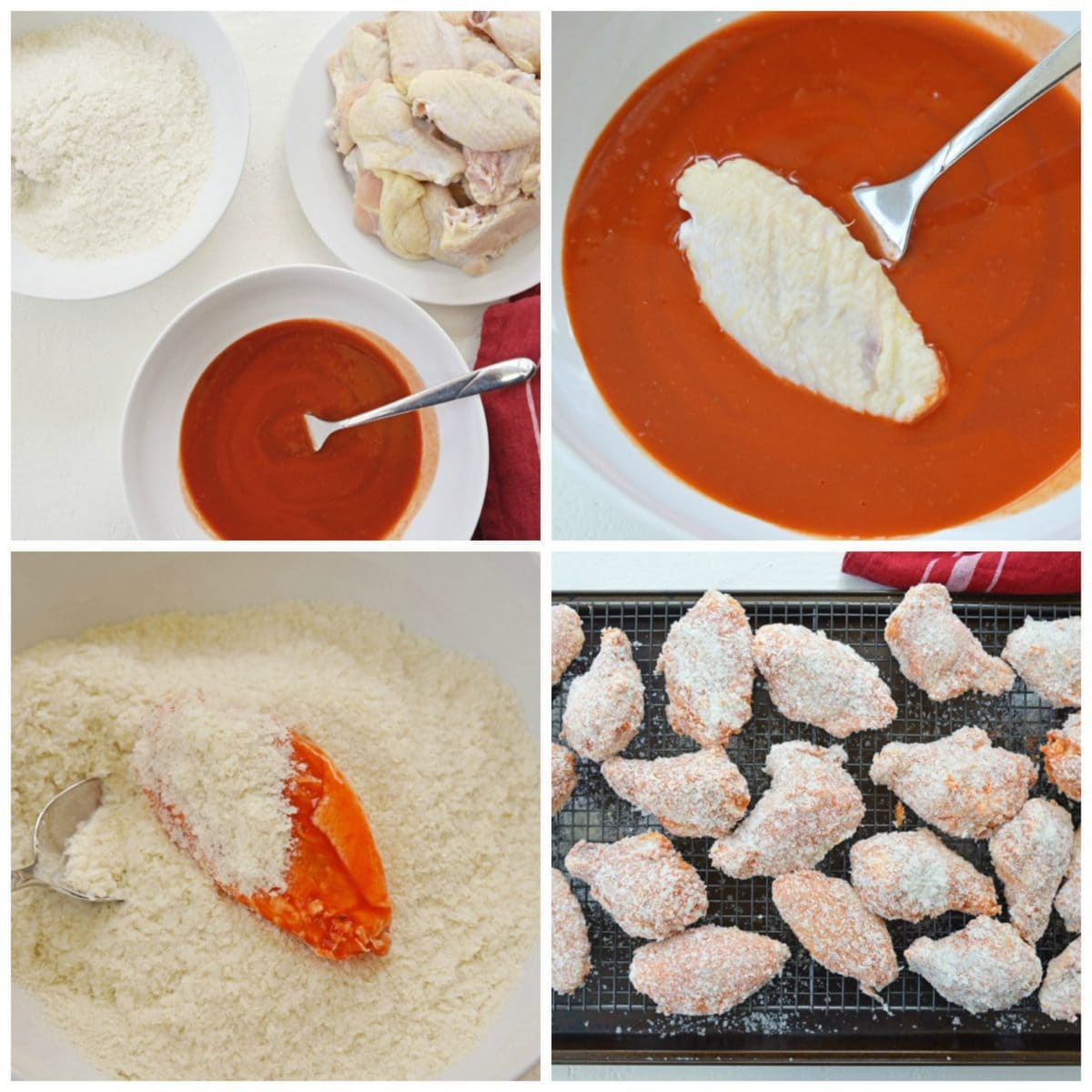 Serve with blue cheese, ranch, carrots, celery or even more buffalo wing sauce.