Looking for a new favorite side dish or even an entree? Creamy Parmesan Risotto with Peas and Bacon is the answer!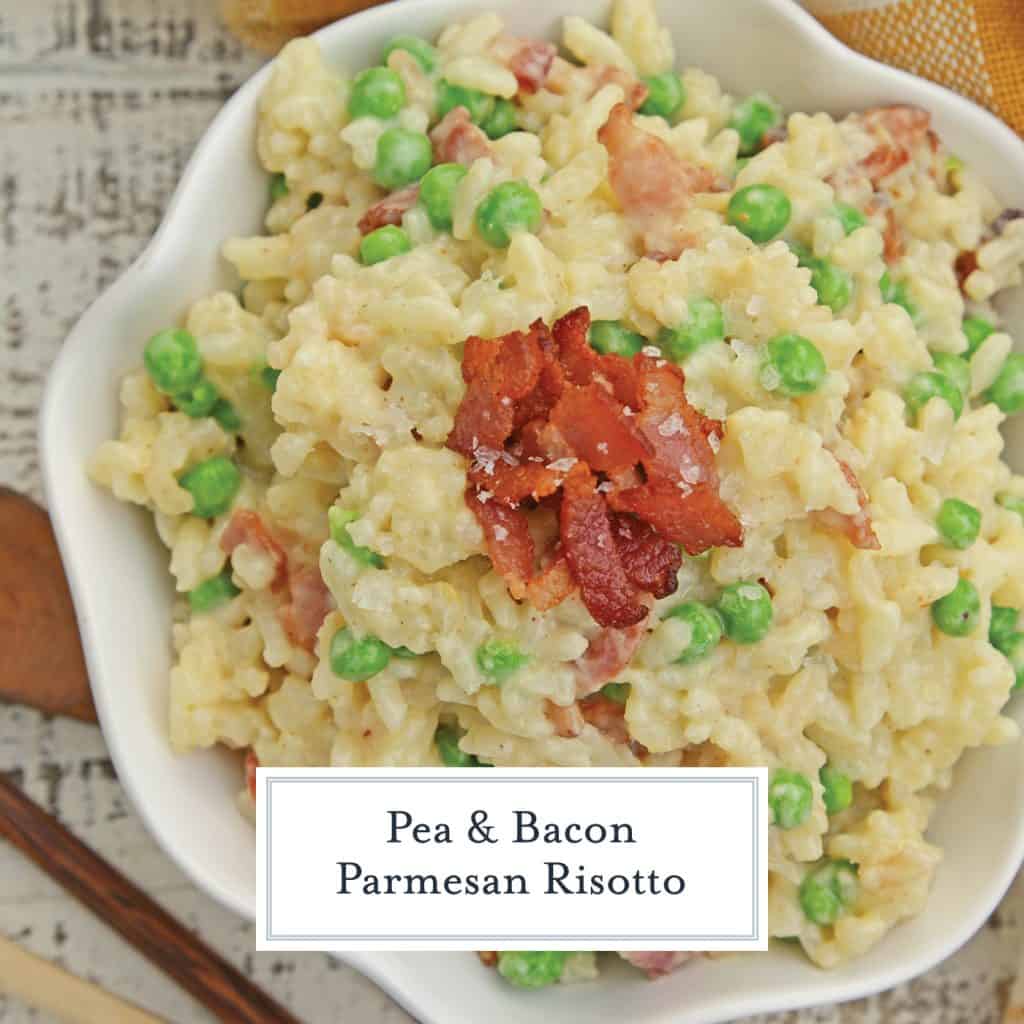 Creamy Parmesan Risotto takes the most traditional risotto recipe and adds vibrant peas and crispy bacon. Sauteed in rendered bacon fat before it's cooked, this rice packs a flavor punch!
Risotto is an Italian dish made from a special type of rice called arborio. This short-grained rice is also used in rice pudding.
No grain of rice is the same and when you are in the aisle at the grocery store wondering what causes certain kinds of rice to cook a certain way, often it has to do with starch and the milling process before it gets to you.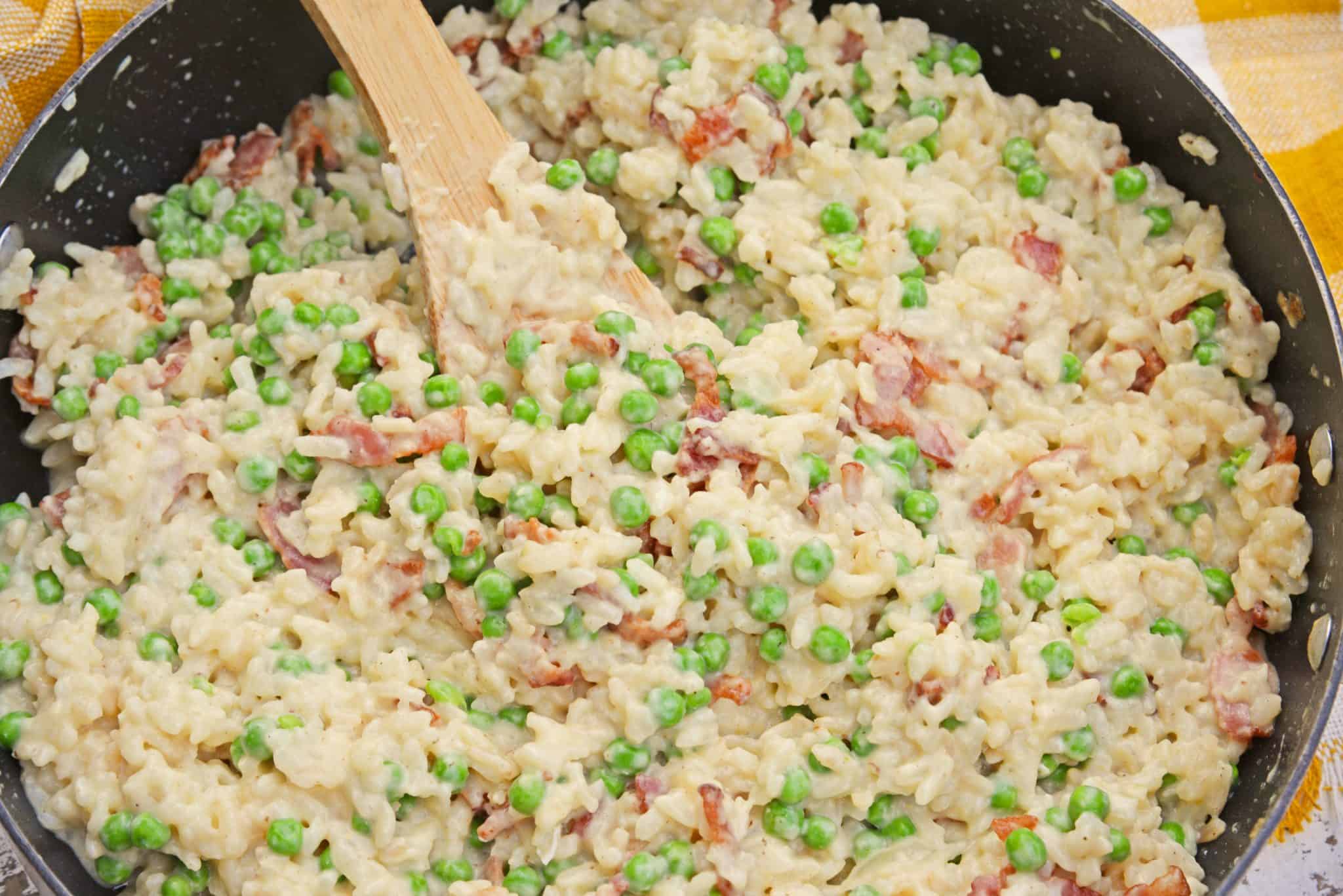 Arborio rice is the only rice used in a risotto for good reason. Each of the grains of this variety have been milled less, meaning they have more starch left on the grain. That starch needs to be coaxed out.
Stirring continuously is the only way to get those beautiful starches released. Each batch requires a little elbow grease.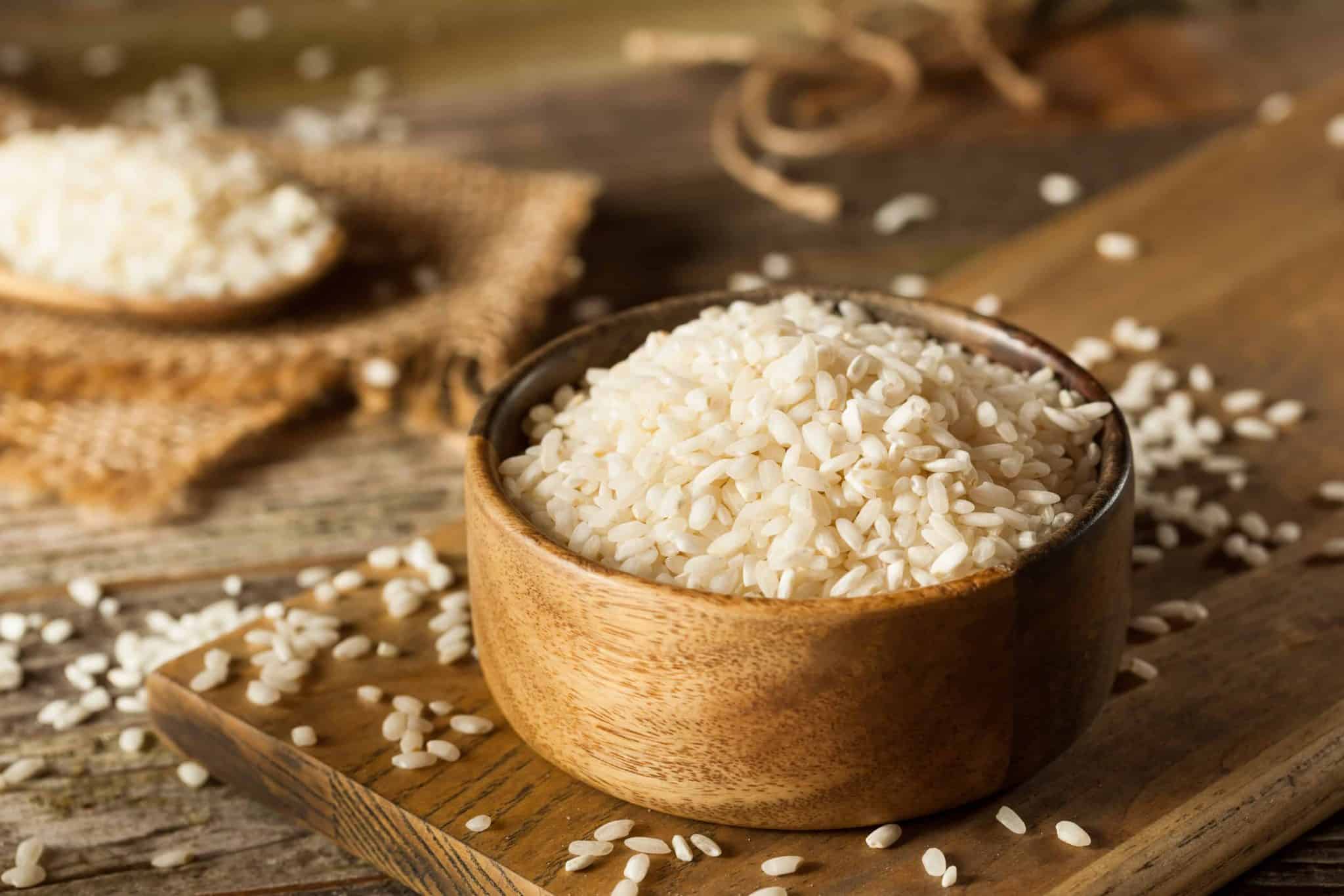 You know it is time to add more liquid when you drag your spoon across the bottom of the pot and the rice doesn't immediately come to fill the gap.
All that work (I often call in hubs to sub in for a few minutes) results in a creamy, almost gravy-like sauce without any dairy. That said adding cheese to risotto is pretty much a given which makes it that much more creamy.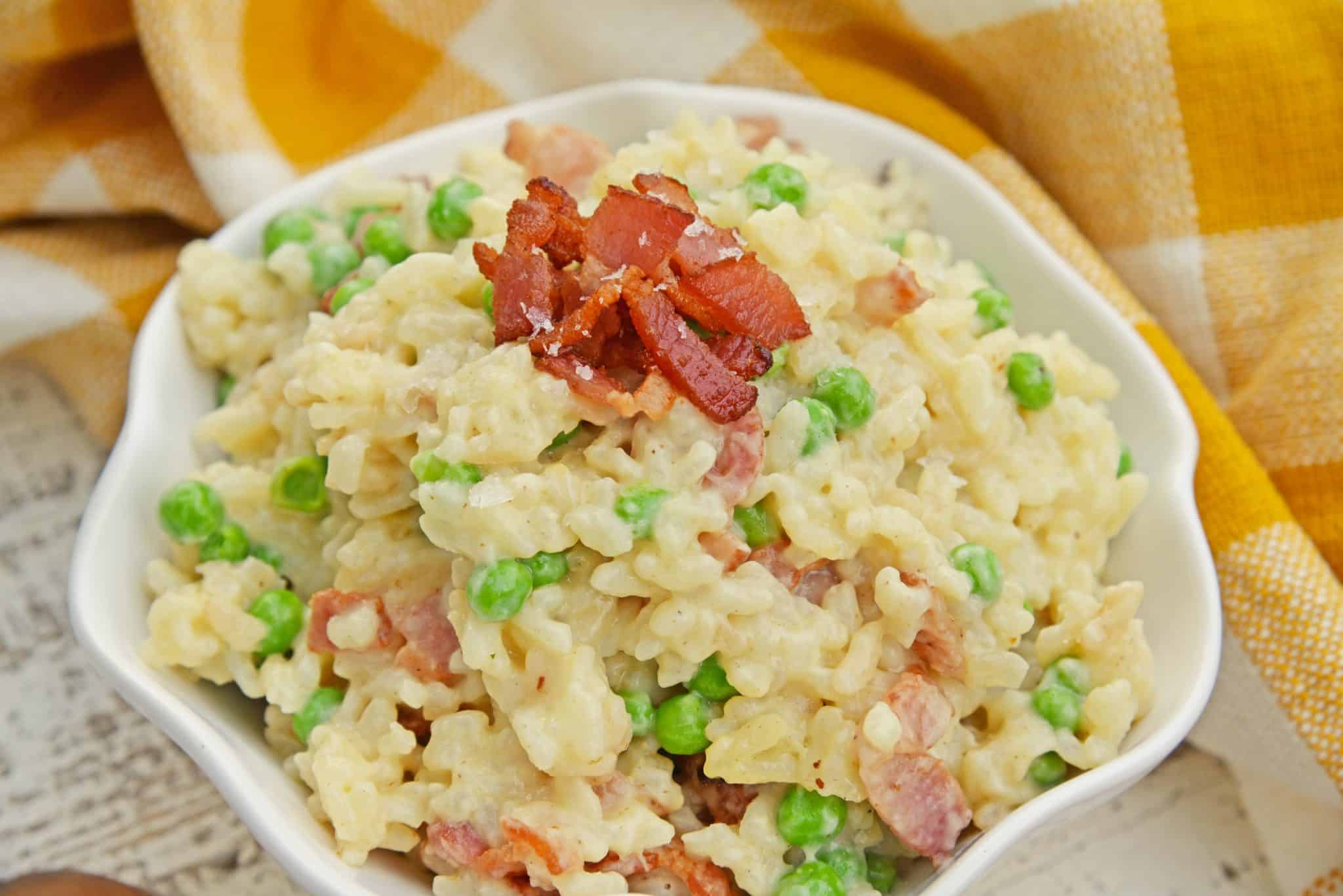 Arborio rice can also absorb much more liquid than a typical medium or long-grain rice can. That means whatever liquid you are adding is soaked up into each piece. Lots of flavor!
Changing up the liquids in risotto changes the overall flavors, so I always use some sort of broth instead of plain water.
Sometimes I will try chicken stock or beef stock and other times I add dried mushrooms for an intense earthy flavor.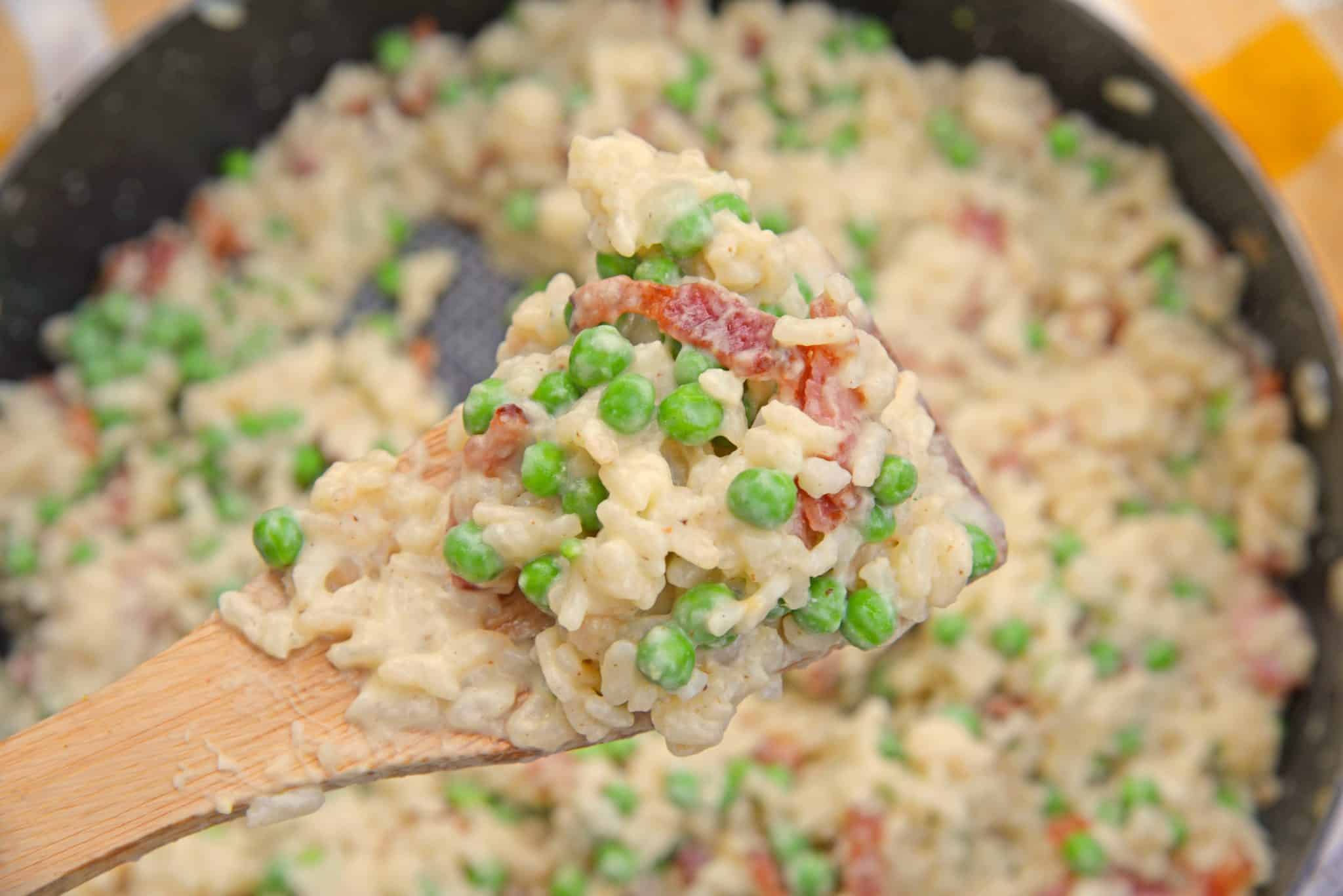 Another tip, if you have it in your kitchen, a heavy bottom pot works just as well as the skillet.
Both maintain the heat well and evenly and the high sides allow for a larger margin of error when it comes to transferring and stirring in your liquids.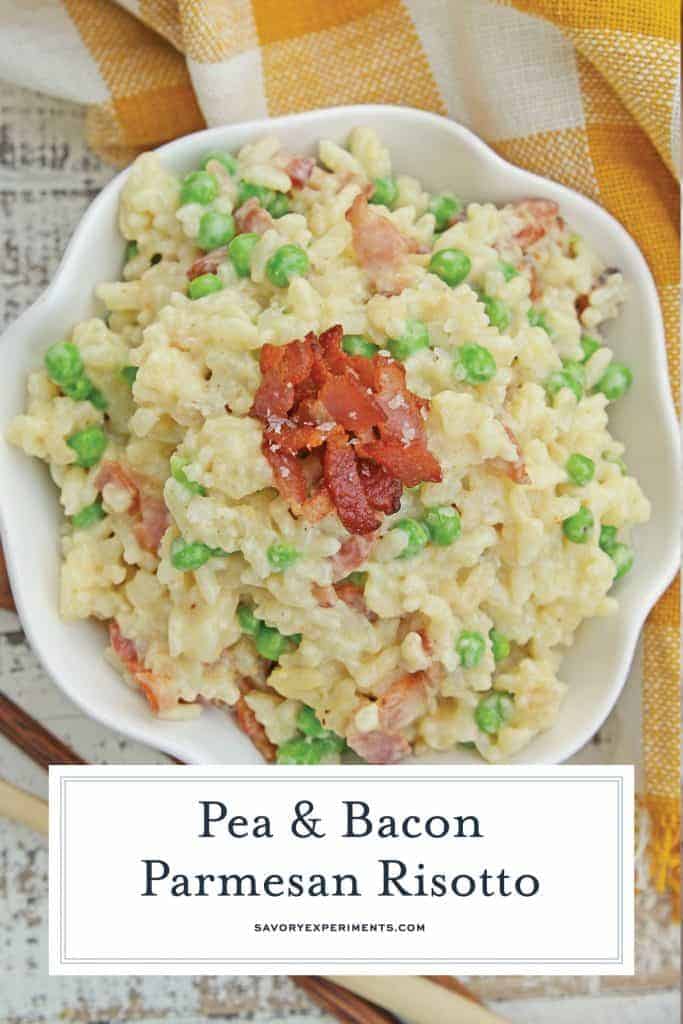 After the rice is ready, add-ins are welcomed. They can add flavor, texture, and color to your risotto.
For this version, I folded in peats and bacon. That paired with the cheese and the shallots are a winning combination.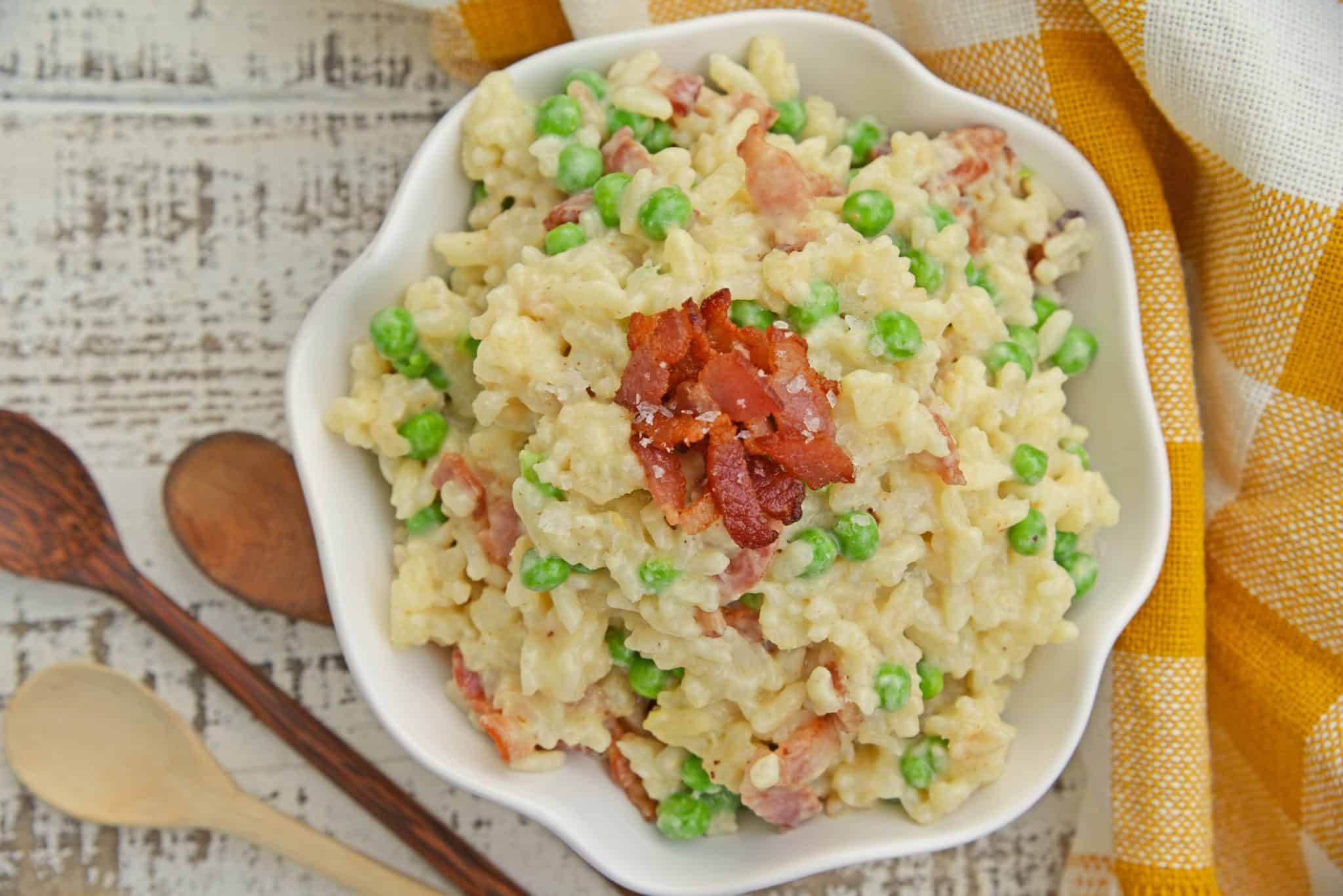 Creamy Parmesan Risotto can be served as a side dish to any meal, not just Italian, or served as an entree. Personally, I like my risottos with seafood, as they are often served in Italy.
Giant grilled shrimp or even seared scallops, but you can add any protein you'd like. While risotto is a touch more time consuming than say adding water and boiling rice, it is easy to prepare and the results are decadent and delicious.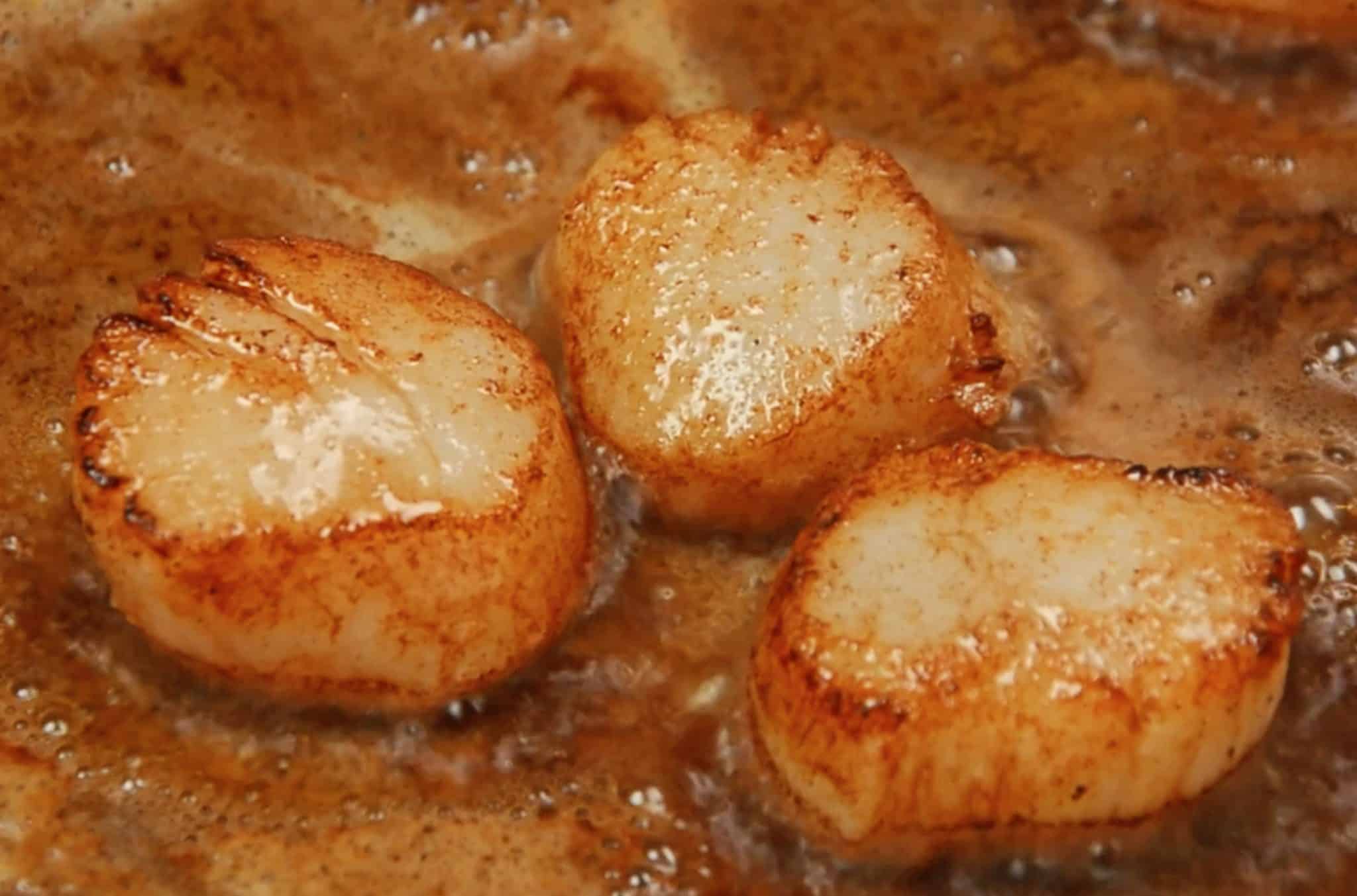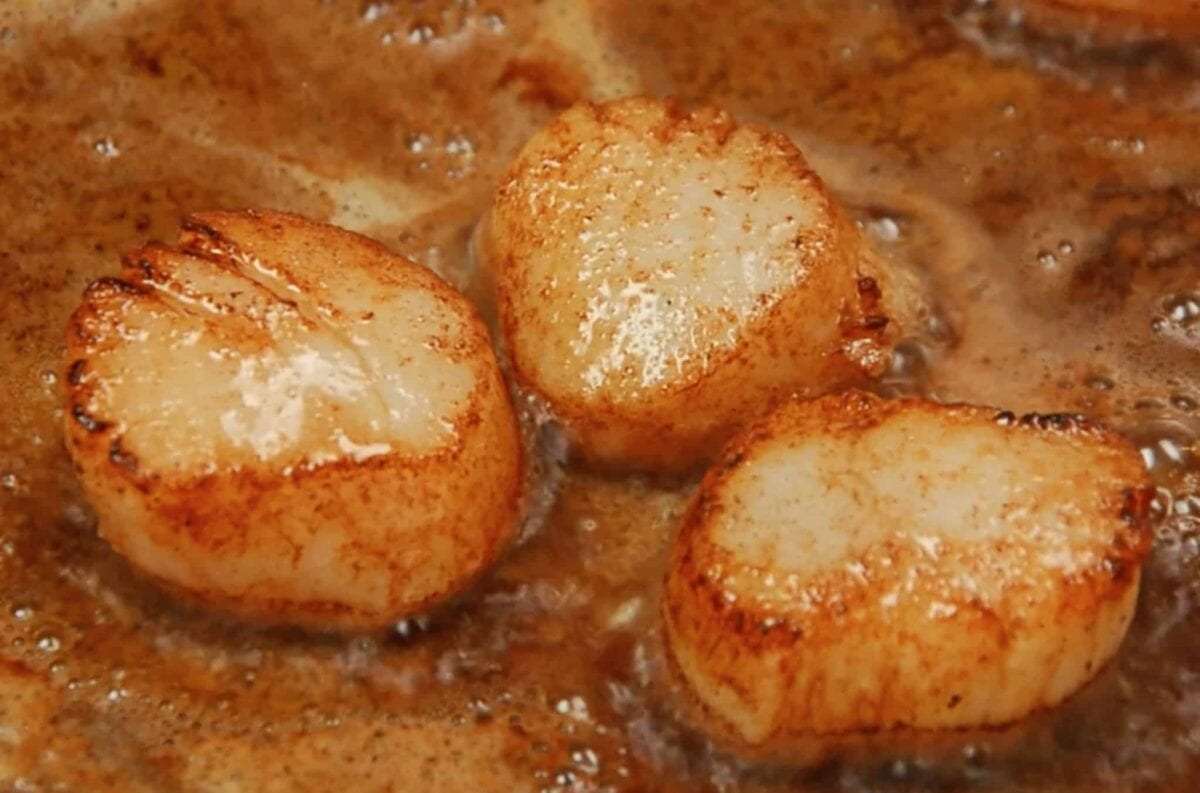 I invite you to check out my tips for perfect risotto before you get started to ensure you have the best risotto out there! Here are a few teasers… head over for more info!
Toast the rice before cooking.
Heat the liquid.
Add liquid slowly.
Taste test for texture.
Add fully cooked ingredients at the end.
Use a large skillet instead of a saucepan.
If you liked this easy risotto recipe, check out some of my others!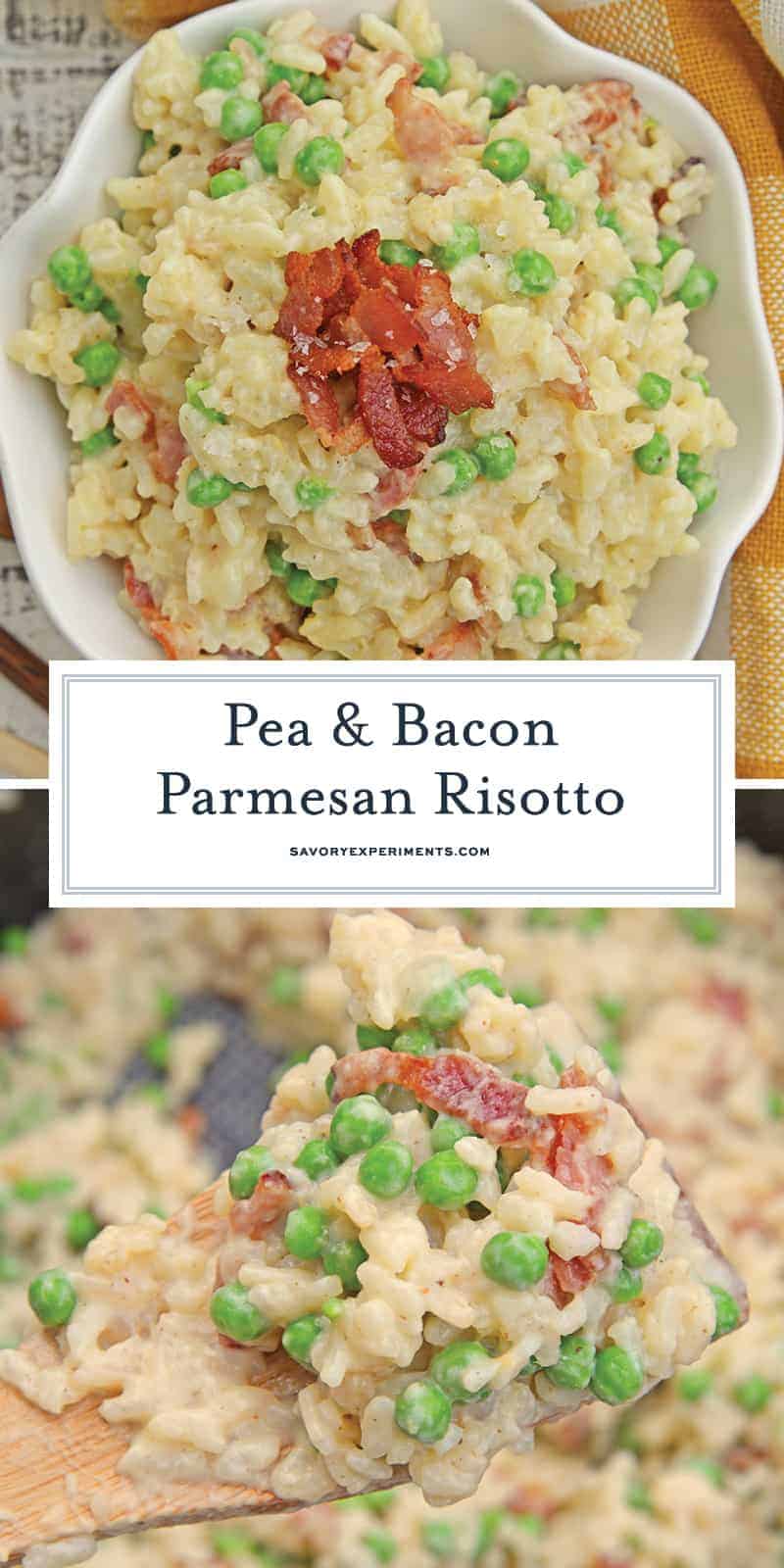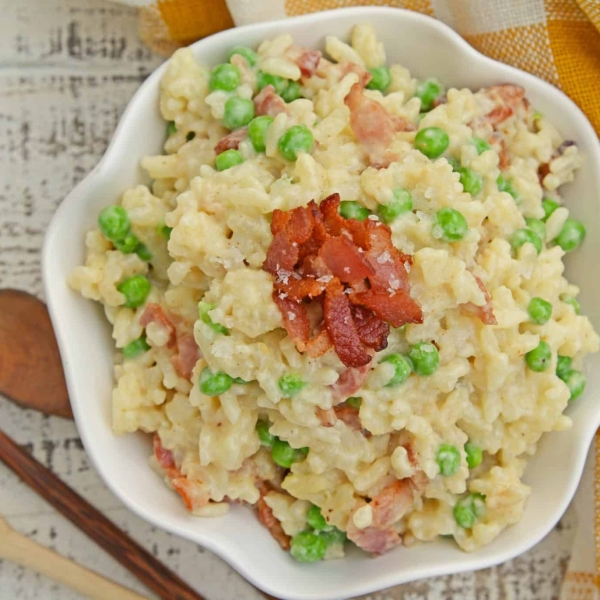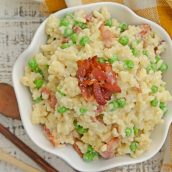 Parmesan Risotto with Peas and Bacon
Creamy Parmesan Risotto takes the most traditional risotto recipe and adds vibrant peas and crispy bacon. Sauteed in rendered bacon fat, this rice packs a flavor punch!
Instructions
In a large skillet, cook bacon over medium-high heat until cooked, but not crispy, approximately 10 minutes. Using a slotted spoon, remove bacon while reserving bacon fat in pan.

Add shallots and arborio rice, browning for 4-5 minutes.

At the same time, bring 5 cups of chicken broth to a simmer over low heat in a separate saucepan.

Ladle one cup of simmering broth into arborio and stir. Cook until absorbed. Continue to add 1 cup of simmering broth at a time, waiting until each addition is absorbed before adding the next, until all broth is gone. This process takes about 20-30 minutes.

Add bacon, frozen peas and salt, cooking for 3-4 minutes until fully warmed.

Lastly, stir in Parmesan cheese. Serve hot.

If you've tried this recipe, come back and let us know how it was!
Nutrition
Calories:
593
kcal
,
Carbohydrates:
75
g
,
Protein:
21
g
,
Fat:
22
g
,
Saturated Fat:
8
g
,
Cholesterol:
37
mg
,
Sodium:
1863
mg
,
Potassium:
639
mg
,
Fiber:
6
g
,
Sugar:
5
g
,
Vitamin A:
765
IU
,
Vitamin C:
55.6
mg
,
Calcium:
191
mg
,
Iron:
5.4
mg