So many people ask why I would make potatoes in the slow cooker when they actually take shorter in the oven. My Garlic Dill Mashed potatoes will show you why!
Slow Cooker Garlic Dill Mashed Potatoes are creamy, loaded with flavor, and unbelievably easy when made in the crock pot!
The slow cooker
/crock pot
is a magical place. You put raw food in and in just a few hours, it comes out moist and ready to eat.
One of the best ingredients for the slow cooker is potatoes because people tend to dry them out by overcooking. Baking potatoes can lead to all the moisture evaporating away, while in a slow cooker, it is sealed in essentially steaming the potatoes insteading of baking them.
Never worry about a dried out spud again, seriously! The first crock pot potato recipe on your list should be my Garlic Dill Mashed Potatoes.
Since your potatoes are heading for delicious creamy mashed potatoes and not a baked potato, the fact that they won't have a crispy skin is perfect.
Potatoes work wonders in the crock pot, but mashed potatoes are pure magic! They caramelize a little against the sides, adding a sweet note and gentle brown color that is hard to achieve by steaming or boiling.
I suppose you could bake, but that too would result in cakey texture. I prefer to use red potatoes for skin-on mashed potatoes. They are flavorful and silky, so they mix in perfectly with other add-ins.
Other good potato varieties for mashed potato include any higher starch potato like, Russet or Yukon Gold. These are fluffy and mash well without having to add lots of butter and sour cream… unless you are into that sort of thing (like me!).
Although everyone prefers mashed potatoes, some cooks get a little worried about adding too much milk and other goodness to the mix because your taters will be runny.
This is an honest concern, most mashed potato recipes call for a quantity of potatoes and let's face it, they come in many shapes and sizes, so no recipe is "one size fits all".
My advice is to start slow and add more, however if you do find yourself in a pickle and need to thicken those bad boys up, use a few tablespoons of dehydrated mashed potatoes. I know, I know!
It is my dirty little secret. I keep a box in the darkest depths of my pantry for situations just like this. They are instant and work like a charm. No one will know, I promise. Just hide the box. You can also use them to thicken up deviled egg filling, wink, wink.
Maryland Style Crab Cakes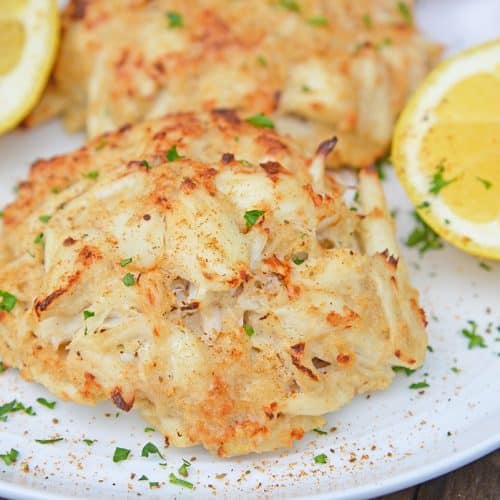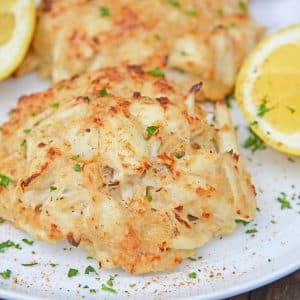 Maryland Crab Cakes are made with jumbo lump crab meat with little filler, Dijon mustard and Old Bay Seasoning plus secrets to making authentic Chesapeake crab cakes!
Crock Pot Mississippi Pot Roast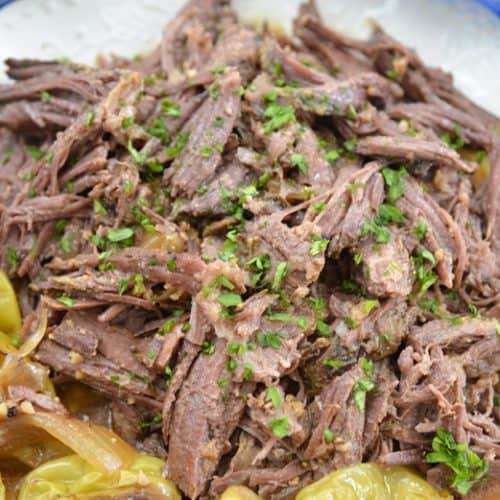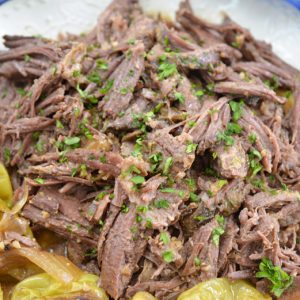 This easy Mississippi Pot Roast recipe is super tender and so perfect if you're craving comfort food! It's the best pot roast recipe!
Baked Garlic Parmesan Chicken
Garlic Parmesan Chicken is an easy weeknight meal option that kids love! Just 6 ingredients and dinner is made!
---
---
Slow Cooker Garlic Dill Mashed Potatoes
Slow Cooker Garlic Dill Mashed Potatoes are creamy, loaded with flavor, and unbelievably easy when made in the crock pot!
Instructions
Start your slow cooker on high heat and place butter and chicken broth in the bottom. Allow it to start melting while you chop your potatoes.

Add potatoes and top with garlic and dill. Cover and cook for 3-4 hours. The cook time will vary greatly depending on the size you cut your potatoes. Cook until soft and easily mashed with a fork.

When soft, add sour cream and 1/2 cup milk, using a ricer or electric hand mixer directly into the slow cooker pot and ship those babies up!

Add more milk if texture is still too thick. Season with salt and pepper, top with chives and serve!

If you've tried this recipe, come back and let us know how it was!
Nutrition
Calories:
289
kcal
|
Carbohydrates:
28
g
|
Protein:
5
g
|
Fat:
17
g
|
Saturated Fat:
10
g
|
Cholesterol:
46
mg
|
Sodium:
180
mg
|
Potassium:
850
mg
|
Fiber:
2
g
|
Sugar:
6
g
|
Vitamin A:
735
IU
|
Vitamin C:
16.2
mg
|
Calcium:
136
mg
|
Iron:
1.3
mg