With simple ingredients like ground beef and tomato sauce, this Beef Goulash recipe is sure to be a dinner that everyone will love!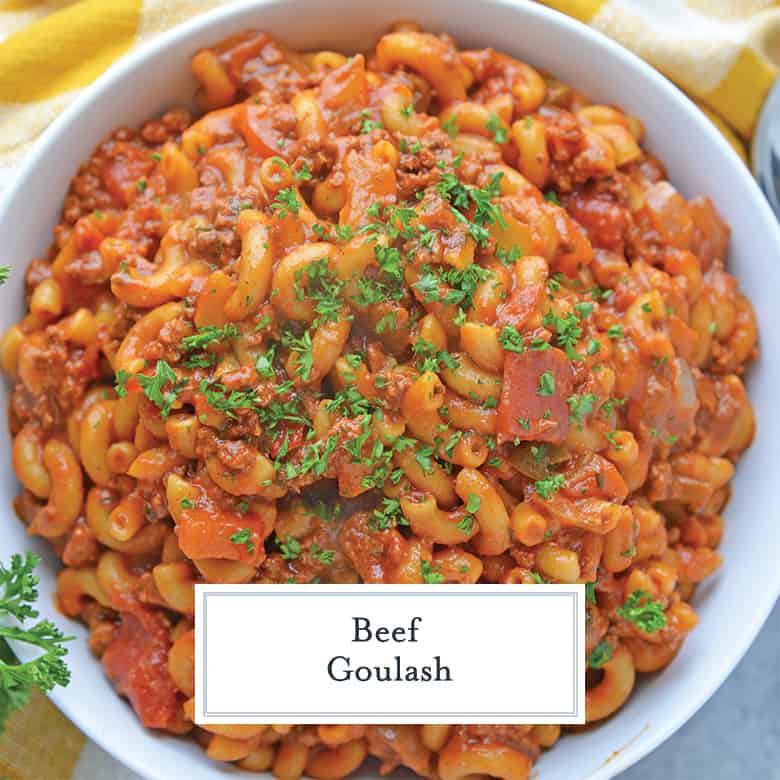 Classic goulash doesn't get any better than this Beef Goulash recipe! The perfect comforting meal for any weeknight!
Can you spot the ingredient that doesn't belong in this goulash? Ha! I didn't think so…
What is the difference between American Goulash and Hungarian Goulash?
A classic American goulash is made up of the basic components of elbow noodles, ground beef and a tomato base. Whereas Hungarian goulash is made with beef pieces, a tomato base and either dumplings or potatoes, almost like a beef stew. And then there is German Goulash made without tomatoes.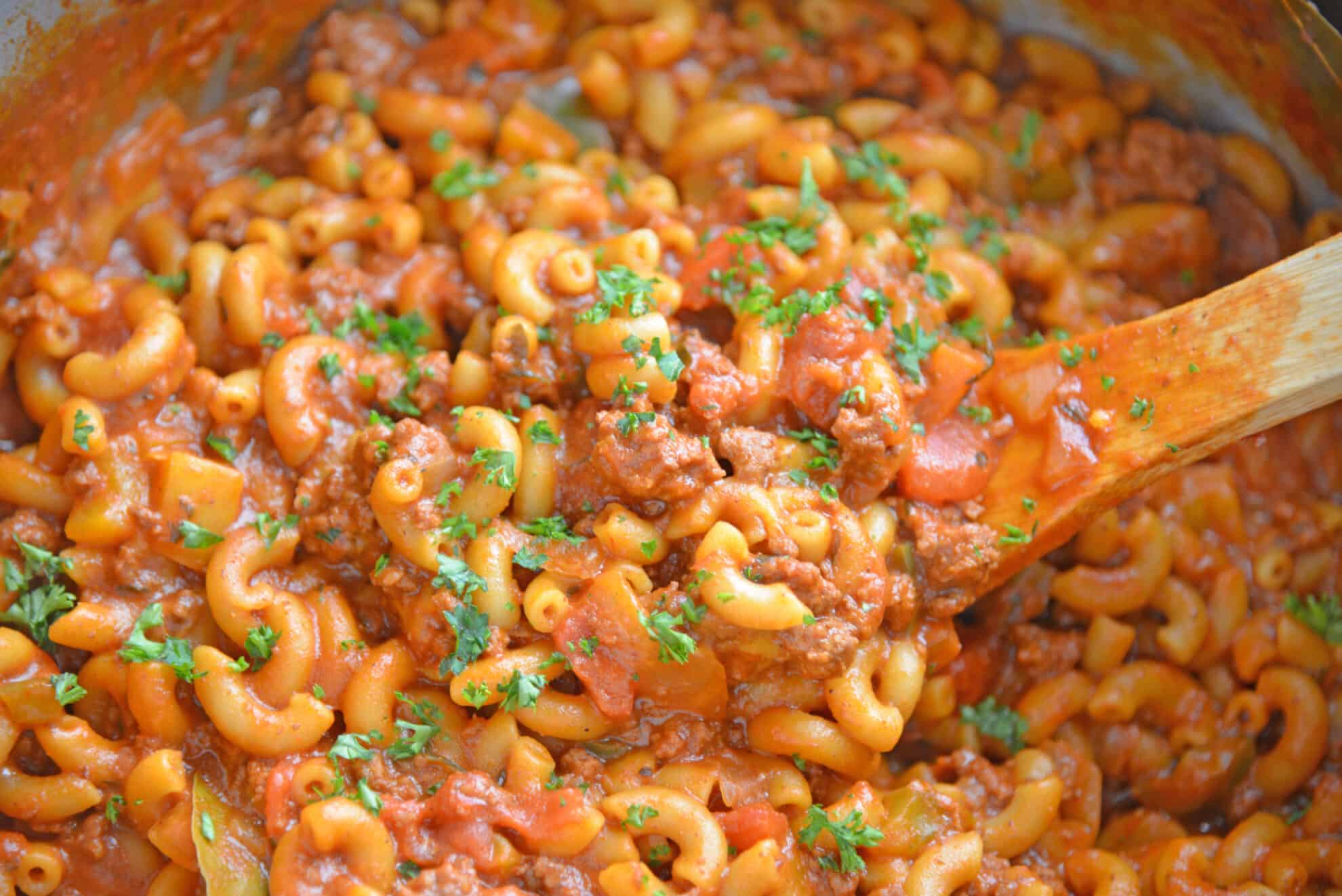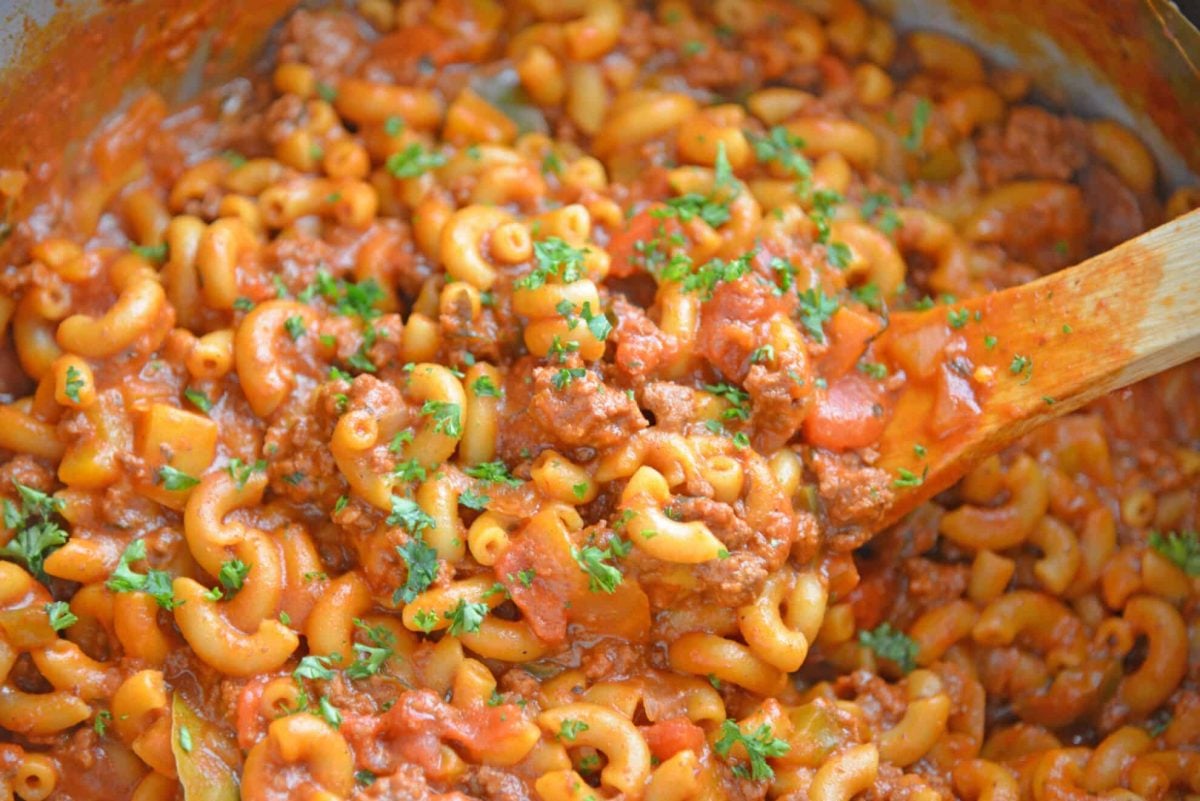 My goulash is neither Hungarian nor American because the addition of bell peppers. I love hiding veggies and making sure my dinners, especially one dish dinners like goulash, are full of vegetables.
Adding tri-colored bell peppers added more flavor and color to this classic comfort food dish.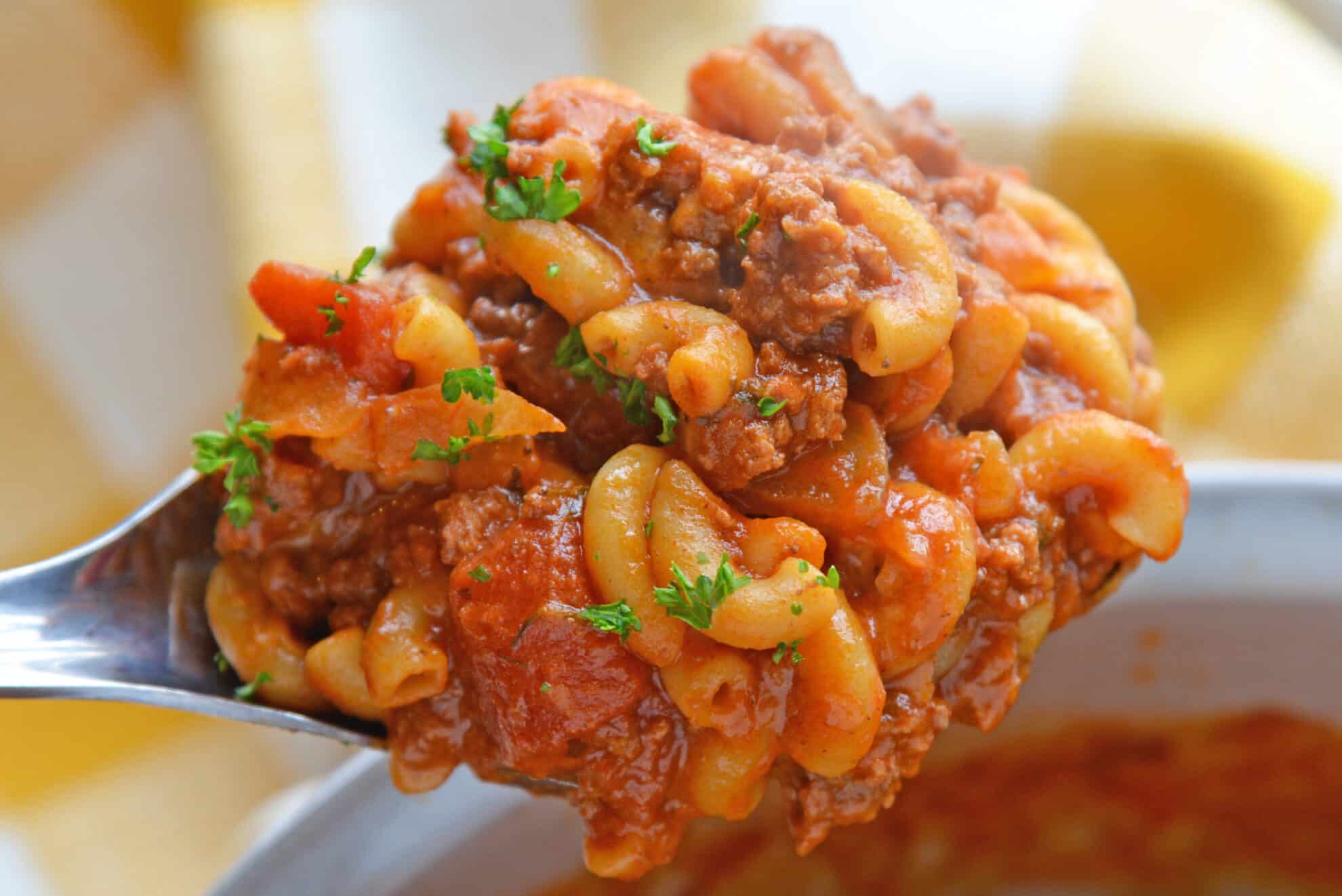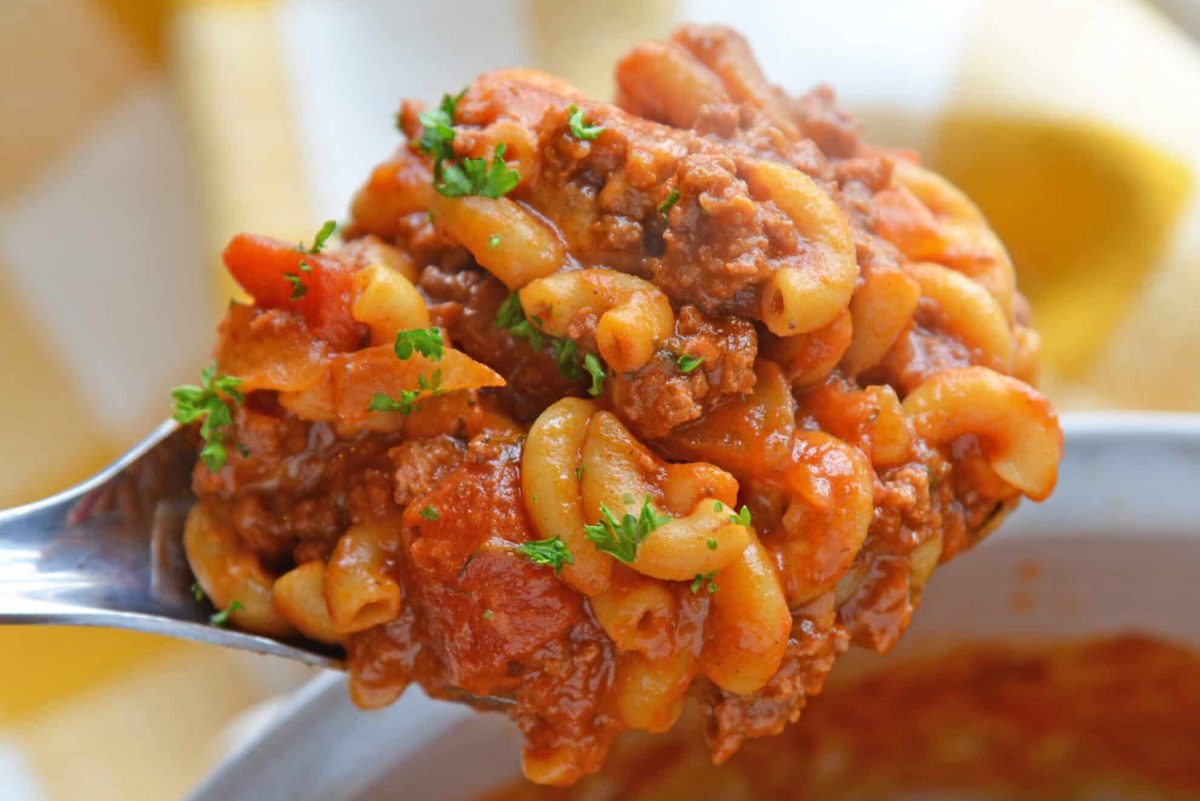 In fact, goulash is very similar to Italian bolognese or ragu, simply meaning to saute vegetables and meat together.
Goulash is the ultimate in one-dish meals. It is also the ultimate in comfort food. In fact, Goulash gained its popularity in the US during the mid 20th century for the same reason other comfort foods dishes like Salisbury Steak and meatloaf did.
Is was cheap. Ground beef was much cheaper than other cuts of beef, chicken or pork. A little could go a long way.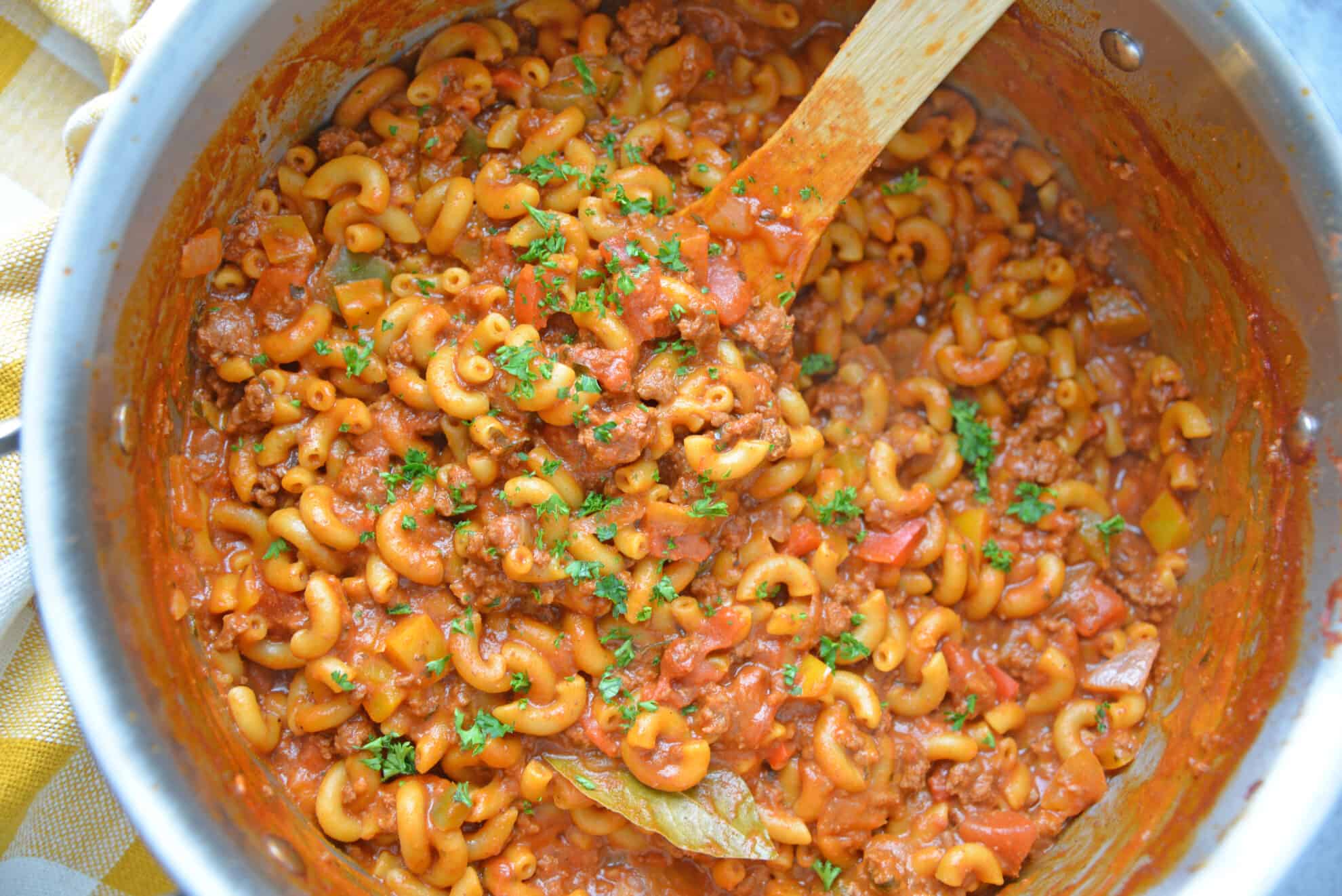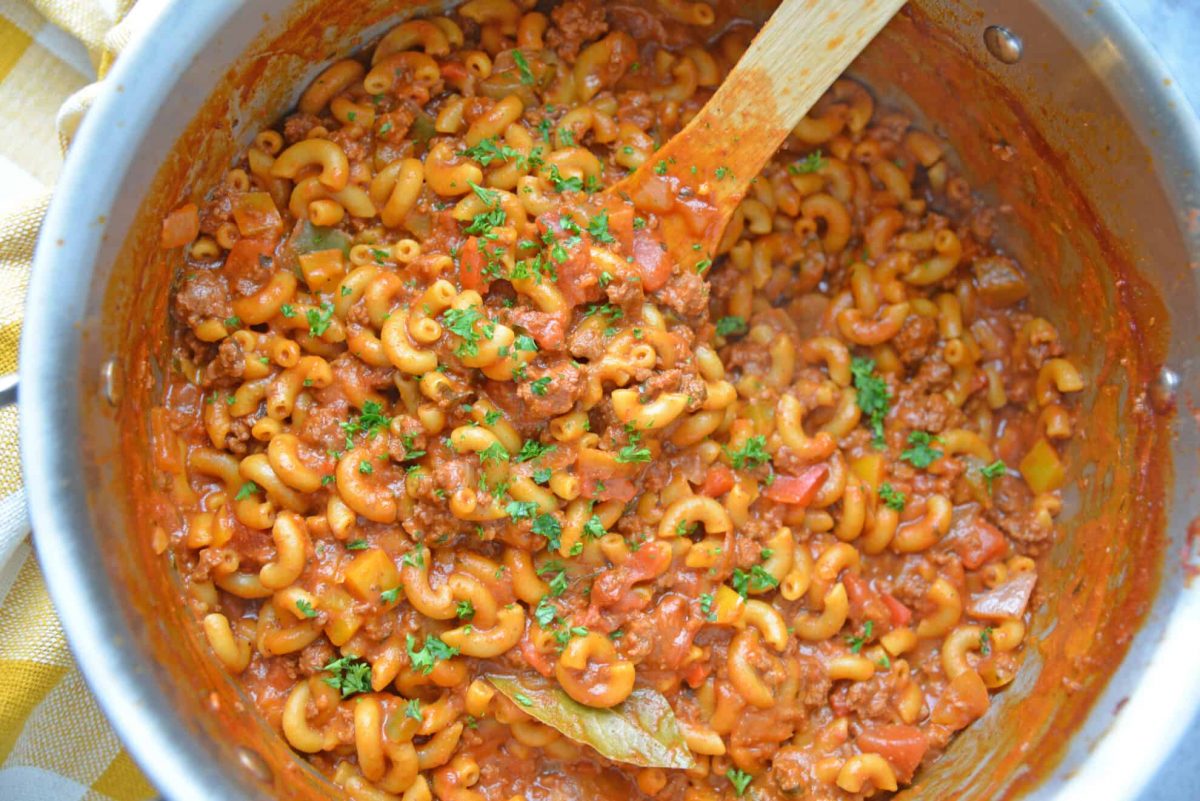 Pasta was also relatively inexpensive and with a simple dish like this, most of the ingredients were kept in cans. You could even make goulash without the onion and garlic if needed.
PRO TIP: To add flavor to any pasta, add complementing flavors to the boiling water. Chicken or vegetable stock are good options. White cooking white, herbs and spices will also work.
It could also be argued that goulash was on the forefront of the one-dish pasta revolution. It was one of first dishes I know of that cooked the pasta right in the flavorful sauce with no need to dirty a second.
Cooking pasta in the sauce has three objectives. One, it doesn't dirty that second dish. Two, it saves time. Three, plain old pasta takes on a whole new life as it sucks up the juices from your sauce.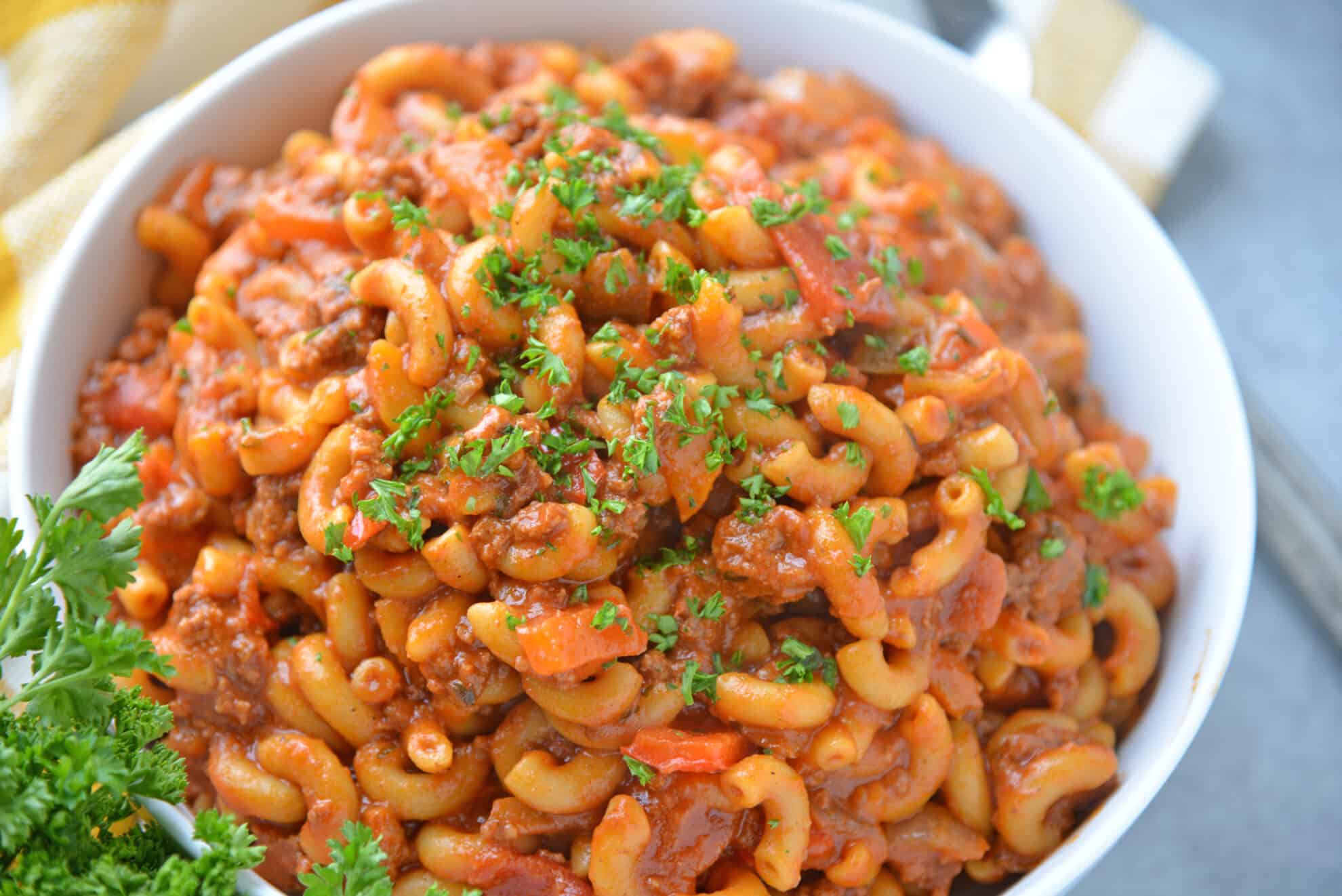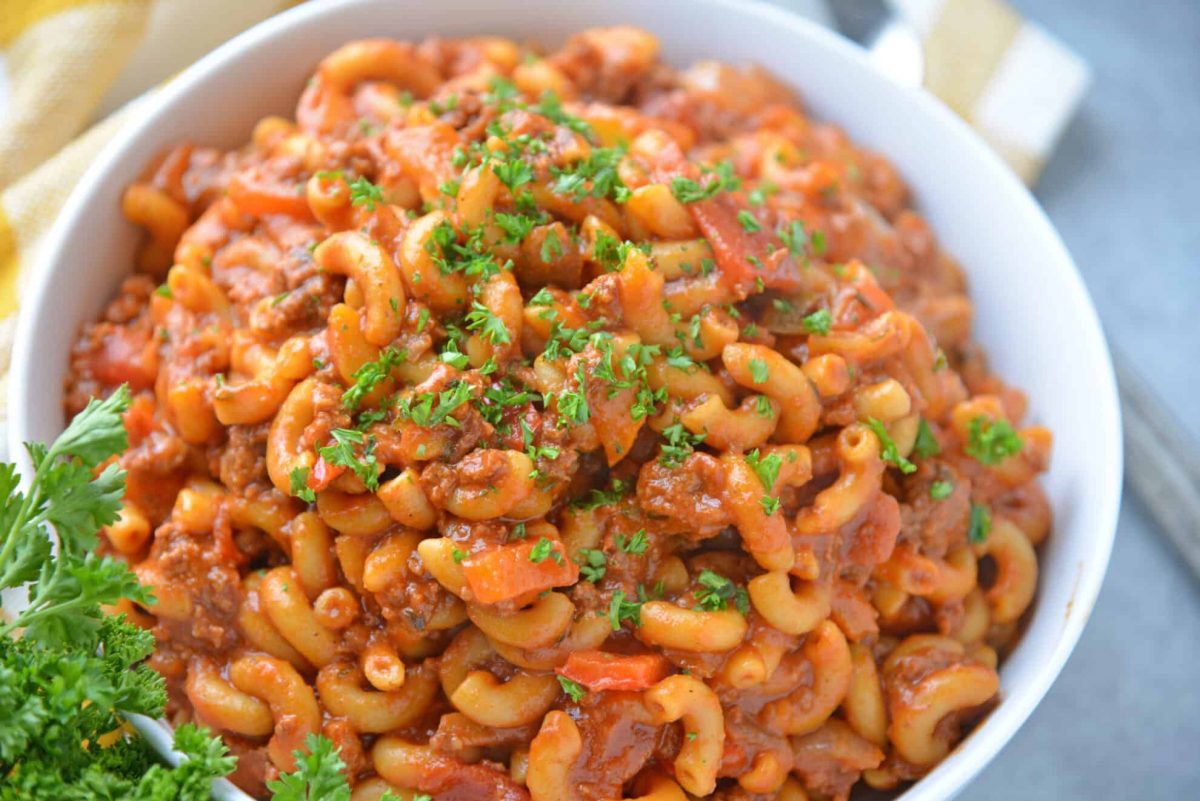 Now onto the logistics of how to make goulash. The first step is making sure you have a pot large enough to handle the massive amount of food you are about to prepare.
The second step is browning the meat until it is no longer pink. It really doesn't matter what fat percentage you use because you will be draining the meat before adding it back into the pot anyhow.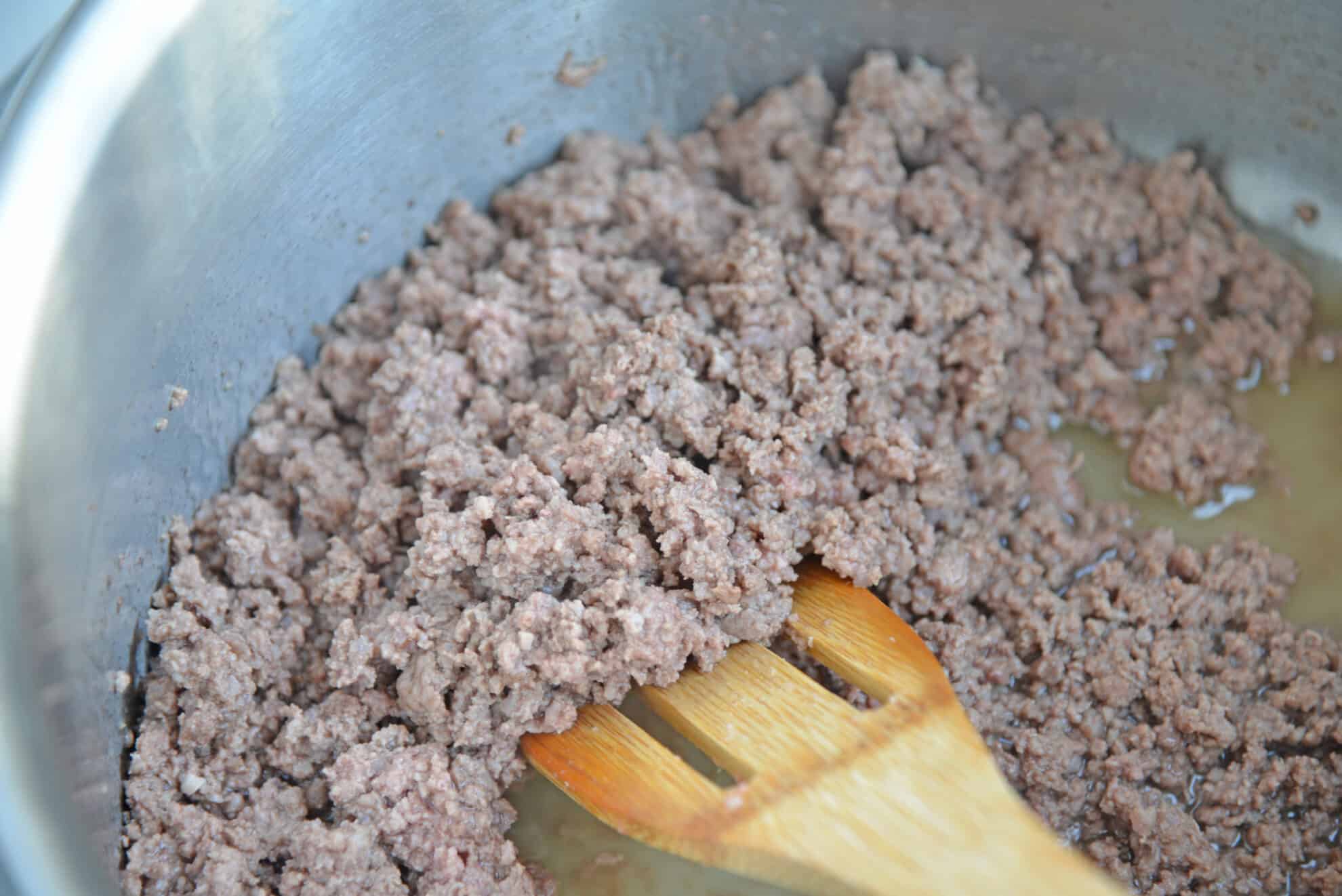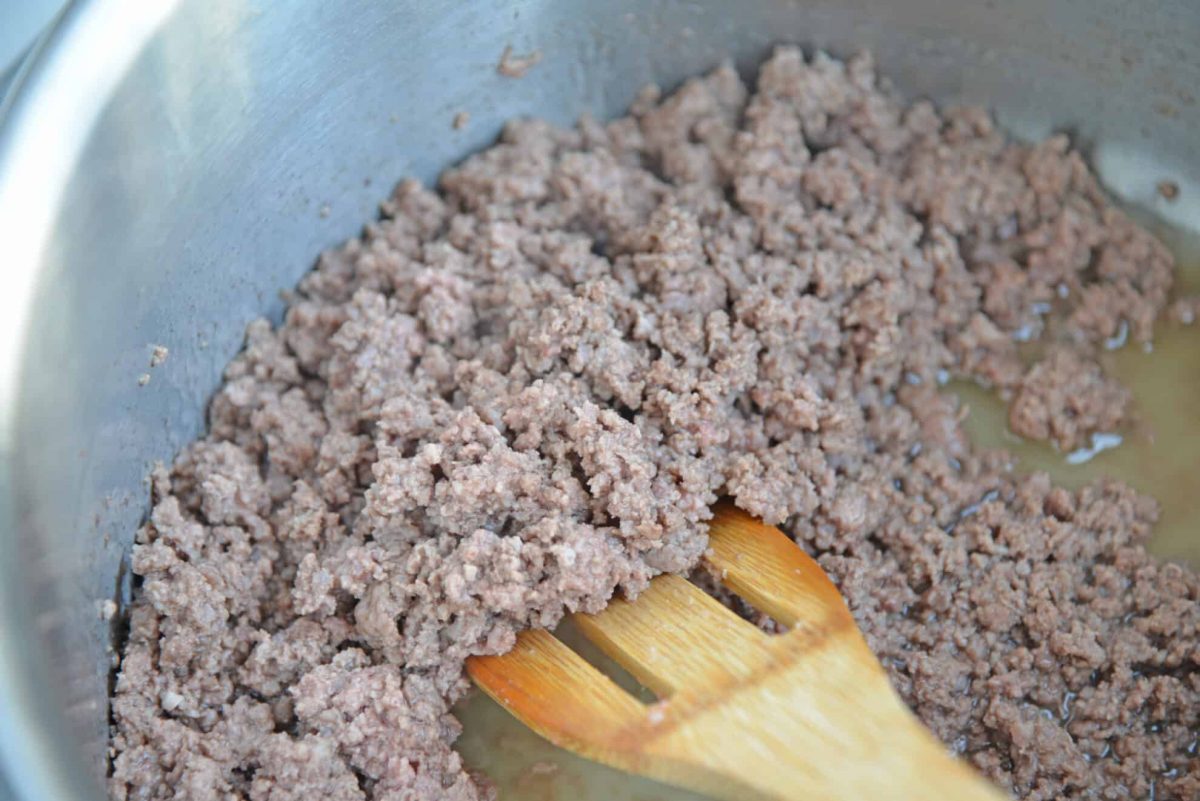 Thirdly, you will saute the bell peppers, onions and garlic. If you want to stay traditional, feel free to omit the bell peppers. Keep the rest of the recipe exactly the same.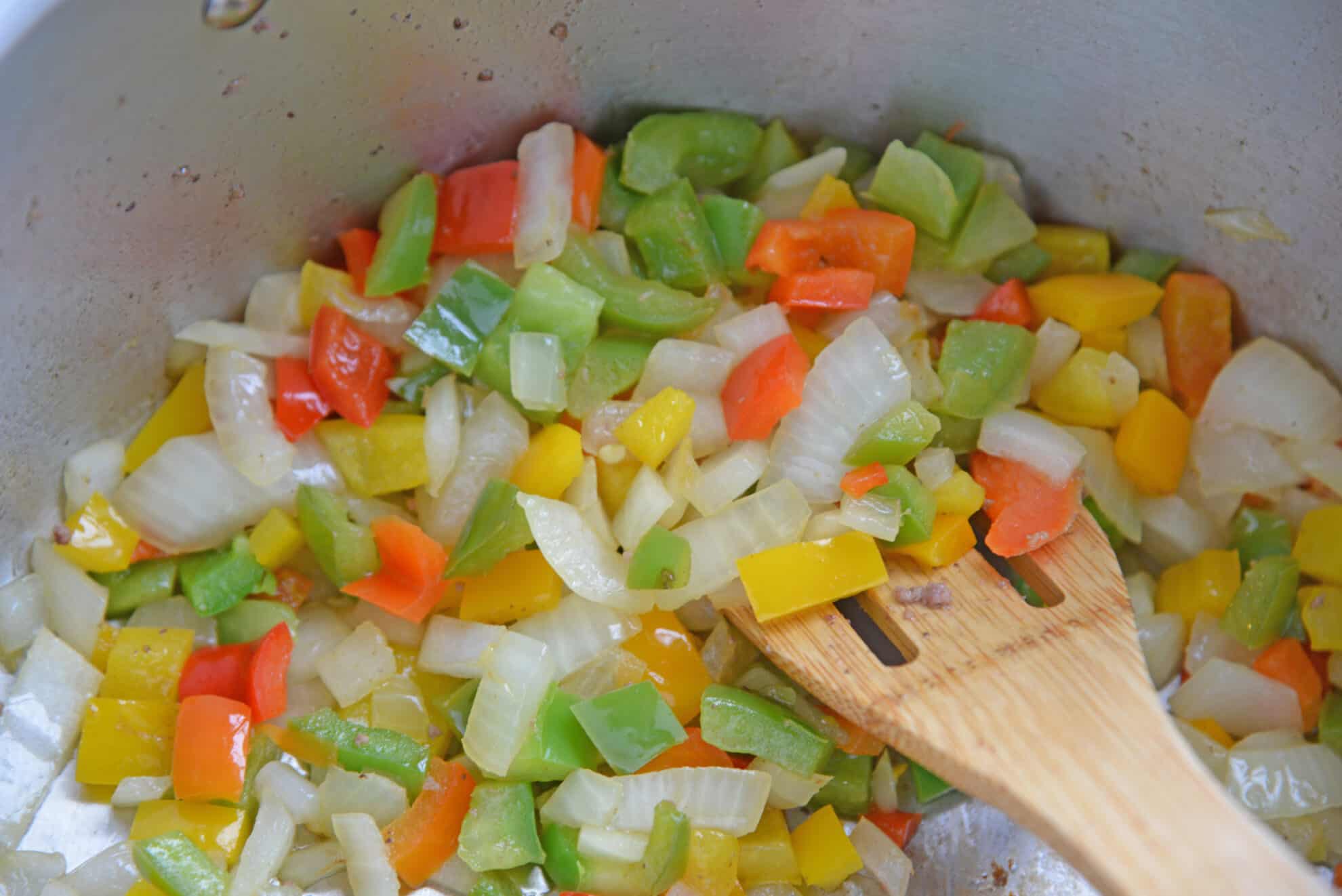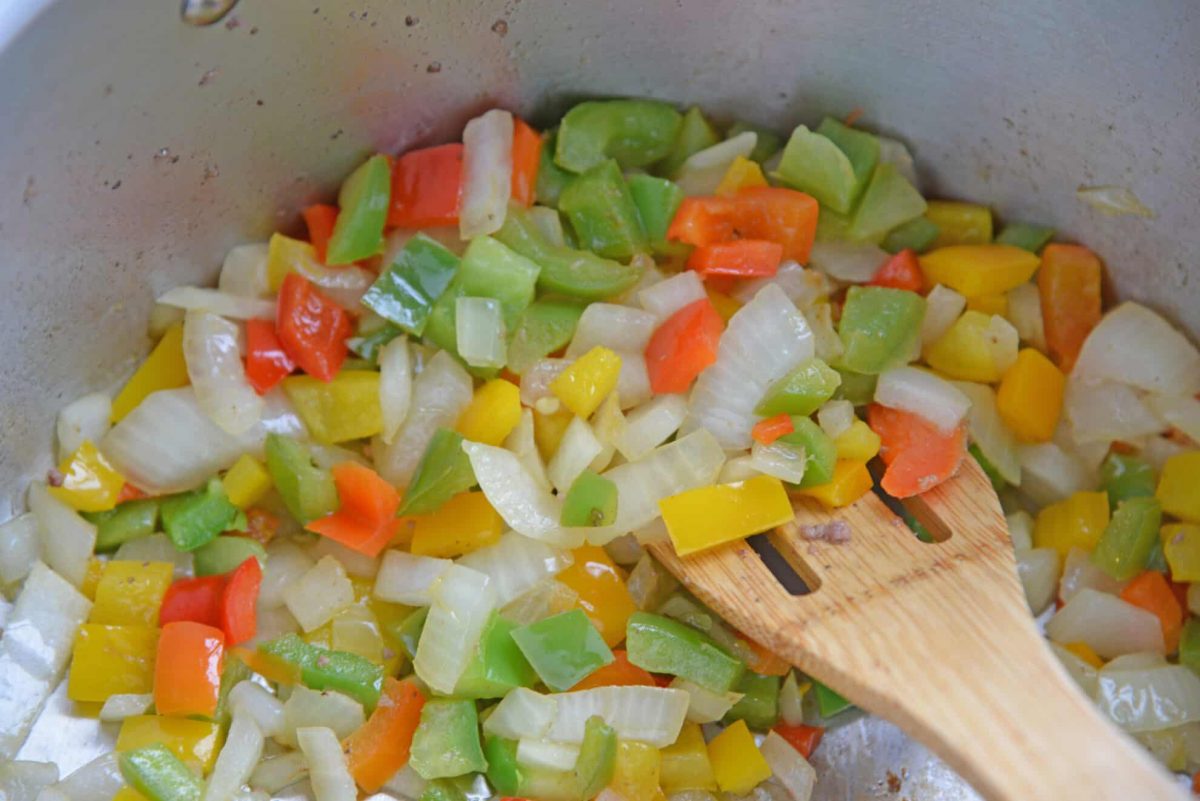 Next, you will incorporate the cooked ground beef along with your tomato products. I like to have the smoothness of a sauce along with the texture of diced tomatoes, so I use both.
If one doesn't appeal to you, simply substitute with another can of the other. Be mindful that tomato sauce is not the same as a jarred marinara, which is seasoned with many other things. You want plain tomato sauce in a can.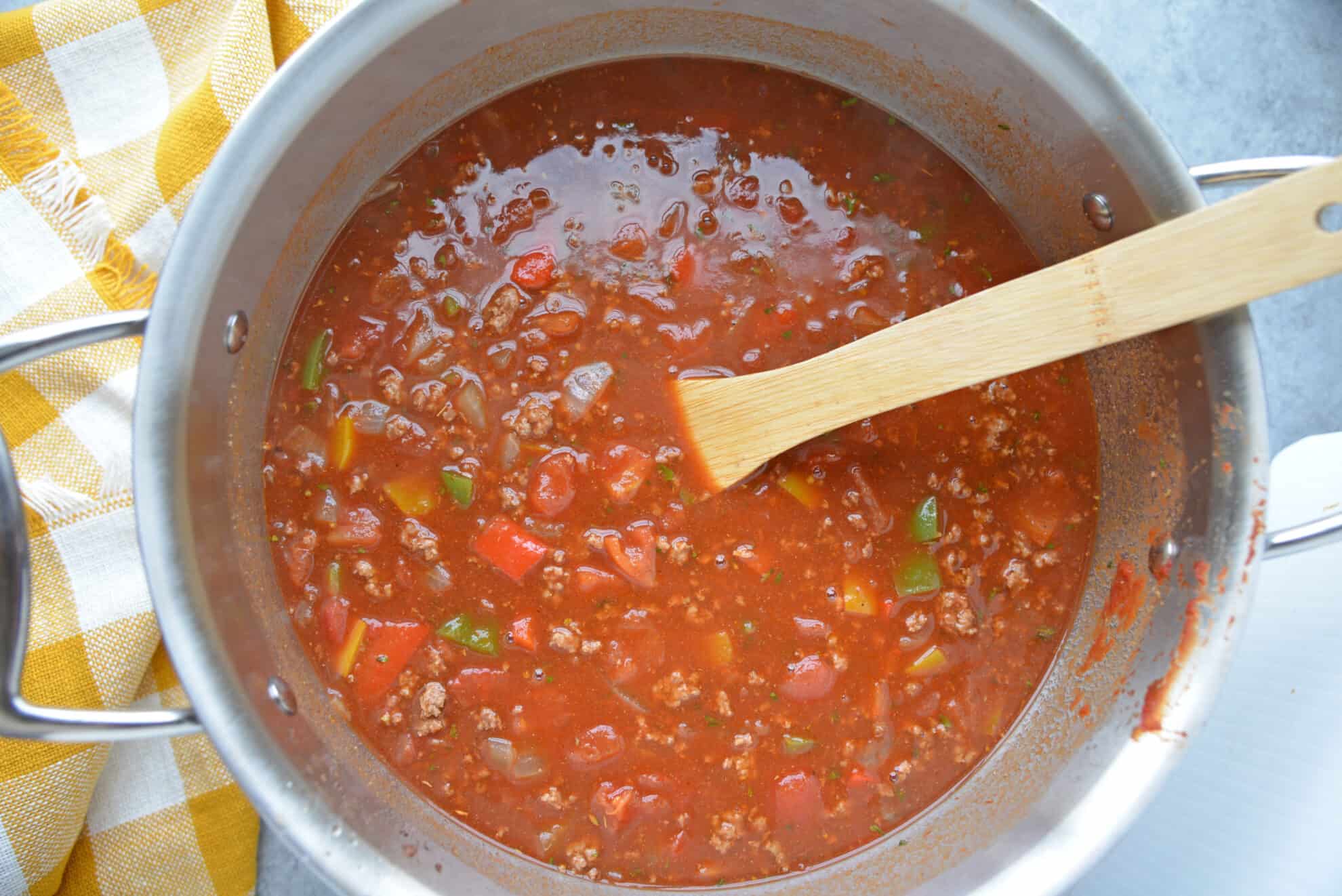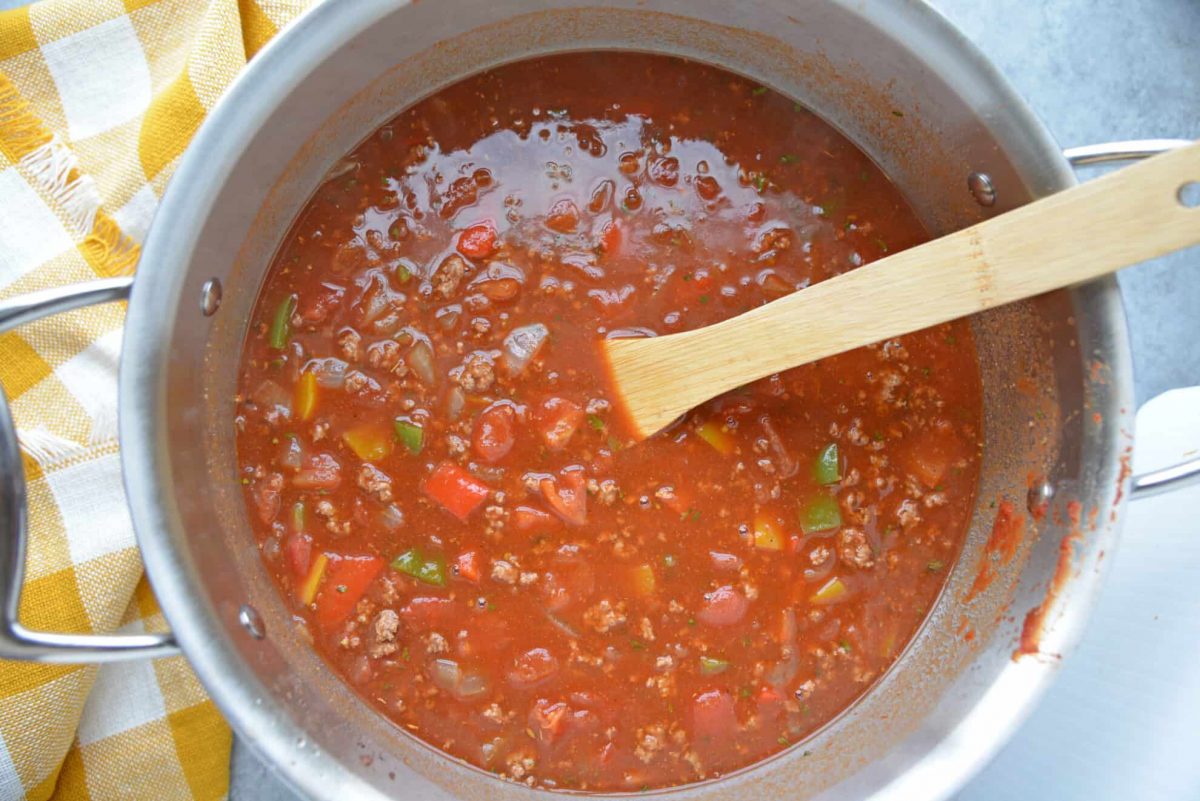 Some sort of liquid is necessary to help the pasta cook and make the sauce. Beef broth is the most commonly accepted liquid, but you can also use chicken or vegetable broth or plain water.
I also use a tablespoon of Gravy Master. I find it to be richer and offer more beefy flavor than the other commonly used ingredients which include soy sauce and worchestire sauce.
PRO TIP: Stir often, minding the bottom of the pot. Since pasta is heavy, it sinks and has the tendency to stick.
The next step is to add dry pasta and let is simmer until the pasta is tender, stirring occasionally. All of those herbs, spices and tomato juice will soak up into your pasta for rich and robust flavors.
Your sauce might still be a little liquidy after all the pasta cooks and that is okay and to be expected. The next step is to add cheese. I use a sharp cheddar, but you can get creative here and add any type of cheese you'd like.
PRO TIP: It is an extra step, but freshly grating your own cheese will result in better texture for your sauce. Pre shredded cheeses are tossed in a cornstarch or potato starch mixture to prevent clumping, this will thicken your sauce further and might give a grainy texture.
I find cheddar pairs best and would avoid processed cheese like American and hard cheese like Parmesan. Cheese will help the additional liquid tighten up.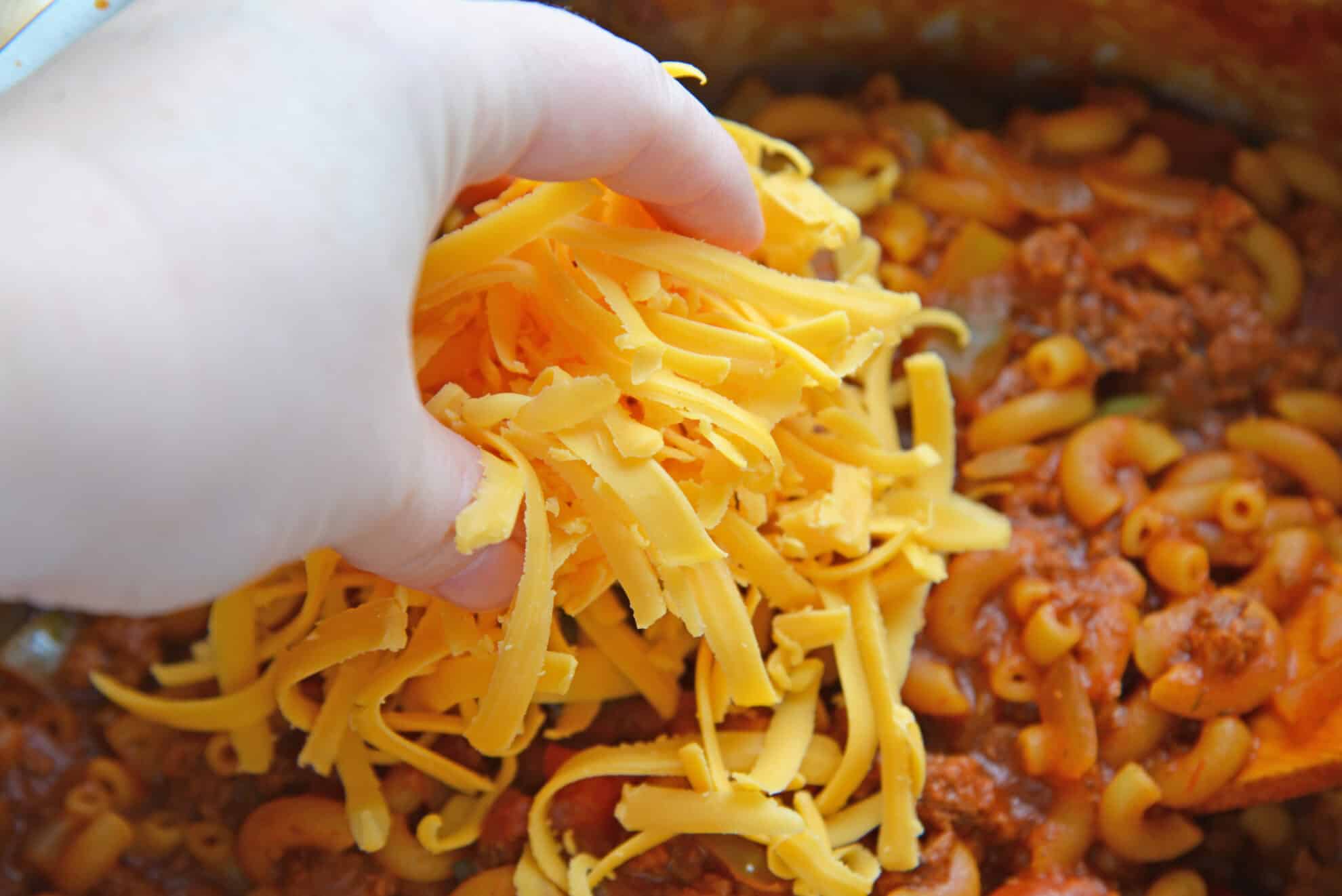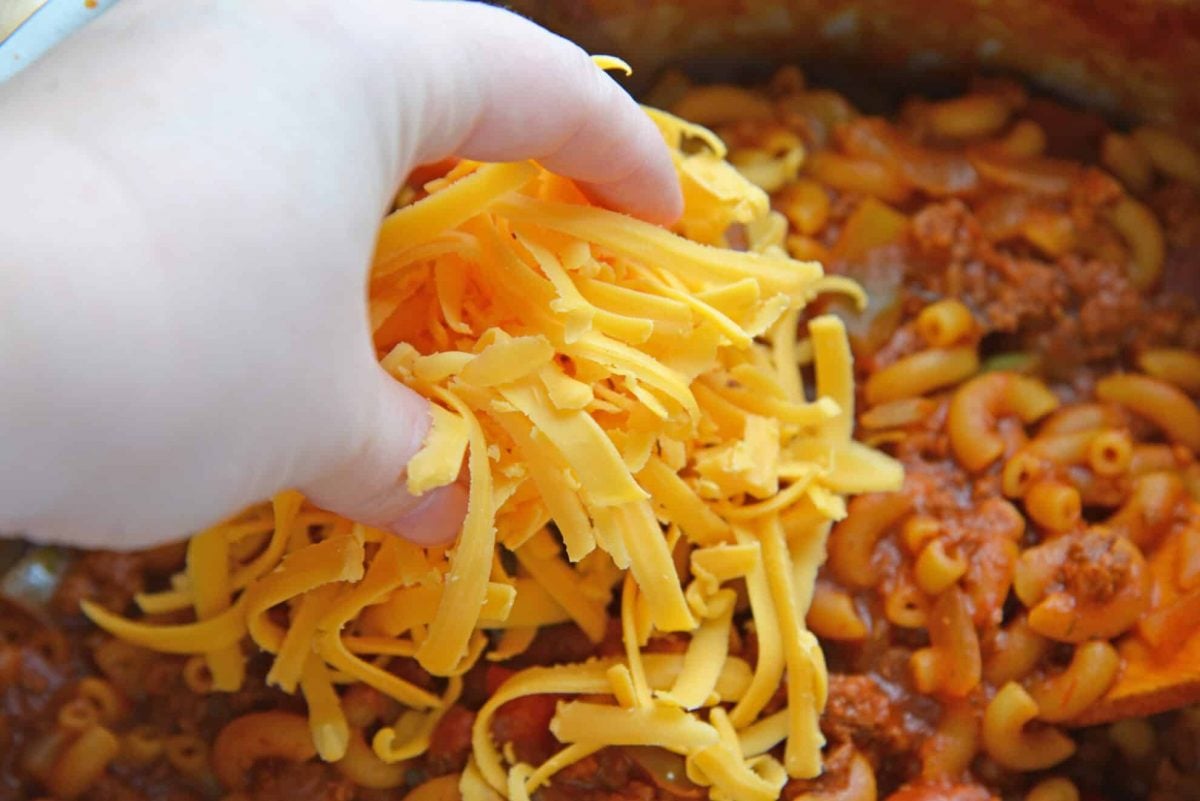 Allow your goulash to sit for a few minutes before serving. It will be piping hot, but you also want to give the flavors some time to marry.
You can finish this off with some salt and pepper, or even a dollop of sour cream. Serve with a leafy salad and a glass of red wine and you're set!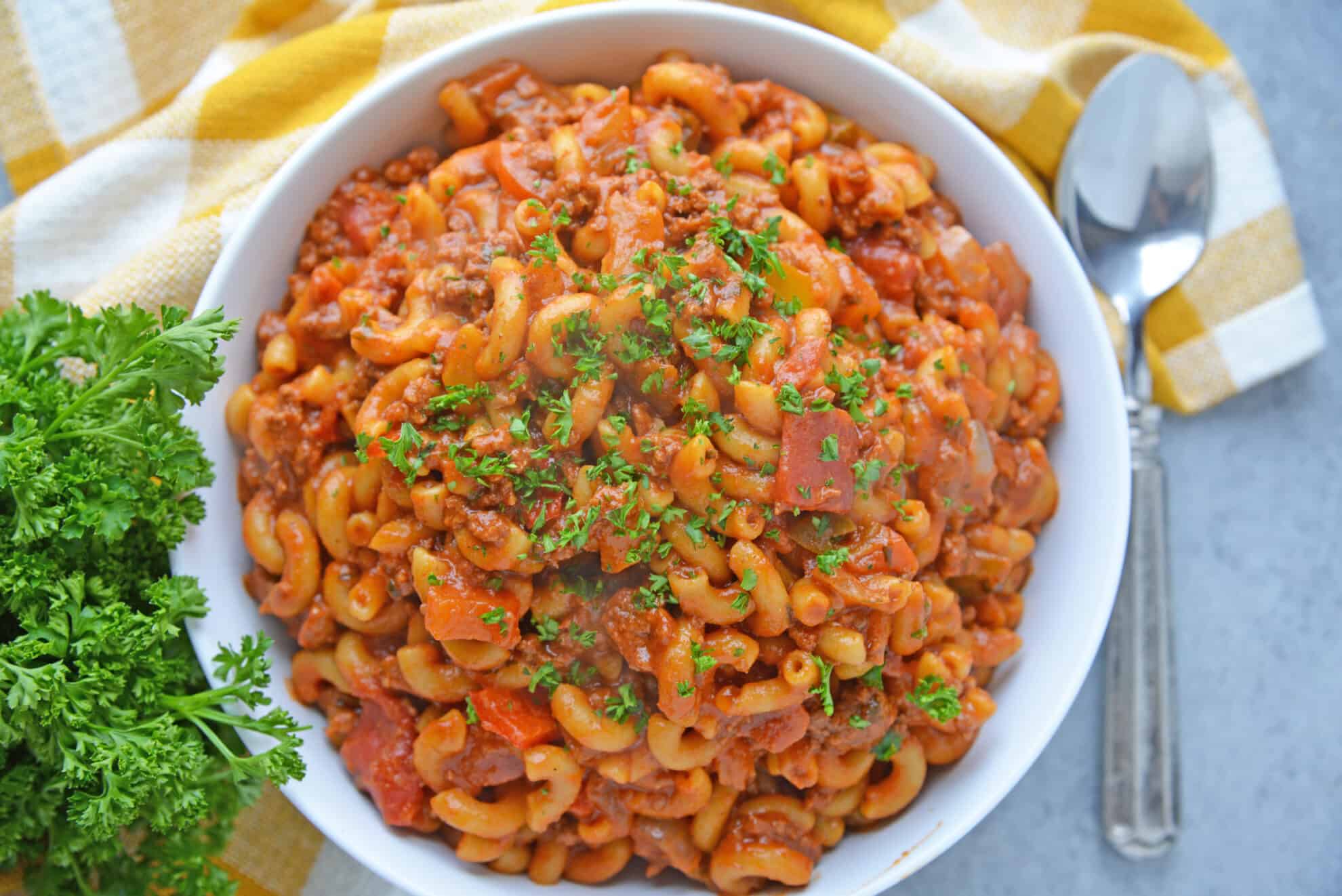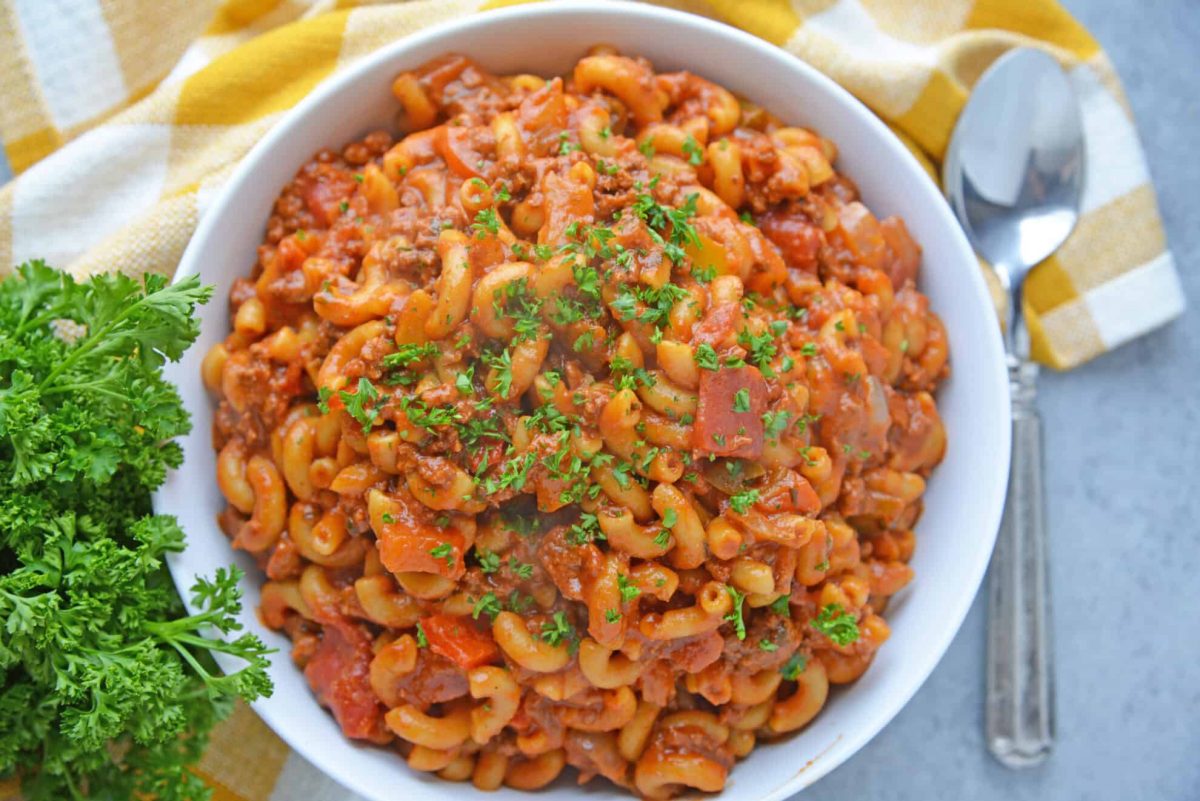 Tools you need to make goulash:
Dutch Oven– every kitchen should have one! They are heavy. They are expensive. They are worth it!
Ground Beef Masher: Easily break up ground beef using this handy dandy tool!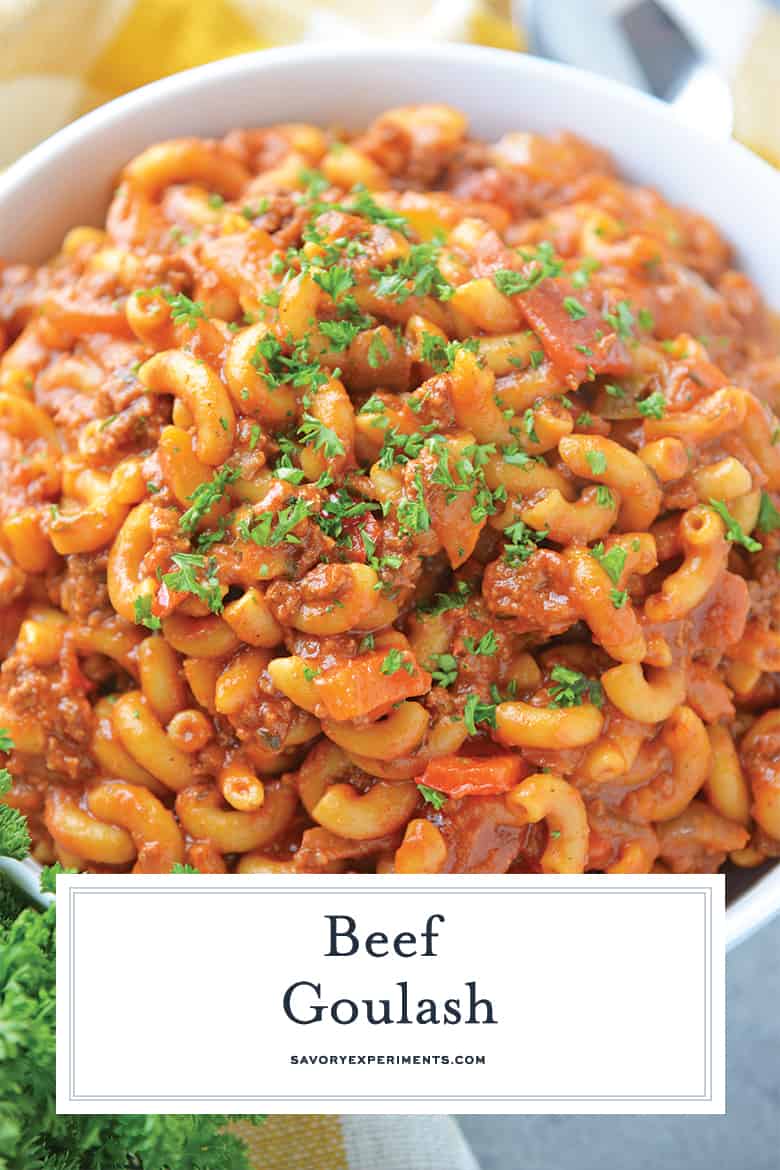 Questions about how to make goulash:
What is the difference between smoked paprika and plain paprika? Smoked paprika… is well, smoked, giving it a smoky flavor. Paprika doesn't have much flavor until heated, so add with caution and taste frequently.
Can I use regular paprika instead of smoked paprika? You sure can, it will just lose a slight amount of flavor.
What can I use instead of beef broth? If you just realized you were out of beef broth or beef bouillon, then use either water or vegetable broth and season it with 1 tablespoon additional Worcestershire or Gravy Master.
Can I make goulash ahead of time? My husband would argue that it should always be made ahead of time and tastes better the second day.
My neighbor would also tell you that it tastes better cold. I, however, like it fresh, so it is really a matter of preference.
Can you freeze goulash? You sure can! Freeze in an airtight container or plastic bag for 3-4 months.
Is goulash gluten free? If you substitute a gluten free pasta, then yes.
Do I have to use elbow macaroni? You don't, but I would choose and similar size pasta with an equal number of nooks and crannies. Pastas are paired to sauces with a lot of purposes.
For goulash, you want something with texture and hole so the sauce has something to grab. You also don't want anything too thick so it can cook properly in the sauce. Acceptable substitutions would be bowtie pasta, cavatelli or even Israeli couscous.
What is a substitute for Gravy Master? You can substitute with Worcestershire Sauce or soy sauce. it is slightly more syrupy, so in this recipe, it doesn't make much of a difference, but if you are using it in another recipe or sauce, you might need to thicken it a little more.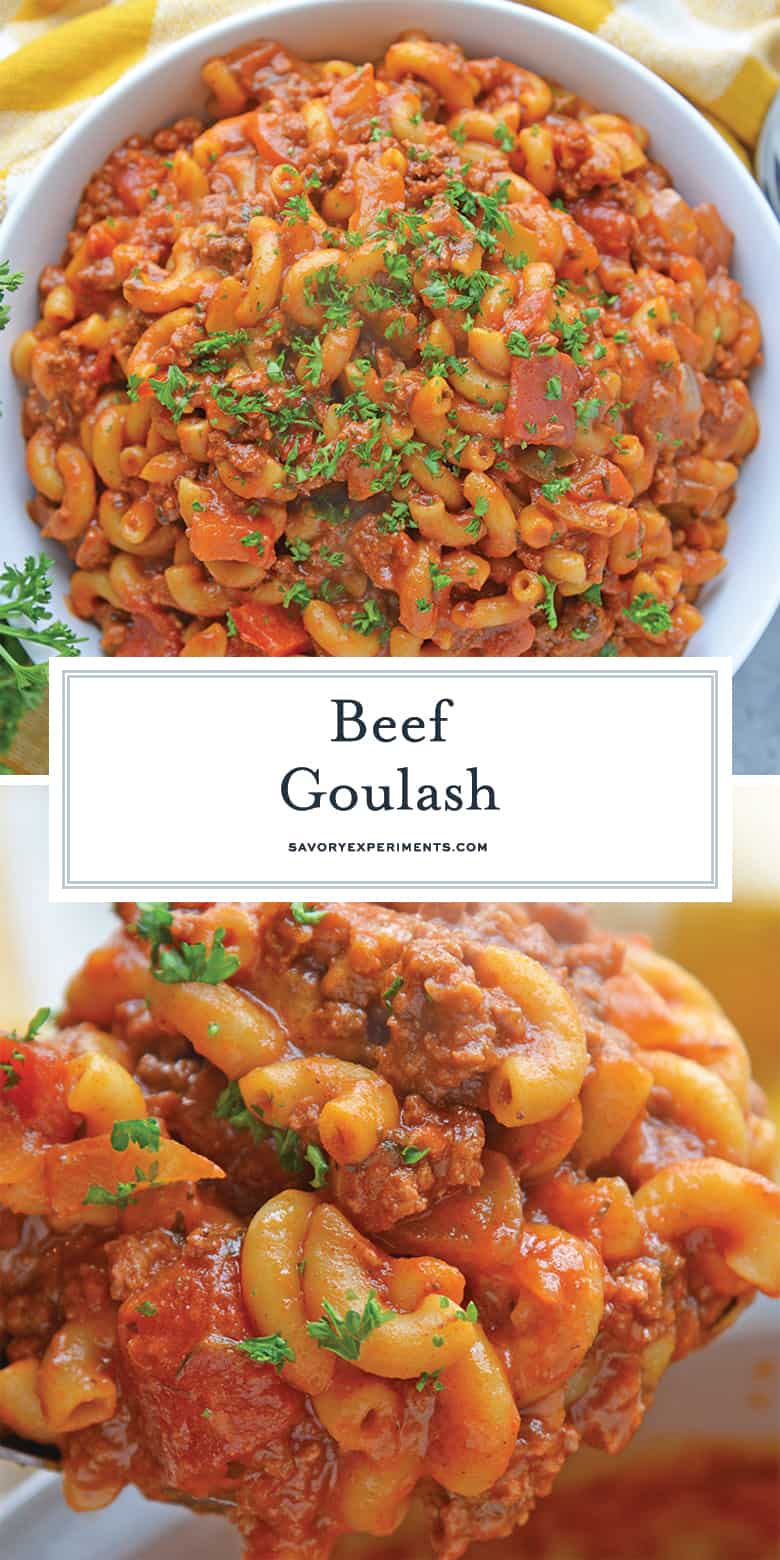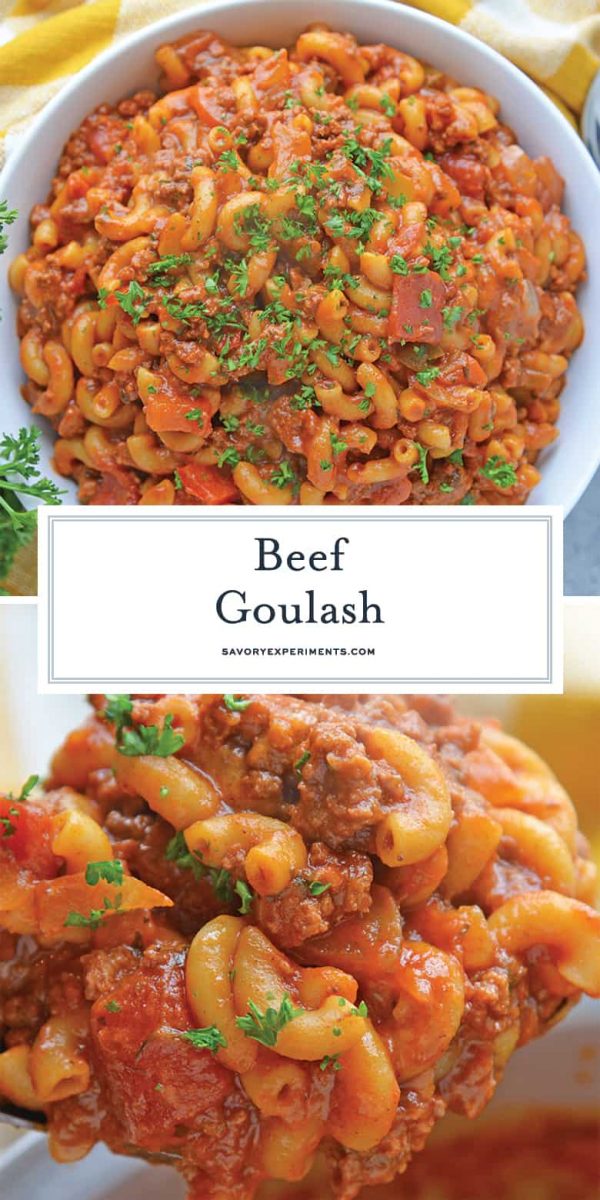 If you liked this recipe, check out these other beef recipes: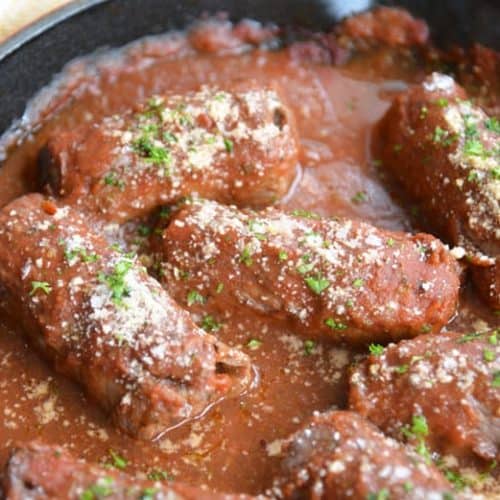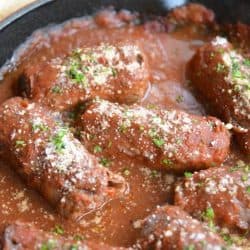 Italian Beef Braciole without Egg
This EASY Beef Braciole recipe is the best Italian comfort food! Juicy flank steak, tomato sauce, herbs and cheese make up this delicious Italian rolled steak!
View this recipe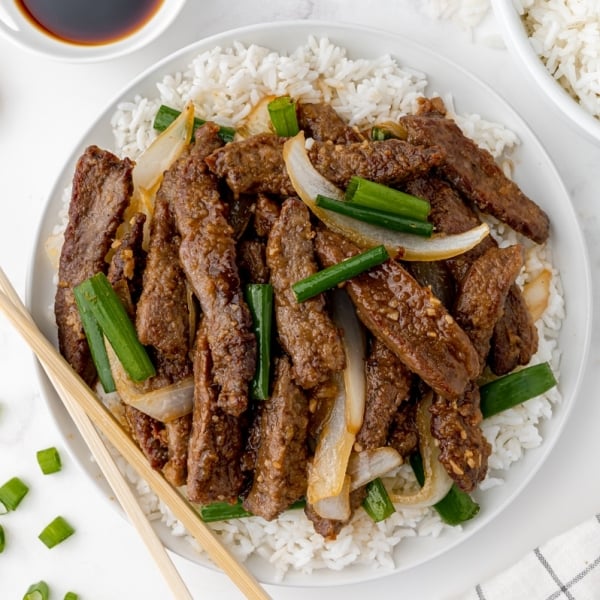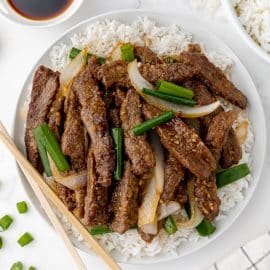 30-Minute Mongolian Beef
Skip the takeout and make this homemade Mongolian Beef recipe instead! It tastes even better than the PF Chang's recipe!
View this recipe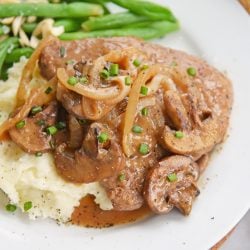 Cubed Steak and Gravy
Cooking dinner every night can be challenging, but save both time and money with this easy Cube Steak Recipe with Mushroom Gravy!
View this recipe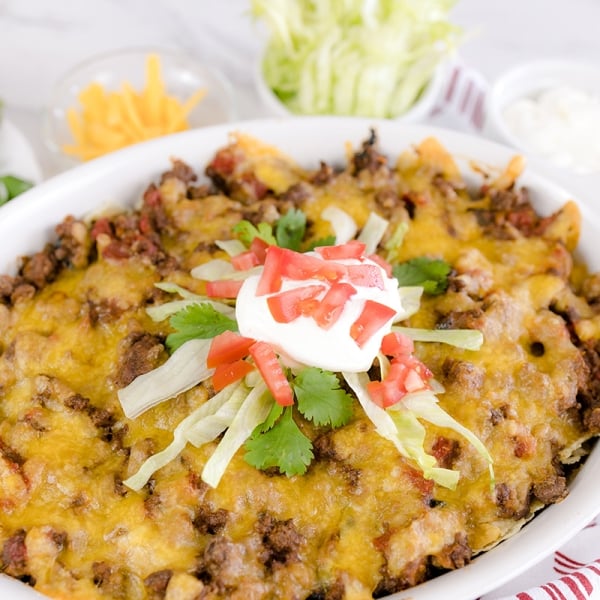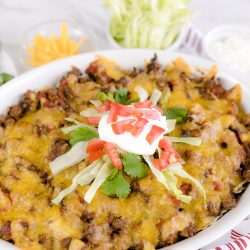 Taco Bake Casserole Recipe
This easy taco bake casserole recipe is a great cheesy recipe for an weeknight meal or potluck. Easily customizable with your favorite taco toppings.
View this recipe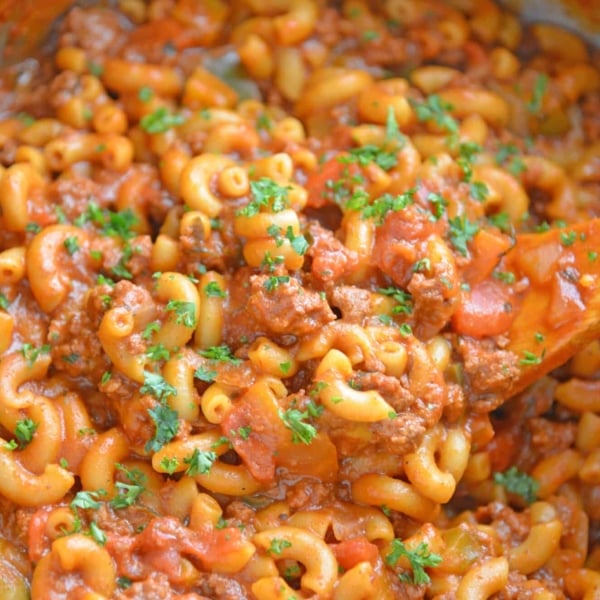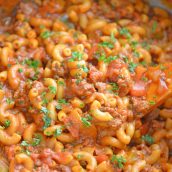 Beef Goulash
Classic goulash doesn't get any better than this Beef Goulash recipe! The perfect comforting meal for any weeknight!
Instructions
In a large pot or Dutch oven, heat ground beef over medium heat. If you are using a low fat ground beef, add vegetable oil to prevent from sticking. Break into pieces and cook fully, approximately 5-9 minutes.

Drain ground beef, discarding any liquid or grease left behind. You don't have to wipe it clean, just pour it out.

Add 1 tablespoon vegetable oil to the hot pot and add bell peppers, onions and garlic. Saute for 3-4 minutes or until the start to soften. You don't want them to be fully softened.

Add diced tomatoes in juice, tomato sauce, tomato pate, bay leaves, smoked paprika, black pepper, beef broth, gravy master, dried oregano and dried parsley. Bring to a low simmer.

When simmering, add dry elbow macaroni being mindful to stir often and scrape the bottom of the pot as it tends to stick.

Simmer for an additonal 15-18 minutes or until macaroni is al dente.

Remove from heat and stir in shredded cheddar cheese.

Sample the goulash to determine if it needs additional salt. Since beef broths vary in saltiness, I wait until the very end to decide if it needs additional seasoning.

Allow to sit for 5-10 minutes before serving.

If you've tried this recipe, come back and let us now how it was!
Nutrition
Calories:
694
kcal
,
Carbohydrates:
63
g
,
Protein:
37
g
,
Fat:
33
g
,
Saturated Fat:
15
g
,
Cholesterol:
100
mg
,
Sodium:
1339
mg
,
Potassium:
1401
mg
,
Fiber:
7
g
,
Sugar:
14
g
,
Vitamin A:
2505
IU
,
Vitamin C:
53
mg
,
Calcium:
245
mg
,
Iron:
7
mg