Who else loves fresh cherries? Cherry season is one of my favorite times of the year and what better way to hold on to such a special time of year than to make a flavorful cherry sauce?!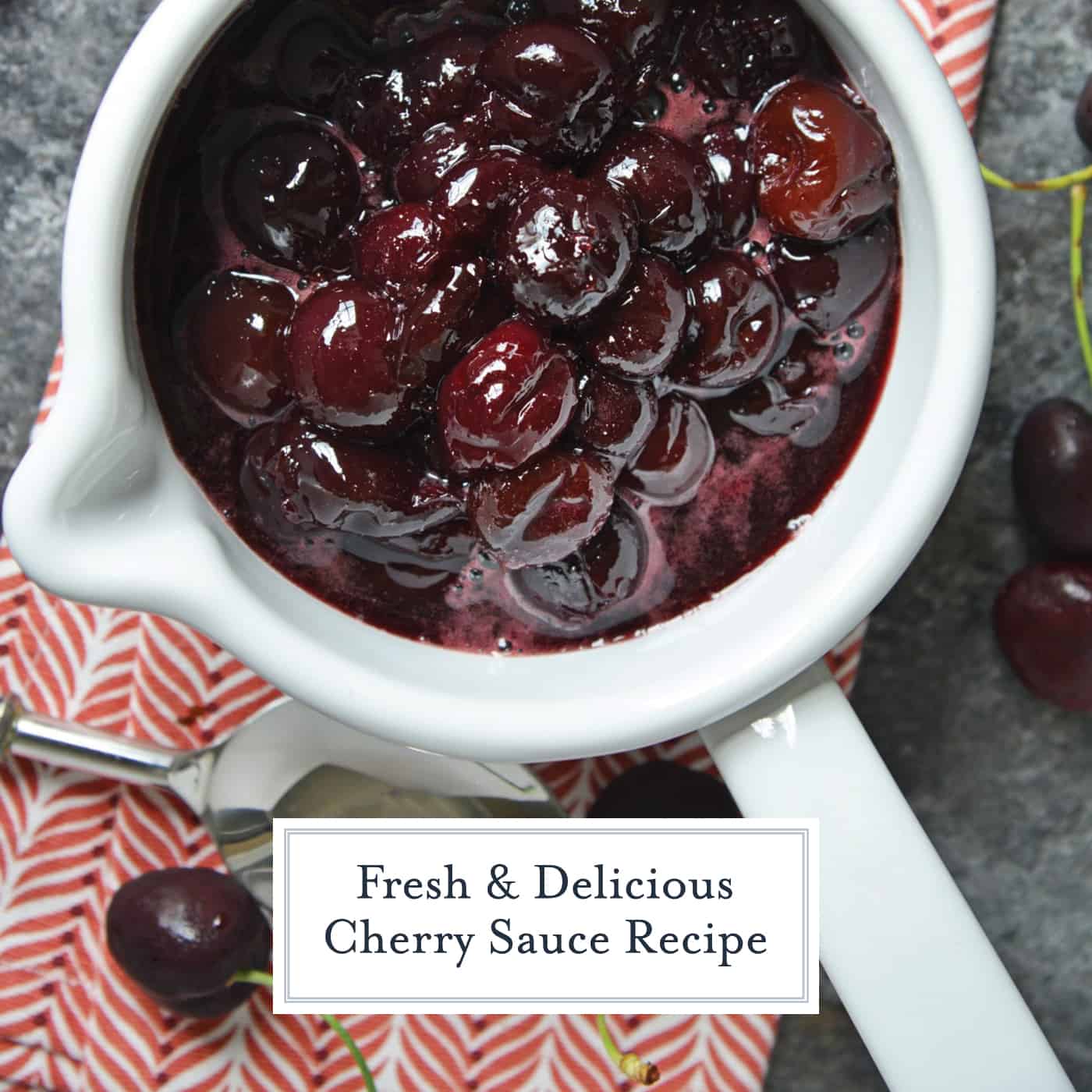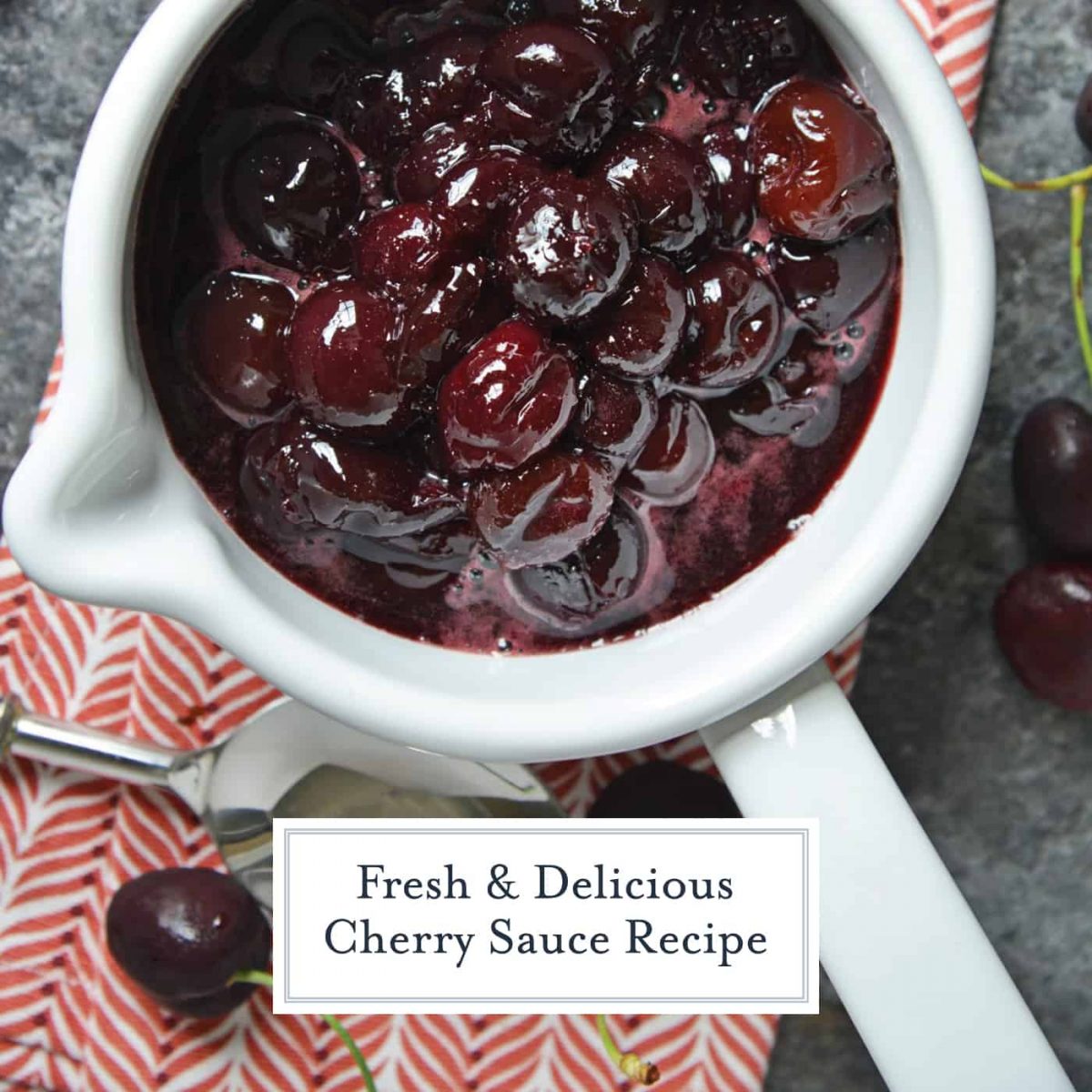 Fresh Cherry Sauce is a delicious topping for desserts like ice cream sundaes, poundcake, and more. A great way to use fresh cherries! Here are two things you might not know about me.
ONE. Cherry season means I spend way too much money at the store on cherries because cherry season is short and I try to get in as many as I can, while I can.
TWO. I also love 80's music. So I can't eat cherries or make a cherry recipe without singing Warrant's Cherry Pie in my head. Over. And over. And over again.
Despite my cherry-gobbling tendencies, I do end up making quite a few fresh cherry recipes while humming that 80s tune, and this happens to be one of my favorites.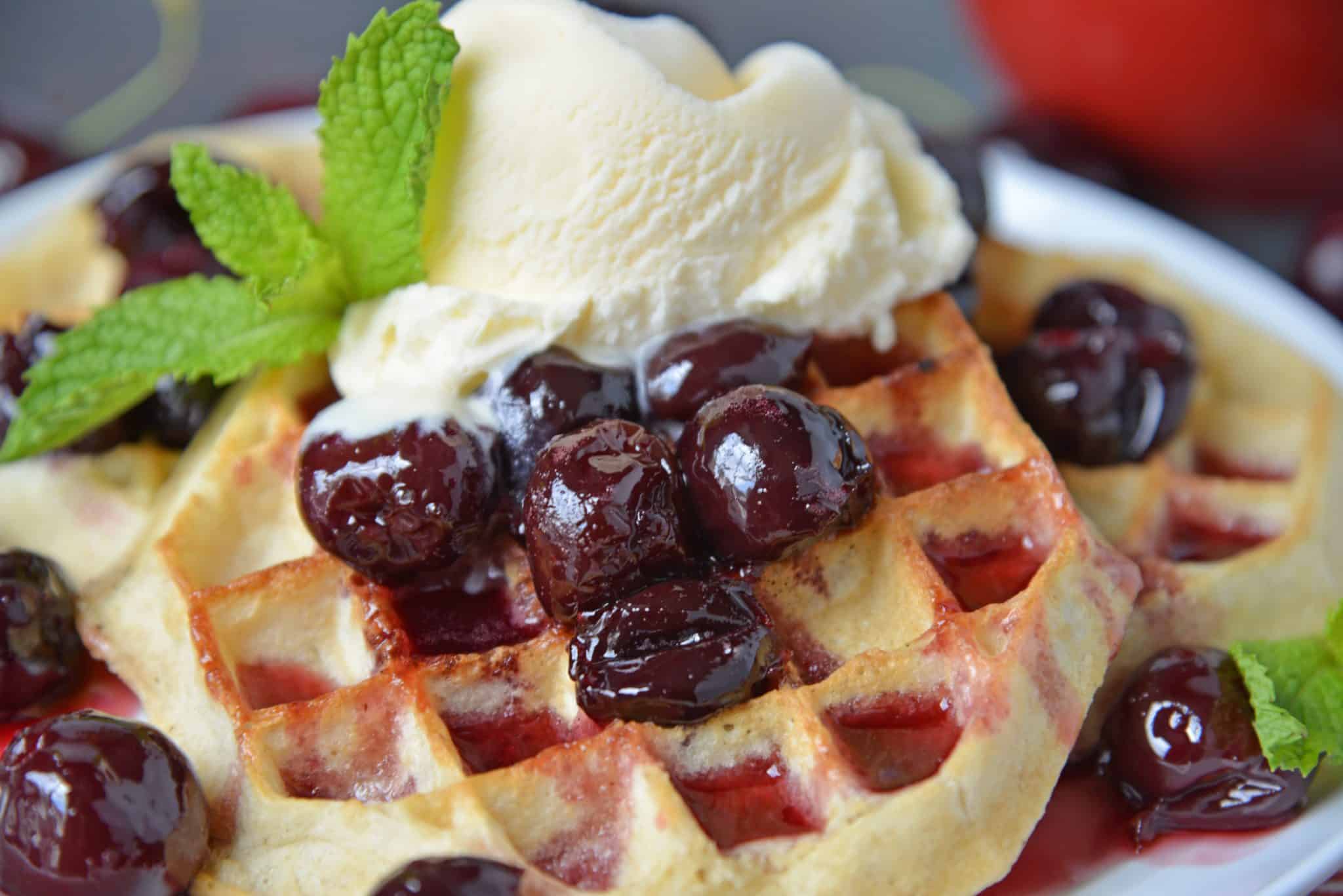 Why You'll Love Fresh Cherry Sauce
If you aren't a cherry lover, this sauce will help change your opinion about them.
Dial-Up Desserts – Dessert is delicious on its own, but adding cherry sauce to just about anything sweet really takes it up a notch.
Savory – This sauce easily swings to the savory with the addition of a few herbs like rosemary or thyme. Think pork, chicken, or even duck!
Wow-Factor – In less than 30 minutes, you can create a homemade sauce that will know your guests or your family's socks right off.
What is Fresh Cherry Sauce?
This simply sweetened sauce is balanced with the tart taste of lemon juice and sea salt, thickened with cornstarch, and can be made more adult with the addition of a citrus flavor liqueur or brandy.
Cherry sauce is typically considered a topping for desserts. I love adding this to my ice cream sundaes, though you could also serve it with other desserts, like vanilla pound cake.
By adding some sprigs of fresh herbs, this sweet sauce quickly leans toward the savory side of things. It is perfect for topping pork chops, duck breast, or even chicken!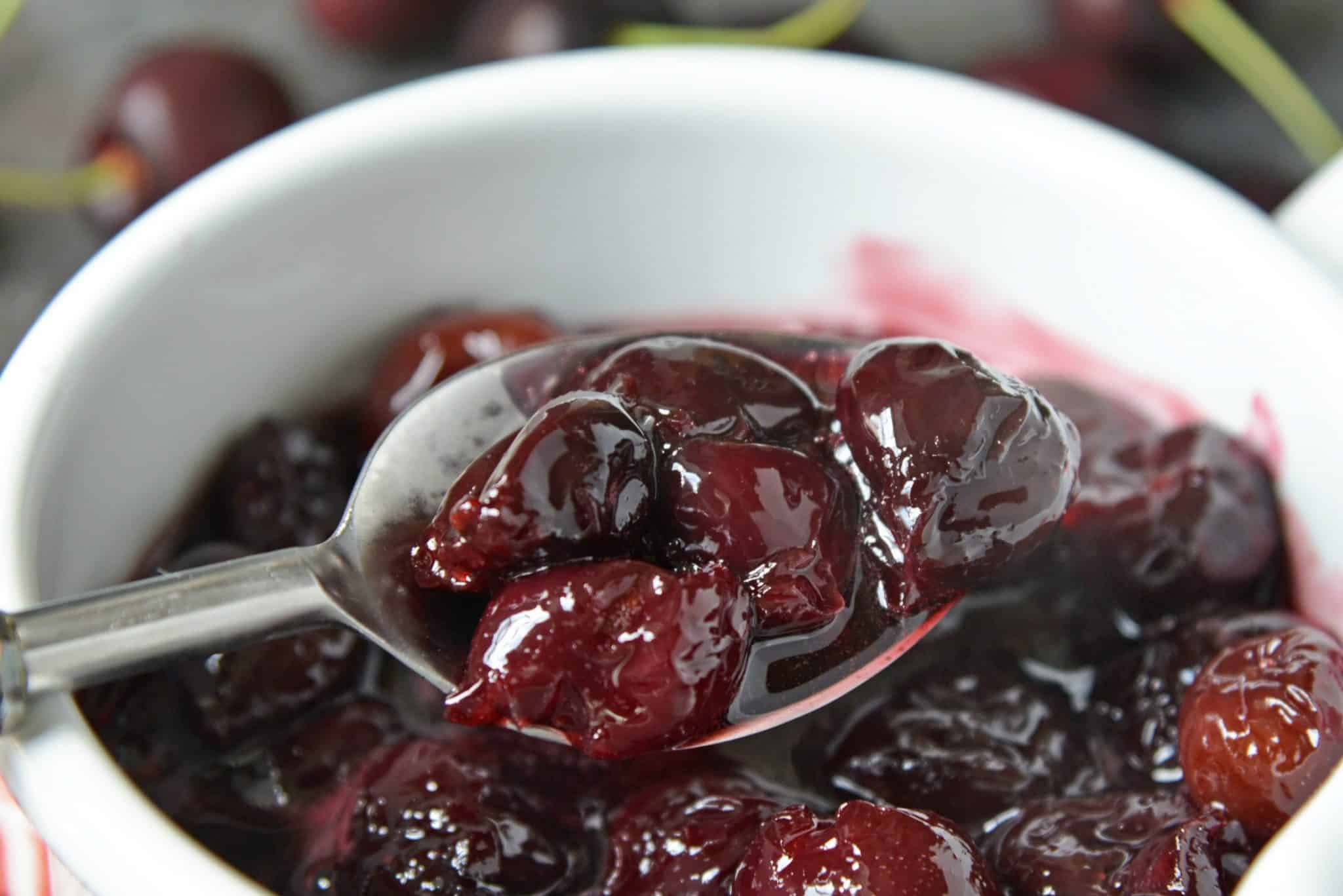 Let's Talk Fresh Cherries
Cherries are quite the treat. The fresh varieties are only available once a year and in the US that window is typically in June. Because they are a relatively difficult tree to care for and because they only grow in certain climates, adds to their allure.
This fruit is great for a whole host of recipes from sauces, to baked goods, to slaws. And that doesn't even count enjoying them as is!
Types of Cherries:
Bing Cherries – These are the ones you will see most often and have a deep crimson hue. Flavorwise they are firm, juicy, and sweet. Shaped like a heart, you will find these fresh in the groceries stores in the summer and in the frozen food aisle all year long.
Ranier Cherries – With quite possibly the shortest growing season of them all, these red and yellow cherries have thin skin and a creamy interior. They are most often the sweetest and tend to be quite pricey. Just ask my sister, she throws financial caution to the wind when they go into season.
Chelan Cherries – Aka black cherries, these are the ones that will go into season first. Known for their dark skin and sweet mild cherry flavor.
Sour Cherries – Too many varieties here to go into, but Montmorency, Morello, and Balaton are some of the names you will see. Sour cherries are typically smaller in size and vary from sweet and tart to pucker-inducing.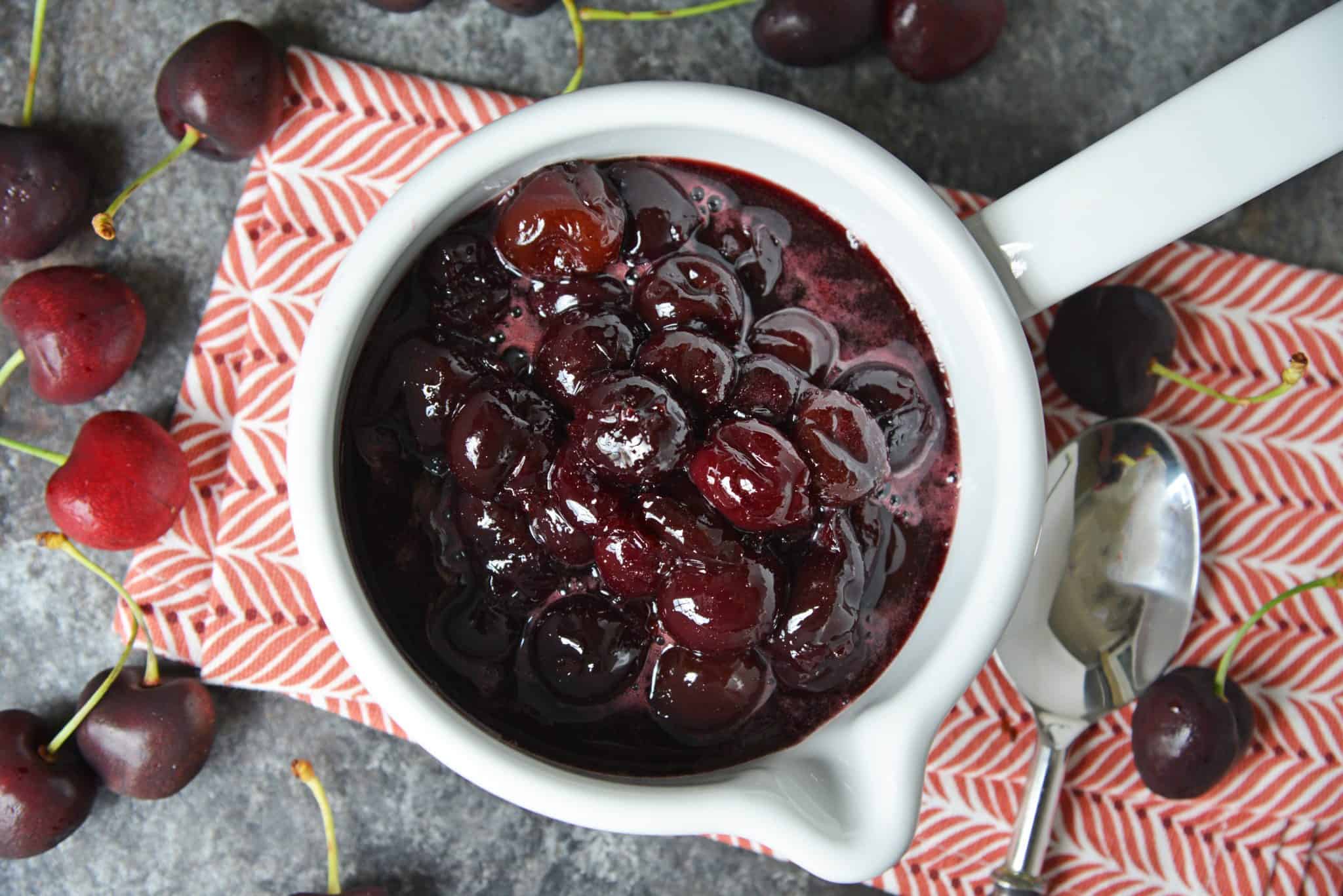 Ingredients
You don't need much to create this amazing Fresh Cherry Sauce recipe.
Fresh Cherries – Pictured in this recipe are Bing Cherries. Look for the ones with the darkest and deepest red color, those are likely the most ripe. Purchasing a cherry pitter will also help make pitting and stemming 3 cups of fresh cherries a breeze. Fresh is best but frozen will do in a pinch. Just be sure they are thawed completely.
Sugar – They might be sweet on their own, but the sugar will mix with the juices of the cherries to help create a rich sauce. It will also help brighten their natural sweetness and flavor.
Lemon Juice – I tend to have lemons laying around and prefer to use fresh lemon juice because it has a much brighter flavor than the bottled variety. Both however will work just fine.
Fine Sea Salt – The fine granules will dissolve easily in the sauce and help tone down the sweetness of the sauce so it isn't cloying or too over-the-top sugary.
Cornstarch – This powder derived from corn kernels helps to thicken the sauce quickly and gives it a luxurious texture. If you want to make this cherry sauce recipe without cornstarch, you can substitute arrowroot in the same amount.
Grand Marnier or Brandy – Using either of these is absolutely optional, but wow they give this sauce some kick. The Grand Marnier will lend a slightly orange flavor while the brandy will give the sauce a different depth and sweetness. ***The alcohol will not have time to burn off, so this is not appropriate to serve to children, non-drinkers, or women who are pregnant.
How to Make Fresh Cherry Sauce
With a handful of ingredients and 15 minutes of stirring, you will be ready to sauce things up!
Get everything into the saucepan. Everything goes into a pot all at once for ease. The type of saucepan is key because sugar tends to burn easily and quickly. Heavy-bottomed sauce pans hold heat well and hold even heat well which means you are less likely to get hot spots or burn things.
Simmer & stir. Keep things moving around. This helps to get an even mix but also helps the heat activate the cornstarch which works to thicken the sauce.
Take off the heat. The sauce is done!
Optional: add the liquor. Friendly reminder, if you are doing this step, the alcohol will

not

burn off.
Variations on Fresh Cherry Sauce
Not too many options here, but there are few things you can do.
Type of Cherry – Try working with other varieties of cherries. Be mindful that sugar may need to be dialed up or dialed back based on what you are using. Have fun and let your taste buds guide you!
Alcohol – If you don't have Grand Marnier floating around, you can try this recipe with Cointreau or any other type of triple sec (also orange flavored).
Thickening Agent – Arrowroot in the same measurement works just as well as cornstarch as this sauce's thickener.
Storing & Freezing
Make-Ahead: You can make this recipe up to 3 days ahead of when you plan to serve it. Once cooked, allow it to come to room temperature and store it in an air-tight container.
Storing: Store the Fresh Cherry Sauce in an air-tight container for up to 3 days after it was made.
Re-heating: Put the sauce in a heavy-bottomed saucepan and baby sit it until gently warmed through. You can also warm it in the microwave until it is warm. Be careful not to overheat as the sugar can easily burn hands and roofs of mouths!
Freezing: Store the Fresh Cherry Sauce in an air-tight container, freezer-safe container for 4-6 months.
Questions About Fresh Cherry Sauce
What are the benefits of eating cherries?
Aside from sheer joy, cherries boast fiber, vitamins, minerals, and nutrients. They are also relatively low in calories assuming you eat them in moderation and not pounds at a time.
Can I use canned cherries instead of fresh?
Canned cherries are great for a variety of uses especially baking! That said, I would not use them in this recipe. Fresh or frozen cherries will work best.
What is cherry sauce made of?
At its core, cherry sauce is made of fresh cherries cooked down with sugar and lemon juice until they are soft and swimmming aroud in their own goodness. I like to balance my fresh cherry sauce with a pinch of salt, cornstarch to ensure a velvety texture, and sometimes a little bit of booze for some kick.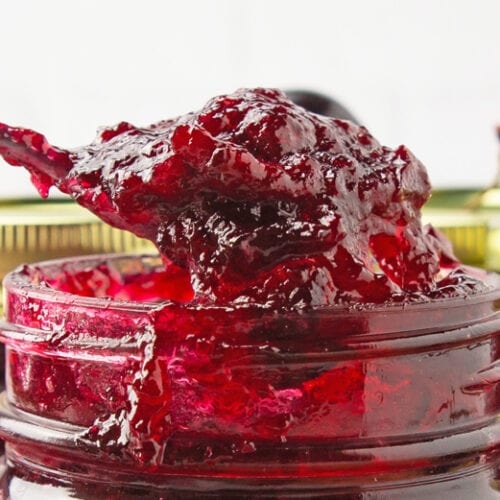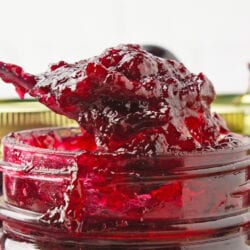 Sweet Cherry Jam Recipe
Whether you're a seasoned pro or learning how to make homemade jam, this cherry jam recipe is easy and addictive. With canning instructions included you can whip up a batch and be enjoying a vanilla infused sweet cherry jam in 45 minutes.
See The Recipe!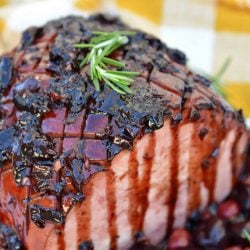 Balsamic Cherry Ham Glaze
Balsamic Cherry Ham Glaze is an easy ham glaze for your Christmas ham or any baked ham throughout the year. Tart cherries, balsamic vinegar and brown sugar lend bold flavors.
See The Recipe!
Tools for making Fresh Cherry Sauce:
Cherry Pitter– I used to think this was an excessive gadget I didn't need. I was wrong.
Heavy Bottom Sauce Pan– this will be one of your most used kitchen tools. Having something that is heavy bottom will distribute heat better and prevent burning whether you are using an electric or gas range.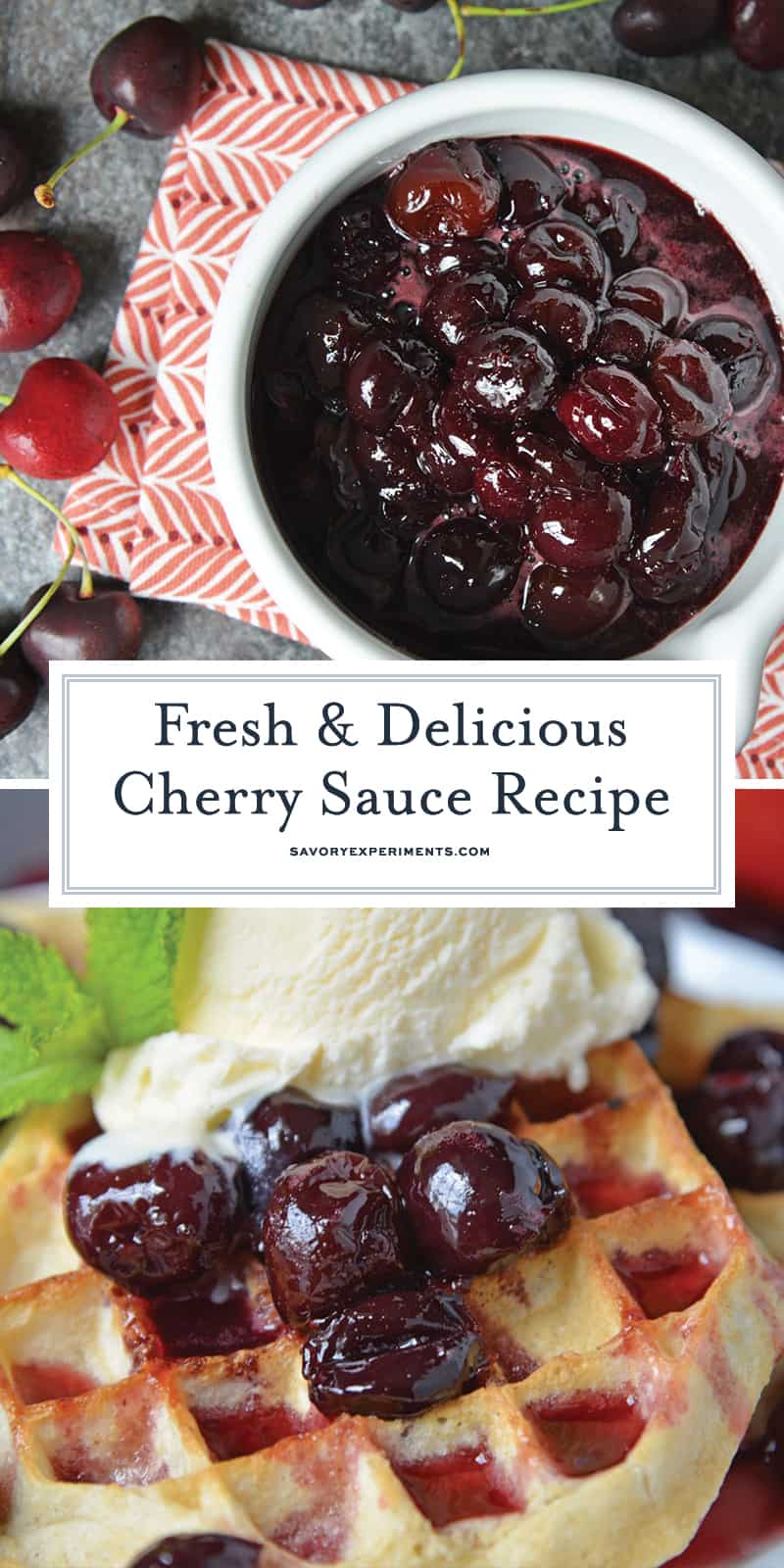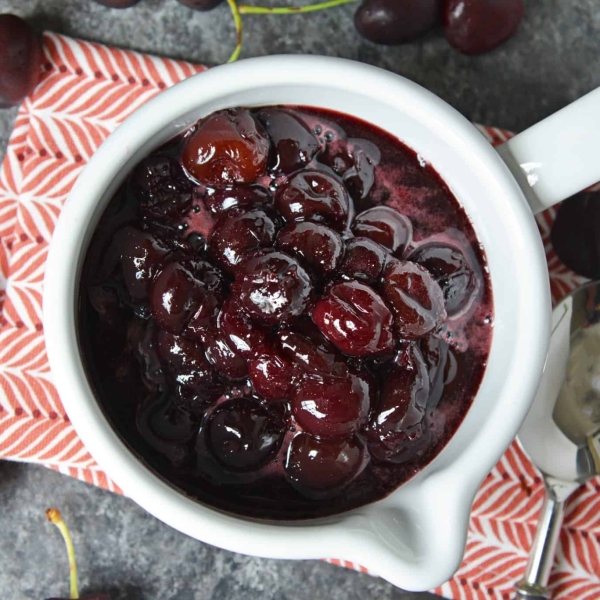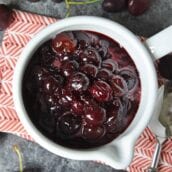 Fresh Cherry Sauce
This Fresh Cherry Sauce is a yummy way to use fresh cherries. Spoon over ice cream, cake, waffles and more!
Instructions
Heat cherries, sugar, lemon juice, fine sea salt and cornstarch in a heavy bottom sauce pan over medium heat.

Continue to simmer and stir until sauce starts to thicken and becomes sticky, approximately 15 minutes.

Remove from heat.

If adding liquor, stir in now.

If you try this recipe, make sure to come back and let us know how you enjoyed it!
Notes
*You can also use frozen cherries, but it may take slightly longer to simmer down to a sticky sauce. **Two tablespoons arrowroot can be substituted for cornstarch.
Nutrition
Calories:
159
kcal
,
Carbohydrates:
38
g
,
Sodium:
49
mg
,
Potassium:
167
mg
,
Fiber:
1
g
,
Sugar:
33
g
,
Vitamin A:
50
IU
,
Vitamin C:
6.3
mg
,
Calcium:
10
mg
,
Iron:
0.3
mg