There are loads of rice pudding recipes out there, but this one is creamy, comforting and feels like a hug! Not only is it easy to make, but it's also fragrant and full of flavor!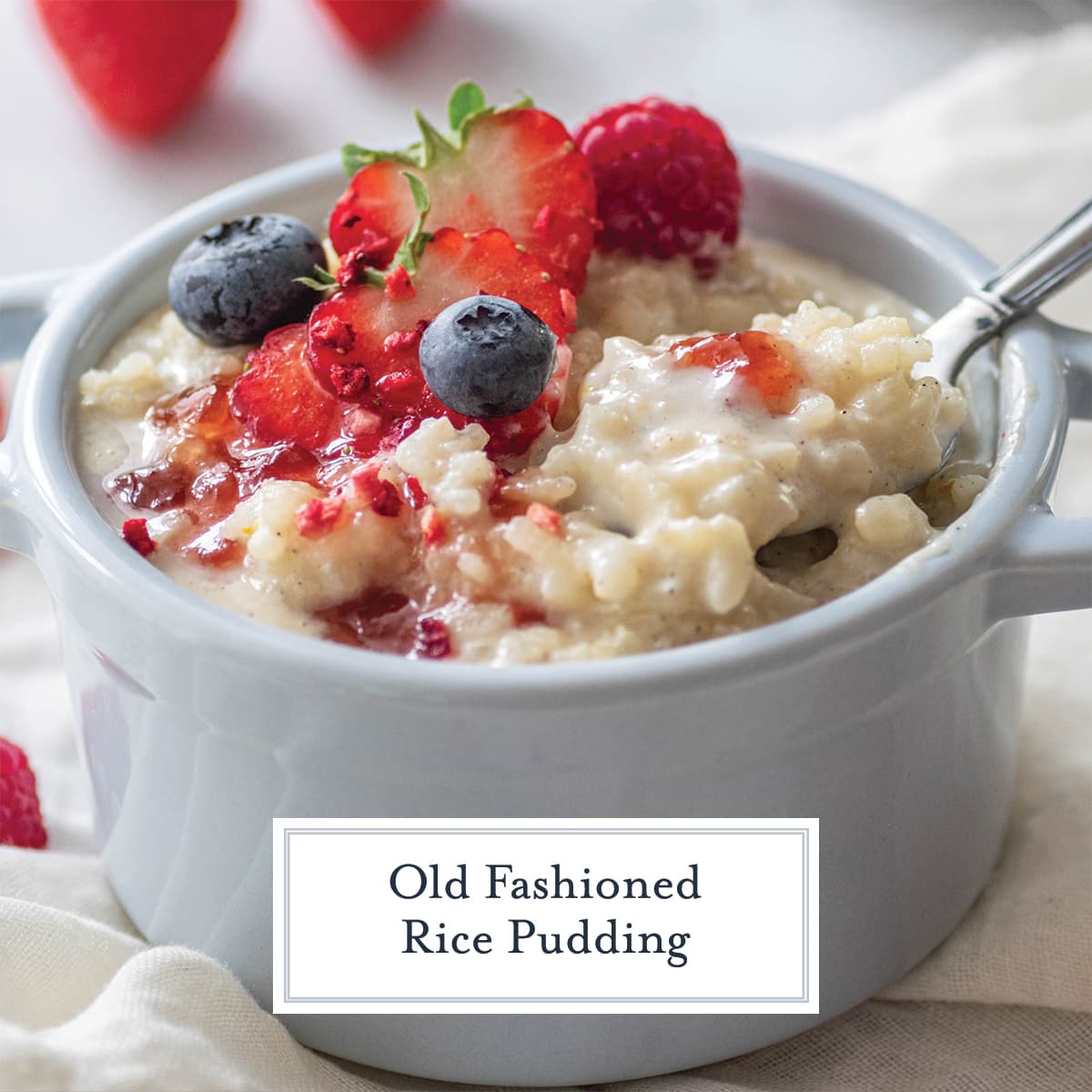 We all know and love the old-fashioned rice pudding that our grandmothers whipped up within minutes. Whenever you're in need of sweet comfort food, this is hands down the easiest recipe.
What I love most about this easy recipe is that it can be served both warm and cold. On hot summer days, serve a bowl of cold rice pudding topped with seasonal fruit. During cold winter nights, cuddle up under a blanket with a warm bowl topped with jam or dried fruit.
This easy rice pudding recipe only requires a pot and a stovetop, with no baking required. Spiced with cosy flavours of cinnamon, honey and vanilla, this dessert is the ultimate comfort food.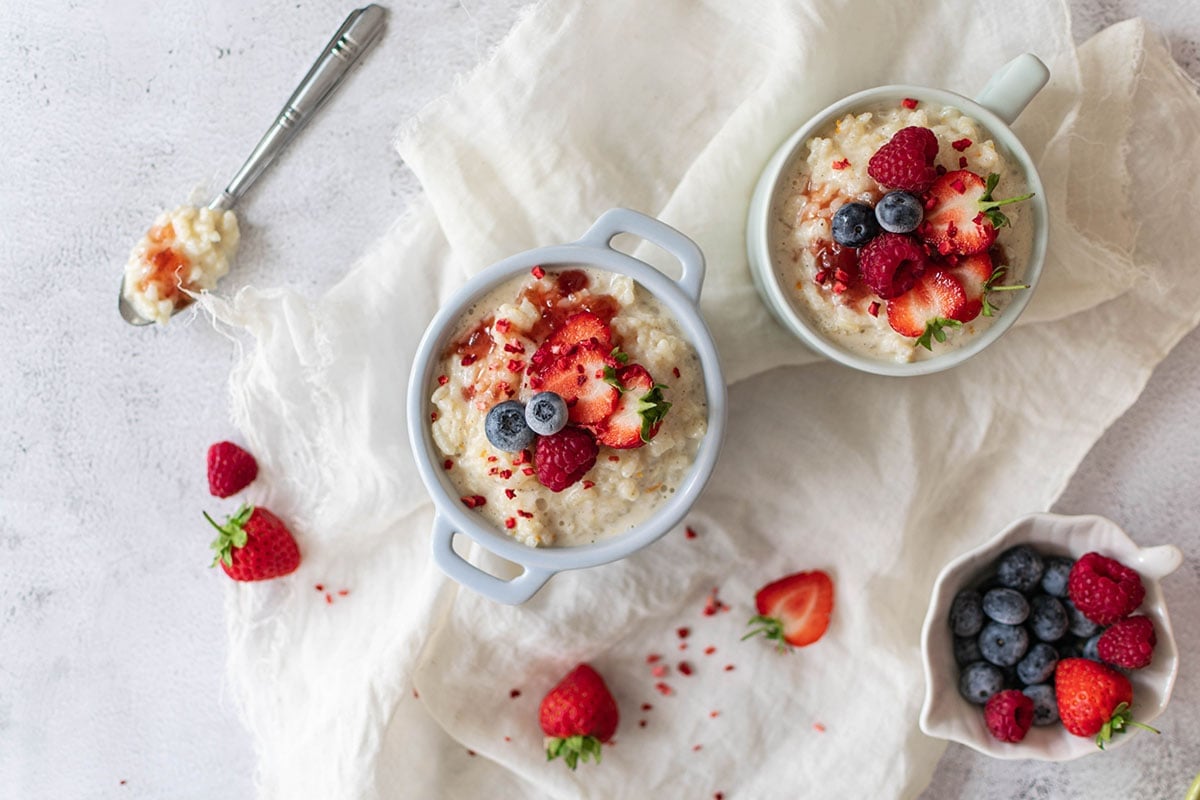 What is Rice Pudding?
Rice pudding is a type of dessert made from rice, milk, and sugar. A wide range of flavors can be used, from cinnamon to citrus or vanilla. Some versions also include butter or a custard, which enrich the dessert and make it creamier.
It is typically creamy and sticky, and it can be served both warm and cold. This dessert can be topped with either jam, dried fruit, or fresh seasonal fruit.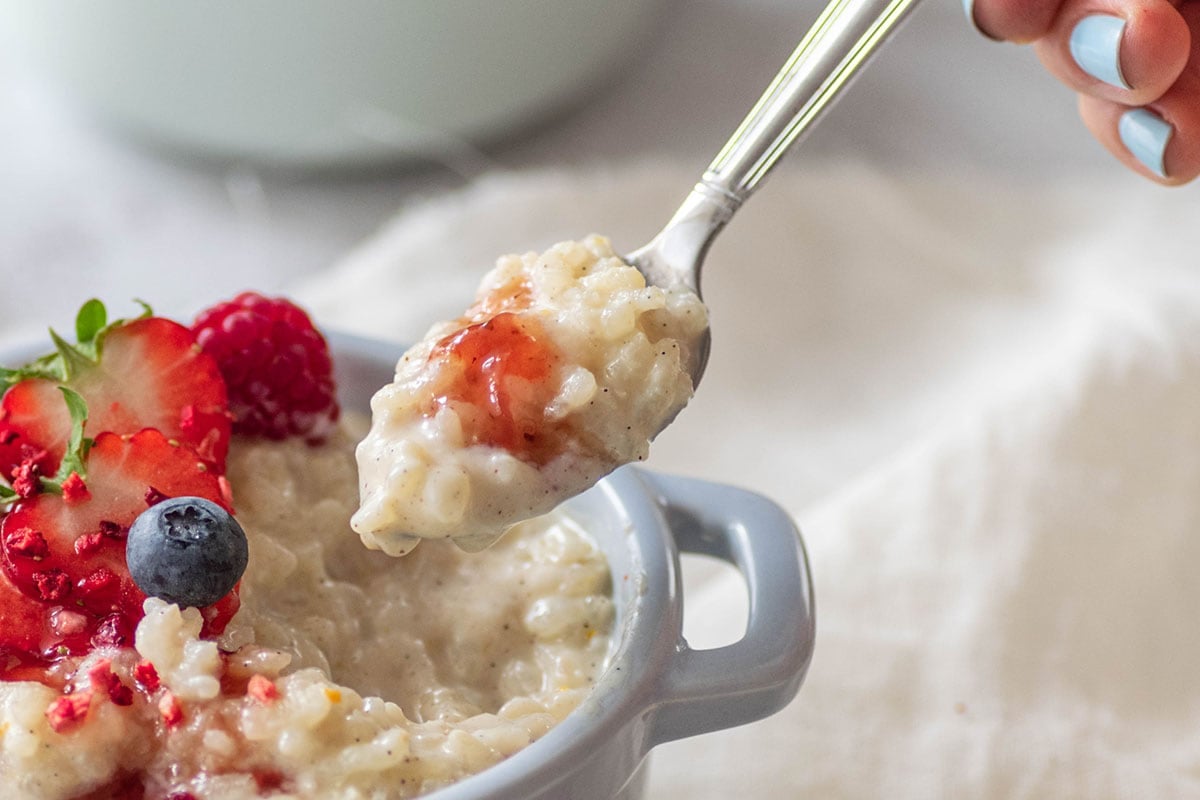 Depending on the recipe, rice pudding can be either boiled on the stove or baked in the oven. Both methods yield a similar creamy consistency, with the baked version having a crust on top. For those that love rice pudding recipes, also try Chia Seed Pudding.
History
Although the origin of this easy rice pudding dessert is difficult to pinpoint, many people believe it originates from South or East Asia. Countries such as India and China have ancient rice cultures that spans back many centuries.
Back in medieval Europe, rice was very expensive, so only Kings and Queen could afford to import it from Asia. Rice pudding was a favourite among the British monarchy, with the earliest recorded recipe dating back to 1390! Back then, this creamy dessert was known as 'rice pottage'.
A 17th century recipe adds currants, cinnamon, and barberries to rice pudding. The mixture is then stuffed into sausage skins, then roasted before serving. However, worry not. Today's recipe is definitely not stuffed into a sausage!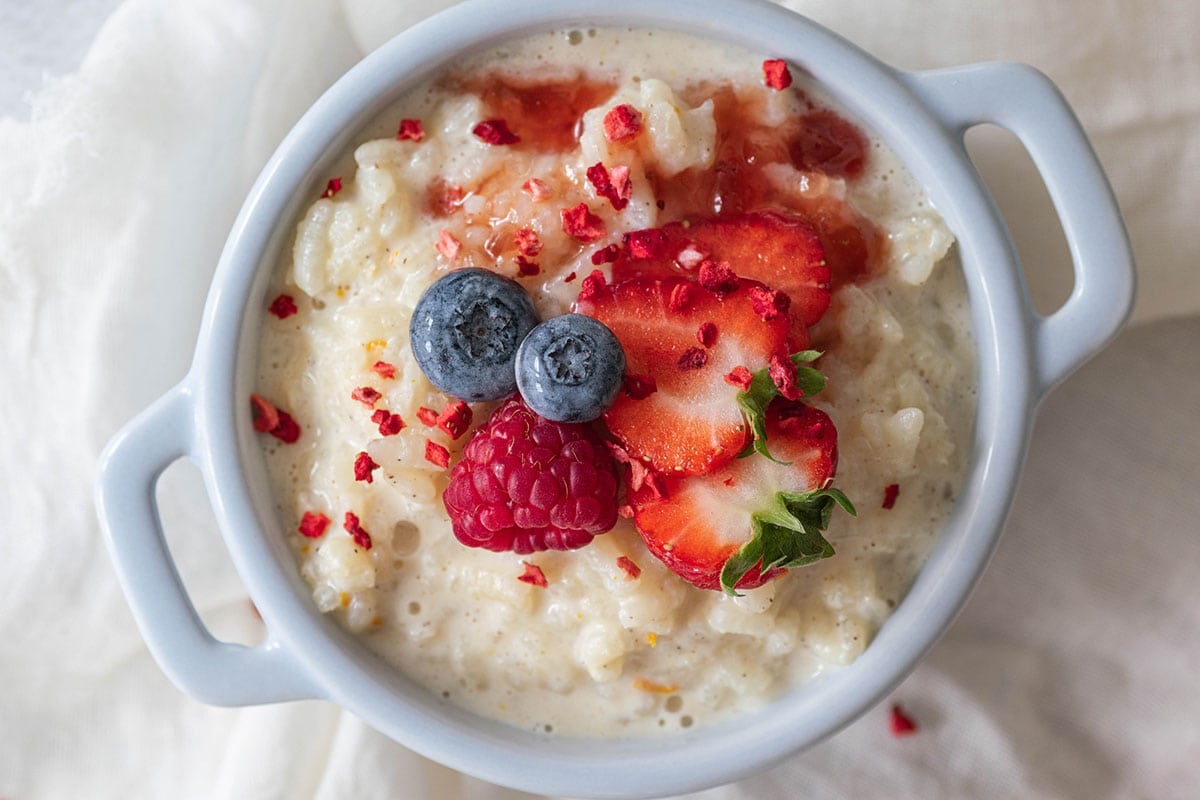 Rice pudding became widely used in the 20th century when rice finally became cheap to buy. Schools and hospitals started serving rice pudding as a daily treat because of how easy it is to make.
Nowadays, rice pudding is definitely a more complex dessert, with various flavours and toppings added to enhance it.
Different Types of Rice Pudding
Due to its popularity and simplicity, this old fashioned dessert can be found in many different countries around the world. From America to Europe or Asia, this comfort food is present everywhere.
Here are some examples and variations of rice pudding from across the world:
Asia
China: bo bao fan or Eight-treasure rice pudding. This rice pudding is made with glutinous rice, red bean paste and eight different types of nuts or fruits.
India: dudhapak, made with basmati rice, nuts and saffron.
Thailand: khanom sot sai, made from steamed rice flour and coconut cream and stuffed with coconut and palm sugar.
Europe
United Kingdom: pudding rice – typically made with heavy or clotted cream. This pudding is flavoured with vanilla, nutmeg, cinnamon, or jam.
Spain: arroz con leche – made with cinnamon, lemon zest and sometimes eggs.
Romania: orez cu lapte – made with cinnamon and/or honey. Typically, this dessert is topped with fruit jam.
North America
United States: rice pudding – made with milk, sugar and topped with raisins or cinnamon.
South America
Puerto Rico: arroz con dulce – made with pearl rice, which is soaked in water overnight. A more complex version of rice pudding, this recipe uses coconut milk, butter, star anise, raisins, cloves, nutmeg, and lemon peel.
Mexico: arroz con leche – made with raisins which have been soaking in sherry, rum, or tequila.
Middle East and North Africa
Morocco: muhallabia – made with rice flour, almonds, and rosewater.
Levant: meghli – flavoured with star anise, caraway, and cinnamon.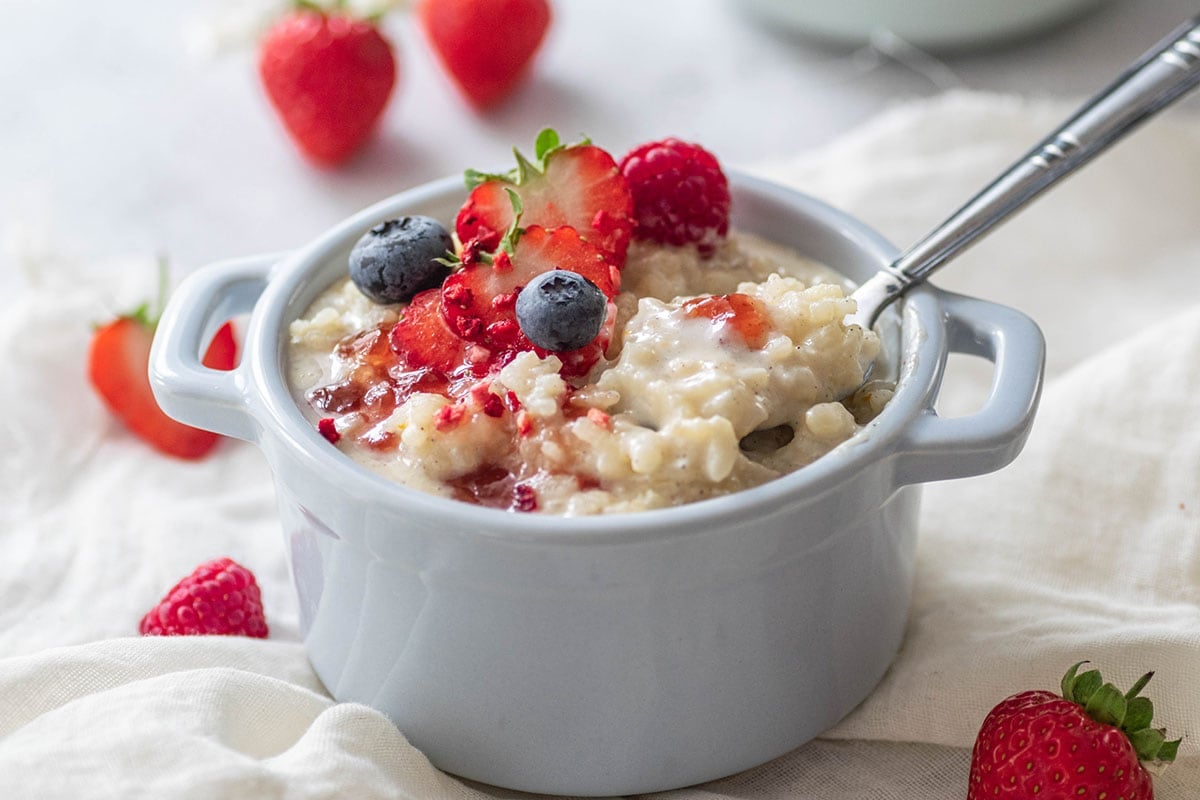 Best Rice for Rice Pudding
Rice is the most important ingredient in this classic recipe, so it's important to choose the right type. Regardless of the type of rice used, it is crucial to use uncooked rice for best results.
Arborio rice (risotto rice): the best option, as it yields an extremely creamy and sticky rice pudding. This type of rice also holds its shape really well when cooked, without becoming too mushy.
Medium grain rice: the second-best option. This type of rice cooks very well and similarly to arborio rice, it holds its shape very well. This rice also produces a creamy rice pudding, but without being too soft.
Long grain rice: can also be used, but the pudding will not be as creamy. You will have to keep a very close eye when cooking this type of rice as it can become too soft.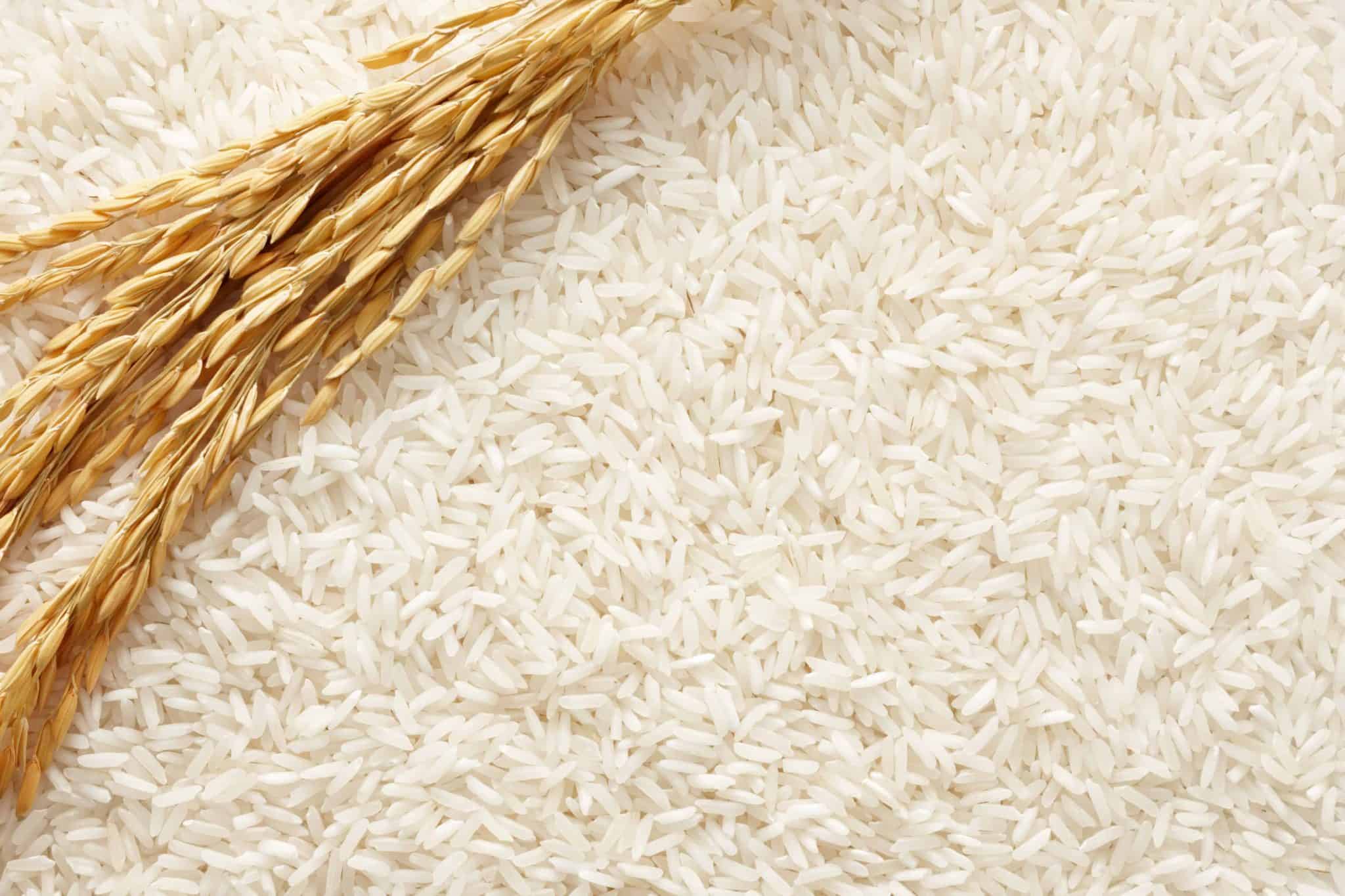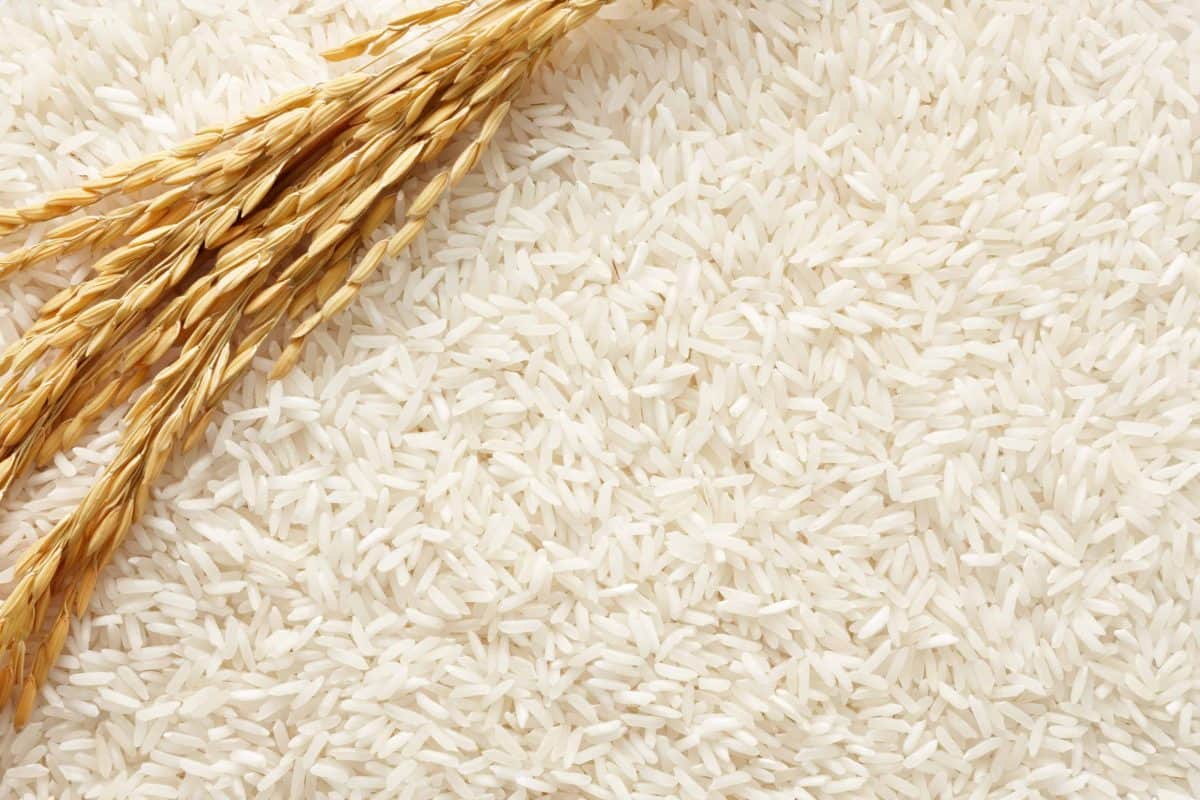 And if we are being honest, sometimes I even just make small batches using whatever leftover rice I have on hand. With the exception of wild rice or yellow rice, that would be weird!
Ingredients
You'll need a short list of kitchen staples to get started.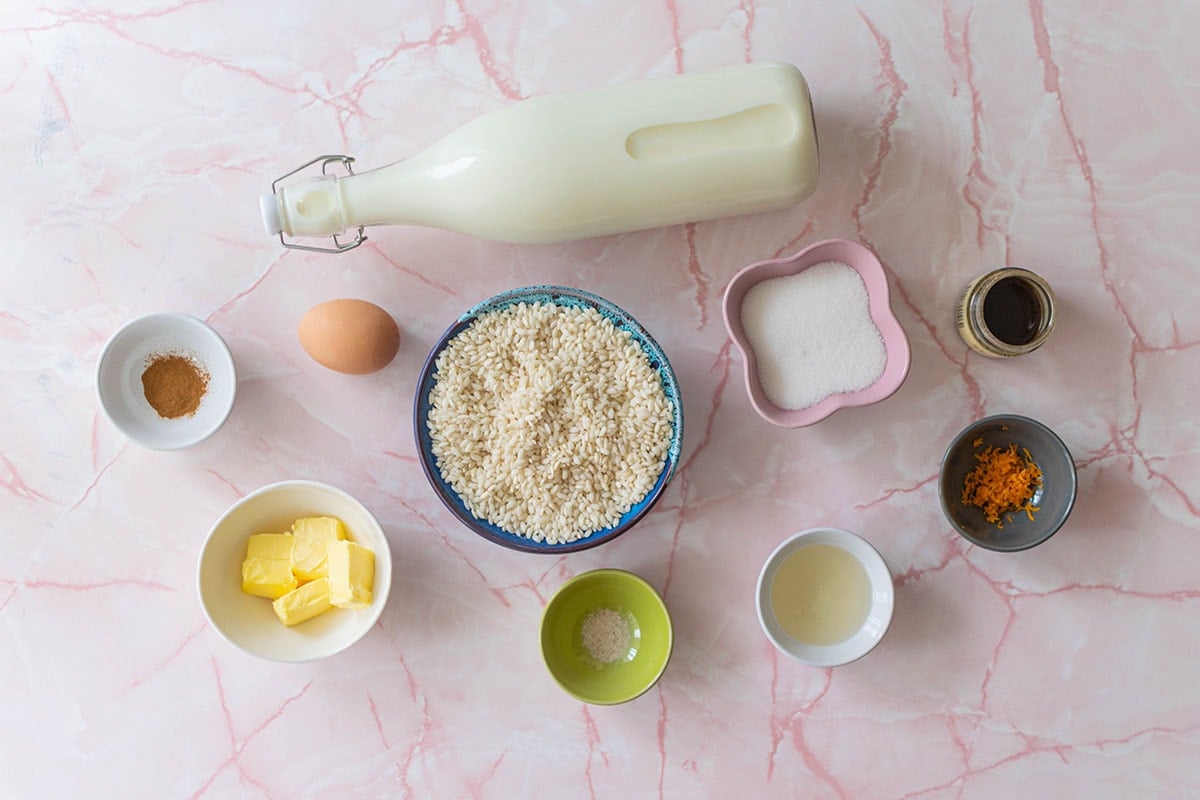 Rice – This is rice pudding, while any size grain white rice can be used, we like using arborio. Sushi rice or jasmine rice are close seconds. Brown rice tends to not get as creamy or starchy, but can be used.
Sweeteners- A blend of standard white sugar and honey provides balance and sugar variation. Brown sugar can also be swapped out for the white sugar for a hint of molasses.
Milk – I recommend using whole milk if possible. This recipe is super creamy, so we want all that good fat. Some use heavy cream or even milk alternatives like almond milk or oat milk, but I like the medium consistency of milk. With that said, please do not use a reduced fat or skim milk, it just won't be right.
Egg yolks – help make the creamiest rice pudding ever. It's important to use pasteurised eggs, as the yolk will not be cooked entirely. Don't worry, this pudding does not taste eggy at all.
Butter – crucial for this recipe, as it makes the pudding much richer. Use unsalted and cold butter chopped into cubes.
Orange zest – grate the zest on a very fine box grater for best results. Orange zest can also be replaced with lemon or lime.
Cinnamon– Ground cinnamon is the most traditional of spices, but don't be afraid to swap out or add nutmeg, pumpkin pie spice or even apple pie spice.
Vanilla Bean Paste – can also be replaced with one vanilla bean pod. If using a pod, scrape out the seeds and also add in the whole pod when cooking. Discard the vanilla pod after cooking. Alternatively, vanilla extract can be used, but it must be added at the end of the cooking process for maximum flavour.
How to Make the Best Rice Pudding
The best part about making a good rice pudding is that it requires no preparation time and only requires one pot. Let's look at how simple this recipe is to make:
Combine the milk with sugar, honey and all the spices and flavours in a medium saucepan. Cook the mixture over medium-high heat, until the milk becomes frothy (but not boiling).
Rinse the rice in a colander under cold water to remove a little bit of the starch, then add it to the foamy milk mixture.
Cook over low heat until the mixture becomes creamy, mixing from time to time.
Once the pudding is smooth and creamy, turn off the heat and mix in the butter and egg mixture.

Serve either warm or cold with desired toppings.
Toppings and Garnishes
Sure you can serve a plain serving bowl and it will be super delicious, but don't you also want to make it pretty? Here are some easy ways to spruce up your dish.
A cinnamon stick, while not edible, it looks pretty and smells fantastic!
Drizzle of maple syrup or agave nectar.
Dried fruit or fresh fruit.
Edible flowers.
Golden raisins.
Jam, jelly or preserves- try some fun ones like Bacon Jam or Balsamic Cherry Sauce.
Regular or candied nuts.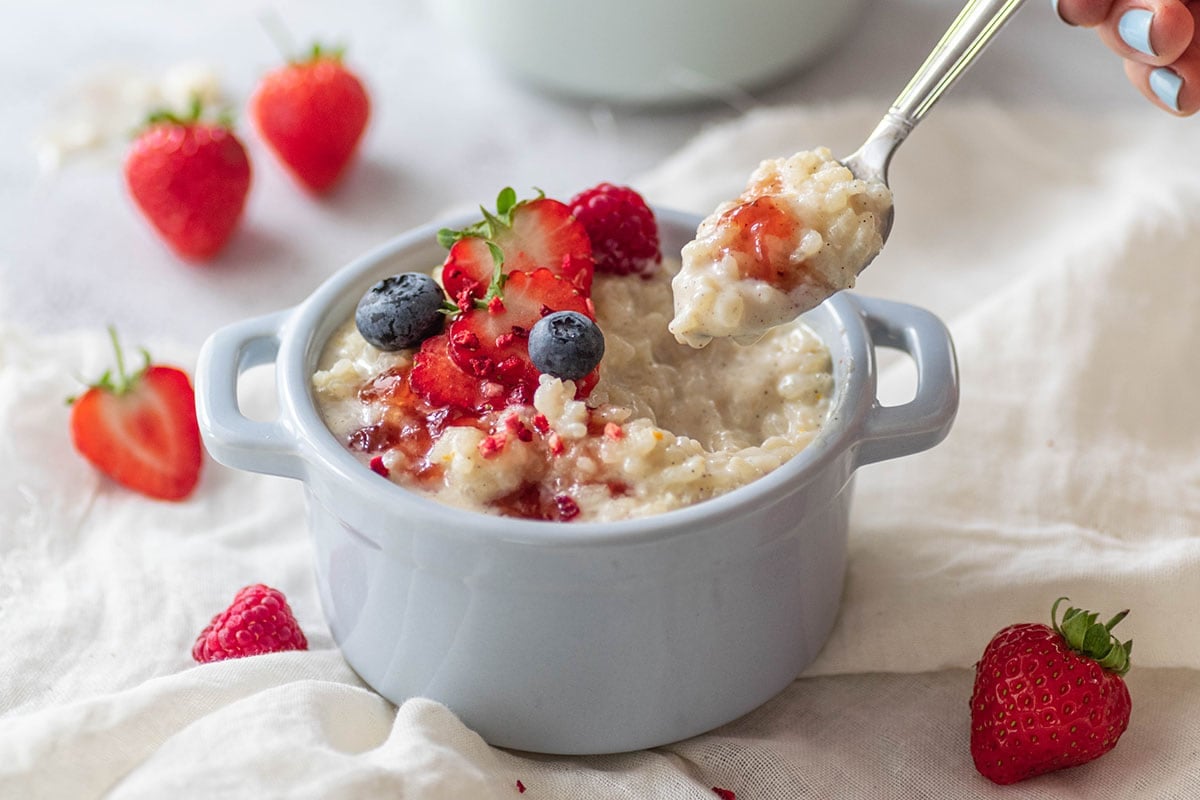 Making Ahead and Storing
This easy rice pudding recipe is best served fresh, but it can also be made ahead. There are a few options for making this creamy rice pudding in advance:
Store in the fridge for up to 3 days. Once cooked, let it cool down to room temperature, then place in an airtight container and refrigerate. If you are using plastic wrap, press down right to the top of the rice pudding, which will prevent that weird film from settling in. If not, stir well before serving or gently lift the film with the back of a spoon.
Freeze for up to 3 months. Let it cool down completely before adding to zip-lock bags or airtight containers and freezing.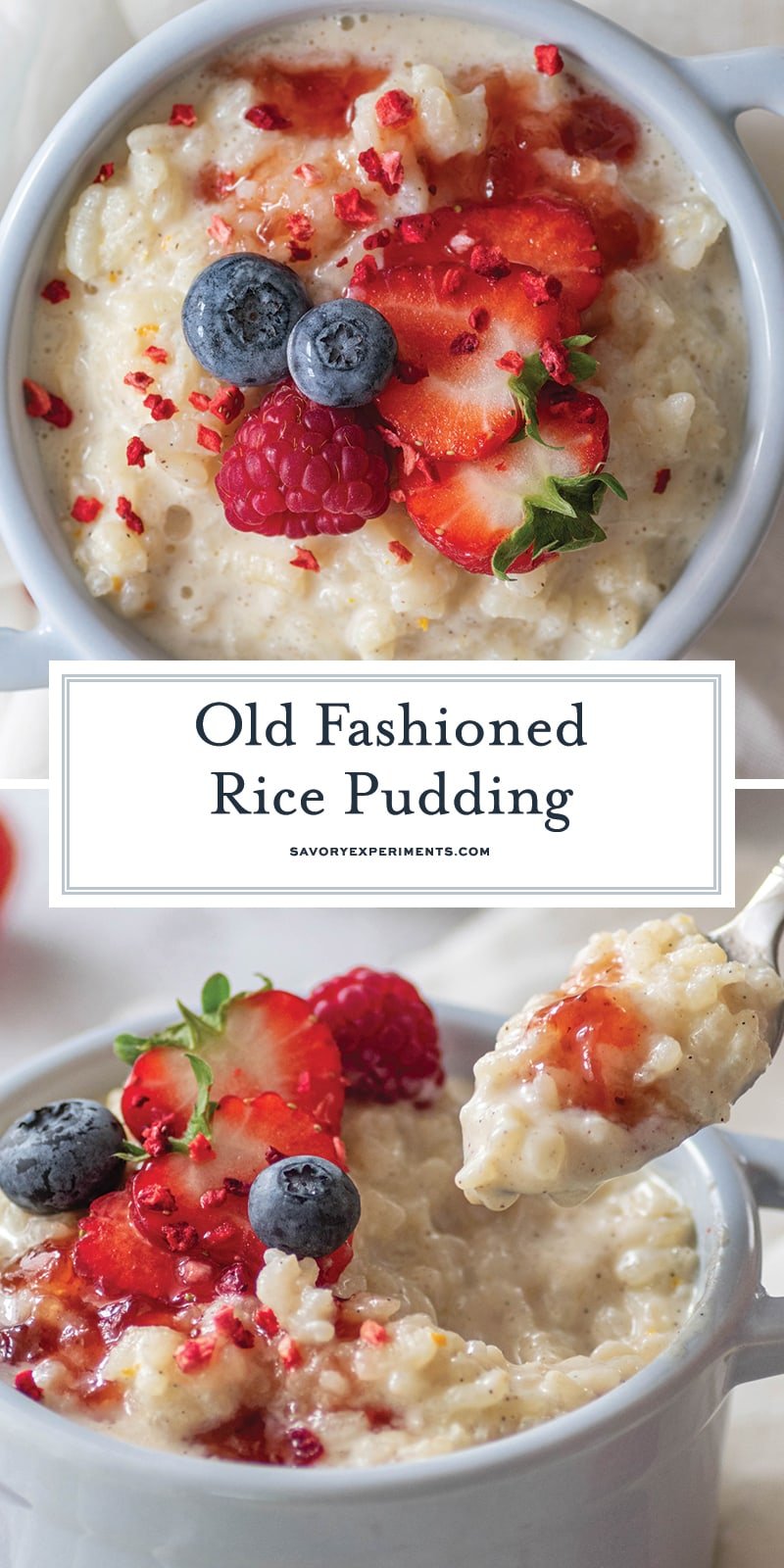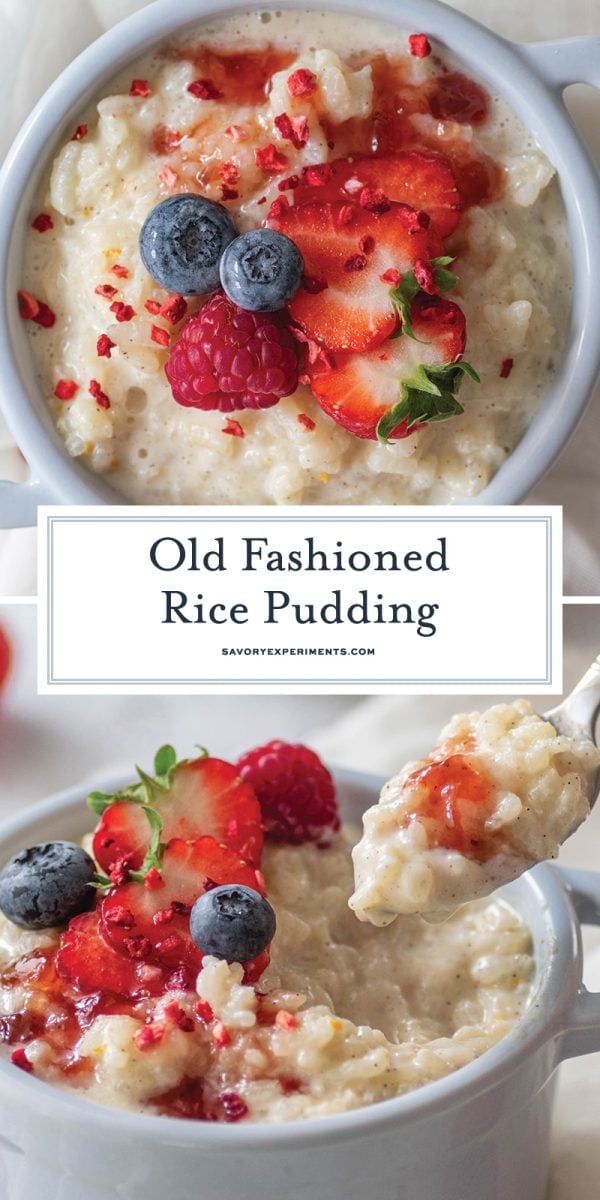 More easy pudding recipes: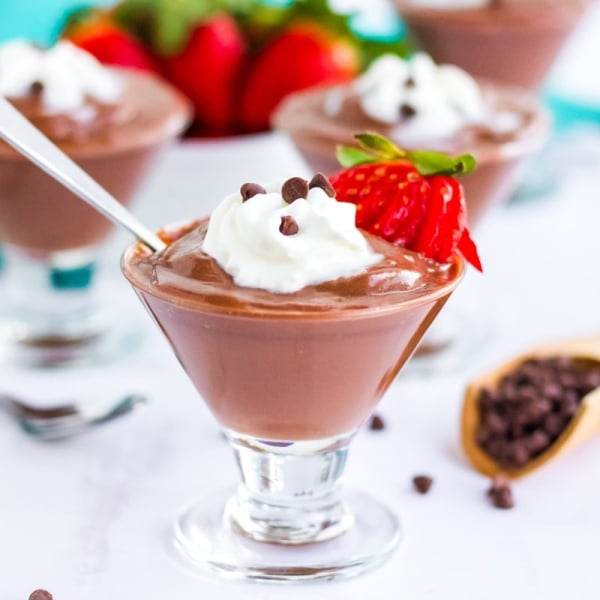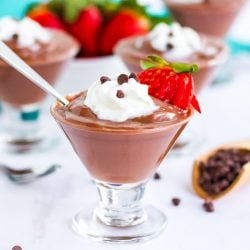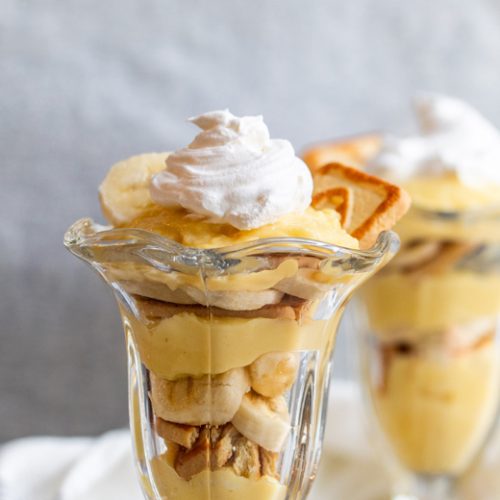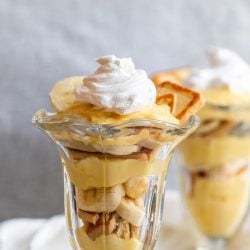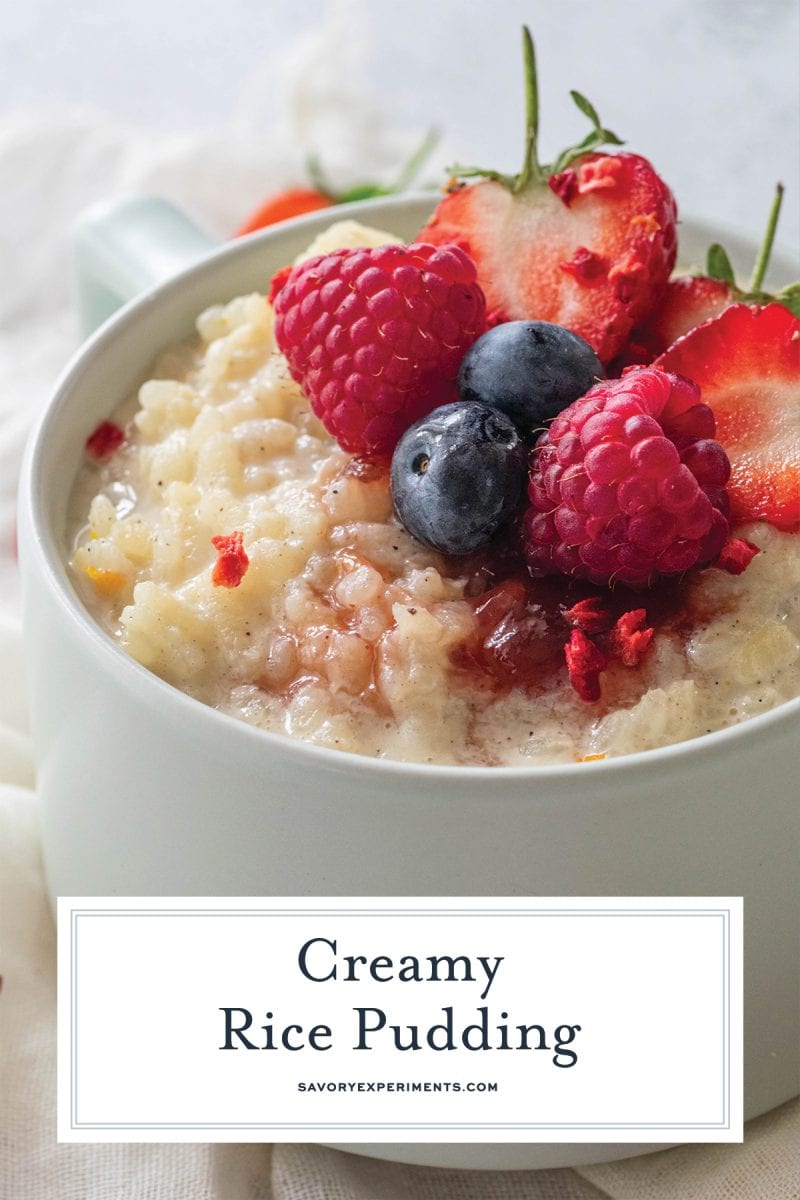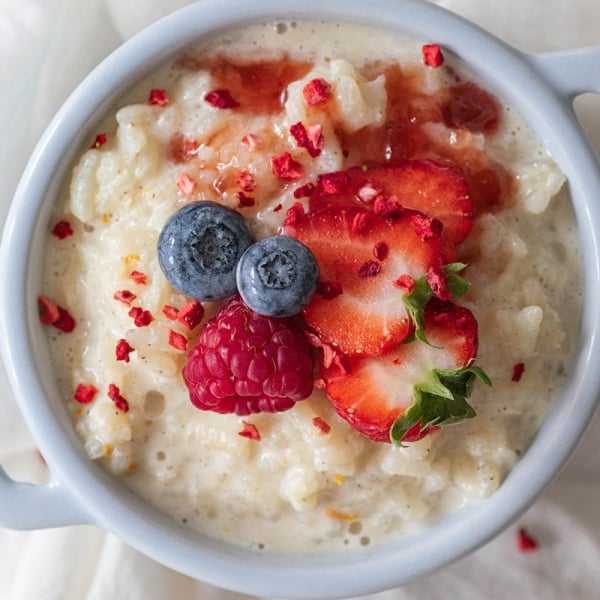 Rice Pudding Recipe
This easy rice pudding is creamy, comforting and feels like a hug- just like grandma used to make it! Not only is it easy to make, but it's also fragrant and full of flavor!
Equipment
Heat Resistant Rubber Spatula
Instructions
Combine the milk, sugar, honey, salt, orange zest and vanilla in a large non-stick pot. Heat the mixture over medium heat.

Whilst the milk is heating, rinse the rice under cold water to remove some of the starch.

When the milk becomes frothy, add in the rinsed rice. Combine with a wooden spatula or spoon to prevent the rice from sticking to the bottom. Reduce the heat to low and let it simmer gently for 30-35 minutes, stirring every few minutes.

Turn off the heat, then mix in the cold butter, chopped into cubes. Use a wooden spoon to combine the mixture gently and melt the butter into the rice.

Stir in the egg yolk, mixing well until the pudding becomes pale yellow in colour. At this point the pudding will be slightly sticky, but creamy.

Pour the rice pudding into a tray, then cover it with plastic wrap. Let it cool down to room temperature, before chilling in the fridge for 30 minutes. Serve with a topping of fruit jam or fresh berries.

If you've tried this recipe, please come back and let us know how it was in the comments or ratings!
Notes
Arborio rice can also be replaced with sushi rice. See post notes for more details on substitutions.
Vanilla bean paste can also be replaced with 1 vanilla pod.
This recipe requires the use of pasteurised eggs. For an eggless pudding, replace the egg yolk with 1 tablespoon of heavy or clotted cream.
Nutrition
Calories:
382
kcal
,
Carbohydrates:
56
g
,
Protein:
8
g
,
Fat:
14
g
,
Saturated Fat:
8
g
,
Polyunsaturated Fat:
1
g
,
Monounsaturated Fat:
4
g
,
Trans Fat:
1
g
,
Cholesterol:
70
mg
,
Sodium:
148
mg
,
Potassium:
256
mg
,
Fiber:
1
g
,
Sugar:
29
g
,
Vitamin A:
553
IU
,
Vitamin C:
1
mg
,
Calcium:
199
mg
,
Iron:
2
mg