Some people look at me funny when I tell them I like serving onions as a side dish. The honest truth is that they are amazing if cooked properly, like with these Balsamic Glazed Pearl Onions!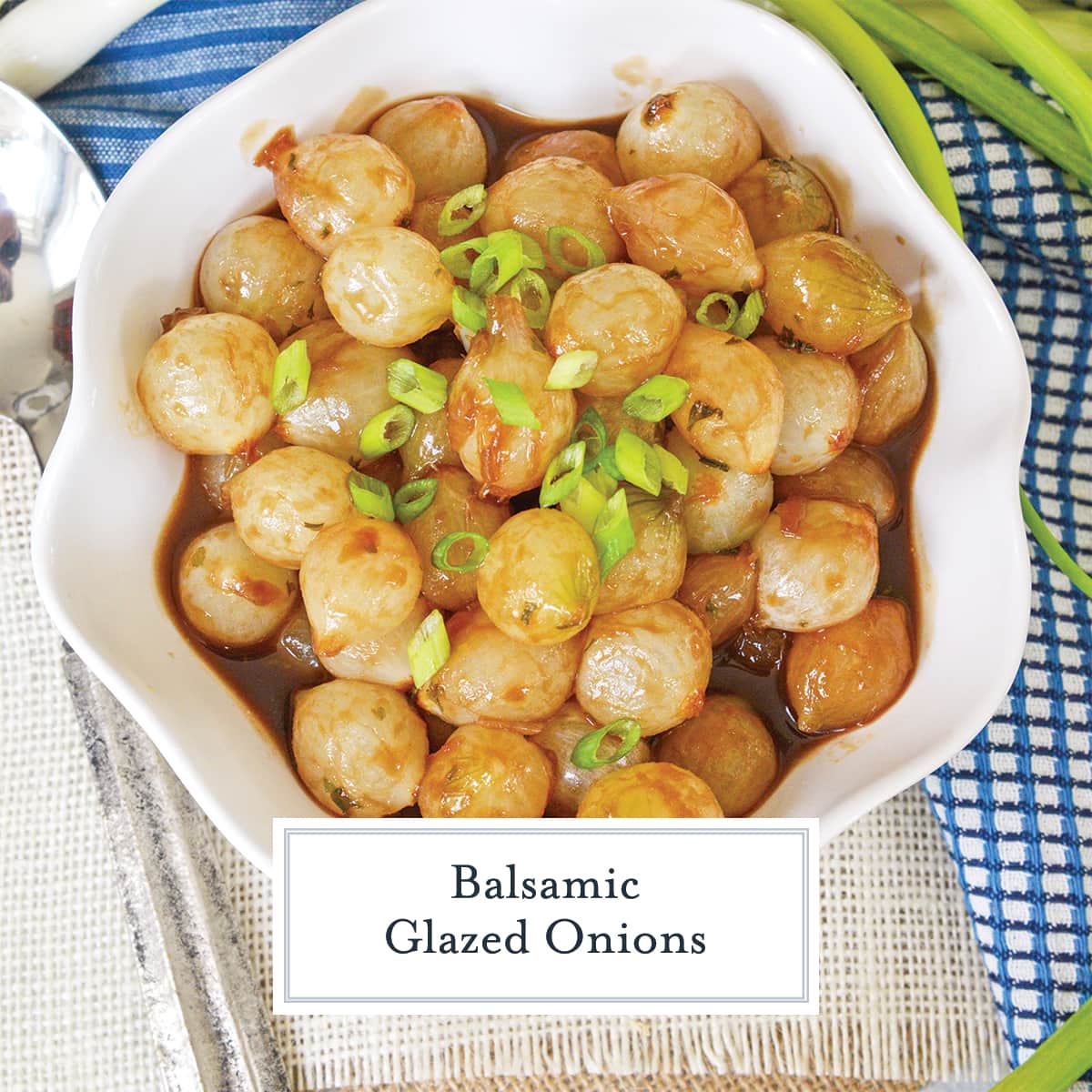 Cooked Onions
There are so many varieties of onion and they all carry a very distinct flavor profile with some being super onion-y and others more mild.
How you cook them also makes a big difference. Caramilized onions take on a sweet note while quickly sauteed will have a little more onion bite. Some dishes even rely heavily on the base flavors for all of the seasoning.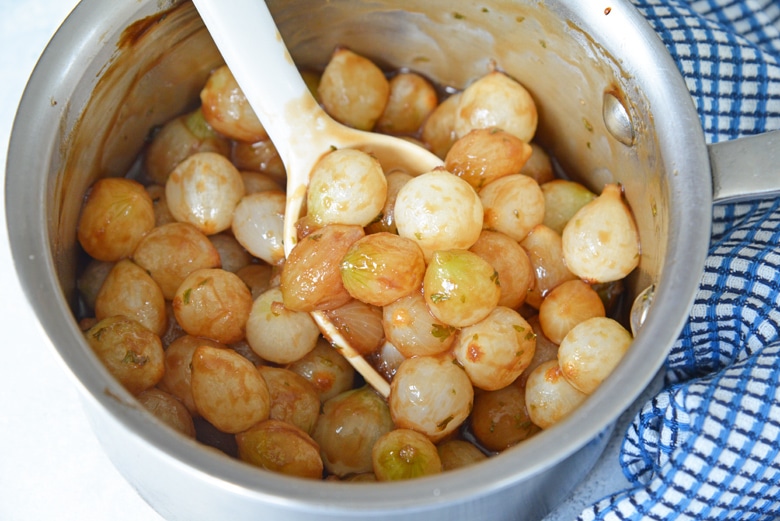 Furthermore, some are onions only, like this dish or my French Baked Onions (basically onions that taste just like French onion soup).
Mini Glazed Pearl Onions
The pearl onion has many names, some depending on geographic location. Other names are button onions, baby onions, creamers and in French, oignon grelot.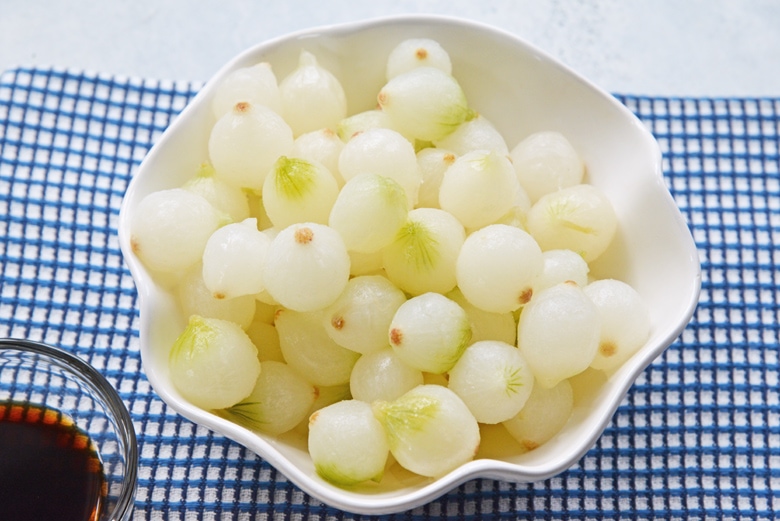 Popular in soups and stews, these little onions have a milder flavor profile more reminiscent of a leek. When cooked they release their flavors and softens lightly so the outside is tender but the inside has a little tooth to it.
White Pearl onions are crunchy and mild with firm, juicy, and crisp flesh. Perfect for an onion-centric dish. This is a purely glazed pearl onion recipe.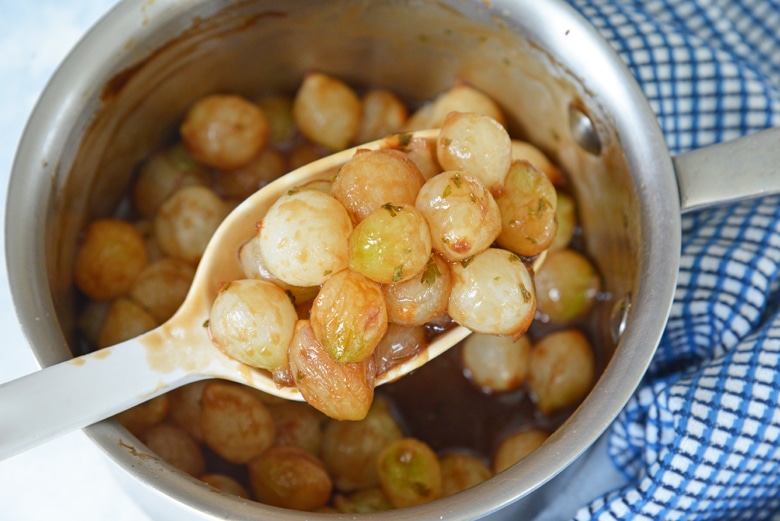 Frozen vs Fresh
I am generally all about fresh foods… unless we are talking about pearl onions. I've bought fresh before to make Beef Bourguignon and let me tell you- they are a pain in the butt to peel!
Little cuts under my nails from the papery skin and it burned. Ugh. You can't cut off the tops and bottoms like you would to peel a regular onion because then they just fall apart. What a mess. So for these glazed pearl onions, I use frozen.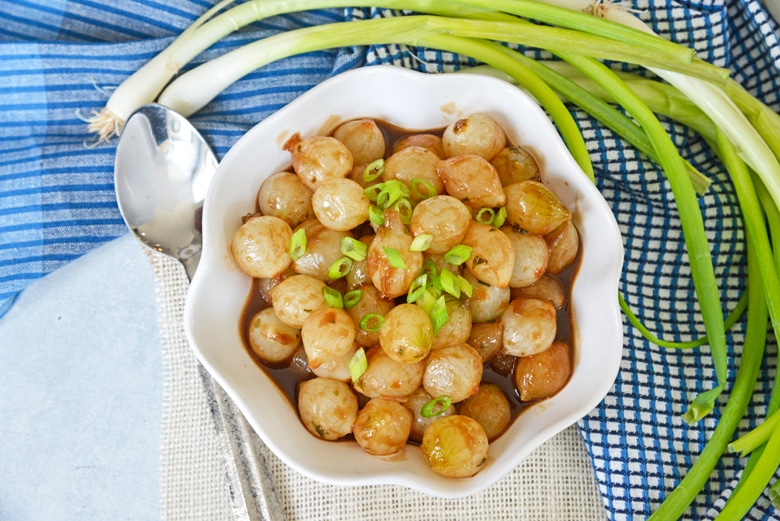 So now I buy the frozen kind. Don't diss frozen veggies! If frozen correctly, they actually retain nutrients really well. And here, they save you oodles of time.
The Sauce
The sauce here is a blend between a balsamic glaze and cream based sauce commonly made for onions.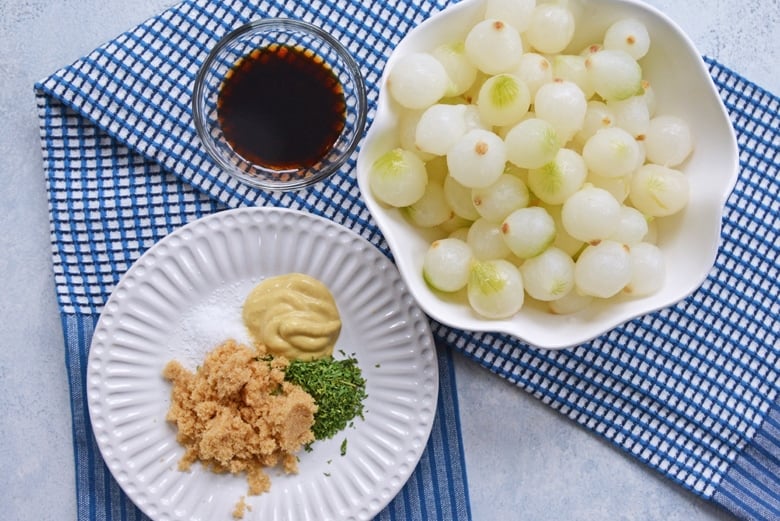 Brown sugar helps to caramelize balsamic vinegar into a syrup while butter makes it rich and creamy. Dijon mustard adds some pizzazz.
PRO TIP: When using dried herbs, rub it together between your palms to activite natural oils.
I use dried parsley for my balsamic glazed pearl onions, but you can also use freshly, chopped parsley. Use about 1 tablespoons of fresh.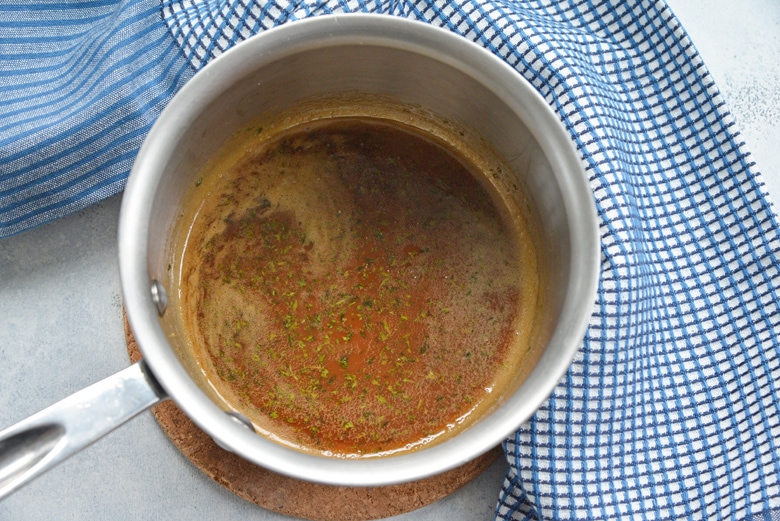 Next you just let it all dissolve before adding frozen onions. Simmer until onions are warm and sauce as reduced. The extra water from frozen onions will loosen it a bit, but after simmering, it will thicken.
Make Ahead & Storage of Glazed Pearl Onions
Glazed baby onions can be made up to 2 days in advance. Simply make the whole recipe and refrigerate in an airtight container until ready to serve. Heat in the microwave or on the stovetop.
Onions will stay good for up to a week in the fridge.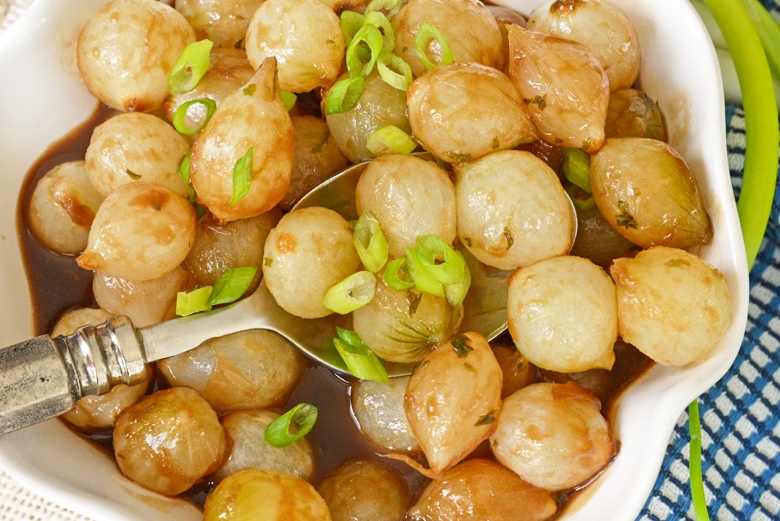 This recipe can also be frozen and thawed for a later occasion.
More Delicious Holiday Side Dishes:
Monday Holiday Side Dish Recipes: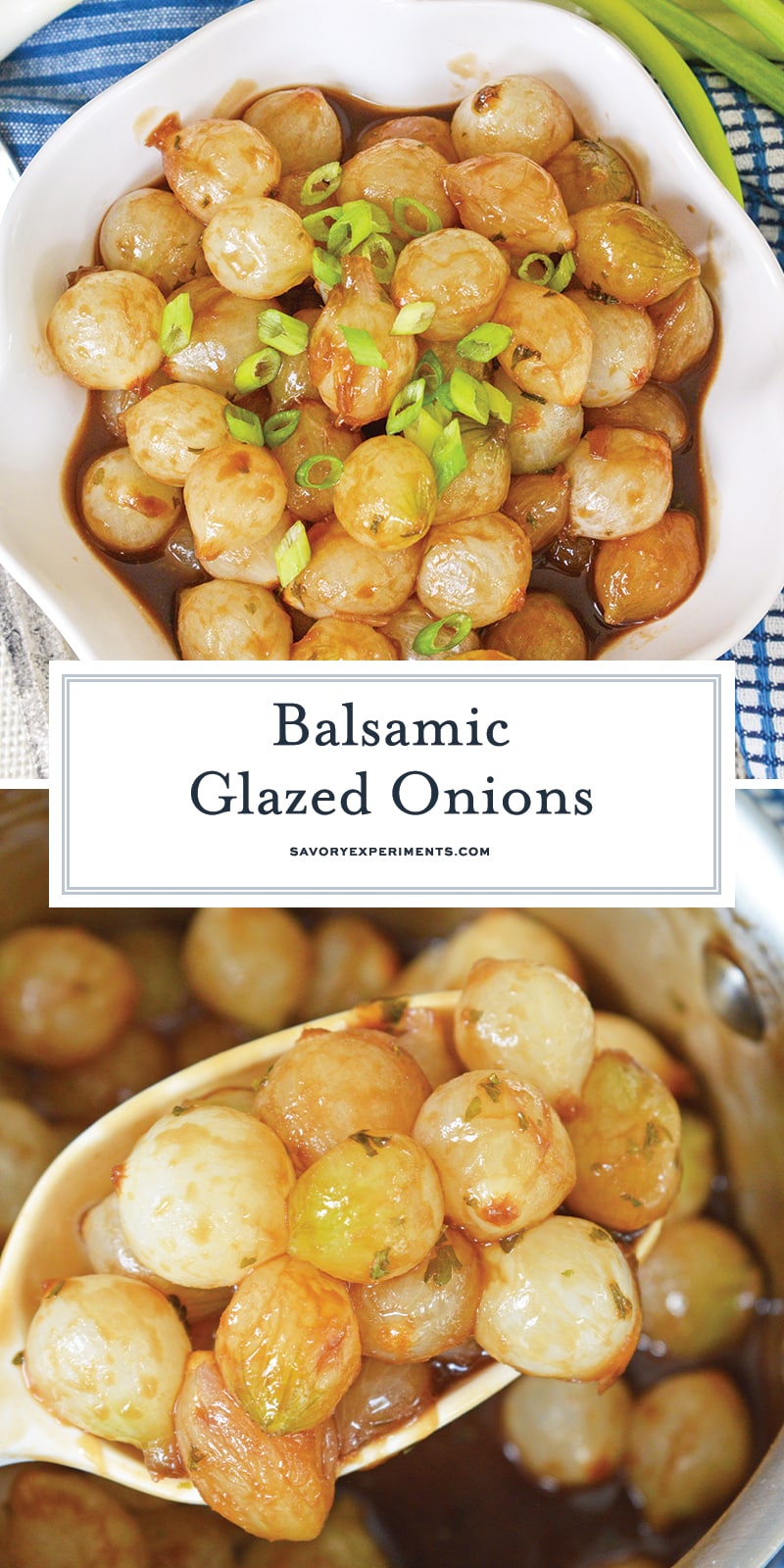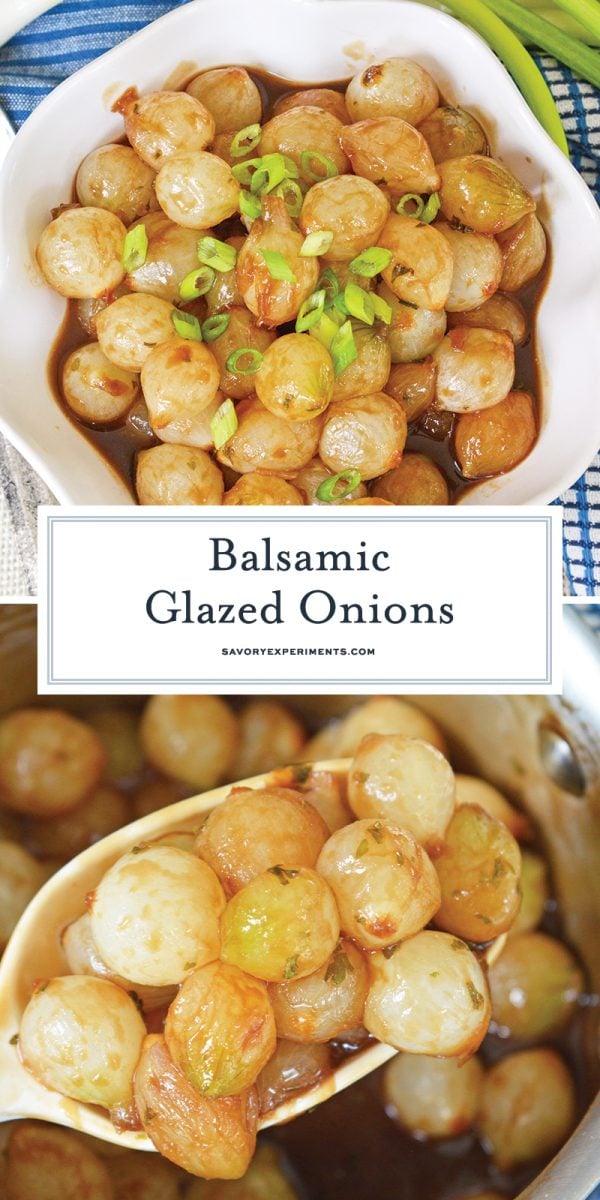 Balsamic Glazed Baby Onions
These EASY Balsamic Glazed Pearl Onions are great for a simple side dish. Elegant enough for the holidays, but also for weeknight meals!
Instructions
In a small saucepan, combine unsalted butter, light brown sugar, Dijon mustard, Kosher salt, parsley flakes and balsamic vinegar, bring to a low boil.

Simmer for 5-10 minutes or until sugars have dissolved and sauce has thickened.

Remove and allow to sit for 5 minutes before serving.

If you've tried this recipe, come back and let us know how it was in the comments or ratings!
Nutrition
Calories:
84
kcal
|
Carbohydrates:
12
g
|
Protein:
1
g
|
Fat:
4
g
|
Saturated Fat:
2
g
|
Cholesterol:
10
mg
|
Sodium:
219
mg
|
Potassium:
108
mg
|
Fiber:
1
g
|
Sugar:
8
g
|
Vitamin A:
117
IU
|
Vitamin C:
5
mg
|
Calcium:
21
mg
|
Iron:
1
mg