With ingredients like nutmeg and onion, this spinach side dish is packed full of delicious flavor! Whether you are making it as a holiday side dish, or as something to accompany a steak, this is the best creamed spinach recipe.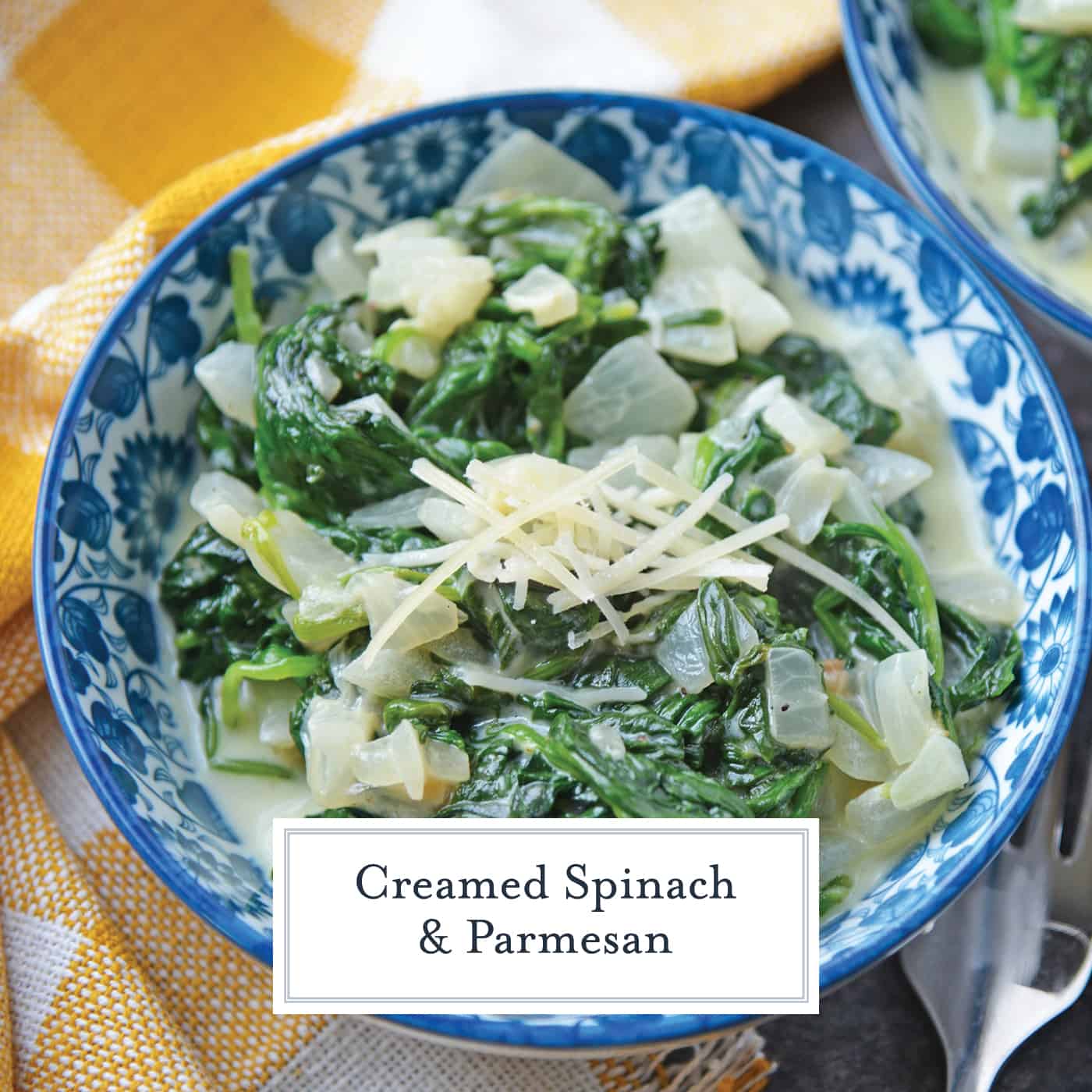 This easy Creamed Spinach is packed with flavor with one secret ingredient. Perfect to serve with steak or any other meal!
What is your go-to side dish when preparing dinner? Everyone has a favorite, right?
I almost always have some sort of carb, whether it be a potato, corn, rice, garlic bread or some sort of pasta. But in addition to the carb I also like to have a vegetable. Spinach side dishes are a go-to because of all of the health benefits.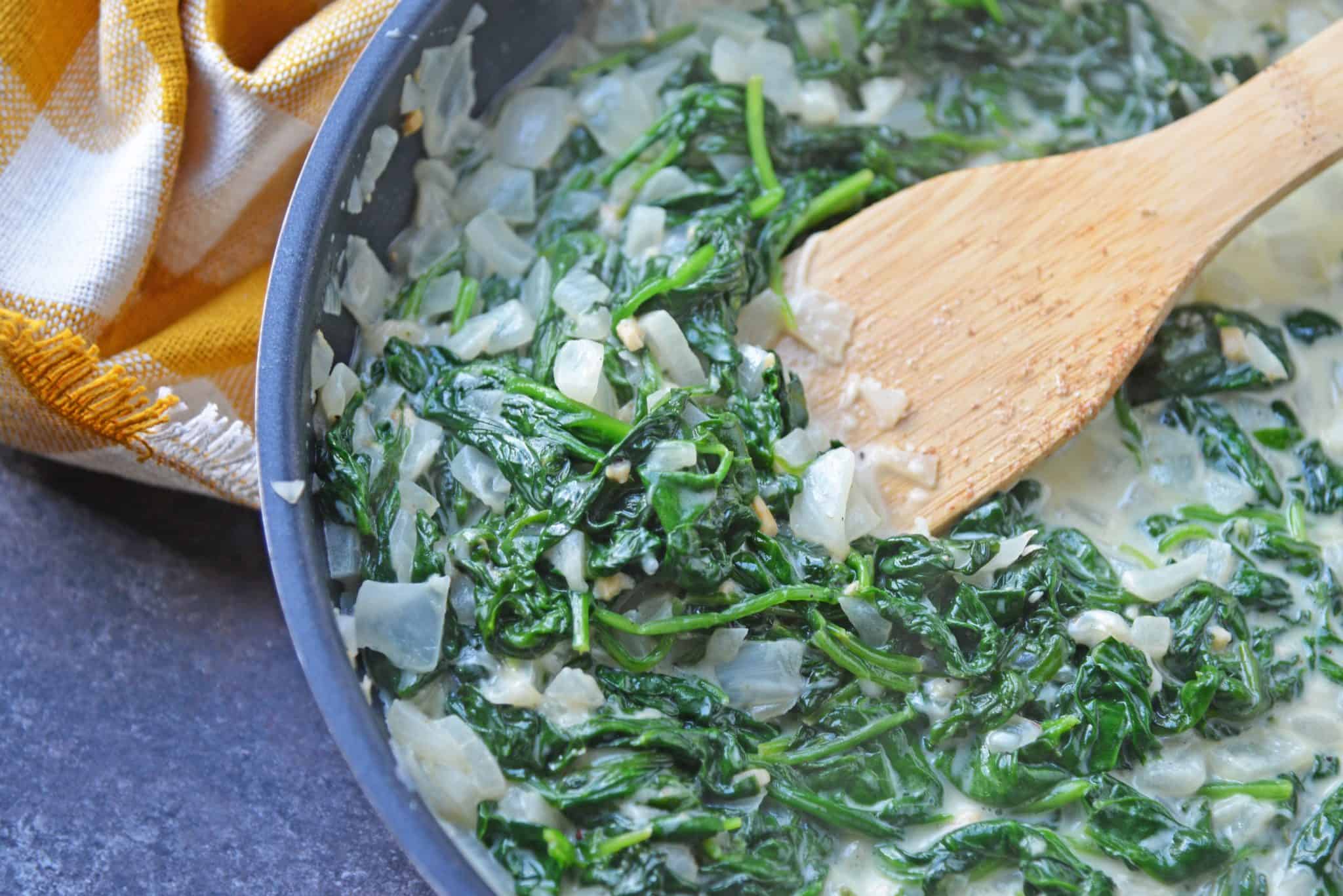 Sure, having some sort of steamed vegetable like broccoli is a quick and easy option, but lately I have really been into spinach. More specifically, this Creamed Spinach. It is surprisingly easy to make and has lots of creamy, cheesy flavor, too.
Here are a few potential benefits of spinach:
Packed with calcium, iron and magnesium.
Some studies show that spinach is an anti cancerogenic, meaning it can prevent some types of cancer.
Some reports show is can reduce severity or prevent asthma attacks.
Spinach has been linked to lower blood pressure.
You can get several servings of your leafy greens in just one serving of wilted spinach.
A key to this flavorful creamed spinach is the freshly grated nutmeg. The nutmeg adds a wonderful, nutty flavor to an otherwise bland dish.
PRO TIP: Ground spices expire fast and also lack flavor. To get the most out of your nutmeg, grate your own whole nutmeg on a micro grater! 
This version of creamed spinach also uses onion. For people who don't like onion, it can be omitted, but it does flavor the dish.
Spinach doesn't really have much flavor, so the onion helps to give it a little and pairs well with nutmeg. It also makes is delicious for recipes like my Creamed Spinach Pasta, featured above!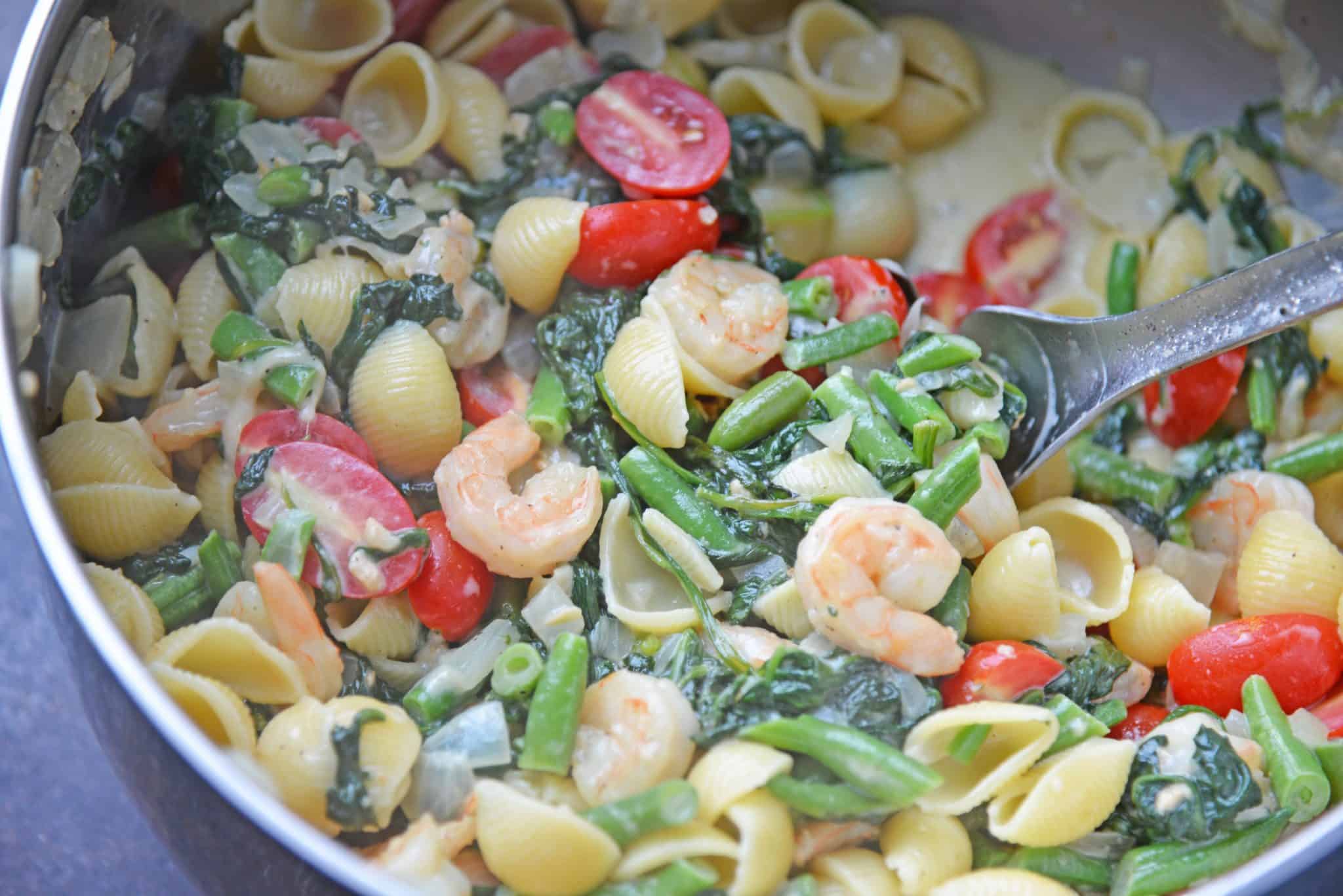 I also love this dish because it is so versatile. It is traditionally served in steakhouses, but you can really pair it with so many other entrees. Not only is it a great side dish for weeknight dinners, but it is also perfect for holidays like Thanksgiving and Christmas!
Everyone has their own preference about the consistency of creamed spinach. Some people like their creamed spinach super sloppy and wet, while others like it thicker and dry.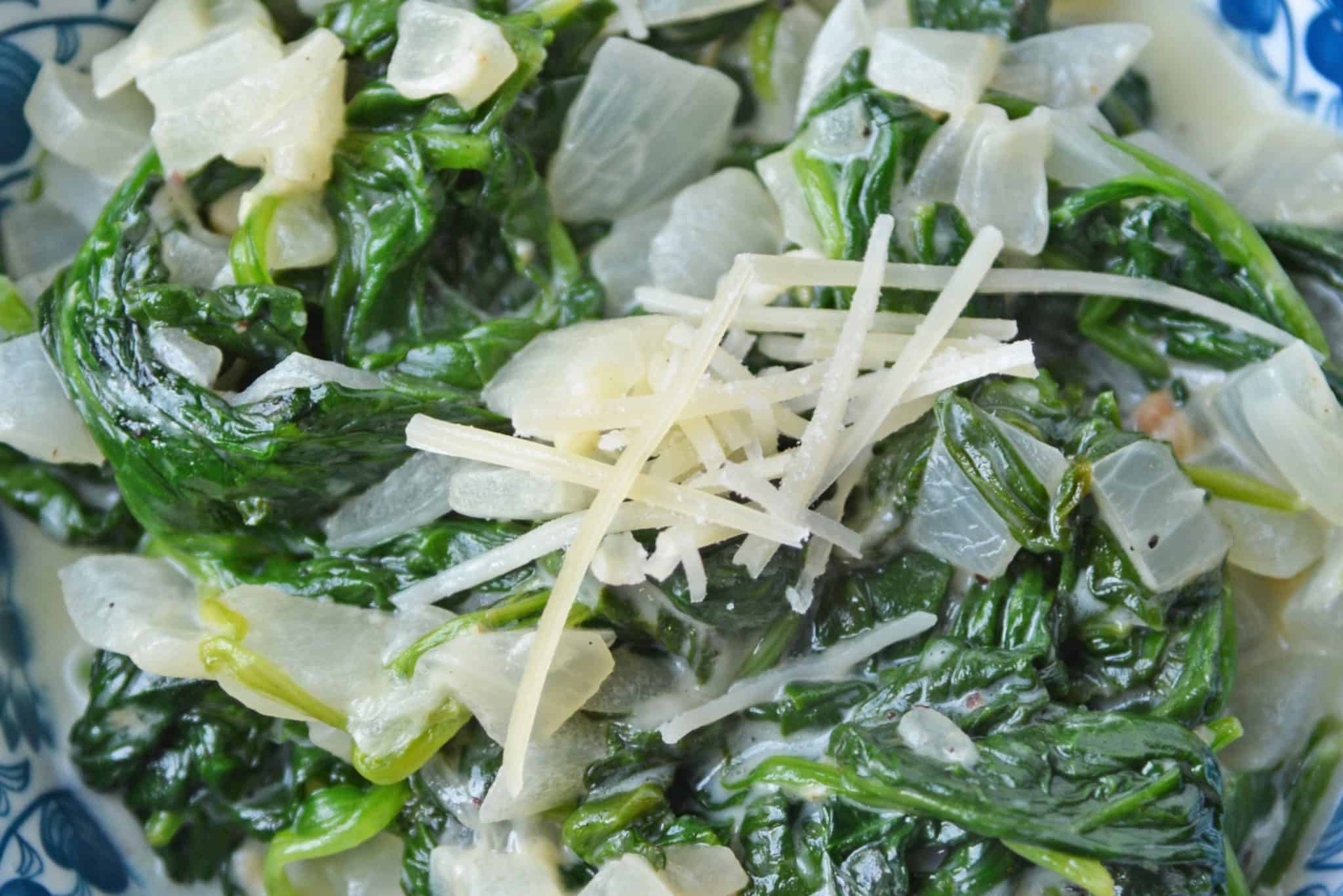 You can easily make this creamed spinach to your liking by either adding more or less heavy cream and cheese.
So whether you like it thick or thin, whether you pair it with steak or bring it to Thanksgiving dinner, this creamed spinach recipe is perfect side for any occasion. It might just become your new favorite spinach side dish!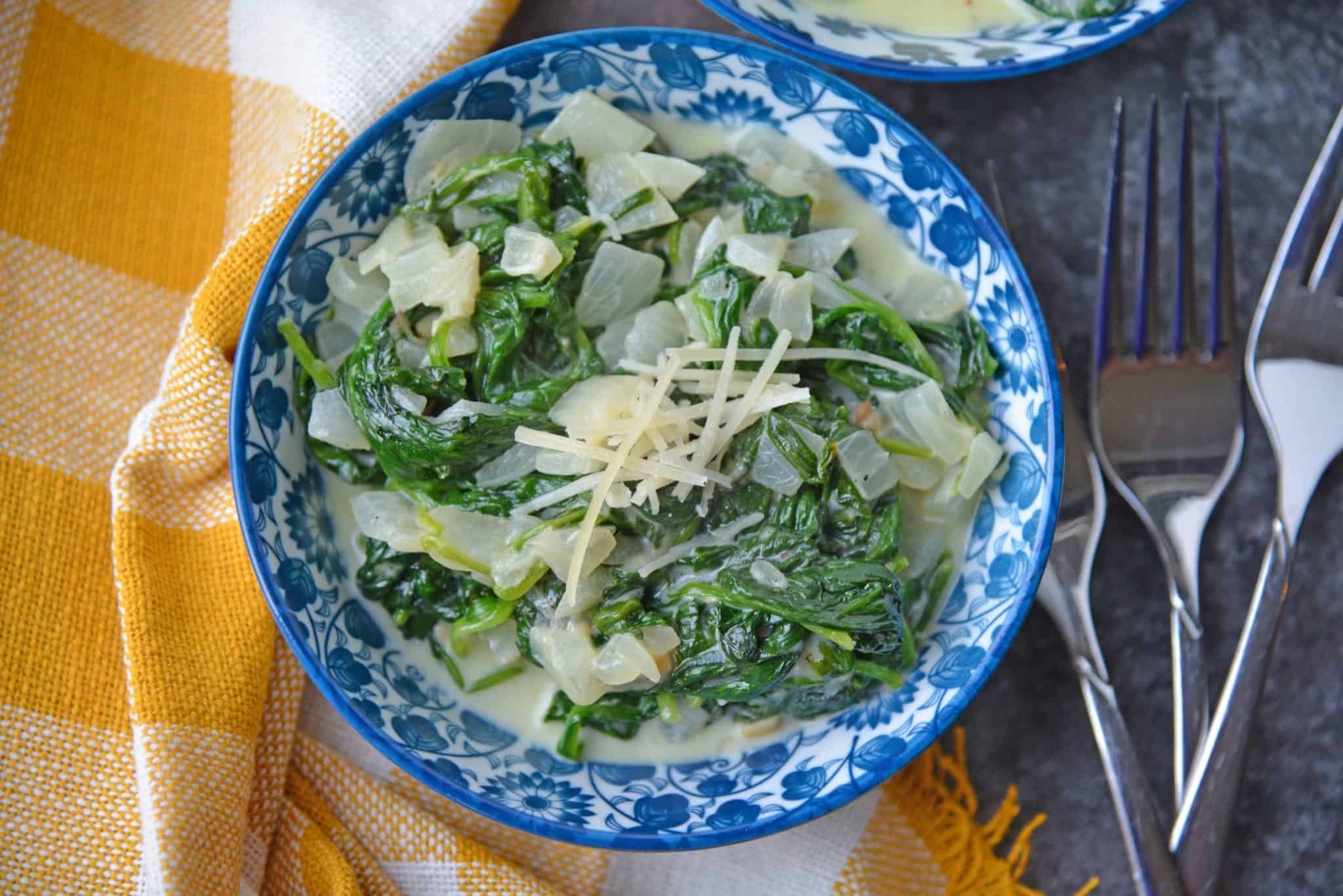 You are going to love these other spinach recipes:
Spanakopita Spinach Pie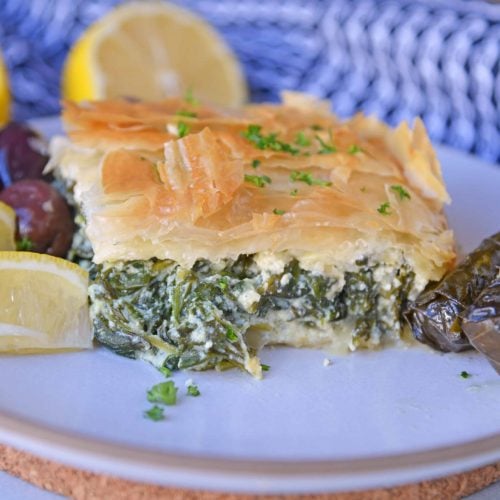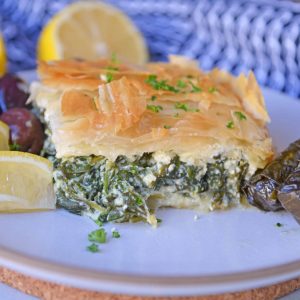 Spanakopita Spinach Pie is a Greek speciality made from wilted spinach and cheese wrapped with flaky pastry, phyllo dough. An easy dish that pairs with anything!
Pesto Spinach Stuffed Chicken Breasts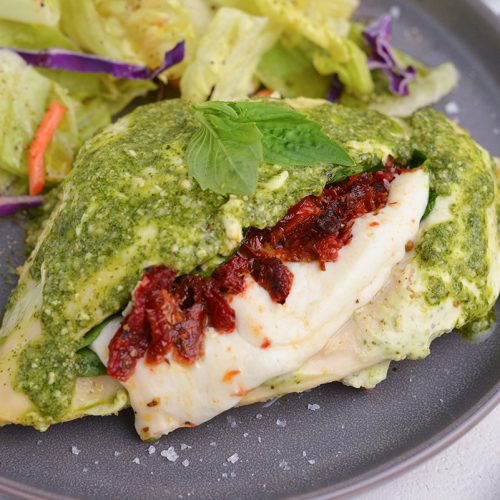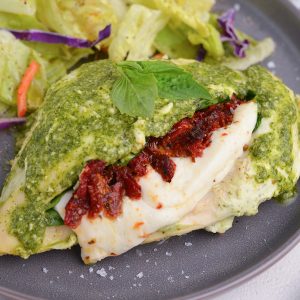 Pesto Spinach Stuffed Chicken are chicken breasts stuffed with gooey mozzarella cheese, sun dried tomatoes and spinach. Marinated in a yogurt and basil pesto sauce, they are moist and flavorful.
Tools to make Easy Creamed Spinach:
Heavy Bottom Sauce Pan– this will be one of your most used kitchen tools. Having something that is heavy bottom will distribute heat better and prevent burning whether you are using an electric or gas range.
Wood cutting board – wood won't dull your knives like plastic and if treated properly, has natural antimicrobial properties.
Good knife – Global is my favorite! They are worth the price, I promise. I am kind of obsessed with them and store them tucked away so no one else can use them. Including hubby. Hands off my good stuff!
Micrograter– A small kitchen utensil you find you use a lot more than you expected!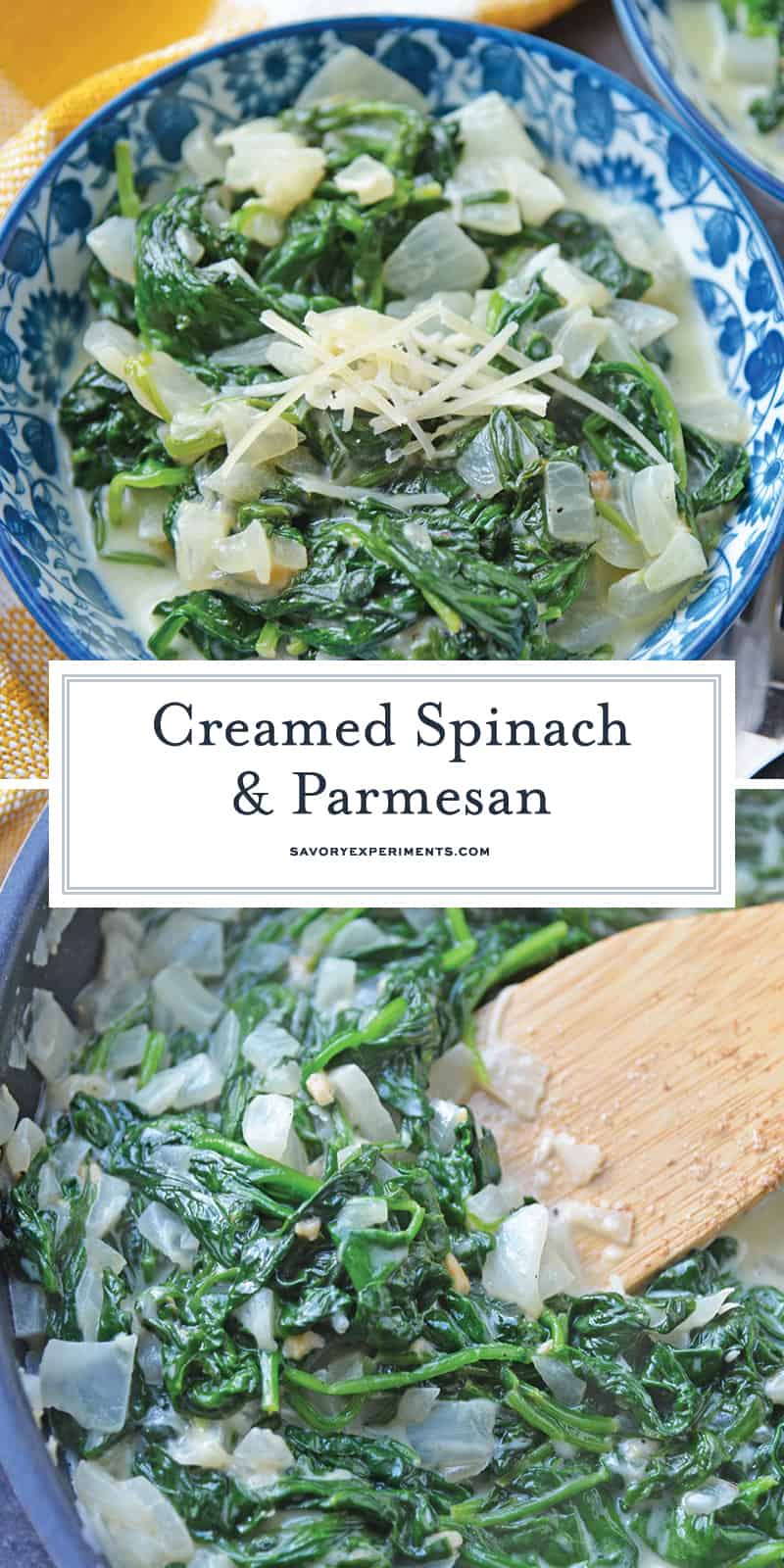 Questions you might have about how to make creamed spinach:
Can I make creamed spinach ahead of time? Sure! Make it up to 24 hours in advance and simply reheat it.
Can I freeze creamed spinach? Freezing creamed spinach is easy. Pack it with the least amount of air possible, an airtight plastic bag works best. It will stay good for up to 4 months.
Can I add garlic to my creamed spinach? By all means, don't let me stop you from adding garlic to everything! I do highly suggest using a fresh garlic instead of bottled. It has better flavor.
Grate, mince or press garlic for maximum garlic flavor. Add with onions or even substitute for onions. You can also use shallots instead of onion.
Do I have to use parmesan cheese? Nope- be my guest to omit the parmesan cheese or even substitute for pecorino romano cheese.
Is creamed spinach healthy? Healthy is a term I don't use often because it has so many definitions to so many people. Low cal, low fat, gluten free, low carb and all the other diets… I just don't know what healthy means any more.
What I will say is that spinach IS healthy, but heavy cream and cheese isn't typically considered to be low fat or low cal. You can scroll on down for nutritional information of creamed spinach. 
Can I use half and half? I wouldn't suggest it, you will end up with watery creamed spinach.
Is creamed spinach gluten free? I am not an expert on gluten free foods or cooking, but to the best of my knowledge, I do beleive this recipe for creamed spinach is gluten free.
Can I use frozen spinach? You can use frozen spinach, but I highly recommend fresh spinach leaves. Sauteed spinach until wilted is far better than something previously cooked and reheated. If you do use frozen, onion and garlic are imperative for any flavor.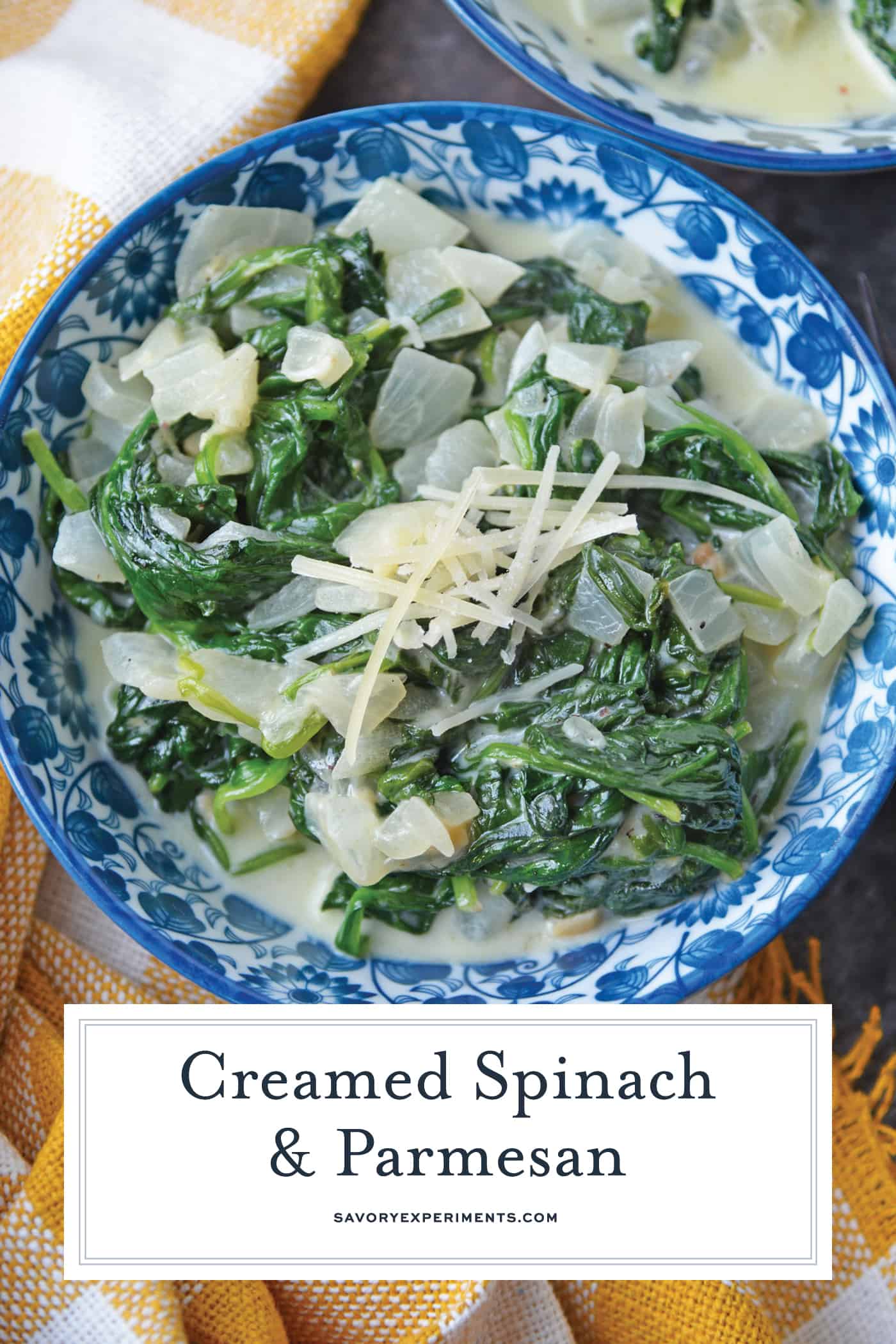 If you are wondering how to make creamed spinach, look no further! This easy creamed spinach recipe makes the perfect side dish to any meal.
---
Get our FREE 8 Day E-Course on How to Be a Better Home Cook. Sign up HERE!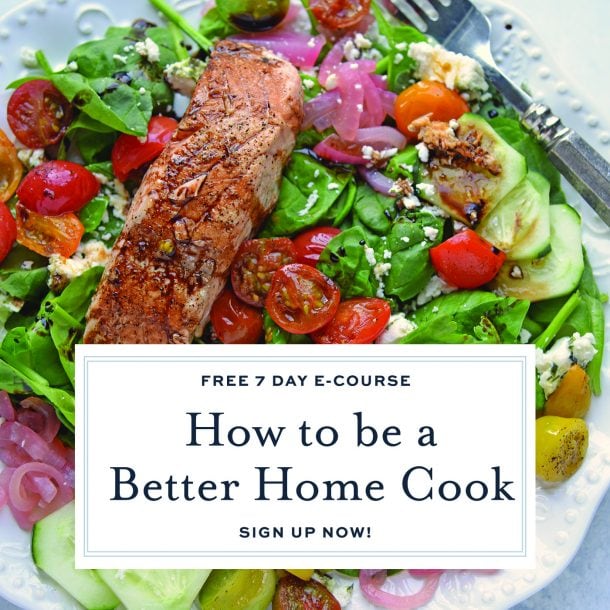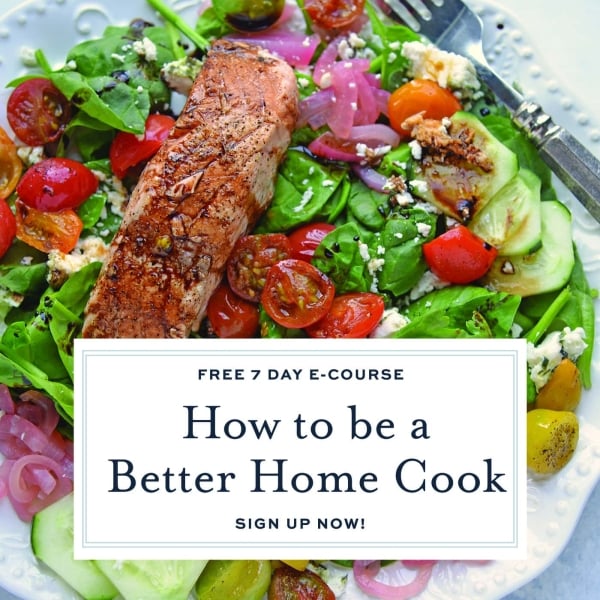 CONNECT WITH SAVORY EXPERIMENTS!

Be sure to follow me on social media, so you never miss a post!

Facebook | Twitter | Youtube 
 Pinterest | Instagram 
---
Creamed Spinach
If you are wondering how to make creamed spinach, look no further! This easy creamed spinach recipe makes the perfect side dish to any meal.
Instructions
Melt butter in a heavy bottom saucepan over medium-high heat. Add onion, sauteing for 3-4 minutes, or until it starts to soften.

Add garlic, sauteing for an additional minute.

Add spinach, tossing to coat and allowing it wilt.

Add nutmeg, Parmesan cheese and heavy cream. Toss to combine and allow to thicken.

Season with fine sea salt and ground pepper to taste.

Serve hot.

If you liked this recipe or have suggestions, please come back and leave us a comment and rate the recipe. We'd love to hear from you!
Nutrition
Calories:
120
kcal
|
Carbohydrates:
11
g
|
Protein:
5
g
|
Fat:
6
g
|
Saturated Fat:
4
g
|
Cholesterol:
16
mg
|
Sodium:
208
mg
|
Potassium:
889
mg
|
Fiber:
3
g
|
Sugar:
4
g
|
Vitamin A:
13485
IU
|
Vitamin C:
44.1
mg
|
Calcium:
186
mg
|
Iron:
4.1
mg