Get ready to meet your new favorite entree or side dish: Seafood Stuffed Shells! Stuffed shells with no red sauce.
Seafood Stuffed Shells in a Sherry Cream Sauce is a dinner fit for a special occasion with buttery crab, tender shrimp and a mild cream sauce.
An American classic, stuffed shells, are traditionally prepared with ricotta and marinara sauce. My Seafood Stuffed Shells in a Sherry Cream Sauce take the classic entree up a few notches, making it fit for a special occasion.
Tender crab and shrimp are paired with mushrooms, onion and fresh flat leaf parsley, packed into jumbo shells and then smothered in a delicate sherry cream sauce.
You can serve Seafood Stuffed Shells as an appetizer or entree.
Katy Lee says: "I just made this for the family. I tweaked the recipe just a smidge. Just to add my own twist to it. Very, very good! So happy i found this! Been wanting to try this for quite some time! Thank you!!"
One of the main ingredients, and the one I am going to focus on, is blue crab meat. In Latin blue crab is coilinectes sapidus, which loosely translates to "beautiful swimmer that tastes good." I couldn't sum it up better myself!
Blue crab originally hailed from the Chesapeake Bay, but due to dwindling populations, largely caused by human tinkering, populations now come from all over the Eastern seaboard.
Beth R. says: "This was the perfect side for steaks for my husband's birthday dinner. Not hard to make at all, but has that "special" feel to it!"
The traditional Maryland Blue Crab is steamed and served with salty, spicy Old Bay seasoning.
Although I am a huge fan of Old Bay and use it regularly, it does cover up the delicate, sweet taste of plain crab meat.
Maryland Blue Crab has a distinct color, texture and flavor that differs from its other clawed family mates the king, snow and dungeness crab. The meat is a light creamy color tasting sweet and pillowy (yes, I just made that word up).
Although you could substitute a different species of crab in this recipe, like snow crab, king crab or even an imitation crab, I highly recommend using blue crab.
Bonnie Says: OMG- these were SO good! My new go-to dish!
New to buying blue crab? Allow me to provide you with a brief tutorial. Crab meat is sold at the seafood counter and is refrigerated. It usually comes in a small tin or cup.
There are 3-4 different types of crab meat- claw, special, backfin or jumbo lump. If you have ever picked your own crabs you know there are distinct differences in taste, color and texture between the different sections. For the novice:
Claw– dark meat that comes from the claw, a little more stringy than other varieties
Special– smaller pieces, comes from small little crevices or the "special" sections of the crab, good for flavoring and dips
Backfin– some larger lumps coming from, you guessed it, the back of the shell, whiter meat, does well in crab cakes, feathery texture
Jumbo lump– large, lumps of meat, the beauty is the large pieces used for crab meat cocktails or delicious to pop in your mouth plain, very tasty and moist
Crab is expensive, ranging from $6.99 per 6 oz for claw and special to $16.99 for backfin and lump. When you think about it picking crabs is no job that can be done by machines.
Driving along the Eastern Shore of Maryland you might even see a picnic table of little old ladies diligently picking crabs for hours on end, separating the meat, packaging and selling roadside.
Doris says: "I can't wait to make these again! I used all crab meat. So good. I'd also just make the sherry cream sauce instead of alfredo for pasta night."
Even the larger companies, such as Phillips, will still need to hire professional pickers and this is expensive!
You should look for a brand that does not cover up the product and ideally is not pasteurized, although this can be nearly impossible depending on your location or the time of year.
Most tins will have the majority covered up to protect it from sunlight and going bad, but you should be able to see the size and color of the crab. Look for larger pieces and a creamy white color.
If you ever open up a tin and are overwhelmed, even taken back, by a fishy smell, it is bad. Do not use and return it to the grocer.
Janice says: "Easy to make and even easier to eat! Delicious!"
Let me tell you- it is worth it. There is nothing like a bite of succulent, sweet jumbo lump crab meat. The sherry cream sauce in my Seafood Stuffed Shells is light enough to not overpower the buttery crab or tender shrimp, but still enough to provide a flavorful meal.
Eat these delicious shells on their own or serve alongside my Grilled Fillet with Garlic Brandy Butter or Portobello Crusted Strip Steak.
Squid Ink Pasta with White Wine Cream Sauce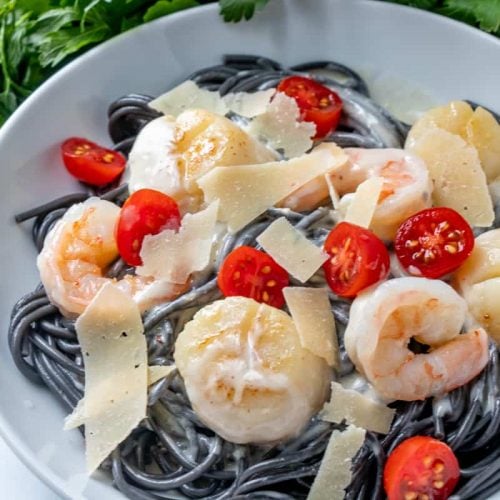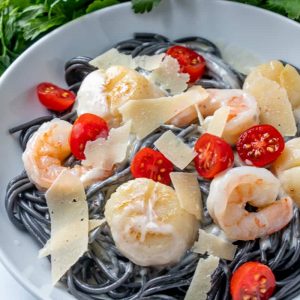 Squid Ink Pasta with White Wine Cream Sauce Recipe is an elegant dish that is easy to prepare. Wow, your diners with this striking dish.
Maryland Style Crab Cakes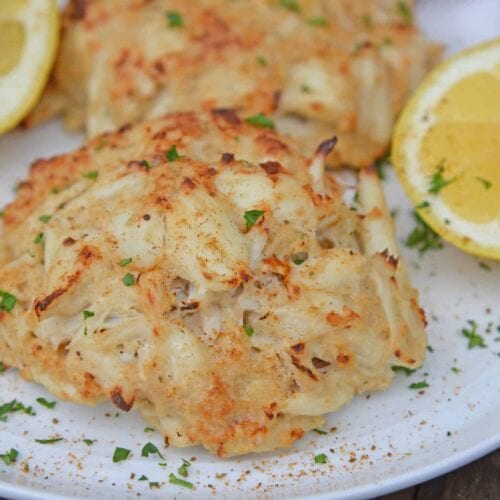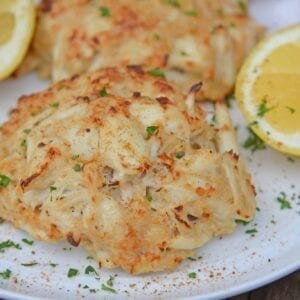 Maryland Crab Cakes are made with jumbo lump crab meat with little filler, Dijon mustard and Old Bay Seasoning plus secrets to making authentic Chesapeake crab cakes!
Tools for making Seafood Stuffed Shells:
9 x 13 Glass Baking Dish– an absolute essential for any kitchen! Use it for baking, marinating or storing. Get one with a lid, you'll thank me later.
Heavy Bottom Sauce Pan – having a heavy bottom helps heat disperse evenly and prevents food from burning since it is further from direct contact with the actual actual heating element.

Questions you might have about how to make seafood stuffed shells:
Can I freeze stuffed shells? You can! I would make them, including or excluding the sauce and then freeze them in an airtight container. They should last for up to 6 months.
Can I make stuffed shells ahead of time? By all means YES! In fact that is one of the reasons I love this recipe, it begs to be prepared ahead of time. Simply pop it in the oven when you are ready to serve.
Do I have to use seafood? Nope- this recipe also tastes good with chicken! Use any protein you want, but make sure it is equal to a quarter of a pound.
Use any seafood you'd like too. All shrimp, all scallops, even clams, mussels or oysters can be used as long as they are cooked.
How long are stuffed shells good for in the fridge? Like most foods, if packaged properly, about 3-4 days. I would personally don't like to keep seafood past 2 days.
How many stuffed shells should I make per person? This varies greatly. I eat 2, but hubby eats 4. Judge your crowd and plan ahead!
It also makes a difference if you are serving these as the main entree or in addition to a steak or some other main dish. Then you might only need 1- 2 per person.
Why don't these shells have ricotta cheese? Well… not all shells have to use ricotta! The decadent cream sauce more than makes up for it. If you have to have ricotta, feel free to add 1/2 cup to the mixture.
Some other folks even like to use cottage cheese, ricotta parmesan mix or mozzarella. Put your own spin on the recipe and let us know how it was in the comments!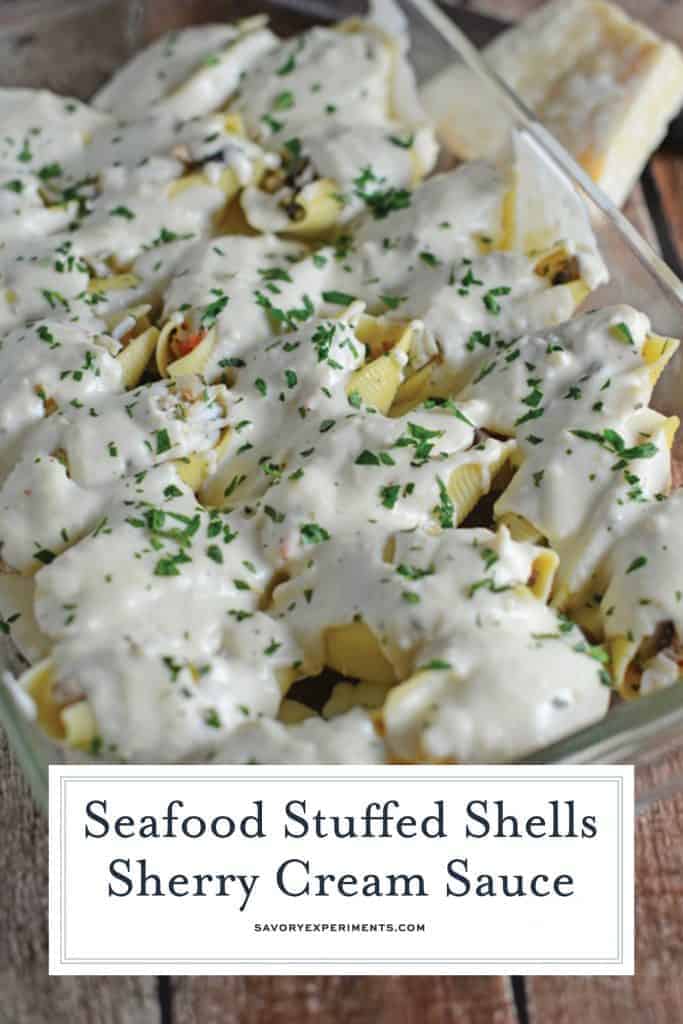 CONNECT WITH SAVORY EXPERIMENTS!

Be sure to follow me on social media, so you never miss a post!

Facebook | Twitter | Youtube
Pinterest | Instagram
Get our FREE 8 Day E-Course on How to Be a Better Home Cook. Sign up HERE!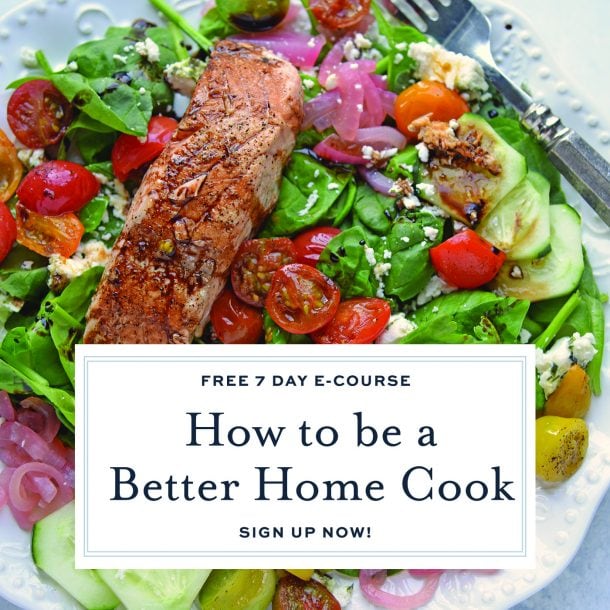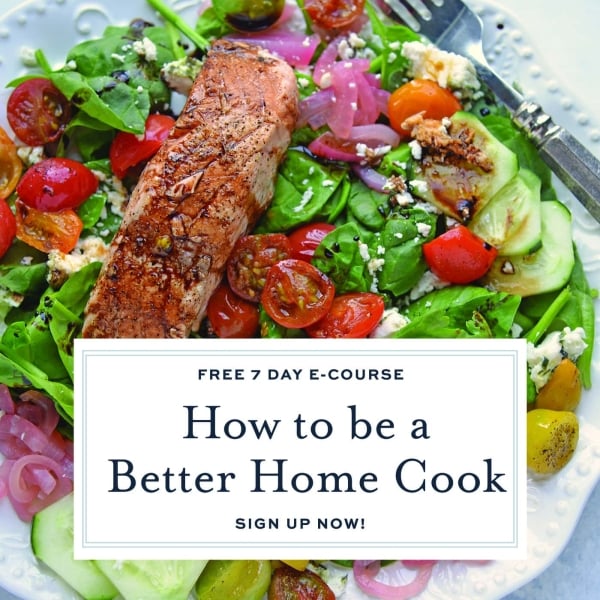 Seafood Stuffed Shells in a Sherry Cream Sauce
Seafood Stuffed Shells in a Sherry Cream Sauce is a dinner fit for a special occasion with buttery crab, tender shrimp and a mild cream sauce.
Instructions
Boil water, 1 teaspoon of salt and oil in a large sauce pan or dutch oven. Gradually add shells when water is at a rapid boil. Boil for 1 minute less than package directions for "al dente". Shells will continue to cook when placed in the oven. To avoid mushy pasta, you want to initially under-cook.

Remove and drain on a paper towel lined baking sheet. Dampen 2 paper towels and place them on top of shells to keep them moist. Set aside.

Melt butter in medium saucepan. Add chopped onion and mushrooms. Saute for 5 minutes. Remove mushroom mixture and set aside.

In the same saucepan add flour and whisk into the remaining butter to make a roux (paste). Blend until smooth and bubbly. Whisk in milk, half and half, white pepper and salt. Simmer for an additional 5 minutes, whisking occasionally.

Ladle 1/2 cup of hot sauce to a small dish with 2 beaten egg yolks. Whisk together fully and then slowly add to the rest of the sauce. Whisk again. Sauce will get thicker and thicker. Stir in Worcestershire sauce and sherry. Bring to a low boil. Remove from heat.

In a medium mixing bowl, toss shrimp, crab meat, mushroom mixture, parsley and 3/4 cup cream sauce. Stuff mixture into shells. Arrange in a casserole dish sprayed with cooking spray.

Ladle the remaining sauce over stuffed shells. Top with Parmesan cheese.

Place casserole dish in a cold oven and heat to 350 degrees for a total of 20 minutes.

Remove after 20 minutes and serve immediately. Enjoy!

If you've tried this recipe, make sure to come back and let us know how it was!
Nutrition
Calories:
141
kcal
|
Carbohydrates:
9
g
|
Protein:
8
g
|
Fat:
7
g
|
Saturated Fat:
4
g
|
Cholesterol:
77
mg
|
Sodium:
576
mg
|
Potassium:
184
mg
|
Sugar:
1
g
|
Vitamin A:
300
IU
|
Vitamin C:
3.1
mg
|
Calcium:
74
mg
|
Iron:
0.6
mg