Get ready to meet your new favorite entree or side dish: Seafood Stuffed Shells! Stuffed shells with no red sauce, just a silky sherry laced cream sauce and tender seasfood.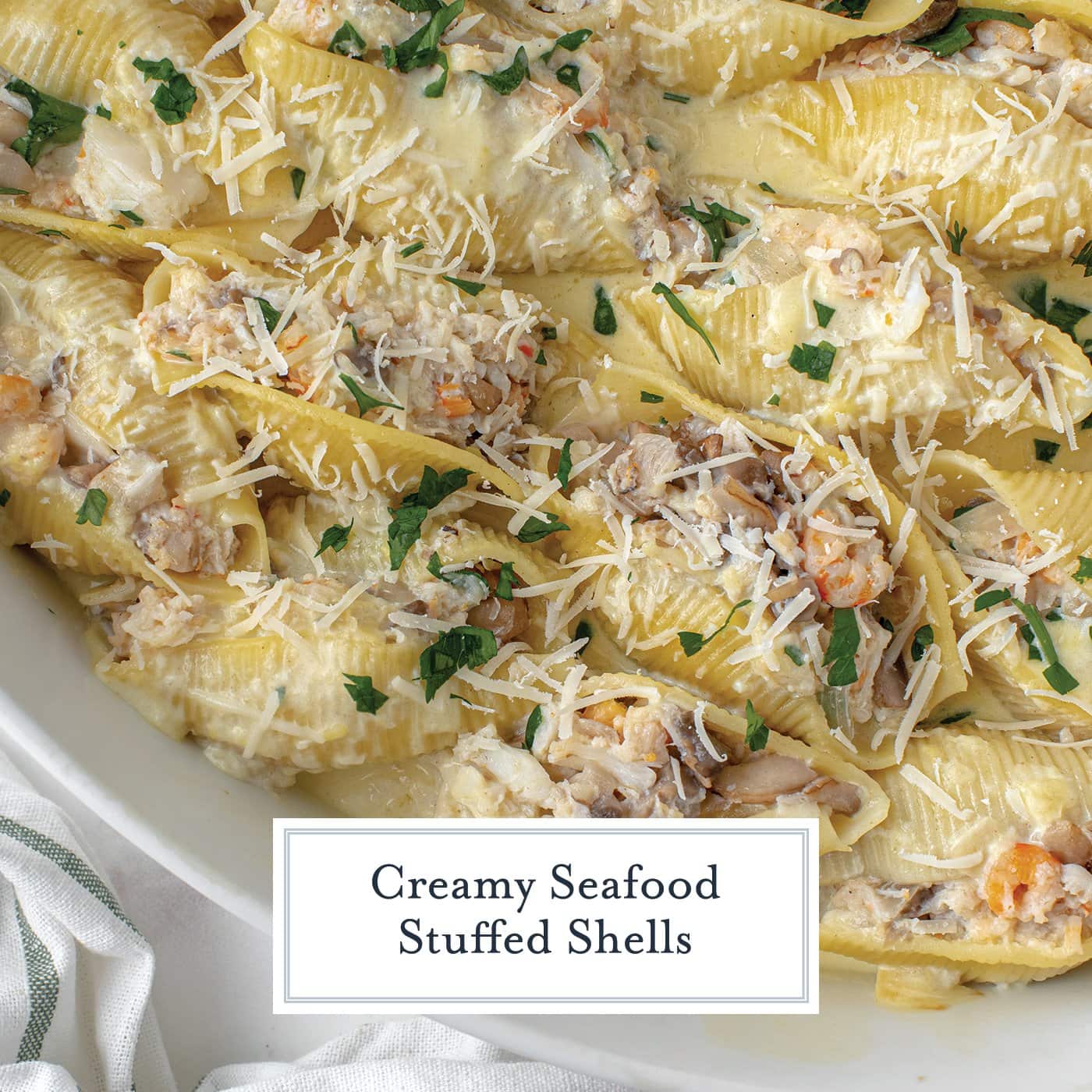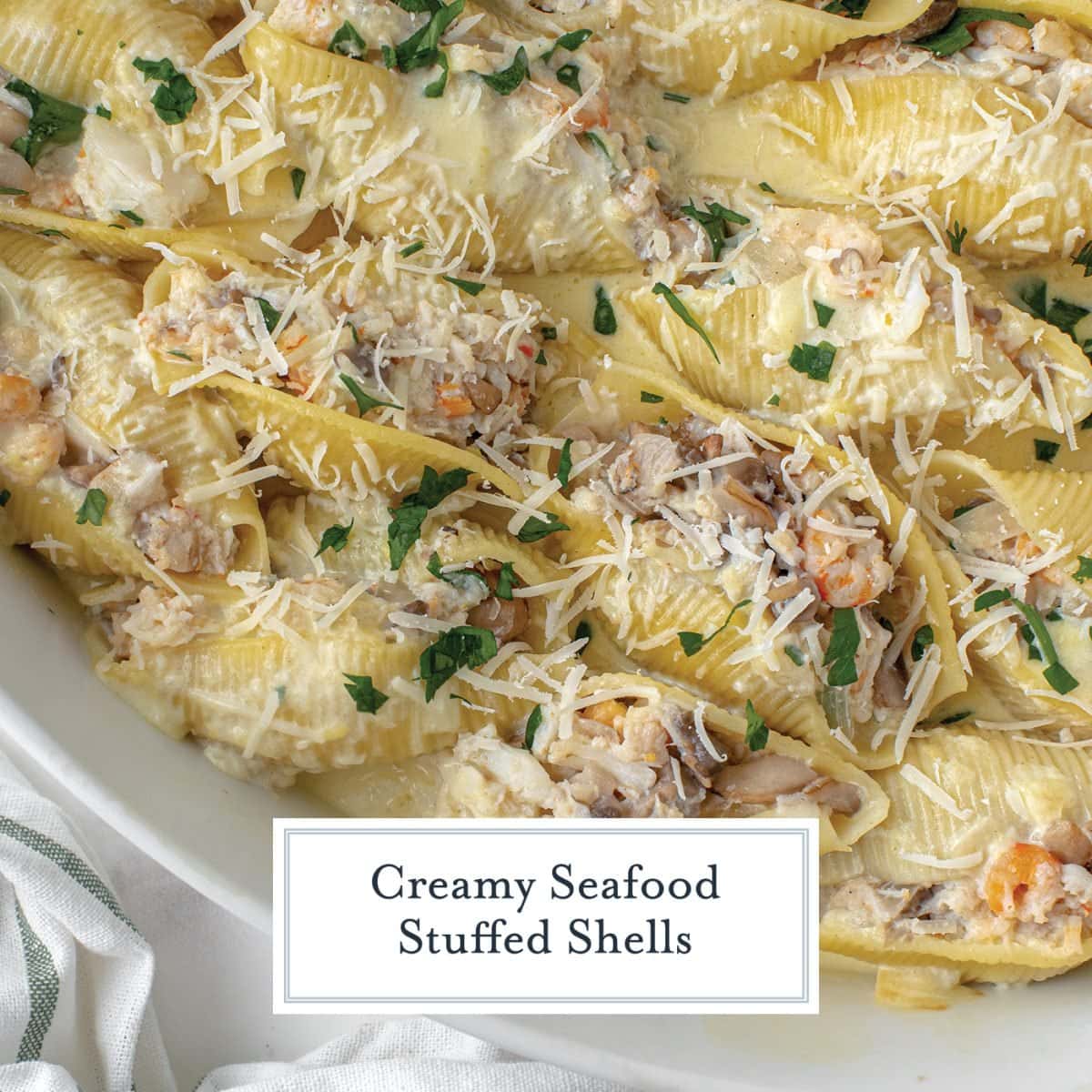 Stuffed Shells in a White Sauce
An American classic, stuffed shells, are traditionally prepared with ricotta and marinara sauce. My Seafood Stuffed Shells in a Sherry Cream Sauce take the classic entree up a few notches, making it fit for a special occasion.
Tender crab and shrimp are paired with mushrooms, onion and fresh flat leaf parsley, packed into jumbo shells and then smothered in a delicate sherry cream sauce. You can serve Seafood Stuffed Shells as an appetizer or entree.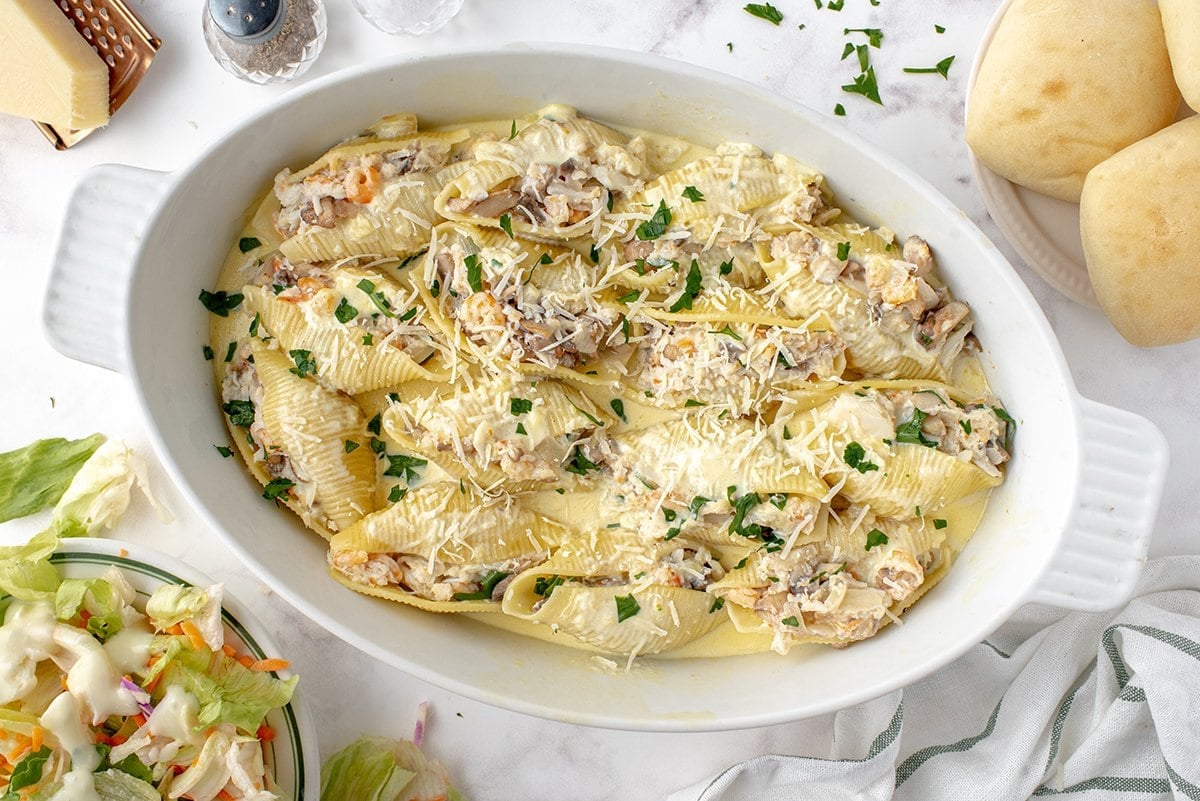 The Seafood
This dish is defined by being full of seafood, but that doesn't mean you need to break the bank. What you do need is about one pound of any combination of seafood.
Shrimp, crab, mussels, scallops, calamari or even clams- anything goes. Use fresh or frozen seafood, just aim for the total weight. And then, cut into small bite-size pieces.
Bay scallops and smaller size shrimp or even salad shrimp, are perfect for this recipe. Sometimes I'll even grab a frozen seafood medley package. Whatever you use, just make sure it is cooked and thawed before using.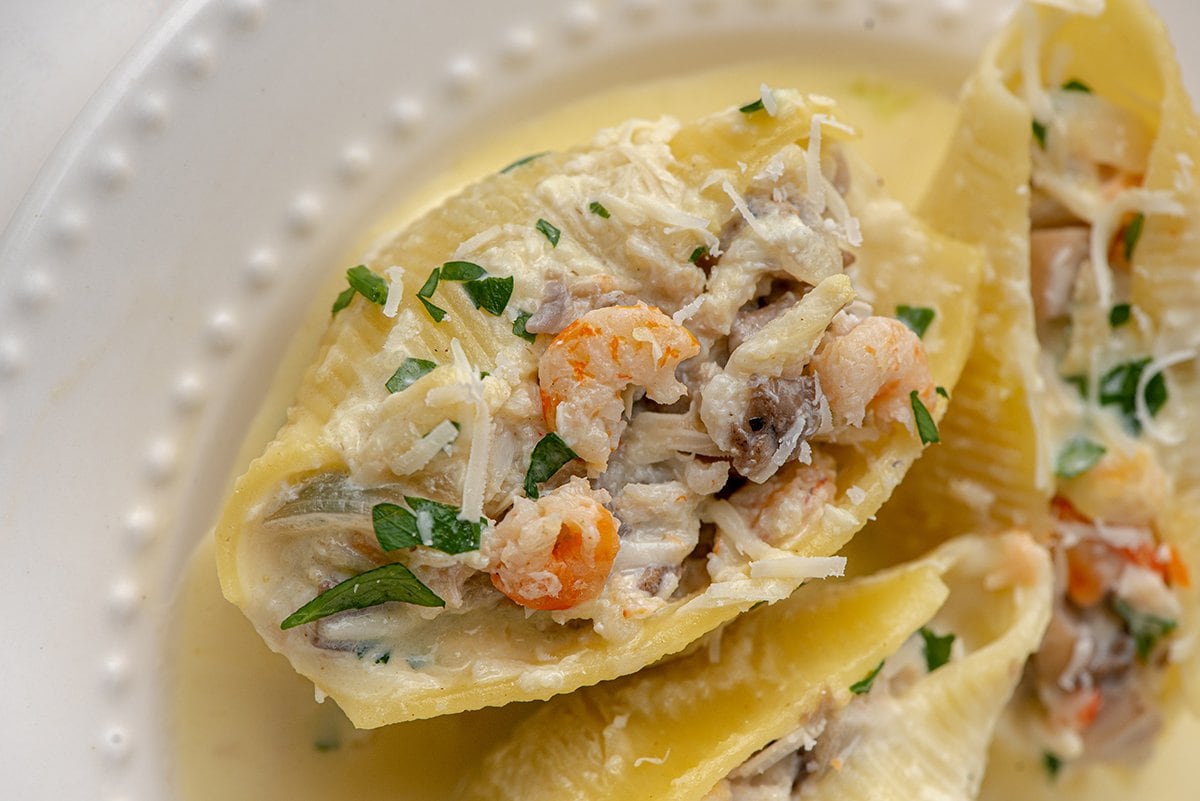 Ingredients
Jumbo Shells- Any stuffable or tubal pasta will work.
Unsalted Butter- using unsalted butter allows you to control the saltiness of the dish. If you use salted butter, omit additional salt in the sauce.
Mushrooms- The sauce has enough flavor that using a super heady mushroom isn't necessary. White or cremini mushrooms will do just fine, but if you really love a good shroom essence, grab oyster or porcinis.
White onion- I find white onion has the right level of flavor for this delicate cream sauce. Acceptable swaps would be shallots or yellow onion, which is a tad sweeter and more mild, either would tap down the flavor.
Flour- creates the roux base, helping the sauce thicken.
Skim milk & Half & Half– I specifically used different ratios and fat levels of milk, cream and half and half. I found the right consistency came with skim milk, the thinnest, and half & half, the middle road of creams. If you use a fuller fat milk, you might need to dial down the half and half and if you use cream, dial back the skim milk. This sauce should still be pourable, not gloppy.
White pepper & Sea Salt – White pepper helps the sauce stay a creamy white and also provides a softer peppery balance. I used coarse sea salt, if you use a finer grain, cut the amount in half.
Egg yolks– like so many famous sauces, egg yolks provide a golden richness and also thicken.
Sherry– The sherry gives this sauce interest- it's flavor is unique and utterly hard to describe. I would say it is slightly acidic with a bite, but also has floral notes.
Worcestershire sauce– one of the most commonly mispronounced words in the culinary world, it is also one of the most used ingredients to add depth to sauces.
Cooked seafood– as discussed above, any combination of cooked seafood works. For a fully vegetarian version, use all mushrooms.
Flat parsley– Sometimes known as Italian parley, it is easier to chew and gives more flavor than curly. Dried parsley has virtually zero flavor, so I really strive for fresh.
Fresh Parmesan cheese– skip the shaker kind and go for a nice, nutty and freshly grated Parmesan cheese or pecorino romano.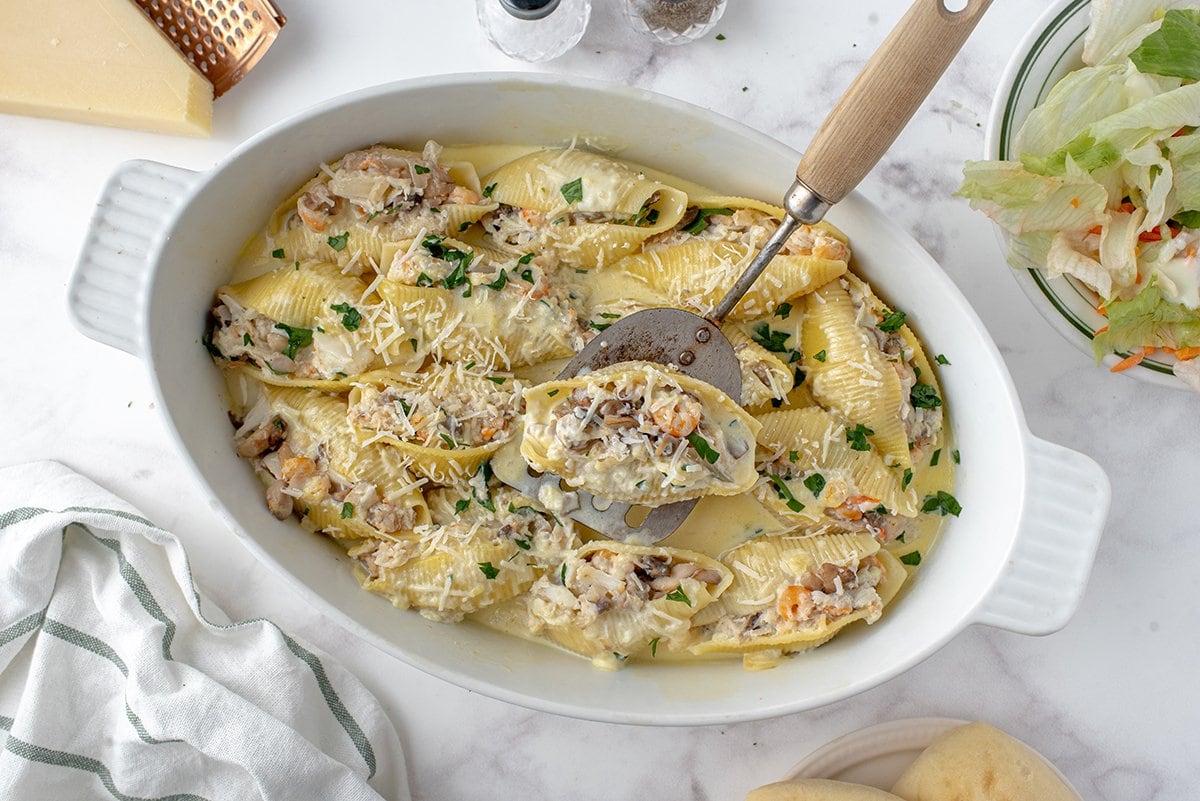 How to Make Seafood Shells
The trickiest thing about making these shells is tempering the sauce to thicken, but you'll easily get the hang of it!
Preheat the oven and prepare your baking or casserole dish.
Cook the shells according to package directions for al dente, but for 1 less minute. Since they will be cooking in the oven too, they need to be a little gummy and undercooked. To prevent them from drying out while you prepare the filling (unless you did the filling first), dampen a paper towel or tea towel and cover at room temperature.
To make the sauce, saute the onion and mushrooms in butter to soften, then remove with a slotted spoon leaving the butter behind. In the same saucepan, you'll be making a roux with the infused butter. Whisk in flour and remaining butter, thin with milk and season.
Now you'll temper the sauce which means to add raw eggs, but the trouble is that raw egg introduced to hot liquid will make scrambled eggs in a cream sauce. The key is movement, and lots of it. Also starting with a small amount so it is easier to manage. Ladle 1/2 cup of hot cream sauce to a small dish, while whisking, add the egg yolks until fully combined. Add this mixture back to the larger mixture.
Add intense flavors of Worcestershire sauce and sherry and set aside.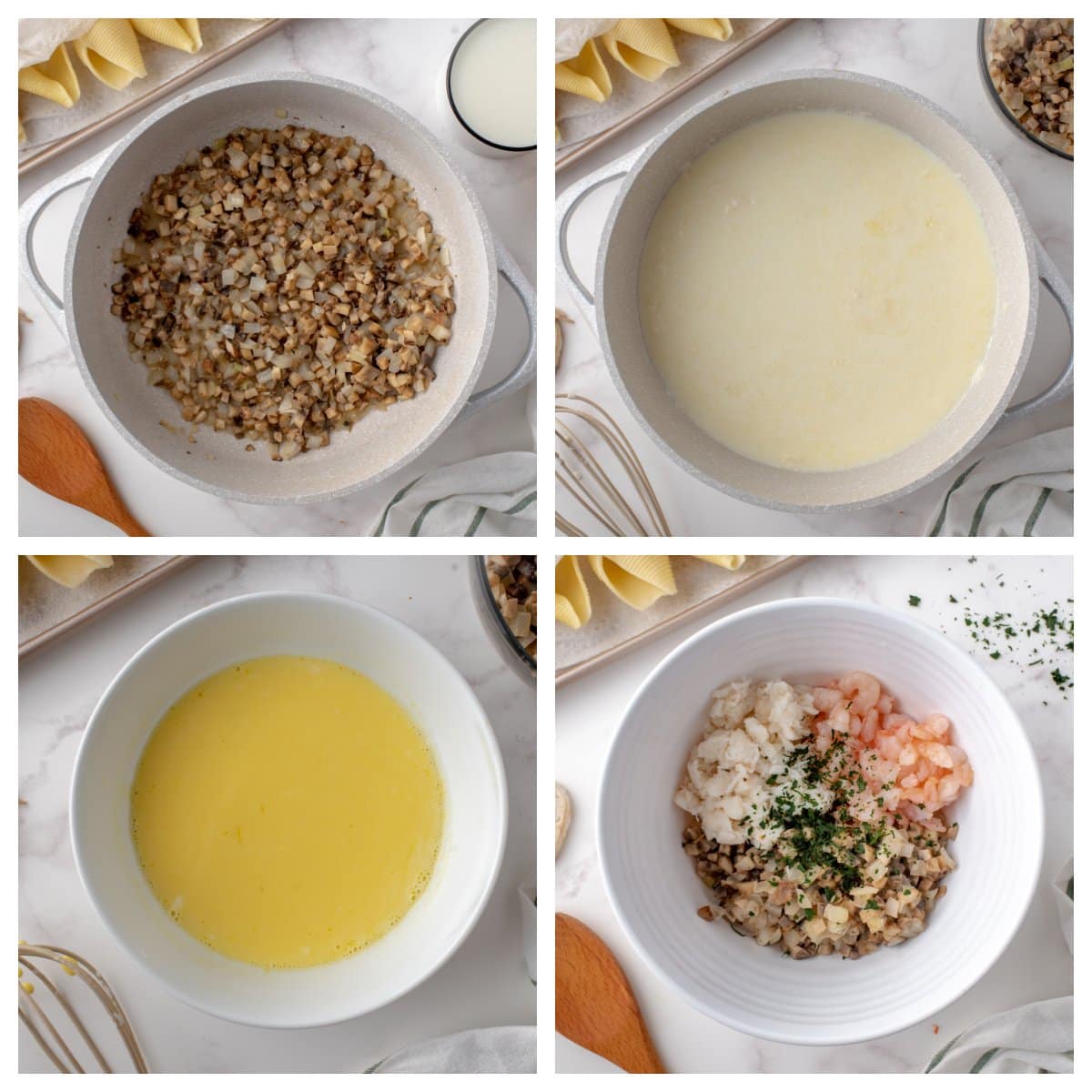 Combine the mushroom mixture, parsley, seafood and and a bit of the cream sauce. Use this to stuff the shells.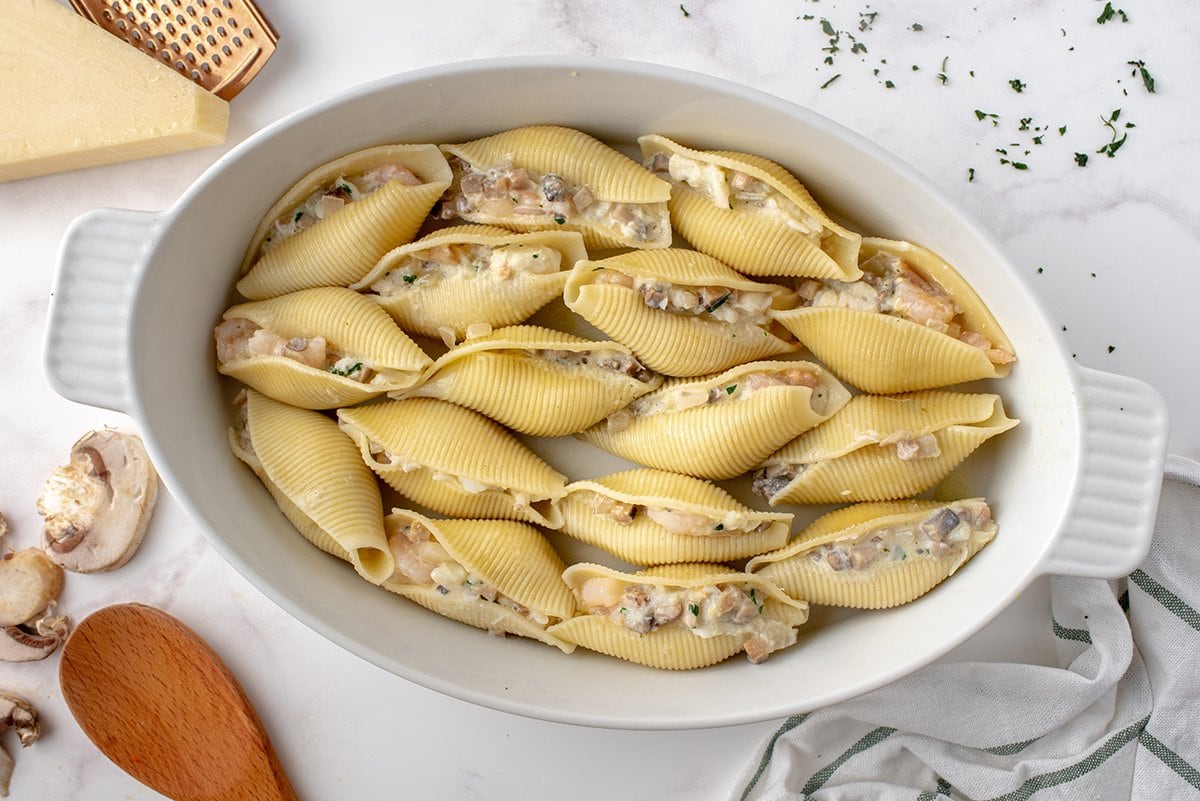 Ladle the remaining sauce over stuffed shells and top with the Parmesan cheese.
Bake until warmed through and cheese topping melts.
I usually put a little more fresh chopped parsley on top for garnish, but this is optional. Maldon sea salt, freshly cracked black pepper and even seafood seasoning are all great options too.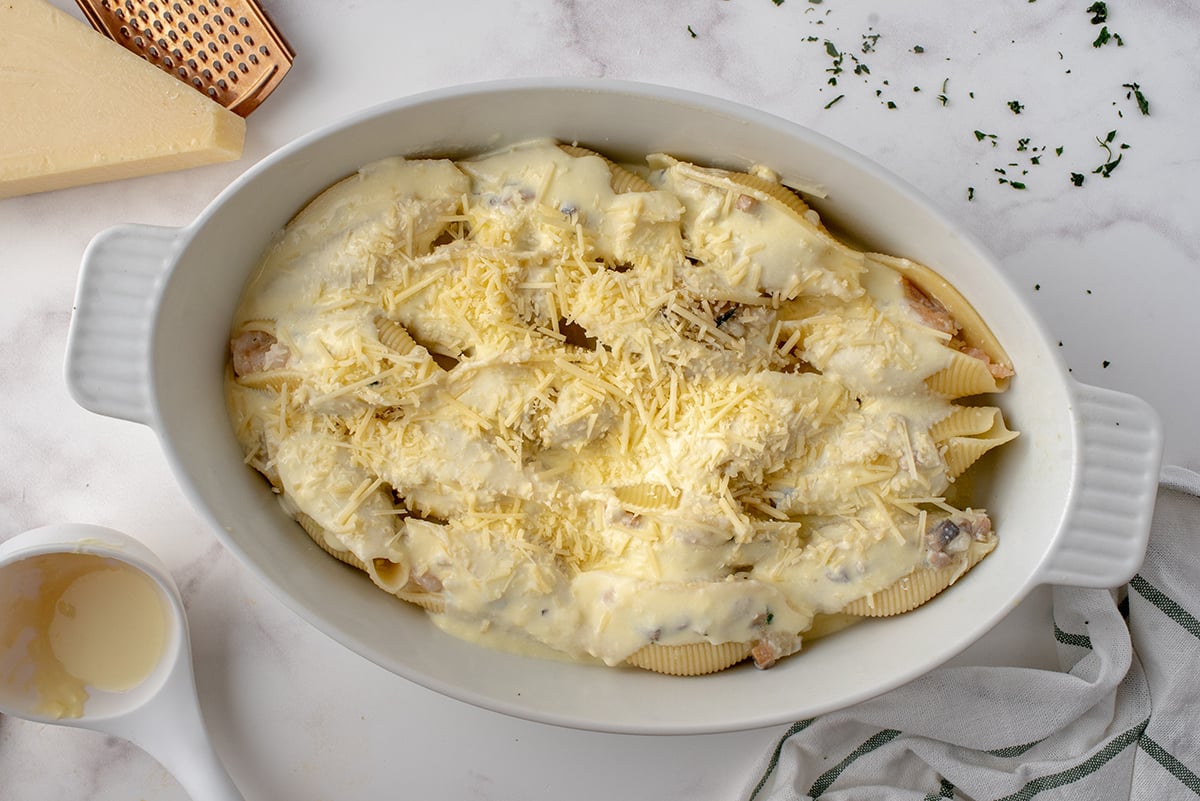 What to Serve it With
These stuffed shells can be served as an entree or side dish. As en entree, serve alongside a salad, garlic bread and something green like broccolini.
As a side dish, I love them as surf and turf with a nice steak like Grilled Fillet with Garlic Brandy Butter or Portobello Crusted Strip Steak.
How many stuffed shells should I make per person? This varies greatly. I eat 2, but hubby eats 4. Judge your crowd and plan ahead!
It also makes a difference if you are serving these as the main entree or in addition to a steak or some other main dish. Then you might only need 1- 2 per person.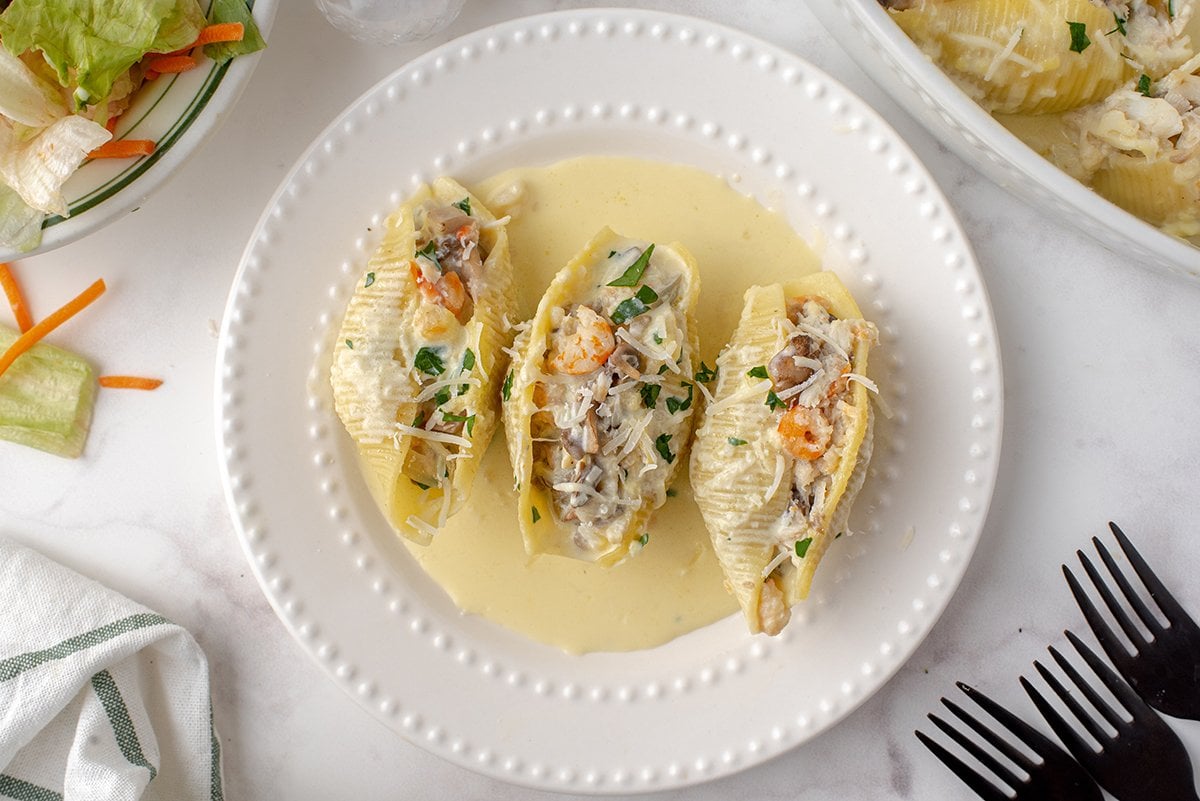 Make Ahead, Storage & Freezing
Can I make stuffed shells ahead of time? By all means YES! In fact that is one of the reasons I love this recipe, it begs to be prepared ahead of time. Simply pop it in the oven when you are ready to serve.
How long are stuffed shells good for in the fridge? Like most foods, if packaged properly, about 3-4 days. I would personally don't like to keep seafood past 2 days.
Can I freeze stuffed shells? You can! I would make them, including or excluding the sauce and then freeze them in an airtight container. They should last for up to 6 months.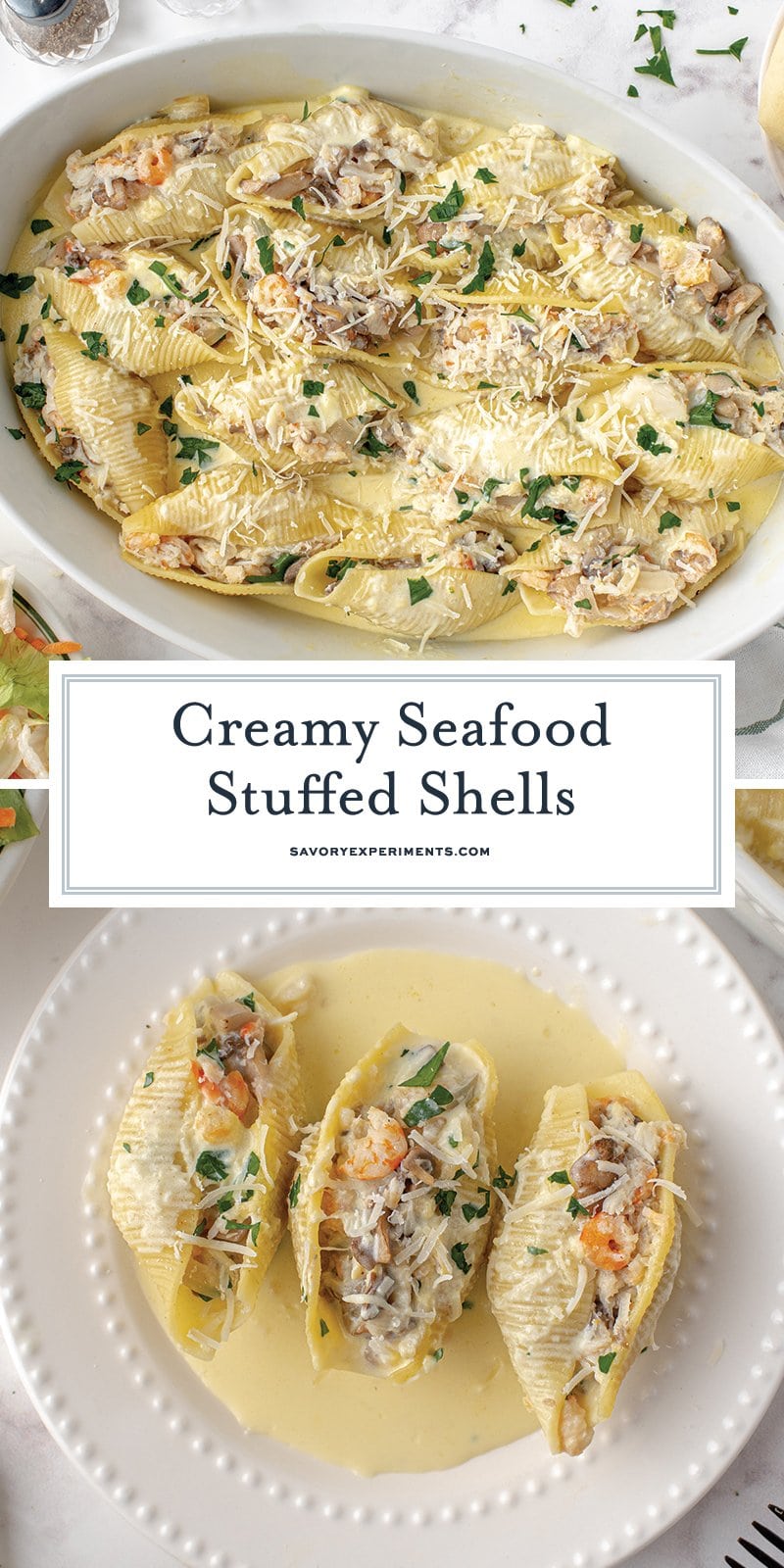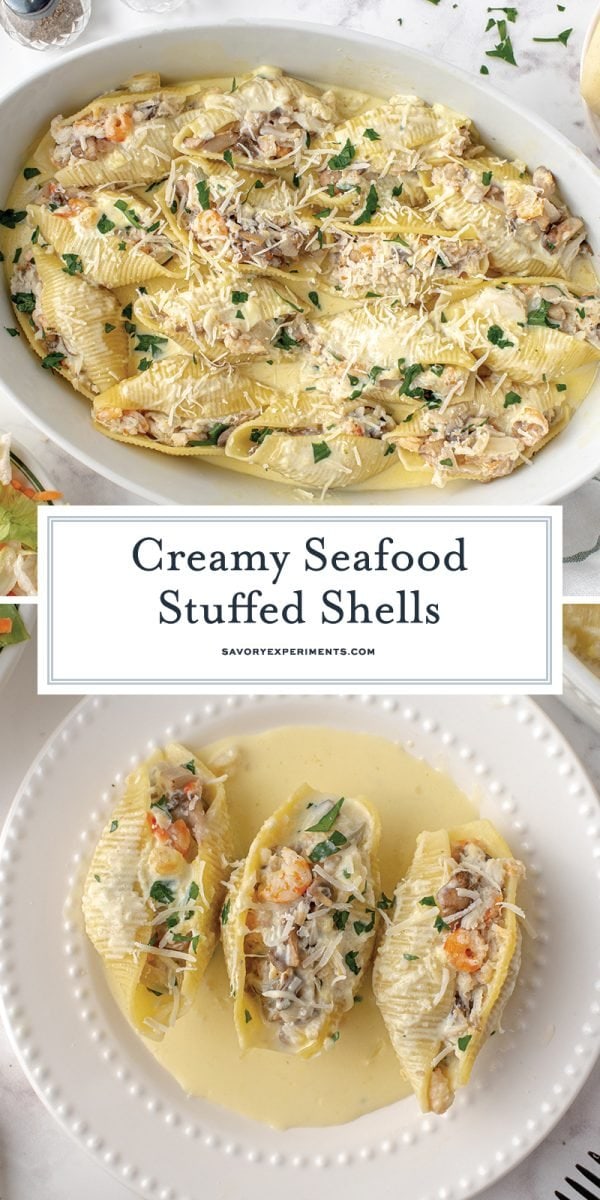 Squid Ink Pasta with White Wine Cream Sauce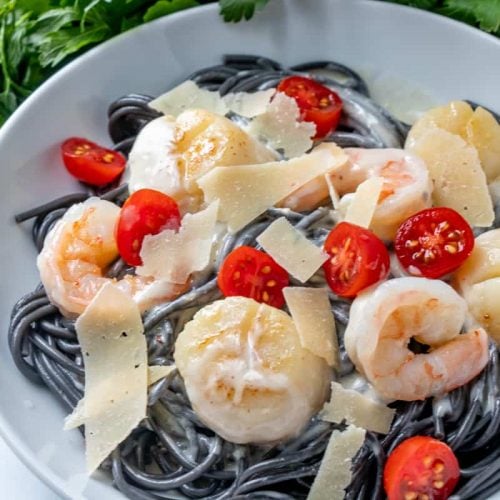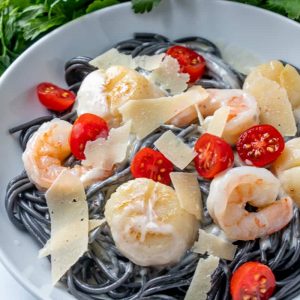 Squid Ink Pasta with White Wine Cream Sauce Recipe is an elegant dish that is easy to prepare. Wow, your diners with this striking dish.
Maryland Style Crab Cakes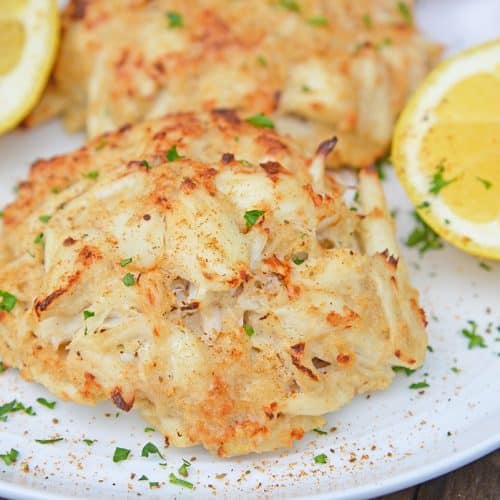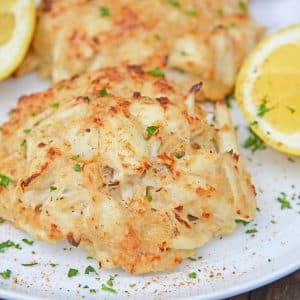 Maryland Crab Cakes are made with jumbo lump crab meat with little filler, Dijon mustard and Old Bay Seasoning plus secrets to making authentic Chesapeake crab cakes!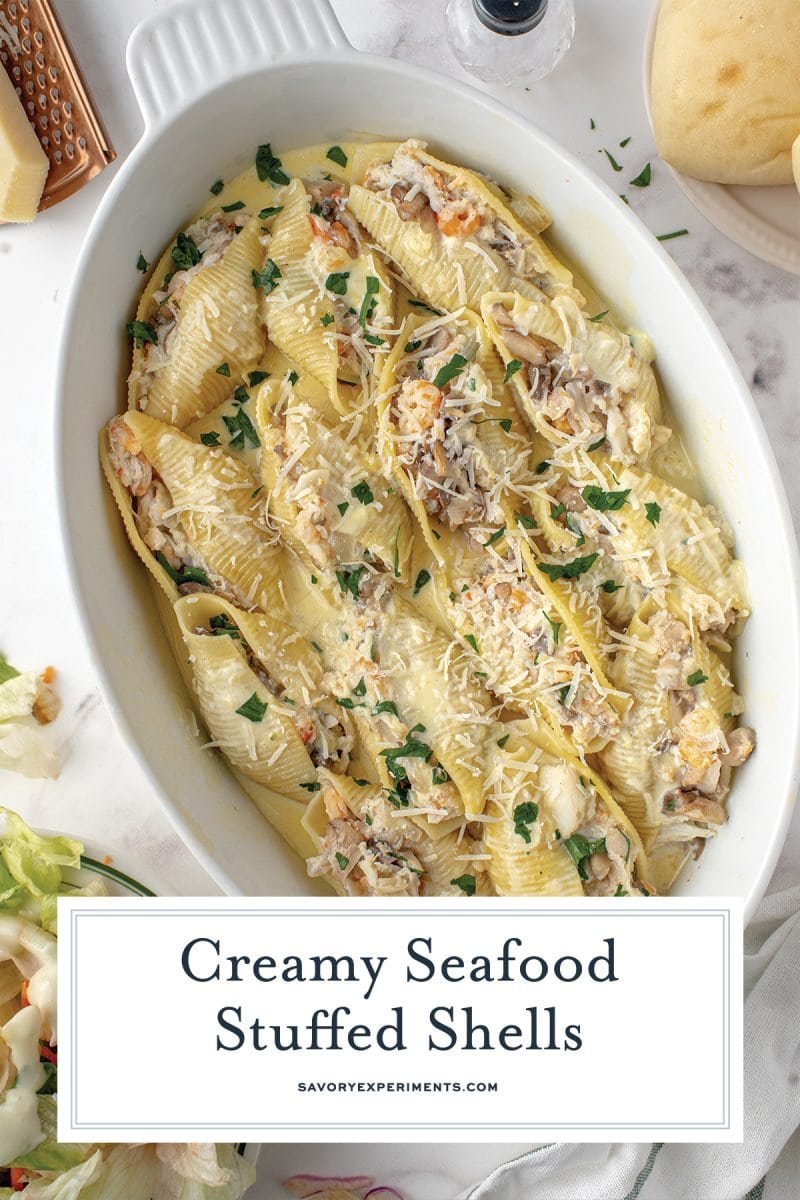 ---
---
Creamy Seafood Stuffed Shells
Pasta shells stuffed with a mixed seafood filling and topped with a sherry spiked cream sauce. Perfect for a fancy dinner, the holidays or just a random weeknight.
Instructions
Preheat the oven to 350°F and coat a baking or casserole dish with cooking spray.

Cook the shells according to package directions, but for 1 minute less than called for "al dente". Remove and drain on a paper towel lined baking sheet. Dampen 2 paper towels and place them on top of shells to keep them moist. Set aside.

Melt the butter in medium saucepan. Add the onion and mushrooms, saute for 5 minutes. Remove and set aside. Do not wipe out the saucepan.

Add the flour and whisk into the remaining butter to make a roux (paste). Blend until smooth and bubbly. Whisk in the milk, half and half, white pepper and salt. Simmer for an additional 5 minutes, whisking occasionally.

Ladle 1/2 cup of hot sauce to a small dish, while whisking, add the egg yolks. Whisk together fully and then slowly add to the rest of the sauce. Whisk again. Sauce will thicken.

Stir in the Worcestershire sauce and sherry. Remove from the heat and set aside.

In a mixing bowl, toss the cooked seafood with the mushroom mixture, parsley and 3/4 cup of the cream sauce. Stuff the mixture into shells. Arrange in the prepared casserole dish.

Ladle the remaining sauce over stuffed shells and top with the Parmesan cheese.

Bake for 10 minutes, or until cheese has melted.

If you've tried this recipe, make sure to come back and let us know how it was in the comments or ratings.
Nutrition
Calories:
141
kcal
|
Carbohydrates:
9
g
|
Protein:
8
g
|
Fat:
7
g
|
Saturated Fat:
4
g
|
Cholesterol:
77
mg
|
Sodium:
576
mg
|
Potassium:
184
mg
|
Sugar:
1
g
|
Vitamin A:
300
IU
|
Vitamin C:
3.1
mg
|
Calcium:
74
mg
|
Iron:
0.6
mg