There are few things better than cornbread in the morning with breakfast or as a side for dinner, but sometimes you don't have time to hit the store.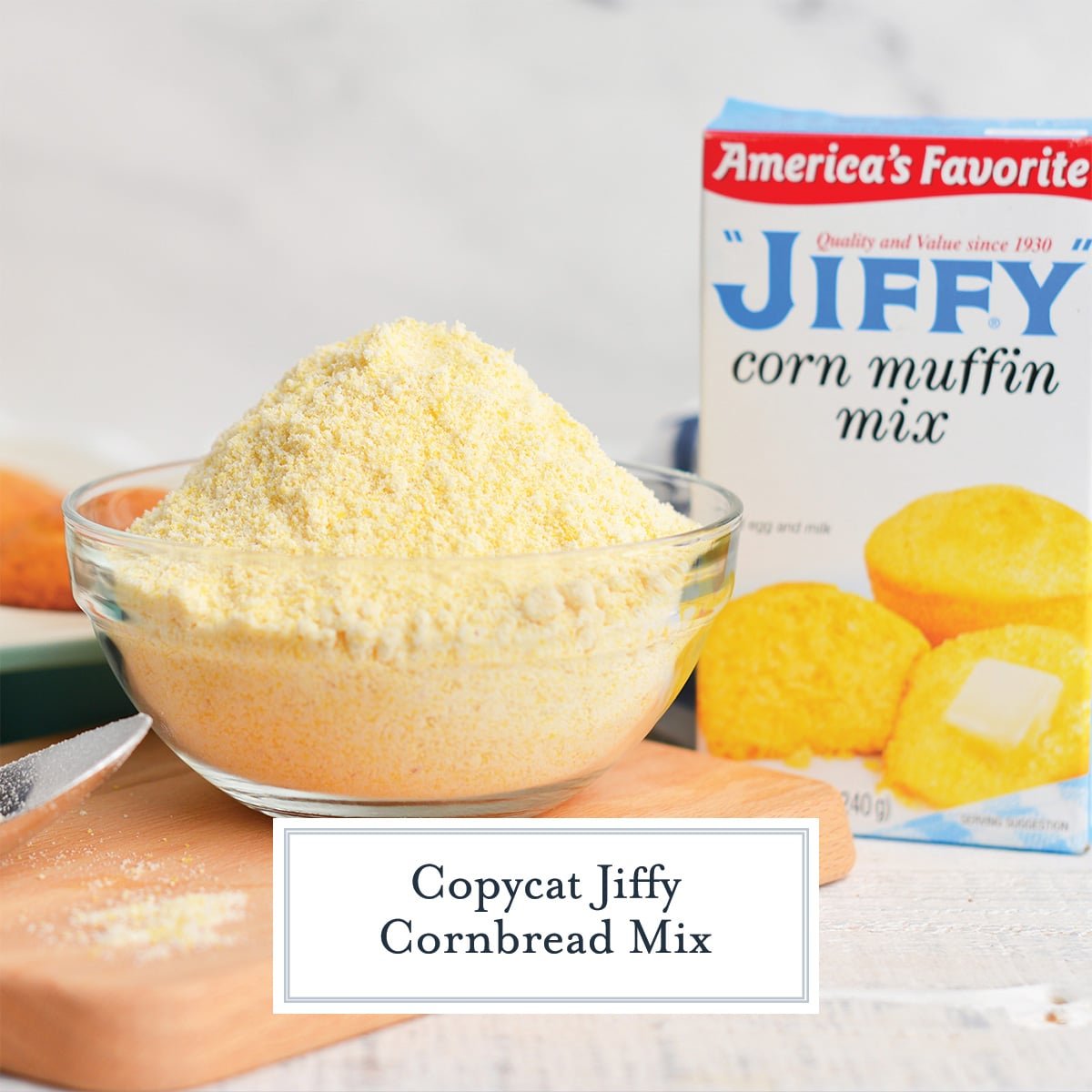 This Copycat Jiffy Cornbread Mix is perfect in a pinch. Use this recipe for any of the jiffy cornbread recipes (or muffins!)
Why you have to make this Jiffy Cornbread
I love cornbread! I like it all sorts of ways; with bacon, whole corn, tomatoes, cheese, chiles… just about anything. I don't discriminate between a cast iron skillet, casseroles or muffin pans as long as it gets from the pan to my mouth.
The basis for my cornbread is typically a box of Jiffy Cornbread Mix. Did you know that Jiffy has been making these convenient mixes since 1930? They have certainly stood the test of time and cornbread is one of the stars.
I'll be honest, there is no real incentive to making your own. The actual mix consists of real ingredients and is accessible on any budget. This recipe is more of a backup when I realize I am out and have no time to go to the store.
Make this mix and doctor it up as you see fit or leave it plain and garnish it with a pat of butter for a snack. Either way, you will be happy you have this recipe for Copycat Jiffy Cornbread Mix in your back pocket.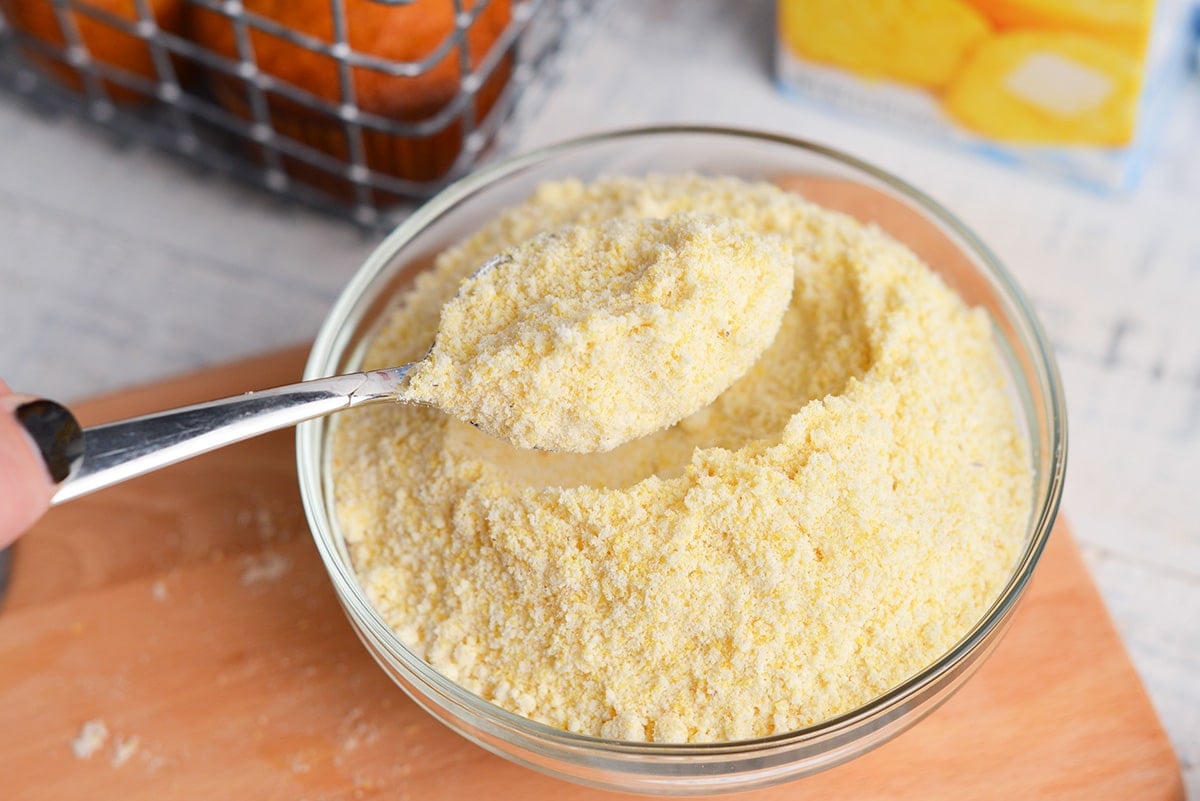 Jiffy Cornbread Recipe Ingredients
These basic ingredients are used to make the mix only. You will also need the wet ingredients to make
Flour – We need something to hold these muffins together, and all purpose flour will do just that. I would steer clear of whole wheat flour.
Yellow corn meal – You can't have a homemade cornbread mix without cornmeal! It gives it that delicious, grainy texture. The brand of cornmeal can make this mix different hues of yellow. White corn meal can also be used!
Sugar – Perfect for the sweet cornbread lover, this mix needs an element of sweet besides the corn.
Baking powder – This will act as our leavening agent and help to make this homemade version of a box of jiffy mix to achieve it's delicious grainy consistency.
Salt – To help balance out the flavors, we need just a touch of salt. I like to use fine sea salt.
To make this mix into actual cornbread or cornbread muffins, you'll need oil or butter and milk. Whole milk will give the richest and moistest results. Use a natural oil or a good quality butter. Bright yellow European butters will yield more golden muffins or bread (as pictured).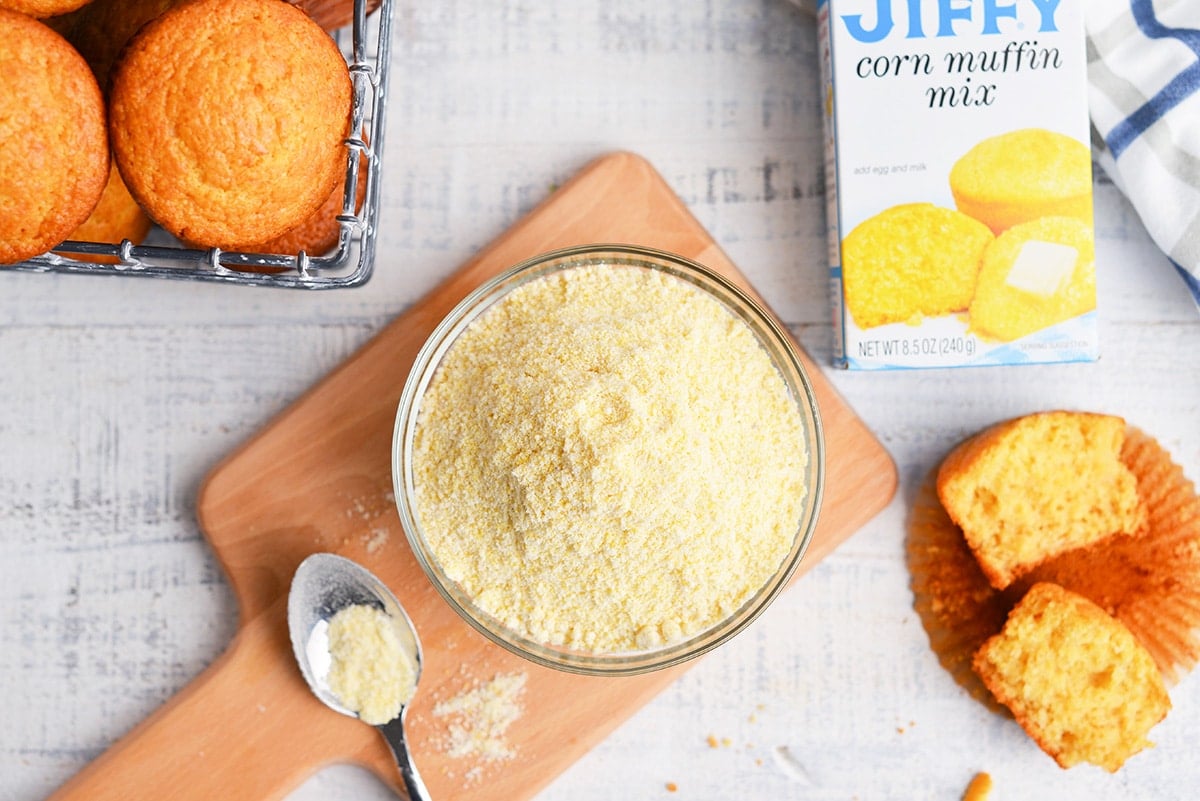 How to make Jiffy Corn Muffins
Remember, this homemade mix only consists of the dry ingredients. You will need to follow the steps below to make the actual corn bread.
Make batter. To dry mixture, add 2 tablespoons vegetable oil or melted butter, 1/3 cup milk and 1 egg. Mix well. For lumpier muffins, reduce milk to 1/4 cup.
Add to liners. Spoon into 6 lined muffin tins and bake. If tops start to brown, cover loosely with aluminum foil.
Or loaf pans. To make two mini loaves: Split batter between two ceramic loaf pans sprayed with non-stick spray.
Bake. Bake at 400°F for 15 minutes.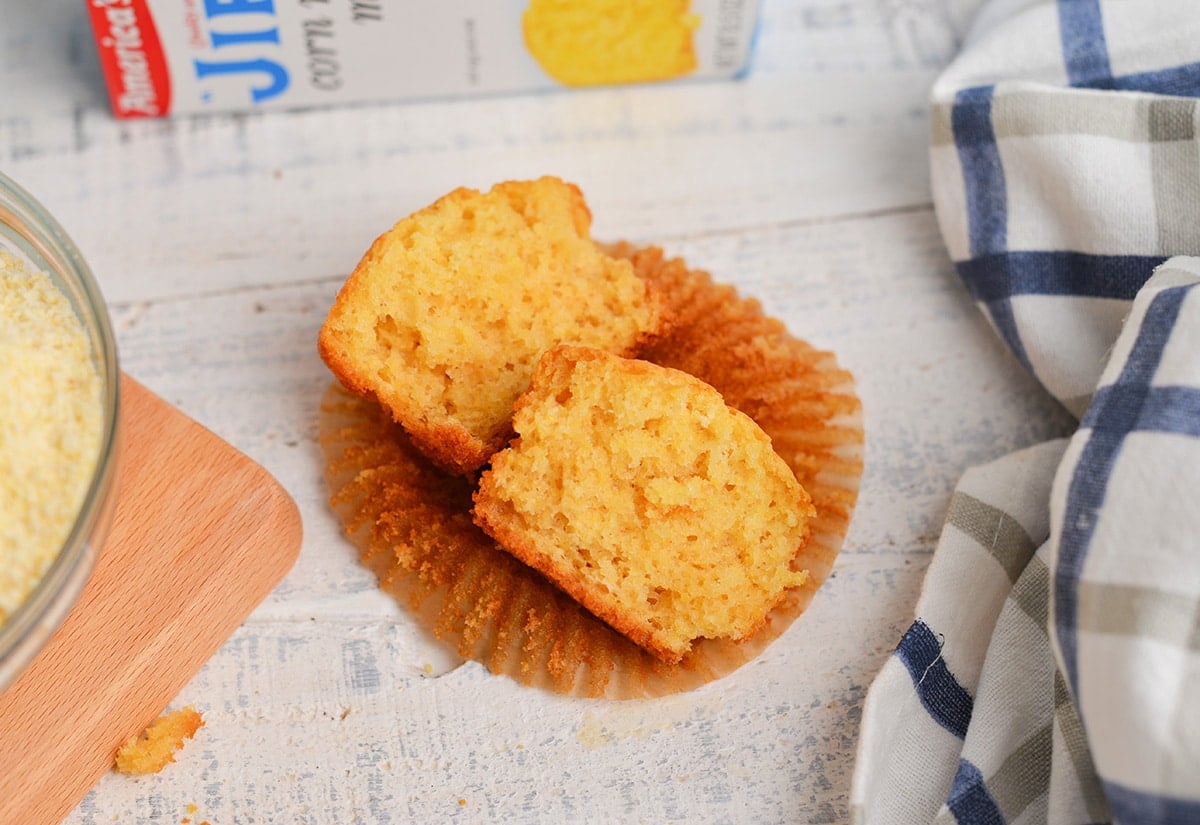 How to make Jiffy Corn Bread
The Jiffy cornbread recipe is just as simple, but only makes a small pan. Those boxes are tiny!
Prep. Preheat the oven to 400°F. Grease an 8×8 baking dish or 10-inch cast iron skillet.
Make Batter. Combine 1/3 vegetable oil or melted butter, 1/3 cup milk and 2 eggs with DOUBLE this recipe (or two boxes of Jiffy cornbread muffin mix). Mix until no dry spots remain- mixture will be a little lumpy, do not overmix.
Bake. Bake for 18 – 23 minutes or until golden brown.
Rest. Cool 10 minutes.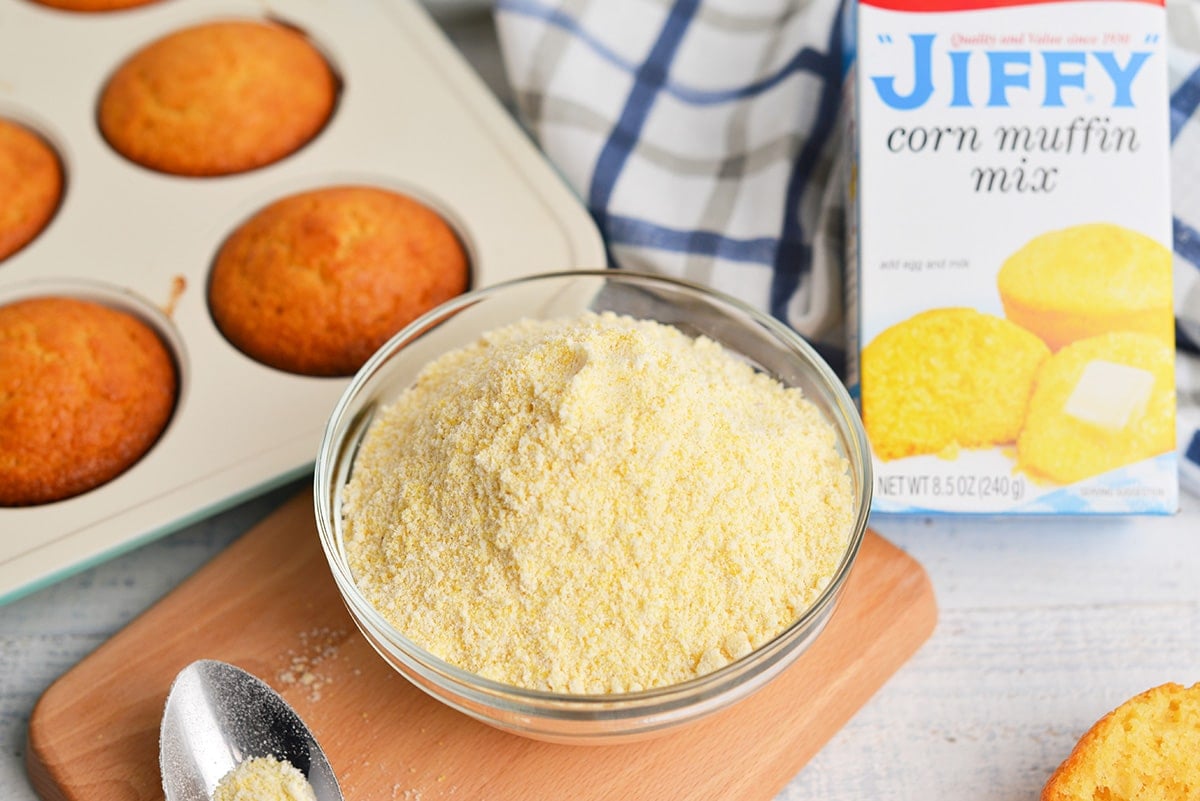 Corn Muffin Mix Variations
When making this delicious cornbread, try mixing things up to make it your own. The variations are endless and you can literally eat it daily and never have the same recipe twice. Below is a list of mix ins and extra ingredients to add to this easy recipe to spruce it up a little. Let us know what you added and how it was!
Cheese– Add 1/2 cup of shredded cheddar cheese, pepper jack cheese or other favorite cheese to the batter. If doubling for bread, add 1 cup. You can also sprinkle cheese directly on top of the muffins or bread.
Corn- Add 1/2 cup of sweet corn kernels to the batter for sweeter cornbread with little pops of freshness. Canned corn, frozen corn (thawed) or fresh corn works, just make sure it is drained and blotted dry to not add more moisture to the batter. Try roasted or grilled corn for even more depth of flavor.
Tang– Swap out the milk for buttermilk or half and half for richer bread with a tang.
Spicy– Try adding 1-2 tablespoons of chopped fresh jalapenos or jarred jalapenos. Other types of peppers that rank lower on the scoville scale work too. Think poblano, habanero or ghost peppers if you really want to sweat. Swap out 2 tablespoons of milk for the juice in a jar of jalapenos.
Bacon– Nothings pairs better than chewy, salty little bits of bacon. Use 1/2 cup in the batter to jazz it up.
Plain Greek yogurt – This can be whipped into the actual batter for a creamier bread or dolloped on top just like sour cream. Add 1-2 tablespoons to the batter.
Sour cream – A southern staple and classic, add a dollop on top of your slice.
Syrup– Looking for a sweet cornbread? Try adding 1-2 tablespoons of pure maple syrup, honey or agave nectar to the batter. You can also drizzle or baste this on top after it comes out of the oven. Kind of like a simple syrup basting onto butter cake. For sweet and spicy, try hot honey.
Fruit- Yep- no one ever thinks of adding fruit, but it tastes fantastic! Apples and peaches are my favorites, add 1/4-1/2 cup of finely chopped fruit to the batter. For peaches, try to drain out as much of the liquid as possible.
Scallions– Add fresh oniony flavor will 2 tablespoons of chopped scallions right in the mix.
Fresh herbs– Chop up a few from the garden and add them in! Sage, thyme, rosemary, dill, cilantro and parsley all work.
Green chiles – A little Tex-Mex style cornbread is fantastic too. Add 2-3 tablespoons of chopped green chiles. If using from a can, drain well.
Bell Pepper– Fresh bell pepper or roasted red pepper are options.
Olives – Chop up 1 tablespoon of olives for a briny bread.
Chile powder- Add 1 teaspoon of ancho chile powder or any other type, or a blend like chili powder to the batter. Dust on top for fun presentation.
Pickles– For those pickle lovers out there, add 1-2 tablespoons of chopped pickles and swap 2 tablespoons of milk for pickle juice.
Ranch Style– Add one packet of dry ranch seasoning.
Baste– While the muffins are still hot, baste with maple butter, molasses butter or honey butter.
Flavored Butters– Swap out the basic butter for compound butter for a wide array of savory options. These can also be served on the side.
Make it a Meal- Top a slice with a scoop of marinara sauce.
Salsa– Add 1/4 cup of chunky salsa to the batter or spoon on top before serving.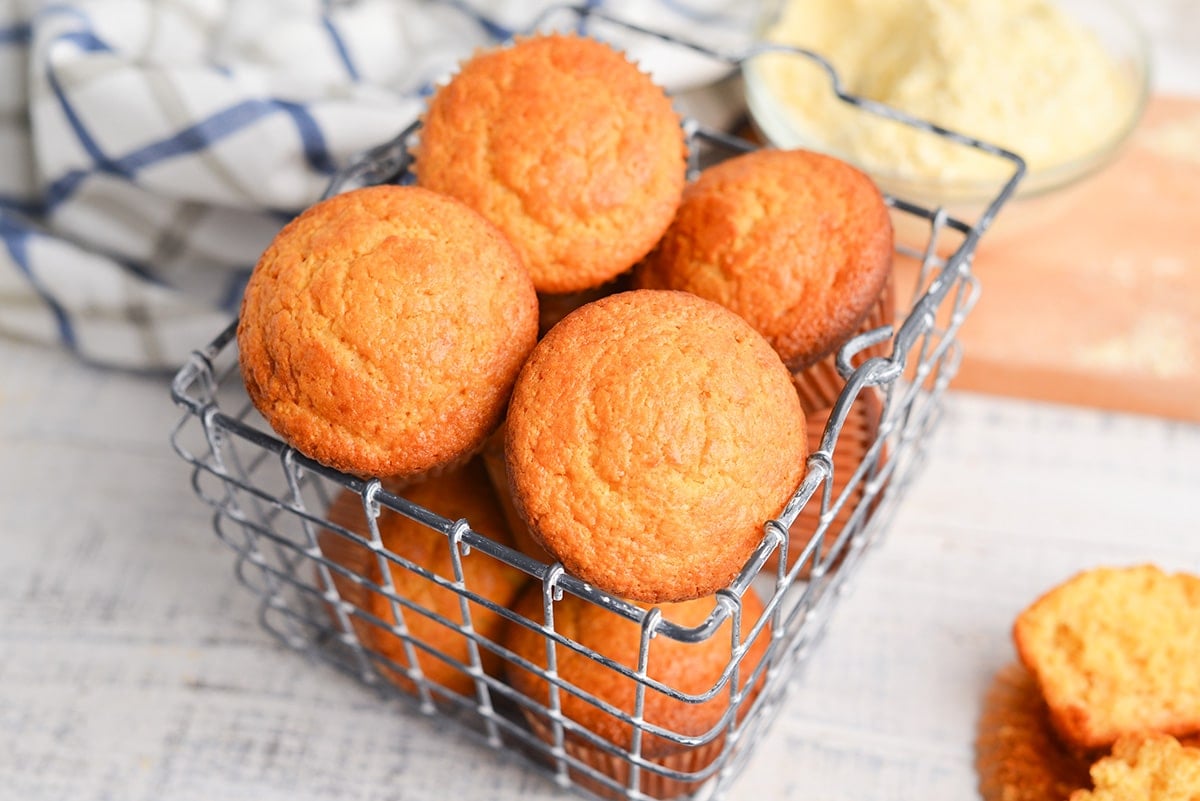 What to serve with Jiffy Cornbread
A lot of people serve this easy peasy recipe as a great side dish alongside a bowl of chili. However, it tastes great with breakfast or all on its own too. Here are my favorite serving suggestions.
Soups and stews are an obvious choice. Cabbage soup, broccoli cheddar soup and chicken noodle soup are among my favorites. As is white chicken chili and Skyline Chili, although it typically is served with white bread and not cornbread.
But it can also pair nicely with nearly any meal like our famous Marry Me Chicken, Mississippi Pot Roast or Baked Chicken Thighs.
Sometimes I make the cornbread the entree and serve it with several other sides. Creamed onions, broccolini and creamed spinach are favorites. Of course, alongside a salad.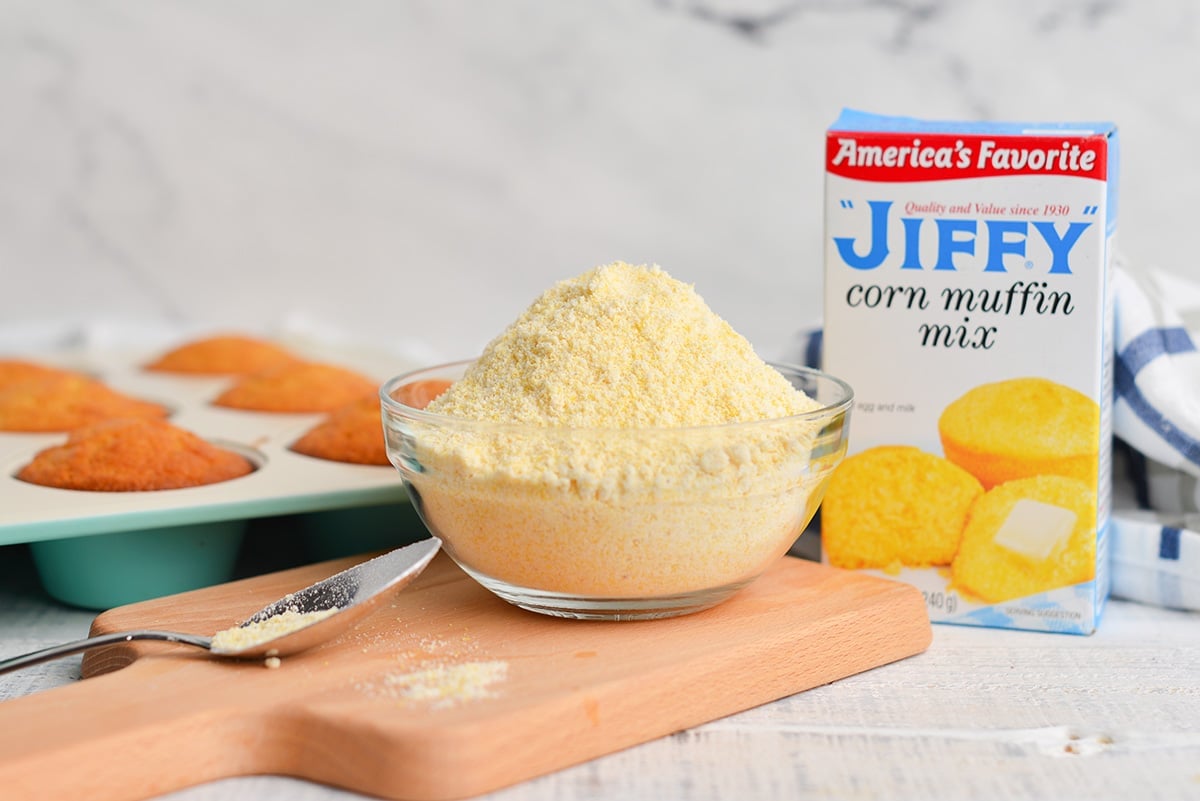 Storing Jiffy Corn Muffin Mix
Storage: This mix will be shelf stable for up to a year. Store in an airtight container at room temperature until you are ready to make the cornbread. Cooked into bread or muffins, store in an airtight container or plastic bag at room temperature for up to 3 days. Wrap in a damp paper towel and reheat in the microwave for 10-15 seconds at 50% power.
Freezing: You can also store this mix in the freezer. This helps to preserve the flavor longer. Place into a plastic freezer bag, squeezing as much air out as possible and then freeze for up to a year.
How to store Jiffy Corn Bread
Cornbread can be stored in an airtight container or plastic bag at room temperature for up to 2 days. It can also be stored in the refrigerator for up to a week.
I highly suggest wrapping it in a damp paper towel and microwaving for 10-15 seconds to reactivate the gluten before eating.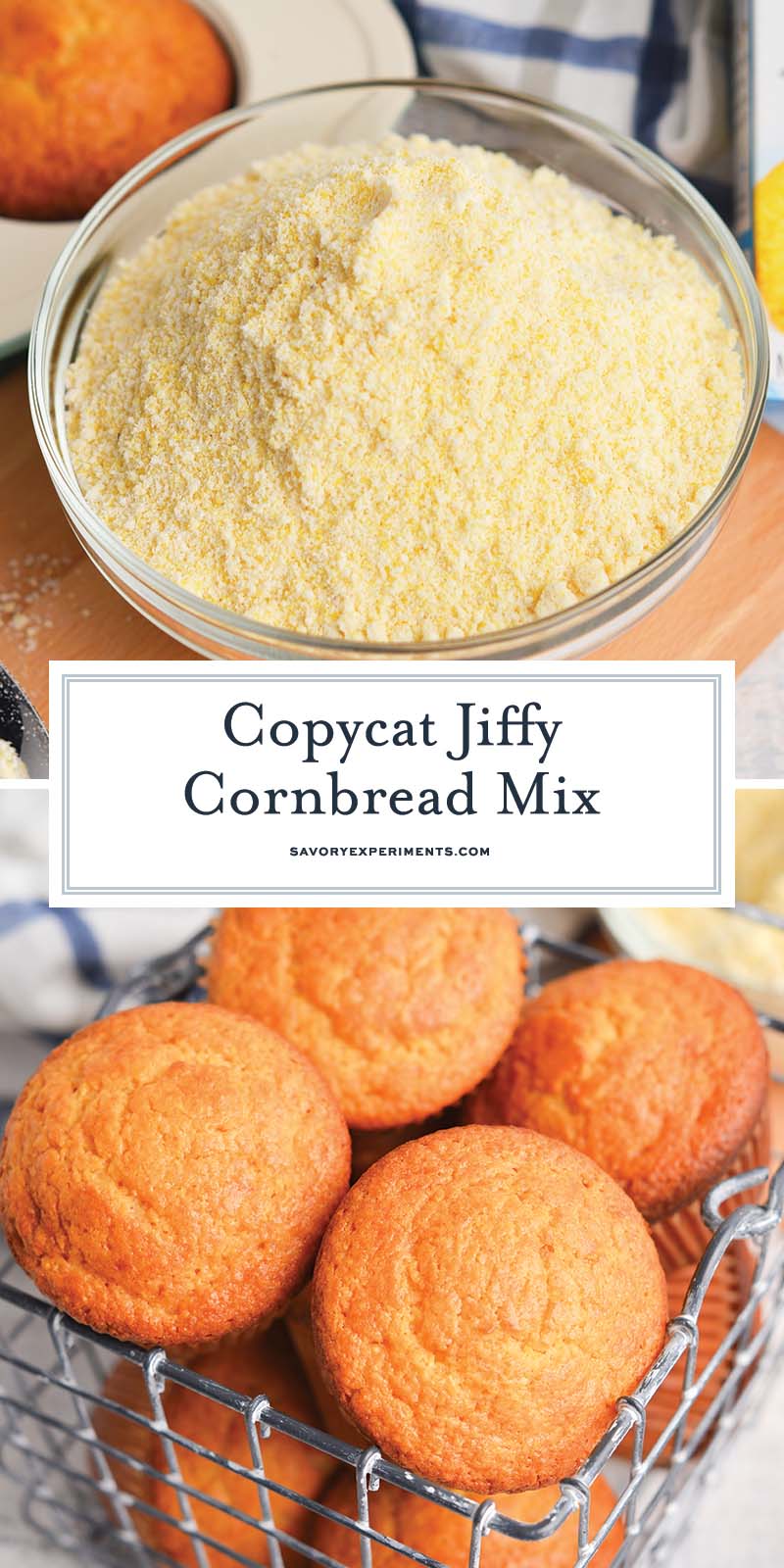 Jiffy Cornbread Mix FAQs
What is the secret to moist cornbread?
Using enough liquid and also something with a little fat will help cornbread stay moist. And of course, not overcooking.
Why does my jiffy mix cornbread fall apart?
It is likely there isn't enough binder or it was overcooked and dried out. The recipe on the box is meant to be crumbly. If you want a more bread-like cornbread, add 1-2 tablespoons of sour cream, plain greek yogurt or even ¼ cup of freshly shredded cheese.
More Cornbread Recipes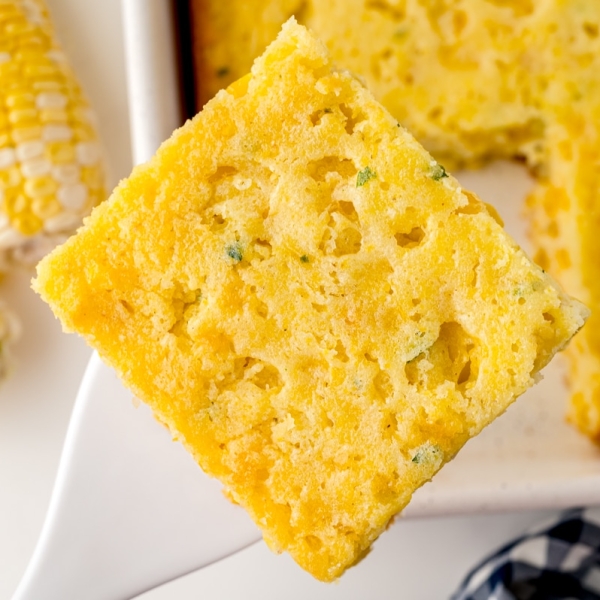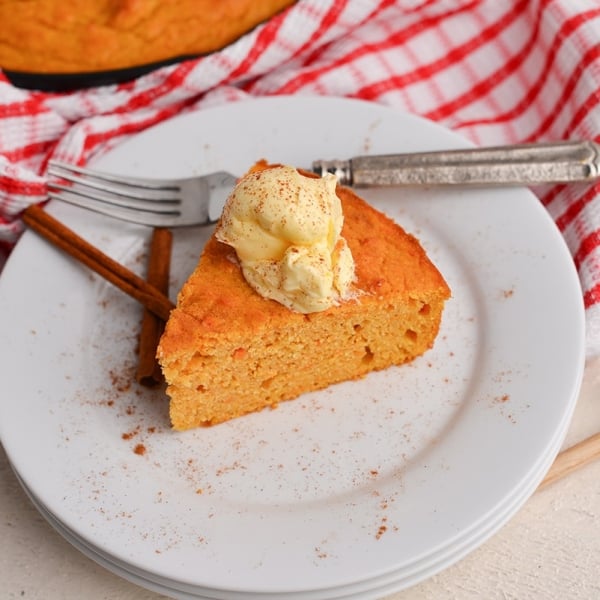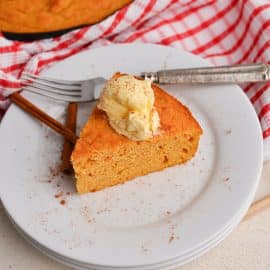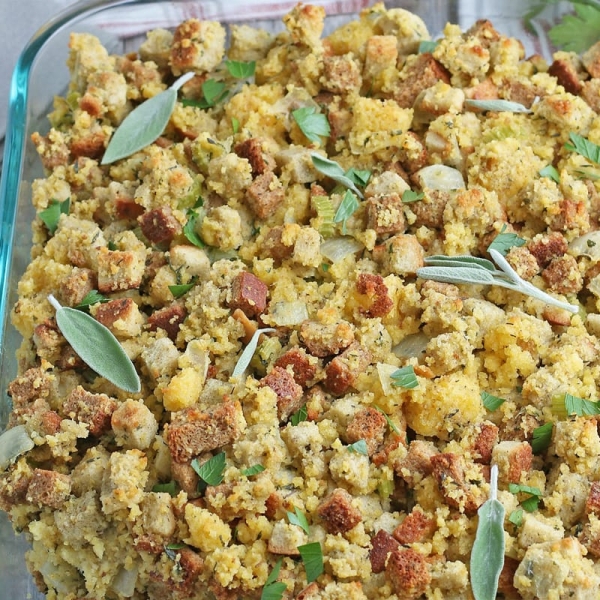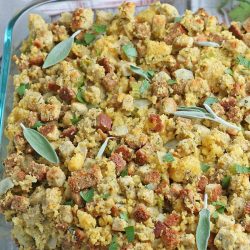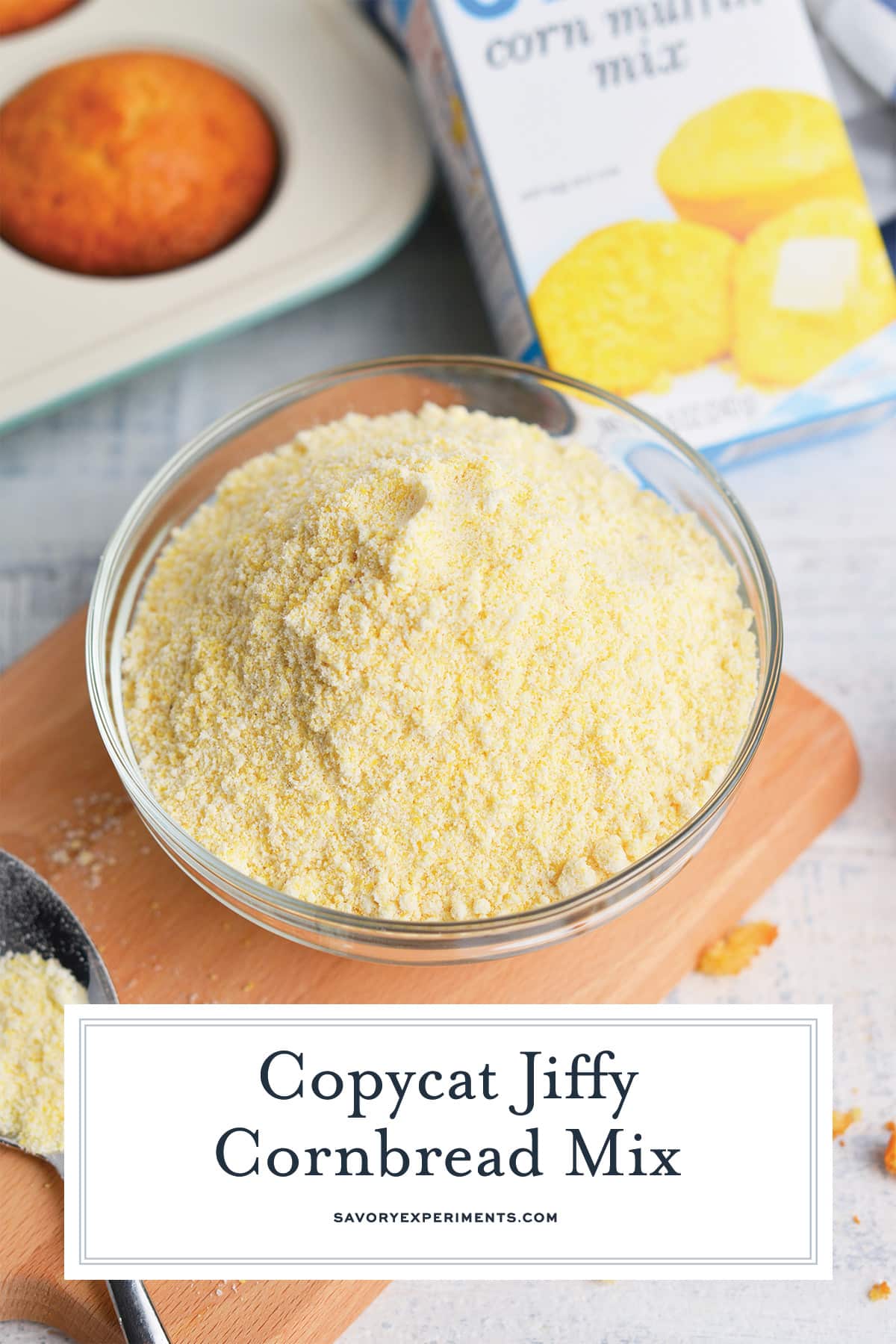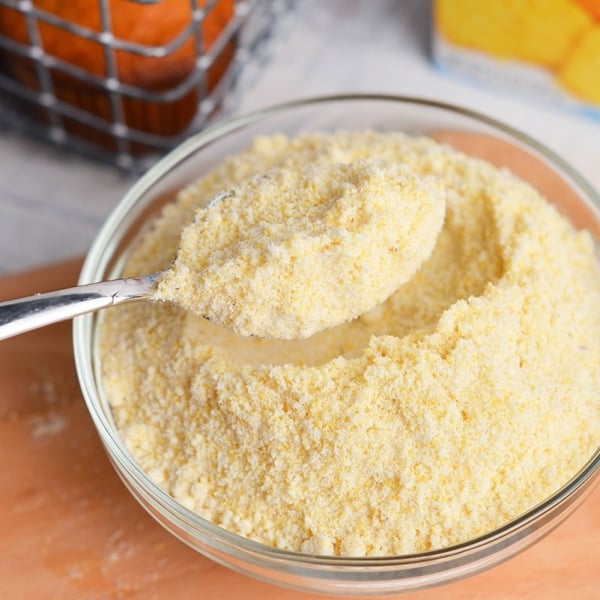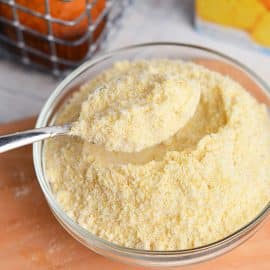 Copycat Jiffy Corn Bread Muffin Mix
Makes the equivalent of an 8-ounce box of Jiffy Cornbread Muffin Mix. Use for 6 muffins or double for a batch of cornbread. See all the variations!
Instructions
Sift or whisk together together the flour, cornmeal, sugar, baking powder and salt. Store in a plastic airtight container, make into muffins or into bread. See notes/post for cooking instructions.

If you've tried this recipe, come back and let us know how it was in the comments or star ratings.
Notes
To make muffins, add 2 tablespoons vegetable oil or melted butter, 1/3 cup milk and 1 egg. Mix well. For lumpier muffins, reduce milk to 1/4 cup.
Variations: Add 1/2 cup shredded cheese, corn, green chiles, jalapenos bacon or tomatoes.
Spoon into 6 lined muffin tins and bake for 15-20 minutes at 400 degrees. If tops start to brown, cover loosely with aluminum foil.
To make two mini loaves: Split batter between two 5×3" ceramic loaf pans sprayed with non-stick spray. Bake for 20 minutes at 400 degrees. Tested and image submitted by one of our readers, Penny. Thank you!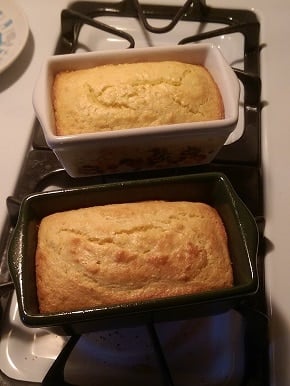 Nutrition
Calories:
63
kcal
,
Carbohydrates:
13
g
,
Protein:
1
g
,
Sodium:
49
mg
,
Potassium:
129
mg
,
Sugar:
3
g
,
Calcium:
44
mg
,
Iron:
0.6
mg