When you want a dish that you can set and forget, the slow cooker is your best friend. This Crock Pot Apple Balsamic Chicken recipe is simple, tasty, and sure to wow.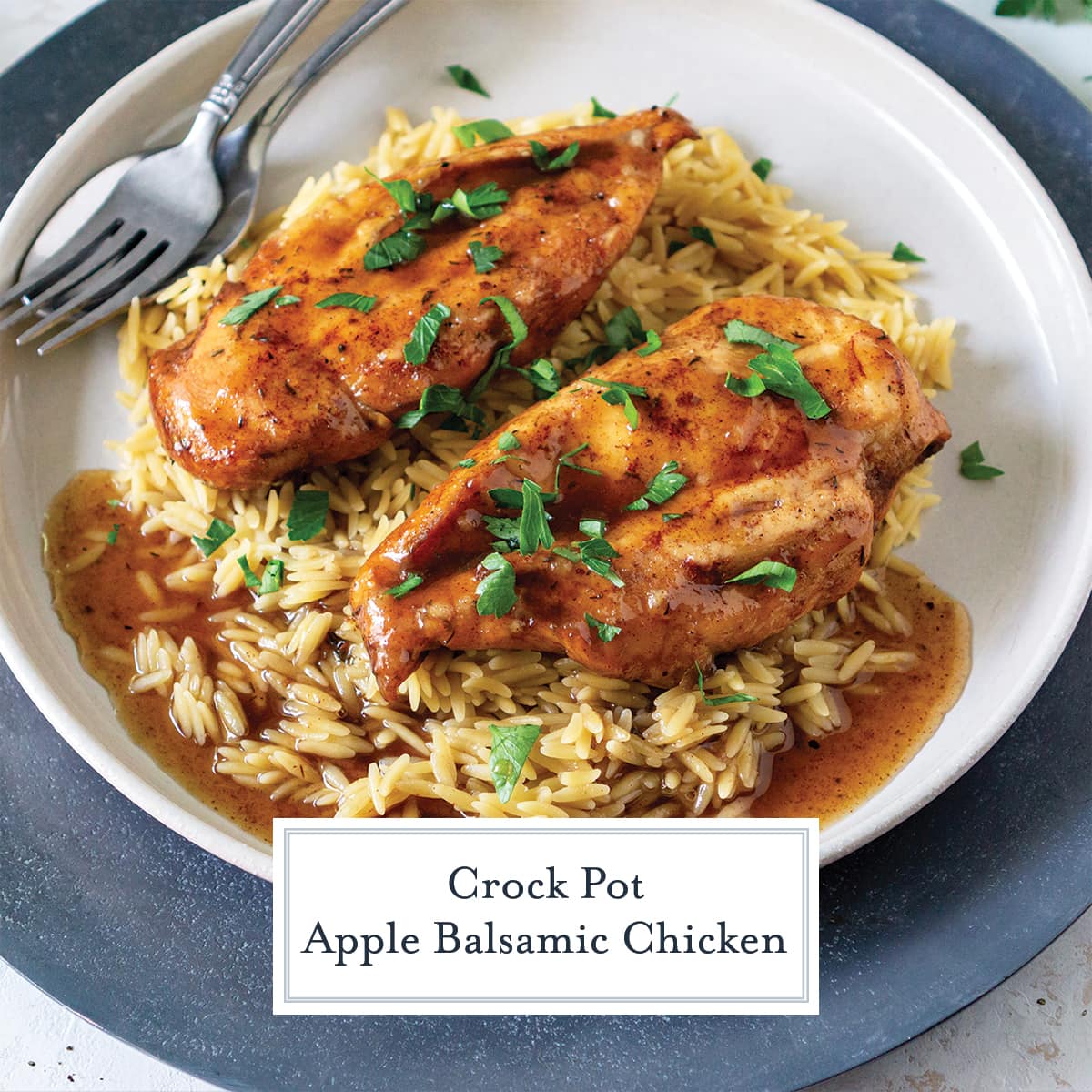 Chicken Recipes in the Crock Pot
Everyone is saying "'tis the season for slow cookers." But is there really not a season for them? In the warmer months, using a crock pot can keep your kitchen cool not having to turn on the stove or oven. Somehow, winter months became the season of the slow cooker.
Whether you are trying to keep the kitchen cool or simply don't want to make it a big production of dinner, this one device makes your time in the kitchen a breeze. Making chicken recipes in the slow cooker is one of the most popular.
Crockpot Chicken Marbella and Balsamic Chicken Pasta top my list! But so does this magical creation…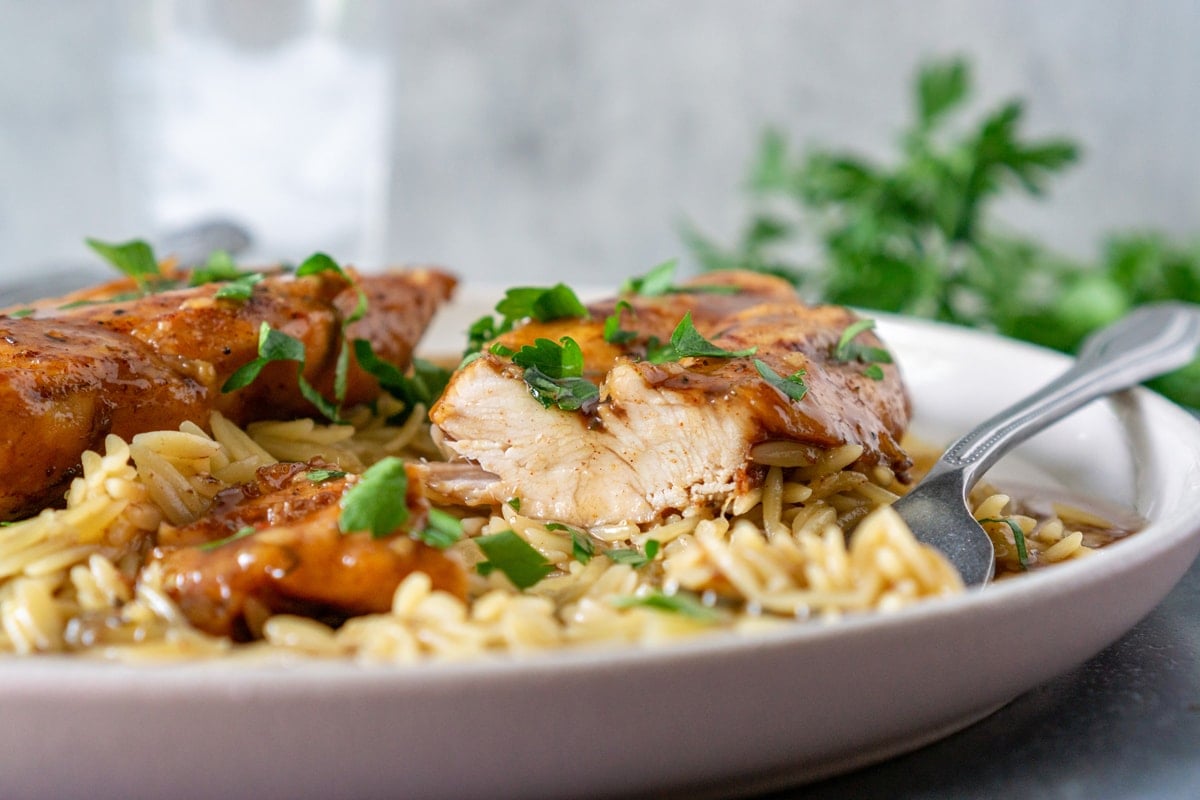 It keeps the meat tender and juicy by essentially braising it in liquid at a low and slow temperature. All the folks that are afraid if undercooking chicken are flocking, seriously. This recipe comes out so tender that you won't need knife and might even struggle to get breasts out of the pot on and on to a plate without breaking.
More Flavor in the Slow Cooker
The only downfall to slow cooker cooking is that sauces don't have the chance to reduce or thicken. It keeps the steam tightly held inside, which aids in cooking, but doesn't allow more complex flavors to develop either.
So your options are to reduce the sauce manually at the end. But this defeats the purpose of using a slow cooker and not making a mess or heating other items in the kitchen.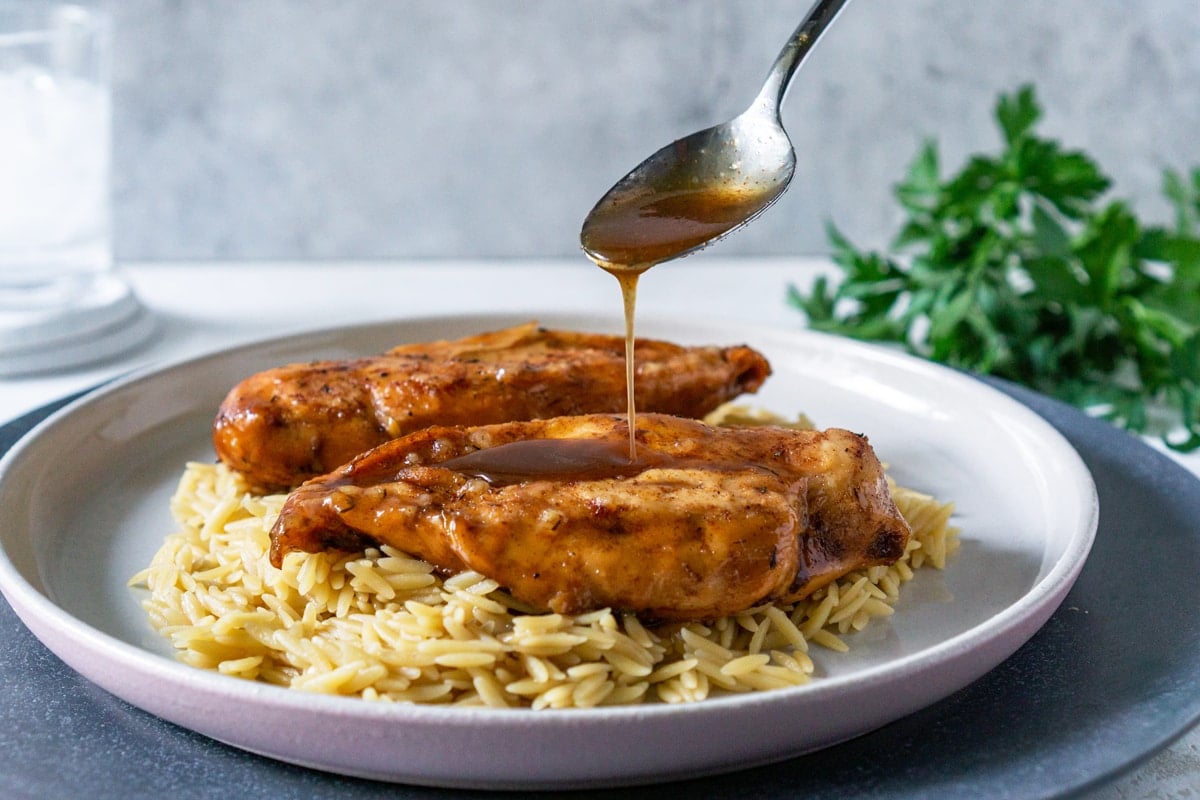 Thickening the sauce using cornstarch, arrowroot or other flours.
Correcting the seasoning, which just means to taste it and see if it needs more pepper or salt. Many times these flavors can become muted in the slow cooker and also after sitting in the fridge (leftovers).
Ingredients
This recipe is a little different than most crock pot balsamic chicken recipes because it also uses apple jelly. Yep, you read that right. Other incorporate brown sugar or white sugar, but using a jelly impart flavor and provides sweetness.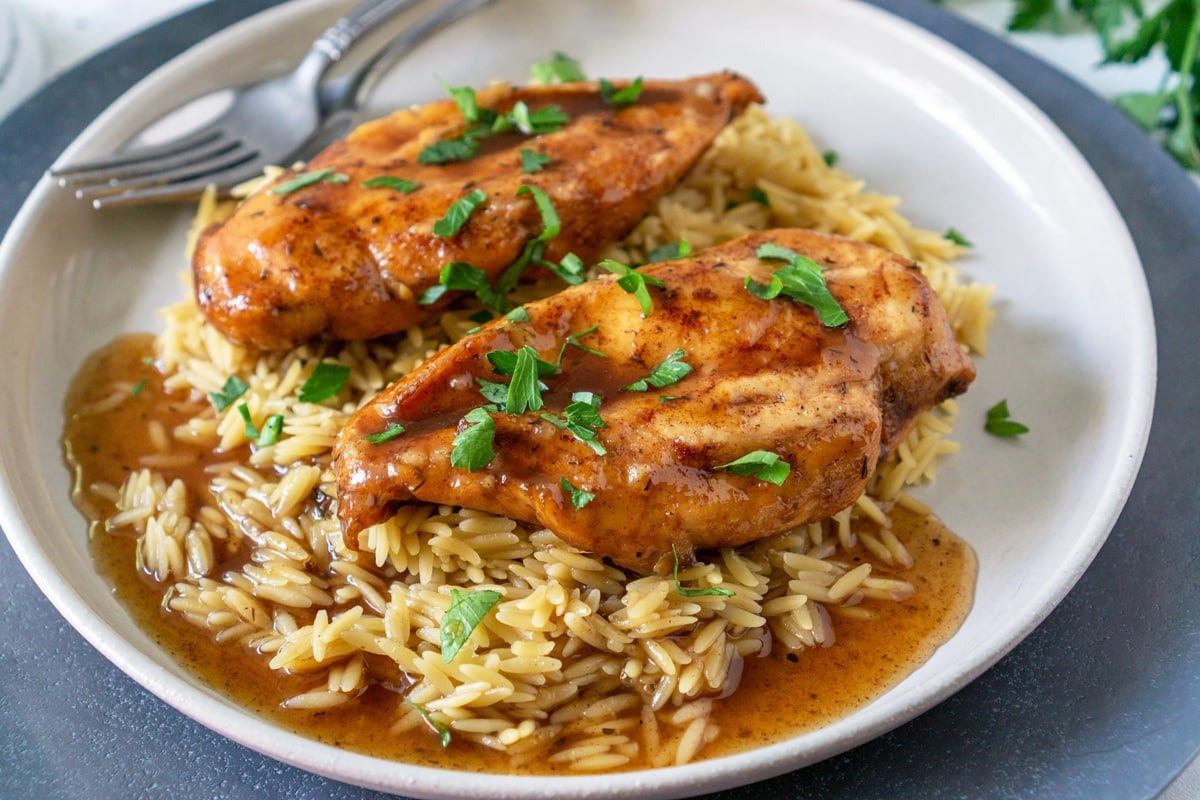 See my notes on how this mix of flavors compliments and creates an easy and delicious flavor combo.
Apple Jelly– The sugars and texture combine to make a sweet sauce with apple undertones. You can use other types of fruit jelly, like peach or apricot, but I do suggest using a jelly opposed to a jam, which doesn't contain gelatin which helps give the sauce body.
Balsamic Vinegar– In many recipes you can swap vinegars easy, but for this one you really do need to use a balsamic vinegar. It is the only variety that will reduce and become an acidic sweet sauce instead of just continue to build as a vinegar. Acid helps to balance the sweetness from jelly.
Apple Juice- This aids in making them into a sauce and gives more flavor than just water. In a pinch use water or even chicken broth.
Boneless Skinless Chicken Breasts- While you know I love chicken thighs, chicken breasts stay tender and moist with even cooking because of the slow cooker. You can swap in thighs or legs if you wish.
Chicken Bouillon– This adds the robust flavor of chicken without adding more liquid. Since it won't burn off, I tend to be leary about adding more to the pot. I highly recommend a low sodium variety. This can can be swapped out for vegetable bouillon as well.
Dry Seasonings: garlic powder, coarse salt, thyme, smoked paprika (or sweet) & pepper.
Butter & Cornstarch- Butter creates a rich and velvety sauce texture, but the cream also helps to thicken along with cornstarch. Feel free to use arrowroot or other thickening agents.
Chopped Parsley- This is only to add color and make it look pretty, it really doesn't provide much in the way of flavor, so feel free to omit.
Make It
I am a firm believer that crock pot recipes should be easy and not require a ton of prep before throwing it all in the pot. You you really want to add more flavor and sophistication to this dish, be my guest to brown the chicken in a hot skillet before adding. I assure the sauce has enough flavor to cover up the last of browning.
Whisk together the everything except the chicken breasts best you can. It might be a little lumpy, but that is fine, which it starts cooking it will melt down.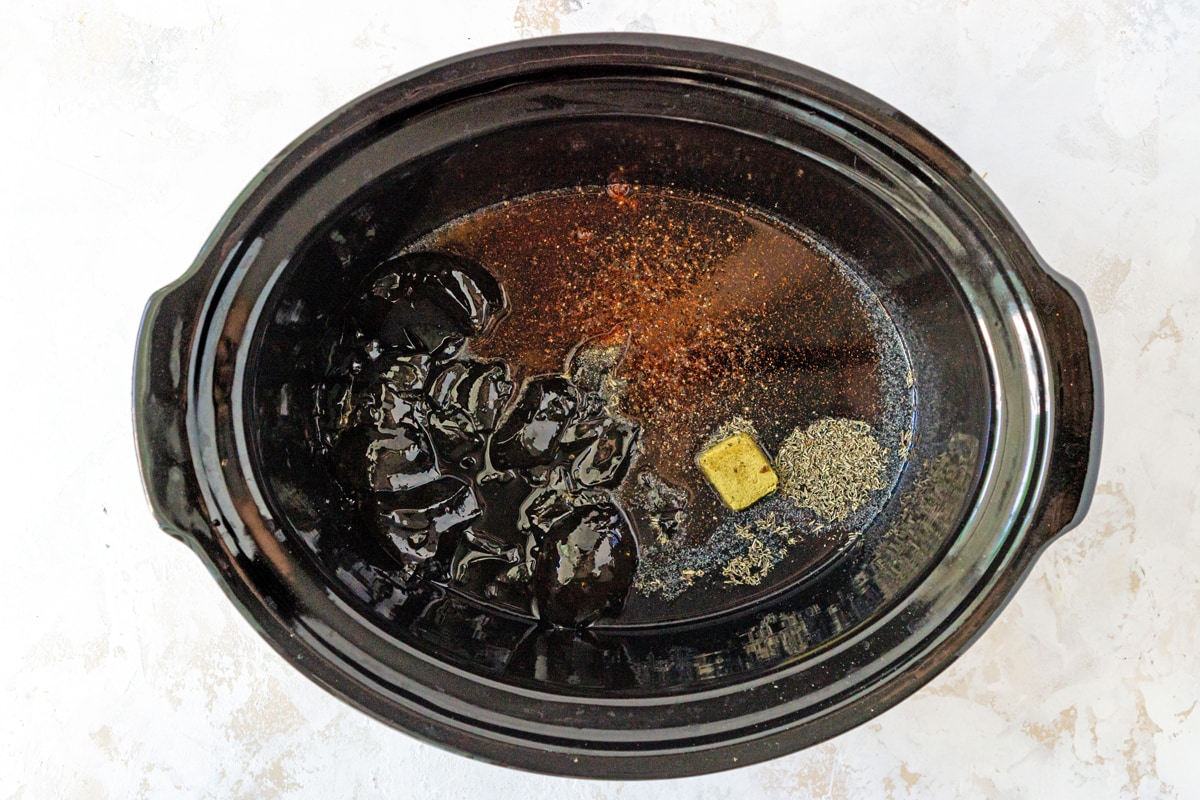 Add the chicken and toss to coat with sauce.
Set the slow cooker to high for 3 hours, cover and cook. Depending on the size of your chicken breasts, cooking time might vary from 2 1/2 hours to 4 hours. Check them for an internal temperature of 160°F and remember they will continue to cook a bit while the sauce thickens.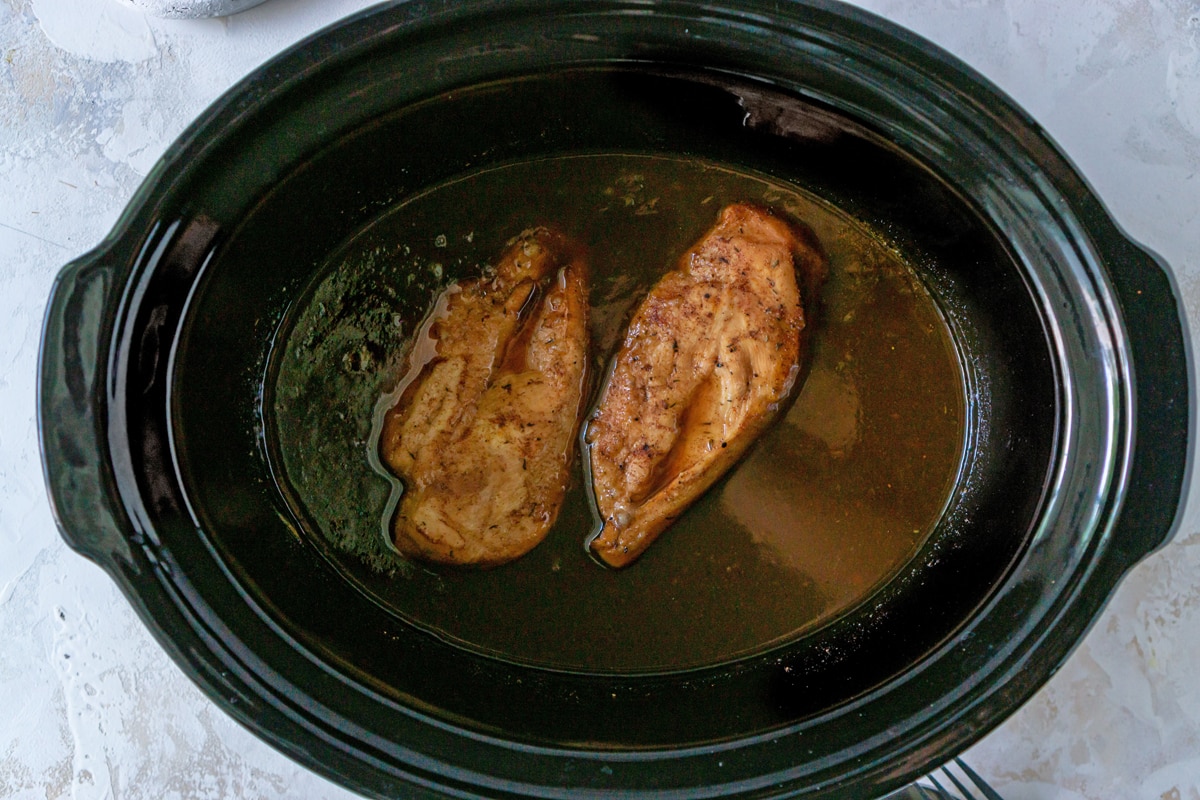 Melt the butter and then whisk with the cornstarch. Stir into slow cooker mixture to thicken the sauce and continue to heat over low.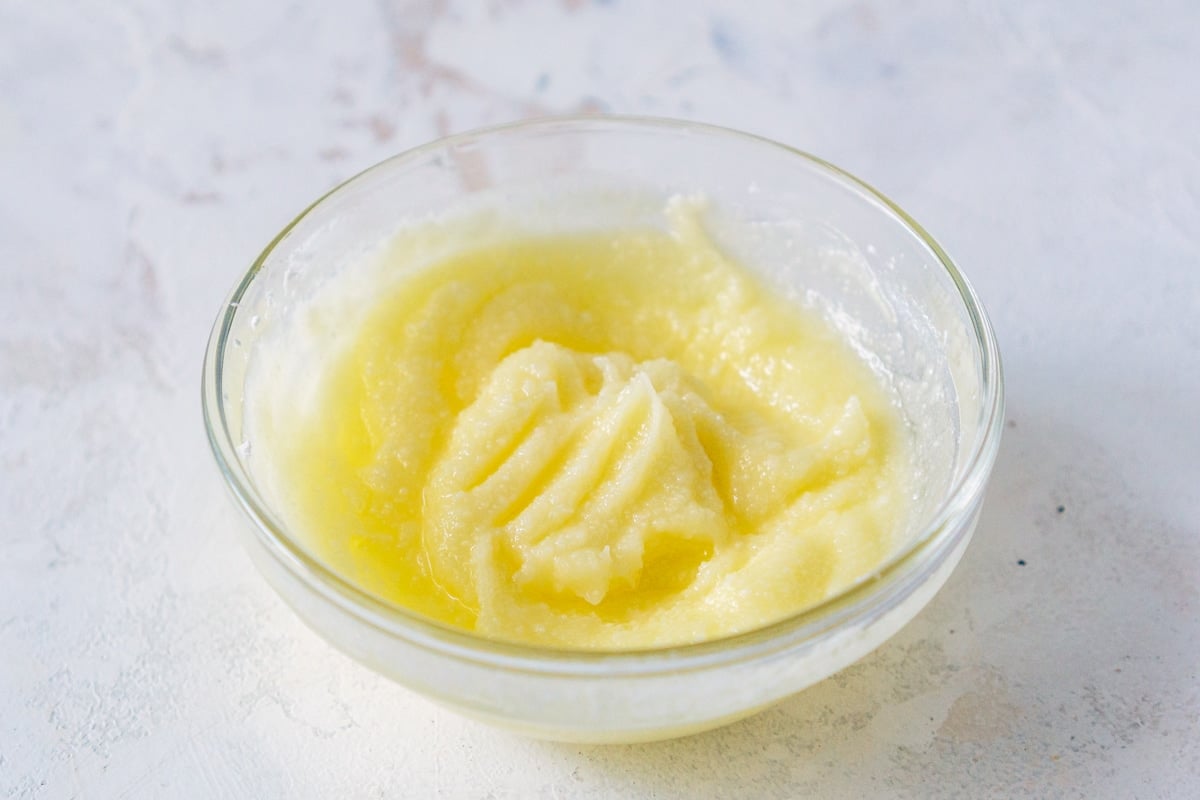 Instant Pot Instructions
This recipe was created long before the Instant Pot, but you can use the slow cooker function on your IP or utilize the electric pressure cooker option.
Make the sauce and add chicken just as you would for the slow cooker balsamic chicken.
Set to manual pressure on high for 8 minutes.
Quick release and vent.
Add butter and flour mixture and reduce heat to "keep warm". Adding pressure will make the chicken super tender so don't be surprised if you end up with shredded chicken.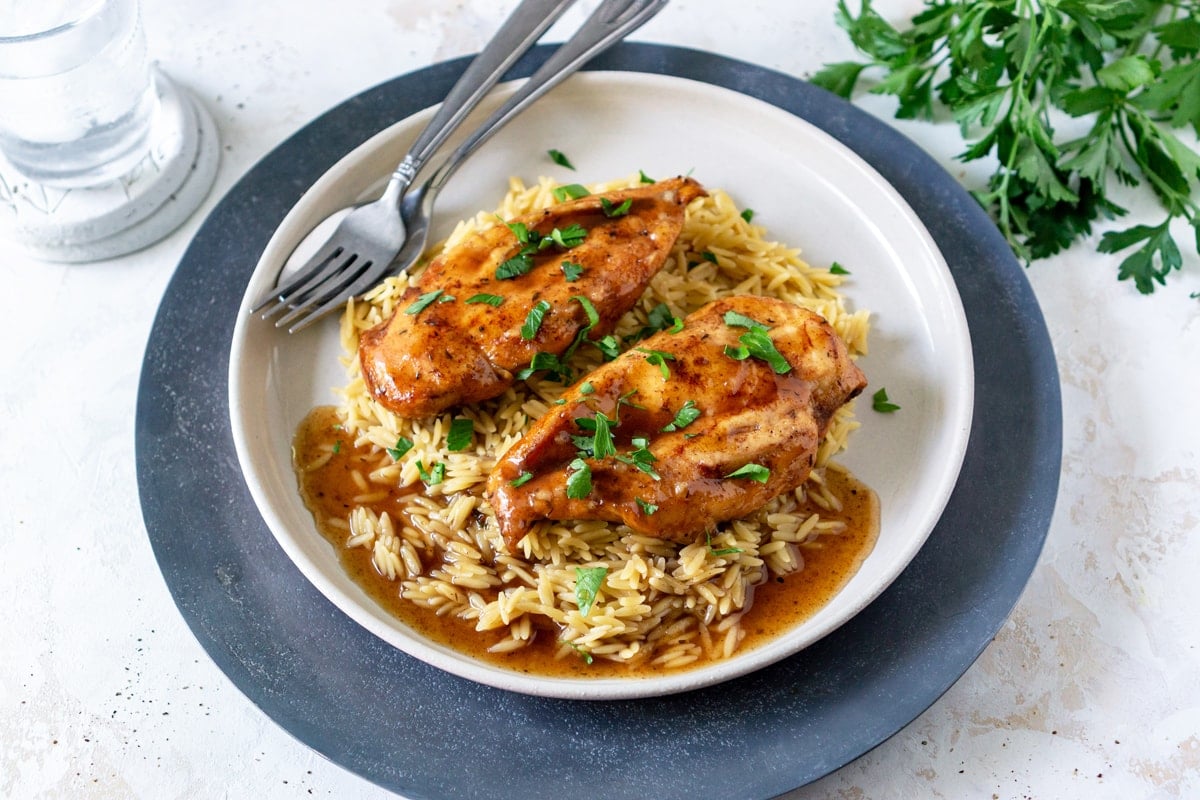 What To Serve it With:
If you want to get some veggies in the meal and don't feel like dirtying another pot, throw in baby carrots or pearl onions in the very beginning. After adding the thickener, also drop in frozen broccoli and cauliflower florets or sweet peas. Heat for 15-20 minutes or until they thaw.
As a side dish, seasoned peas and onions and pan fried broccolini are winners. As it a good, ole green salad with creamy Italian dressing.
I serve mine over rice pilaf or buttered noodles, but it can be served alone or with slices of crusty bread to soak up the extra sauce or mashed potatoes.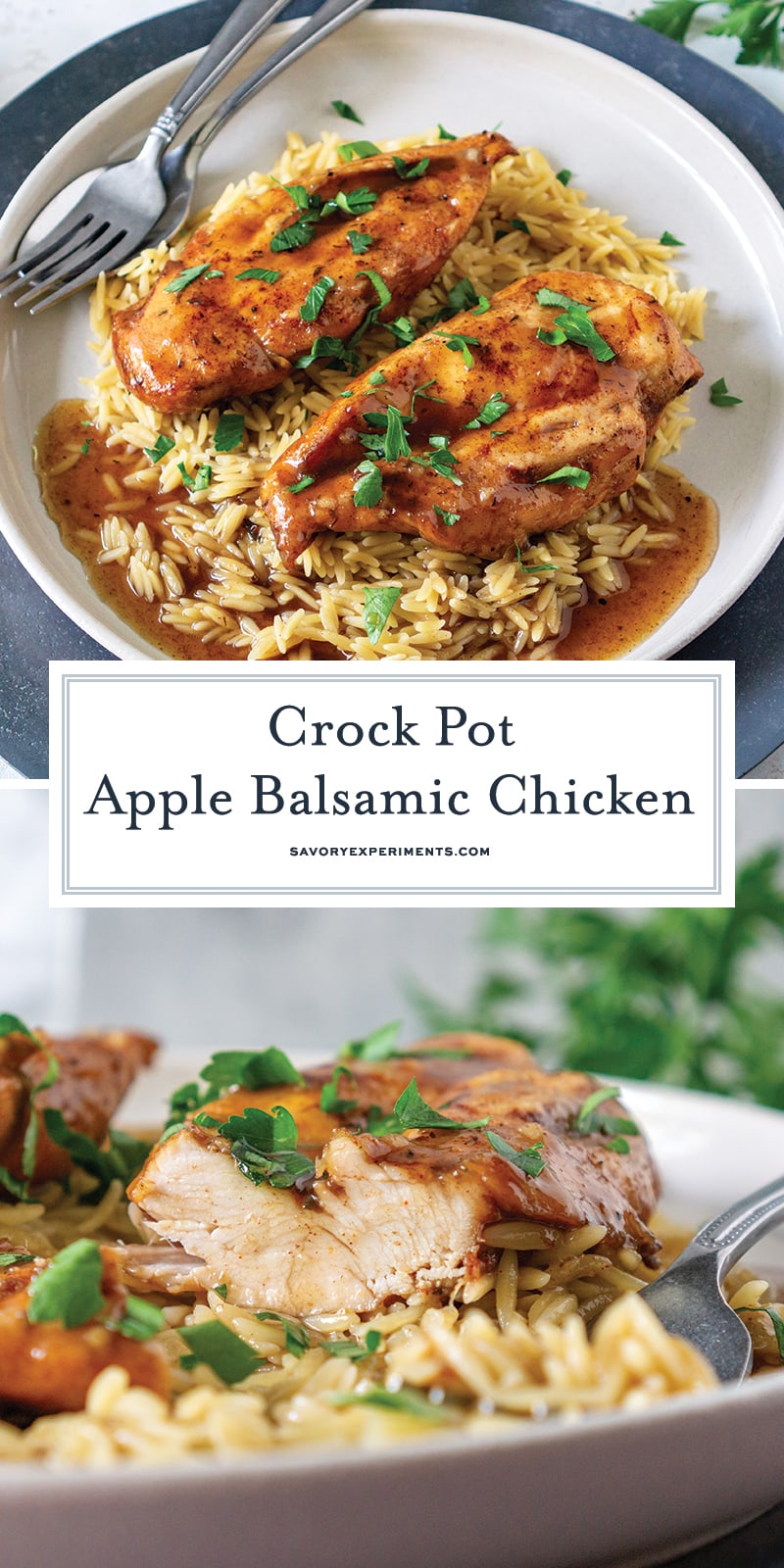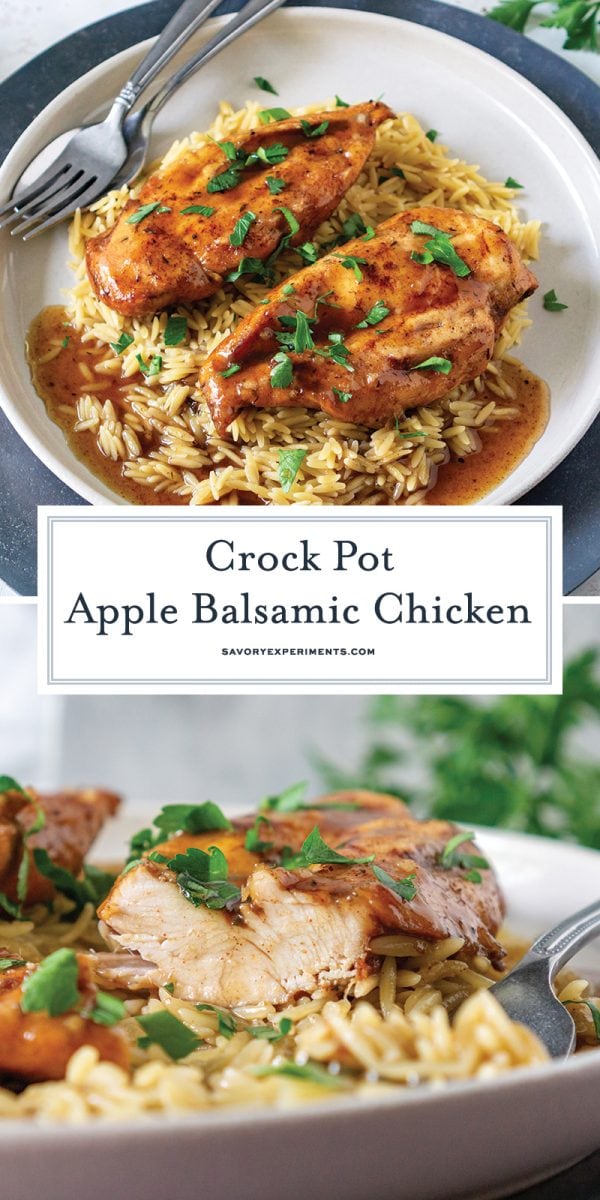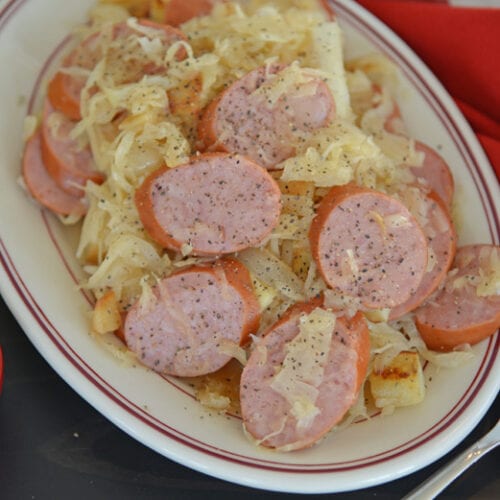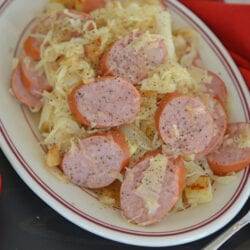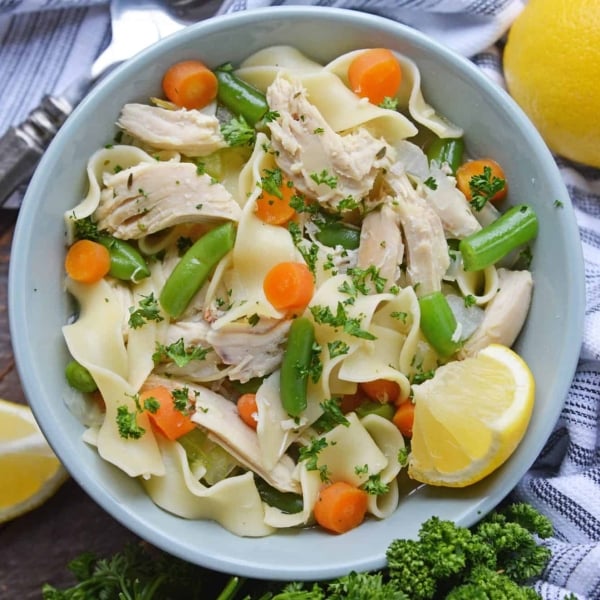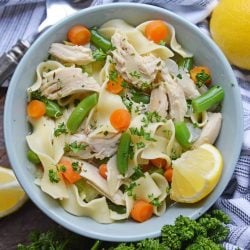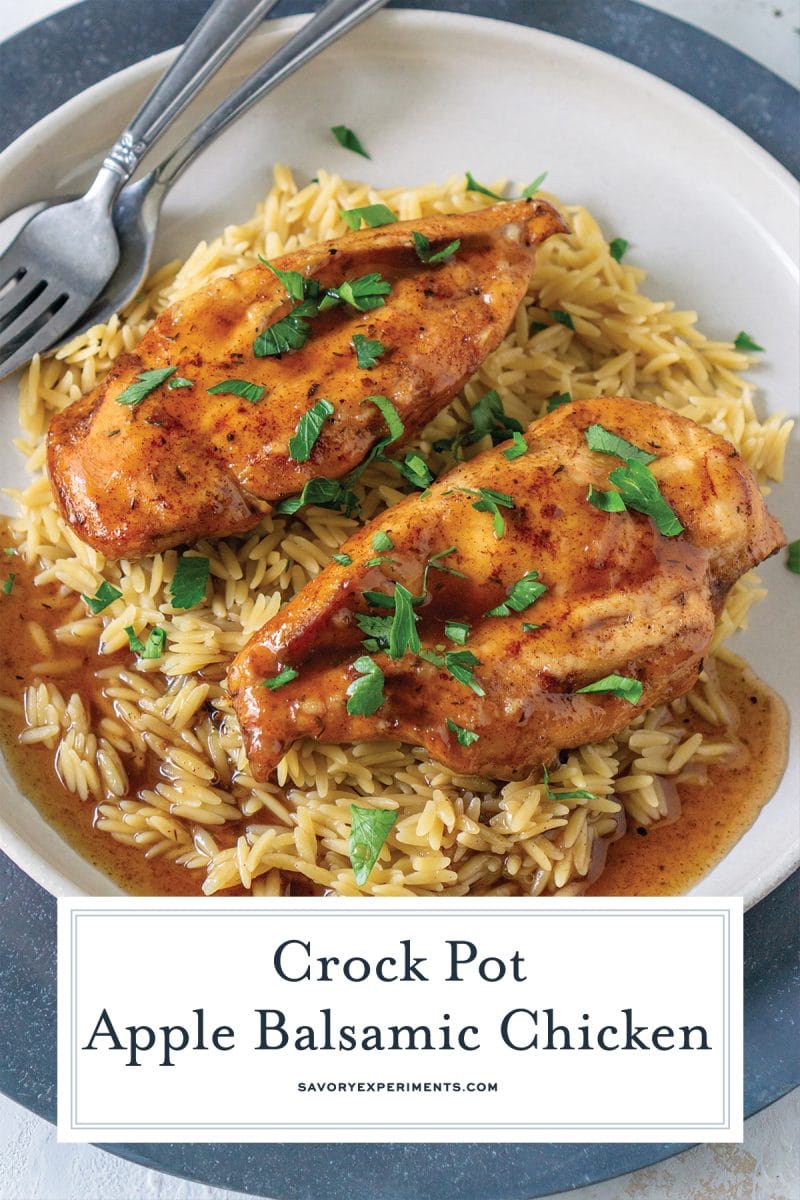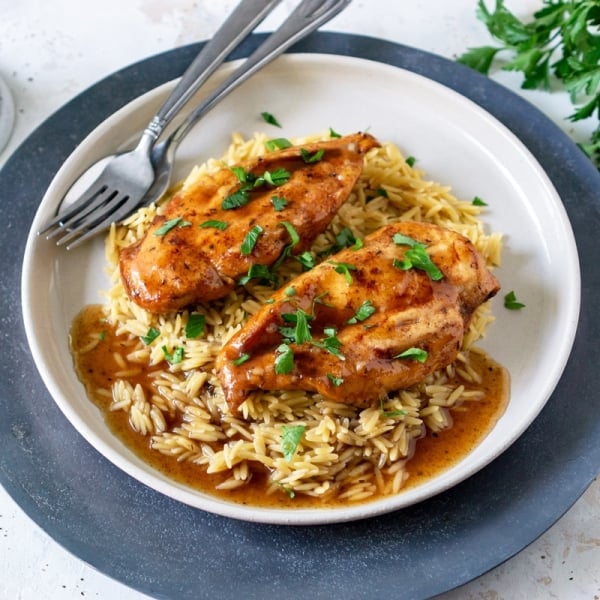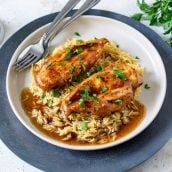 Crock Pot Apple Balsamic Chicken recipe
Fork tender chicken breasts in a rich sweet sauce with less than 10 minutes of prep! Serve over noodles, rice or mashed potatoes.
Instructions
In your slow cooker bowl, whisk together the apple jelly, apple juice, water, balsamic vinegar, chicken bouillon, garlic power, salt, thyme, paprika and pepper. Add the chicken breasts, turning once to coat.

Set the slow cooker to high for 3 hours and place the lid on tight.

Open and skim the top for fat.

Melt the butter in a small bowl, then whisk in the cornstarch. Stir into slow cooker mixture to thicken the sauce. Continue cooking on low for 15 minutes, or until sauce has thickened.

Serve over mashed potatoes, rice or noodles and garnish with parsley, if desired.

If you've tried this recipe, come back and let us know how it was in the comments or ratings!
Nutrition
Calories:
594
kcal
,
Carbohydrates:
69
g
,
Protein:
48
g
,
Fat:
11
g
,
Saturated Fat:
4
g
,
Cholesterol:
159
mg
,
Sodium:
876
mg
,
Potassium:
959
mg
,
Fiber:
1
g
,
Sugar:
46
g
,
Vitamin A:
365
IU
,
Vitamin C:
10.5
mg
,
Calcium:
33
mg
,
Iron:
1.6
mg