I absolutely love seafood. Crabs, shrimp, fish, crab cakes, oysters… I can't get enough. But I also always want a good sauce to go along with it. And there's something special about the sweet-meets-heat style of a quality homemade cocktail sauce recipe.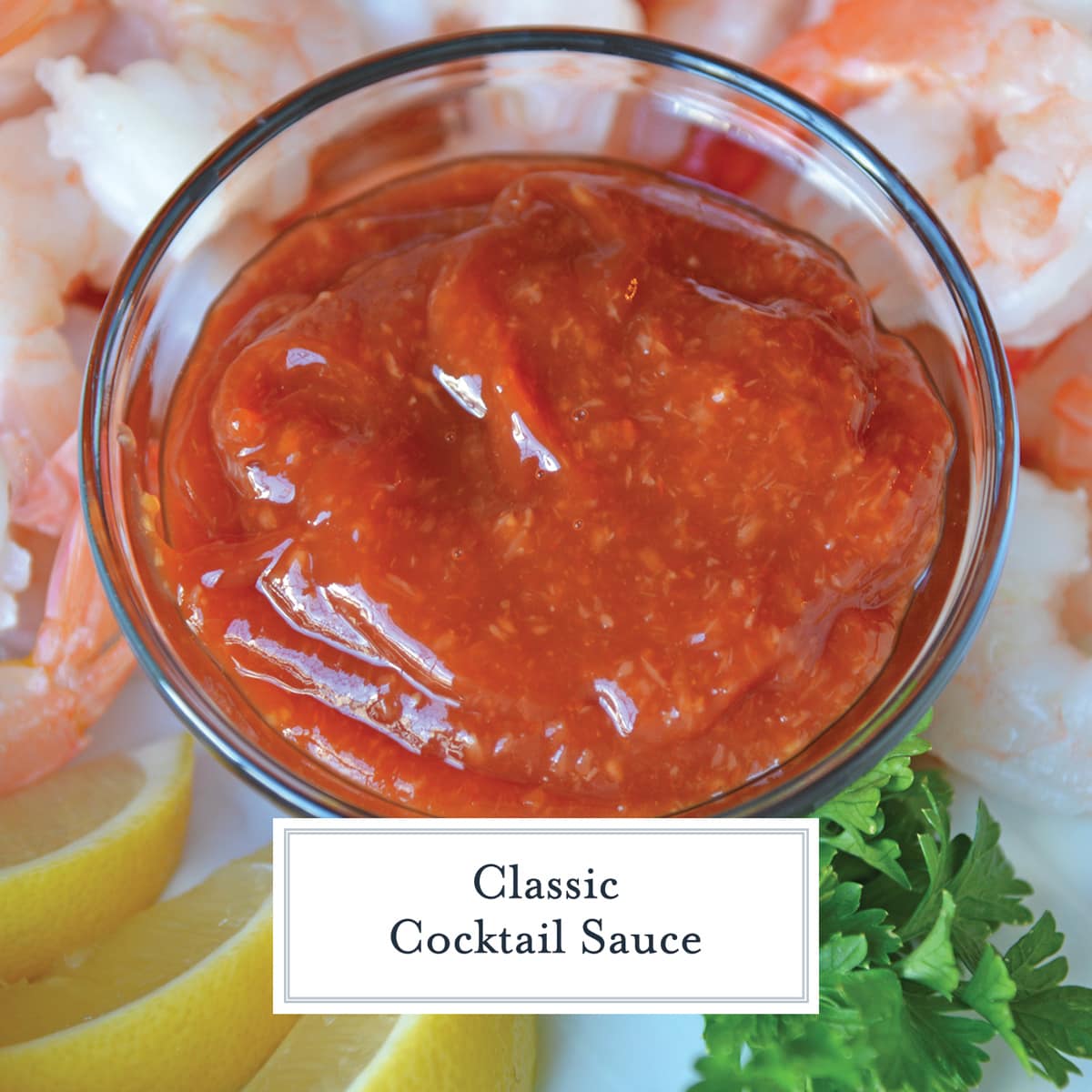 It's certainly easy enough to grab a jar in the seafood section at the grocery store, but I really prefer to make my own cocktail sauce. There's not high fructose corn syrup and fresh lemon juice and horseradish give it the zip that I love. I can easily adjust how much of a spicy kick I want it to have too.
If you've ever wondered how to make cocktail sauce, you've come to the right place. This is an easy, quick recipe that you can modify however you like for your favorite seafood or shrimp cocktail recipe.
What is Cocktail Sauce?
Classic Cocktail Sauce is more than just ketchup and horseradish. For many, the perfect blend has a few more ingredients to form a balanced sauce worthy of complementing the best seafood.
Also read on for why this can be transformed into a cocktail sauce without horseradish!
But the cocktail sauce you get at (some) restaurants tastes different. It has a little more ump. Pizzazz. Your homemade Cocktail Sauce can also be this good with your own special customizations or start with our award winning recipe.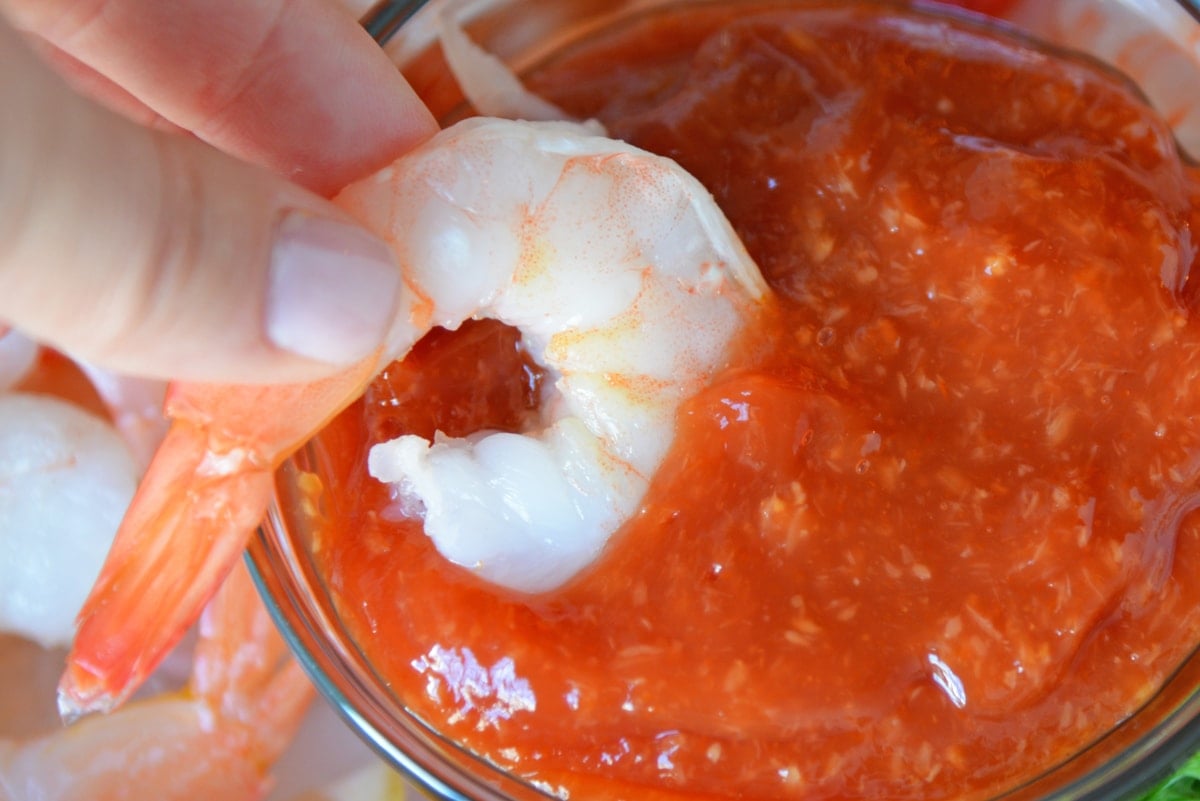 Where does Cocktail Sauce come from?
Cocktail sauce was invented by famed British chef and TV personality, Fanny Cradock, and originally made to serve with a prawn cocktail. The name, therefore, was the "sauce of the cocktail".
And what we know today as the famous Shrimp Cocktail, deemed the ultimate of fancy appetizers and hor dourves. I think I might go back to referring to it as a Prawn Cocktail. It sounds so much more sophisticated.
What makes this recipe for Cocktail Sauce different?
My recipe includes the basic building blocks for any cocktail sauce, although some cooks prefer to use a chili sauce in lieu of or in addition to ketchup. We use a few more items to amplify the overall flavor. Then we suggest letting it sit. Yep- let that bowl of goodness marry into beautiful flavors.
After you get your basic sauce perfected, then you can start getting crazy with other concoctions, like my Balsamic Cocktail Sauce that I serve with Balsamic Steamed Shrimp.
Cocktail Sauce ingredients
The ingredient checklist is small, but mighty.
Ketchup – Commercial ketchup is often sweetened. You can also make your own ketchup or buy an unsweetened version. I honestly like the sweet and spicy flavor combo, so I use good old Heinz. Some folks also want to use tomato paste, but it is often too thick and too tomato-y.
Prepared Horseradish – Horseradish is actually root, similar to wasabi, but is fibrous and tends to dry our very fast. To prevent, this, it is placed in a brine, usually vinegar based, to preserve it. You'll find that different brands also have different pungencies and brine recipes, so test them out or taste test the one you are using and add more or less depending on how spicy you like it. My husband would use more horseradish than ketchup to make a spicy cocktail sauce if it was up to him! If you can find fresh horseradish, more power to you, but it is challenging to work with.
Fresh Lemon Juice – A fresh lemon wedge is always packs more natural flavor. Bottled is slightly muted. If you are craving that fresh lemony flavor, also opt to add a few grates of lemon zest to the mix. You can choose your perfect amount.
Worcestershire Sauce – The most mispronounced ingredient in the English language is also the one that gives this flavorful sauce a bold and heady flavor.
Hot sauce – I use Franks to add a spicy kick to this seafood cocktail sauce, but take it up a notch with Ghost Pepper Hot Sauce or omit it for a milder version.
Fine Sea Salt – If you follow us, you know we like to coarse salt, but for this recipe it won't have time to dissolve and integrate, leaving you with salty crunchies. Fine sea salt works best, opposed to an iodized table salt which can leave a metallic aftertaste.
Black Pepper – Make sure it is a fine grind so you don't get peppery crunchies. Freshly ground will be the best for peppery flavors. White pepper can also be used, but will be a tad milder.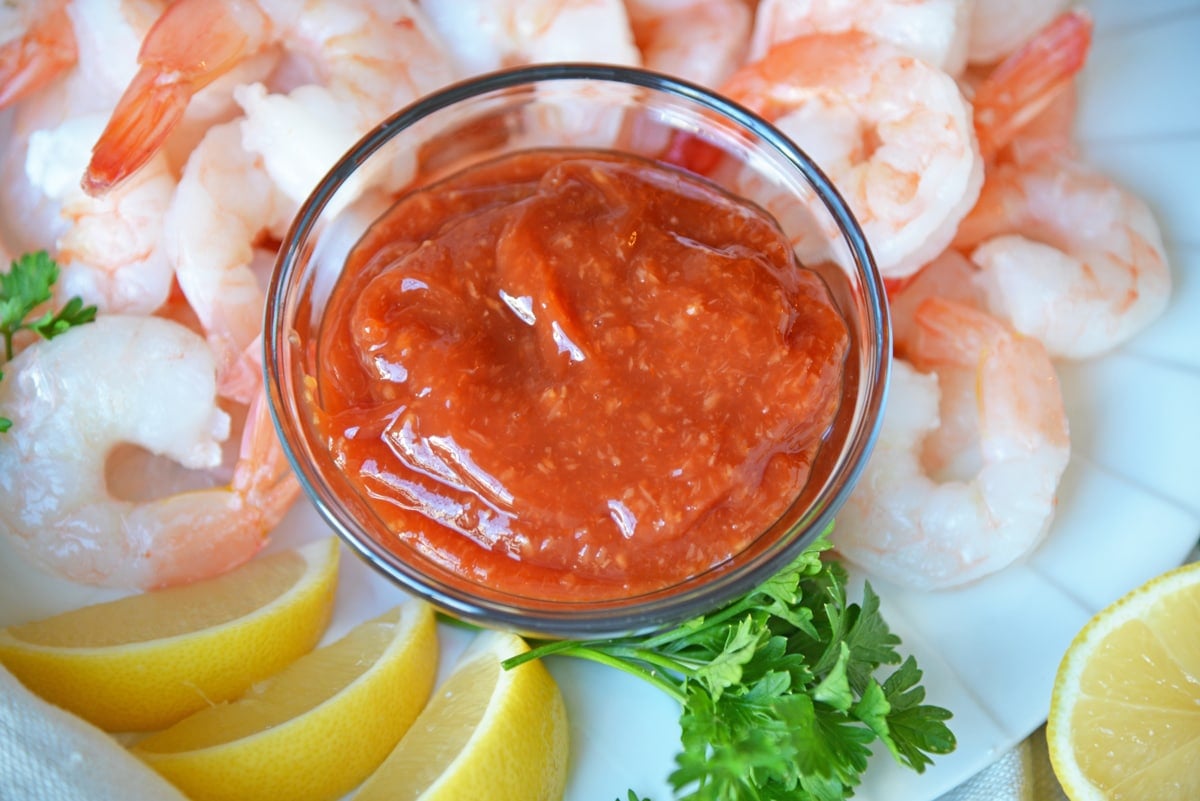 How to make Cocktail Sauce
I adore easy recipes, and this one could not be easier to make! It's the perfect complement to any shrimp cocktail appetizer. Just follow these basic steps.
Combine ingredients. Combine one cup ketchup with the horseradish, lemon juice, Worcestershire, hot sauce, salt and pepper.
Stir. Stir well.
Chill. Chill this shrimp cocktail sauce for at least one hour for best results.
Serve. Serve in a small bowl alongside your favorite appetizers, cold shrimp, any delicious seafood, or even add it to your bloody marys.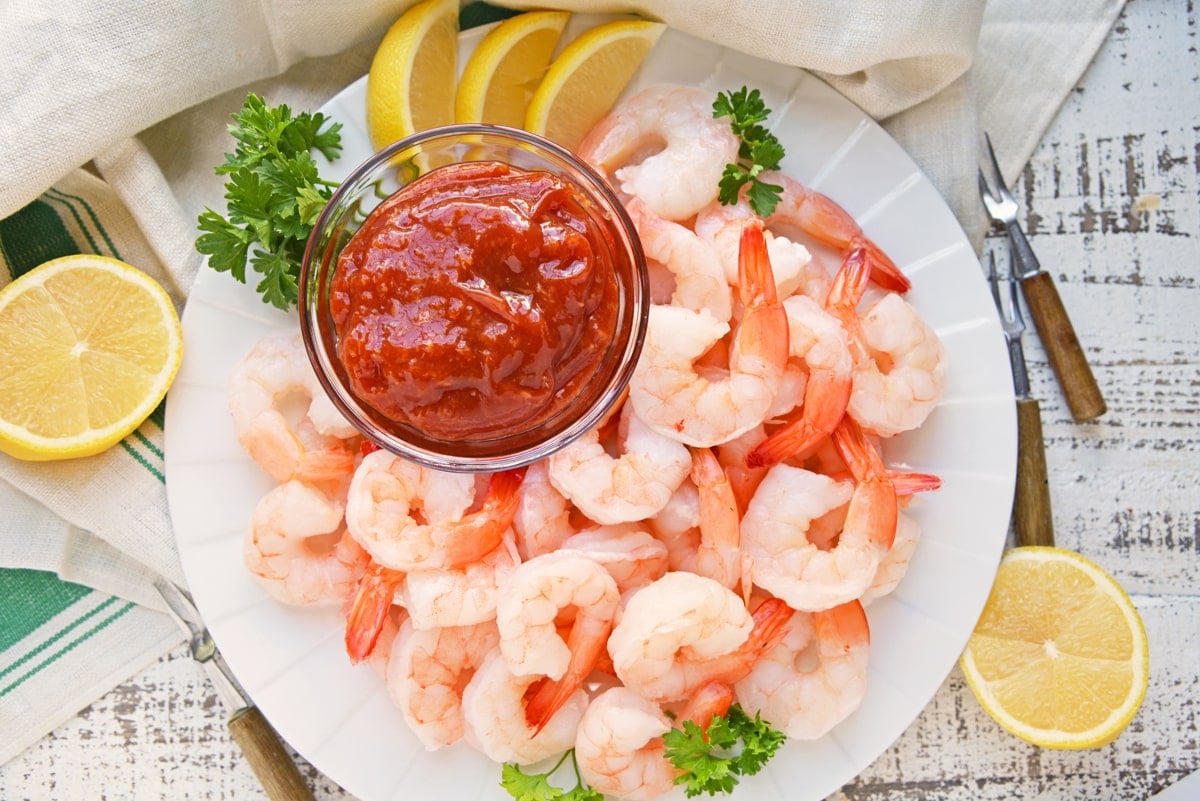 How to use Homemade Cocktail Sauce
Of course the most popular use for cocktail sauce is dipping for shrimp cocktail or other seafood like crab cakes. But there are so many other ways to use this somewhat spicy sauce.
I absolutely adore mozzarella sticks and while I will often use marinara as a dip, cocktail sauce is also a delicious alternative. It's also a perfect pair with pizza crusts or garlic bread. I even enjoy substituting cocktail sauce for tomato soup as a dip for grilled cheese.
It is also an amazing condiment to use with eggs. You can slather your omelet with it, dip your scrambled eggs in it, or put a dollop on your deviled eggs.
For your fried side dishes, it's a step up from plain old ketchup. Dip your fries, onion rings, or zucchini fries into it. Stuffed and fried mushrooms are also delicious with a bit of cocktail sauce as well.
There are tons of other ways that you can use cocktail sauce, too. Think of anything that you may use a tomato-based sauce for and you can use it instead. Mix it into (or spread on) your meatloaf, drizzle it over your burger or hot dog, or spread it on a sandwich. You can even use it as a base for your Bloody Mary for brunch.
Cocktail Sauce variations
We like this dipping sauce exactly as written, but there are plenty of ways to make this easy shrimp sauce your own.
Ketchup – Instead of using ketchup try using chili sauce or tomato paste.
Chipotle – mince and mix in some peppers to turn up the heat in this cocktail sauce. Chili peppers and red pepper both work great too.
Paprika – add some smoked paprika for a unique flavor.
Ginger – grate ginger and mix it in for a different type of spiciness.
Gochujang – give your cocktail sauce some Asian flavor with this Korean chili paste.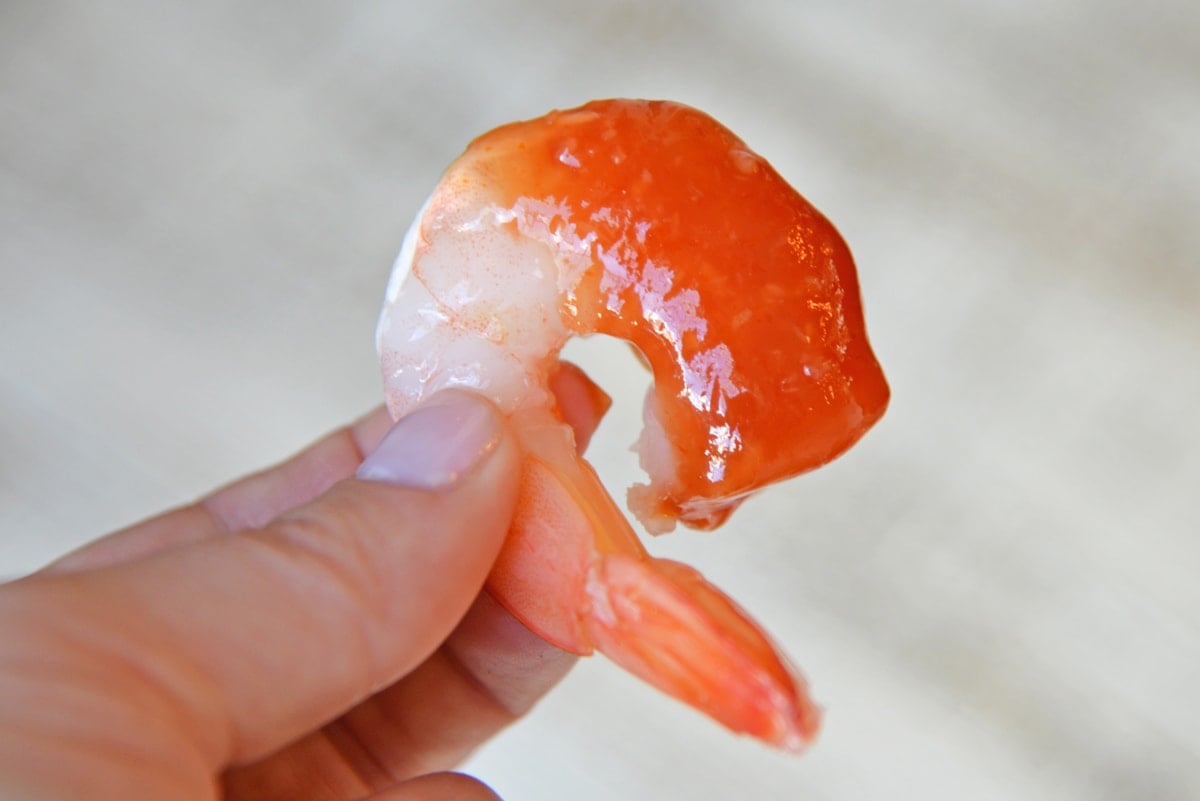 How to store this Cocktail Sauce Recipe
Storage: This sauce is actually better when you make it ahead of time. The trouble is that it gets a little gummy. Allow it to come to come to temperature for 15-20 minutes and give it a good stir before serving. It will stay fresh in the refrigerator in an airtight container for up to 1 week.
Freezing: You can freeze cocktail sauce, but it I've very rarely heard of it being done. If you do, freeze it in small batches in sandwich bags or even an ice cube tray so you can just defrost a little bit for dipping when needed.
How to Make Cocktail Sauce FAQs
What is cocktail sauce made of?
While all recipes might vary slightly, this simple recipe is made from ketchup, horseradish, lemon juice, Worcestershire, hot sauce and salt and pepper.
What is cocktail sauce supposed to taste like?
Cocktail sauce has a bold tomato flavor that is balanced out with acidic ingredients like lemon juice and hot sauce making it the perfect accompaniment to fresh shrimp or raw oysters.
What's the difference between cocktail sauce and ketchup?
Cocktail sauce is generally ketchup based, but blended with horseradish sauce and sometimes other flavors like hot sauce or Worcestershire sauce.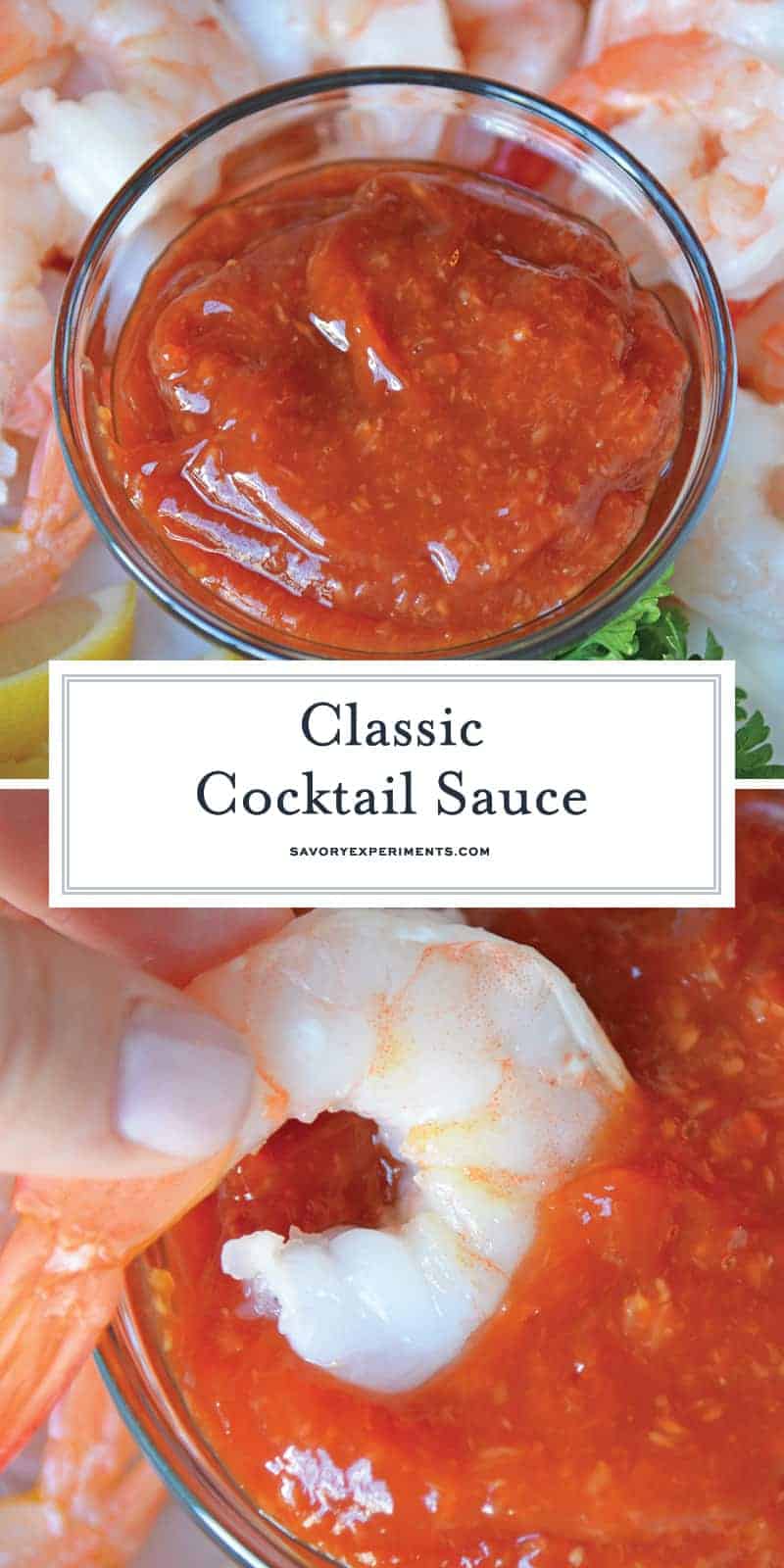 More Classic Sauce Recipes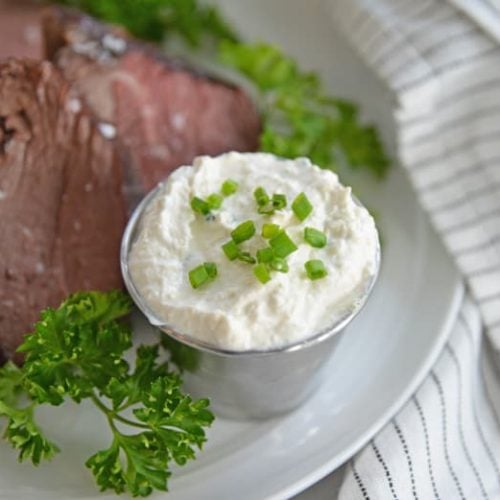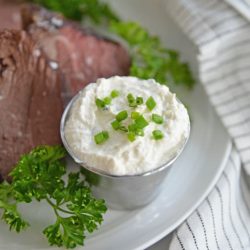 Creamy Horseradish Sauce
Creamy Horseradish Sauce comes together in less than 5 minutes with a sour cream base, tangy horseradish, this is a winner that will rival any steak sauce!
See The Recipe!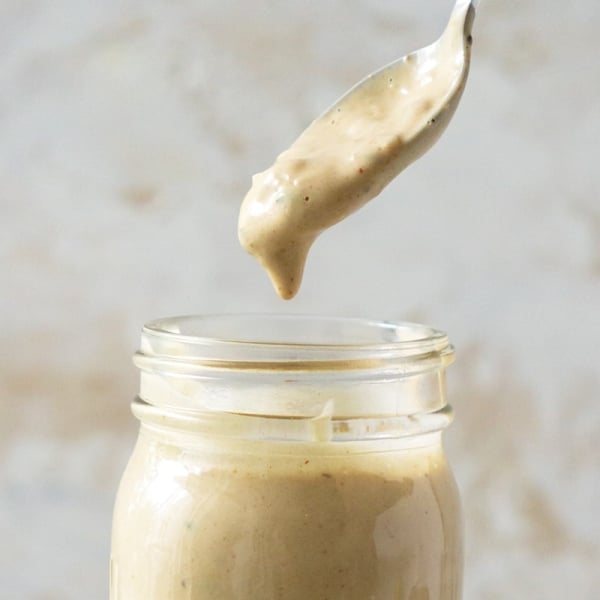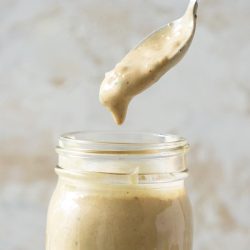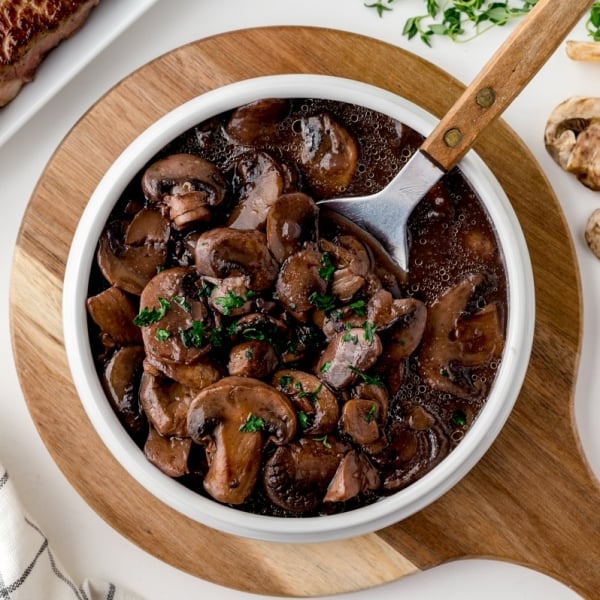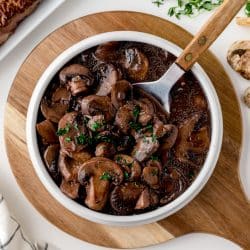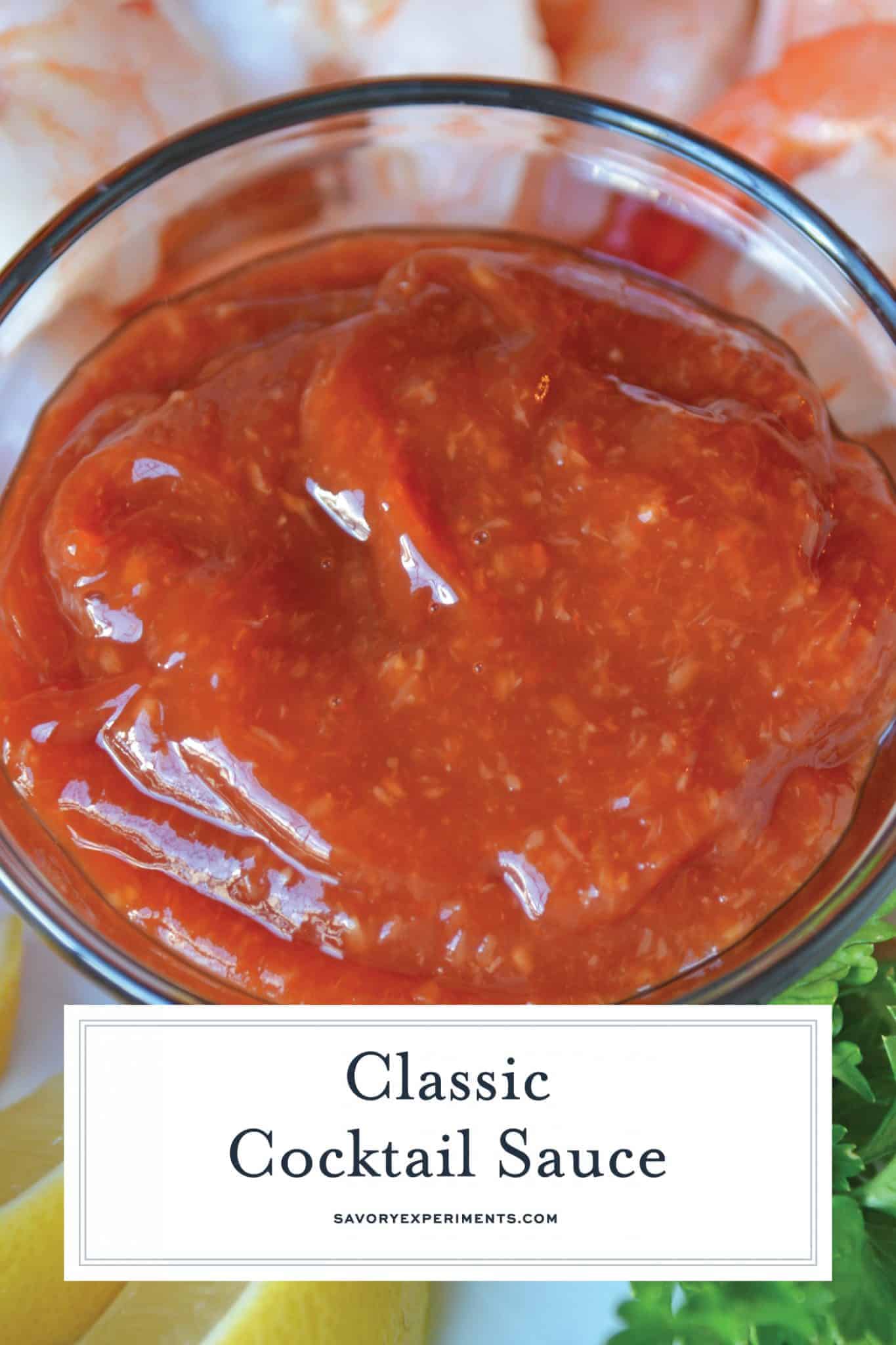 More Favorites from Savory Experiments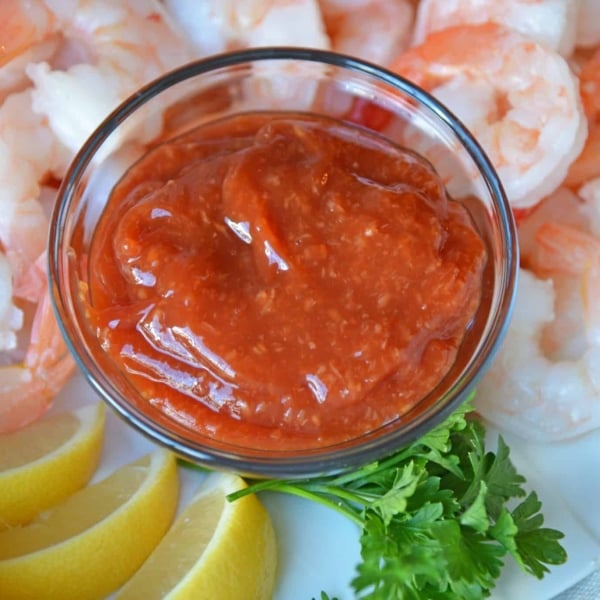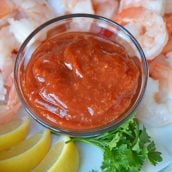 Best Cocktail Sauce
Classic Cocktail Sauce is more than just ketchup and horseradish. Come see how to make a spectacular, restaurant quality sauce in just 5 minutes!
Instructions
Combine the ketchup, horseradish, lemon juice, Worcestershire, hot sauce, salt and pepper.

Stir well. Sauce can be served immediately or chill for 1 hour for best results.

If you've tried this recipe, come back and let us know how it was in the comments or ratings.
Nutrition
Calories:
293
kcal
,
Carbohydrates:
69
g
,
Protein:
3
g
,
Sodium:
3093
mg
,
Potassium:
928
mg
,
Fiber:
1
g
,
Sugar:
55
g
,
Vitamin A:
1230
IU
,
Vitamin C:
24.6
mg
,
Calcium:
57
mg
,
Iron:
1.9
mg