Let's start by saying I am not a classically trained French cook by any means. I'm just a lady in a kitchen and cooking makes me happy. Do you know what else makes me happy? White butter, also known as beurre blanc.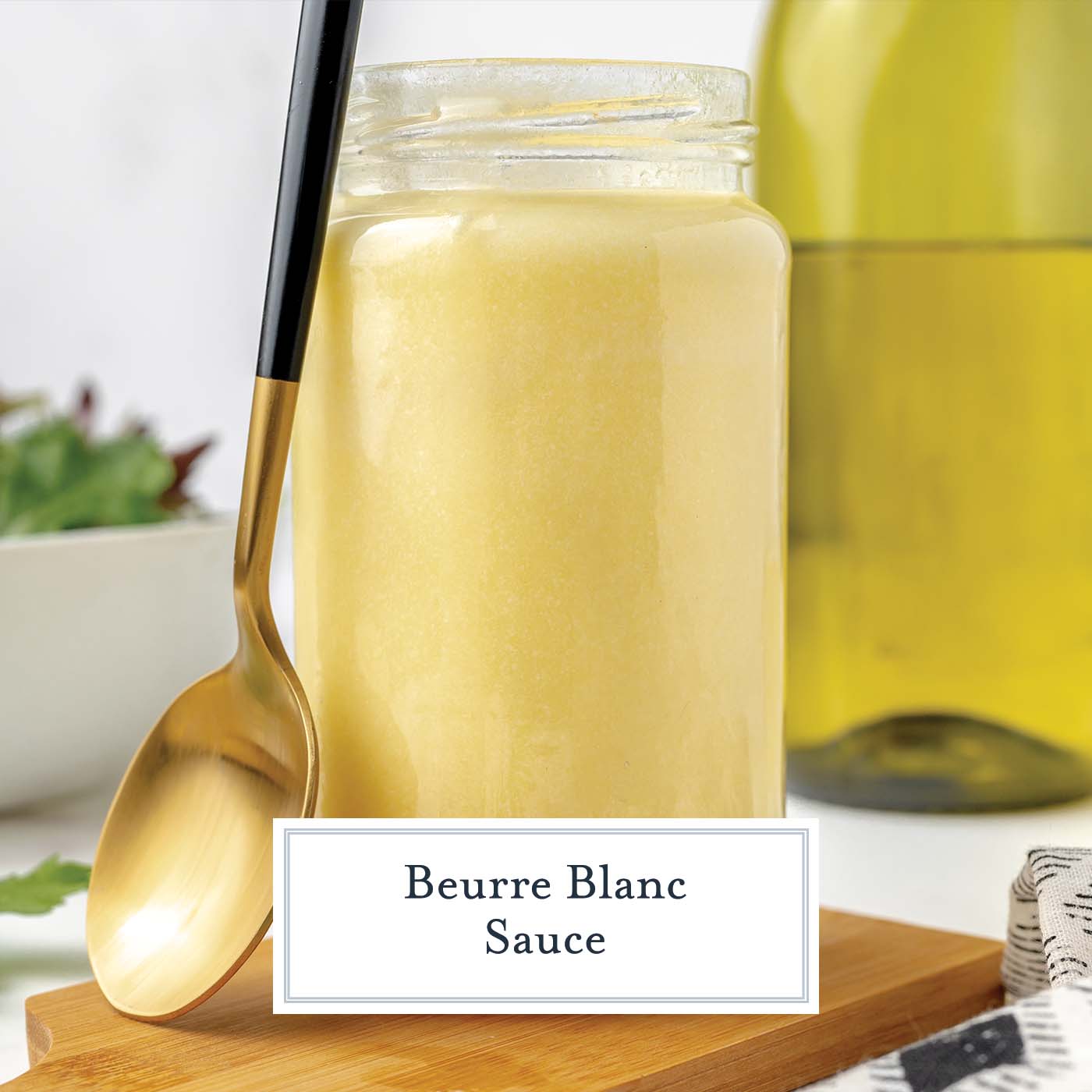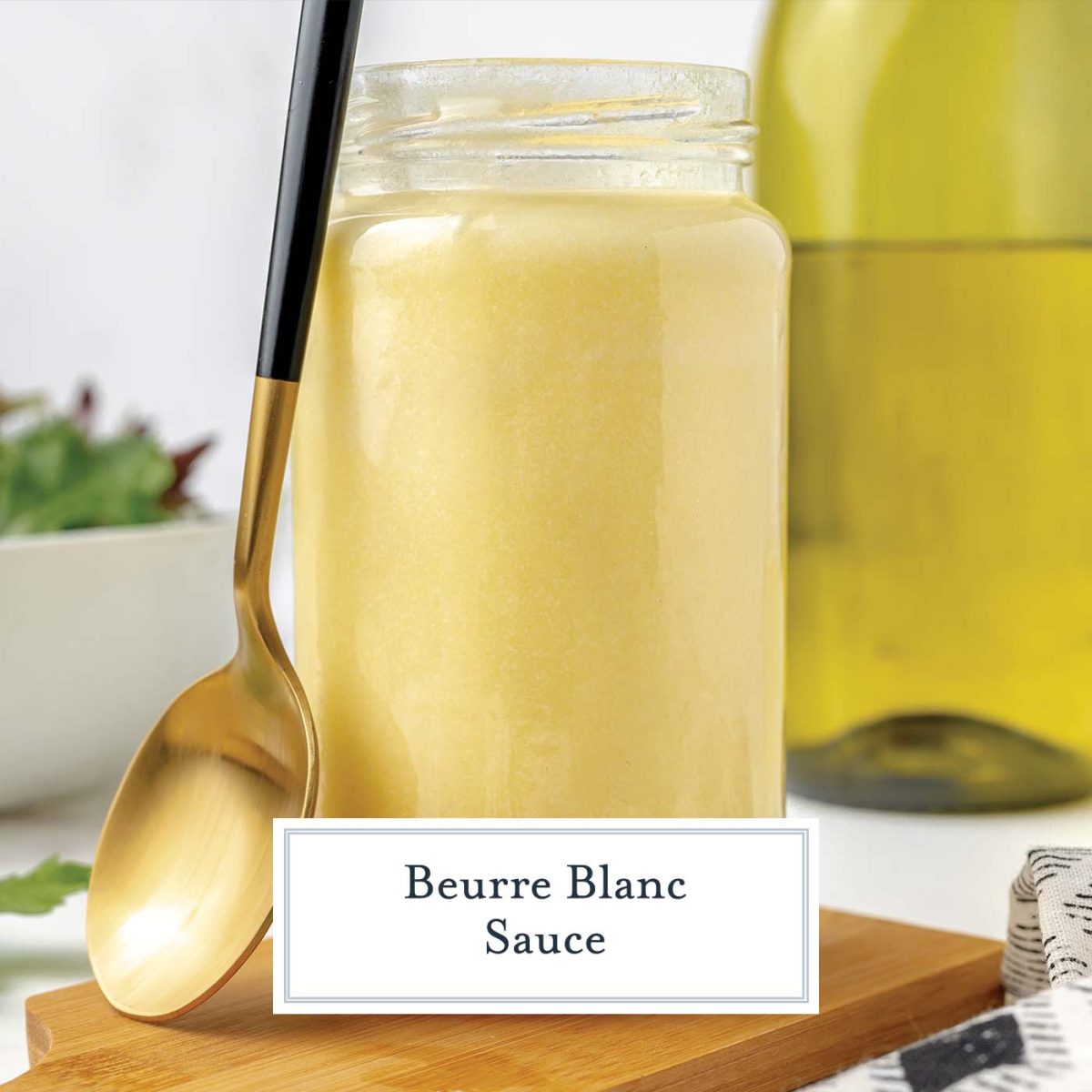 What is Beurre Blanc Sauce?
Other than a fancy word that instantly makes any dish sound like the most elegant thing ever served, it is also one of the French "mother sauces". It is the base for many other sauces and customizations.
It is a hot butter sauce mixture made of white wine, vinegar or lemon juice, shallots, and butter that is slowly melted, allowing the flavors to marry.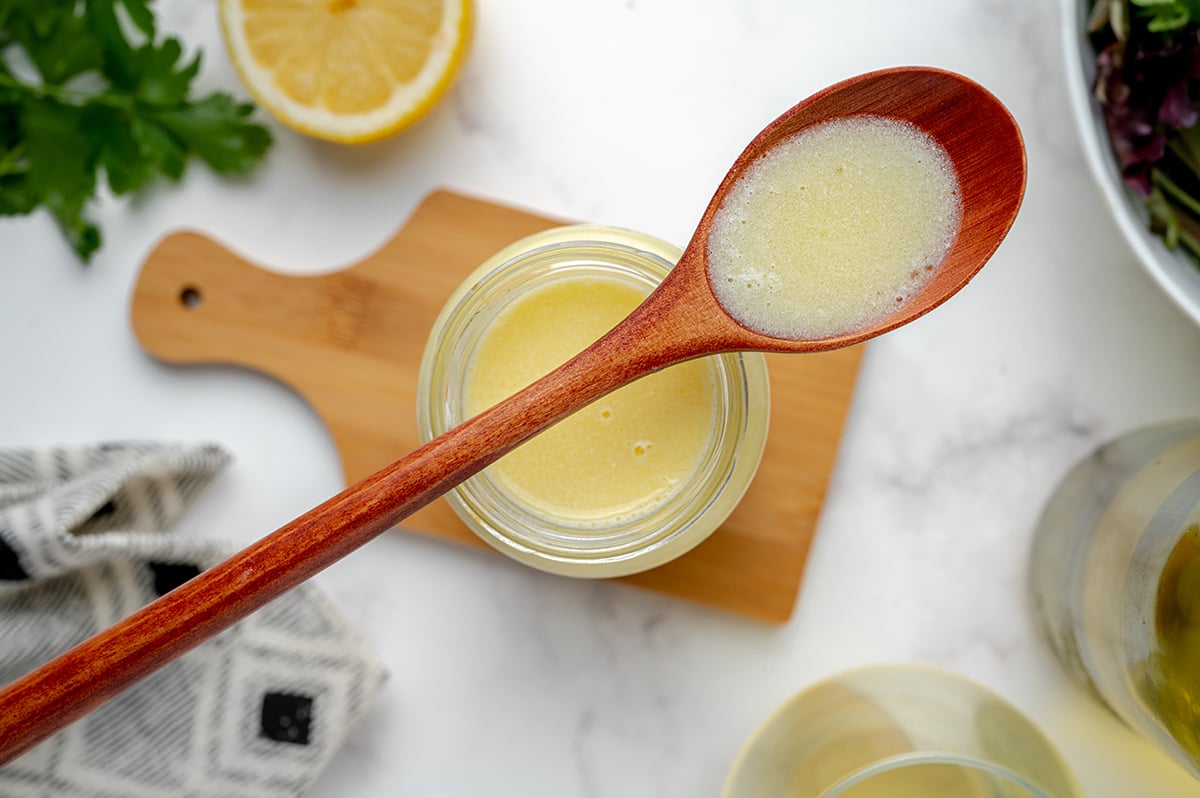 What Do You Use Beurre Blanc On?
Of the French classic sauces, beurre blanc is by far my favorite. Versatile and perfect for chicken, seafood (especially white fish), beef, pasta, and vegetables, there really isn't anything this butter sauce doesn't taste good on with its delicate profile.
I mean, if something could use a butter sauce, chances are this will work.
One of my favorite recipes to serve beurre blanc on is Crab Imperial Filet Mignon and Baked Cod, but drizzle it on anything for a delicious and decadent meal! Steak Frites with beurre blanc is also a favorite!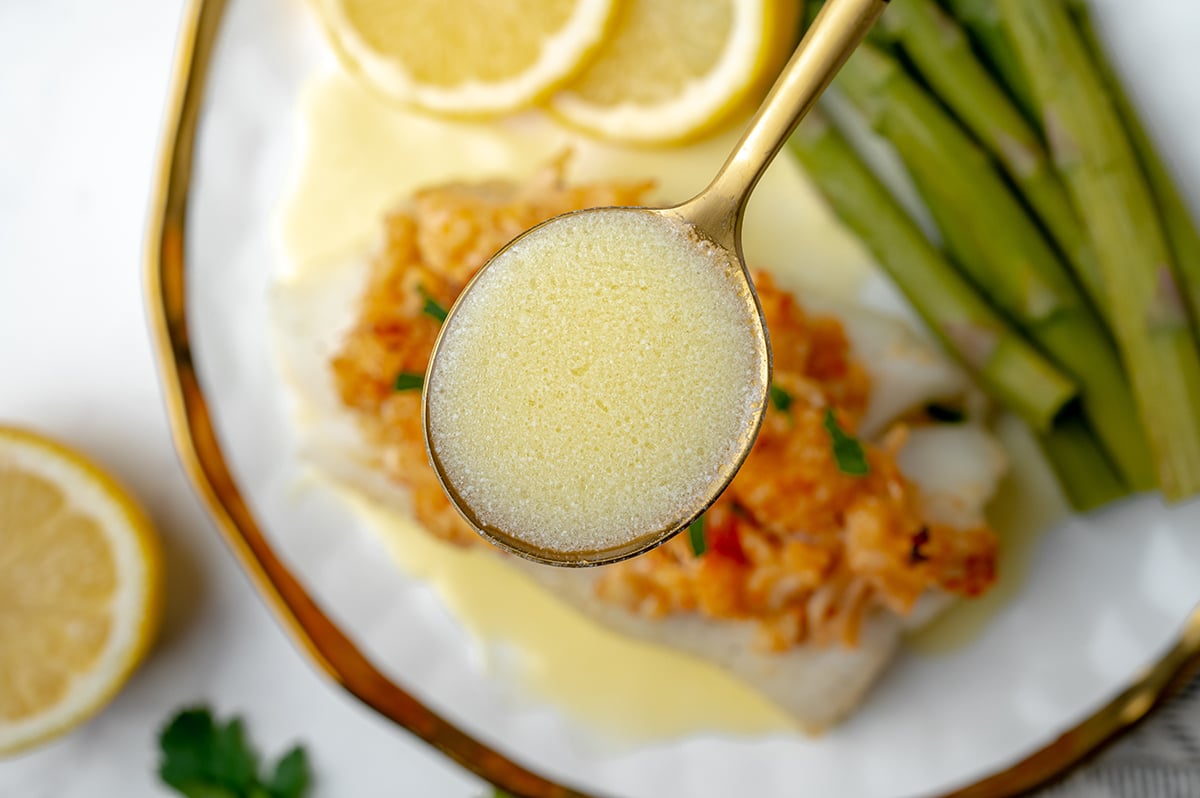 Ingredients
Dry White Wine– I like a pino grigio or sauvignon blanc, chardonnay seems to be woody too often.
Lemon Juice- Fresh is always best. Citrus juices start to lose flavor the moment they are juiced, so a fresh juice packs the most punch. Some recipes use white wine vinegar as the acid, but l like the tanginess of lemon juice.
Shallot- Shallots are on the milder end of the onion family. Sweet onion can give the same effect. We are really just looking for a slight onion flavor to leach into the sauce and then the larger pieces get filtered out.
Sea salt– Sea salt offers the cleanest flavor without a metallic aftertaste. If using coarse salt, double the amount and if you use salted butter, omit it all together.
Ground White Pepper– White pepper is milder than black pepper and blends into the sauce.
Heavy cream– Helps to pull it all together, thicken and give it the signature texture.
Unsalted butter- Cold and cubed is best. Cold ensures it won't impact the temperature of the sauce too much. As you will learn below, the trick to a silky sauce is all about managing the temperature. Aim for the best butter you can get too- since it is the largest ingredient, the quality makes a difference.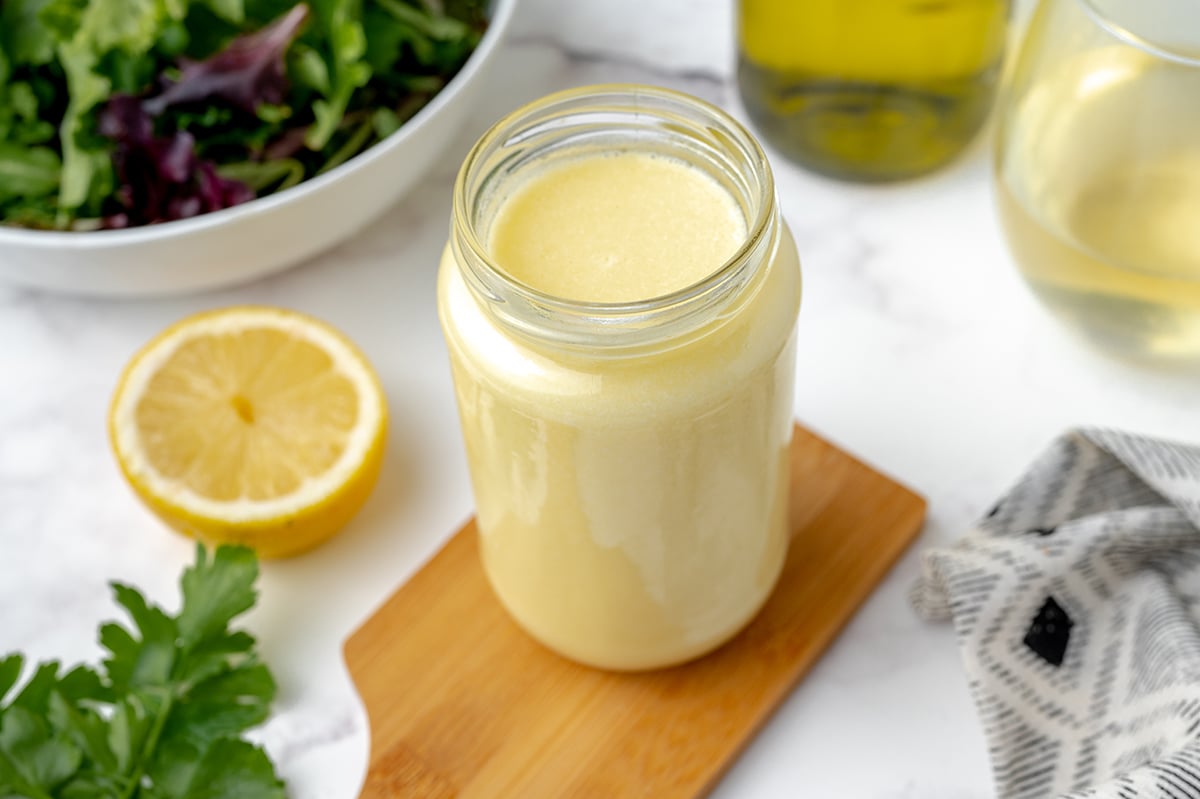 How to Make Beurre Blanc Sauce
The trick to making a good beurre blanc is low to medium heat and continuously stirring to prevent the sauce from separating, making for a perfect emulsion.
Shallots and seasoning add flavor and are filtered out for a silky smooth sauce. Some people prefer to use an immersion blender to smooth it out, but I can still detect a mealier texture, so I prefer to strain.
In a small saucepan, bring white wine, lemon juice and shallot to a low simmer, just barely bubbling. The goal is to combine the two liquids while letting the shallot flavors infuse them. Too high of a temperature will separate the liquids.
Whisk in the fine sea salt, white pepper and cream, keeping at a super low temperature.
Now, we create an emulsification, which in layman's terms is breaking down the moluccas to be smaller and blend together. This requires agitation and slowly combining the two. Slowly whisk in a few butter cubes at a time until fully melted. The sauce will start to thicken and as soon as it does, remove from the heat.
Pour the sauce through a fine sieve to remove large pieces of seasoning or shallot. Serve immediately.
If the sauce does seperate (broken sauce), whisk well to recombine. This is normal and it will taste the same.
Minced fresh herbs or bay leaf can also be used to infuse the sauce with flavor. Or swap out red wine vinegar for lemon juice and make a beurre rouge, red butter sauce, another classic sauce.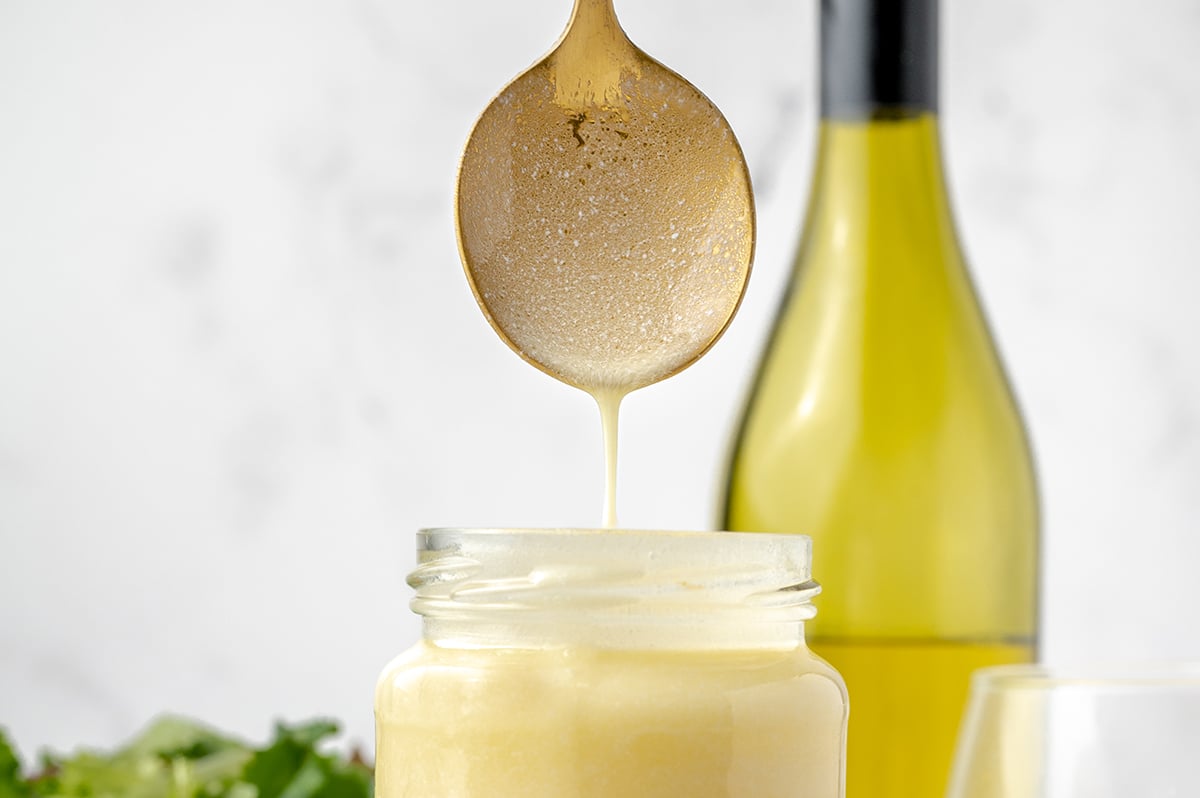 My sauce seems too thin, what can I do? If you want a really thick creamy sauce, add 1 teaspoon cornstarch or arrowroot to a small amount of the sauce and then whisk. Add this to the rest of the sauce and whisk again. Beurre blanc isn't meant to be a super thick sauce.
My sauce is too thick, how do I think it? Add a small amount of additional cream.
Storage & Freezing
Can I make beurre blanc ahead of time? Yes! Make it up to a day ahead of time and reheat when ready to use.
Can I freeze beurre blanc sauce? You sure can! Freeze in an airtight container for up to 6 months. I also like freezing it in an ice cube tray and then popping them out into plastic bag so easy thawing.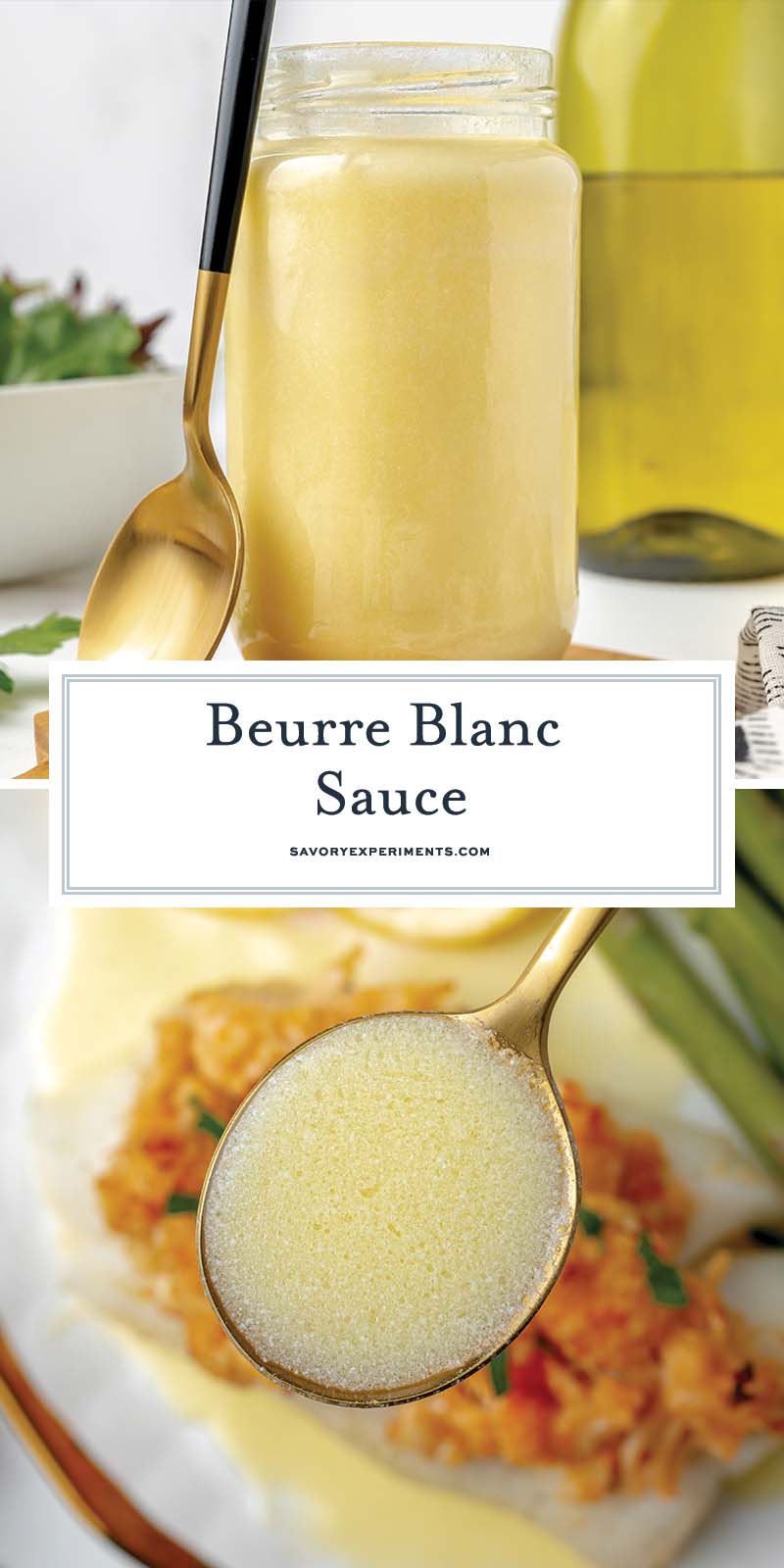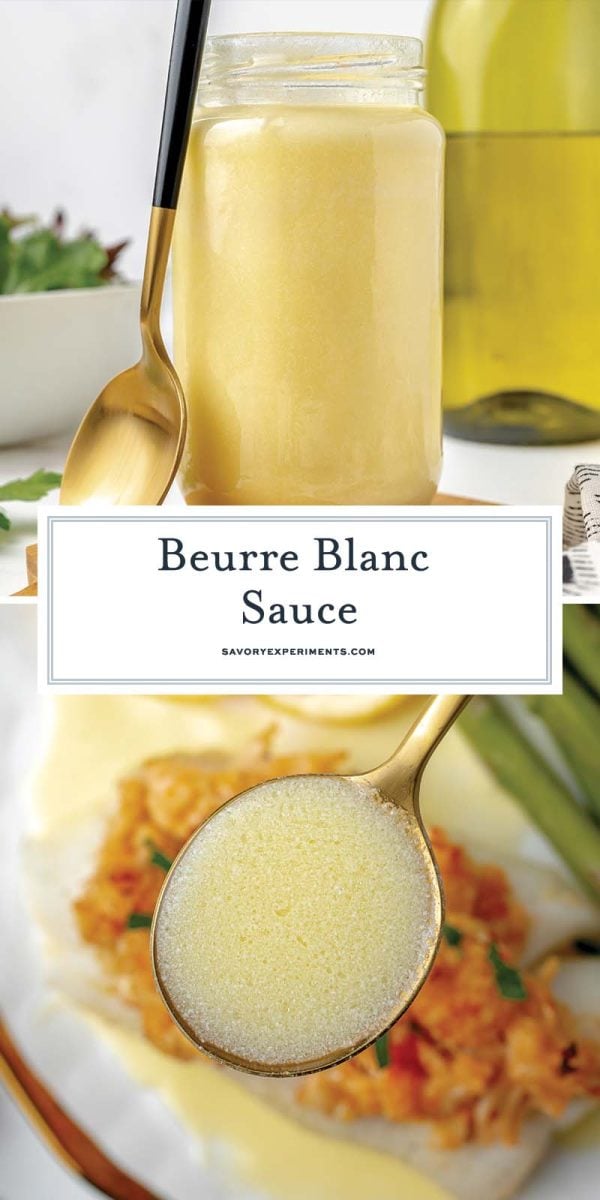 Sauce are a fantastic way to elevate any meal. A simple drizzle, dipping cup or try serving your sauce on the bottom, like a pool, makes for a more sophisticated plate.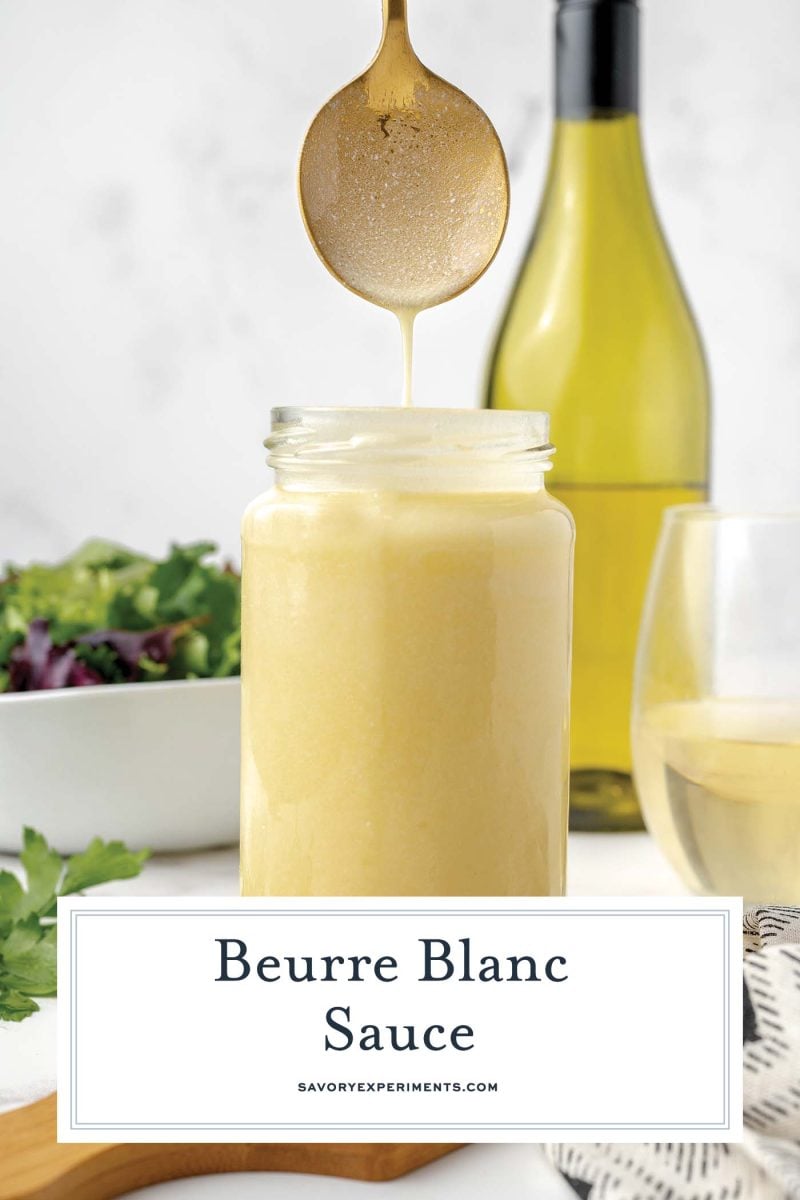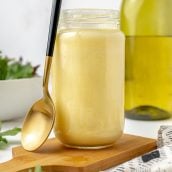 Beurre Blanc Sauce
Beurre Blanc is a classic French sauce translated as "white butter"- which is an emulsified lemon butter sauce.
Instructions
In a medium saucepan, bring the white wine, lemon juice and shallot to a low simmer.

Whisk in the fine sea salt, white pepper and cream.

When barely bubbling, slowly whisk in a few butter cubes at a time until all are added and fully melted. The sauce will thicken. If you don't keep the temperature low and whisk continuously, the sauce will separate.

Pour the sauce through a fine mesh sieve to remove large pieces of seasoning or shallot. Serve immediately.

If you've tried this recipe, come back and let us know how it was in the comments or star ratings.
Notes
This sauce is an emulsification, it can potentially separate. Whisk well or shake to recombine.
Nutrition
Calories:
365
kcal
,
Carbohydrates:
1
g
,
Fat:
39
g
,
Saturated Fat:
25
g
,
Cholesterol:
108
mg
,
Sodium:
67
mg
,
Potassium:
33
mg
,
Vitamin A:
1250
IU
,
Vitamin C:
1.3
mg
,
Calcium:
17
mg
,
Iron:
0.1
mg