In just 5 minutes, you can have a super versatile and delicious sauce ready to be dipped, smothered or drizzled over just about anything.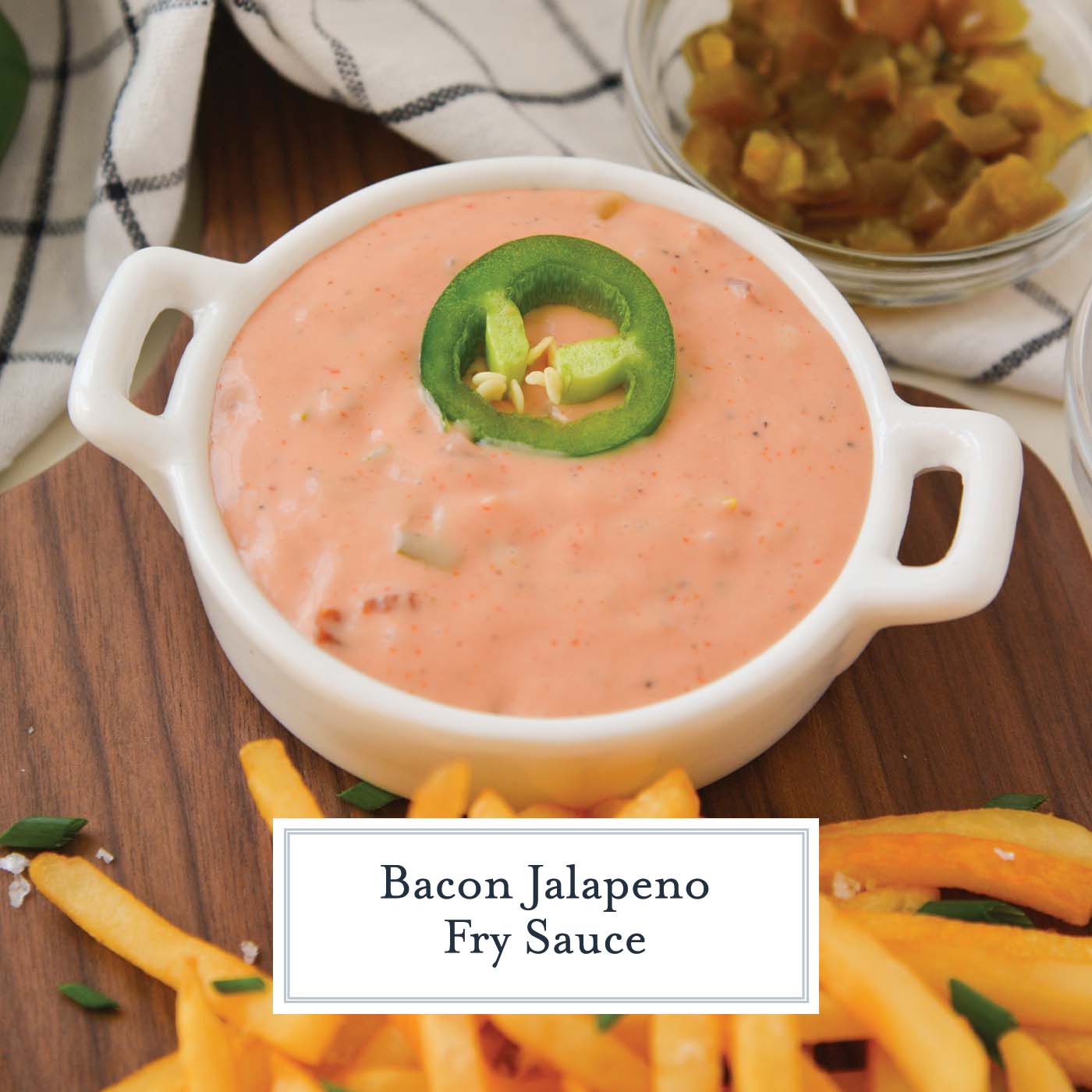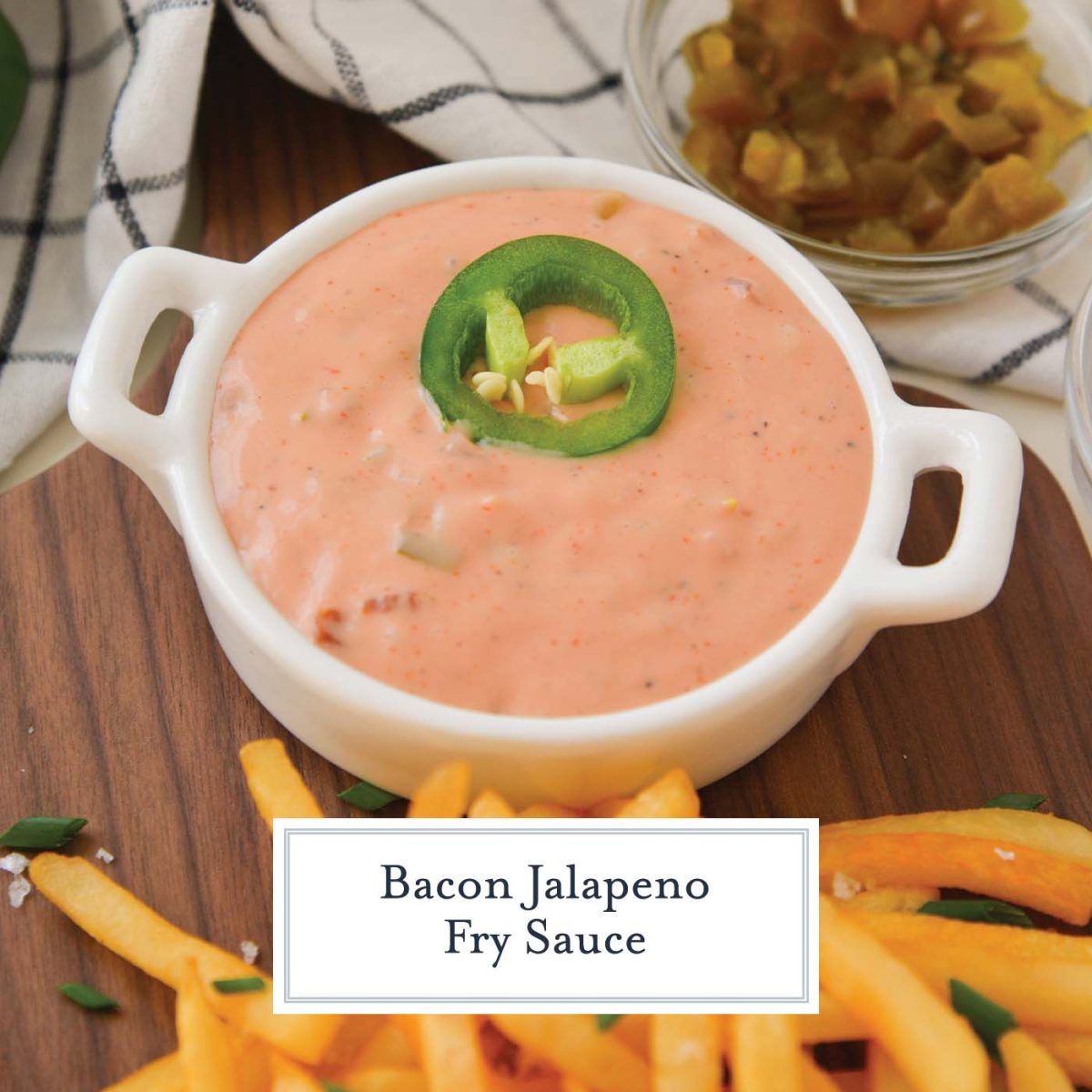 Fry Sauce Variations
Homemade fry sauce is a pretty amazing thing with endless variations, but we've found one that we think is just the bee's knees. Here we go again with bacon coming out and greatly adding value to a recipe. Bacon does make everything better.
This easy sauce is a mix between classic fry sauce and big mac sauce, but with crunchy bacon bits and spicy pickled jalapeno pieces.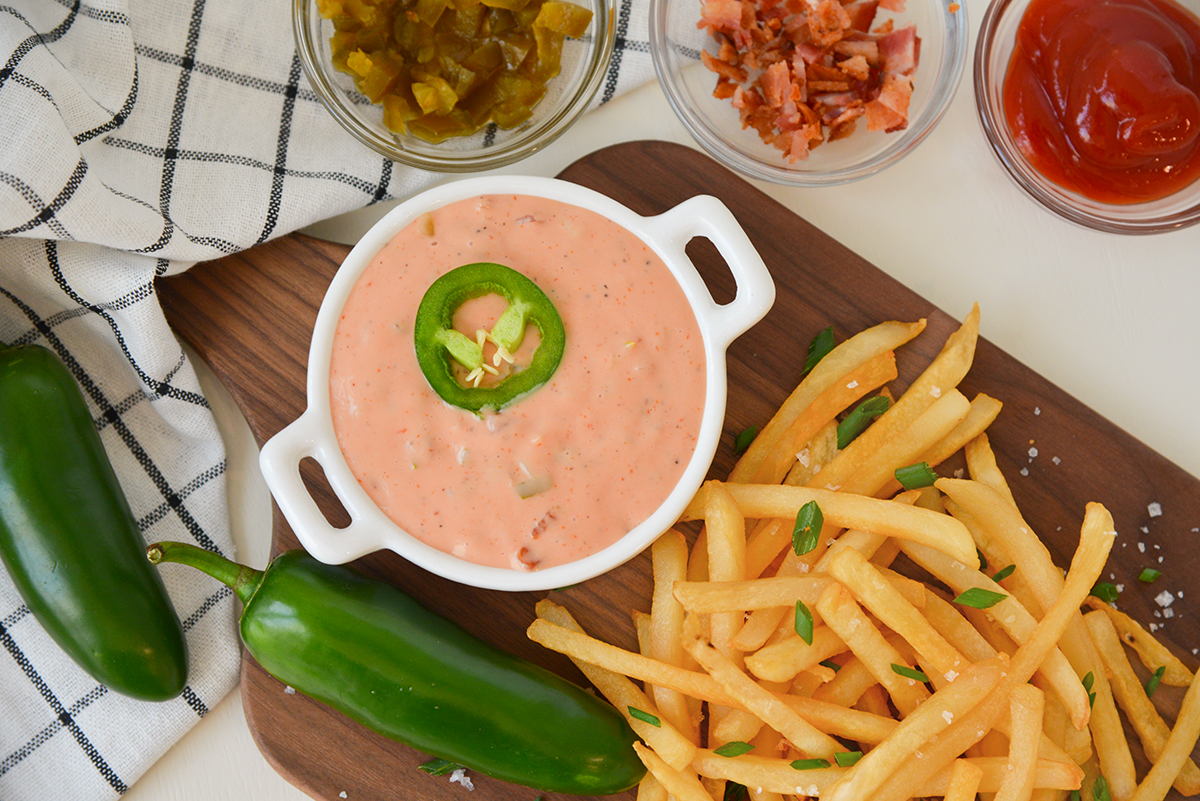 Other options include adding a dash of onion powder, garlic powder, Worcestershire sauce or cayenne pepper.
What's in Fry Sauce?
These simple ingredients are probably in your fridge already. Well, maybe not the jalapenos and bacon- but for us, these are staples.
Mayonnaise– this is the base of the sauce. Some folks that are adverse to mayonnaise can use a plain Greek yogurt, but make sure that it is Greek because it is thicker because it has been drained and thus more the same consistency as mayo. Also, try making your own!
Ketchup– The other prime ingredient in the sauce, there isn't much you can swap it out with, but if you want to try to make your own to control the sugar levels.
Pickled jalapenos– The pickled version, you know the ones you get in a jar, are the swap for pickles (or relish) in the traditional version. If you want to sweat, use fresh jalapenos.
Yellow Mustard– or get fancy with Dijon mustard!
Ground black pepper– Or white pepper if you want a milder taste.
Sugar– Sugar helps balance all the acidic flavors. Natural sweeteners can be used.
Apple Cider Vinegar– The signature tang comes from vinegar. Apple cider is my favorite, but white wine or plain vinegar can also be used.
Bacon– Make your own bacon or grab pre-cooked bacon bits.
Top with sliced scallions (green onions), chives more crumbled bacon or even a slice of fresh jalapeno.

Toss everything except the bacon in a small food processor (also my most used of kitchen appliances, I suggest everyone have one!) and give it a few blitzes until it smooths out. You can also hand mix it, but it will have more texture. Mix in the bacon by hand. For best results, cover and refrigerate it for at least an hour to let the flavors marry.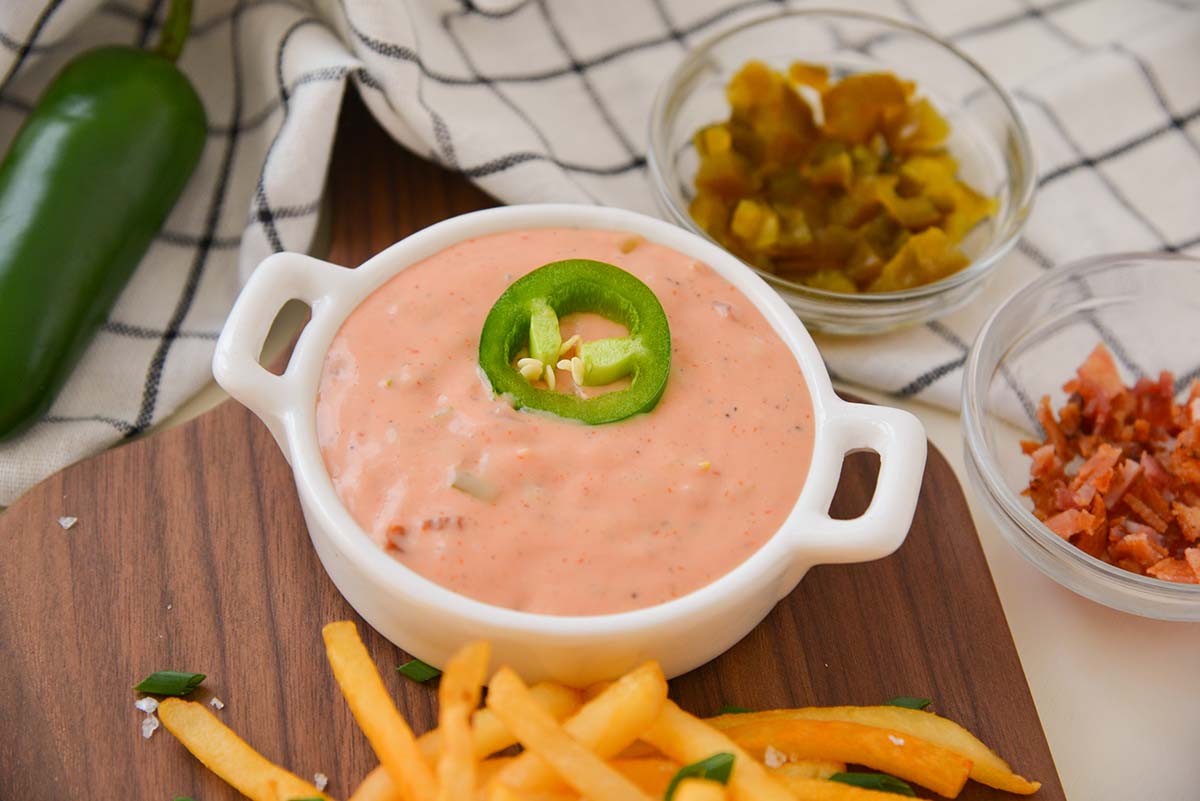 What to Serve it With
But it doesn't have to stop there. Bacon Jalapeno Fry Sauce can be used on literally anything! Clearly, just use the homemade fry sauce for dipping homemade french fries, but I also used it on my Copycat In-N-Out Burger Animal Style Fries. If you've never had them, you don't even know what you are missing.
Use fry sauce for onions rings and Onion Strings, tater tots, chicken nuggets, sweet potato fries, potato wedges or slather it onto a burger, hot dog or chicken sandwich.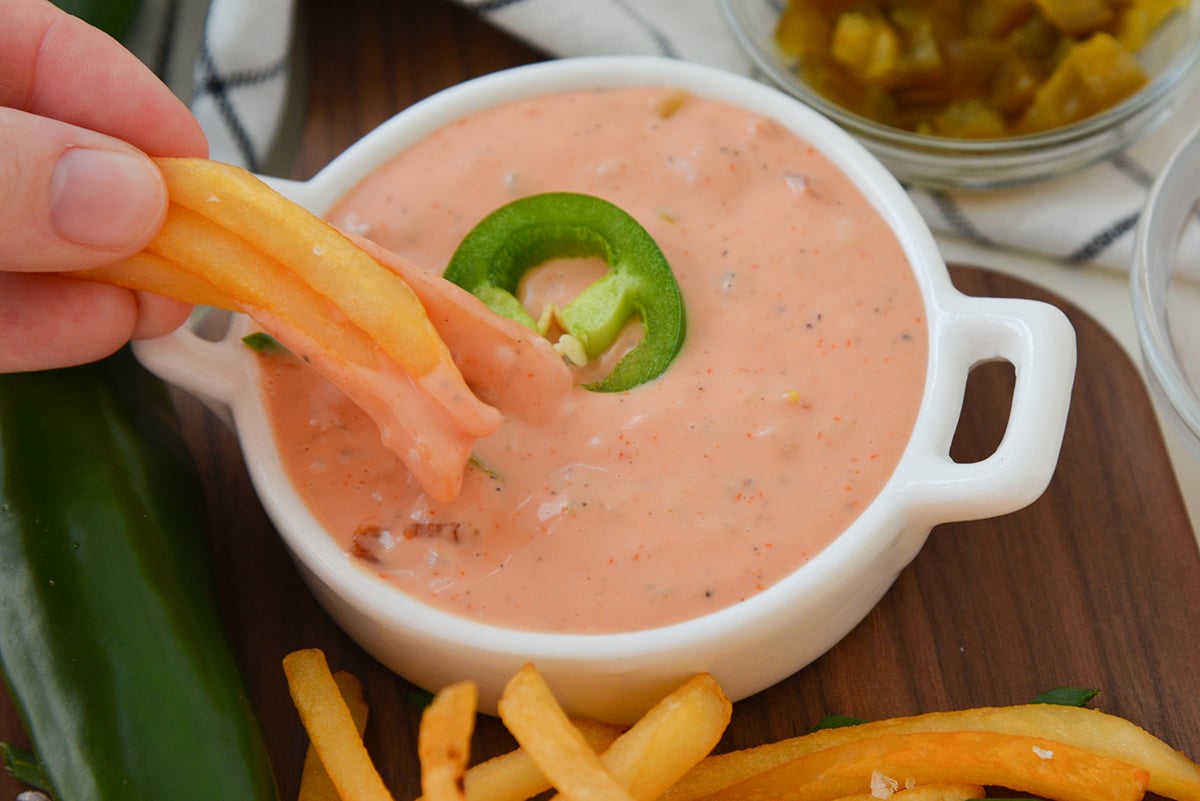 Storage & Make Ahead
Keep saucy foodie friends, keep it saucy. Keep it chilled in an airtight container for up to a week. We do not recommend freezing any mayo-based sauce.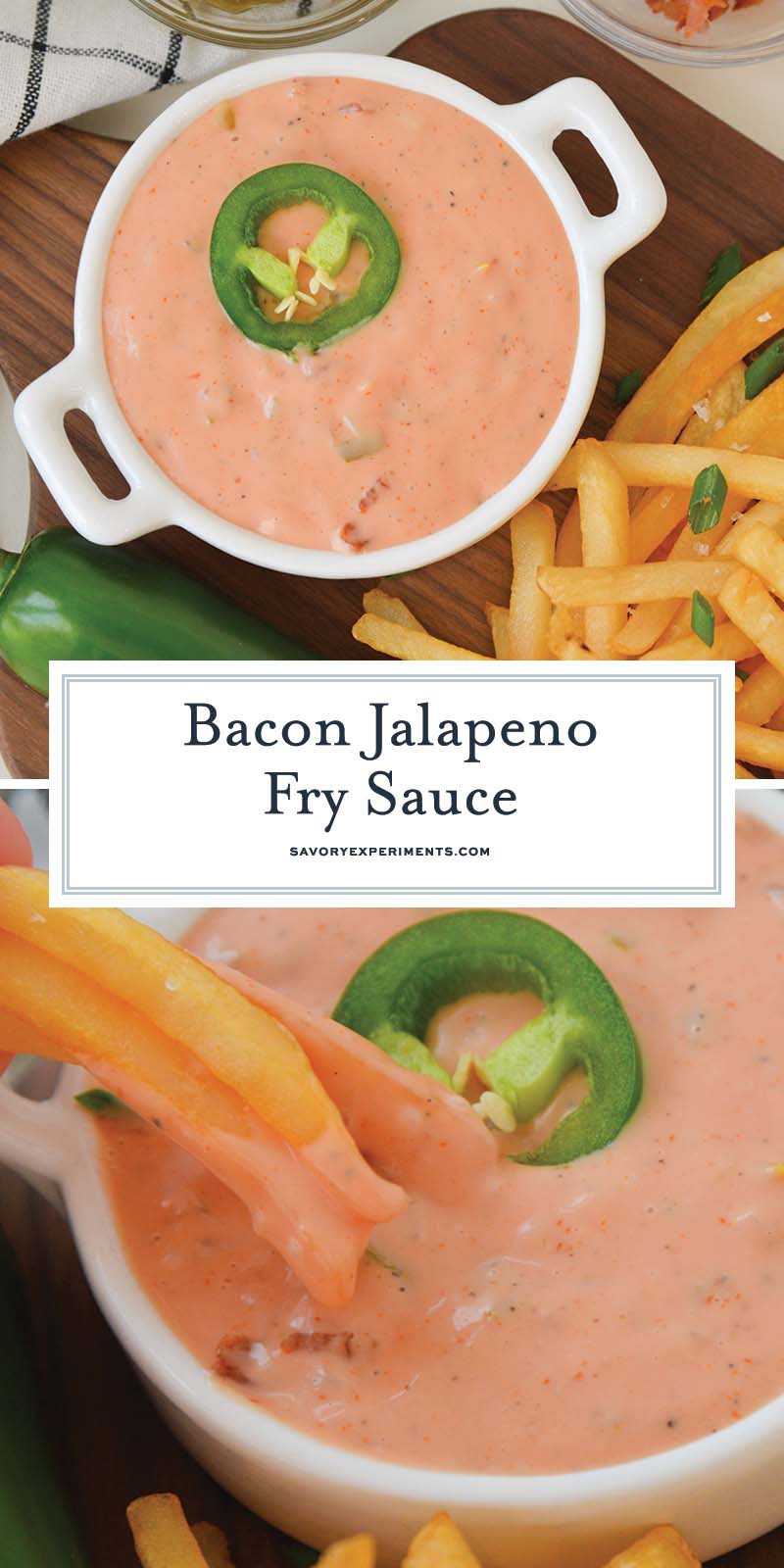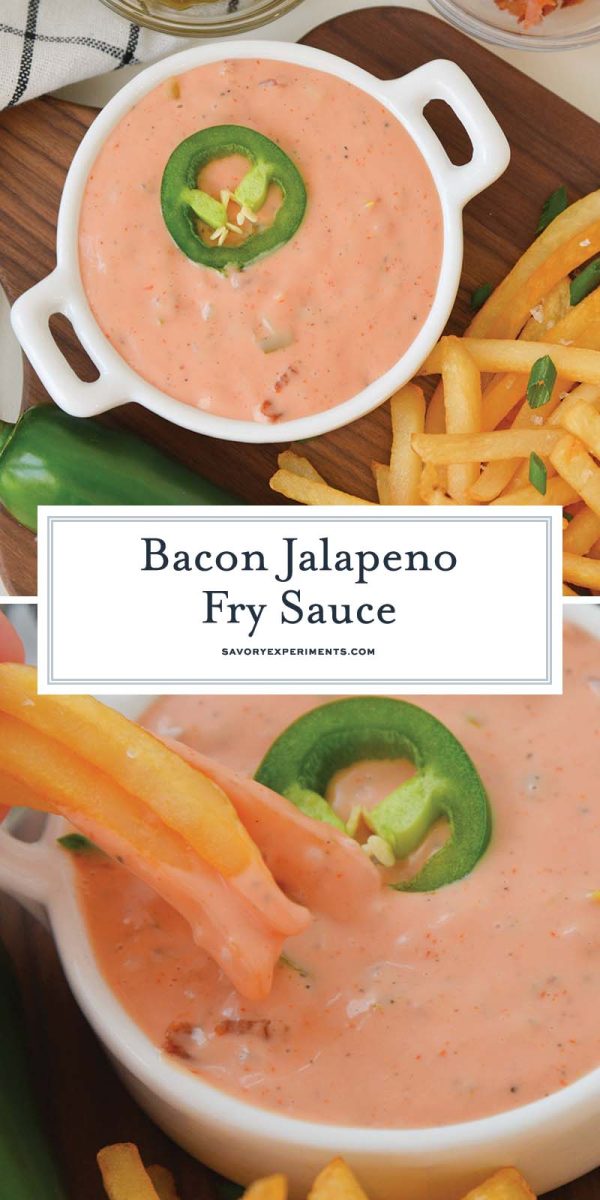 More easy sauce recipes: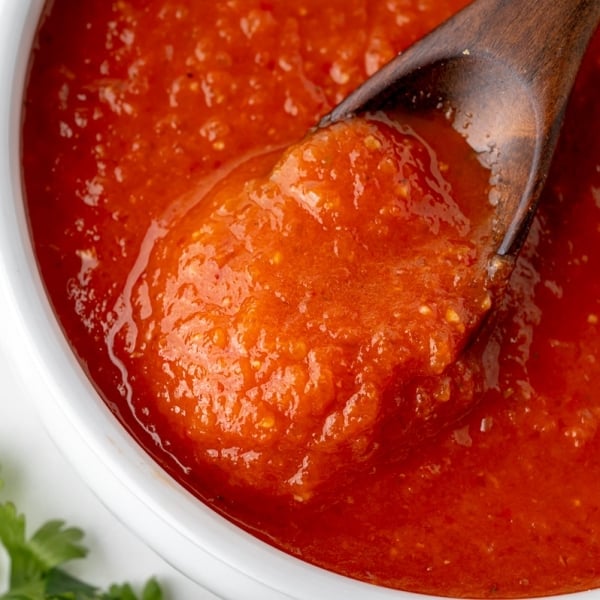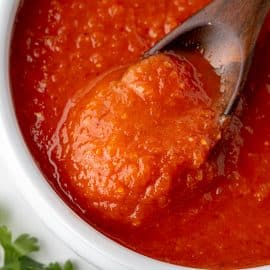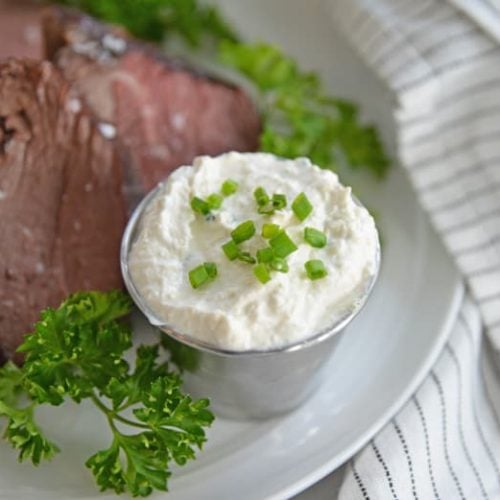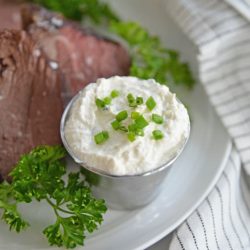 Creamy Horseradish Sauce
Creamy Horseradish Sauce comes together in less than 5 minutes with a sour cream base, tangy horseradish, this is a winner that will rival any steak sauce!
See The Recipe!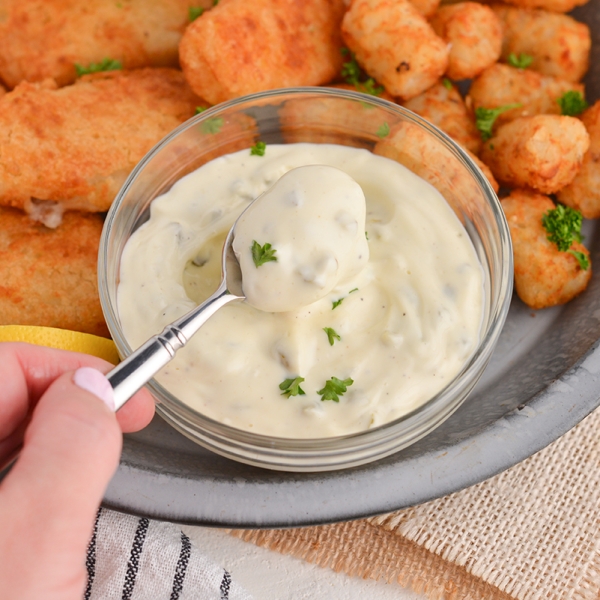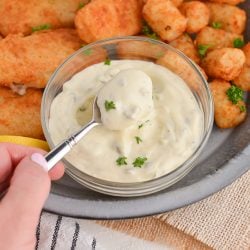 Homemade Tartar Sauce
Tartar sauce is a must-have for nearly any dish with seafood or fish. Why buy it from the store when you can make this tasty homemade tartar sauce in seconds with just a handful of ingredients?
See The Recipe!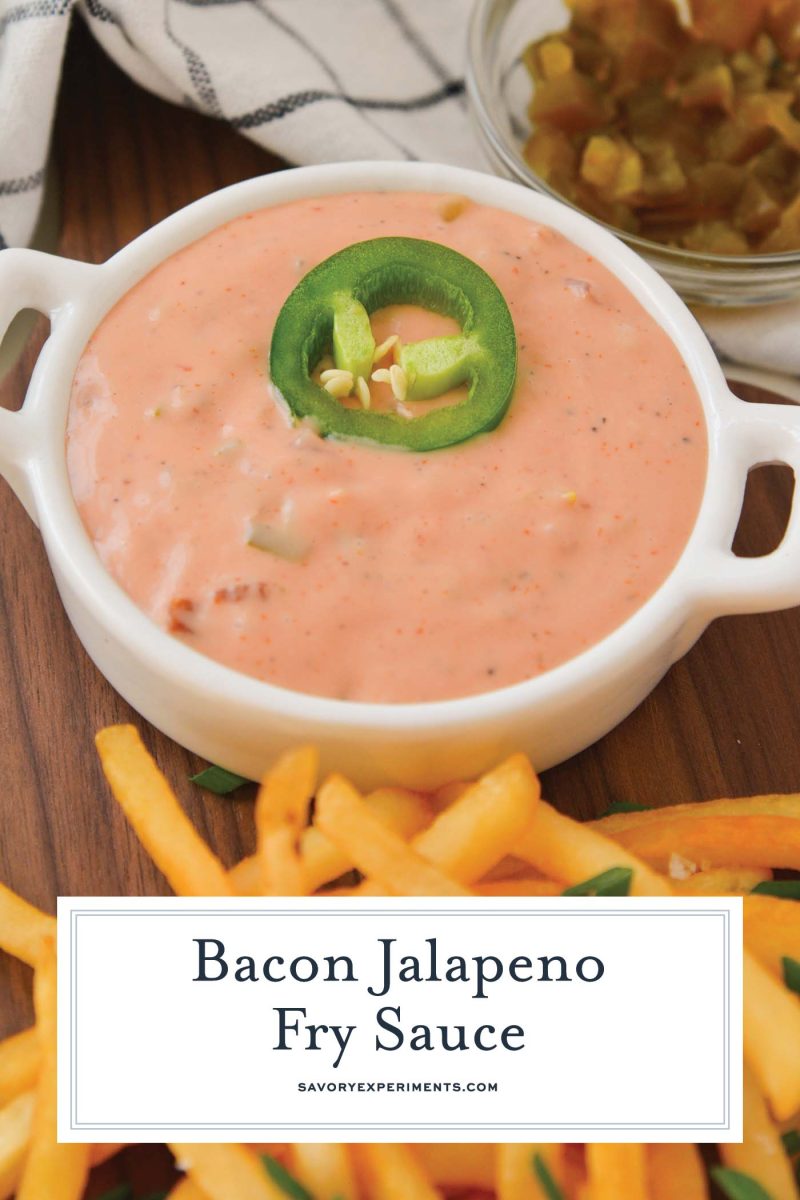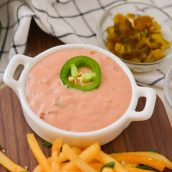 Bacon Jalapeno Fry Sauce
Bacon Jalapeno Fry Sauce is the best spicy dipping sauce for French Fries, hamburgers, hot dogs, onion rings and even deli sandwiches!
Instructions
Combine the ketchup, mayonnaise, jalapenos, mustard, vinegar, pepper and sugar in a bowl or food processor. Blitz or whisk until combined. Fold in the bacon by hand.

Cover and chill the sauce for at least an hour before serving.

If you've tried this recipe, come back and let us know how it was in the comments or star ratings.
Notes
Other options include adding a dash of onion powder, garlic powder, Worcestershire sauce or cayenne pepper.
Nutrition
Calories:
172
kcal
,
Carbohydrates:
5
g
,
Protein:
1
g
,
Fat:
16
g
,
Saturated Fat:
2
g
,
Cholesterol:
11
mg
,
Sodium:
342
mg
,
Potassium:
72
mg
,
Sugar:
5
g
,
Vitamin A:
115
IU
,
Vitamin C:
0.8
mg
,
Calcium:
3
mg
,
Iron:
0.1
mg