This air fryer grilled cheese combines crispy bread with the most perfect gooey melted cheese-pull for one of the best renditions of this classic comfort food. Warm, cheesy, and so delicious, you'll want to be air frying this sumptuous sandwich on the regular.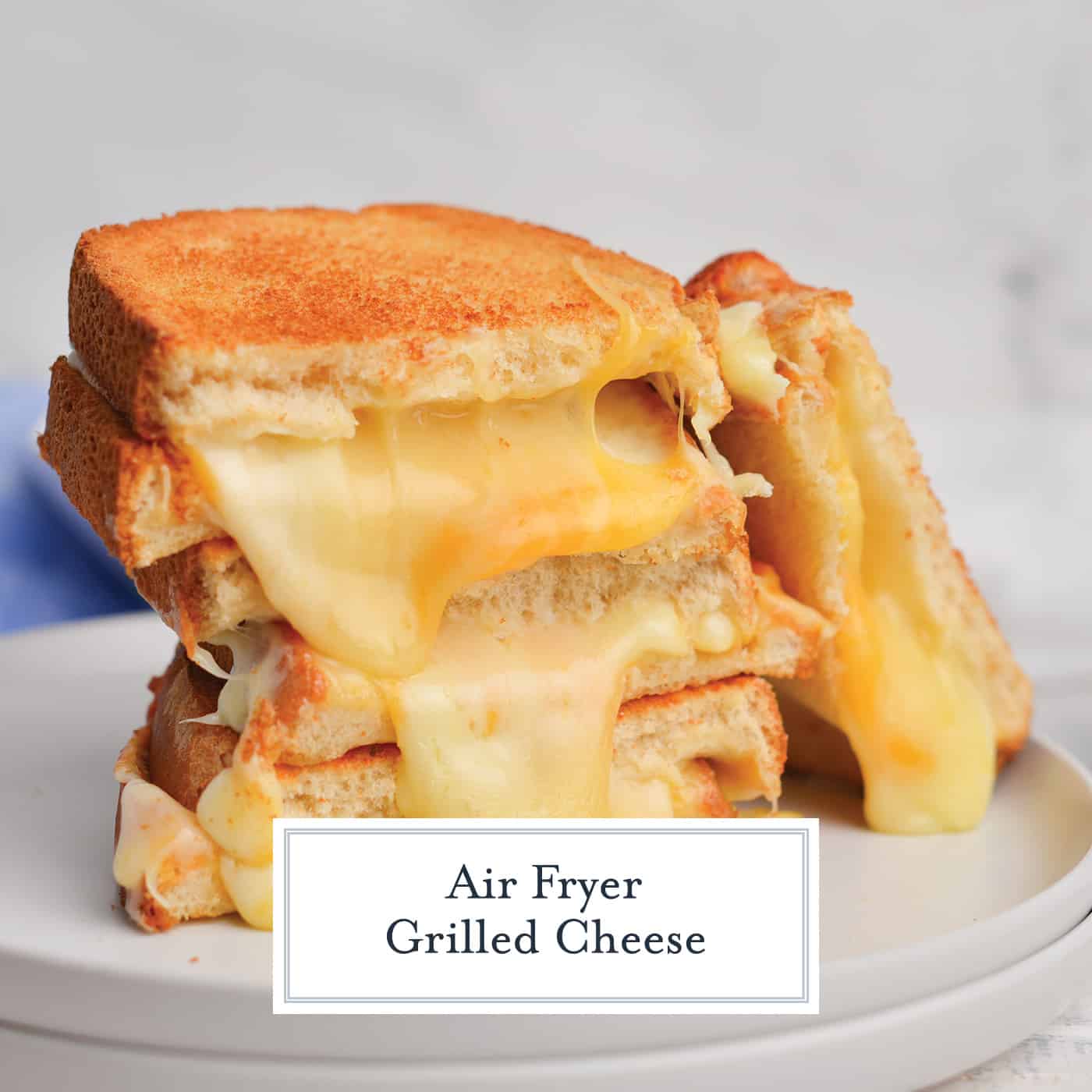 The best part about air fryer grilled cheese is that it's faster to make than the traditional and classic sandwich. Prep time is minimal and the air fryer's circulating air cooks the sandwich evenly on both sides so you don't have to worry with checking it and flipping it.
Hot Cheese- Is Anything Better?
All of this means that you can have a hot, cheesy sandwich that's evenly cooked and ready to eat in just a few minutes — and every bite will be the perfect bite. Pair it with homemade tomato soup or just eat the cheesy goodness all on its own.
So, the next time you're craving ooey-gooey grilled cheese between two slices of perfectly crispy, browned bread, reach for your air fryer instead of your frying pan for this air grilled cheese recipe.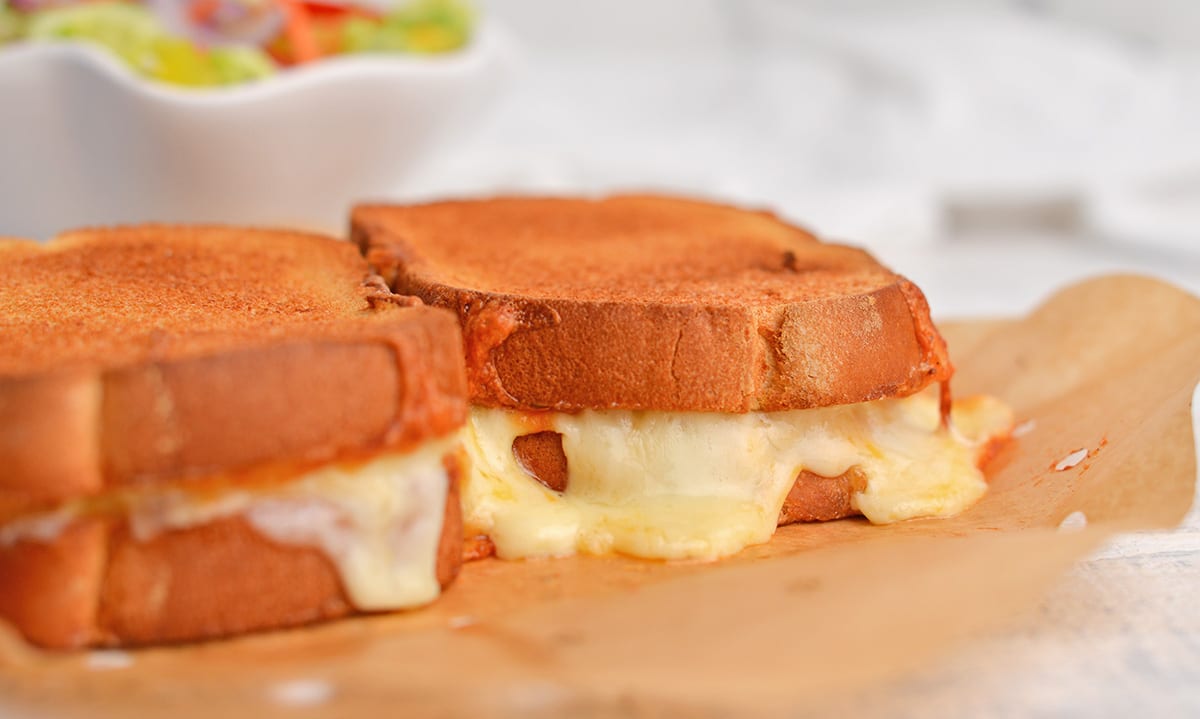 Best Type of Cheese for Grilled Cheese Sandwiches
The best cheeses for a grilled cheese sandwich are the ones that melt well and also have a strong flavor. American cheese is a go-to and cheddar is also a good melting cheese — so are Swiss, Monterey Jack, and Gruyère.
You can also use a combination of cheeses for a more nuanced version. And if you want to get decadent with it, try incorporating soft cheeses that become silky in the sandwich like brie or camembert.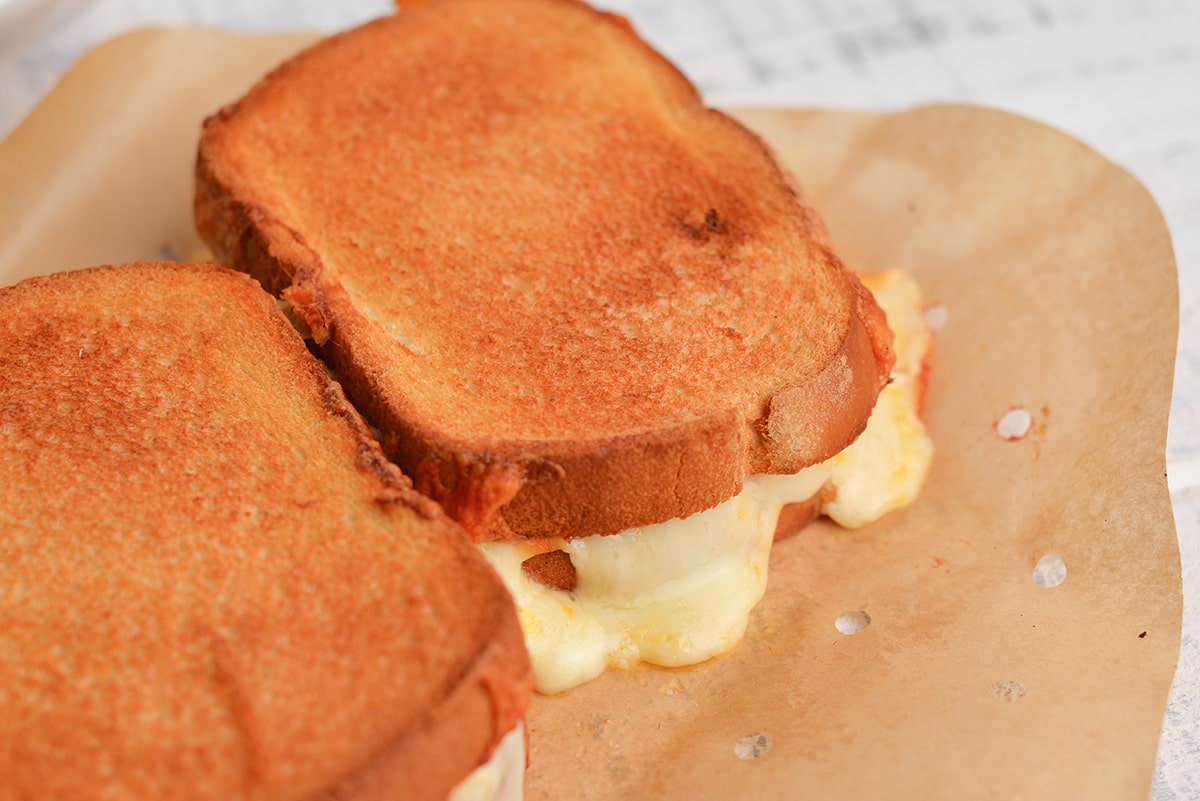 Best Type of Bread for Air Fryer Grilled Cheese Sandwiches
The best type of bread for grilled cheese is one that is sturdy enough to hold up to the weight of the cheese and the heat of the pan. You can use a simple white or wheat sandwich bread or ciabatta or herbed focaccia.
Some other good options include rye, pumpernickel, and sourdough bread. You can also use a crusty bread, like French bread, for a different texture.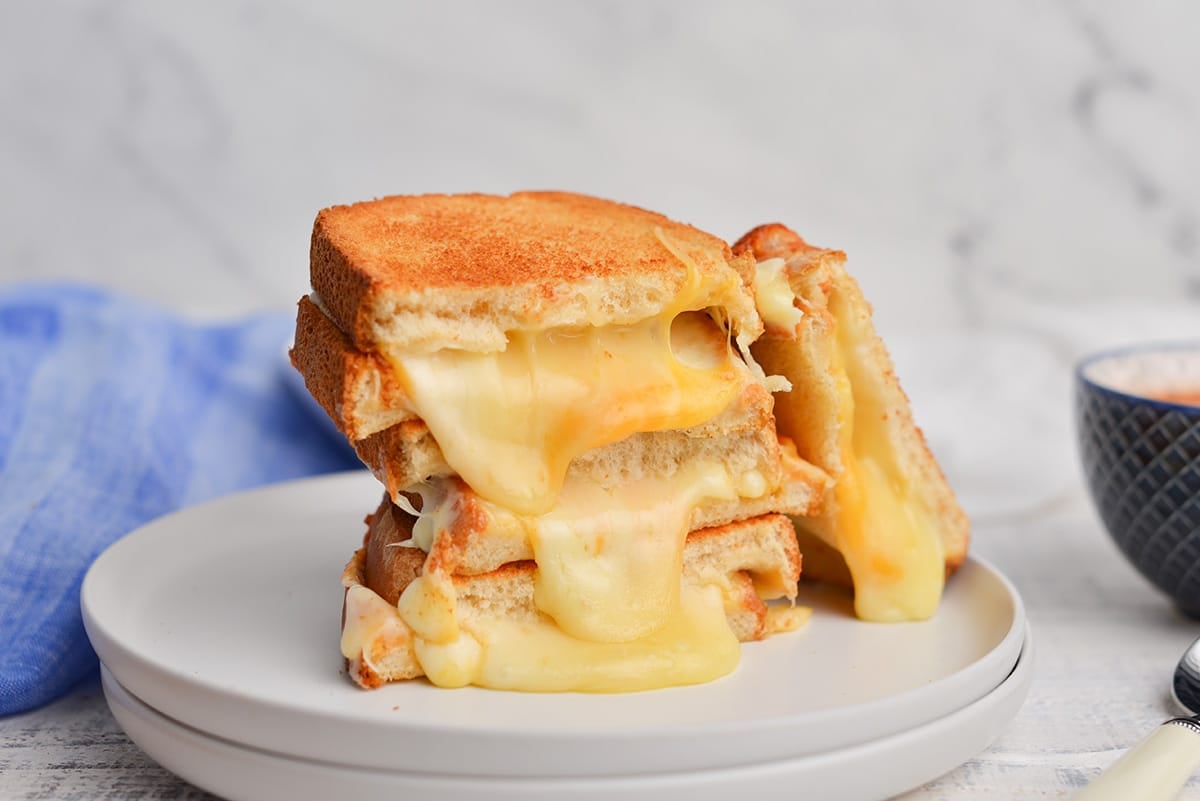 Butter or Mayo — Which is Best?
There is a long-standing debate about whether to use butter or mayonnaise when making grilled cheese sandwiches. Both options have their own advantages — butter gives the sandwich a richer flavor, while mayonnaise helps to create a crispier crust. Just don't rely solely on cooking spray if you want flavor and crispiness.
At the end of the day, the choice is up to your own personal preference — after all, comfort food is meant to be comforting to you. So? You do you on this one!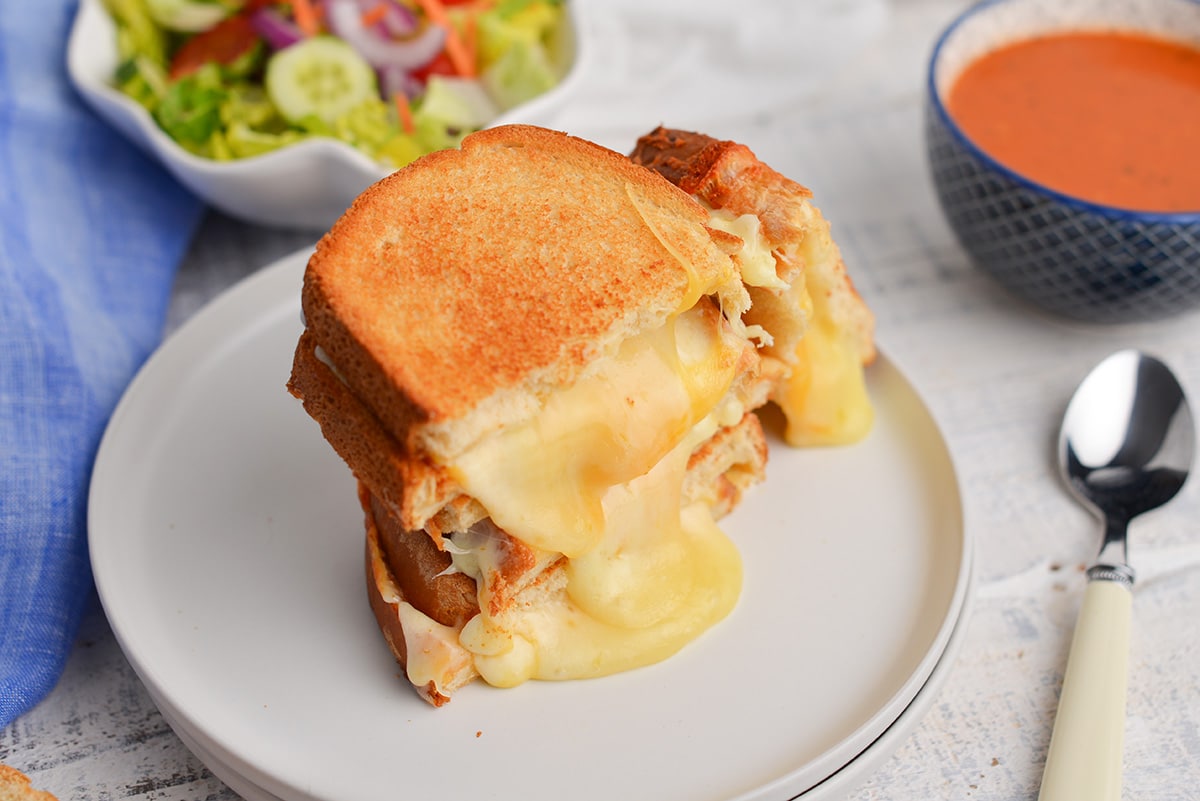 Ingredients
This simple recipe is the best way to create a luscious sandwich full of melty cheese enveloped in gorgeously crispy, toasty bread.
Bread – Choose your favorite to use for grilled cheese, or experiment with something new. If you're feeling funky, try something like garlic bread as a twist!
Mayonnaise – If you're in one of the southern states in the U.S., you'll likely choose to use Dukes — if you're anywhere else, choose your own favorite brand. Or, despite your geographic location, you can make your own homemade mayo.
Cheese – We like cheddar, Colby Jack, and/or Monterey Jack but you can make it with whatever cheeses you like best.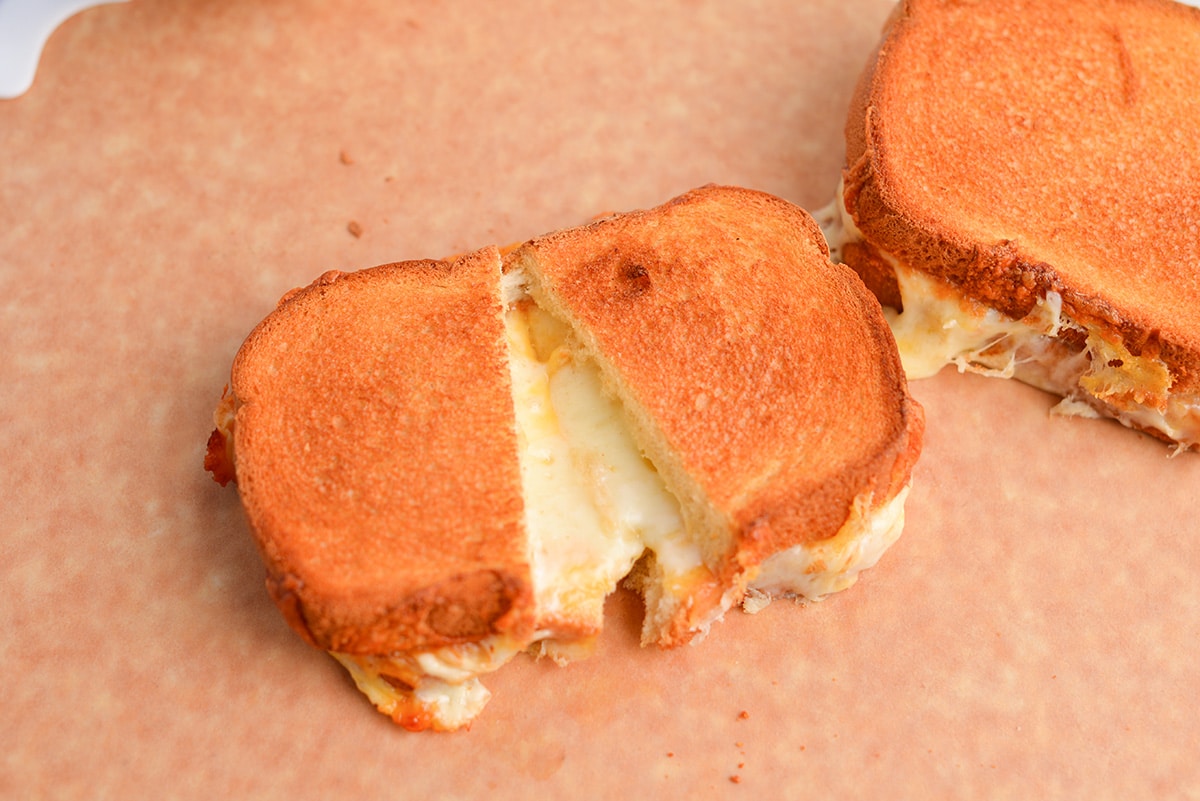 How to Make Air Fryer Grilled Cheese
Of all the easy recipes we have, this might be the easiest. Just let that hot air circulate around the sandwich to create the most perfect dinner (or lunch… or breakfast?).
Slather Bread. Spread mayonnaise on one side of each of the pieces of bread. You can also use butter or olive oil.
Add Cheese. Top with cheese slices (or shreds) and place bread on top.
Air Fry. Place the sandwiches in the basket of a preheated air fryer in a single layer. Cook until the bread is golden brown and the cheese is melted. Use parchment liners for easy clean up!
​Cool. For best results, allow a couple minutes for the cheese to set, then slice diagonally and serve.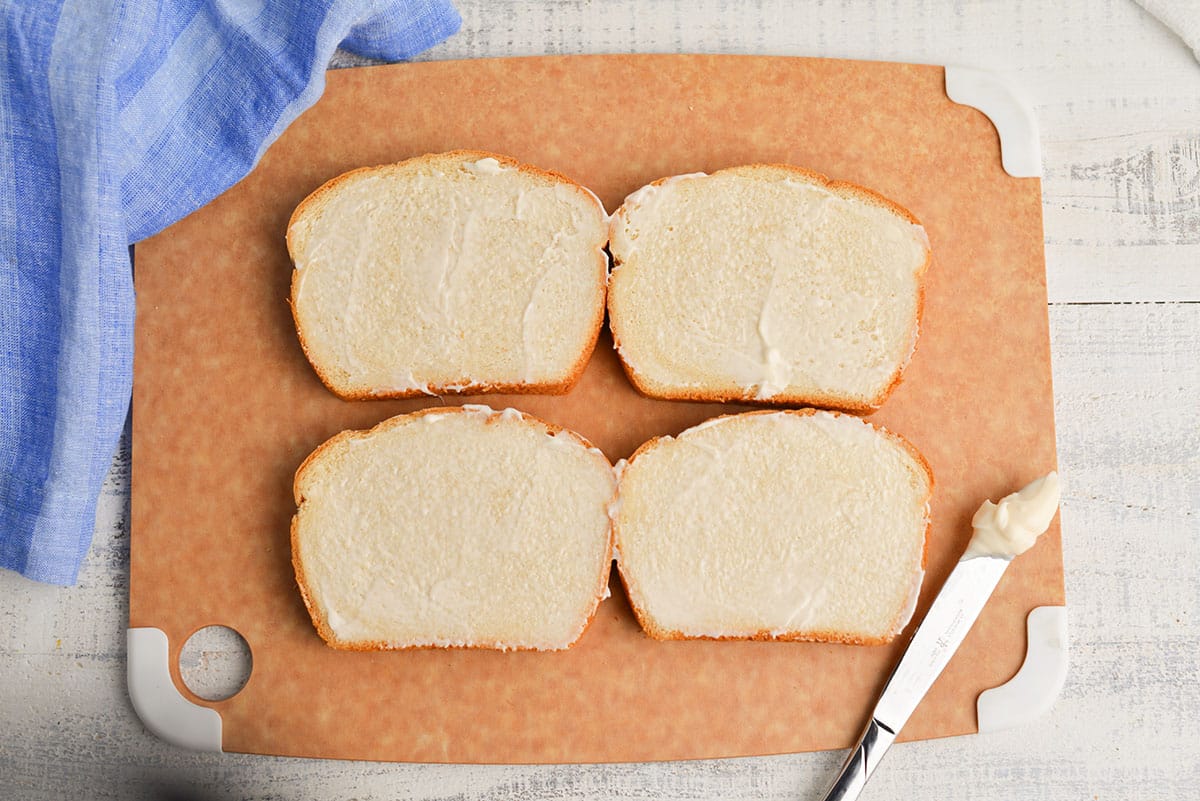 What to Serve with Air Fryer Grilled Cheese
There are few things we wouldn't serve with grilled cheese! Some of our favorites are a bowl of tomato soup, chicken noodle soup, and ham and bean soup. It's also great with salads — try a simple side salad, cucumber tomato salad, or cobb salad.
If you want more comforting sides to go with your cheesy meal, try french fries or macaroni and cheese.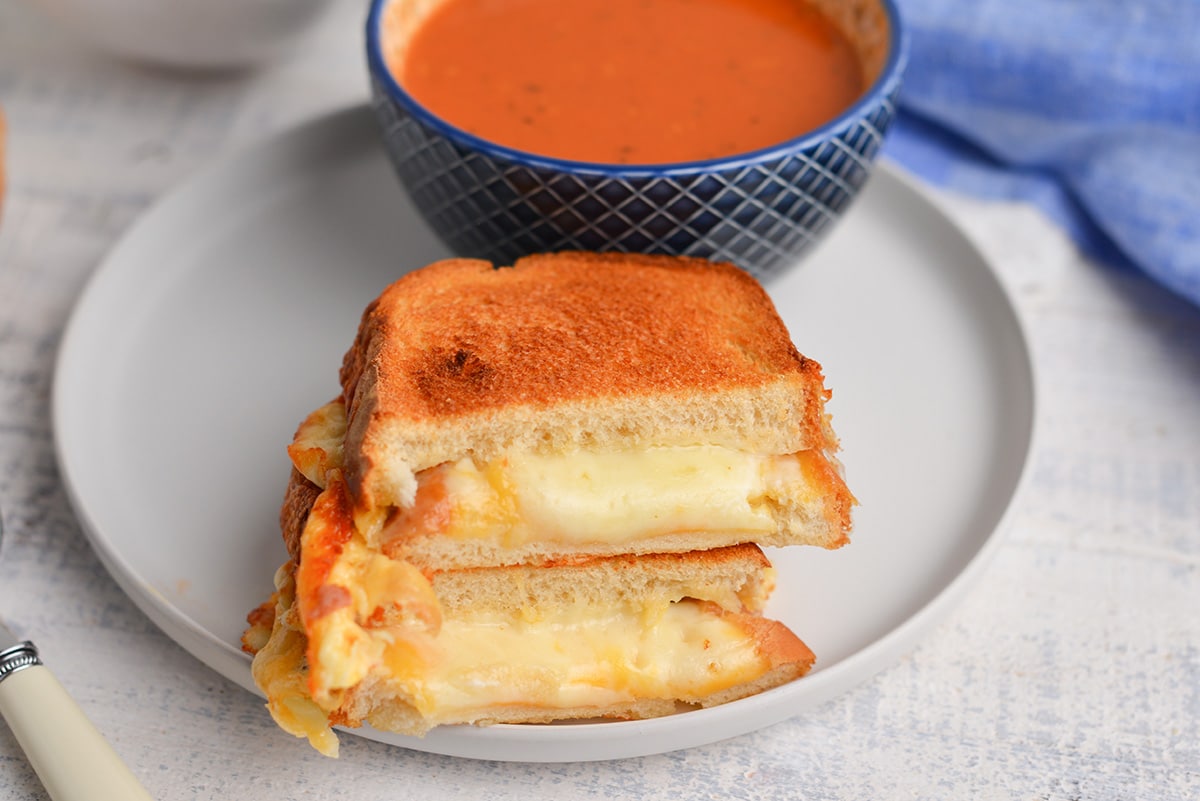 Variations
There are so many ways to customize this easy grilled cheese — it could become your new favorite sandwich.
Fillings – Add ham, bacon, avocado or tomato to your grilled cheese sandwich. Other spreads like tomato jam and bacon jam are also amazing.
Cheese – Use different types of cheese, such as Gruyère, fontina, or provolone. If you're a fan, use extra-sharp cheddar for an intensely flavorful grilled cheese.
Mayo – Spread the mayonnaise on both sides of the bread for a crispier sandwich. Don't forget you can add extra flavor by using aioli.
Parchment – Use a parchment paper liner in the air fryer basket to prevent the bread from sticking.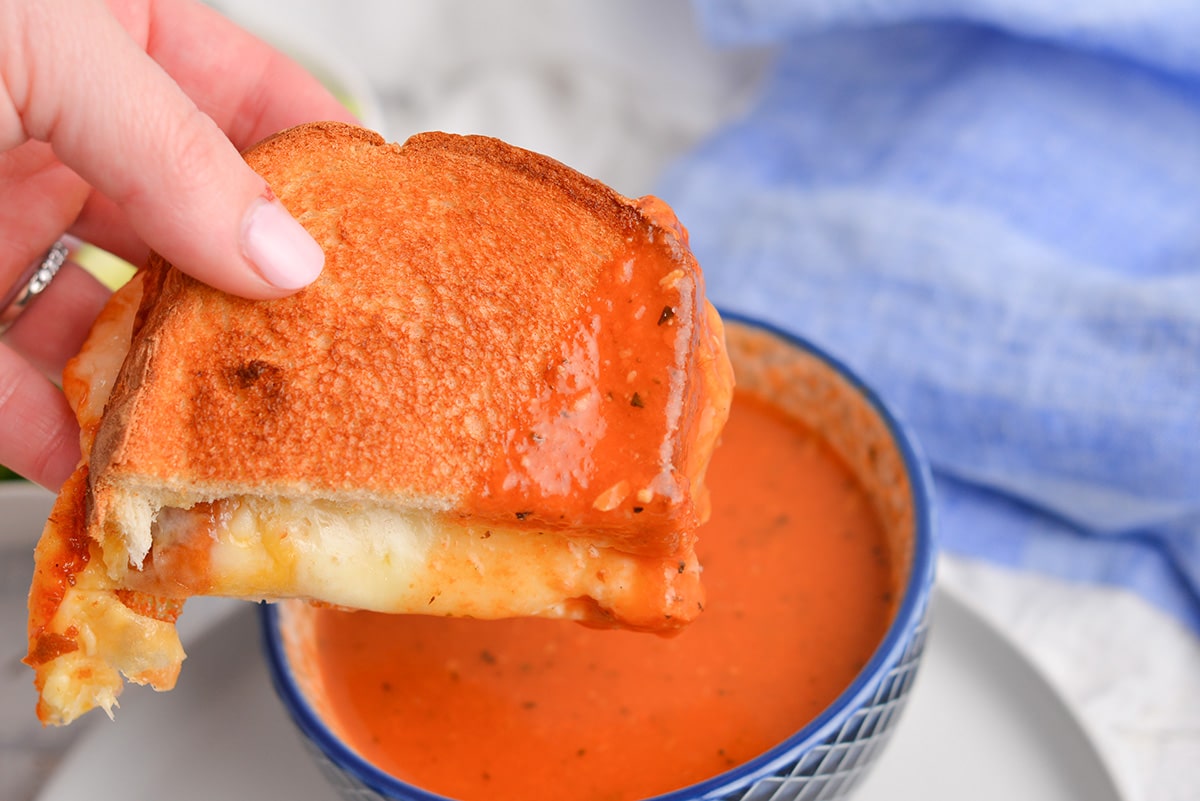 Storage and Make Ahead
While we can't help but dig into this delicious sandwich immediately, you can store leftovers if you need to.
Make Ahead: If you anticipate a busy day at work or school, you can prepare these ahead of time and store in the refrigerator until you're ready to air fry. This is also a savvy strategy if you're planning to serve a crowd.
Refrigerator: Air fryer grilled cheese sandwiches can be stored in an airtight container in the refrigerator for up to 3 days. To reheat, place the sandwich in the air fryer for 1-2 minutes, or until heated through.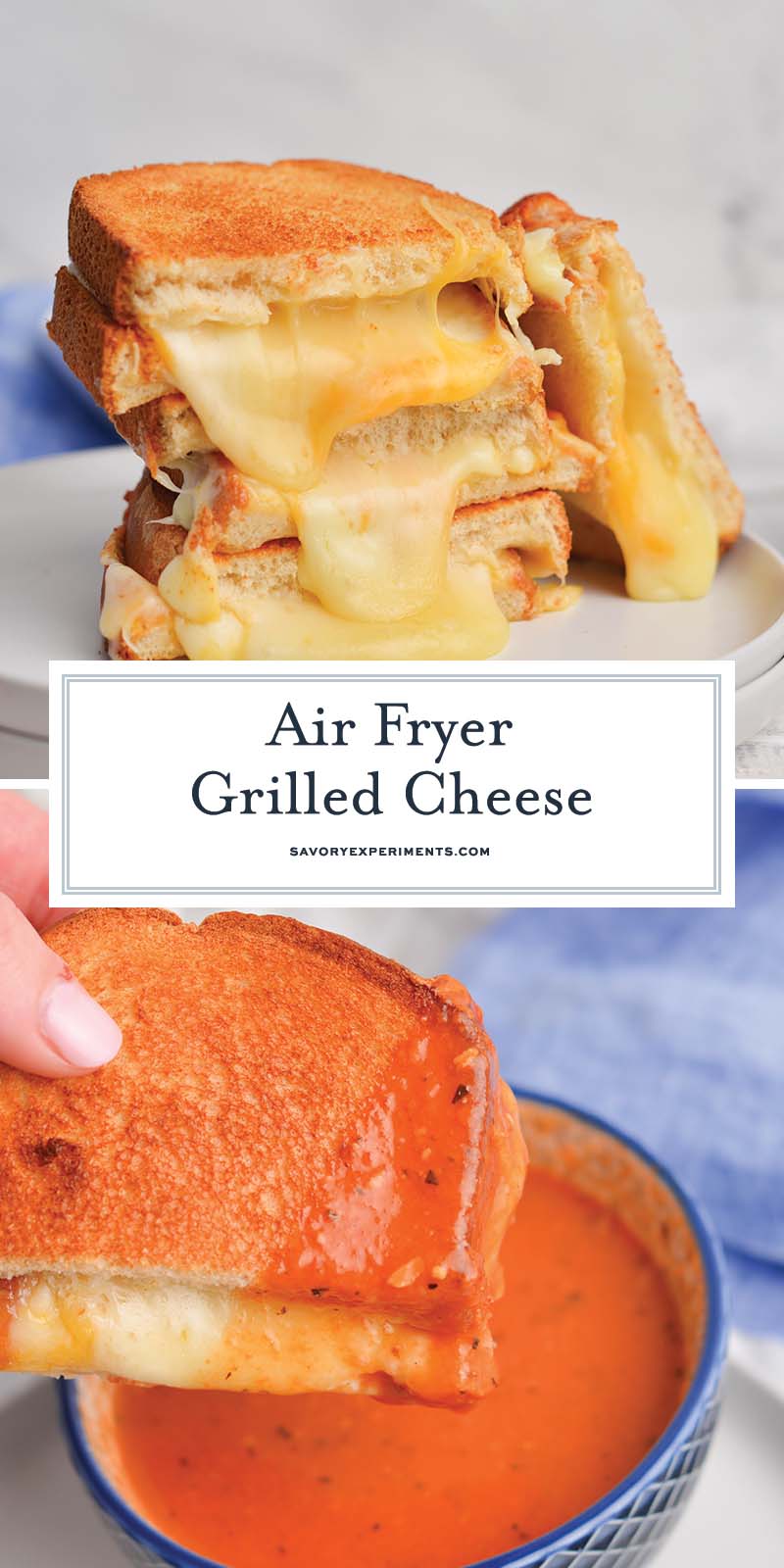 More Cheesy Sandwiches