Are you looking for the best meatloaf recipe around? Meet my Stuffed Meatloaf recipe- it will blow your mind!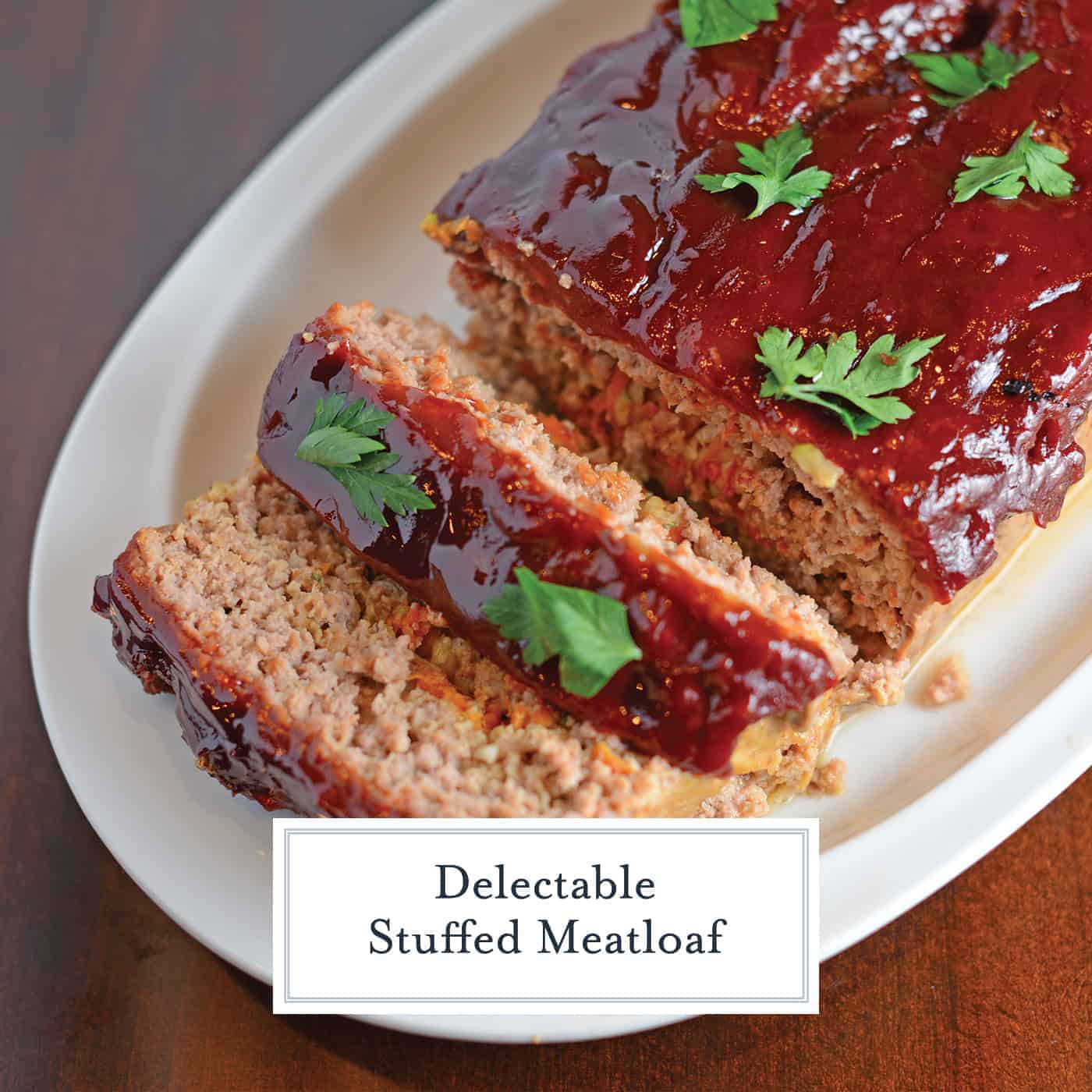 Stuffed Meatloaf is a tender meat mix stuffed with shredded vegetables and topped with a zesty and sweet sauce. The perfect comfort meal!
Meatloaf wasn't something I ate growing up. In fact, it always kind of turned me off. It was literally a brick of ground meat, a load, truly. Around the time hubby and I first moved in together (before marriage, gasp!), he requested I make him meatloaf.
As a meatloaf novice, I did my best using my knowledge of making meatballs and it turned out to be THE BEST MEATLOAF EVER!
Well, according to him. I didn't even eat it. I actually made something else for myself that night.
I have no clue what I put into that meatloaf. No idea. Nada. But to this day he remembers it, asks me to make it and raves to friends about "my" meatloaf.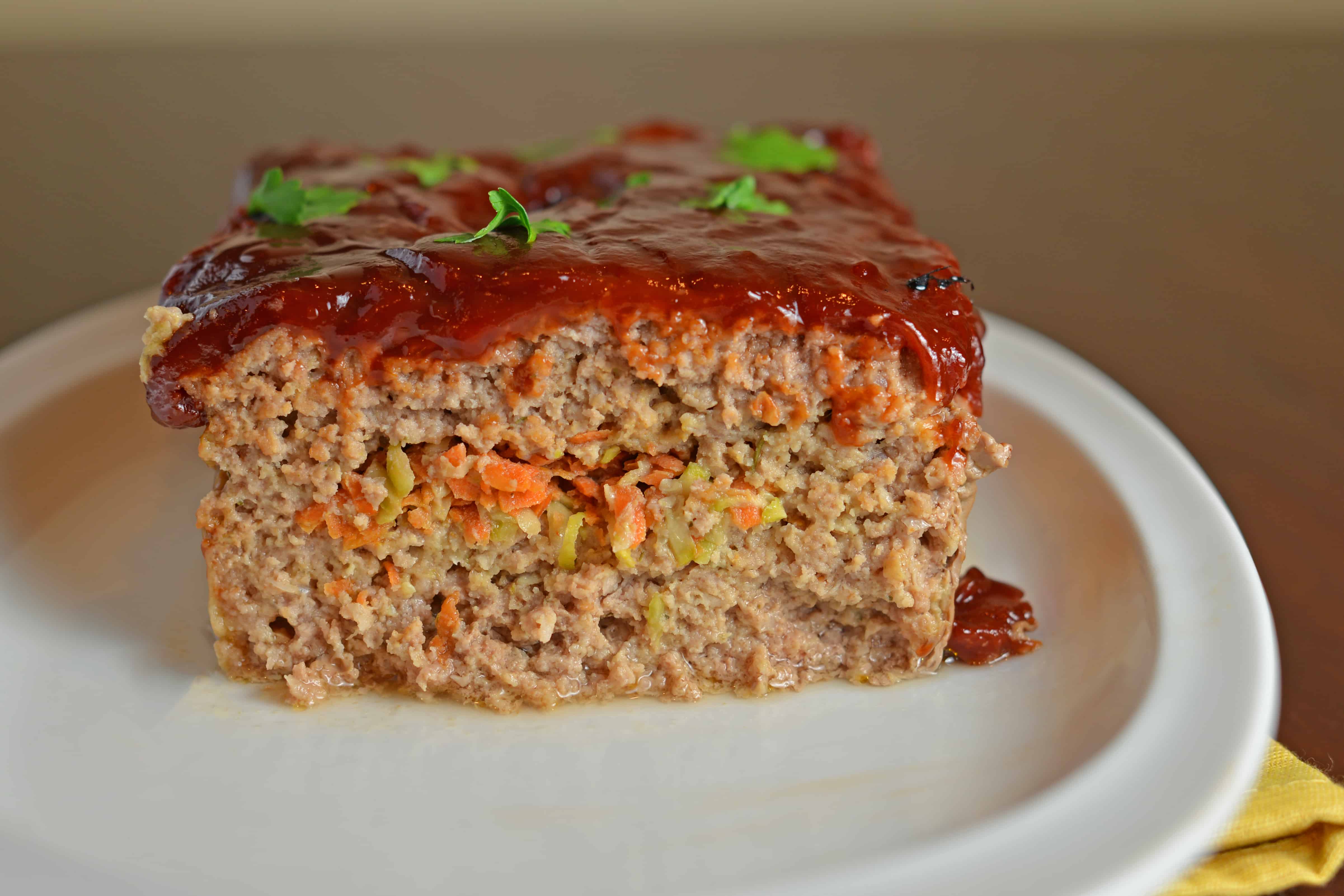 I decided to give meatloaf another whirl, but this time lighten it up a little, add some sophistication and make it something I would eat. I used my knowledge of making a good meatball. Instead of using fresh bread, I opted for breadcrumbs, wanting to dry out some of the ingredients that wouldn't have the chance to drain.
My research showed that some folks just use straight up beef, bread crumbs and egg, while others like a blend of celery, garlic and onion in the mix.
PRO TIP: A fine mince for onion and garlic is best for meatloaf. To accomplish this quicky, use a mini food processor and pulse.
The most common problem seemed to be not cooking all the way through and "stuffed meatloaf" was by far the most popular, especially mozzarella stuffed meatloaf.
I made a nice blend of Parmesan cheese, seasoned breadcrumbs, eggs and paste of onion and garlic, opting to use fresh veggies as my "stuffing" instead of gooey cheese. Finely shredded carrot and zucchini would add color, a bright, fresh snap in each bite and also keep the inside moist.
Many meatloaf recipes advise to use as much liquid as possible, but I found it to not hold together. With all of the watery veggies I was using, breadcrumbs helped to absorb some of the excess water without losing any flavor.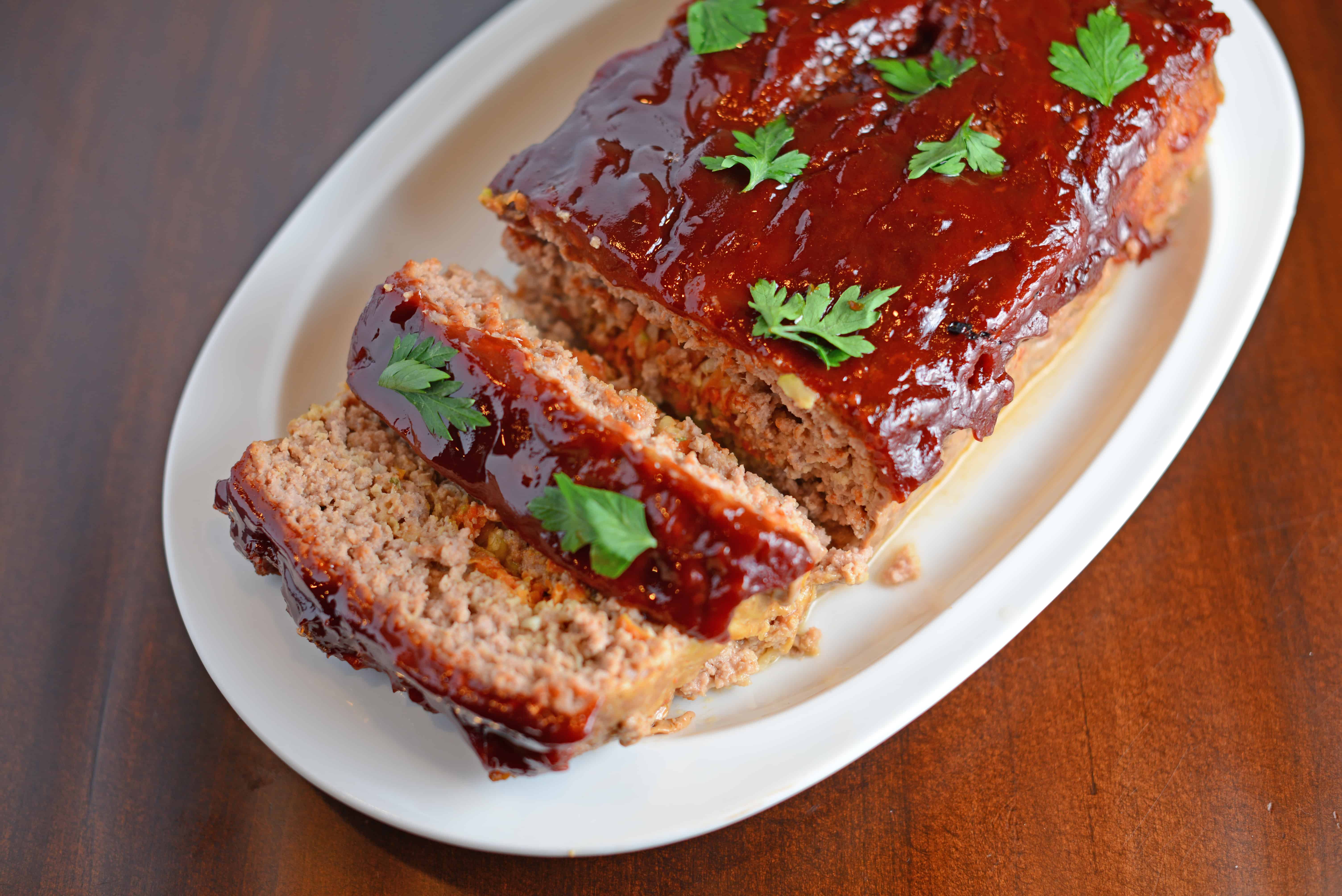 I might add goat cheese next time around, but really, this was enough. Now I didn't need to worry about the interior cooking to temperature because it wasn't made of meat.
In fact, I realized I was breaking many of the rules chefs swear by when making meatloaf. I used breadcrumbs instead of milk soaked bread, I was trying to soak moisture instead of adding it, I used a meatloaf pan instead of a baking sheet and I didn't saute the vegetables before adding them. Mine still turned out delicious!
Lastly, the topping. Some use plain ketchup, while others prefer BBQ sauce. Many make a sweet blend of ketchup, brown sugar and mustard for some bite.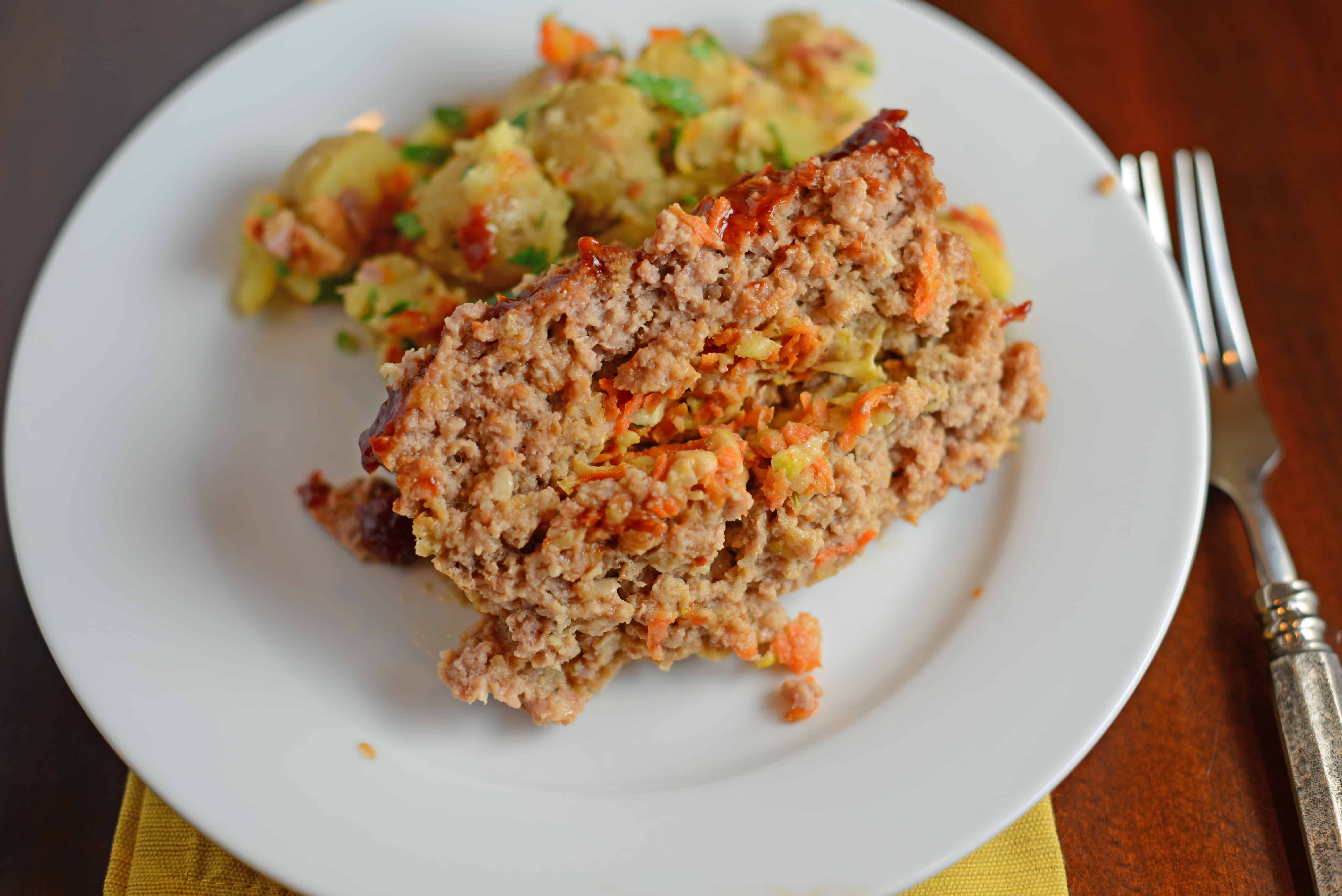 But what if I used the sauce from my Cocktail Meatballs? A blend of ketchup and grape jelly to add acidic flavor with a little bit of sweet.
PRO TIP: Do not overmix the meat, toss to combine. Overworked ground beef and become tough and dry.
Now what to serve it with??? Mashed potatoes are a likely choice, but it was a nice spring day and mashed potatoes seemed too heavy, like a snowy night comfort meal, so I made up a Bacon Potato Salad served chilled or room temperture.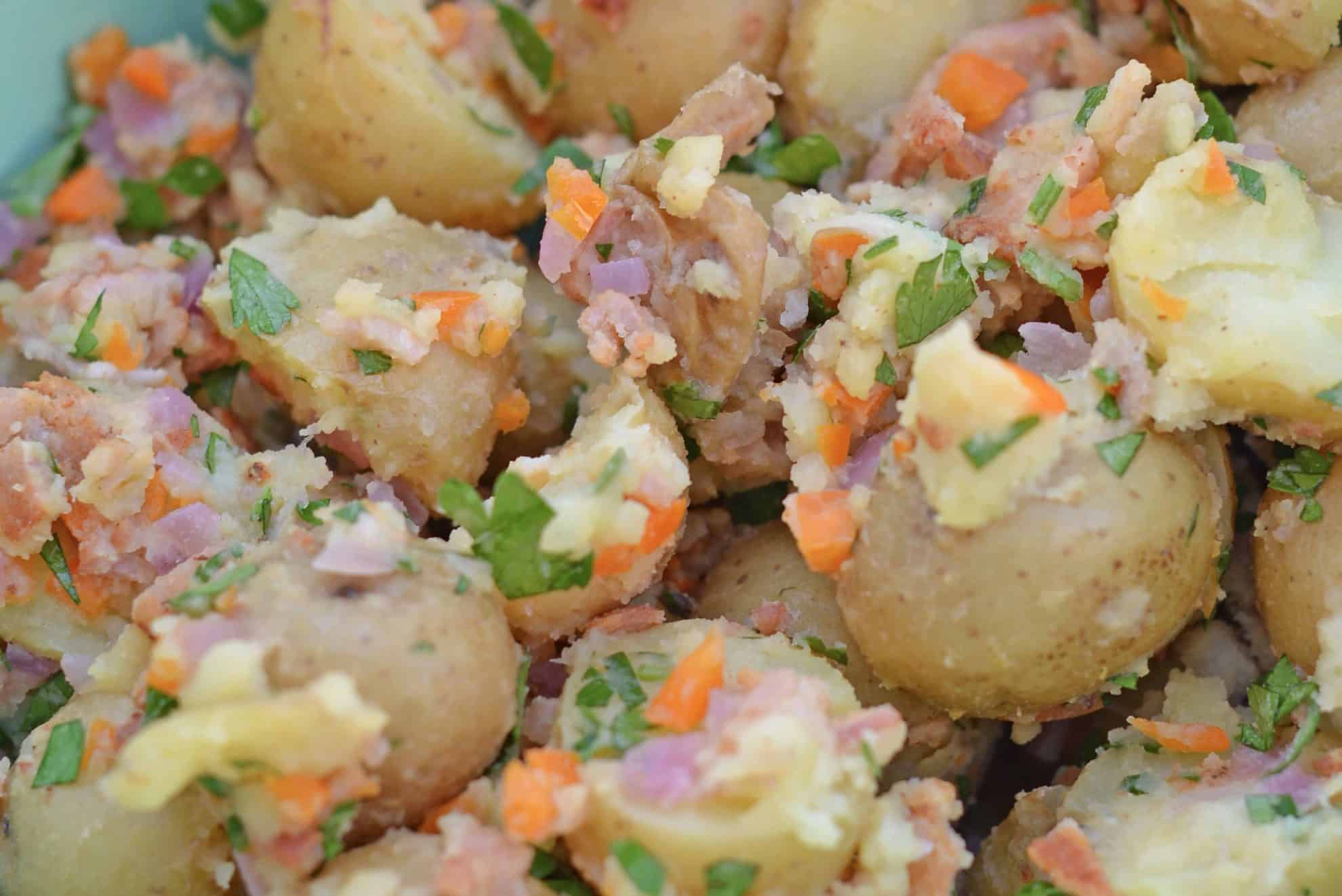 Red wine vinegar, bacon, minced bell pepper and pickled red onion have a great texture and taste that isn't too overwhelming, but keeps in line with traditional "meat and potatoes." My family loved it and I'm looking forward to hearing if yours will too!
More Meatloaf Recipes:
Tools for making stuffed meatloaf:
Meatloaf Pan
– You can surely use a regular loaf pan
, but a meatloaf pan is quite handy. It has in insert than will allow the grease to drop right off and out.
Mixing Bowls– make sure to check out my article on Using the Right Mixing Bowl, you'd be surprised how many people aren't!
Mini Food Processor– I use this thing daily! It is by far my most used kitchen appliance, it is small and I throw all the parts into the dishwasher, well except the base and cord, of course!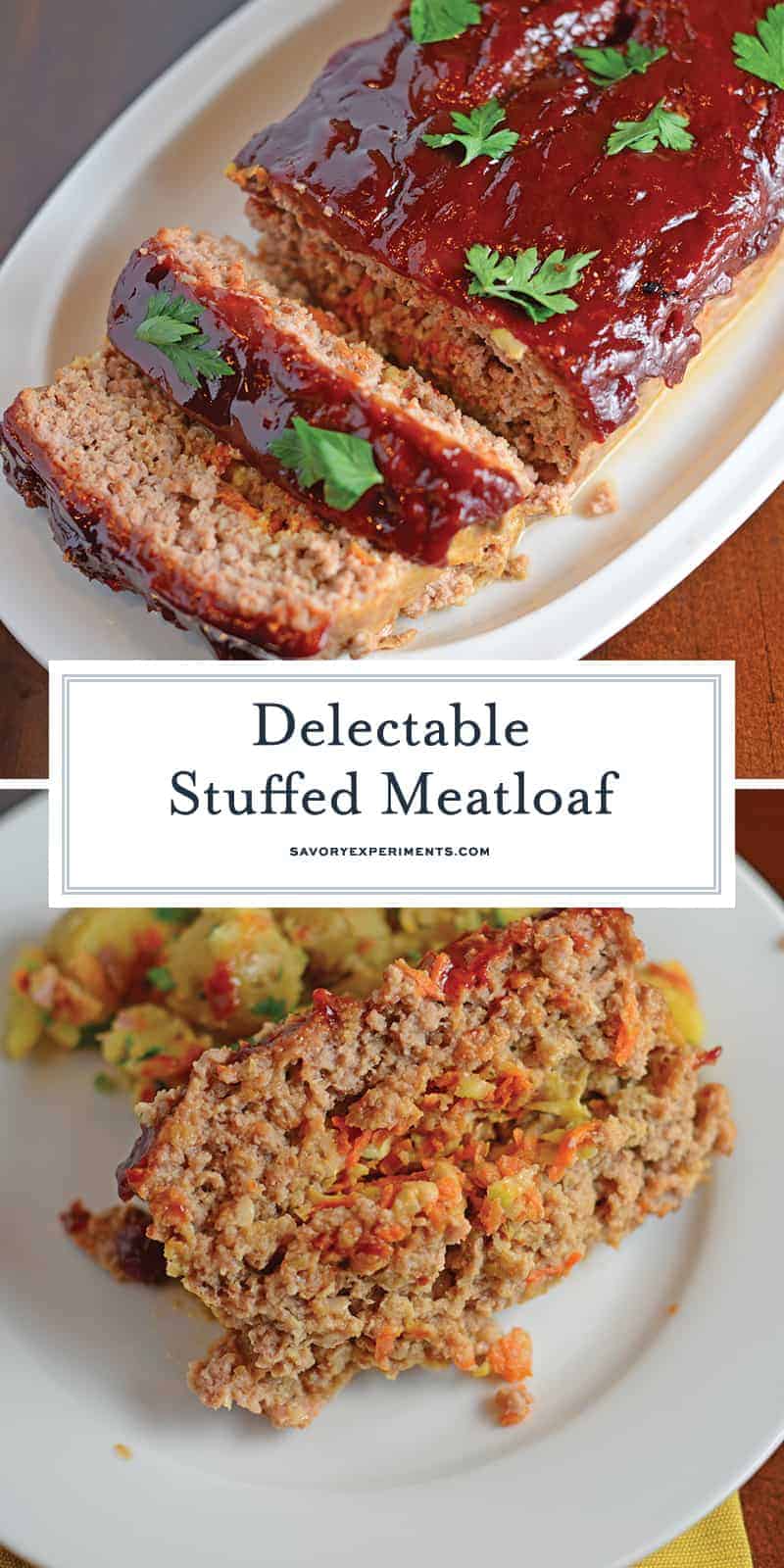 Questions you might have about how to make meatloaf:
Can meatloaf be frozen? You can freeze cooked meatloaf as a whole loaf or in slices for easy to thaw meals on-the-go.
Why do you let meatloaf rest? It isn't 100% necessary, but you'll be glad you did. It helps the meat set up and seals in all the juices.
How did meatloaf get its name? Well, it is exactly its name. It is a loaf of meat.
Is meatloaf healthy? I loathe this question. The word healthy is means something different to everyone and I am not a physician nor dietician. You can scroll on down and look at the nutritional information provided. I like to think since this meatloaf is stuffed with veggies, that it is slimmer than other recipes.
Can I make the meatloaf and not stuff it with carrots and zucchini? Yes. It will be just fine, you might even shave a few minutes off the cooking time.
Can I use just ground beef? Yes, if you don't want to use a meatloaf mix, you can use the same amount of ground beef. But don't skimp on the fat content. Meatloaf is best with a higher fat content ground beef.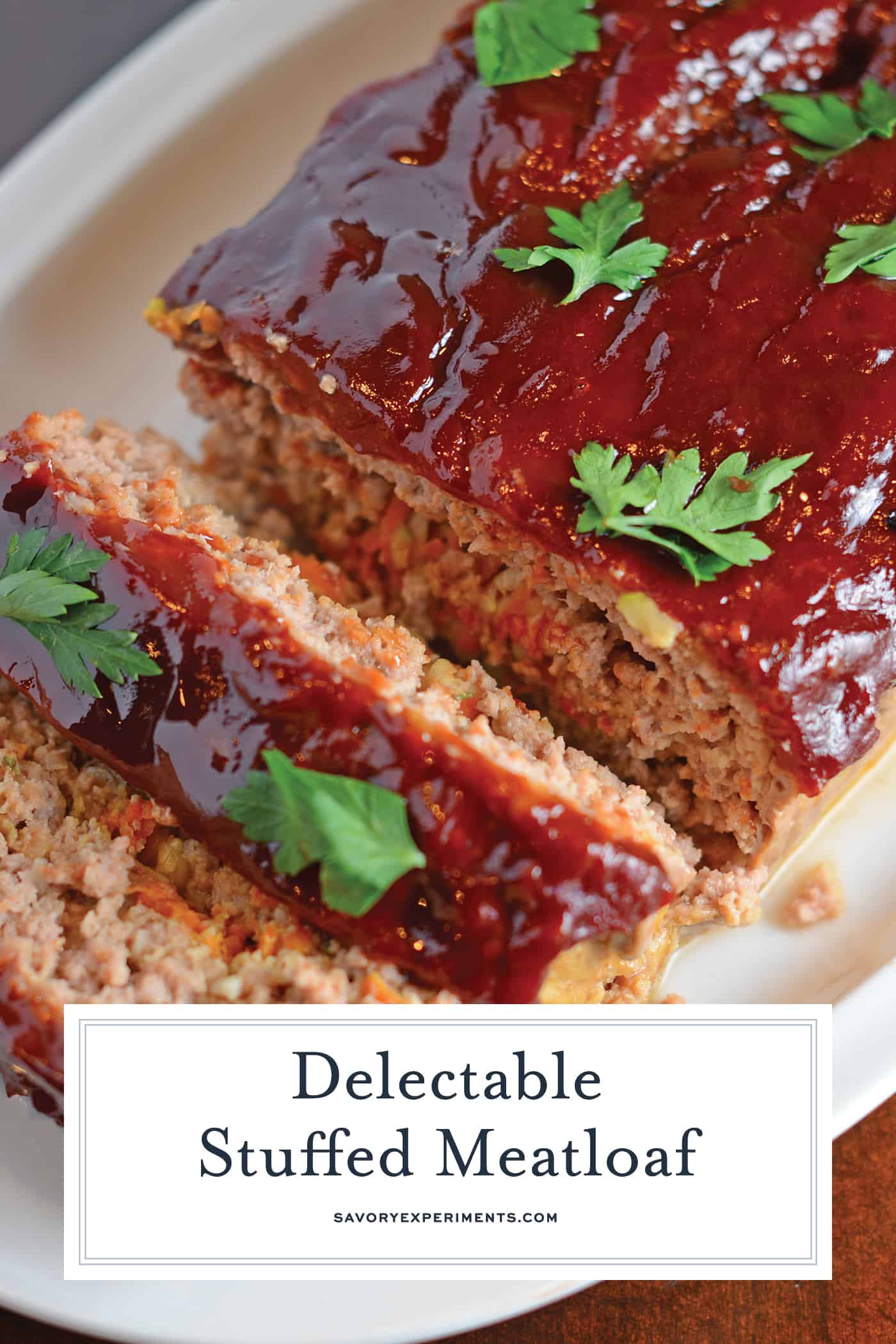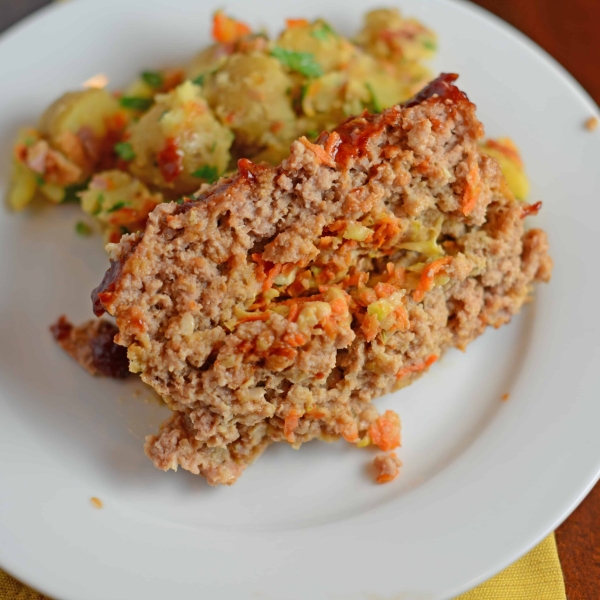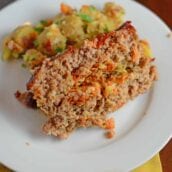 Stuffed Meatloaf
Stuffed Meatloaf is a tender meat mix stuffed with shredded vegetables and topped with a zesty and sweet sauce. The perfect comfort meal!
Instructions
Preheat oven to 350 degrees.

Combine yellow onion, garlic, seasoned bread crumbs, eggs, Parmesan cheese, milk and fine seas salt in a large mixing bowl.

Add ground meatloaf mix (veal, pork and beef) to large mixing bowl, breaking apart into smaller pieces as you go. Gently toss with your hands until evenly combined, some bits of bread crumb mixture might still be visible, that is okay.

Line a 9×5 loaf pan with parchment paper. To create my own "meatloaf pan", I put a few holes in the bottom to allow fats to drip out. You can also use an actual meatloaf pan.

Take half of the mixture and press it into the loaf pan. Place shredded carrots and zucchini in a mound down the center and then cover all around and top with remaining meat mixture. Press it all down snuggly to pack it in.

In a small saucepan, combine ketchup and grape jelly. Stir over medium-high heat until it has combined. Pour over top of meatloaf and place in the oven.

Bake for 1 hour and 20 minutes at 350 degrees. Remove and allow to cool for several minutes before removing from the loaf pan. Allow fats to drain on a seperate plate before transferring to a serving dish and cutting. (This step won't be necessary if you are using a meatloaf pan.)

If you've tried this recipe, come back and let us know how it was!
Notes
I put my onion and garlic in a small food processor and then made it into a paste.
Nutrition
Calories:
642
kcal
,
Carbohydrates:
27
g
,
Protein:
39
g
,
Fat:
40
g
,
Saturated Fat:
16
g
,
Cholesterol:
212
mg
,
Sodium:
1115
mg
,
Potassium:
660
mg
,
Fiber:
1
g
,
Sugar:
13
g
,
Vitamin A:
400
IU
,
Vitamin C:
3.8
mg
,
Calcium:
235
mg
,
Iron:
4.7
mg