This butternut squash cake recipe combines healthy squash with vanilla and warm spices that will fill your kitchen with an aroma that's almost as satisfying as the flavor of the cake itself.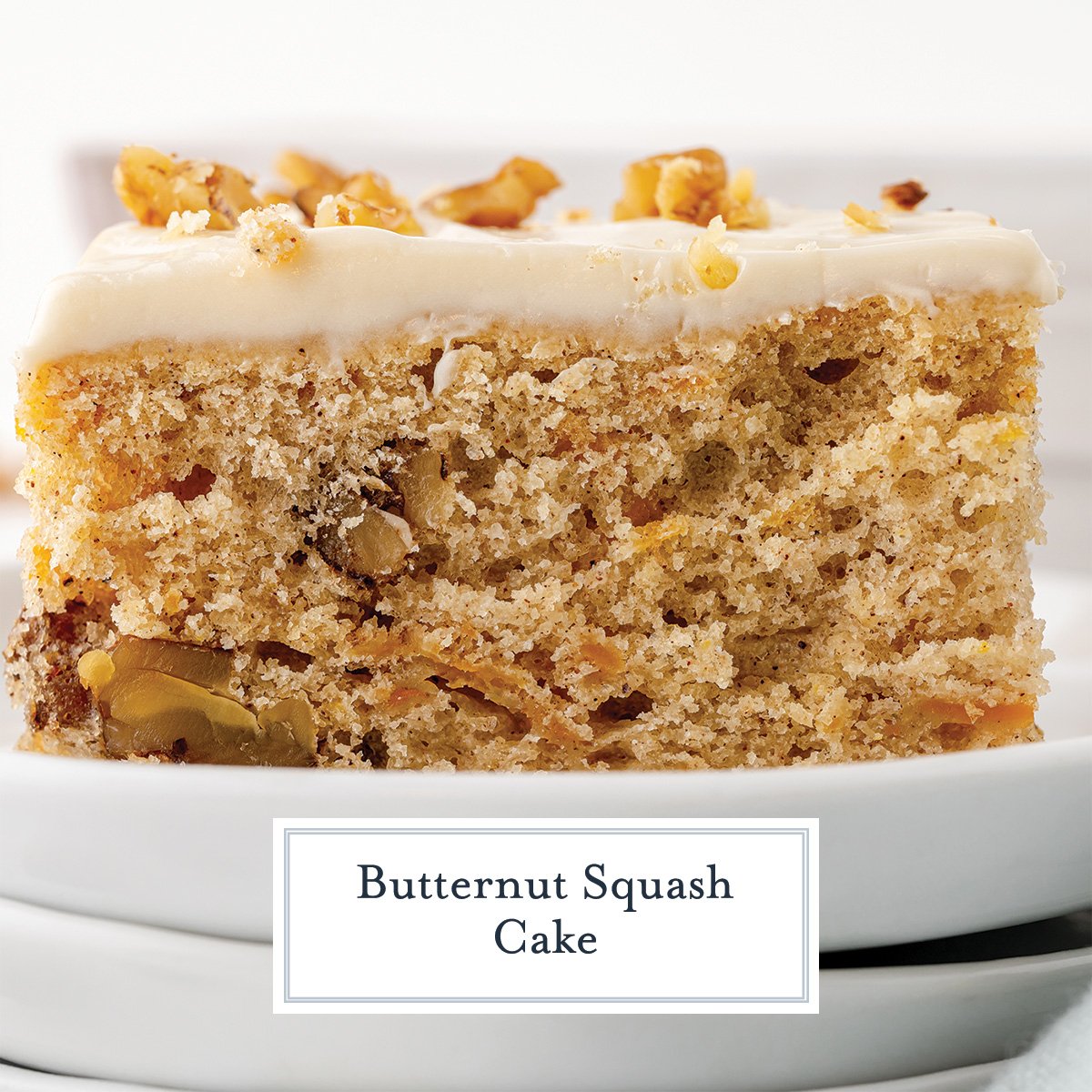 If you're a huge fan of fall flavors or treats like coffee cake and carrot cake, this is the recipe for you. It's bursting with comforting flavors that are autumnally appropriate but that work year-round, too — it's essentially a hug in cake form.
At first it sounds a tad bizarre, but it is really no different than using zucchini or bananas for bread.
The Frosting Makes It
We recommend covering this incredible cake with maple cream cheese frosting — the creamy, sweet, and tangy contrast with the rich, moist cake takes this dessert to the next level. However, you can choose to frost it with your own favorite frosting, too.
Whenever you choose to make it, and however you choose to dress it up, this cake will squash your expectations of what a healthy(ish) cake tastes like.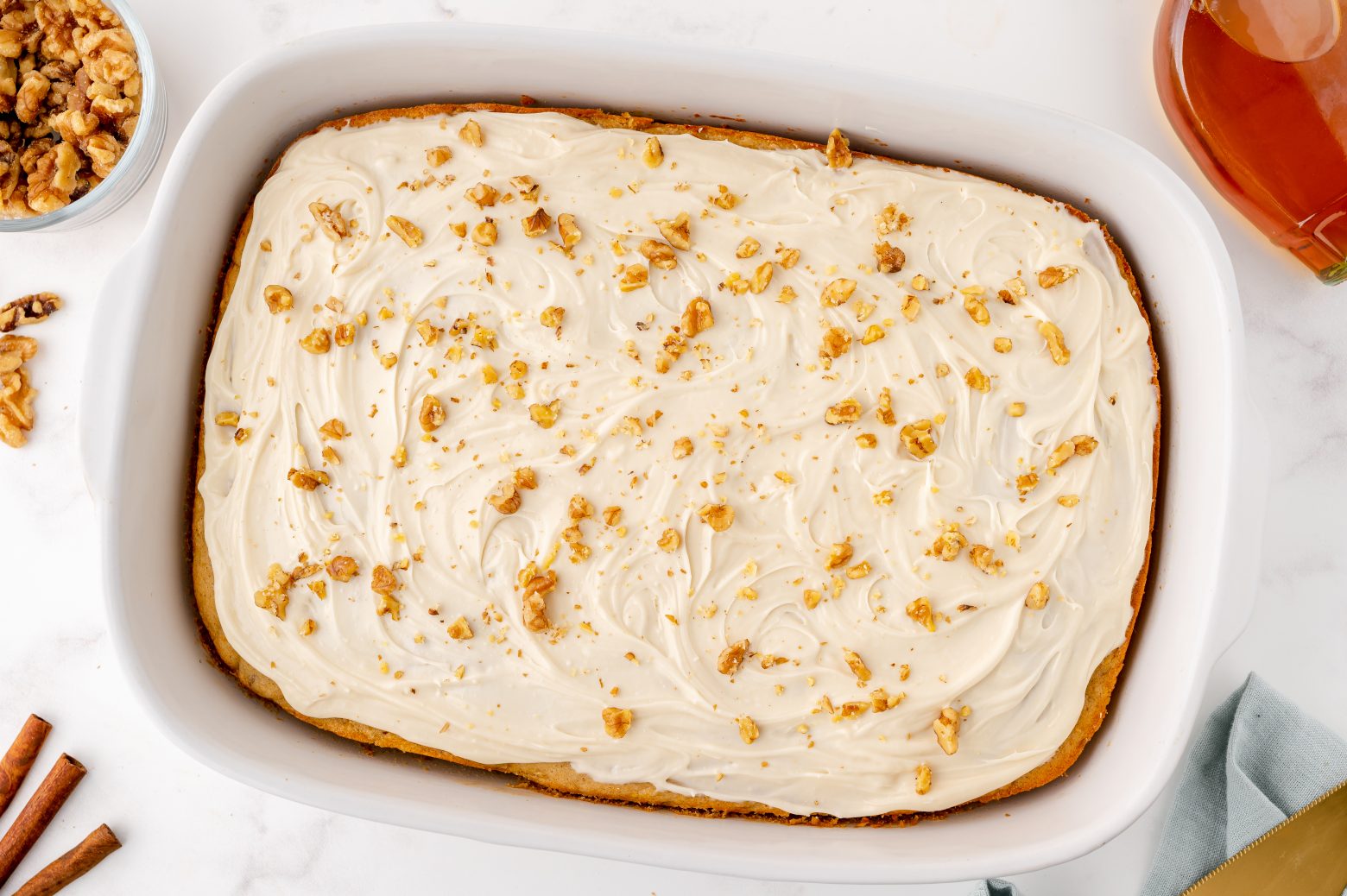 Why You'll Love Butternut Squash Cake
There are endless reasons why we love this incredible cake- but here are just a few of our favorites:
Healthier – This tasty cake is a healthier alternative to a traditional cake. Butternut squash is a great source of vitamins and minerals.
Less sugar – Butternut squash is naturally sweet, lessening the need for added sugar.
Different – The moist texture and subtle flavor of the squash make for a uniquely delicious cake.
Convenient – This cake is a great way to repurpose leftover squash from other recipes.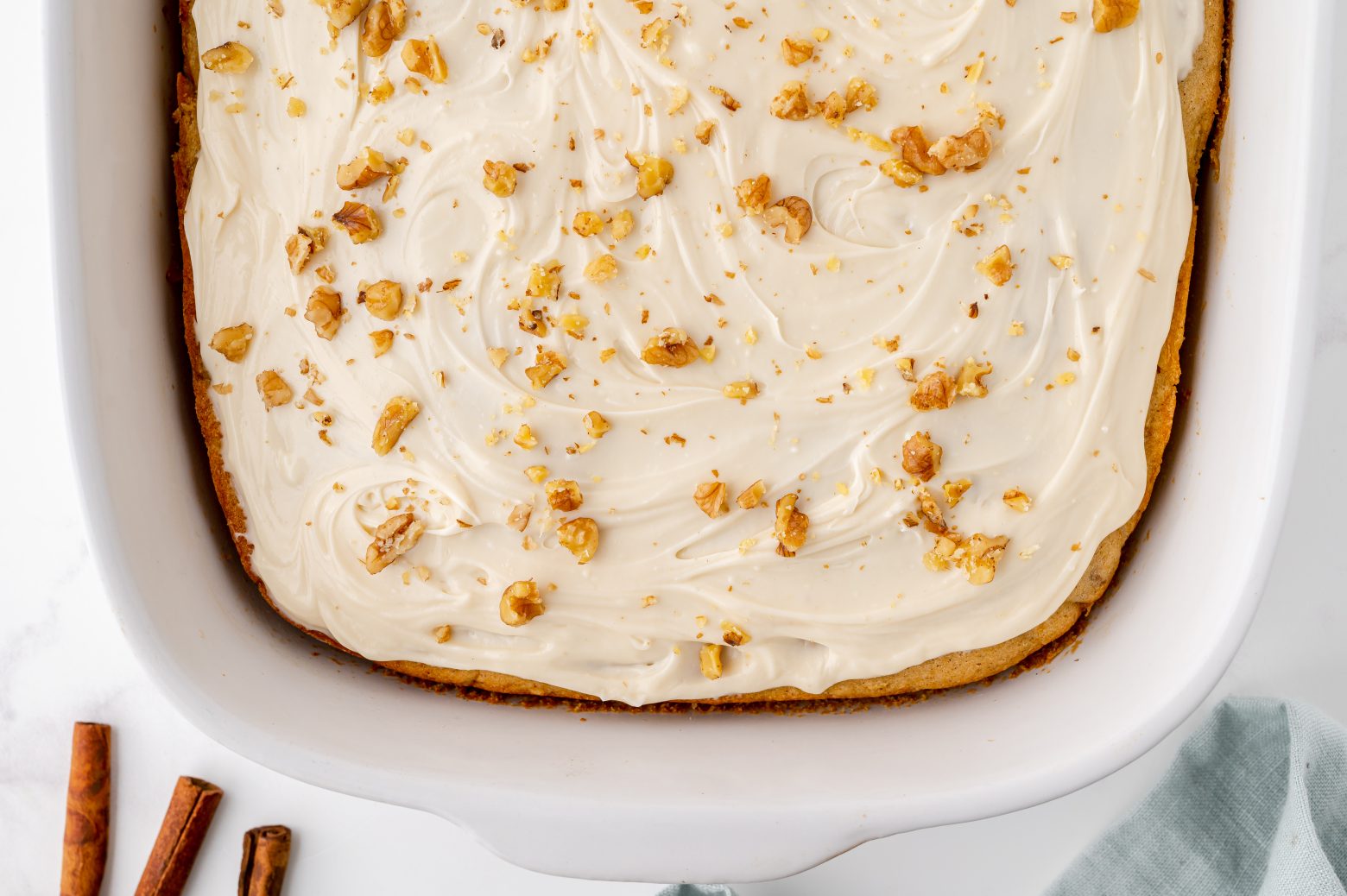 Ingredients
Just grab some simple ingredients from your pantry and fridge (or you can find them at any of your local grocery stores), pair them with the squash, and — voila! — you have an incredible cake.
Unsalted butter: The unsalted butter provides richness and flavor to the cake batter.
Sugar: Sugar is essential to sweeten the cake and create a tender crumb. Granulated sugar works well because it dissolves easily when mixed.
Brown sugar: Brown sugar adds a subtle molasses flavor and moistness to the cake.
Large eggs: The eggs act as a binder, holding the cake together.
Vanilla extract: This ingredient is a little boost of deliciousness, enhancing the flavor of all of the ingredients.
Baking powder: Baking powder helps the cake to rise and become fluffy.
Baking soda: This leavening agent helps the cake to rise and neutralizes acidic ingredients.
Coarse kosher salt: The coarse kosher salt enhances the flavor of the cake and balances the sweetness. You can use any salt you prefer — sea salt is a great alternative.
Ground ginger: Ground ginger adds a warm, spicy flavor that complements the butternut squash.
Ground cinnamon: Ground cinnamon adds a sweet and spicy flavor that pairs well with the butternut squash.
Ground nutmeg: This classic fall spice adds a somewhat nutty flavor that complements the butternut squash.
Flour: All purpose flour provides structure and texture to the cake.
Buttermilk: Buttermilk adds moisture and tanginess to the cake and brings out the flavor of the butternut squash.
Shredded and peeled butternut squash: This star ingredient provides the main flavor and texture of the cake.
Walnuts or pecans, roughly chopped: The walnuts or pecans add a crunchy texture and nutty flavor that pairs well with the butternut squash.
Maple cream cheese frosting: You can choose to use any frosting you prefer, but maple cream cheese frosting adds sweetness and complements the flavors of the butternut squash cake.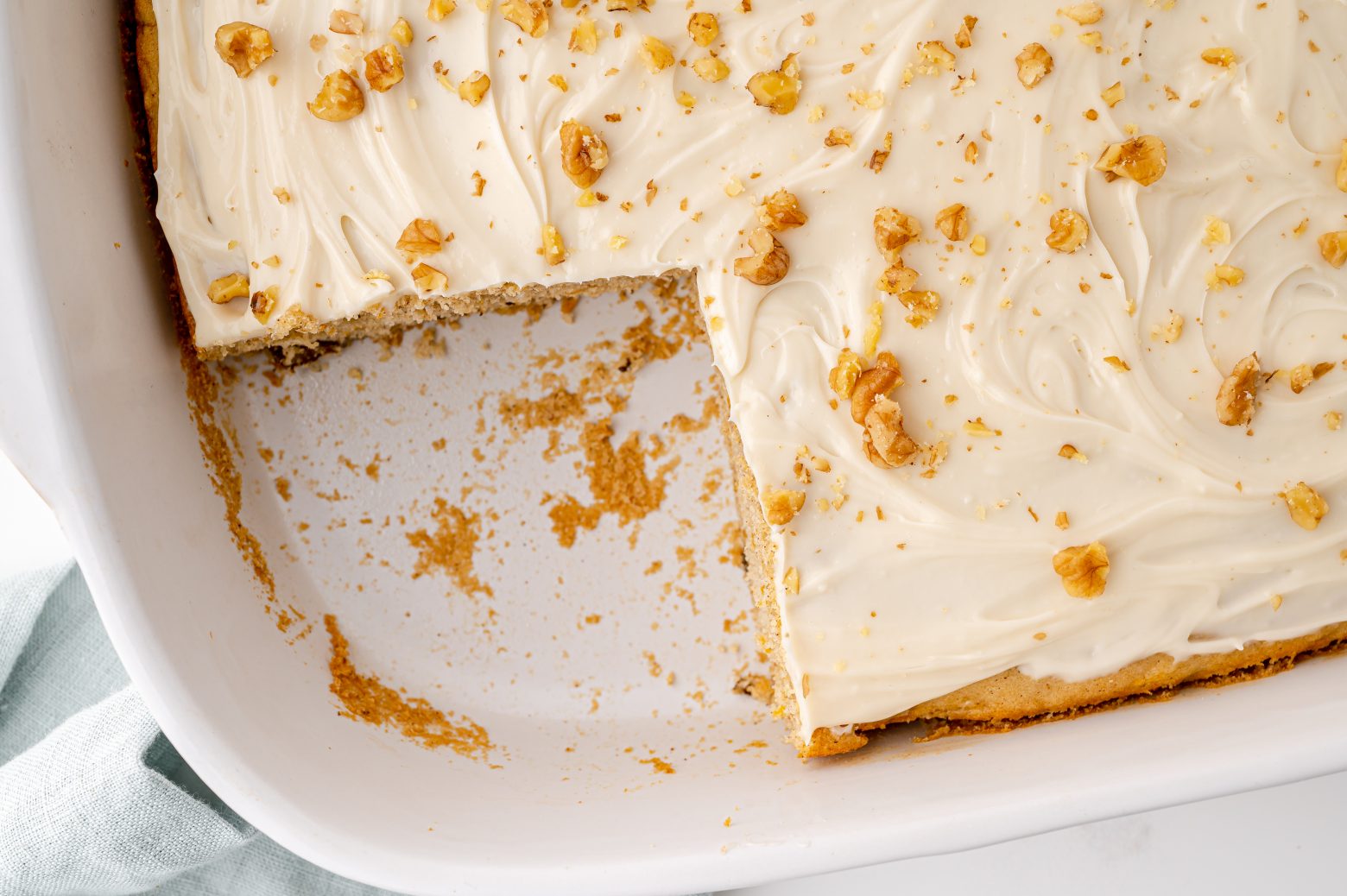 How To Make Butternut Squash Cake
This easy cake couldn't be more simple to make.
Cream butter and sugar. Cream together the butter and sugars in a large bowl until the mixture turns light and fluffy.
Add eggs and vanilla. Then, add the eggs and vanilla. Beat the mixture until all ingredients are completely combined.
Combine dry ingredients. In a separate bowl, whisk or sift together the dry ingredients (flour, baking powder, baking soda, salt, ginger, cinnamon, and nutmeg).
Combine. Once done whisking, add the dry ingredients and buttermilk in increments to the egg mixture, alternating between each.
Fold in squash and nuts. Then, gently fold in the shredded peeled butternut squash and nuts.
Add to pan. Pour the cake batter into a prepared cake pan (with cooking spray) and smooth out the top using a rubber spatula. We used a casserole dish, but any 9×13 pan will do.
Bake. Bake the cake for the recommended time, or until it passes the toothpick test.
Cool. Once the cake is fully baked, allow to cool to room temperature on a wire rack.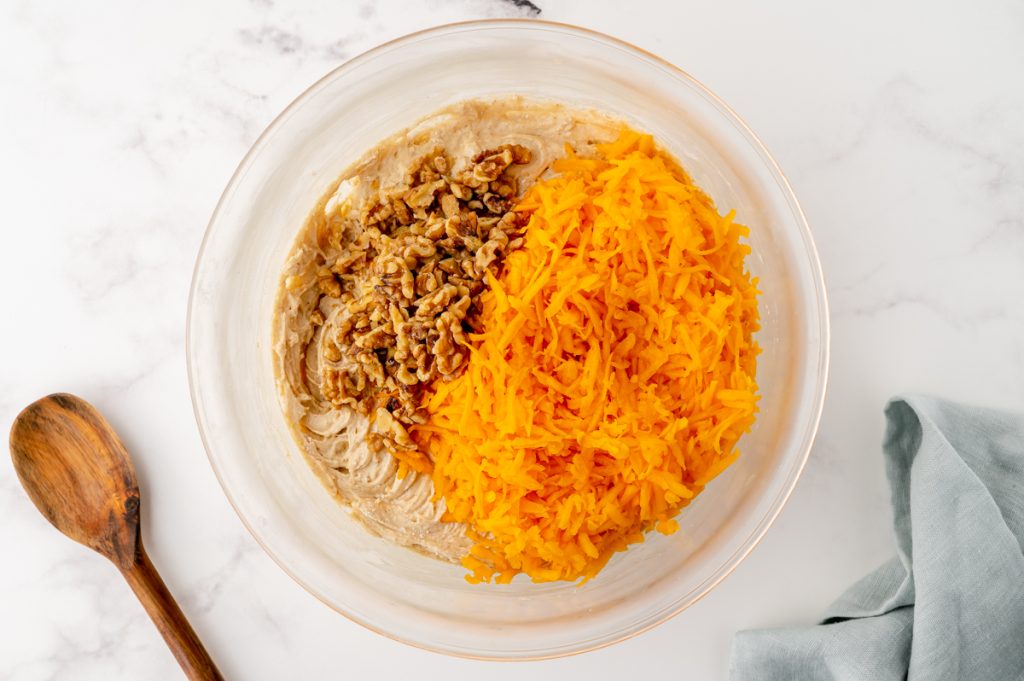 What to Serve with Butternut Squash Cake
You can serve this cake all on its own with a cup of tea or coffee on the side, or offer up fresh fruit like berries or a fruit salad. Other options are topping it with whipped cream, ice cream, caramel sauce, or fudge sauce.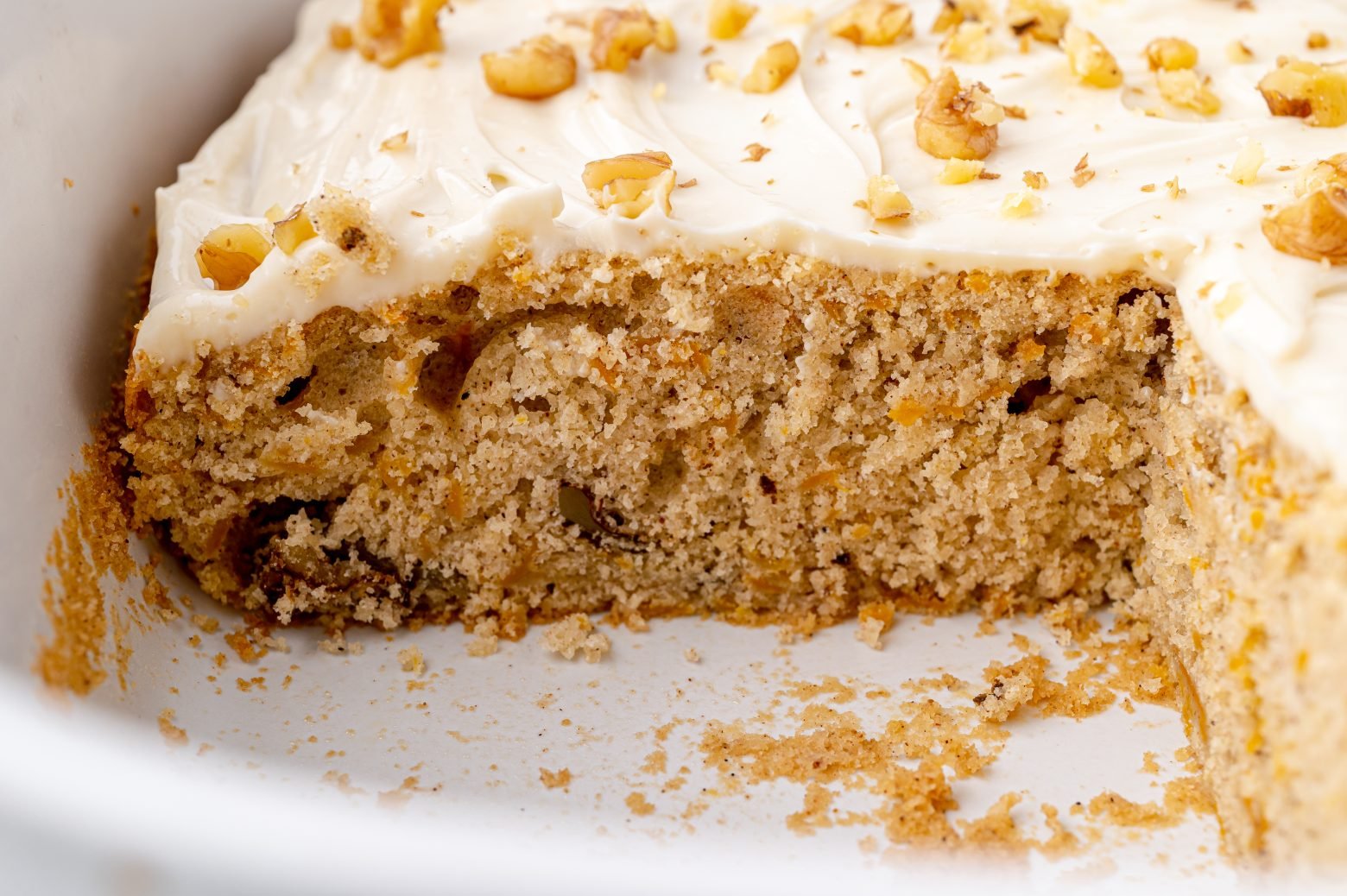 Variations
This delicious cake is a canvas for your cake-making creativity — experiment with different ways to make it your own.
Chocolate – Add chocolate chips to the batter for a chocolatey twist.
Extract – Switch out the vanilla for another extract that you enjoy. Almond extract and maple extract are great options.
Flour – Experiment with using your favorite alternative flour.
Maple syrup – Substitute maple syrup for some of the brown sugar or drizzle maple syrup over top for a maple glaze that's full of sweet flavor.
Shape – Try baking this cake in a bundt cake pan instead of a baking dish.
Milk – While buttermilk adds flavor and moisture, you can use alternatives like almond milk, coconut milk, or your favorite dairy alternative.
Citrus – Add brightness to this sweet cake with a little bit of lemon or orange zest.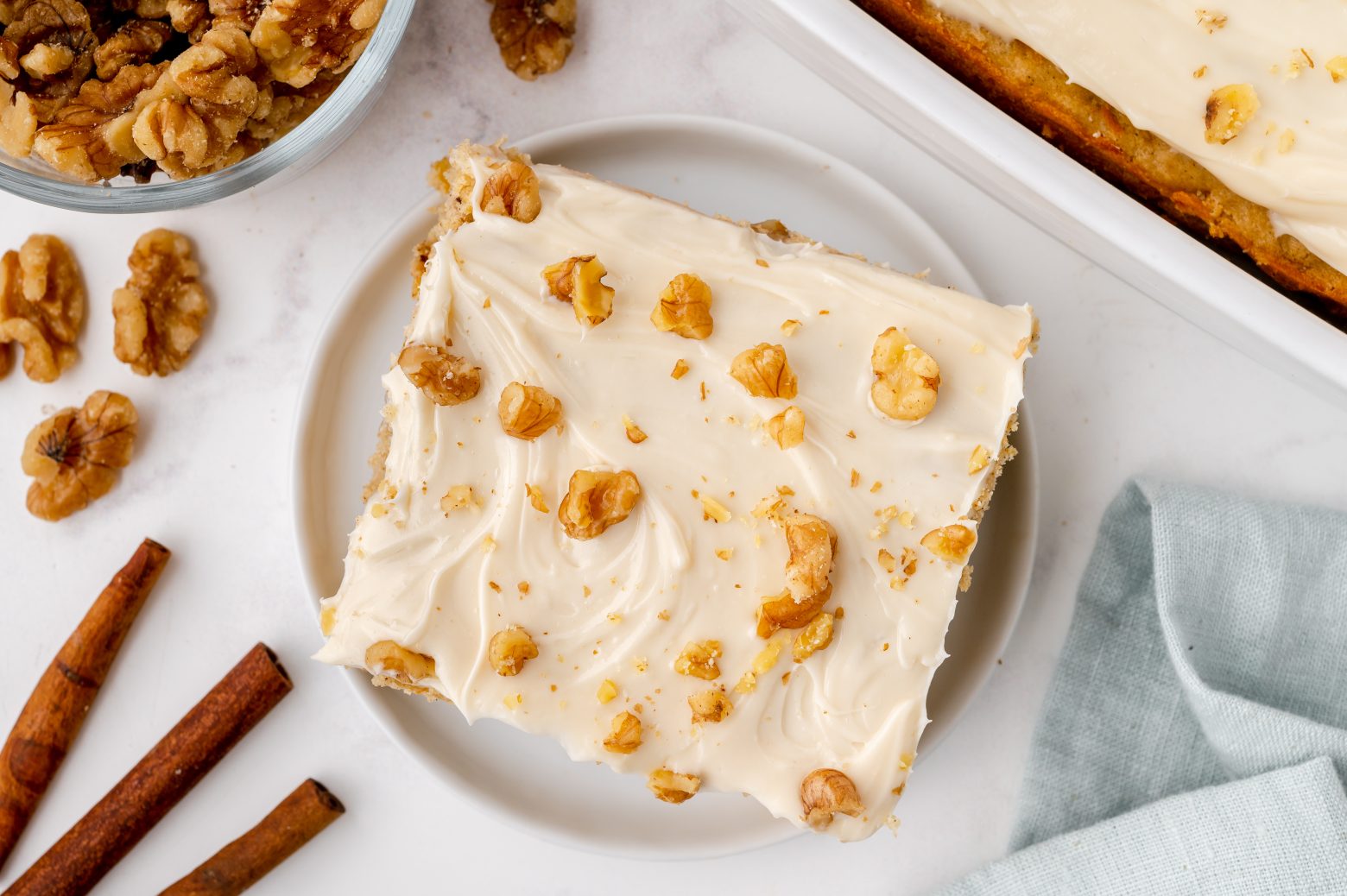 Storage, Make Ahead and Freezing
Make Ahead: The cake layers can be made up to 1 day in advance and stored in an airtight container at room temperature. The frosting can be made up to 3 days in advance and stored in an airtight container in the refrigerator.
The cake can be assembled and frosted up to 24 hours in advance. Store the assembled cake in the refrigerator.
Refrigerator: Store frosted cake in an airtight container in the refrigerator for up to 5 days.
Freezer: An unfrosted cake can be frozen for up to 2 months. To freeze, wrap the whole cake tightly in plastic wrap and then aluminum foil.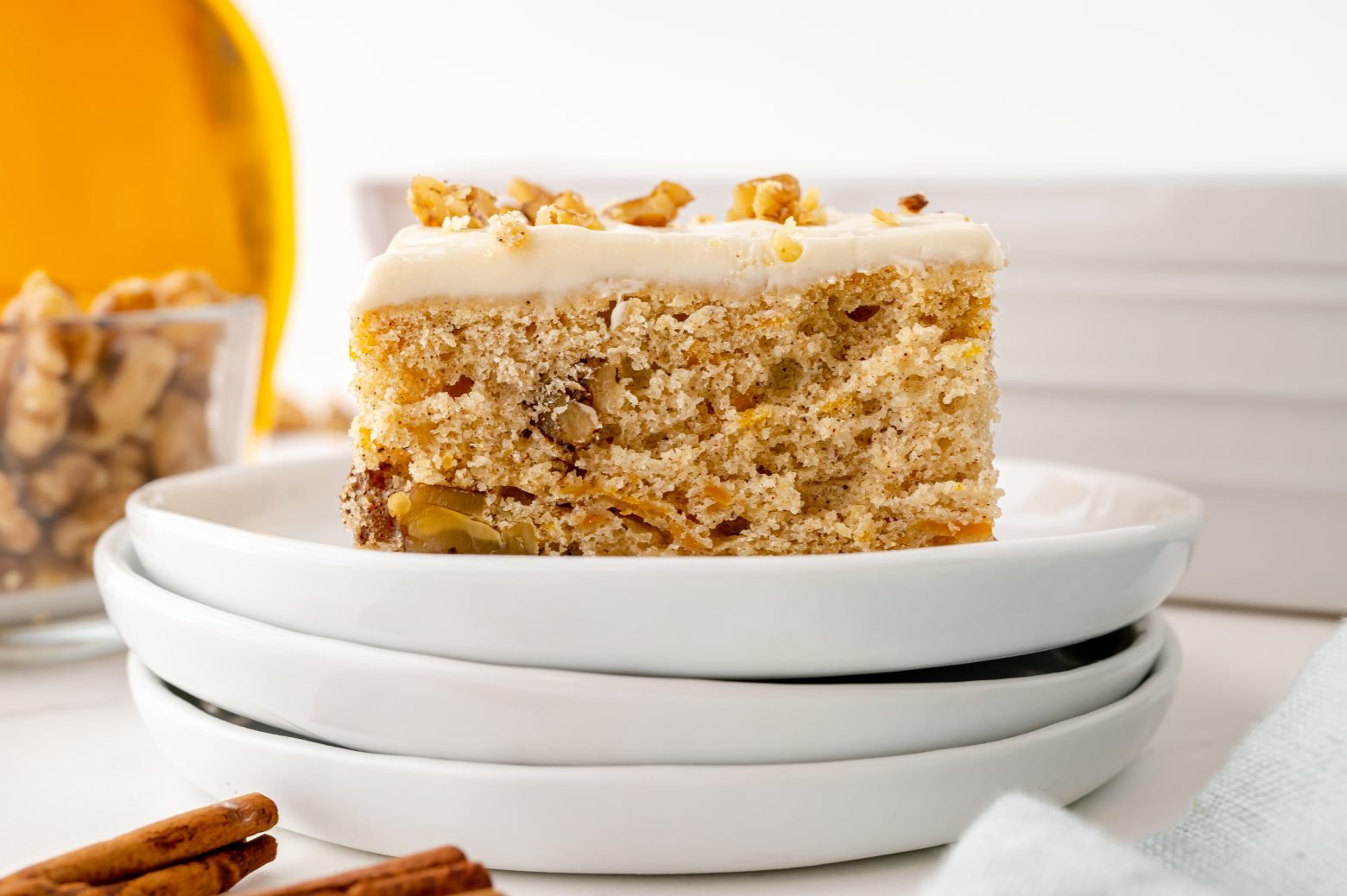 Common Questions About Butternut Squash Cake
What is butternut squash cake?
Butternut squash cake is a moist cake that's full of flavor and made with butternut squash puree. It is a delicious and healthy(er) alternative to traditional cakes and it's perfect for fall and winter gatherings (or any time of year!).
What are the benefits of eating butternut squash cake?
Butternut squash is full of nutrients — it's packed with vitamins, minerals, and antioxidants. It's a good source of fiber, vitamin A, vitamin C, and potassium and can help to improve digestion and even boost your immune system.
What are some tips for making butternut squash cake?
Using a ripe butternut squash is key — it will be easier to peel and puree. To grate the squash, use the larger side of a box grater.
Also, avoid overbaking the cake — you don't want to miss out on all of that moistness the squash imparts. When frosting, allow the cake to cool completely before frosting it to prevent the frosting from melting.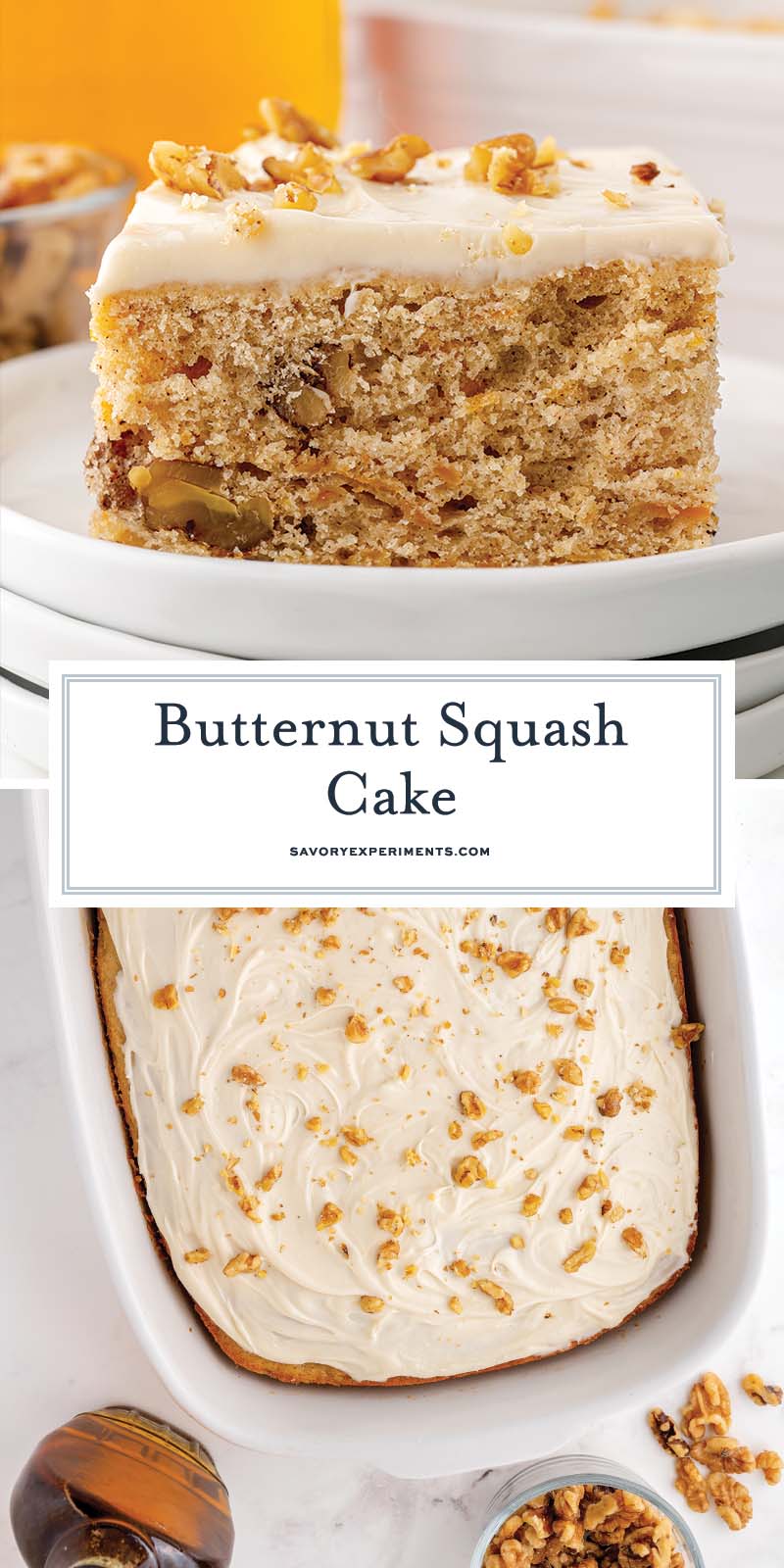 More Creative Cake Recipes
We love a good cake recipe! Don't worry- they are all super easy. I'm a lazy baker.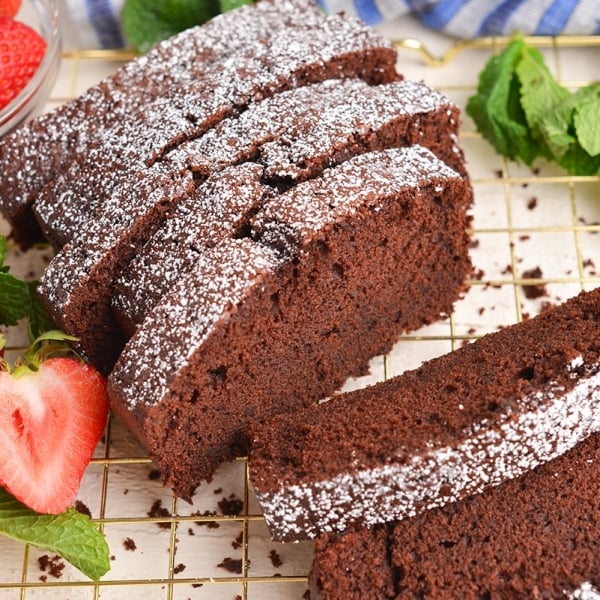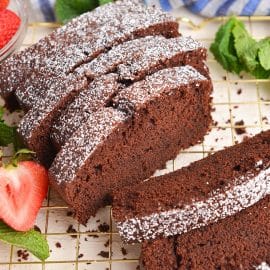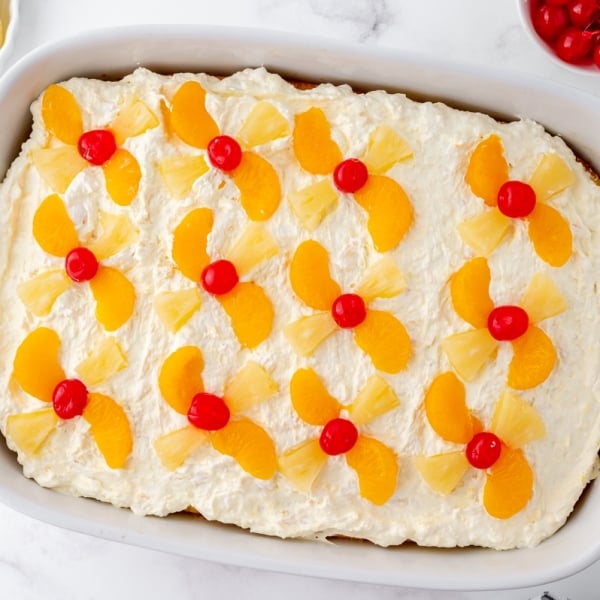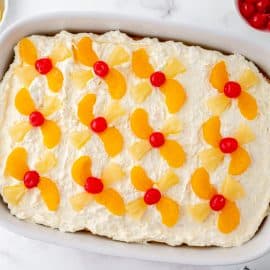 Sunshine Cake
This EASY Sunshine Cake recipe is a moist yellow cake flavored with vibrant oranges and topped with a creamy pineapple-infused topping!
See The Recipe!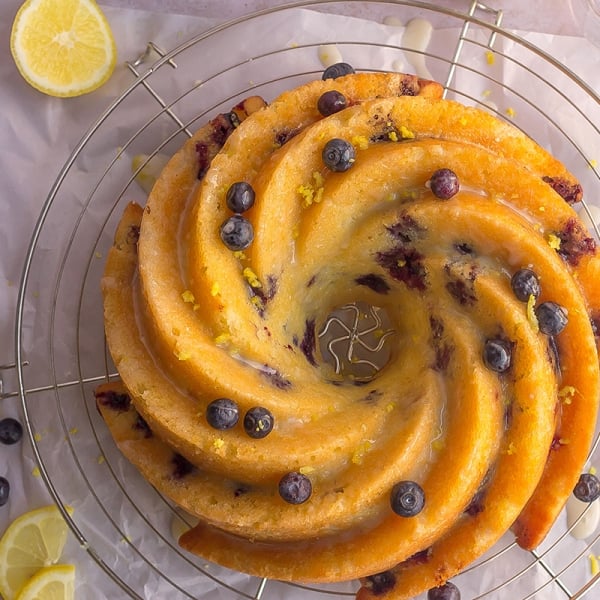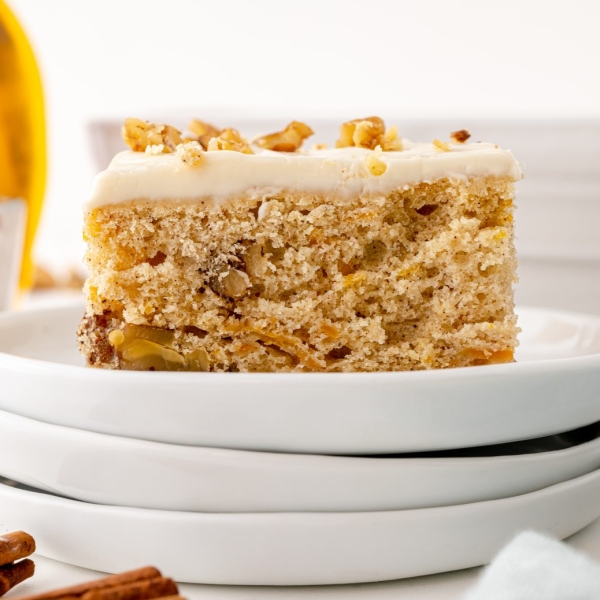 Butternut Squash Cake Recipe
This EASY Butternut Squash Cake combines healthy squash, vanilla, and warm spices — its' aroma is almost as satisfying as the cake itself!
Instructions
Preheat the oven to 350°F and coat a 9×13 baking dish with cooking spray. Set aside.

In a large bowl with an electric hand mixer or a stand mixer fitted with the paddle attachment, cream together the butter and sugars until light and fluffy. Beat in the eggs and vanilla.

Sift or whisk together the baking powder, baking soda, salt, ginger, cinnamon and nutmeg. Add the flour alternately with buttermilk, scraping side of bowl. Beat 1 minute.

Stir in the squash and the walnuts or pecans.

Pour the batter into the prepared pan.

Bake for 30 to 40 minutes or until it passes the toothpick test. Cool completely.

If you've tried this recipe, come back and let us know how it was in the comments or star ratings.
Notes
*Grate butternut squash using the large holes on a box grater or the grater function on a food processor.
Nutrition
Calories:
366
kcal
,
Carbohydrates:
50
g
,
Protein:
6
g
,
Fat:
17
g
,
Saturated Fat:
8
g
,
Polyunsaturated Fat:
3
g
,
Monounsaturated Fat:
4
g
,
Trans Fat:
0.5
g
,
Cholesterol:
73
mg
,
Sodium:
233
mg
,
Potassium:
186
mg
,
Fiber:
2
g
,
Sugar:
27
g
,
Vitamin A:
2921
IU
,
Vitamin C:
5
mg
,
Calcium:
86
mg
,
Iron:
2
mg