This angel food cake recipe creates the most heavenly, fluffy angel food cake with just a handful of basic ingredients. It's a classic cake that you can serve for nearly any occasion.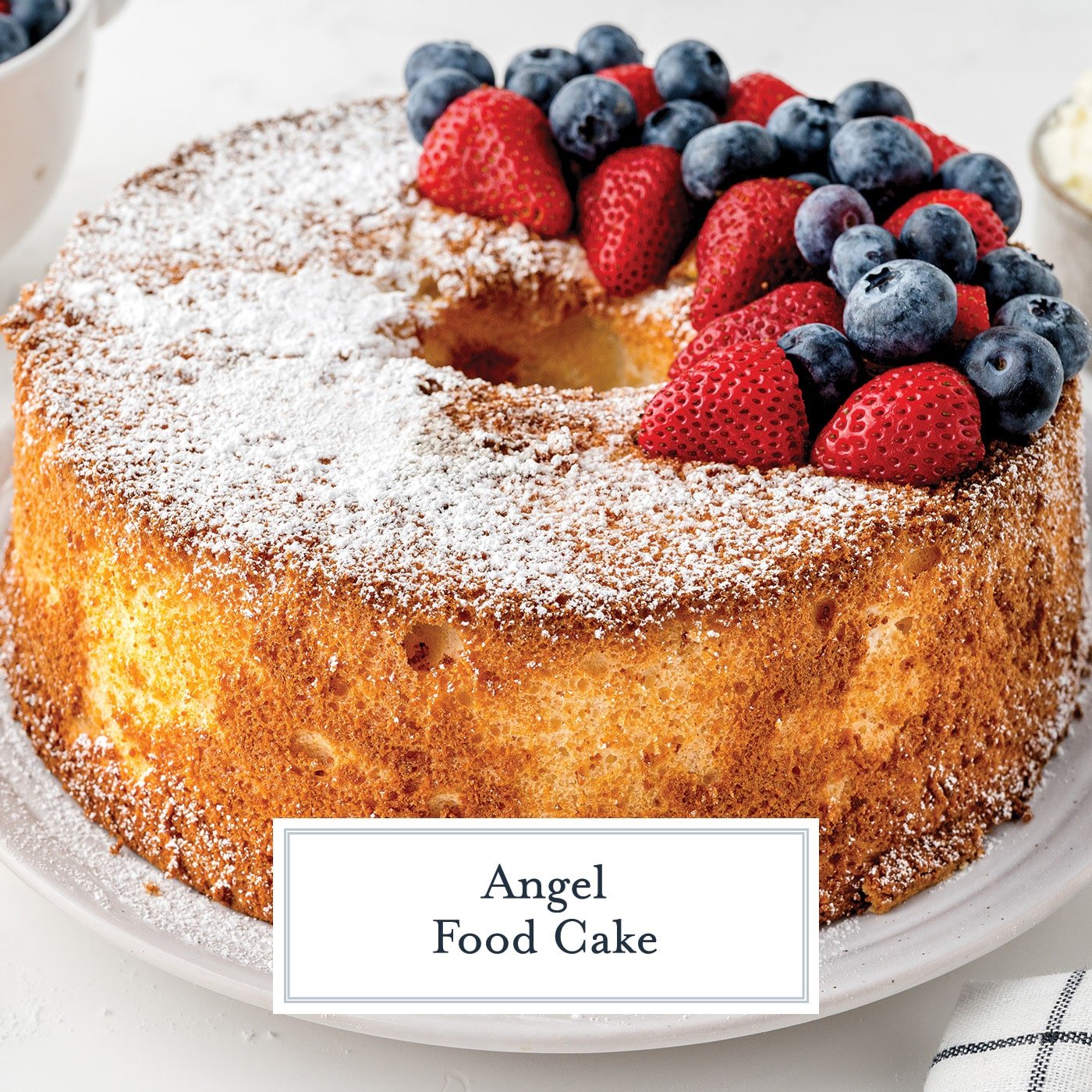 Slightly sweet, with a light and airy texture, this delicate cake is the perfect foundation for creative toppings. Or, you can serve it solo and let it be the star of the show.
The next time you're looking for an easy recipe for a homemade cake that everyone is sure to love, give this simple angel food cake a try.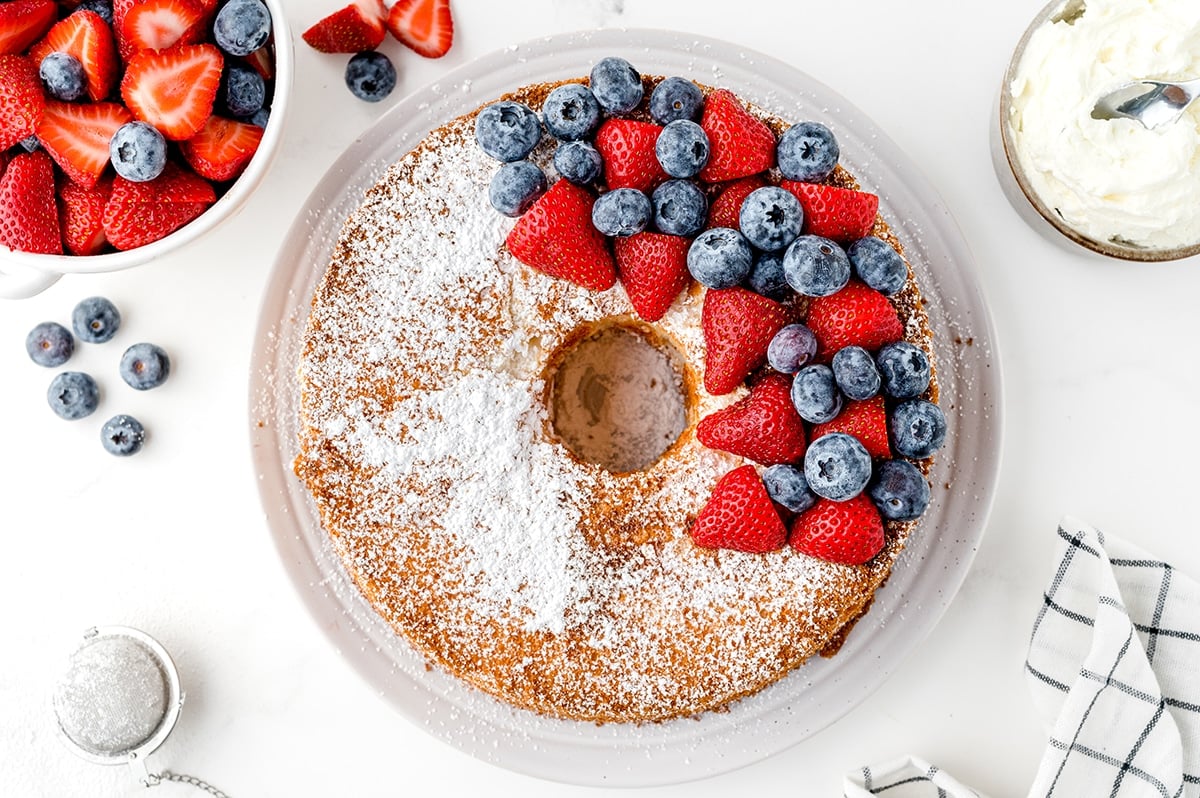 Why You'll Love Angel Food Cake
There's little not to love about a light and sweet cake that's perfect for any occasion. Here are some other reasons to rush to make this recipe.
Easy – This simple cake comes together with minimal prep time.
Versatile – This cake works well for anything from casual gatherings to special occasions.
Tasty – Just slightly sweet, with a light and fluffy texture, this cake is irresistible.
Customizable – Because it is so simple, angel food cake is the perfect canvas for any number of fun toppings or add-ins.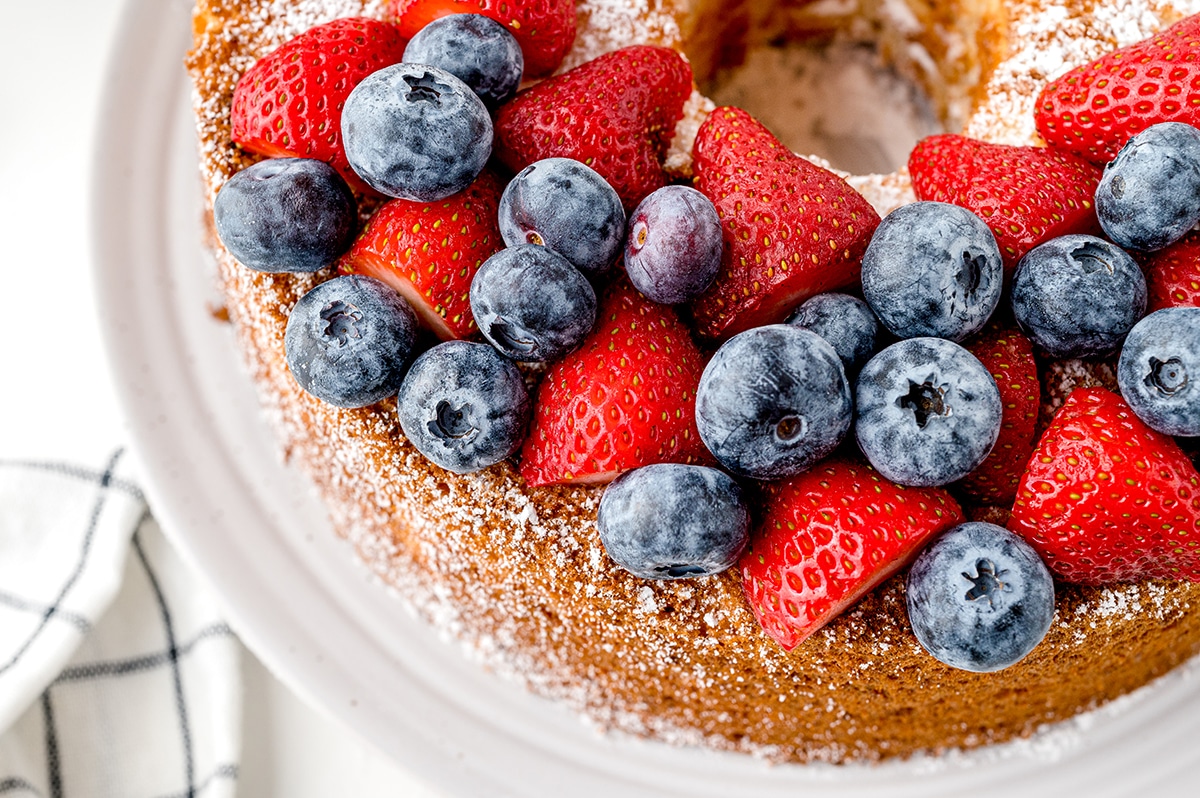 Ingredients
​Many of these simple ingredients may already be in your kitchen.
Cake flour – It's crucial to use cake flour (instead of all-purpose flour) to achieve the signature light and airy texture of angel food.
Sugar – Granulated sugar imparts just the right sweetness and maintains the bright white color of the cake.
Egg whites – Reserve the yolks for another recipe, using only the whites for this cake.
Vanilla extract or almond extract – Vanilla gives the cake a warm aroma, while almond will impart nuttiness.
Cream of tartar – Cream of tartar works together with the egg whites to create structure – it helps the angel food cake not to collapse.
Fine sea salt – Using high-quality salt enhances the flavors of the other ingredients.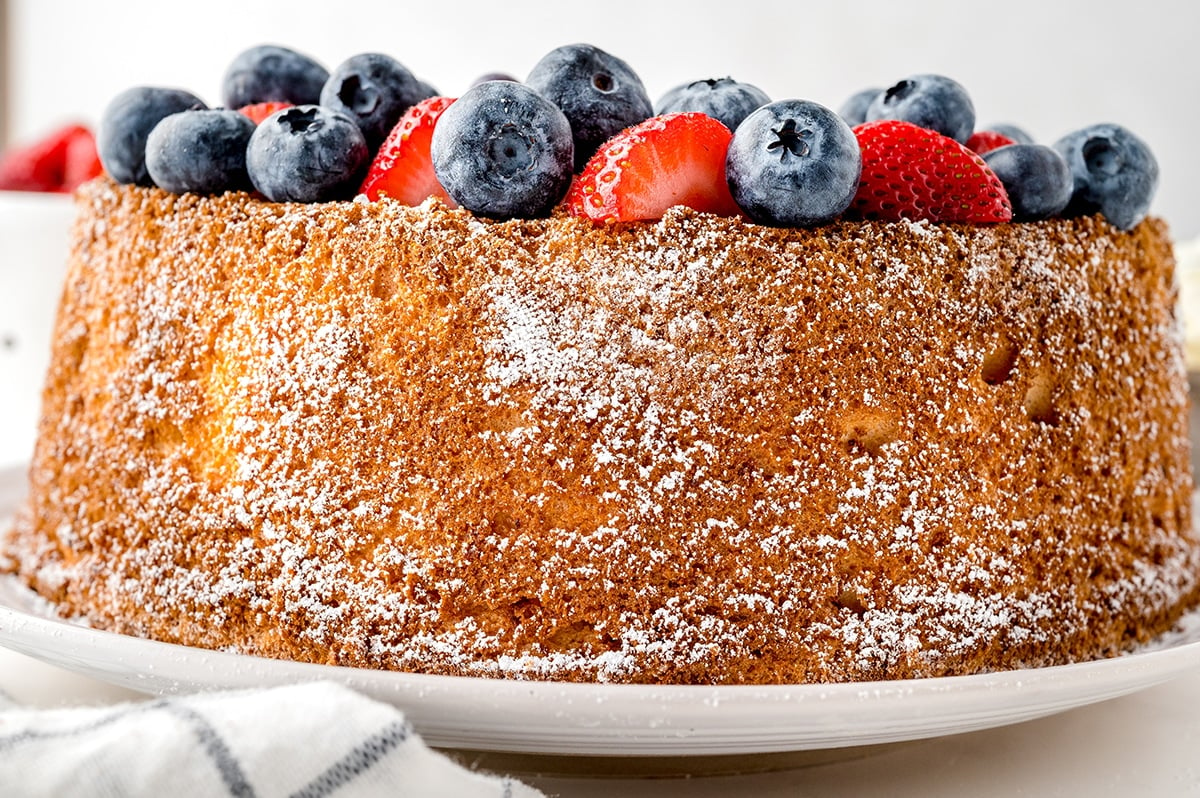 What To Serve With Angel Food Cake
We like to serve the cake with simple toppings like fresh fruit (particularly fresh berries, but other seasonal fruits as well) or fresh whipped cream. You can also serve it with a scoop of ice cream or a dollop of yogurt.
Sauces like bourbon caramel and fudge sauce are a great way to dress up this cake, too.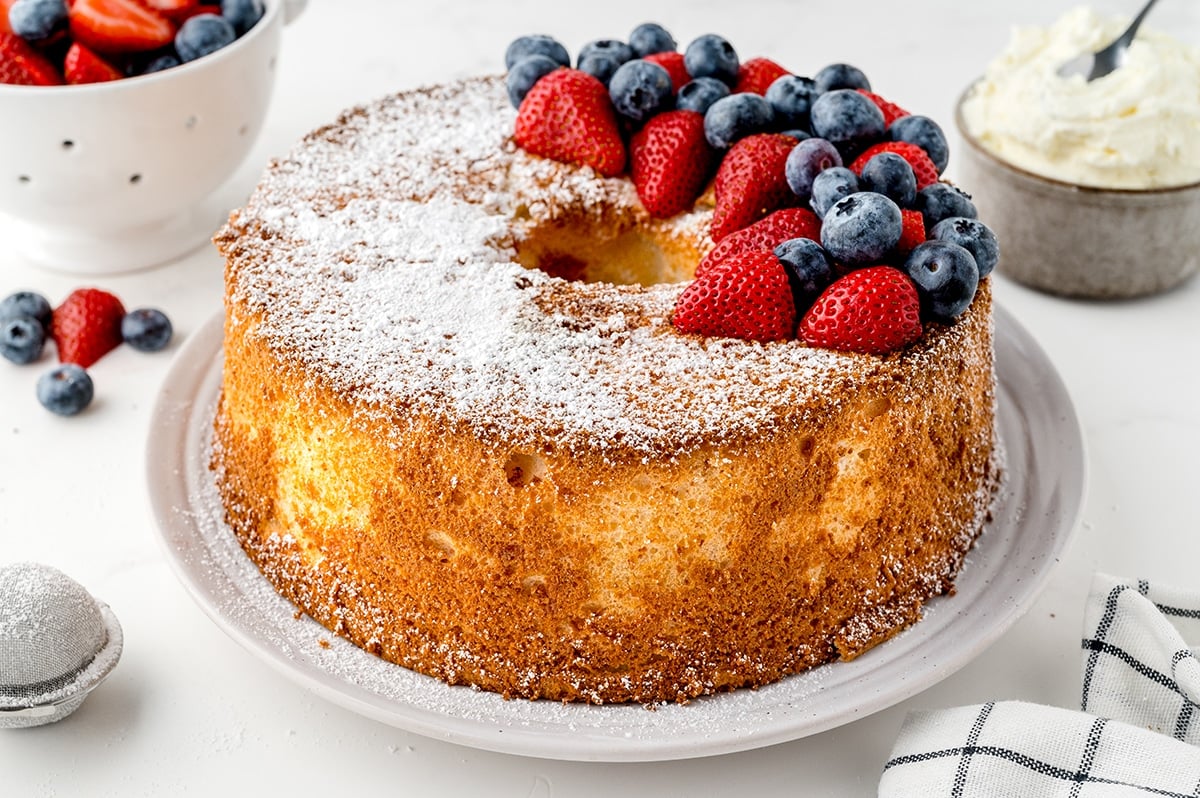 How To Make Homemade Angel Food Cake
You can make this cake quickly, making it perfect for nearly any occasion.
Sift dry ingredients. Using a sifter, add the flour and first portion of sugar to a bowl and set aside.
Beat remaining ingredients. Add the egg whites, extract, cream of tartar, and salt to a large bowl. On high speed, beat the ingredients until they are thoroughly combined and form soft peaks.
Add remaining sugar. Turn the mixer to medium speed and slowly add the remaining sugar. Beat the mixture until it forms stiff peaks.
Fold in dry ingredients. Using a rubber spatula, gently fold in the sifted dry ingredients gradually. Be very careful not to overmix to avoid having the egg white mixture deflate.
Add to pan. Pour the finished batter into the bundt pan (without oil or grease to coat it). Once the batter is in the pan, gently tap the pan so that any air pockets are released.
Bake. Bake the cake until it is a light golden brown. Test for doneness by inserting a toothpick in the center — it has finished baking when the toothpick comes out clean.
Invert pan. Invert pan onto a wire cooling rack so that the cake can come to room temperature while still in the pan. Once you've let the cake cool, use a butter knife to loosen the edges of the cake from the sides of the pan.
Enjoy! Then, transfer the cake to the dish of your choice for serving, tapping the bottom of the pan so that the cake comes out.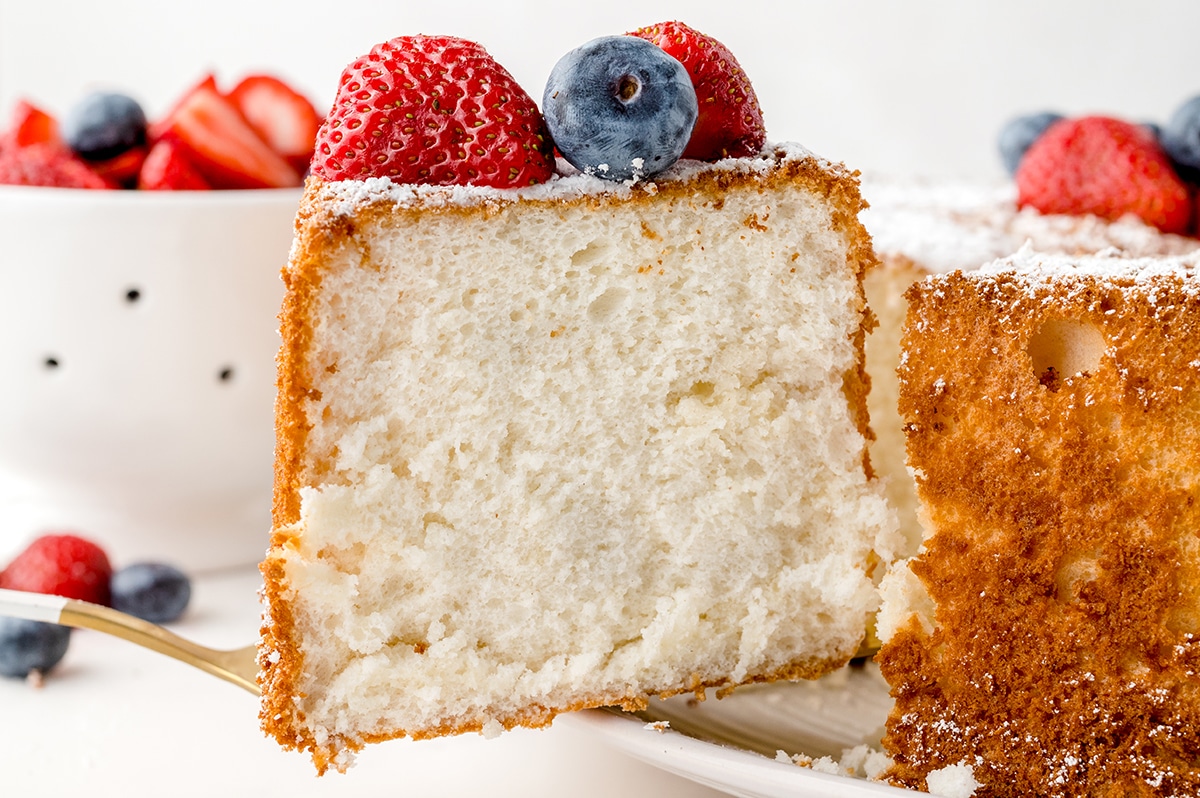 Variations
With a few different add-ins you can make this cake your own.
Nuts – Added crushed pecans or walnuts to the batter.
Dried fruit – Add a pop of color and flavor with craisins or raisins.
Glaze – Drizzle a sweet glaze over top. Make a simple glaze with powdered sugar and milk, or add a light, bright flavor to it with a splash of lemon juice or orange extract.
Chocolate – Fold in dark chocolate, milk chocolate, or white chocolate chips.
Citrus – Try adding a sprinkle of lemon zest to the batter for a light and refreshing flavor.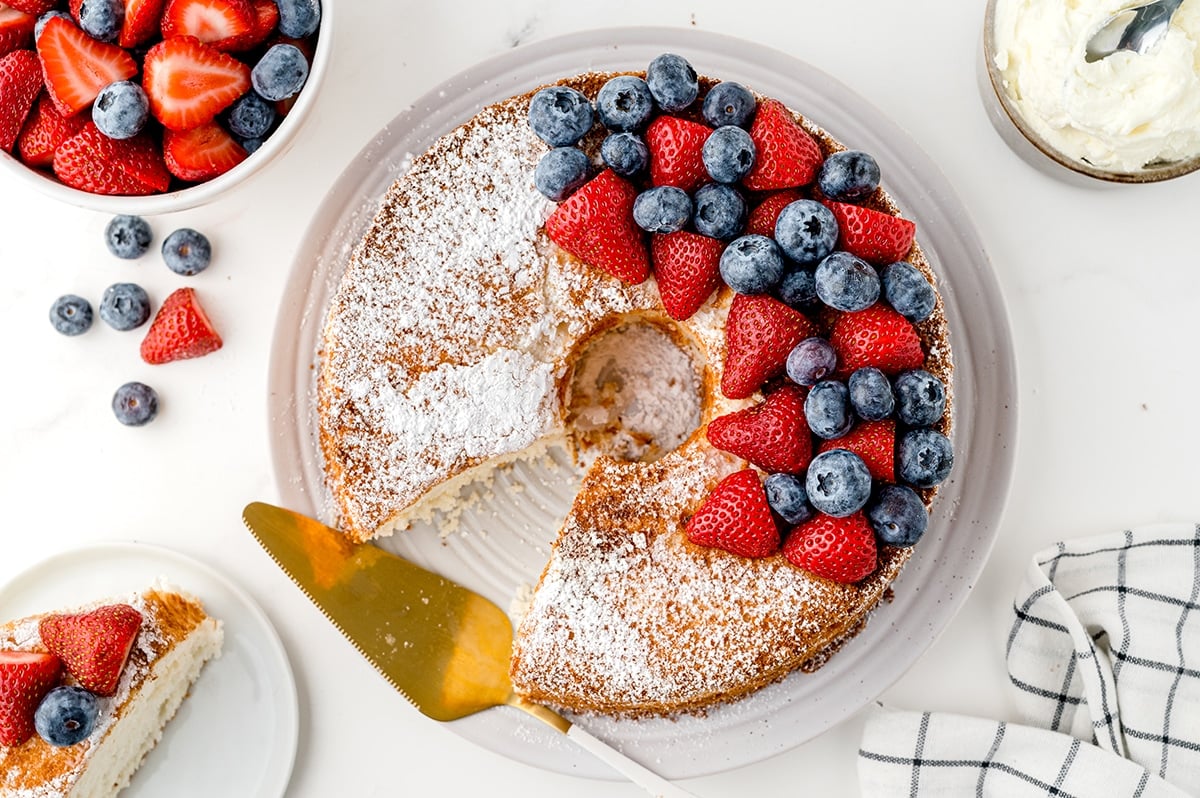 Storage and Freezing
This angel food cake will likely be eaten up pretty quickly, but in the event that you have leftovers, you can store them easily.
Make Ahead: Store the batter for up to 2 days in the refrigerator before baking.
Refrigerator: Angel food cake does not need to be refrigerated. Store it at room temperature for up to 2 days, wrapped tightly in plastic wrap, or stored in an airtight container.
Freezer: Store leftover angel food cake slices in individual ziploc bags and store for up to 3 months in the freezer.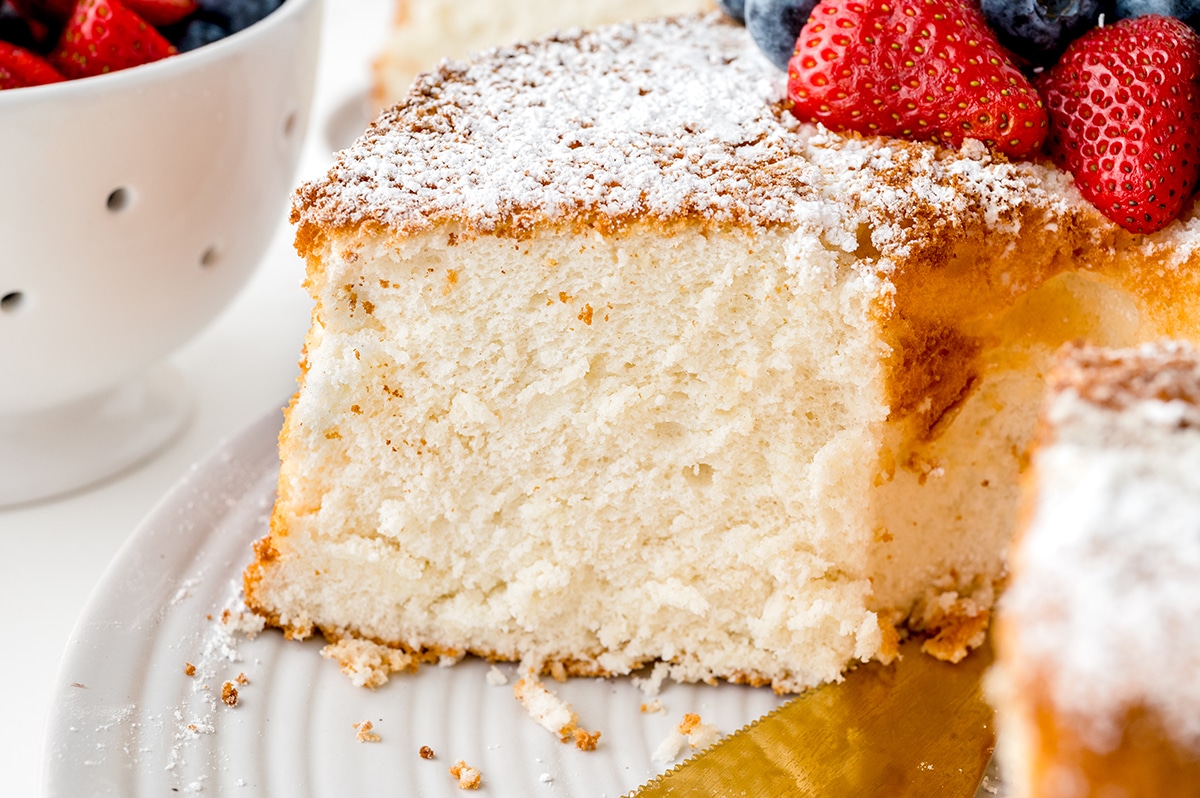 Common Questions About Angel Food Cake
​Is angel food cake healthier than cake?
Angel food cake doesn't incorporate egg yolks or fat, so the calorie count can be lower than other cakes.
Angel food cake's light and airy texture comes from the exclusion of egg yolks. Well-beaten egg whites give it its signature texture. is the secret to angel food cake?
What does angel food cake taste like?
Angel food cake is a slightly sweet cake with an unbelievably airy texture.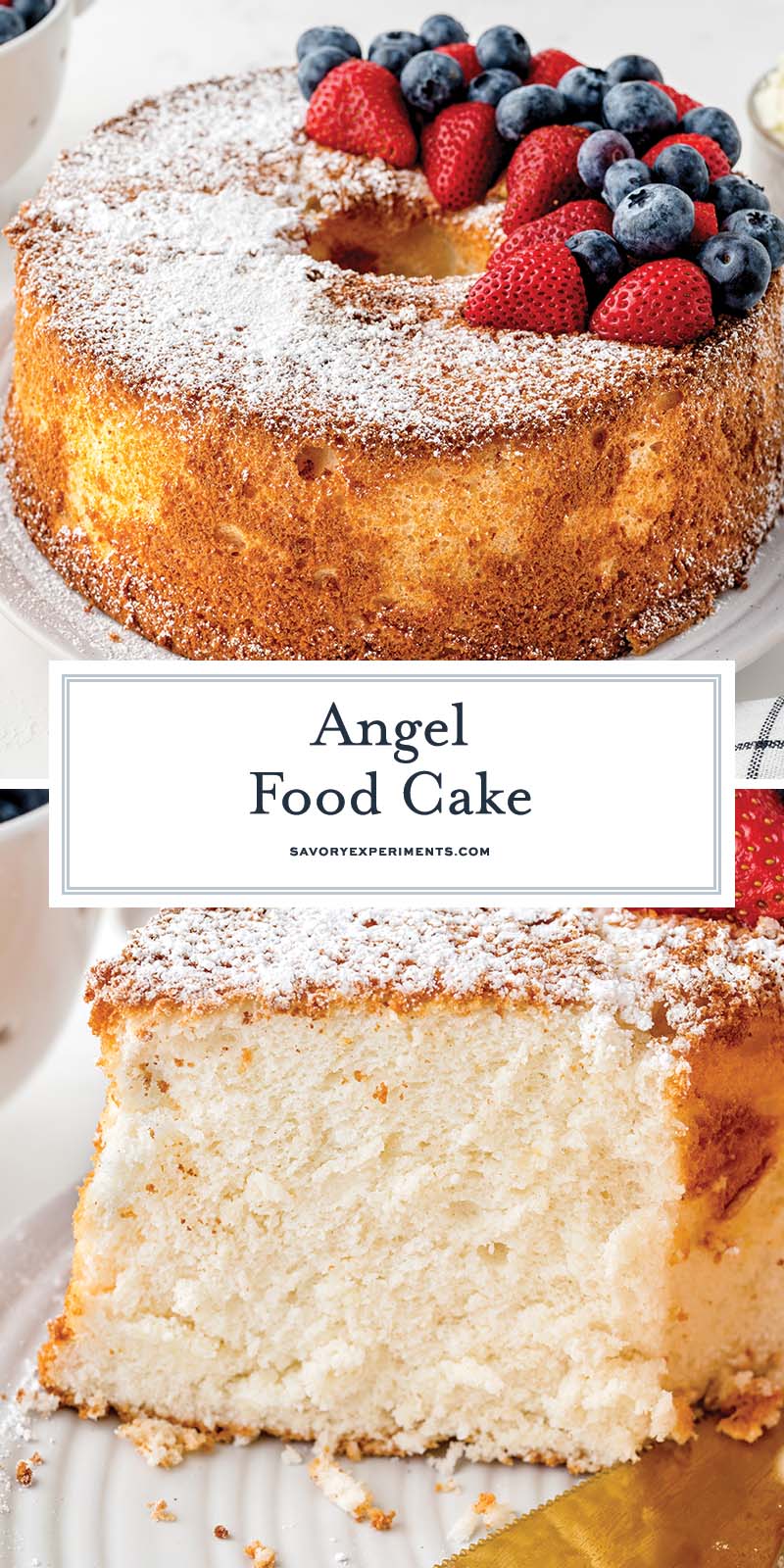 Other Easy Cake Recipes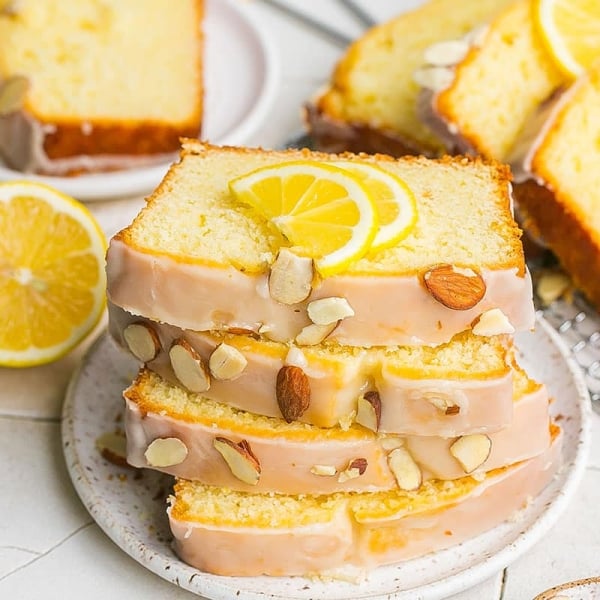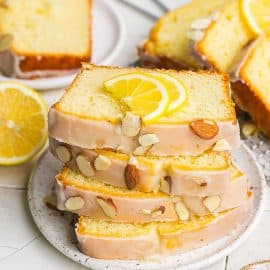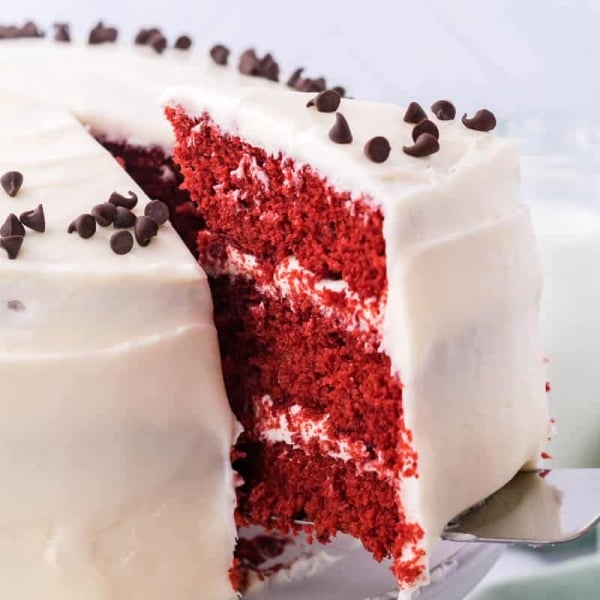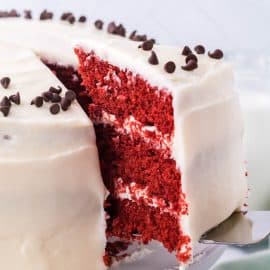 Red Velvet Cake
If you're looking to impress guests with a dessert that is equally as delicious as it is pretty, this red velvet cake is for you.
See The Recipe!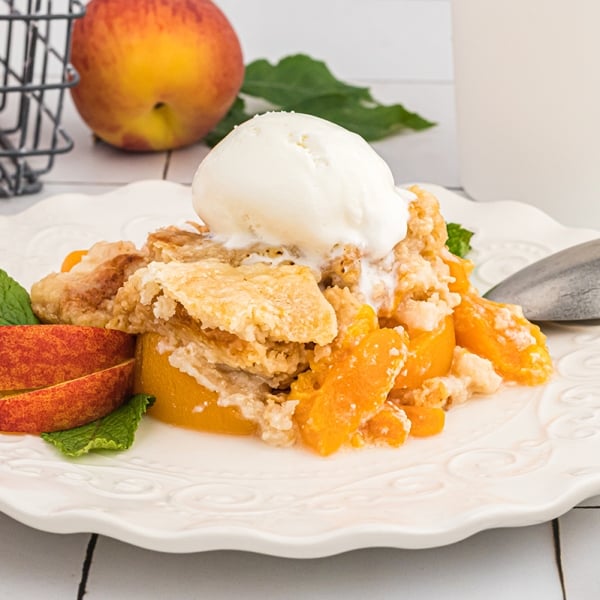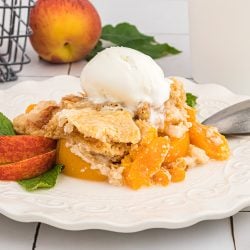 Peach Dump Cake
Quick and easy, this peach dump cake recipe uses only 4 ingredients and is ready in 40 minutes using zero mixing bowls.
See The Recipe!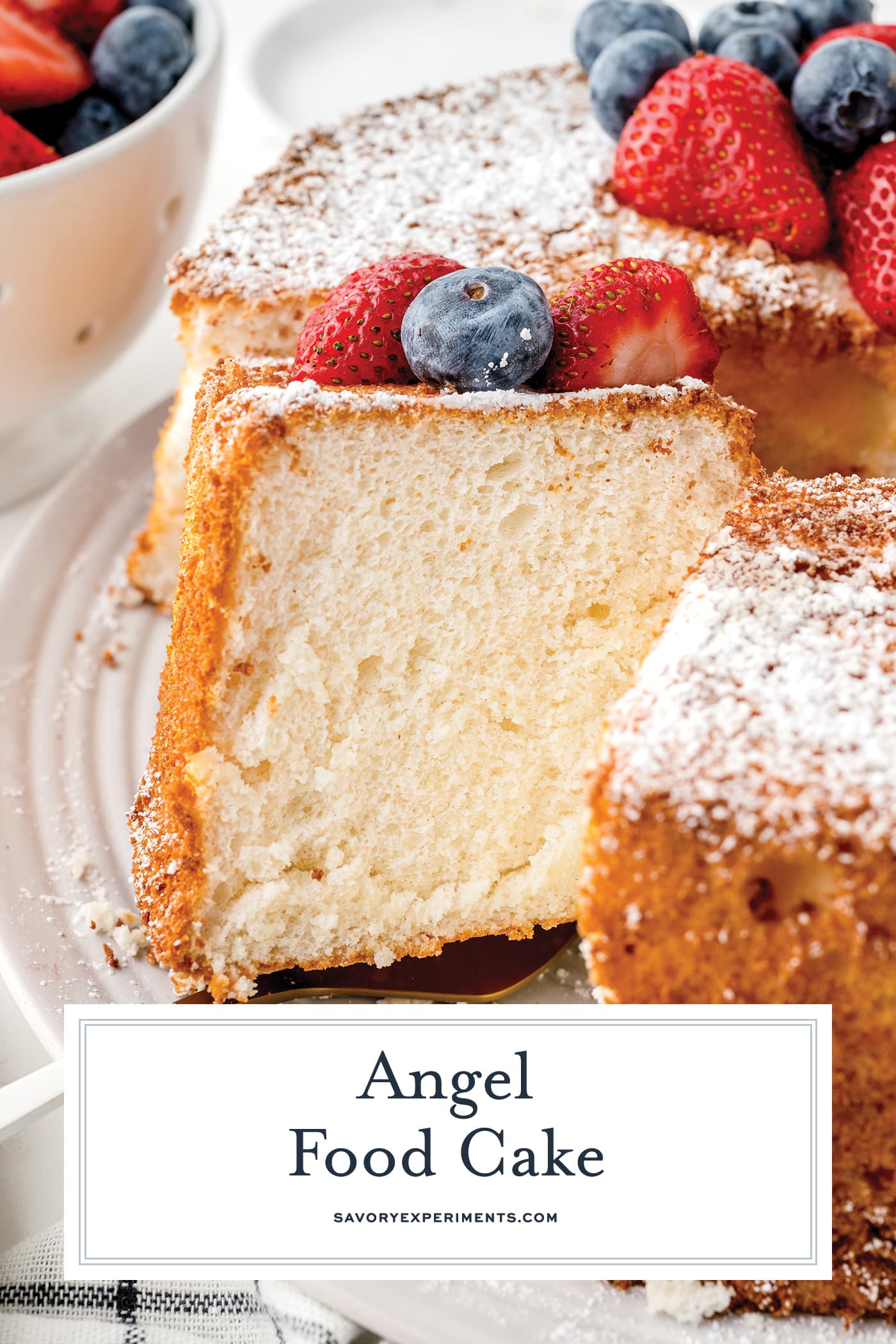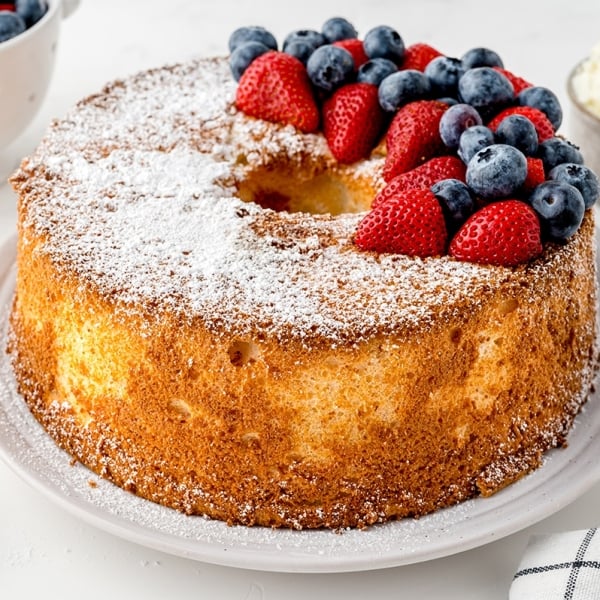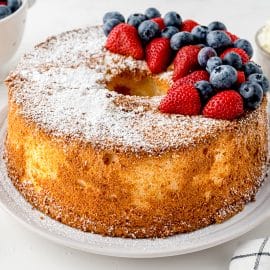 Angel Food Cake
With a light and airy texture, this classic Angel Food Cake recipe is perfect for any occasion. Top with fresh fruit and whipped cream!
Equipment
Heat Resistant Rubber Spatula
Instructions
Preheat the oven to 375°F. Prepare a 10-inch tube cake pan by making sure it is clean and fully dry. DO NOT GREASE OR OIL THE PAN. Set aside.

Sift together the flour, and 3/4 cup of the sugar, set aside.

In the bowl of a stand mixer fitted with the whisk attachment or a large mixing bowl using an electric mixer with the whisk attachment, beat the egg whites, extract, cream of tartar and salt, until soft peaks form.

Gradually add the remaining ¾ cup of sugar while continuing to whip until stiff peaks form. When the egg white mixture has reached its maximum volume, fold in the sifted ingredients one third at a time by hand and using a spatula. Do not overmix or the egg whites will deflate. Do not overmix. Pour the batter into the tube pan and gently tap to release air pockets.

Bake for 40 to 45 minutes or until the cake springs back when touched, is lightly browned and passes the toothpick test.

Invert the cake onto a wire cooling rack and allow to cool (still in the pan ) for 3-4 hours.

When cool, run a butter knife around the edge of the pan to loose, invert onto a serving dish and tap the top to lease the cake. Tapping it several times before inverting also helps.

If you've tried this recipe, come back and let us know how it was in the comments or star ratings.
Nutrition
Calories:
228
kcal
,
Carbohydrates:
49
g
,
Protein:
7
g
,
Fat:
0.5
g
,
Saturated Fat:
0.04
g
,
Polyunsaturated Fat:
0.1
g
,
Monounsaturated Fat:
0.02
g
,
Sodium:
221
mg
,
Potassium:
184
mg
,
Fiber:
0.4
g
,
Sugar:
38
g
,
Vitamin A:
0.3
IU
,
Calcium:
6
mg
,
Iron:
0.2
mg