Perfect for adding to cakes, cupcakes and cookies, this classic Vanilla Buttercream Frosting recipe tastes like it came straight from the bakery!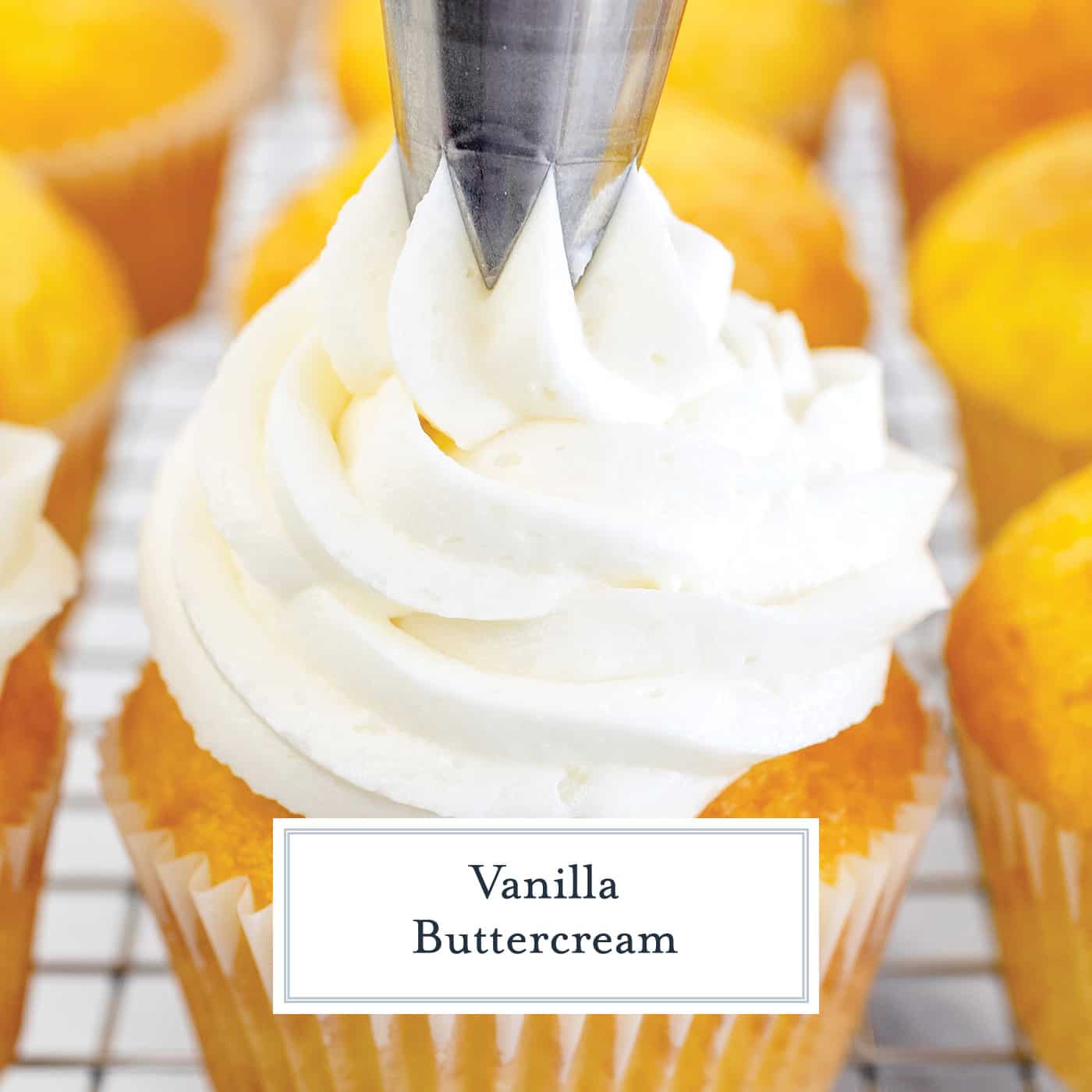 Do you know the major difference between professional bakery and homemade buttercream frosting? I asked a local professional baker and you know what he told me?
One simple ingredient: shortening. This one little tip was life changing! And here I thought that frosting was made with shortening and butter cream with, well, butter.
Half butter and half shortening is the key to a perfect buttercream frosting. All butter is often too rich and a little grainy.
Add your choice of extracts, almond, vanilla, citrus, for flavor to complement your sweet treat.
Using shortening also yields a lighter color, allowing for better coloring if you are using food color. For this batch I used a good quality grass fed butter, which was a deep color of yellow to begin with.
Better ingredients results in better flavors, however if I were planning to color this batch, I would have opted for a lesser quality, and lighter color of butter.
Types of Buttercream
All of the buttercream recipes out there call for butter only, but it made perfect sense. But before I get into it.. did you know there are 4 types of buttercream? All different culturally.
American buttercream frosting: Powder sugar + softened butter (shortening) + cream/milk + vanilla
Swiss meringue buttercream: Egg whites + light corn syrup + white sugar (icing sugar) + softened butter
French buttercream: Egg yolks + homemade sugar syrup + softened butter
Italian buttercream: Homemade sugar syrup + egg whites + white sugar + softened butter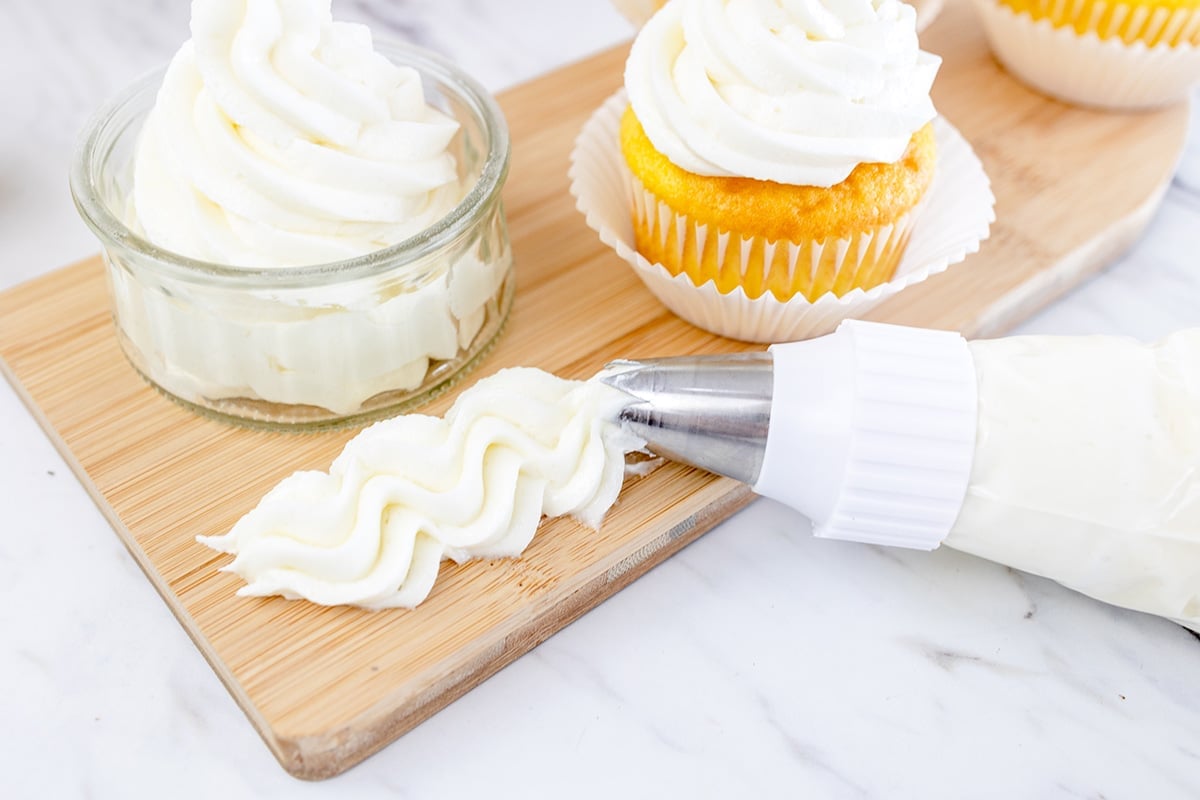 Vanilla Buttercream Frosting Ingredients
Even with simple ingredients, this frosting recipe is worlds better than the store-bought frosting you're used to.
Butter – Room temperature butter is much easier to work with than cold butter. I always prefer using unsalted butter, because you can always add a pinch of salt later if you need it.
Shortening – By using part shortening you will achieve a smooth texture with great taste. Not too buttery. Not too sweet. Just right… like the Goldilocks of buttercream frosting!
Vanilla or other extract – If you're going for a white buttercream, I suggest using a clear vanilla extract. If you don't care about the color, make sure to use a good quality extract.
Powdered sugar – Also known as confectioners sugar, this is what holds everything together, helps us achieve the perfect consistency and also provides the sweetness.
Milk or heavy cream – We add this one tablespoon at a time so that we get the perfect fluffy frosting. It helps to thin it out, but we don't want to add too much making it too thin.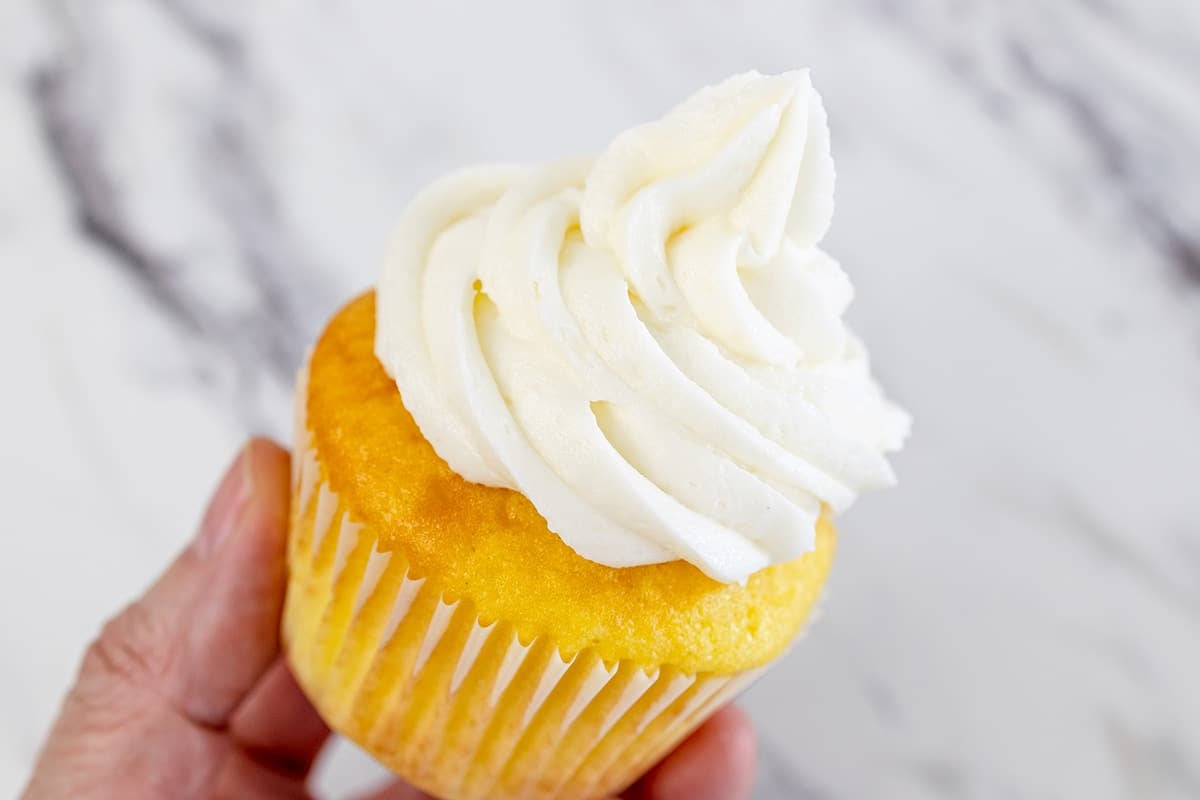 How to Make Easy Vanilla Buttercream Frosting Recipe
Even though it tastes like it came straight from a bakery, this perfect vanilla buttercream frosting is super easy to make.
Cream butter and shortening. Place butter and shortening into a large mixing bowl or bowl of a stand mixer. Whip until blending thoroughly.
Add vanilla, milk and powdered sugar. Add vanilla, heavy cream or milk and powdered sugar, mix. Slowly add additional heavy cream or milk until the frosting is a spreadable or to desired consistency.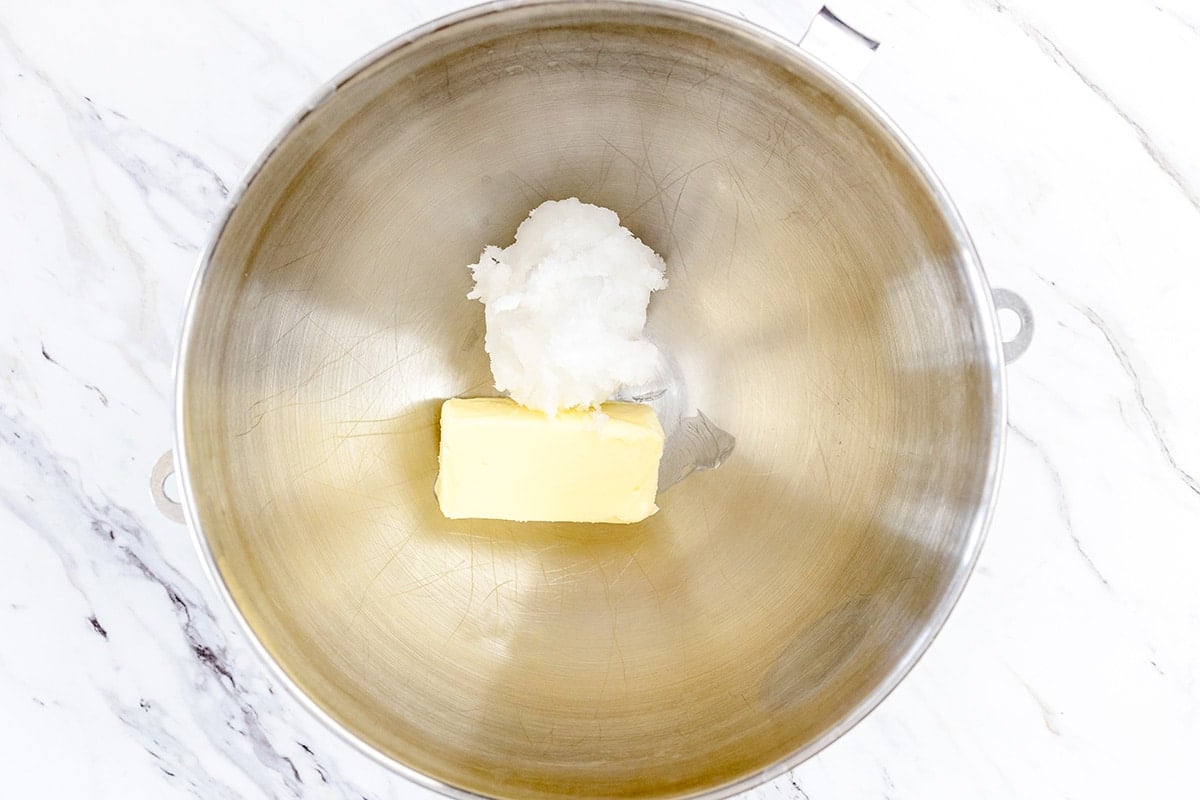 How to Use Vanilla Buttercream Frosting
Use Vanilla Buttercream Frosting for decorating sugar cookies, vanilla cupcakes and cakes like my Triple Layer Chocolate Cake with Raspberry Buttercream!
Just about anything you use frosting recipes for is perfect for this vanilla frosting. It's fun to use different colors of food coloring and feel free to change up the piping tip to make even more fun designs on your baked goods.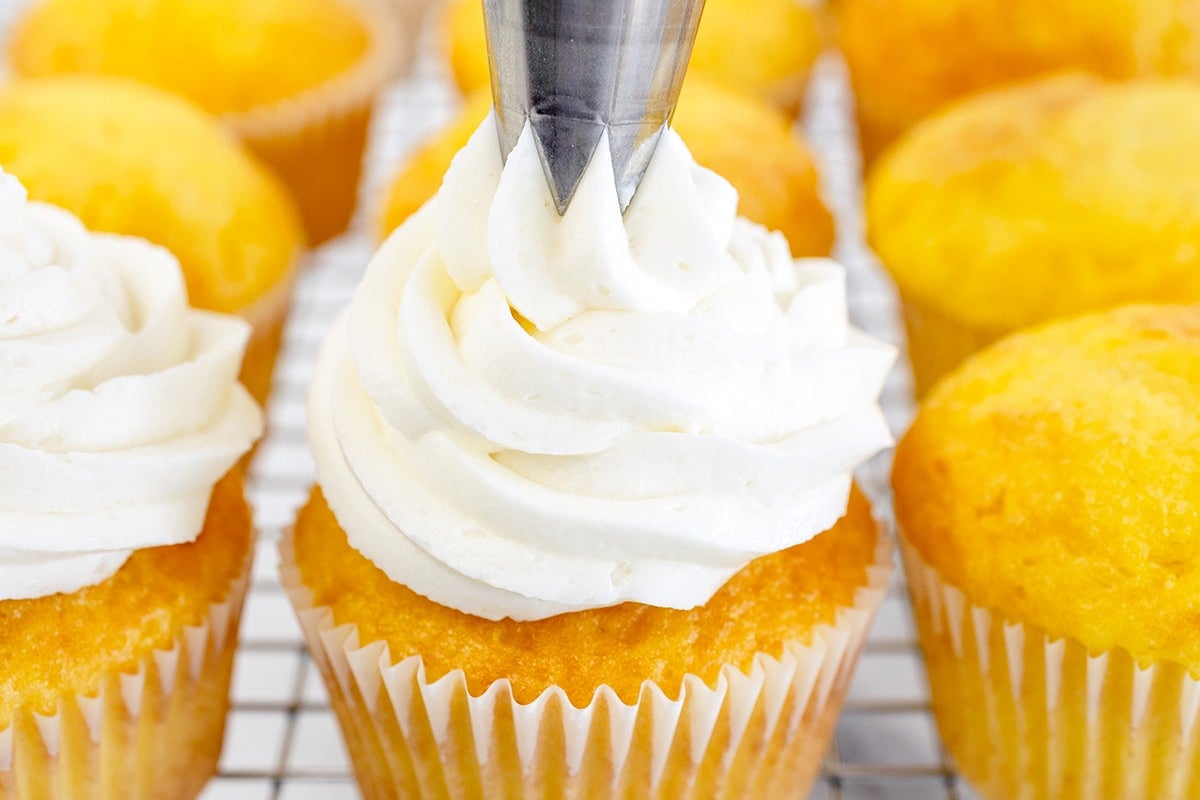 Variations
We love this perfect vanilla buttercream recipe exactly as written, but there are so many fun ways you can make it your own.
Peanut butter – If you're a peanut butter lover, try adding a tablespoon or two. It would taste really good on chocolate cupcakes or even a basic vanilla cake. Just add a bit more powdered sugar to get the perfect consistency.
Vanilla flavor – The easiest way to make this easy vanilla buttercream recipe the best is to use a good quality vanilla extract. But you could take it one step further and use vanilla bean paste if you'd like to.
Fruit – This classic buttercream frosting is a great base for adding all kinds of flavors. You could add a citrus extract or even swirl in some fruit preserves like strawberry or raspberry. Keep in mind it won't have a super creamy consistency after the addition of fruit.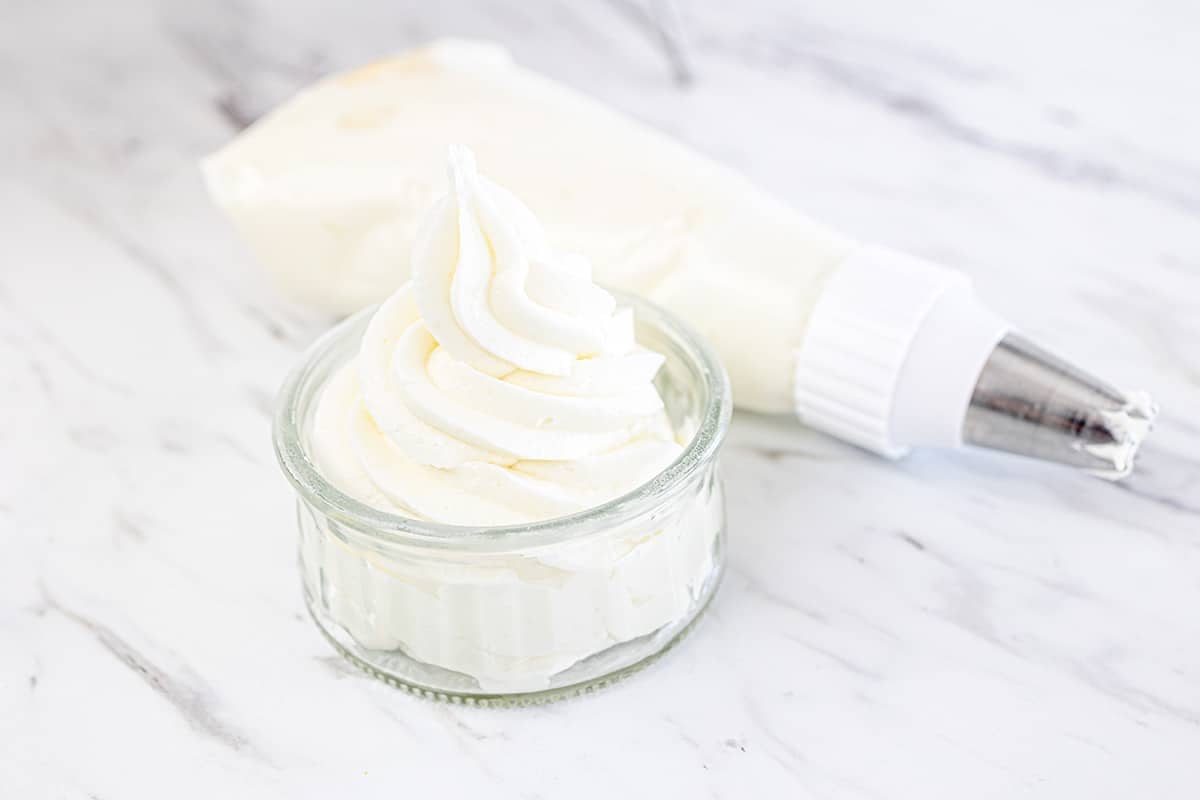 Storage and Freezing
Storage: Store unused buttercream in an airtight container in the refrigerator for up to 1 week. Try to keep it away from other fragrant foods, because much like pure butter, it will take on the flavors it comes in contact with.
When you are ready to use it, take it out of the fridge and set at room temperature for an hour or so for it to soften. Never microwave it, it will be soupy and it will be challenging, if not impossible, to get it to back to a spreadable consistency.
Freezing: It's also super easy to freeze, too! Don't toss it- freeze it! It will stay good for up to 6 months in an airtight freezer bag.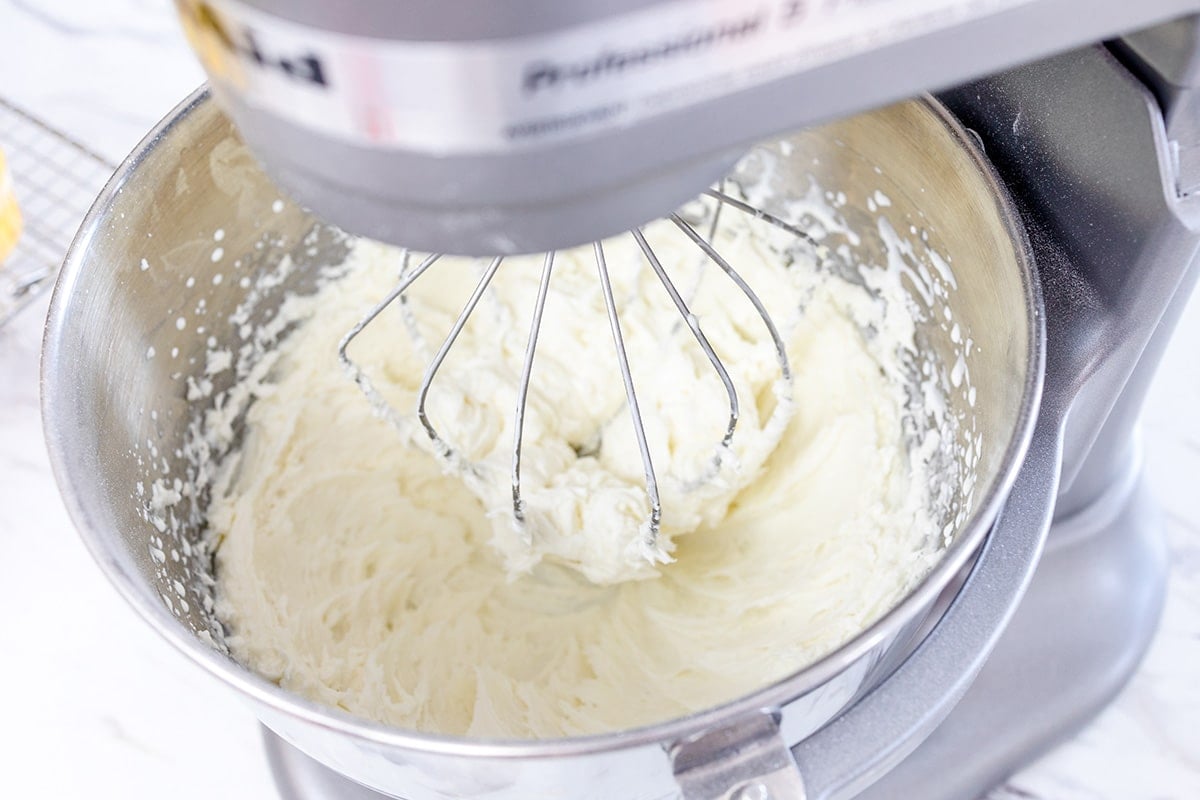 Frequently Asked Questions
Do I need to refrigerate a cake with buttercream frosting?
Yes and no. Technically, you should, but do people? Not really. The FDA says that small amounts of milk and cream can actually be left at room temperature for up to 3 days. It will last longer, but let's be honest… it will be devoured within 1 day.
What is the difference between buttercream and frosting?
Most will say that frosting is made with shortening and/or cream cheese and buttercream with butter. Which would make this recipe a hybrid buttercream frosting. Stark white frostings that harden are usually made with shortening.
Why is my buttercream grainy?
Buttercream may seem like a simple recipe, but there is science behind it. Technically it is an emulsion of fat and liquid which can break down if not under ideal circumstances. Granted it isn't as finicky as other emulsions or baking techniques, but it can happen.

To fix it, try increasing the speed of your blender for a few minutes and really beating the crap out of it. Make sure the ingredients aren't too hot or cold.

Adding melted chocolate is the next trick. This takes it out of the buttercream family, but does help being the ingredients back to a cohesive and spreadable texture.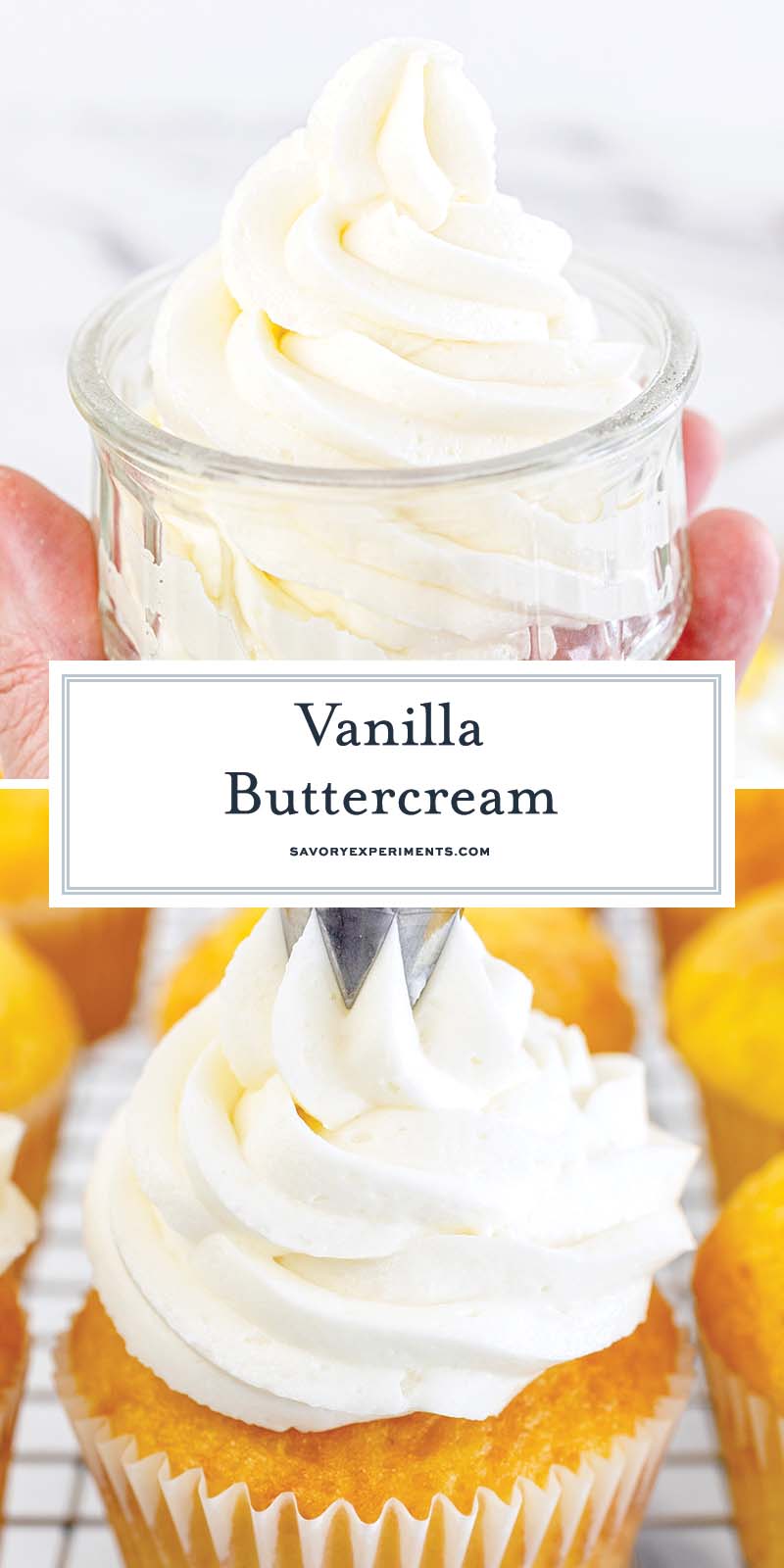 More Frostings and Cakes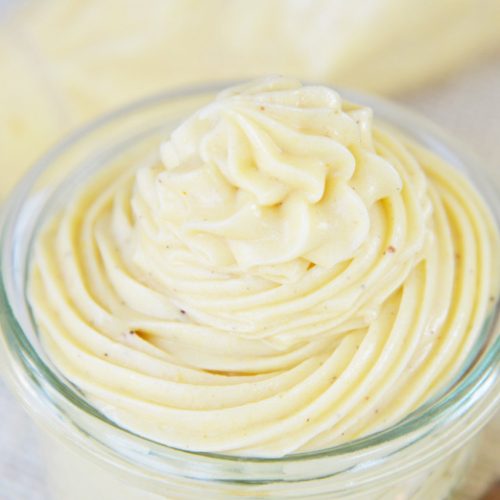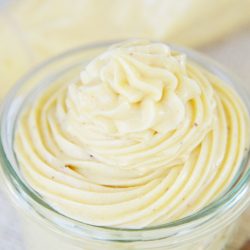 Pumpkin Cream Cheese Frosting
Perfectly creamy without being overly sweet, this Pumpkin Cream Cheese Frosting is perfect for all of your fall baking needs!
View this recipe
Easy Chocolate Frosting Recipe
This Easy Chocolate Frosting recipe is perfection! It is light and fluffy and has the perfect chocolate touch! I use it on anything that calls for frosting.
View this recipe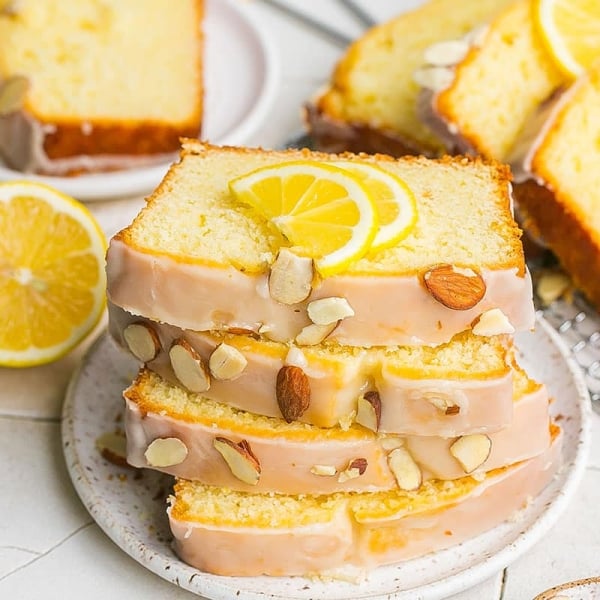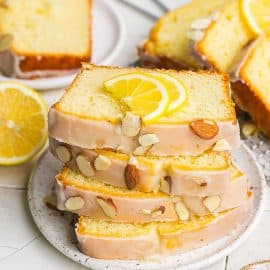 Iced Almond-Lemon Loaf Cake
Yogurt, fresh lemon and almond give this sunny loaf cake a unique flavor and texture that everyone will love. Perfect for brunch, tea or dessert!
View this recipe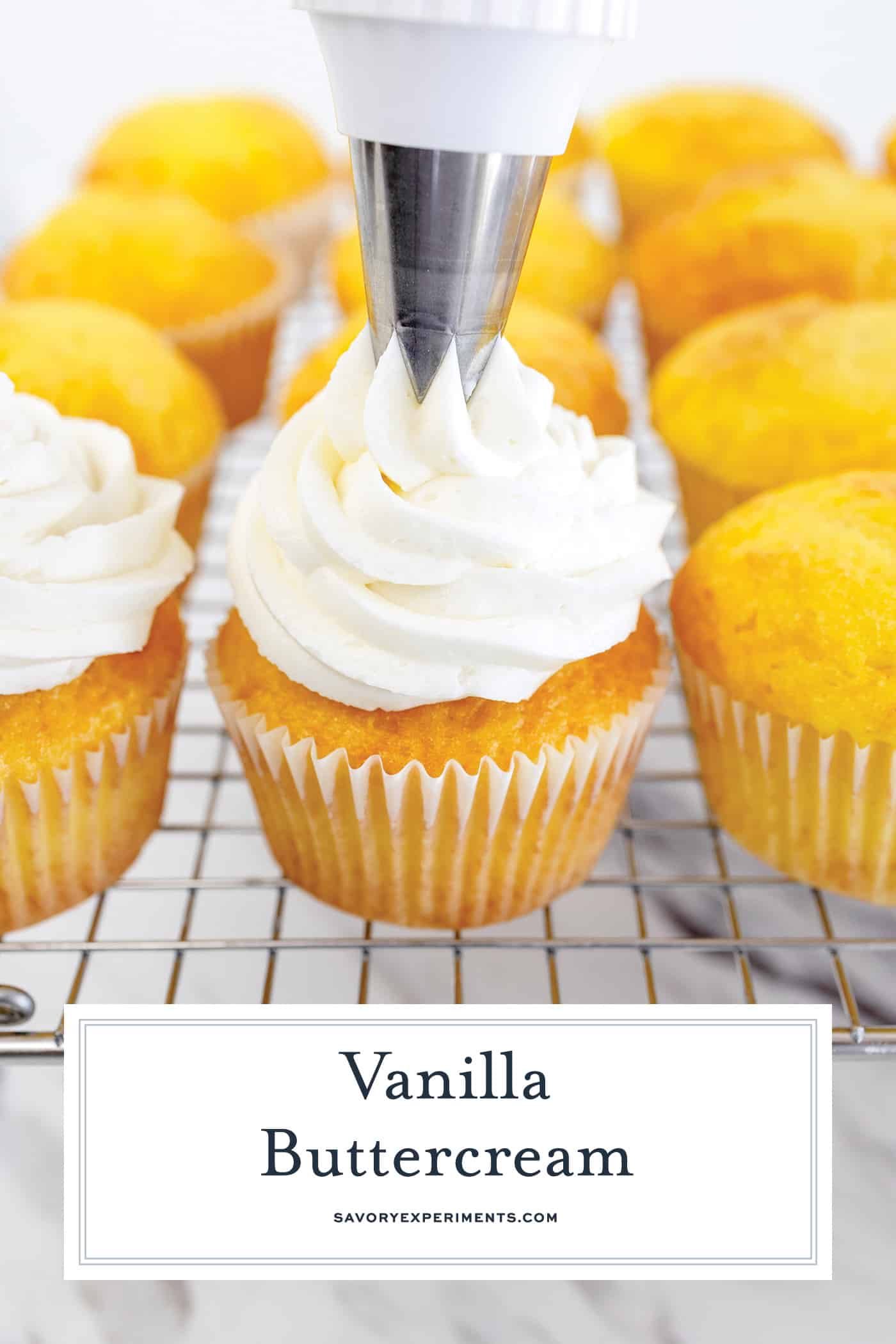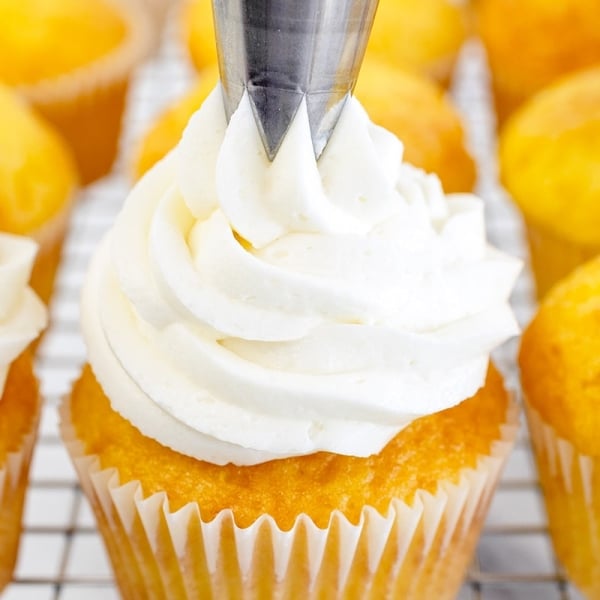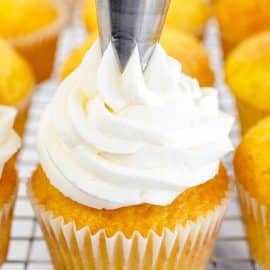 Vanilla Buttercream Frosting Recipe
This classic Vanilla Buttercream Frosting is easy to make, delicious and perfect for frosting cakes, cupcakes and cookies! This is the same recipe that professional bakeries use!
Instructions
Place butter and shortening into a large mixing bowl or bowl of a stand mixer. Whip until blending thoroughly.

Add vanilla, 1 tablespoon heavy cream or milk and powdered sugar, mix. Slowly add additional heavy cream or milk until the frosting is a spreadable or pipe-able consistency.
Nutrition
Calories:
3617
kcal
,
Carbohydrates:
481
g
,
Protein:
2
g
,
Fat:
196
g
,
Saturated Fat:
85
g
,
Polyunsaturated Fat:
32
g
,
Monounsaturated Fat:
66
g
,
Trans Fat:
17
g
,
Cholesterol:
248
mg
,
Sodium:
755
mg
,
Potassium:
88
mg
,
Sugar:
471
g
,
Vitamin A:
2885
IU
,
Calcium:
70
mg
,
Iron:
0.4
mg