When is the last time you made a delicious dessert for twelve that cost under $5? In all honesty, this easy Peach Dump Cake recipe is probably the only time I've done this! It is a great recipe for potlucks and parties or any place where you need to feed a crowd.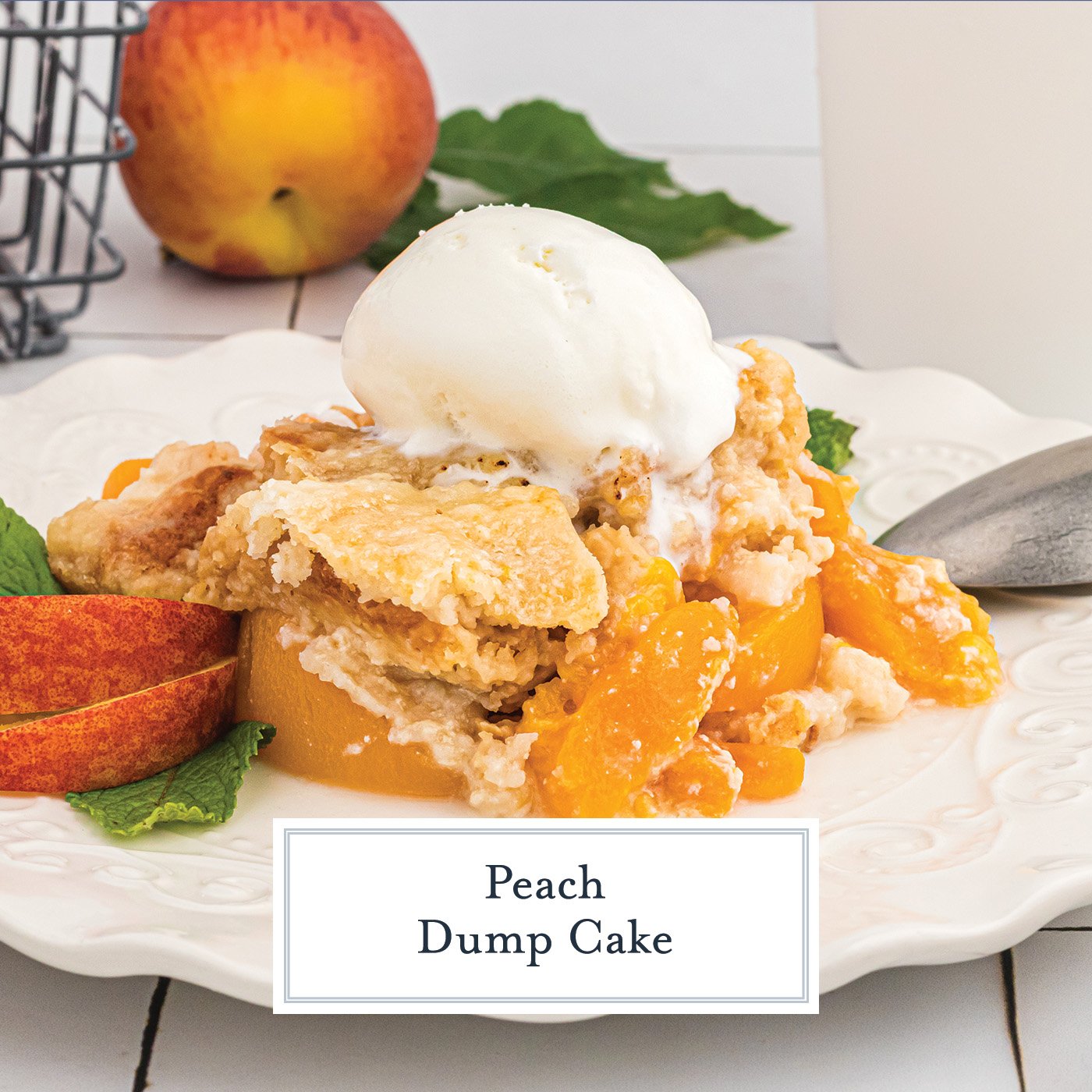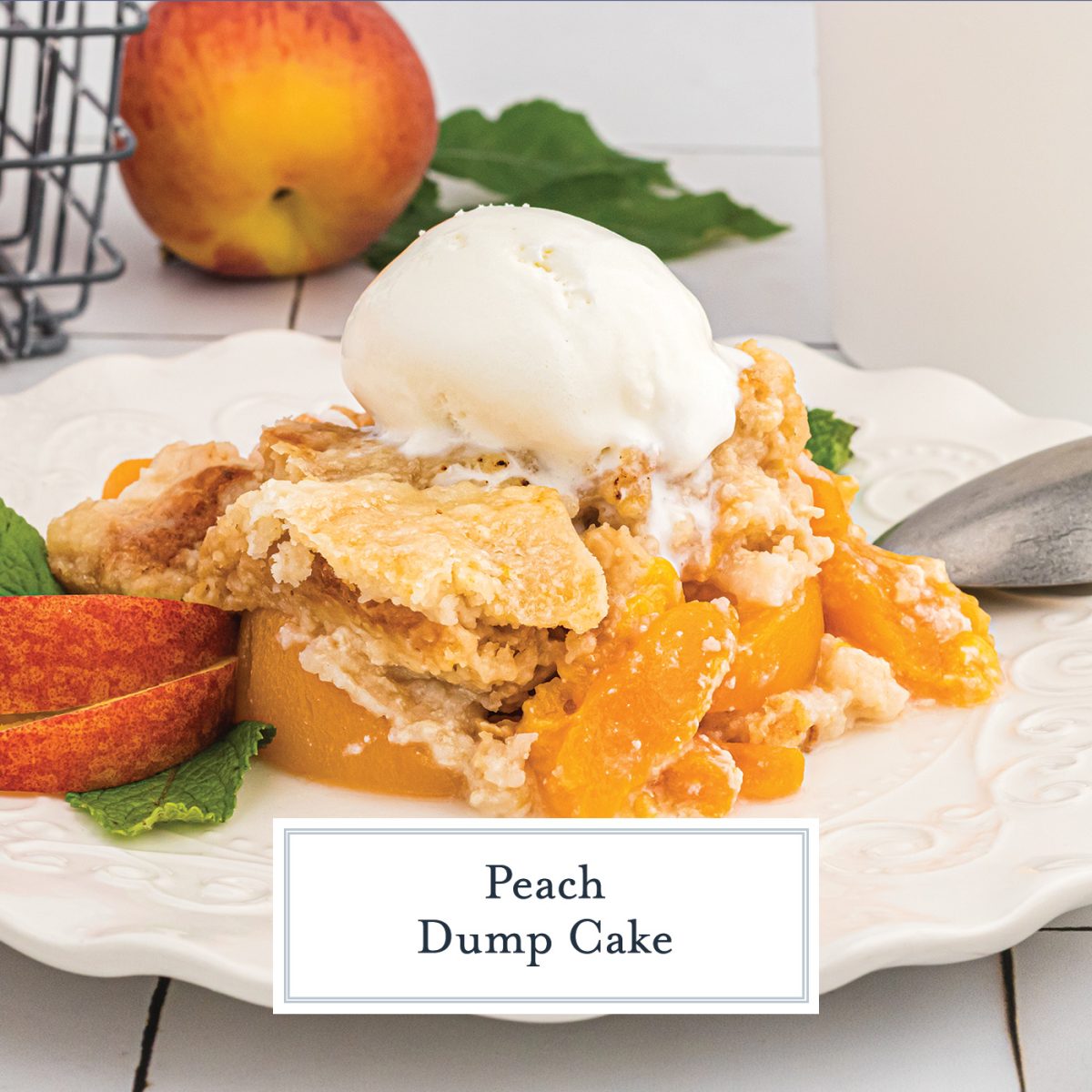 Anything with the title "dump cake" is my cup of tea- one of the easiest dessert recipes. While I appreciate and enjoy super elaborate desserts, I am very open about not being much of a baker. I can do it, but isn't my favorite. So easy desserts… like this easy peach dump cake recipe… are right up my alley.
What is a Dump Cake?
The first thing I want to do is set realistic expectations. Dump cakes are delicious- they are super tasty and combine elements of sweet and a tad salty from the butter, but they do not taste like a typical sponge cake.
Yes, they are made from a cake mix, but without eggs, you won't get the lift and tender crumb that a traditional cake gives. This doesn't mean they don't taste spectacular.
Instead, dump cakes taste more like a cobbler. A little wet and sticky, but with a crispy, buttery top layer. They don't cut into tidy little squares, they scoop out with a serving spoon. Maybe we will call it a peach cobbler dump cake?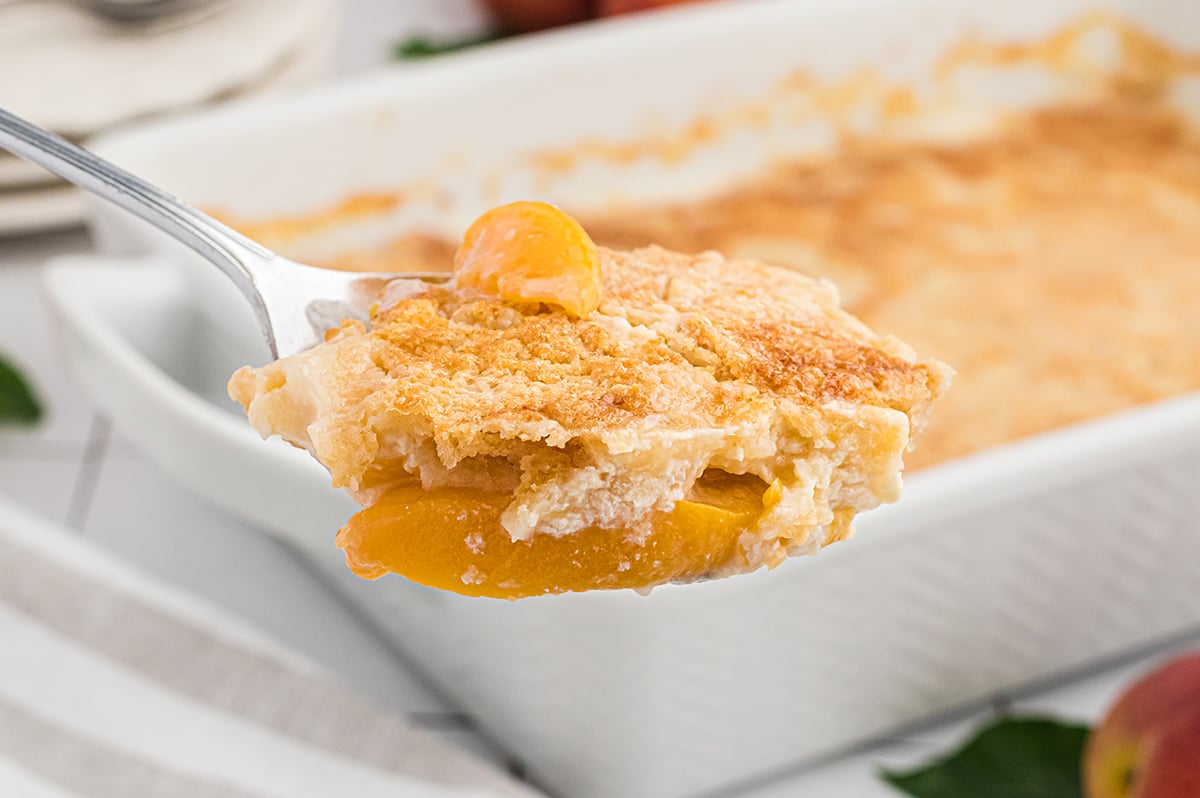 Ingredients
Peaches have fast become a favorite for dump cakes because the syrup in the can provides a great wet base for the cake mix to moisten. And peaches, are well, juicy deliciousness.
Many peach dump cake recipes only use 3 simple ingredients:
Cake Mix– Vanilla, yellow, angel food or white cake mix. Yellow cake mix is my favorites.
Canned Peaches– I can not stress this enough, use peaches with heavy syrup(not even light syrup), the juice isn't enough, you need something thick. Fresh peaches don't have enough liquid- you can make them into a peach filling, but this defeats the purpose of making the easiest cake recipe ever. Canned peach pie filling is a little too thick and doesn't bake up as nice.
Butter- Most boxed cakes call for oil as the fat. For this one, we just dot the top with salted butter and let is melt naturally which forms the crispity, crunchy topping. Many recipes call for melted butter, but I found this to be unnecessary since it will melt and pool nearly immediately when you put it in the oven.
But mine has one more ingredient…
Yogurt- this has long been a secret ingredient in other cake recipes to add a slight tang and make for a super moist crumb. In some it even replaces the fat, so I've swapped out a small part of the butter for yogurt. Feel free to use plain, vanilla or peach flavored. I highly recommend a full fat Greek variety because it will be the thickest and creamiest.
Alternately, if you want an uber creamy base, you can cube up cream cheese and add those cubes. Just 4 ounces will do the trick, but don't expect it to fully stir in, you'll have pockets of sweet cream cheese goodness.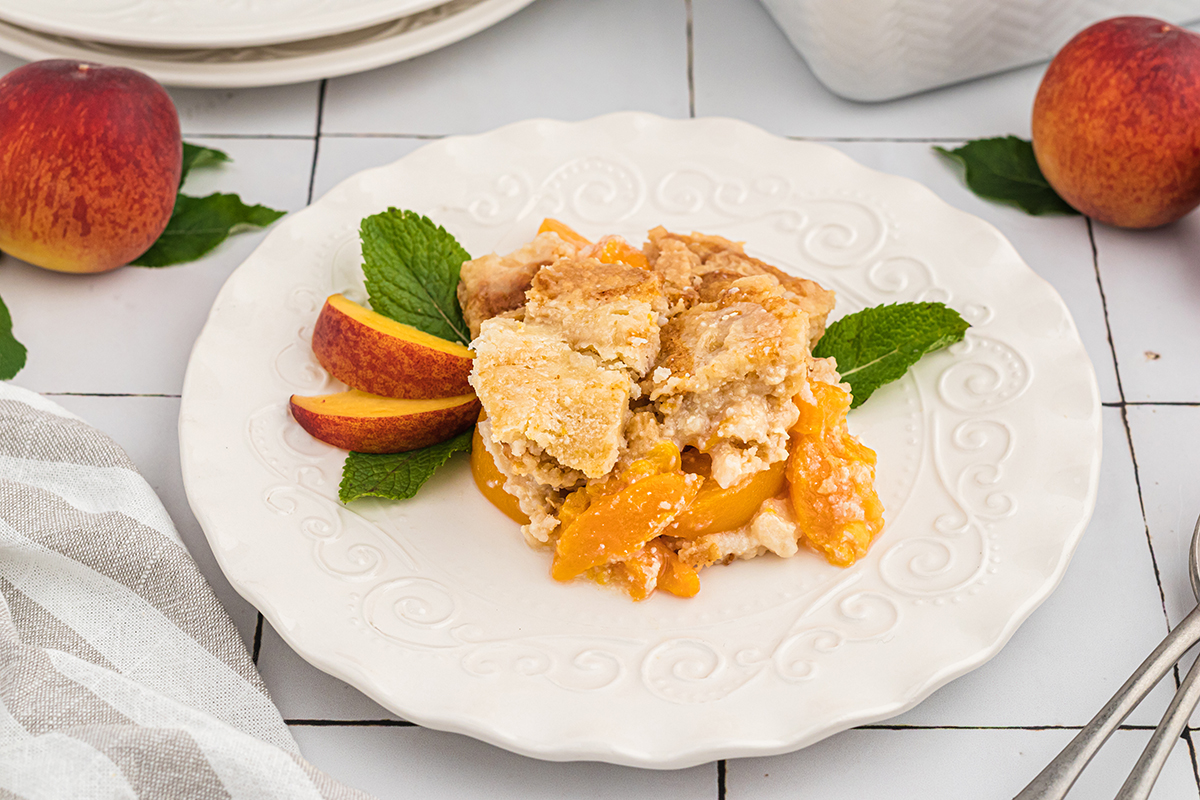 How to Make Peach Dump Cake
Making this cake is easy and doesn't require any special utensils… you won't even need a mixing bowl or measuring cups!
Prepare pan and oven. Coat a 9×13 baking pan with cooking spray and preheat the oven.
Mix peaches and yogurt. Pour can of peaches with syrup into the baking dish along with the yogurt and mix. It doesn't need to be mixed super well, a few streaks is fine. This is also when you'd add the extracts if you want.
Pour cake mix on top. Sprinkle dry cake mix over the top of the peaches. No need to stir in.
Add butter. Then cube the cold butter and place it on top of the cake mix.
Bake. Slide it into the oven and bake until golden browned and bubbly. Cake will not appear to fully set, remember it is more of a cobbler than a cake.
Cool. Let peach dump cake cool to set and thicken before serving.

Variations & Toppings
You know we are all about switching things up and with a simple dessert recipe, that makes it easy. Here are my three ways to customize your peach cake.
Extracts– While the base recipe doesn't call for any, feel free to add a teaspoon of vanilla extract or almond extract to the peach and yogurt mixture, especially if you are using a white or angel food cake mix which might not have as much flavor as vanilla or yellow.
Spices- Add 1 teaspoon ground cinnamon to the peach/yogurt layer. You can also do a few grates of nutmeg or sprinkle of apple pie spice.
Filling– As long as you use a syrup, sugary pie filling, any canned fruit with syrup, you should be good on the dry mix to wet mix ratio. Cherry pie filling, blueberry, lemon, pineapple or even apple pie filling are all good options, even a pumpkin dump cake!
Toppings– You know me and nothing is complete without a good sauce, topping or garnish. For this peach dump cake, I love a scoop of vanilla ice cream and whipped cream. Caramel , praline sauce, raspberry sauce are also amazing. If you want more crunch, sprinkle the top with a bit of sugar; brown sugar or turbinado sugar.
Fresh Fruit- Yes, you can just throw some thin slices of fresh peaches on top and call it a day, but opt for something with a varying color like blueberries, raspberries or strawberry slices.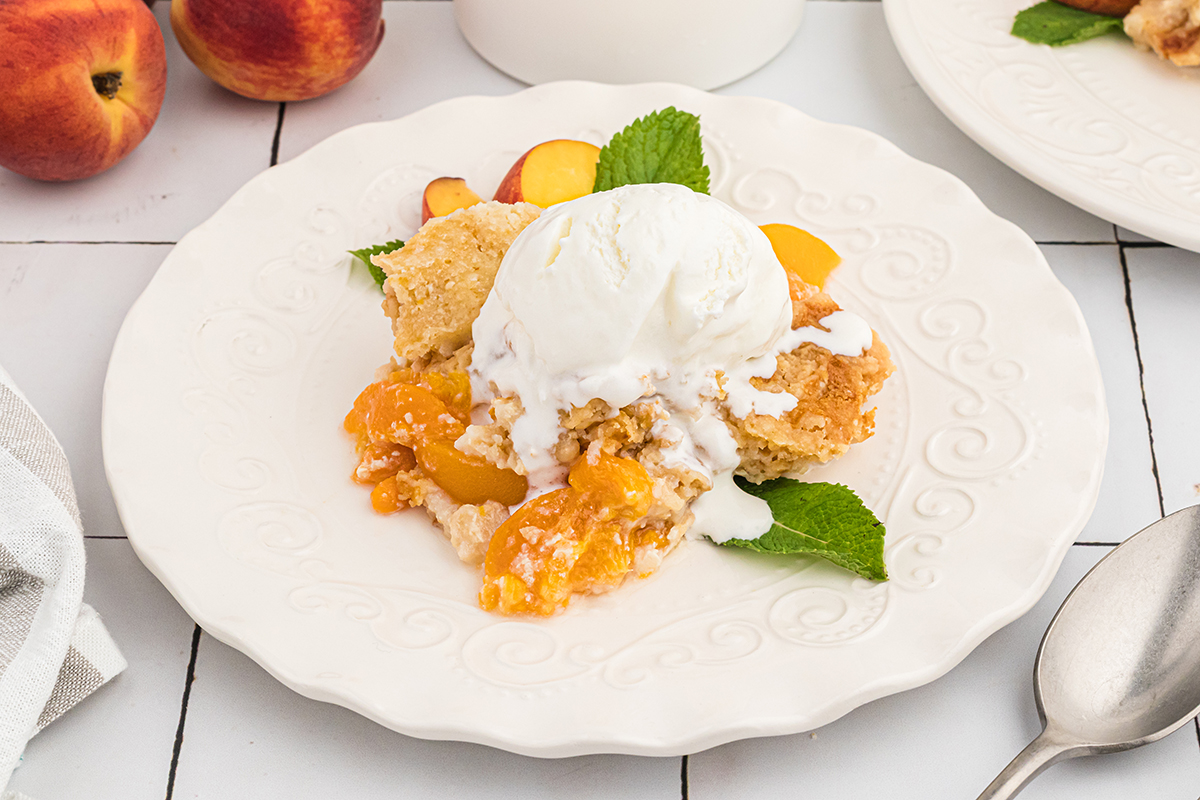 Crock Pot Peach Dump Cake
There are a few folks who have asked about making this in a crockpot (slow cooker) and while you can technically do it, I don't really recommend it, I really feel that the oven is the best way to make this easy dessert. Why?
The first reason is that slow cookers don't allow for steam to release and therefore the condensation builds up and can lead to an even soggier cake. This also means that the top layer of the peach dump cake won't get that crunchy aspect that makes this such a unique cake recipe.
Lastly, it just takes longer! Cake isn't' something that necessarily needs "low and slow"- so it takes longer to cook and for no reason other than you don't have to heat up the oven.
Now, if you don't have access to an oven (like I didn't during my renovation) then it is a viable option. Here are the slow cooker dump cake instructions:
Pour canned peaches into the pot of your slow cooking, mix with yogurt in the bowl.
Evenly sprinkle dry cake mix over peaches.
Dot with cubed cold butter.
Cook on high for 2 hours.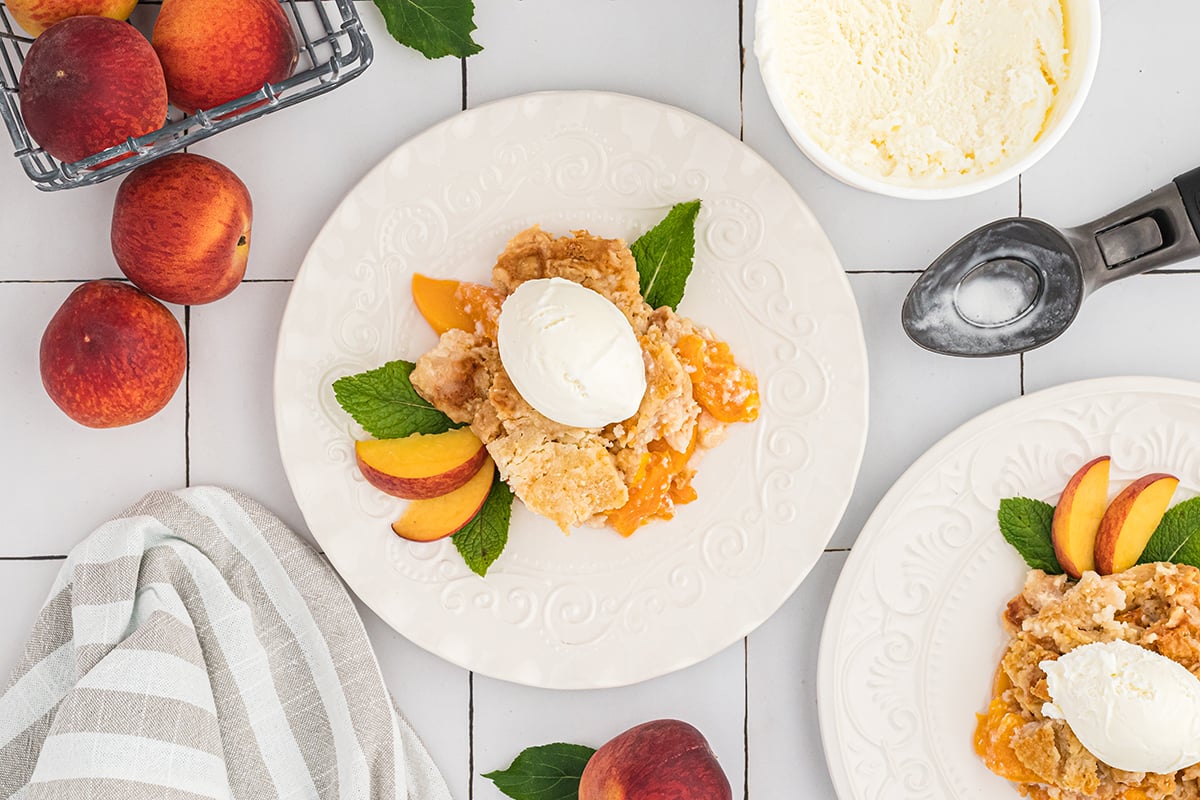 Storage and Freezing
I love a warm, gooey peach dump cake, but it is also amazing room temperature. Store in an airtight container at room temperature for 3-4 days. As it ages, so will the initial texture of the cake part. It will get a little mushy. Enjoy it fresh for best results!
Unfortunately, this cake does not freeze well.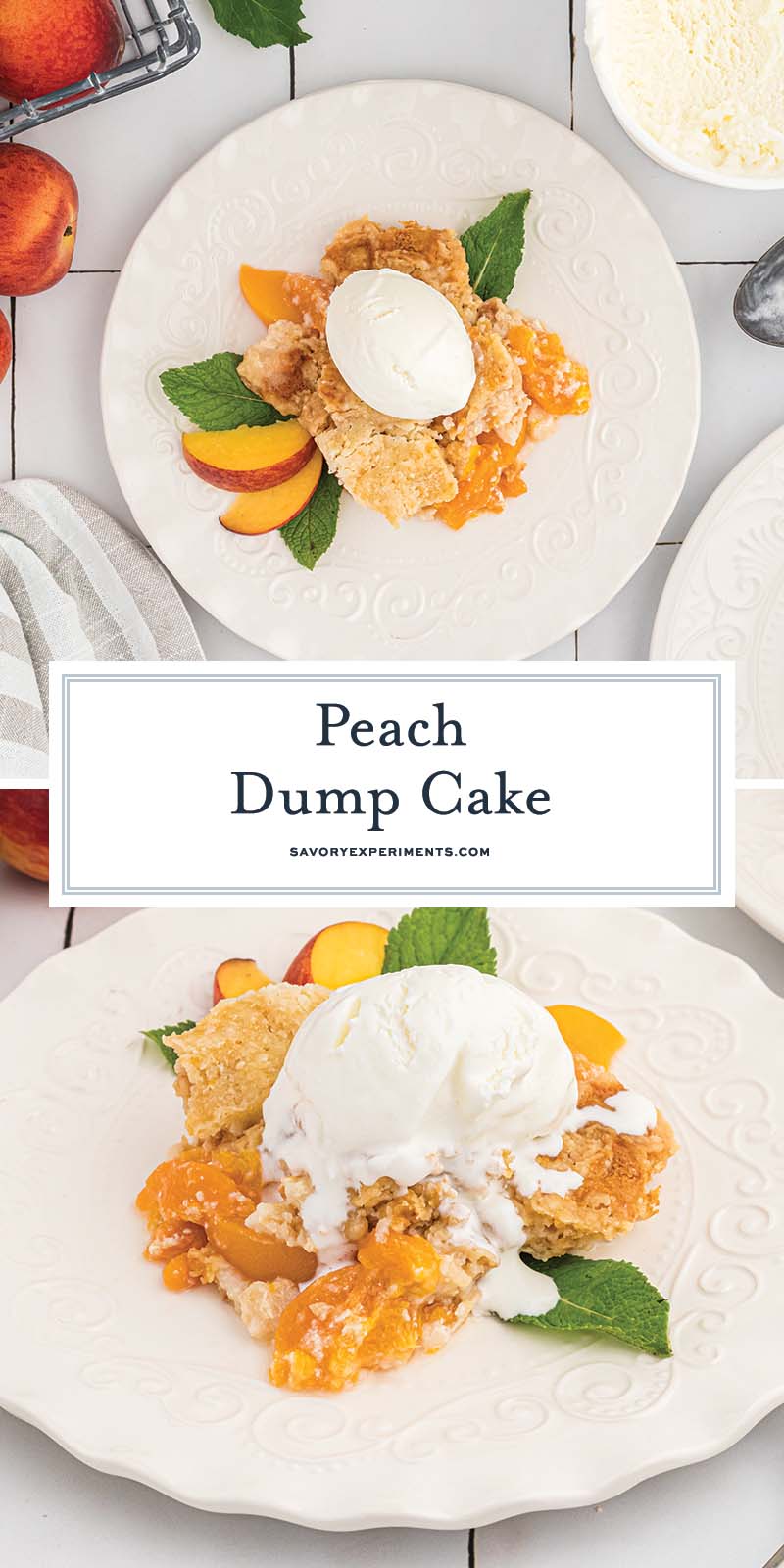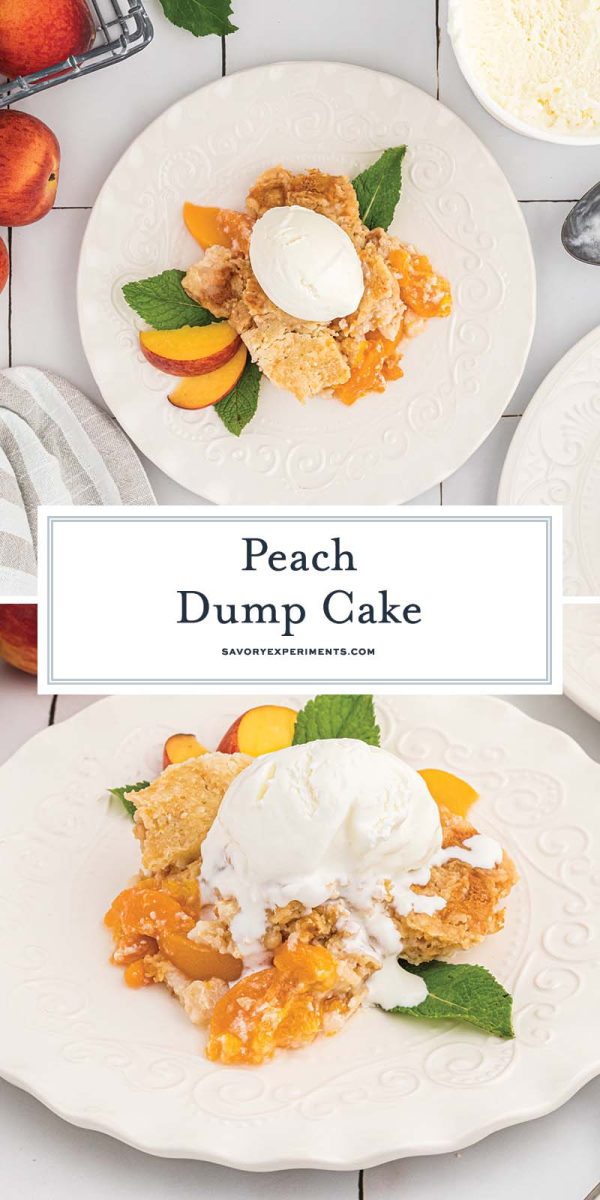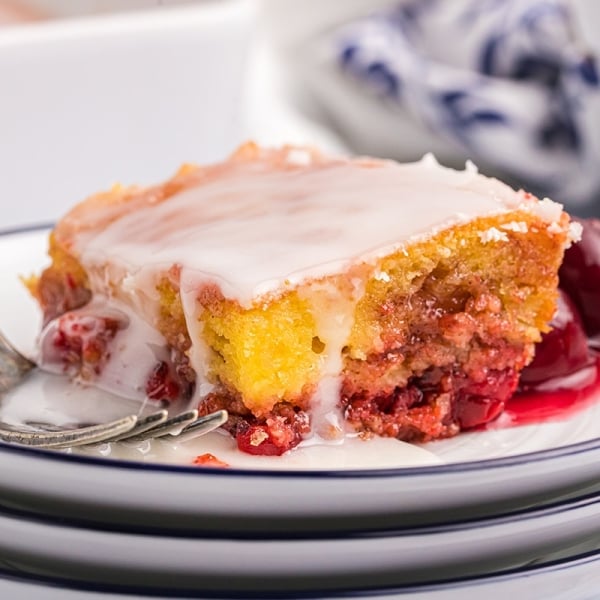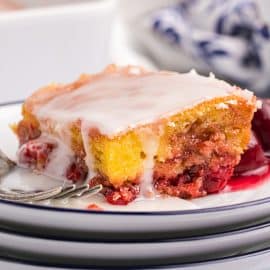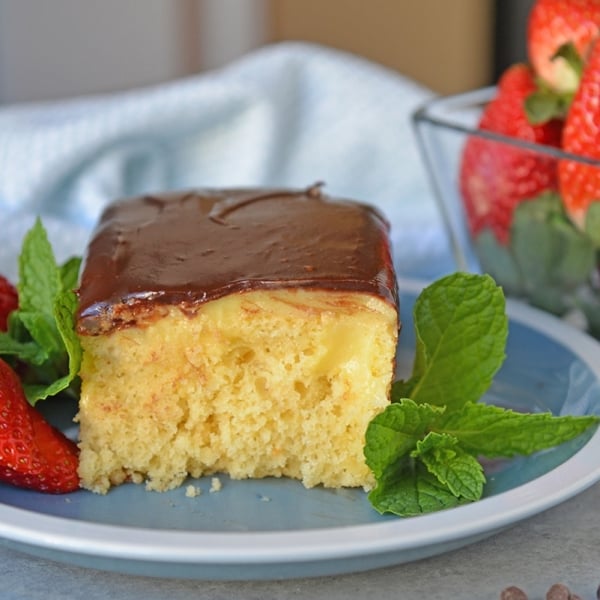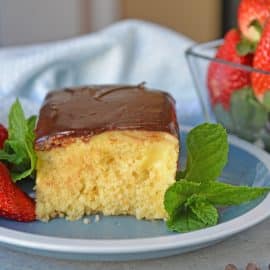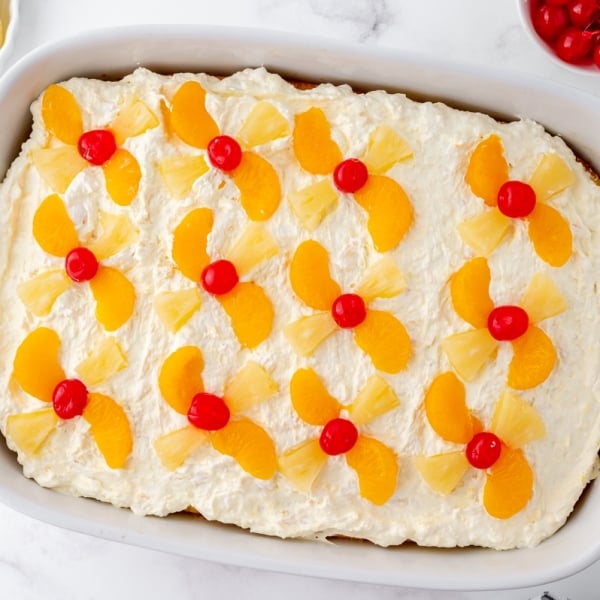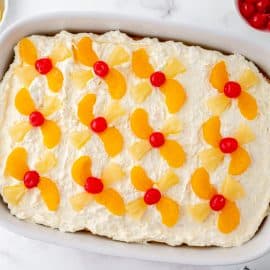 Sunshine Cake
This EASY Sunshine Cake recipe is a moist yellow cake flavored with vibrant oranges and topped with a creamy pineapple-infused topping!
See The Recipe!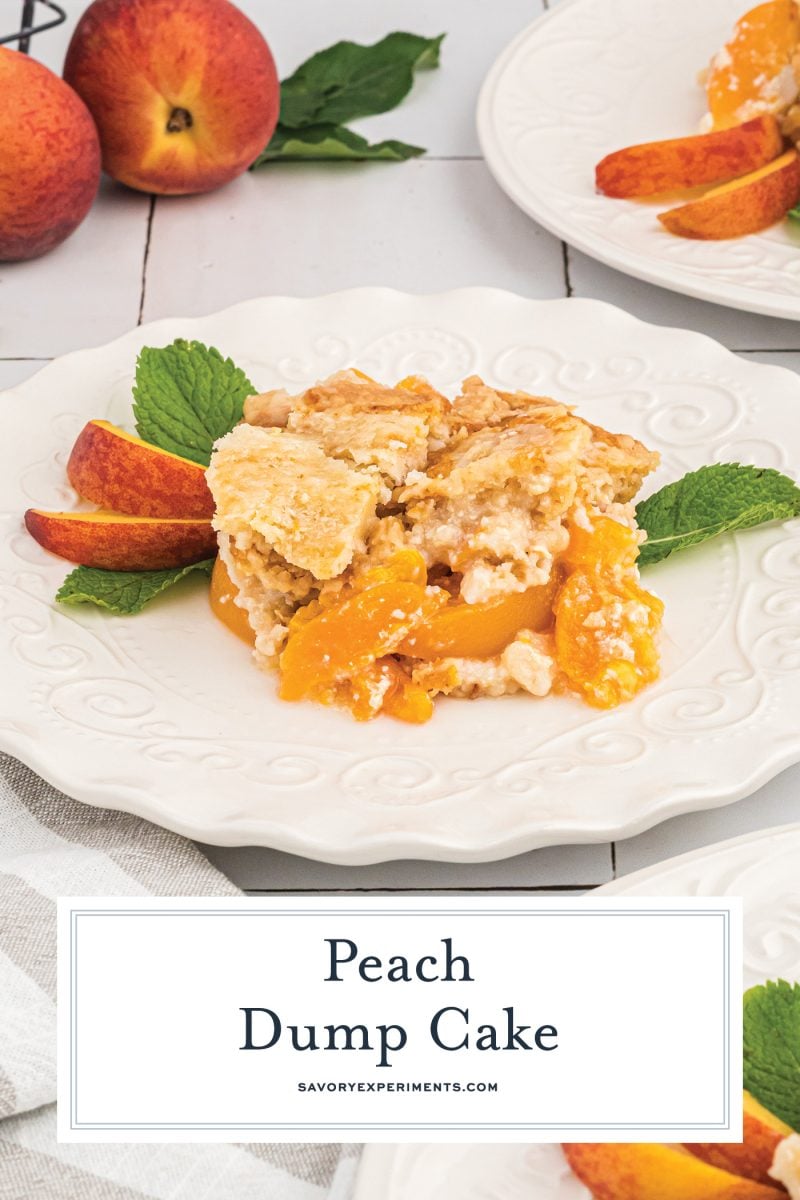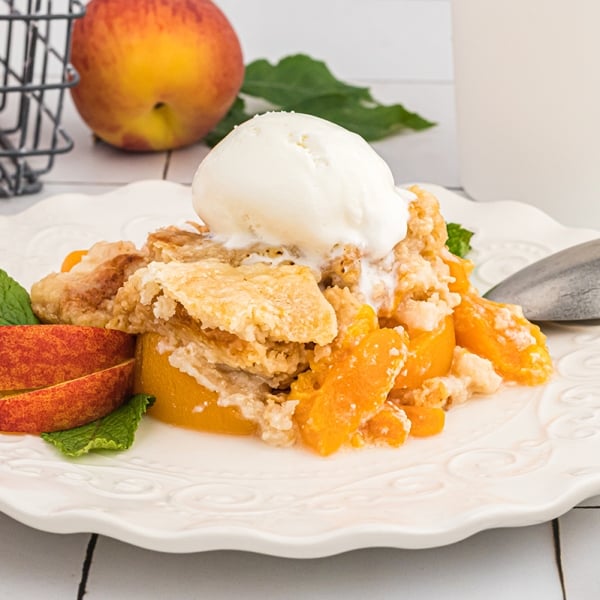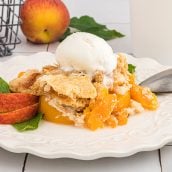 Peach Dump Cake
Quick and easy, this peach dump cake recipe uses only 4 ingredients and is ready in 40 minutes using zero mixing bowls.
Ingredients
29

ounces

sliced peaches in heavy syrup

15.25

ounces

boxed cake mix

, white, vanilla, yellow or angel food

3/4

cup

salted butter

, cut into small cubes

5.3

ounces

Greek vanilla yogurt
Instructions
Preheat oven to 350°F. Spray a 9×13 baking dish with cooking spray.

Mix peaches and yogurt in a bowl or the bottom of the baking dish.

Evenly sprinkle the dry cake mix over wet ingredients.

Dot the top everly as possible with the cubed cold butter.

Bake uncovered for 40-45 minutes, or until cake is bubbly and browned.

Remove and allow to cool and set before serving warm or at room temperature.

If you've tried this recipe, please come back and let us know how it was in the comments or ratings.
Nutrition
Calories:
436
kcal
,
Carbohydrates:
78
g
,
Protein:
3
g
,
Fat:
13
g
,
Saturated Fat:
8
g
,
Polyunsaturated Fat:
1
g
,
Monounsaturated Fat:
3
g
,
Trans Fat:
1
g
,
Cholesterol:
31
mg
,
Sodium:
377
mg
,
Potassium:
90
mg
,
Fiber:
1
g
,
Sugar:
50
g
,
Vitamin A:
355
IU
,
Vitamin C:
6
mg
,
Calcium:
96
mg
,
Iron:
1
mg