This homemade corned beef hash recipe is a cinch to make, combining tasty corned beef with bright peppers, aromatic onions, and crispy potatoes. It's perfect to serve alongside eggs for a hearty breakfast but you can make it a main dish, too.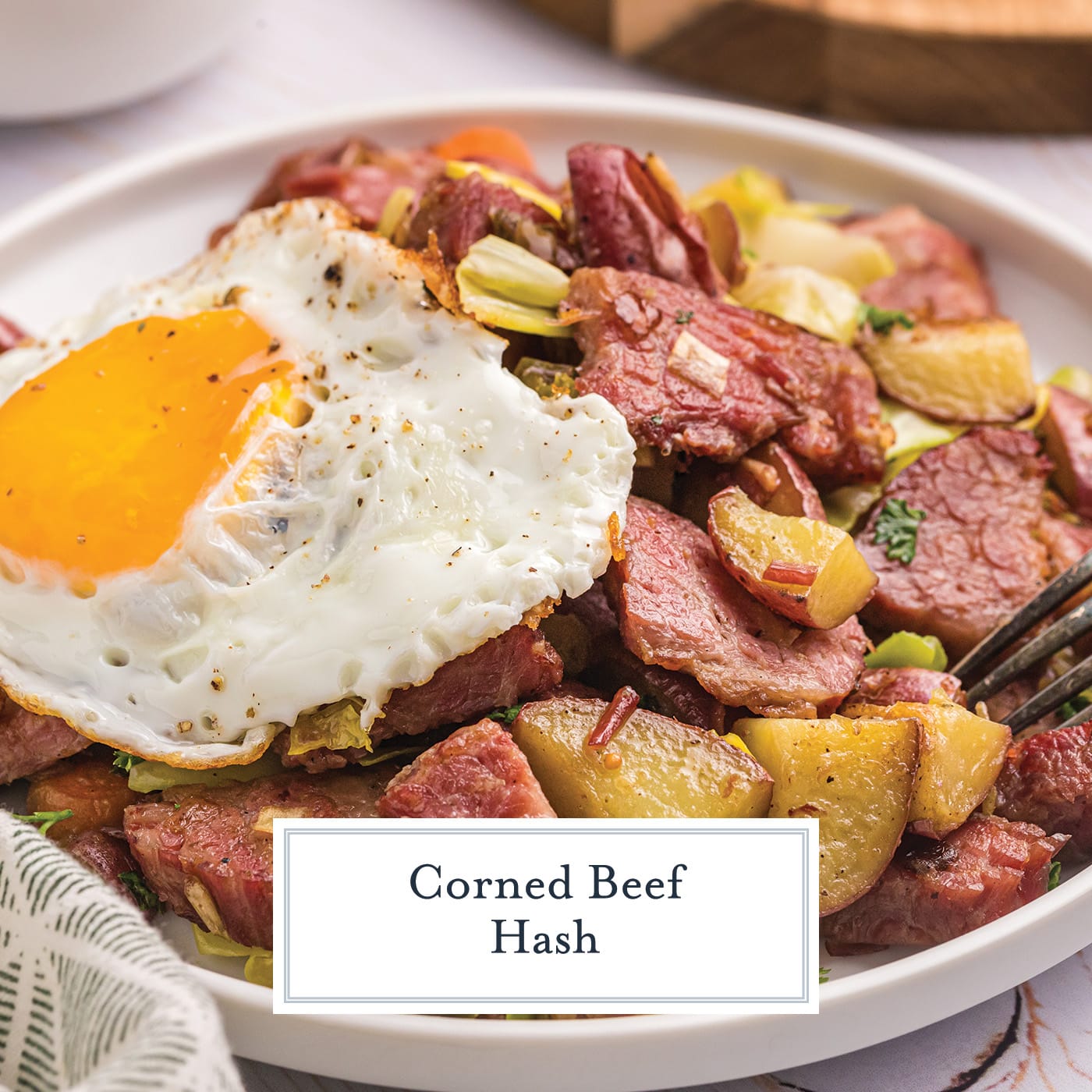 Whether you're looking to repurpose your corned beef after a St. Patrick's Day bash, or you just adore corned beef, this recipe is for you. And if you don't already have corned beef made, just toss it in your slow cooker during the day (or overnight), and do the rest when you're ready to make it.
If you're looking for an easy way to upgrade a morning meal or a different dish for busy weeknights, this corned beef hash is for you!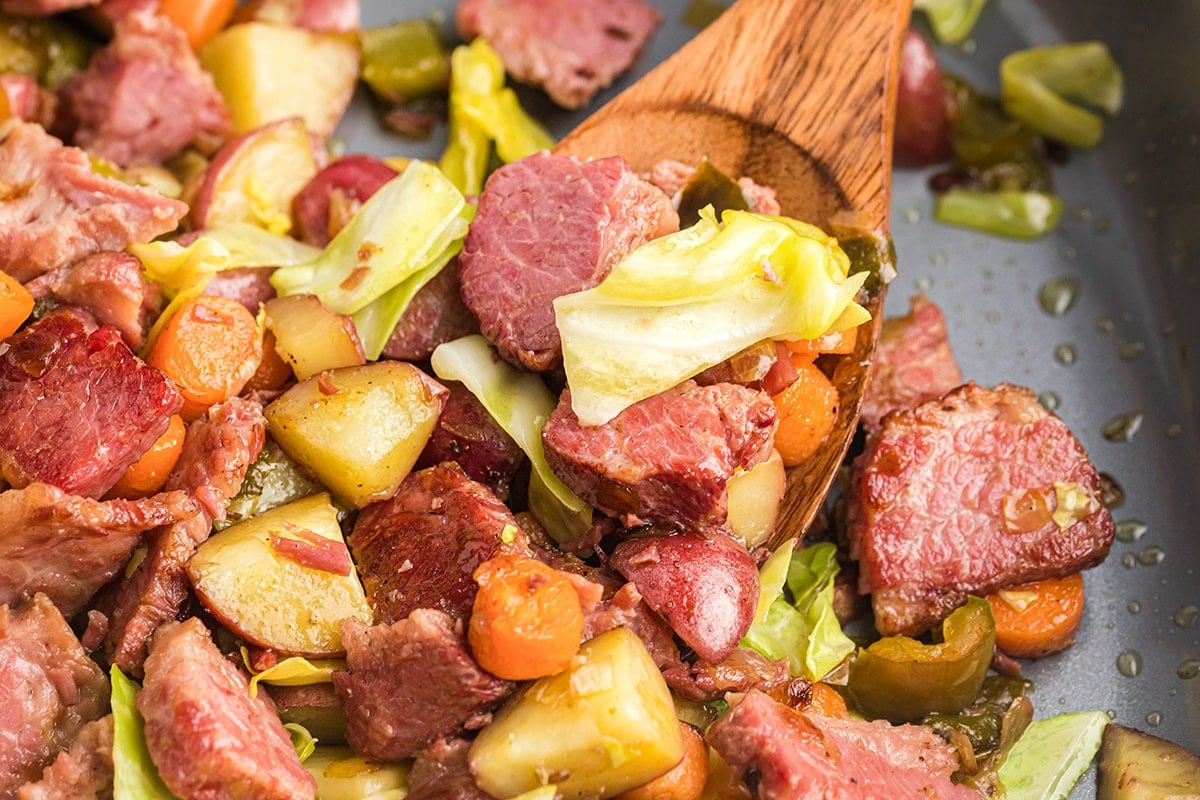 Why You'll Love Corned Beef Hash
Corned beef lovers are going to fall in love with this easy corned beef hash.
Easy – This is a great way to repurpose corned beef leftovers, and since you're using leftovers, this recipe is a quick fix for any meal of the day.
Delicious – The salty corned beef pairs perfectly with the mellow potatoes while the green pepper and onion add some depth to the dish.
Customizable – You can change up nearly every ingredient in this recipe to make your own signature hash.
Ingredients
This easy recipe comes together seamlessly with simple ingredients and leftovers.
Butter – Choose your favorite brand of butter to add flavor to the hash. Use unsalted so you can choose the saltiness.
Vegetable oil – Any neutral oil will work — canola oil, avocado oil, and olive oil will all work.
Yellow onion – Dice the onion into small pieces of a similar size.
Green bell peppers – The green pepper pieces should be similar in size to the yellow onion so that they cook uniformly.
Red potatoes – Instead of using fresh potatoes, you can use the leftover potatoes if you've made Instant Pot corned beef and cabbage or Russets from crispy home fries.
Carrots – As with the red potatoes, you can use the leftovers from the Instant Pot corned beef and cabbage recipe.
Cabbage – Slice the cabbage into thin strips.
Cooked corned beef – Ensure that the corned beef is sliced into similar-sized cubes. If you're not using leftovers, but want to save on time, try getting thick slices from the deli counter from any of the grocery stores in your area.
Black pepper – Freshly ground black pepper works as well as a shake or two from your table shaker.
Kosher salt – Use the type of salt that you prefer.
Garnish – Fresh parsley, chopped, and optional.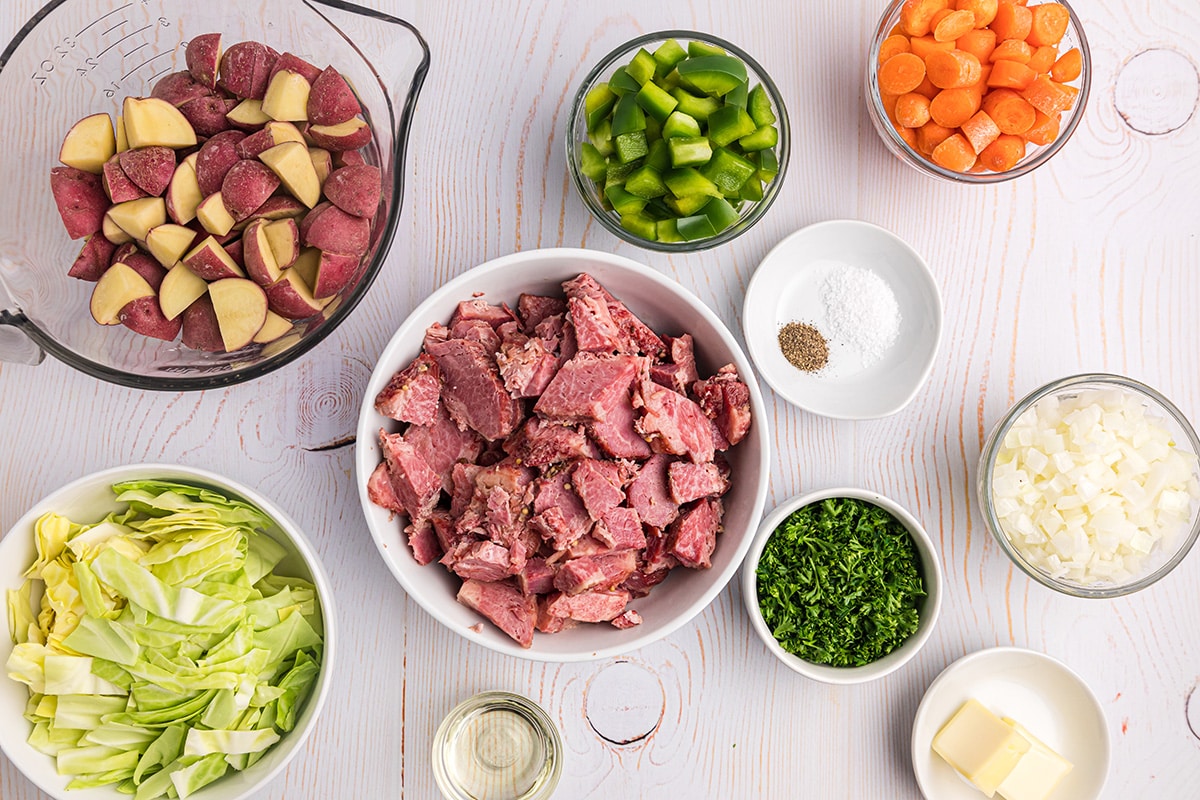 How to Make the Perfect Corned Beef Hash Recipe
Using leftovers to prepare this simple dish makes for quick and easy cooking and cleanup.
Sauté onion. Add the diced onion to melted butter and hot oil in a large cast iron skillet and sauté using a wooden spoon or a spatula.
Add green pepper. Once the onion is soft and translucent, add the green pepper and cook until they are soft.
Add potatoes and carrots. Stir the diced potatoes and carrots into the sauteed onions and peppers. Sprinkle with salt and pepper to taste.
Add corned beef and cabbage. Add the chopped corned beef, and continue to stir. Once the ingredients are golden brown, add the cabbage and continue to cook briefly, stirring to ensure to get the little bits incorporated from the bottom of the pan.
Garnish and serve. Remove from heat and sprinkle with parsley. Stir and serve, using a slotted spoon.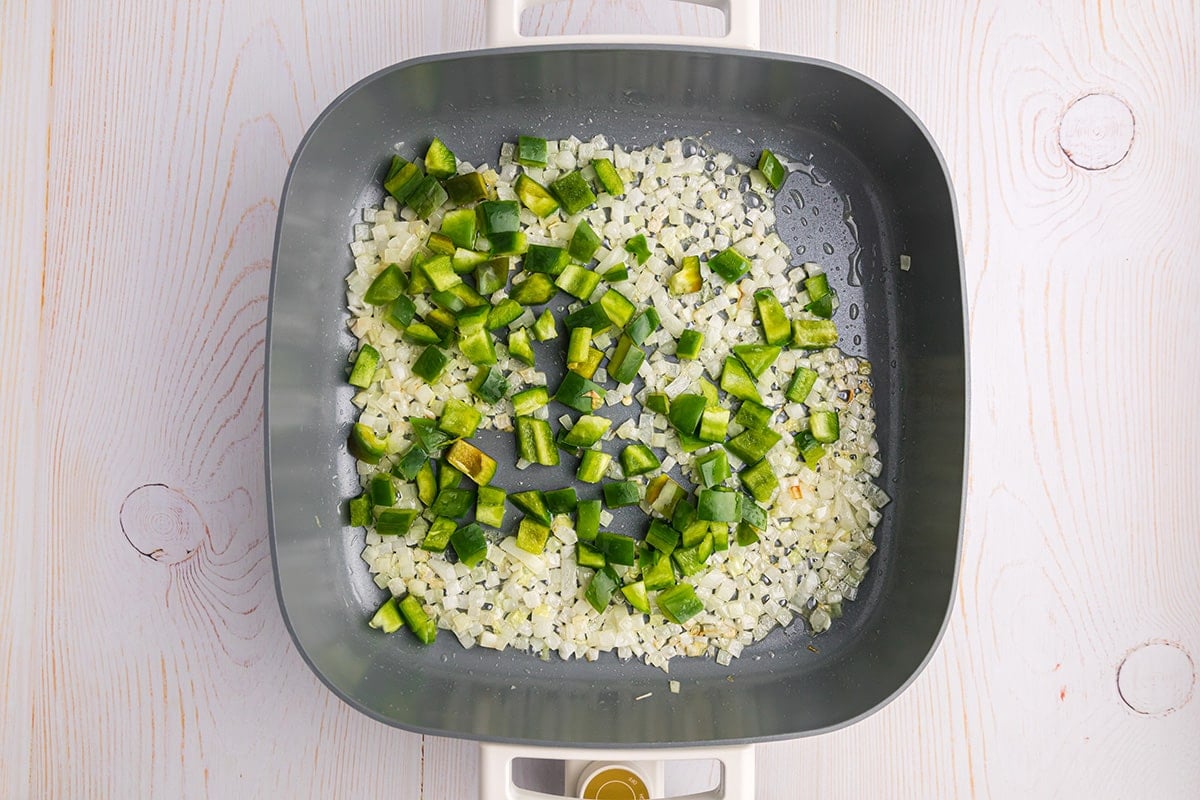 What to Serve with Corned Beef Hash
This is a complete dish that can be served as the main meal with an additional vegetable side like green beans or asparagus, or as a side accompaniment to eggs in any style. Try making a fried egg (we love runny eggs atop a mountain of this hash) or a cheesy omelet or serve them poached or scrambled.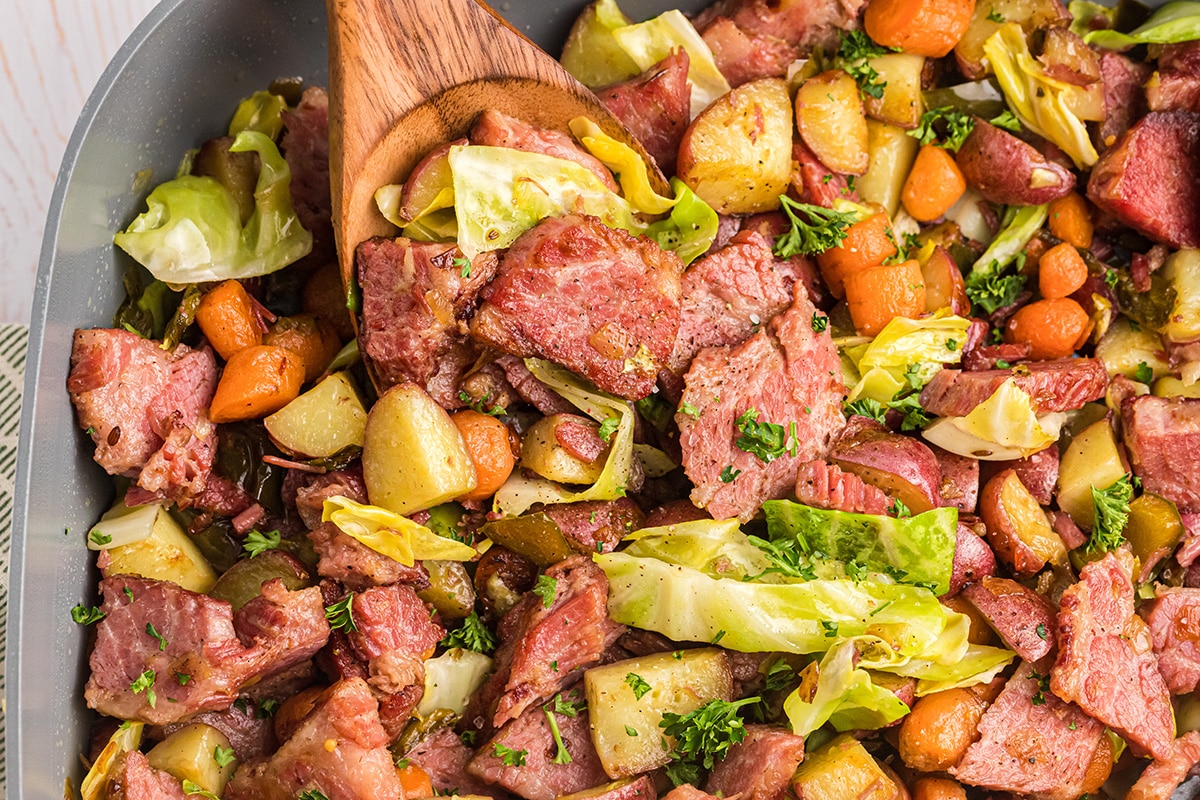 Variations
Heat – Add some spicy flavor to the hash by sprinkling in some crushed red pepper, cayenne, or hot sauce.
Peppers – Instead of green peppers, use red bell pepper, yellow bell pepper, or orange bell pepper.
Vegetables – Add other veggies like diced tomatoes or your own favorites.
Onions – Swap out the yellow onion for red onion or green onions.
Herbs – Use fresh herbs like thyme, chives, or rosemary.
Spices – Add garlic powder or onion powder to taste.
Meat – Use a different kind of meat instead of the leftover corned beef. Choose any that you may already have leftover or that will work well with the other ingredients.
Potatoes – Use any type of potato you like from russet potatoes to Yukon Golds, or any other variety. For a different take, try using sweet potatoes.
Sandwiches – Instead of serving this on a plate, fill a toasty bun with it for delicious corned beef sandwiches.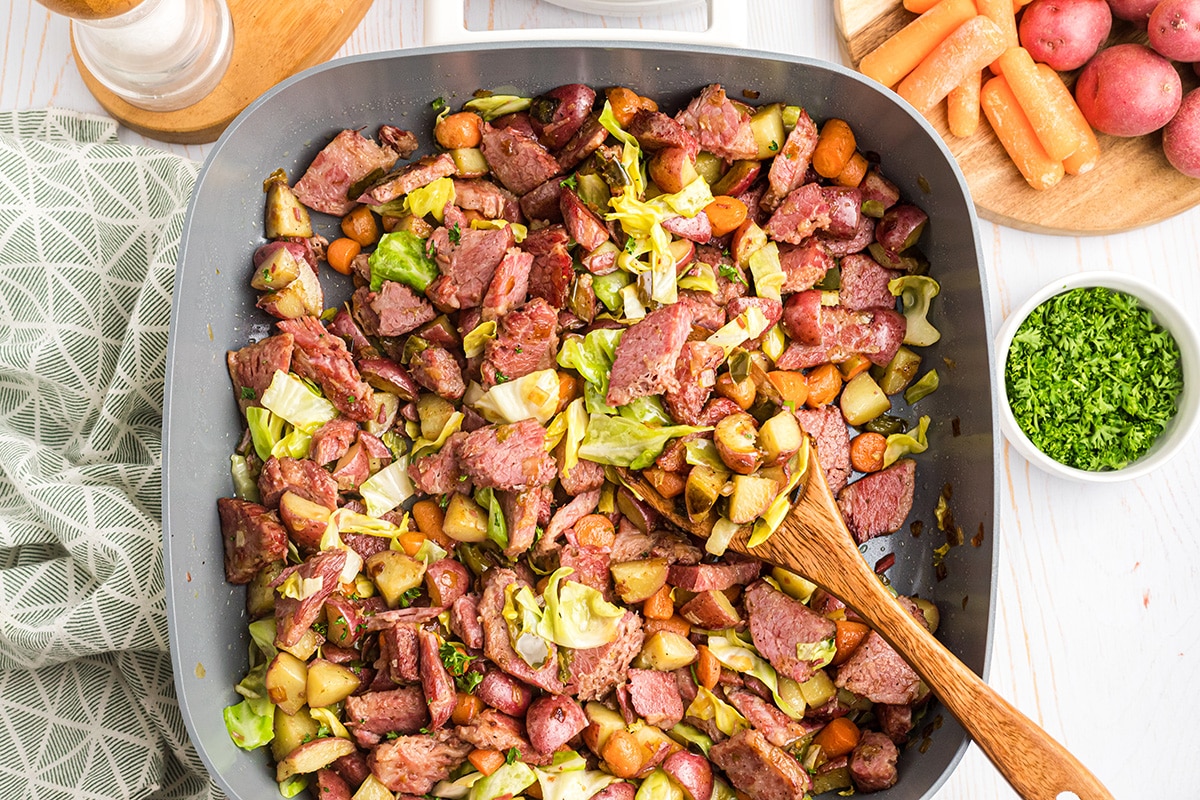 Storage and Freezing
Refrigerator: Leftovers can be stored in the fridge in an airtight container for 2-3 days after cooking.
Freezing: We don't recommend freezing this dish, but you can store it in the refrigerator.
Common Questions About Corned Beef Hash
Can I add more vegetables to this dish?
Yes, you can add any additional favorite veggies. This dish can also be considered something to use up any of the leftovers from corned beef and cabbage.

So, if you have that from dinner, and the carrot/cabbage/corned beef is in a quantity that is more than what this recipe calls for, add it in! You may need to adjust the amount of butter and oil when sautéing the items as well as cooking time increases when the volume increases.
Do I have to use the leftover cooked cabbage originally served with the corned beef dinner?
No, this hash can be made using fresh cabbage, fresh potatoes, and fresh carrots; just cut those pieces a bit smaller or increase the cooking times to ensure it is cooked through.
Can this meal be frozen and reheated?
No, the cooked potatoes may thaw out too much and become mushy. This dish is best served the day it is made; leftovers are enjoyed within 2-3 days.
Can I shred the corned beef?
Yes, you can, yet the meat might dry out being a smaller size when being cooked with potatoes and vegetables.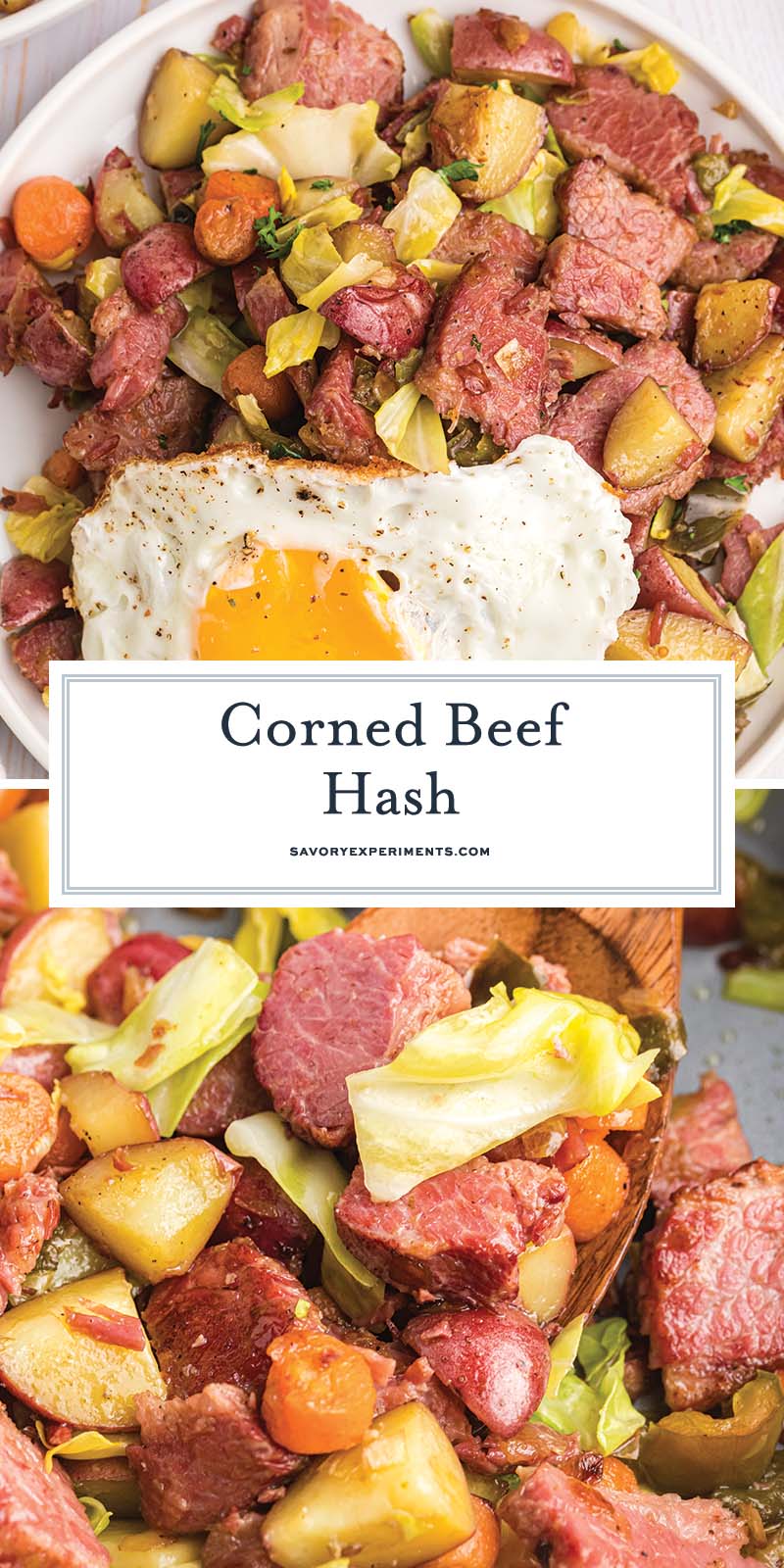 More Meaty Mains and Sides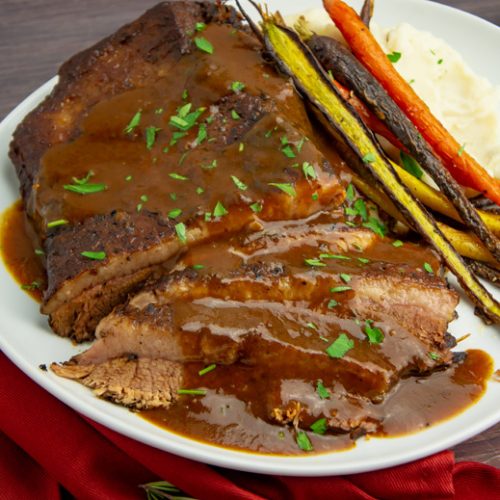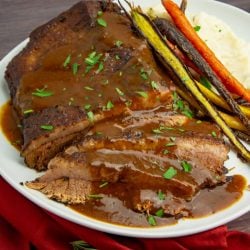 Braised Brisket
A slow, red-wine Braised Brisket is the perfect EASY dinner with minimal effort. A prime cut of beef, slowly roasted and fall apart tender!
View this recipe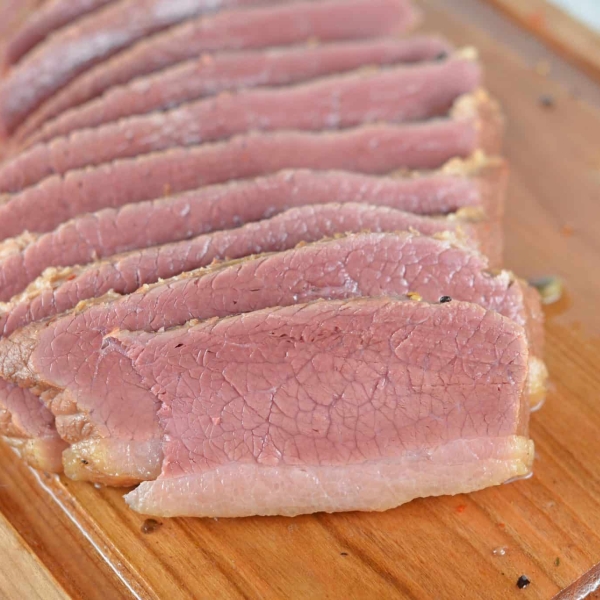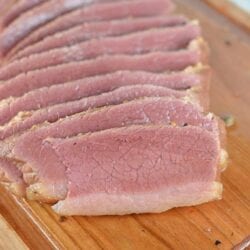 Homemade Corned Beef
Homemade Corned Beef is simple to make, but takes about a week. The intense flavors and beautiful pink hue are worth the time and wait!
View this recipe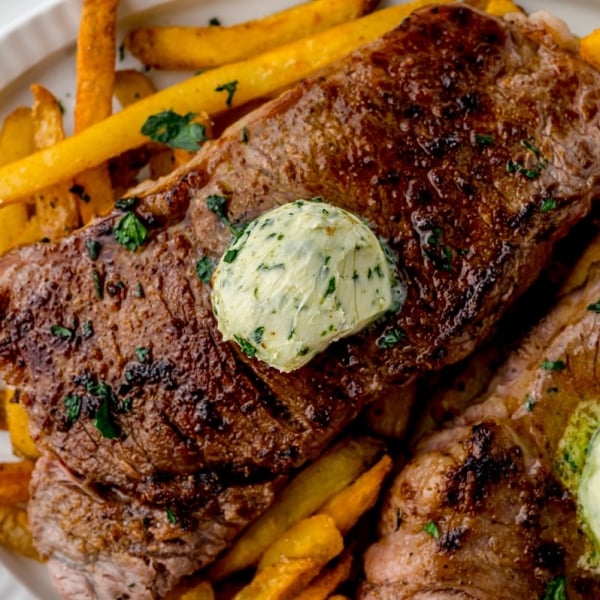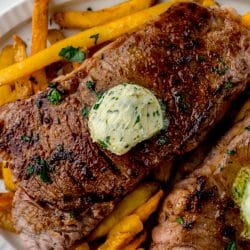 Steak Frites
A juicy seasoned steak over crispy French fried potatoes, topped with tangy maitre d'hotel butter and served with sauteed garlic mushrooms and onions.
View this recipe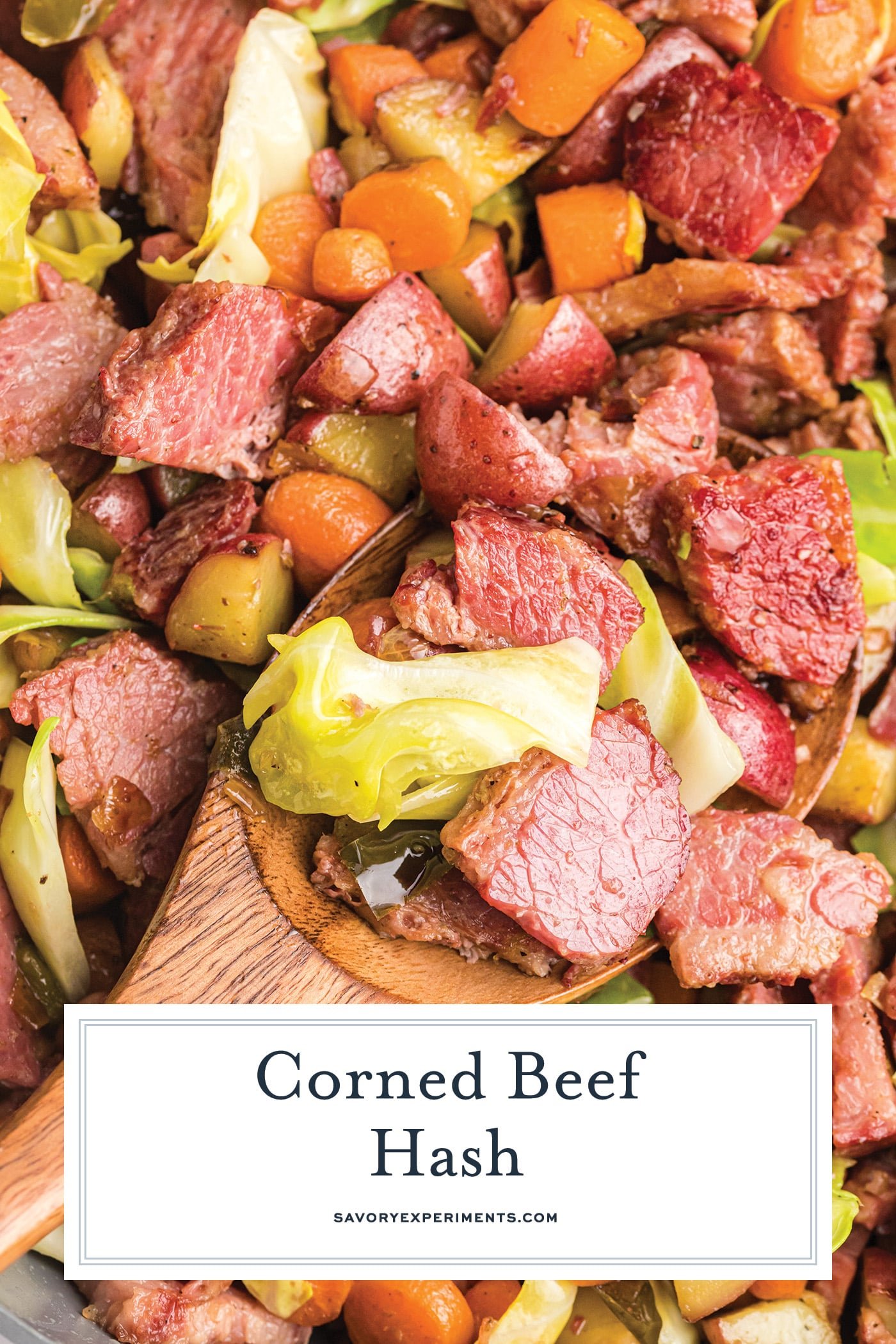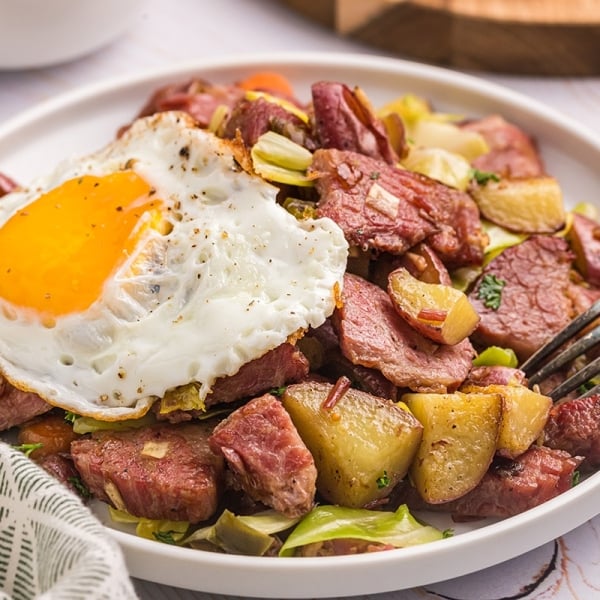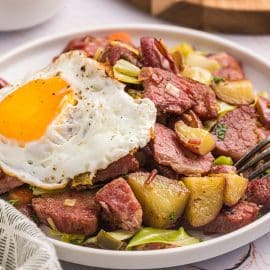 Corned Beef Hash
Not sure what to do with leftover corned beef? This simple and quick hash recipe will take care of those leftovers, combining fresh vegetables and common seasonings into a meal that can be enjoyed at breakfast, brunch, lunch, or dinner!
Instructions
In a large skillet on medium heat the oil and melt the butter.

Add the onion and cook for about 3 minutes until translucent.

Add the green pepper and cook for an additional 5-7 minutes until the peppers start to soften.

Add in the potatoes and carrots.* Season with pepper and salt.

Add in the corned beef, stirring often until the ingredients start to brown about 10-15 minutes. You will add the cabbage at this point if desired and cook for a final 5 minutes on medium to low heat.

Add in the parsley, stir and serve immediately.

If you've tried this recipe, come back and let us know how it was in the comments or star ratings.
Notes
*If using fresh potato and carrot, cook for 15 minutes until tender while stirring occasionally.
If using leftovers potatoes and carrots, you will only need to cook for about 8 minutes to heat them throughout.
Nutrition
Calories:
367
kcal
,
Carbohydrates:
15
g
,
Protein:
19
g
,
Fat:
26
g
,
Saturated Fat:
10
g
,
Polyunsaturated Fat:
3
g
,
Monounsaturated Fat:
10
g
,
Trans Fat:
0.3
g
,
Cholesterol:
76
mg
,
Sodium:
1596
mg
,
Potassium:
741
mg
,
Fiber:
3
g
,
Sugar:
3
g
,
Vitamin A:
2940
IU
,
Vitamin C:
59
mg
,
Calcium:
35
mg
,
Iron:
3
mg